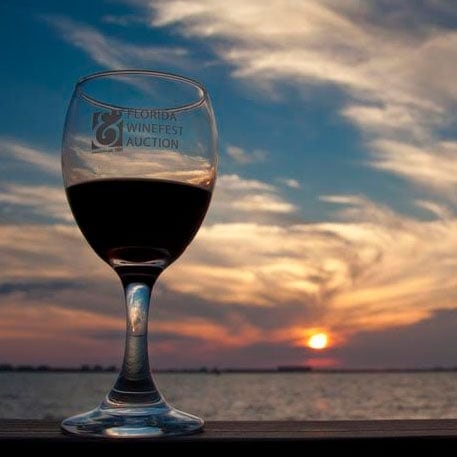 It's time to get your tickets for Florida Winefest and Auction before they are GONE! Every year people tell me they wish they had known after seeing the photos of the delicious food and wine served at this annual event. Here's your notice!
The Florida WineFest and Auction is one of the top wine and food events on Florida's Gulf Coast. I have personally attended many of these events, and if you love food and wine, you will want to be there! Besides the incredible wine tastings and fabulous food included in your ticket, you will be able to bid on items from restaurant gift cards to memorabilia. The live auction brings the luxury items like private dinners hosted by local celebs like Paul Mattison, executive chef and owner of a very successful culinary group including Mattison's City Grille, Mattison's 41, and Mattison's Culinary Adventure Group. This item always hosts the most exciting bidding!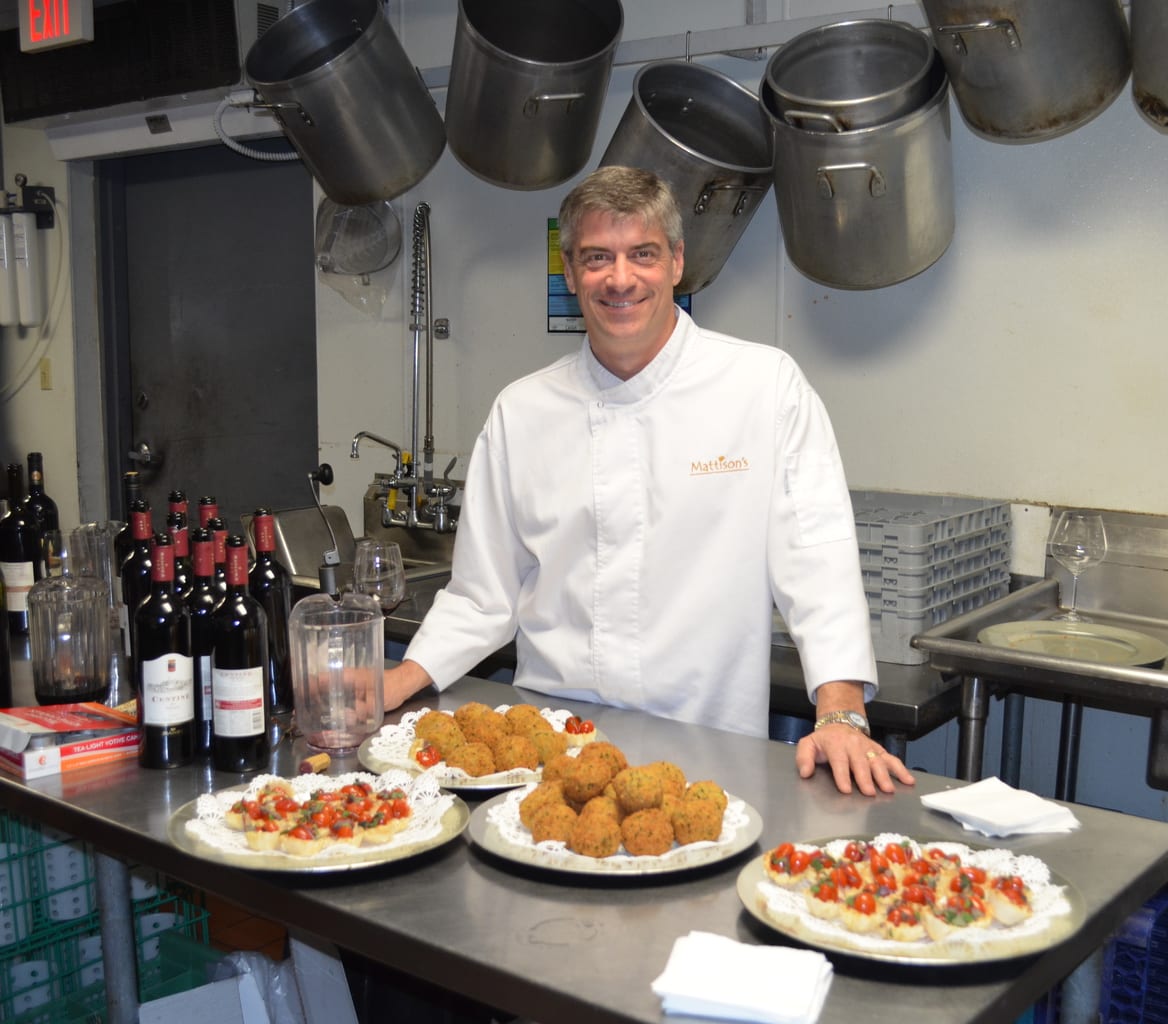 Ready to get your tickets? I haven't even shared the best part! The whole purpose of the Florida WineFest and Auction is to provide funding to help disadvantaged children, youth and families in Sarasota and Manatee Counties. Okay, now you can grab your tickets.
Florida WineFest and Auction
The Florida WineFest and Auction consists of five big events and the Wine & Winemaker Dinners.
Friday, April 7 Events:
Bayfront Showcase Lunch Tasting 
Bayfront grounds of Van Wezel Performing Arts Hall
777 N. Tamiami Trail, Sarasota
$50 per person  ($25 tax deductible)
Held from 11-2 pm on the waterfront under a tent adjacent to the Van Wezel. Beautiful Venue and so much fun!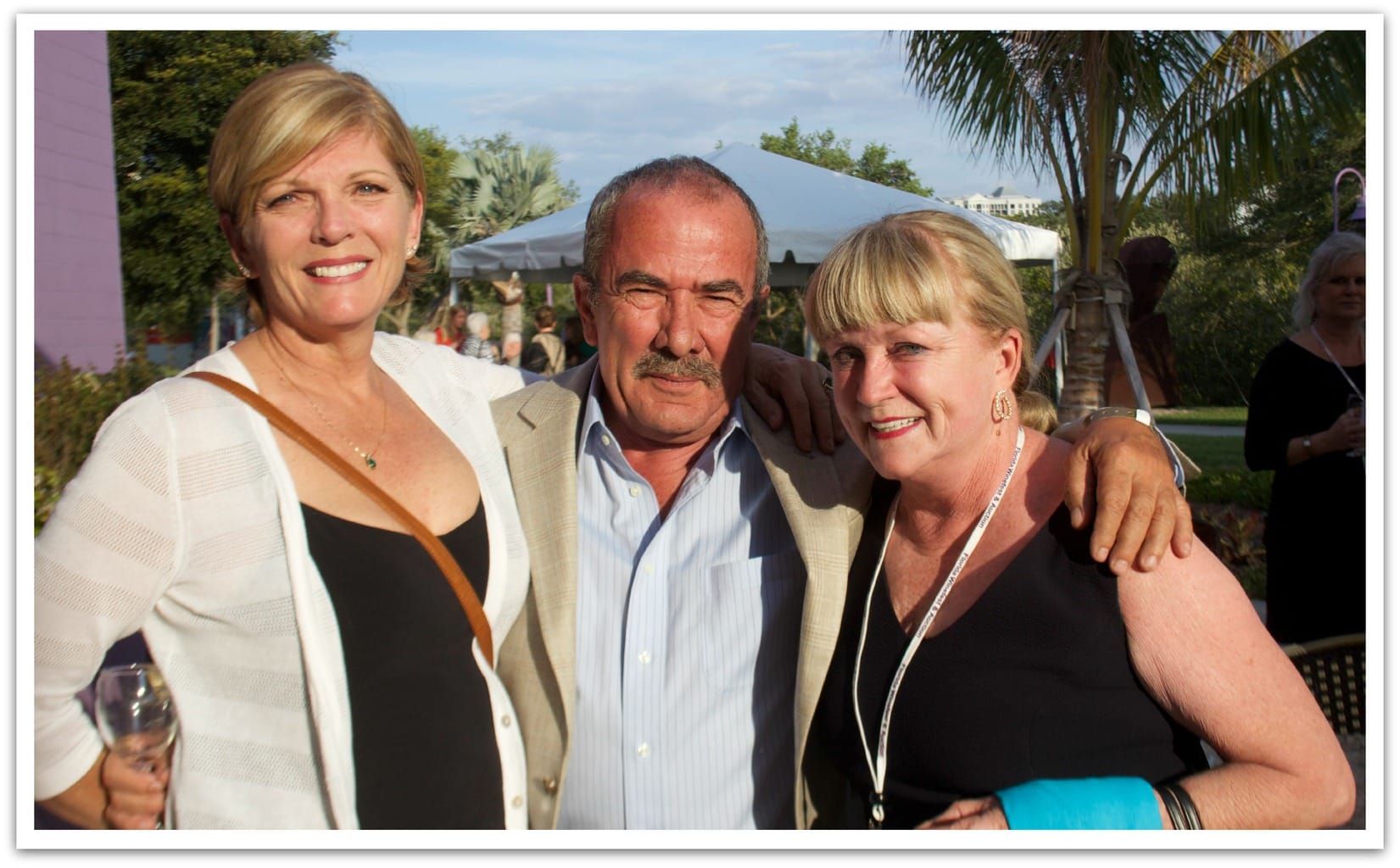 Banquet on the Block 
Lemon Avenue in Sarasota
6:30 pm 
$200 pp
You really have to see this to believe it. A portion of Lemon Avenue in downtown Sarasota is transformed into a foodie's paradise where a table is set for 200 people. Yes, one long table! 6:30 pm till...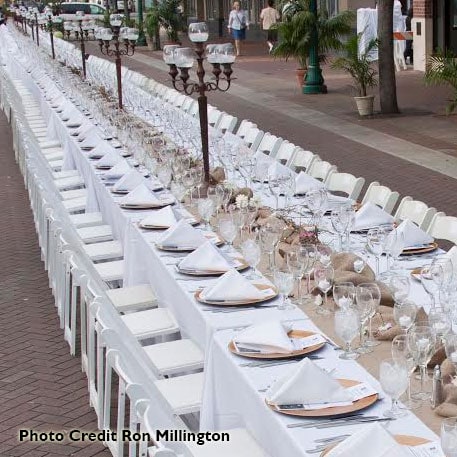 We had a blast at this event mingling and enjoying the beautiful Florida evening.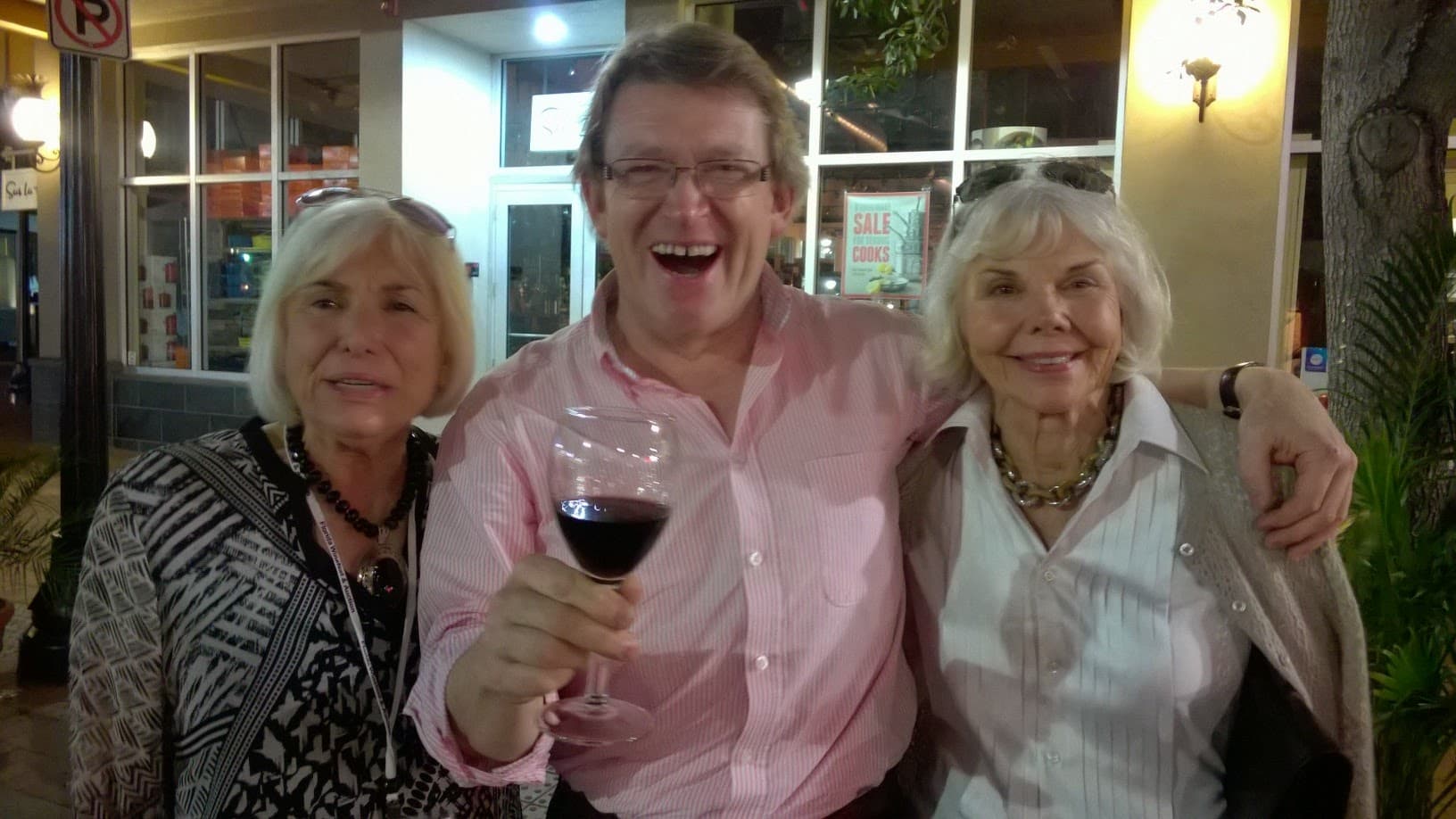 Saturday, April 8
Grand Tasting, Brunch and Charity Auction 
Brunch:  11:00 am – 1:00 pm
Auction:  1:30 pm
$125 pp  ($62.50 tax deductible)
We never miss this event! More than 50 wineries, a Bloody Mary Bar, appetizers, and a fantastic opportunity to bid on all kinds of goodies including wine! We always walk away with a few restaurant gift certificates and at least a case of wine. The prices are fantastic! 
Sunday, April 9
Wine on the Water 
1:00 PM – 4:00 PM
Bayfront grounds of Van Wezel Performing Arts Hall
777 N. Tamiami Trail, Sarasota
$25 per person 
On the bayfront grounds of Van Wezel Performing Arts Hall, enjoy this alfresco wine tasting. Tickets are only $25 and include the tasting. Food will be available from BulGoGi Sarasota, and Mother Truckin Good Food Trucks and music will be provided by jazzy Kat Crosby Band.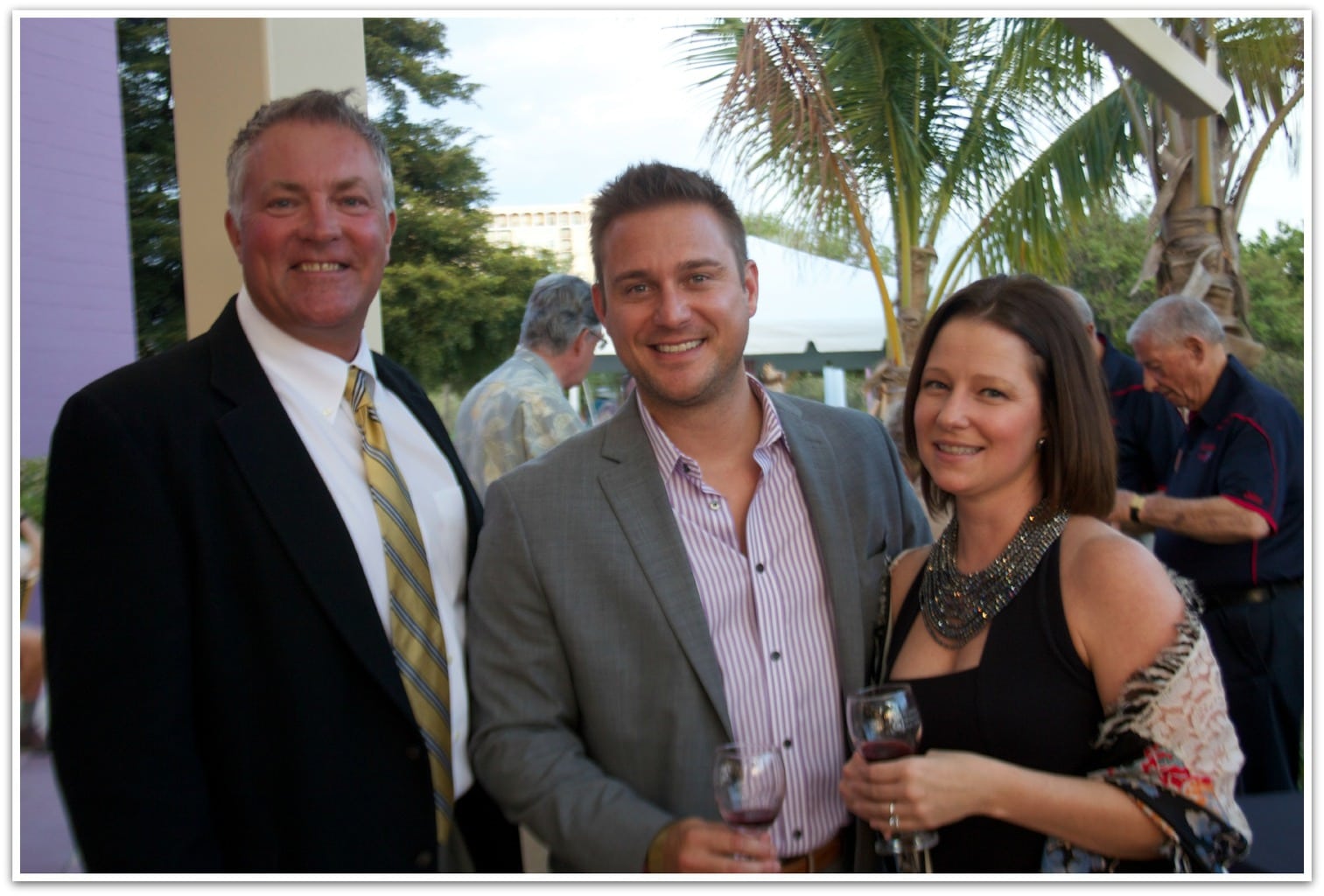 New this year, and I'm actually shocked to see it's not sold out:
James Beard Replica Dinner
Saturday, April 15, 2017
6:30 pm Cocktails ~ 7:00 pm Dinner
Mattison's Forty-One
Sarasota's own award-winning and nationally-known chefs, Chris Covelli and Paul Mattison prepared this dinner at the James Beard House in New York City on December 3, 2016 and will replicate the outstanding and amazing dinner right here in Sarasota. 
Winemaker's Dinner Events
As far as I can see, only one winemaker dinner is SOLD OUT.
All Wine & Winemaker Dinners Take Place at 6:30 pm on April 6, 2017
Café L'Europe
Winery: Porter Family Vineyards
View Menu
Purchase Tickets
Café L'Europe, a leader in striking the perfect balance between tradition and innovation continues to lead the way with the best of continental cuisine. Your palate will as you enjoy a sumptuous multi-course dinner paired with the exceptional fine wines of Porter Family Vineyards presented by Sarasota resident and winery owner, Tom Porter himself!
$150 per person ($75 tax deductible)
431 St. Armands Circle, Sarasota
Covelli/Jung Private Residence
Wineries: Caldwell Vineyards & Eleven Eleven Wines
Purchase Tickets
Nationally known and locally loved, Chef Chris Covelli and husband, Greg Jung, longtime supporters of Winefest, invite you to join them at their home in University Park as Chef Chris prepares a 5-course dinner fit for royalty. Let your palate experience fabulous cuisine, as each course will be perfectly paired with the spectacular wines of Caldwell Vineyard and Eleven Eleven Wines, two of Napa's favorite wineries. "Cmac" (also known as Christina Machamer will be attending on behalf of Caldwell Vineyard and Holly Wyatt will be attending on behalf of Eleven Eleven Wines. This is a dinner you won't soon forget. Very limited seating available.
$200 per person ($100 tax deductible)
Longwood Run/University Park Area
9 miles from downtown Sarasota
Lido Key Private Residence – SOLD OUT
Winery: Slo Down Wines
Purchase Tickets
Susan Robinson and Ferruh Muktar are your hosts extraordinaire for this funky, fun and social al fresco Tuscan Garden Party featuring Slo Down Wines. If you haven't had the pleasure of tasting these wines you are in for a most enjoyable experience.  Relish "dinner-by-the-bite" expertly prepared and served by Lisa Dubeansky, Chef/Owner of Hosted Gourmet and her staff.
Virginia Haake, representing Slo Down Wines from Napa Valley, is making a special appearance to partake in this delightful evening as she talks about the history of Slo Down Wines and the reason for the creative names of the wines…Broken Dreams, Stand Out and Sexual Chocolate.   If you are looking for something "off the charts" then this is the place you should be!  You all may be saying "what happens in Vegas, stays in Vegas", if you know what we mean!
$125 per person ($62.50 tax deductible)
3 miles from downtown Sarasota
Louies Modern/Private Dining Room
Winery:  Ram's Gate Winery
View Menu
Purchase Tickets
Celebrate at Louies Modern, one of Sarasota's favorite and state-of-the art restaurants, in their quaint private dining room. Chefs Joey Eagan and Jose Rojas will prepare a lavish multi-course dinner expertly served by Louies Modern's staff and perfectly paired with the finest wines bottled by Ram's Gate Winery, a small-lot wine producer that focuses on Chardonnay and Pinot Noir. Greg Miller, Estate Director of Ram's Gate Winery will be in attendance and will tell you all you need to know about the wines and the winery. This is a dinner you don't want to miss!
$125 per person ($62.50 tax deductible)
1289 N. Palm Avenue, Downtown Sarasota
Mattison's Forty-One
Winery:  King Estate
Purchase Tickets
Take part in the ongoing celebration of exceptional food, wine and culinary pleasure at one of Sarasota's beloved restaurants, Mattison's Forty-One. Award-winning Chef Paul Mattison and his culinary team will prepare a sumptuous multi-course dinner to satisfy the most discriminating palate, complemented by wines from Oregon's King Estate Winery as presented by David Baricevic. Don't miss this exceptional dining experience.
$150 per person ($75.00 tax deductible)
7275 S. Tamiami Trail, Sarasota
7.4 miles from downtown Sarasota
Mazzone Olive Oil Boutique Store (Inter-Active Dinner)
Winery: Azienda Agricola Mazzone
Purchase Tickets
Cinzia Testini Forbes and her husband, Mike, owners of Mazzone Olive Oil invite you on a journey to the southern Italian provence of Puglia!   Through an interactive "hands-on" cooking experience and dinner, you will be transported through the flavors, aromas and textures of the Puglian countryside.  What is on the menu you ask? Together, we will be making traditional "thumb pasta" cavatelli, served with the most famous of all Pugliese delicacies…Braciole – thinly sliced beef rolled with fresh parmiggiano, mozzarella and parsley, slowly simmered in a rich tomato based sauce.  Then everyone will be able to make beautiful focaccia "Barese style" all culminating in a family feast for all of the senses!  We will finish the evening off with an olive oil inspired tiramisu that will leave you singing "That's Amore"!  Every dish will be perfectly accompanied by six of Azienda Agricola Mazzone's delicious varietal wines.  Very limited seating available.
The evening will be full of fun and surprises! Very limited seating available.
$105 per person ($52.50 tax deductible)
6300 S. Tamiami Trail, Sarasota
6.1 miles from downtown Sarasota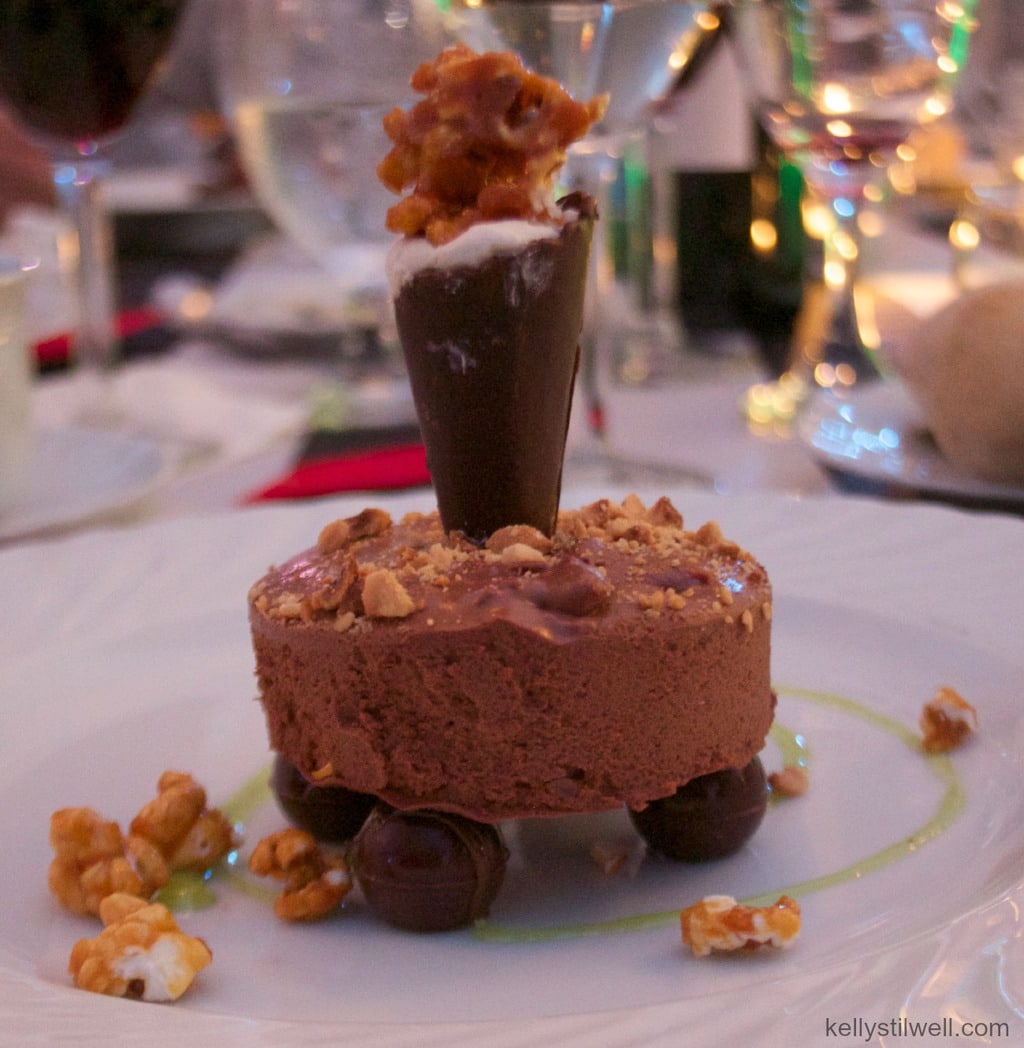 Which events are you planning to attend? Hope to see you there!