Have you ever thought about creating new family traditions? Busch Gardens is one of our favorite theme parks. I recently posted Top 6 Reasons to Visit Busch Gardens where I shared about our last visit. I actually rode the newest ride, Falcon's Fury. Yes. Me. I did it! It's big, friends. The ride and the fact that I rode it!
A few days ago I saw a post from my good friend Jenni from Parenting on Purpose about her family heading to Busch Gardens on Thanksgiving Day, and I was intrigued. Our family spent Thanksgiving in Costa Rica a few years ago and had a blast. We ate fish tacos for Thanksgiving dinner. It was one of our most memorable Thanksgivings ever.
I wanted to know more about what the Stahlmann family did at Busch Gardens to celebrate the holiday. This was the fourth year they spent Thanksgiving there. They've really created an all new family tradition. Maybe this is something other families would like to do for a change. I know I'm game. I might just join them next year!
This year, Jenni was joined by her sidekick Jody from Parenting on Purpose along with her family, as well as Jody's sister's family. Each year a few different families join them. I asked if they stayed all day, and Jenni said, Oh yeah! We are there before the National Anthem, and then we usually linger in the shops near the entrance until after closing time!

I wanted to know what their schedule was. Jenni said each family has their favorite things to do. Jody and her family make a bee line to the Cheetah Hunt, which is also the usual routine for Jenni's family on every other visit. This time they wanted to make the absolute MOST of that All Day Dining pass, so they headed to the Zagora Cafe for their delicious breakfast! Jenni loves that with the meal plan they can eat at almost every restaurant. And they do! What she doesn't love is that they changed the snack shack rules. When they first started going, the All Day Dining arm bands got you a 50% discount at all of the snack shacks. Now they only offer buy-one-get-one at the snack shack. Not as good of a deal, but it doesn't deter them.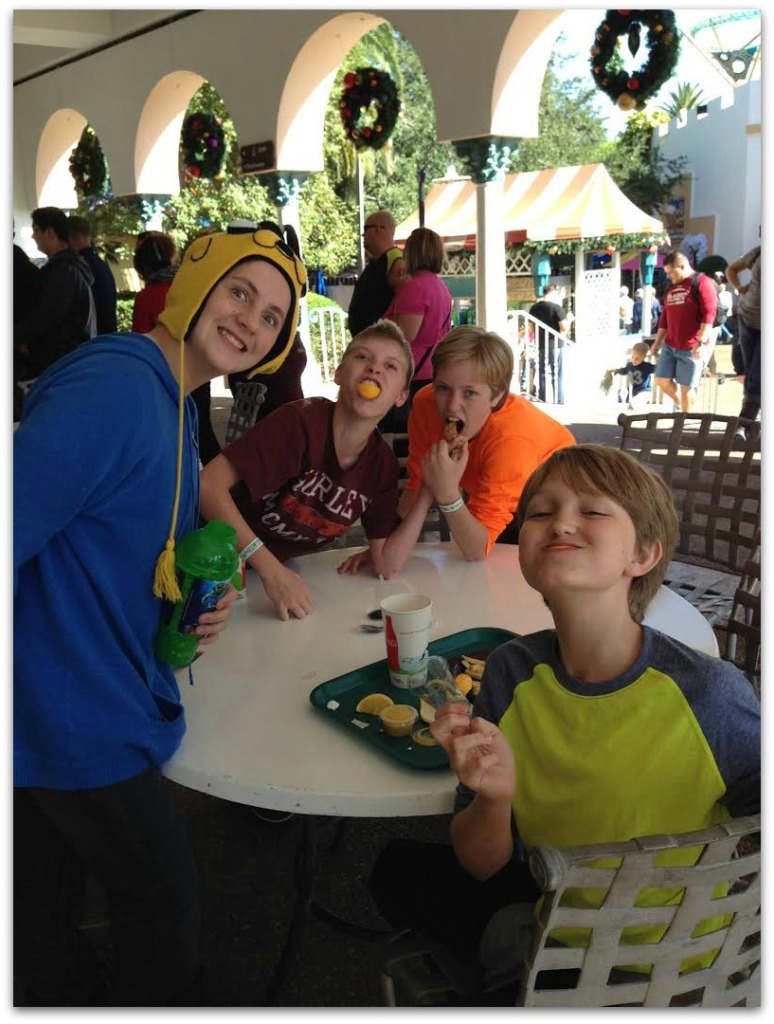 Between all that eating, there's a lot of riding going on! Jenni said, I think EVERYONE loves Cheetah Hunt (except my 2 year old, of course). Jody also loves Montu, but it makes me nauseous. My husband, Jody's husband and my boys are huge fans of Sheikra. Believe it or not, I really like the oldies — Scorpion and Sand Serpent! But we also love the train and the sky ride.
There is so much to do a Busch Gardens Africa. Besides all the great rides, there are also shows and over 12,000 animals to see! I bet you didn't know Busch Gardens Tampa is one of the largest zoos in North America! So, being the Busch Gardens pros, what was their favorite area of the park? We can't pick. We spend a lot of time at Jungala, Elmo Land and Pantopia, but we also LOVE all of the shows and we never make a trip without a spin on Cheetah Hunt. My kiddos love the animals, and we all like the restaurants. See what I mean?
Yes, I do. And I feel the same way! My favorite thing to do is see the animals. I love the apes and Walkabout Way, where we can feed the wallabies and kangaroos. Jenni said her younger daughter loves the elephants. She likes the giraffes and the aviary. Jody loves the kangaroos. One of her boys loves the meerkats. Skyler, her older daughter likes the cheetahs. Another one of her boys likes the turtles. Jody's daughter, Sydney, likes the white tigers…so once again, Busch Gardens has something for everyone!
Jenni said she also loves the shows. She shared, We always make sure that we see the current showing at the Morocco Theatre at least once. We thoroughly enjoy the Critter Castaway show, and we typically see the show in the Pantopia Grill at every visit. My little guy really enjoys the Sesame Street shows as well.
There really is something for everyone at Busch Gardens Africa in Tampa! So…no hours cooking in the kitchen to have the meal consumed in what, 20 minutes? No clean up. Eating as well as getting tons of exercise walking the park. Thanksgiving at Busch Gardens is sounding more and more like a no-brainer to me!
What about you? Would you ditch the traditional Thanksgiving and spend the day at Busch Gardens Africa? On a side note, for those living in the mid-Atlantic area, how cool would it be to spend Thanksgiving at Busch Gardens Williamsburg? Cool, right?
Has your family ever spent a holiday in an un-traditional way? Tell me your thoughts in the comments below!