Who loves to shop? I am so thrilled that Macy's asks me to cover events for them in my local area. You may have seen my post about the Back to School Cool event I attended a couple of weeks ago at Macy's Westshore in Tampa. Oh. My. Word. This store has been renovated and is spectacular! They held a fashion show for back to school clothing, and these kids were fabulous! Take a look! This past weekend I was asked to come back to the Westshore Macy's for Fall's Five Essentials. The show was hosted by the Deal Divas of the Tampa Bay Times. I hadn't met the Divas before, and they are so entertaining! These ladies know fashion, and put together stunning outfits for the models to share with the crowd!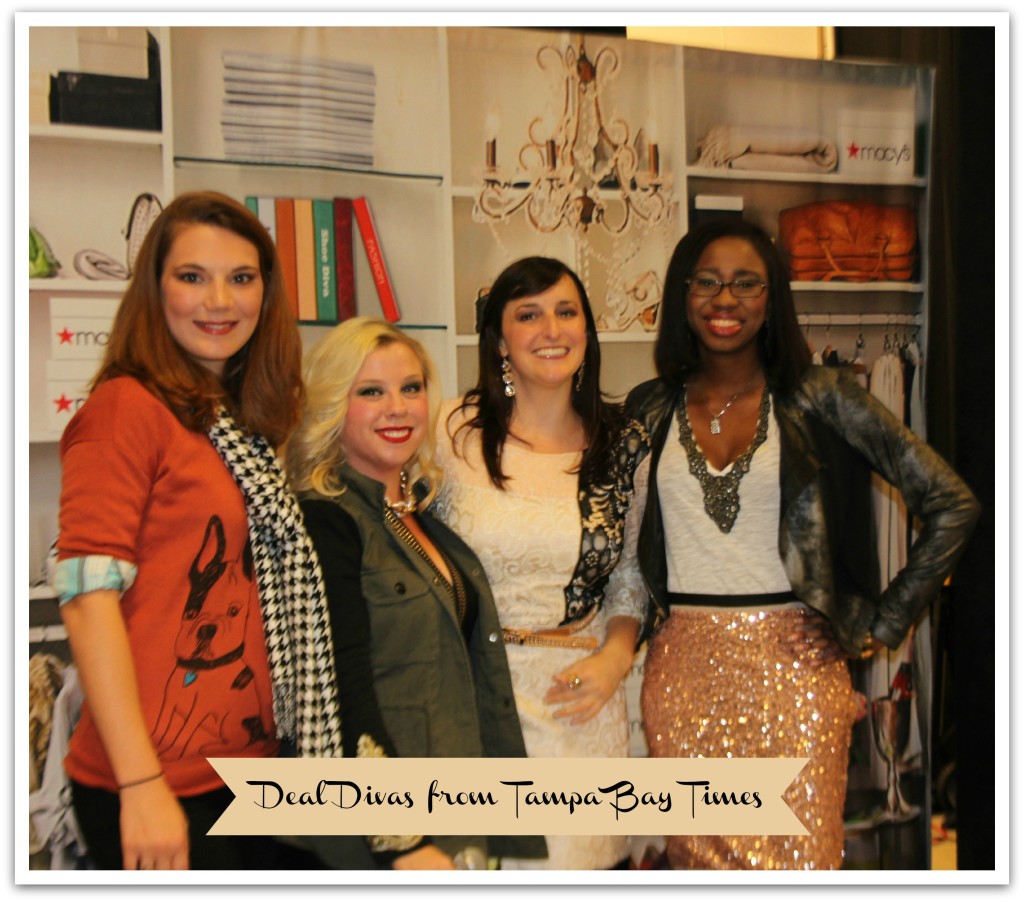 Macy's events are always so much fun! They had entertainment provided by DJ's before and after the fashion show. These guys did a great job!
Once the show started the Deal Divas went to work entertaining the crowd. I was surprised to hear them say Macy's gave them full reign on the fashions modeled. I can see why! I wanted every outfit!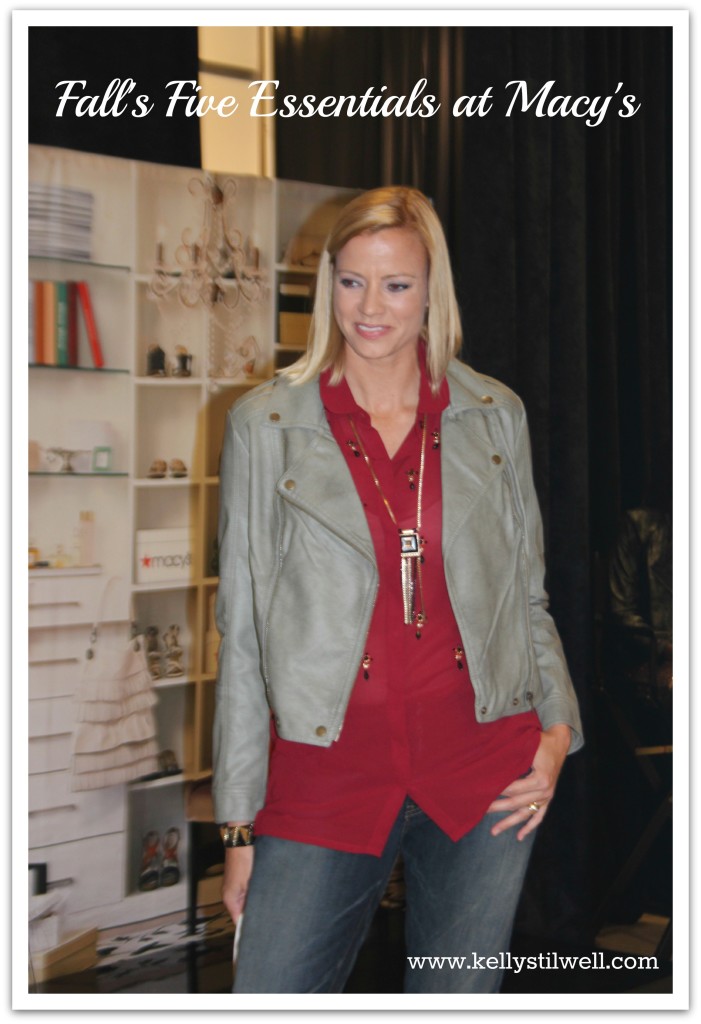 Isn't that gorgeous? The colors are so good together!
The colors the Deal Divas chose for fall are just so perfect! I am so boring when it comes to fashion. I wear so much black & white. So boring! I look at this pairing above and think…I could do that! Just adding the pink jacket makes the outfit. Don't you think?
Did you see the shoes above? I would never have paired those with this outfit, but it works so well! And I love the jacket!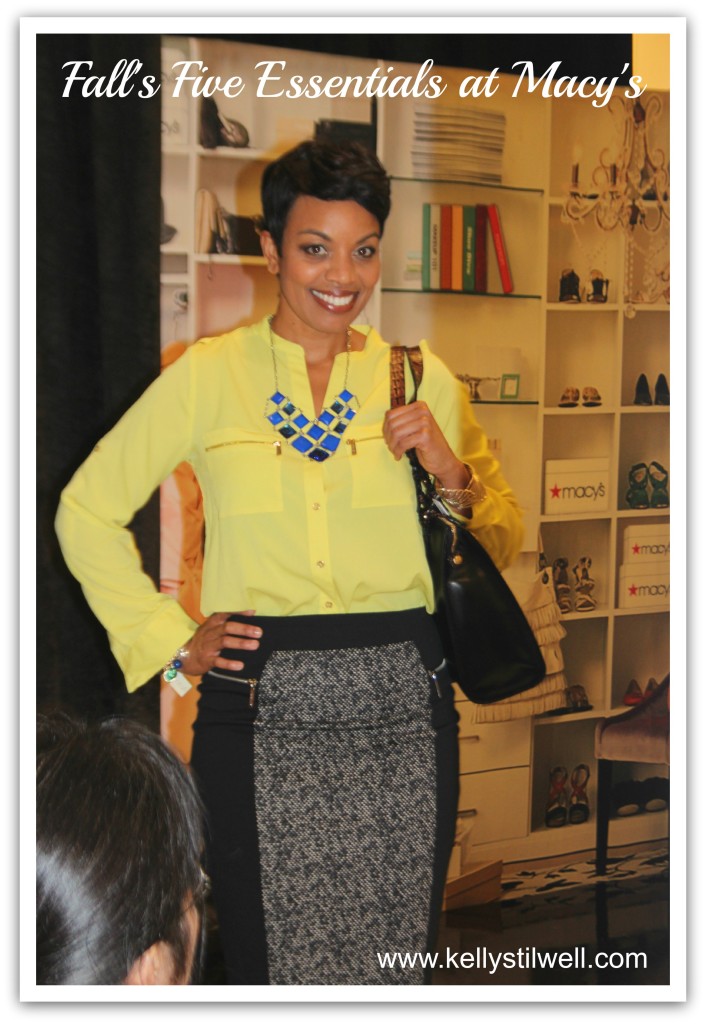 Again, this is where I think I go wrong. Pairing this blue necklace with a yellow blouse? I would pair it with…white. BORING! This is just gorgeous! I wonder if the Deal Divas would be able to help me?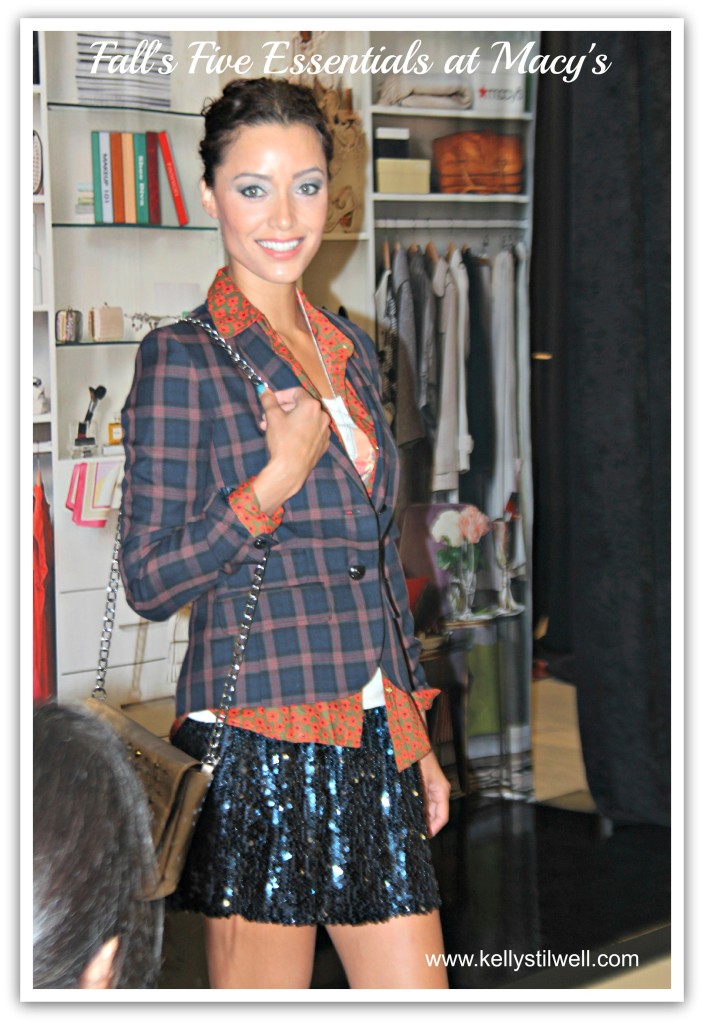 This is just stunning. A little young for me, but oh-so-gorgeous for my daughter! She would absolutely love this pairing. We were shopping recently and when she showed me what she was taking in the dressing room, to wear together, I thought, you're kidding, right? When she stepped out of the dressing room I was floored. This sequin skirt paired with the print shirt and plaid jacket works so well! Love, love, love!
The show ended with a dress that is perfect for the holidays! I know, it's only September, but if you want the perfect dress, you should really be thinking about picking it up now! You know how it happens that you wait and then it is GONE!
Everyone had a great time! Macy's provided refreshments, everyone got a small gift, and there were prizes, too! If you don't live near Tampa or Indianapolis, where the other Fall Fashion event took place, have no fear! Macy's has a whole line-up of events going on across the country over the next six weeks! Check below for a city near you! Many events will have a local celebrity, too!
Locations & Dates
Philadelphia, PA – Macy's Center City
Thursday, September 19th – time 5:30pm
Providence, RI – Macy's Providence Place
Saturday, September 21st – time 2pm
Louisville, KY – Macy's Oxmoor Center
Saturday, September 28th – time 2pm
Impulse Department, Main Floor
*Fashion presentation by The Style Checklist's, Lloyd Boston
Los Angeles, CA – Macy's Beverly Center
Saturday, September 28th – time 2pm
Miami, FL – Macy's Dadeland Mall, Level 2
Saturday, September 28th – time 2pm
Cincinnati, OH – Macy's Kenwood Towne Center
Saturday, October 5th – time 6pm
Minneapolis, MN – Macy's Downtown Minneapolis
Thursday, October 10th – time 5:30pm
Impulse Department, Level 3
Santa Rose, CA – Macy's Santa Rosa, Level 2
Thursday, October 10th – 6pm
Scottsdale, AZ – Macy's Scottsdale
Saturday, October 12th – time 2pm
Women's Department, Level 2
Sherman Oaks, CA – Macy's Sherman Oaks
Wednesday, October 16th – time 6:30pm
Washington, DC – Macy's Downtown Metro Center
Thursday, October 17th – time 5:30pm
*Fashion expert Amy E. Goodman
St. Louis, MO – Macy's West County Center
Saturday, October 19th – time 2pm
Columbus, OH – Macy's Polaris Center
Saturday, October 19th – time 2pm
Houston, TX – Macy's Galleria Hidalgo
Saturday, October 19th – time 2pm
Bellevue, WA – Macy's Bellevue Square
Saturday, October 19th – time 6pm
New York, NY – Macy's Herald Square
Wednesday, October 30th – time 6pm
Fun, right?
I am a member of the Everywhere Society and Everywhere provided me with compensation for this post about Fall Fashion. As always, I only share my honest opinions with my readers. I honestly love Macy's!