Chatting with Chris Fedak, Creator and Executive Producer of the new Deception TV show on ABC was pretty cool, but watching Co-Producer David Kwong show us how the magic really happens was absolutely fascinating. Now that I've seen the premiere I can wholeheartedly tell you - this show is going to rope you in!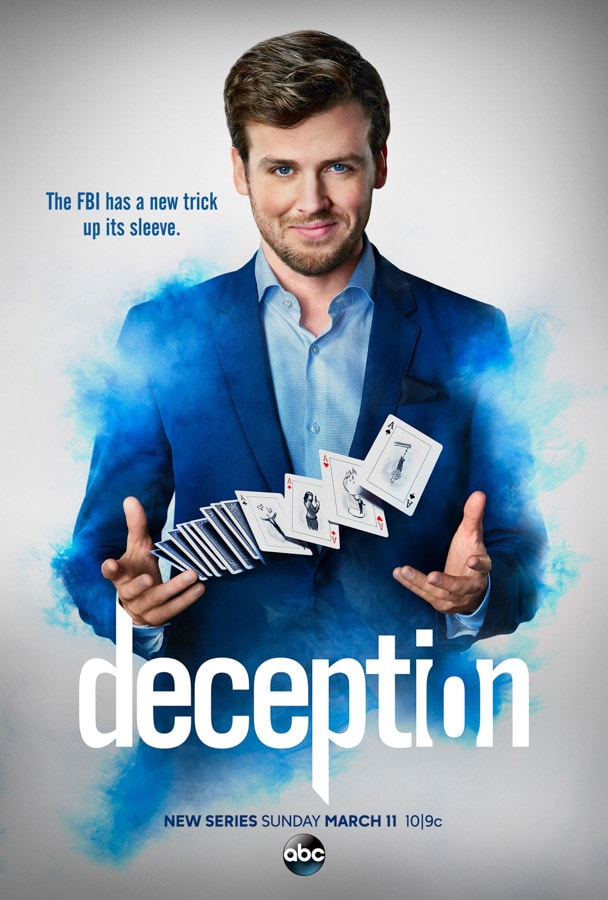 About the Deception TV Show
When his career is ruined by scandal, superstar magician Cameron Black has only one place to turn to practice his art of deception, influence and illusion – the FBI. Using every trick in the book and inventing new ones, he will help the government catch the world's most elusive criminals while staging the biggest illusions of his career.
Deception Cast
"Deception" stars Jack Cutmore-Scott as Cameron Black, Ilfenesh Hadera as Kay Daniels, Lenora Crichlow as Dina Clark, Amaury Nolasco as Mike Alvarez, Justin Chon as Jordan Kwon, Laila Robins as FBI Agent Deakins and Vinnie Jones as Gunter Gustafsen.
Deception is directed by David Nutter, who is also the executive producer, and the series is from Berlanti Productions and Quinn's House in association with Warner Bros Television.
Exclusive Interview With Chris Fedak & David Kwong
We sat down with Chris Fedak and David Kwong to talk about Deception and how it was created. Chris said he had a conversation with writer/producer Breg Berlanti (also known for Dawson's Creek, among others) who said he wanted to do a show about magic.
Chris said he didn't have any magic show ideas but the more he thought about a show built around deception along with the idea of the two brothers, the more he was intrigued about the idea of the teamwork. Chris loves shows about family.
Chris: I hadn't seen a show about a group of people putting together deceptions like this and I thought that could be cool. What we're going to be doing every week is essentially an action show with mystery and deceptions instead of it being every episode has to end with a gunfight or a big fight. Every episode would have a big deception at the heart of it. 
David shared a few tricks with us during the interview.
When we cast the show, we always assumed we'd have David's hands doing all the magic. But then as we got closer we cast Jack, and we were lucky to get him - we had charming we had handsome- and he's also an obsessive. 
So as we were walking around the production offices in New York getting ready for the shoot, I'd see Jack working on a trick and I thought, I'll just tell him we'll just do the visual effects. But that's not okay for him, he is a perfectionist.
Turns out Jack Cutmore-Scott didn't have any experience in magic before the show. But he was determined and dedicated, and learned it all! 
David Kwong: [Jack] worked very-very hard and continues to work with me and our New York magician Francis Menotti, and he's always got a deck of cards on him, he's always got a pocketful of coins. It's like a practice hobby, you just keep at it and keep at it. 
The Deception TV show is honestly a fun, feel-good show. That is exactly what David and Chris were going for.  It makes you laugh and along with the magic, is super fun to sit back and watch. Chris said this show has elements of feel-good comedy, entertaining magic, captivating mystery and a bit of action too.
Chris: I really wanted to make a fun network show. I wanted to make a show that was like you're going to sit down, and I'm going to entertain you and this is going to be the most fun you could possibly have.  And that's where this show comes from. It was designed to be a network TV show and that's why ABC was the perfect home for it. 
So it won't always be like catching the murderer of the week. We'll do different types of episodes. We're going to do hostage situations, bomb threats, all these different types of things and we're always going to try to solve them in our own unique way.
As the show Deception takes you through scenes with magic, David and Chris had to walk a fine line. They said they want the series to show a kind of "how magic works" storyline - but they also didn't want to give away magic secrets. 
David: We're very respectful of magicians, so we have to be able to walk a very fine line. You'll learn a lot about magic and the theories of magic, deception, and illusion, but we're not going to ruin tricks.  So sometimes if something specific comes up and you see me pausing like this, it's my magician's censors setting in. But for the most part, we really do the give you that kind of behind the scenes perspective. 
As they created Deception, the writers and magician David Kwong sat in a room together, discussing magic and how it fit into the storylines of the script. When the magic tricks matched up with plot points perfectly, that's what Chris called the "sweet spot."
Chris: David did a class where he essentially went through different theories of magic, put them up on the board, then we talked about them.  And then on all the other boards, we'd talk about the story and what we want to do and how we're going to break down the season and all the mystery stuff. 
Then we merged the two together and said which thing goes with which.  Because the better the deception, the better the illusion matches up with the emotions that we're doing in that episode. That's when we're really kind of hitting that sweet spot. 
As a fan of magicians, I was so excited when I heard they are actively seeking out guest magicians for cameos on the show. This will definitely keep me watching!
Take a look at the trailer:
David: We have Penn and Teller in the premiere.  And we want this to be something that magicians love and respect and they're going to pop up in it.
Chris: We sent a crew to Las Vegas. I'd love to have more magicians on the show; that'd be great.
David brought up a very good point - there aren't very many superstar female magicians. So they created a mystery woman character as the nemesis that is always one step ahead. And let me just give you a heads up- she is a serious badass.
David: I'd say one thing that when we sat down at first when we got the show, we came up with a mystery woman character.  We were excited about having a female magician because there had been some in the past, but always in very few numbers.  
I do think that there is some fourteen-year-old girl right now who's going to be an international superstar in ten years, and I don't know where she is yet.  But we were very excited to make our nemesis smarter and faster than Cameron, one step ahead of him. We're excited about that.  
Do you like stunts and the intensity of dangerous magic? Deception has these elements too! There are stunts and parts of the show will have you riveted to the edge of your seats. In fact, Chris said Jack did a lot of the stunts himself.
Chris: There are stunts; they're built into it.  In regards to inside the story of the show, the stakes are very real.  We had to set this exactly right. We wanted to have real stakes - and you'll see that as the season plays out. There are many instances where Cameron or his brother Jonathan are in really dangerous situations.  
That's the kind of Magician Impossible side of the show. It's like those are real bad guys that we're going up against.  But I love the idea that if your performance isn't on prime, you're dead.
Doesn't this sound AMAZING?  Action! Mystery! Magic! Humor! There's a bit of relationship drama, too. I am so glad they made it family-friendly. I can just imagine how many kids will rediscover a love for magic after watching this show. 
Take a look at one of the tricks David showed us. I can't even fathom how this happened! Earlier, David had shown us a dollar bill that we gave him which ended up inside a kiwi. INSIDE a KIWI!! But he wasn't finished yet...(Scrabble fans will love this too! You'll see why!)
The cast took a minute to get a photo with our group. 
Deception premieres tonight on ABC at 10 pm ET. I've seen it and I think you're going to love it!
Deception TV Show Social Media
Follow this ABC Series on social media to chat with other fans and follow along for updates. 
Deception website and DeceptionTV Show Official Hashtag: #Deception
Follow Deception on Facebook , Twitter, Instagram, and YouTube.
By the way, if you love Scandal, check out this interview with Bellamy Young aka President Mellie Grant. Such a fun interview!
Keep an eye out for more new ABC TV shows and interviews later this week!