I think Captain America Civil War is my favorite Avengers movie.
I've been sharing interviews with the cast for the past week, starting with Chris Evans, Elizabeth Olsen and Jeremy Renner, and today, the Vision.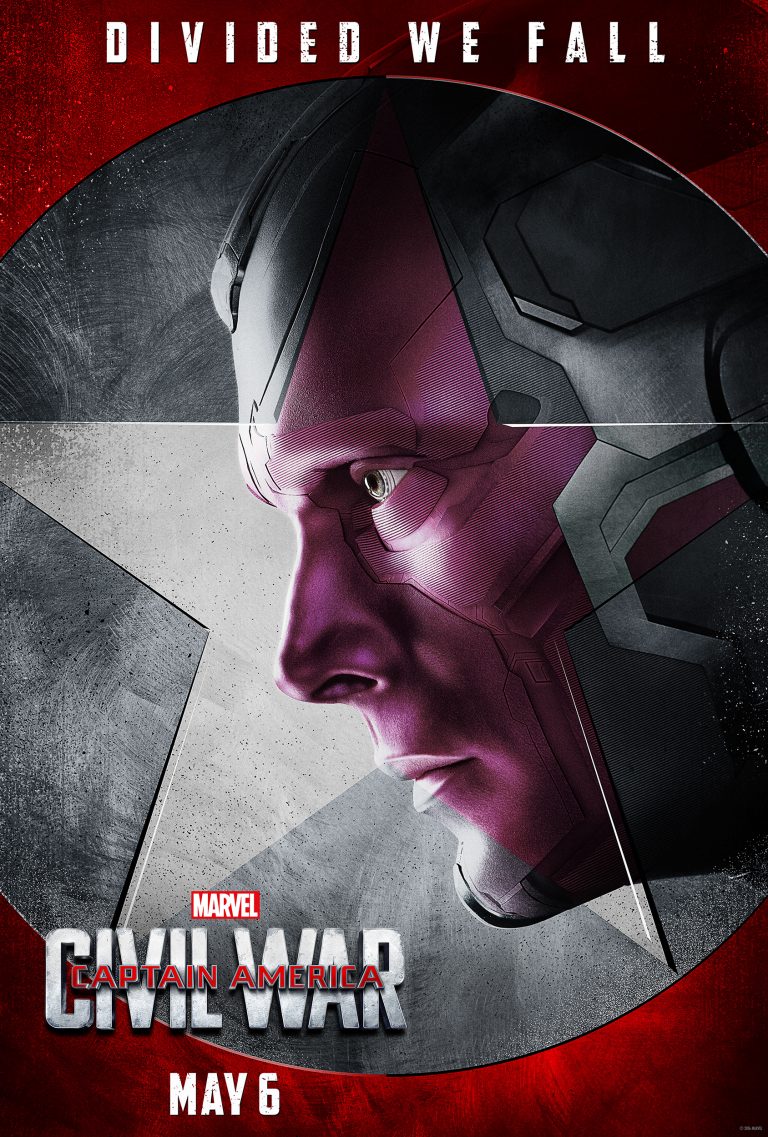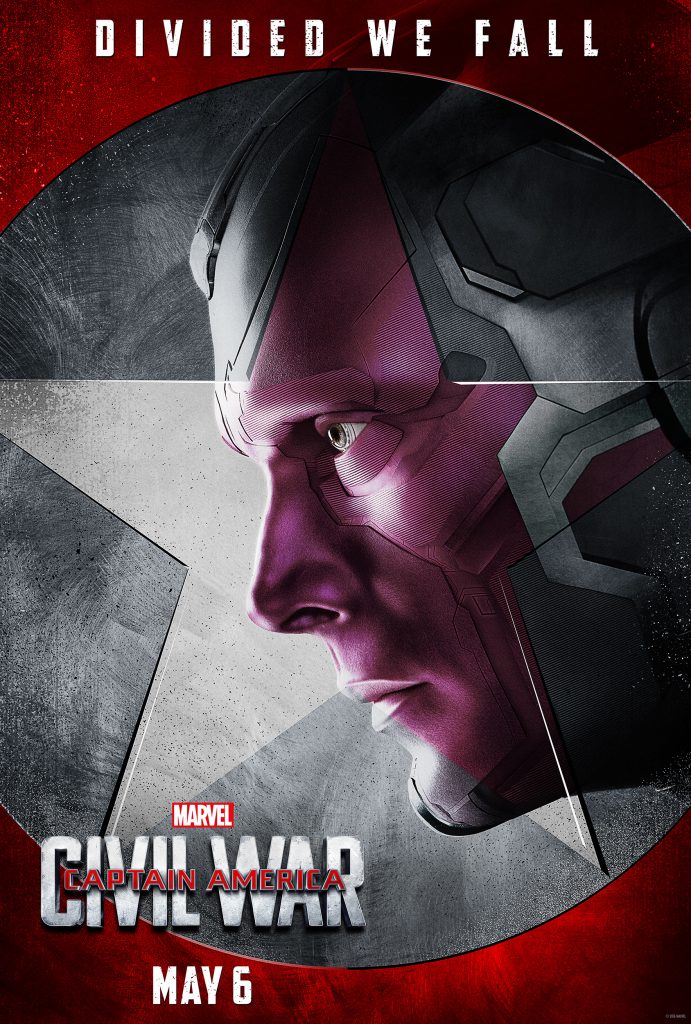 Oh, if you could have been a fly on the wall when Chris Evans was in the room with Paul Bettany.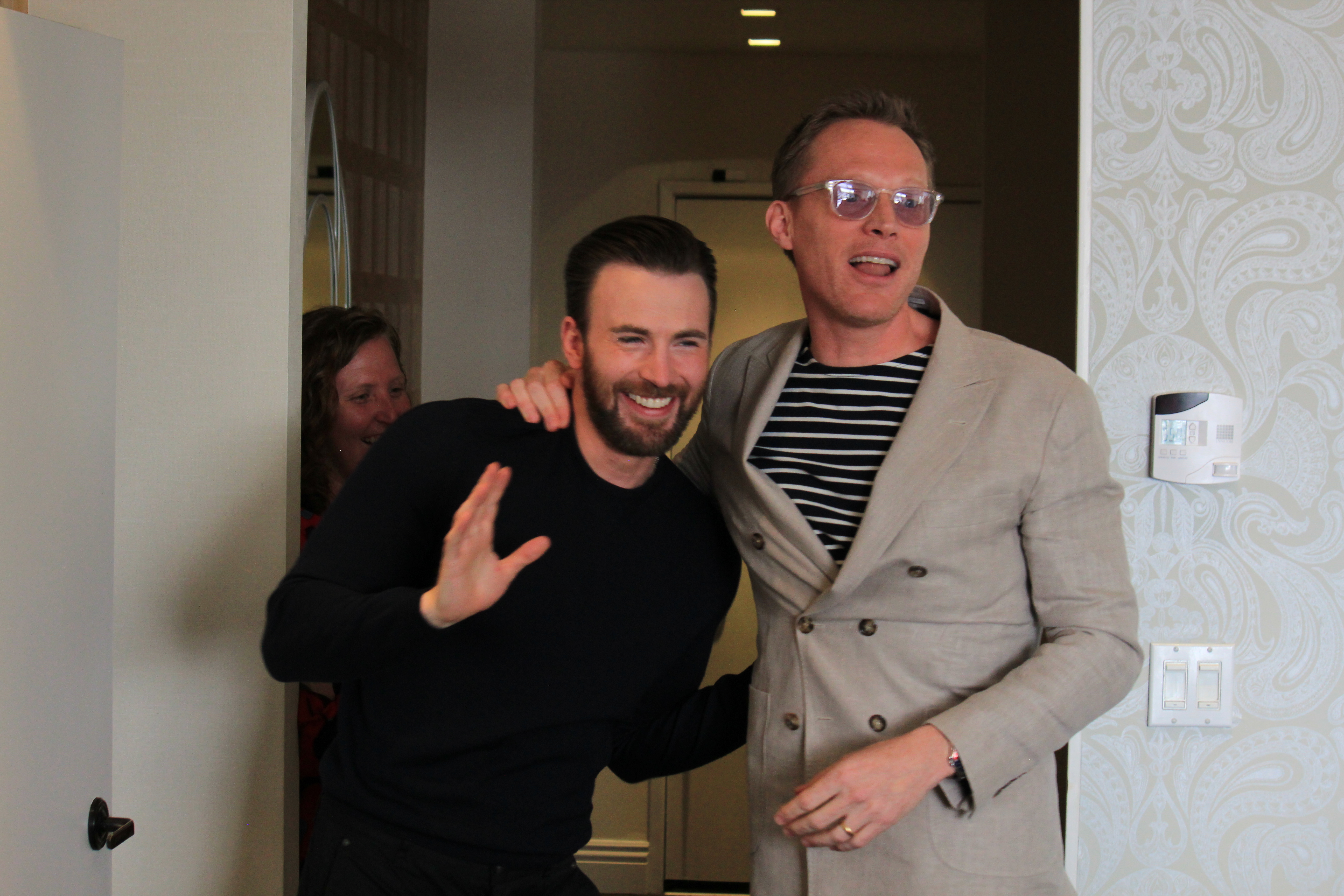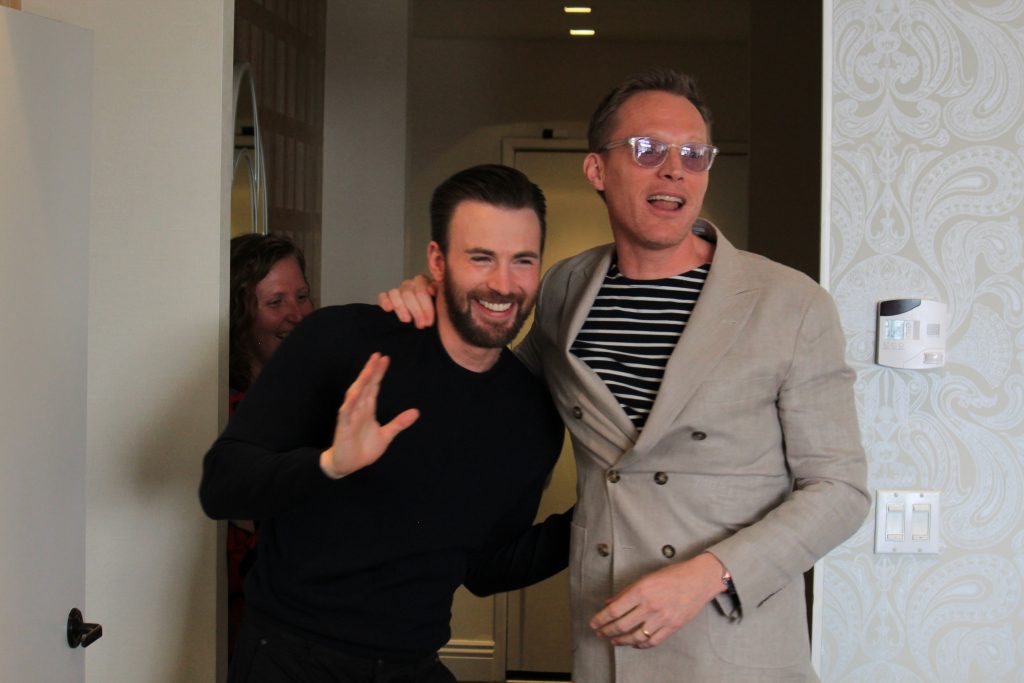 From the moment they were together and Chris started teasing Paul about the way he dresses, reminding him with photos of the suits he's worn...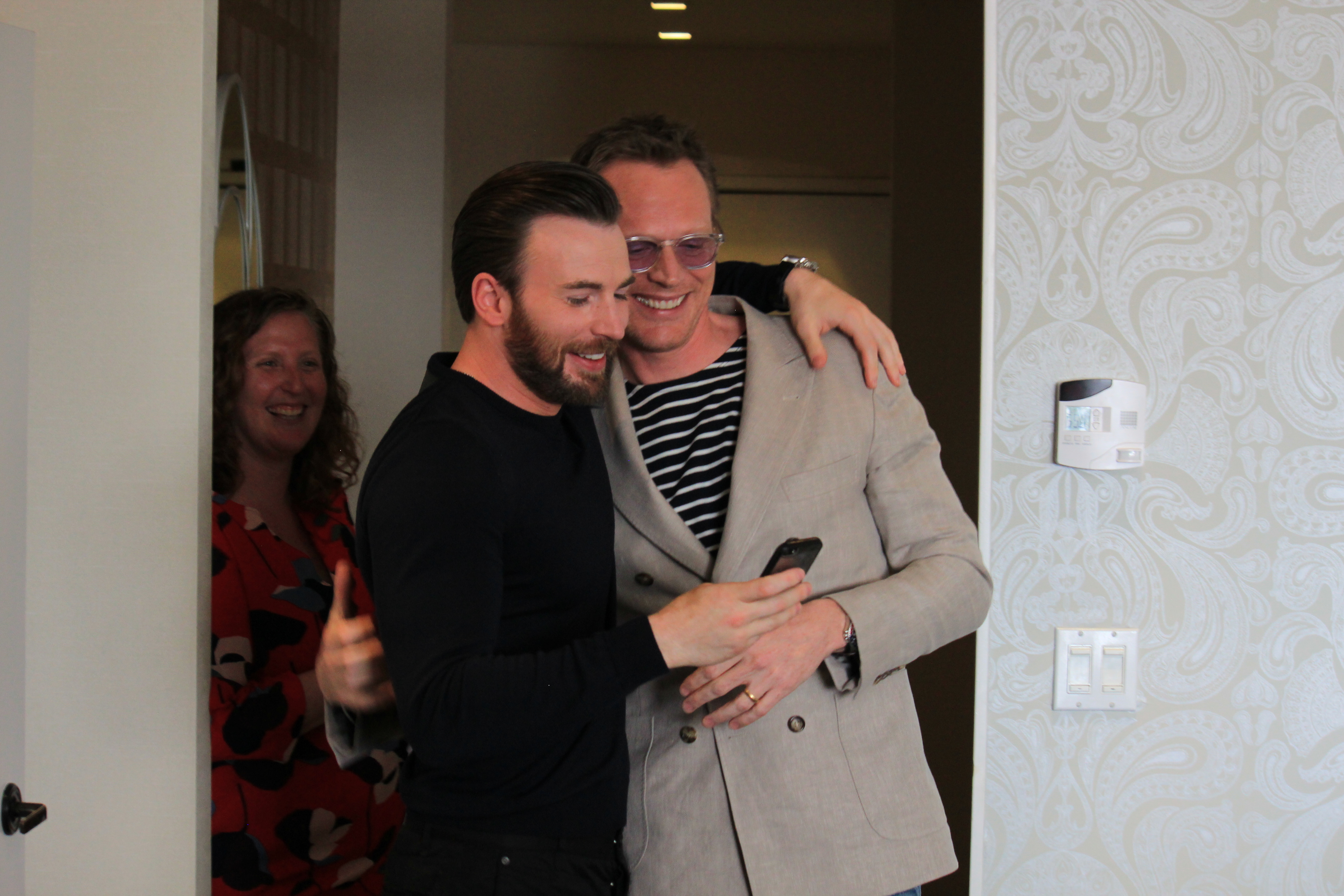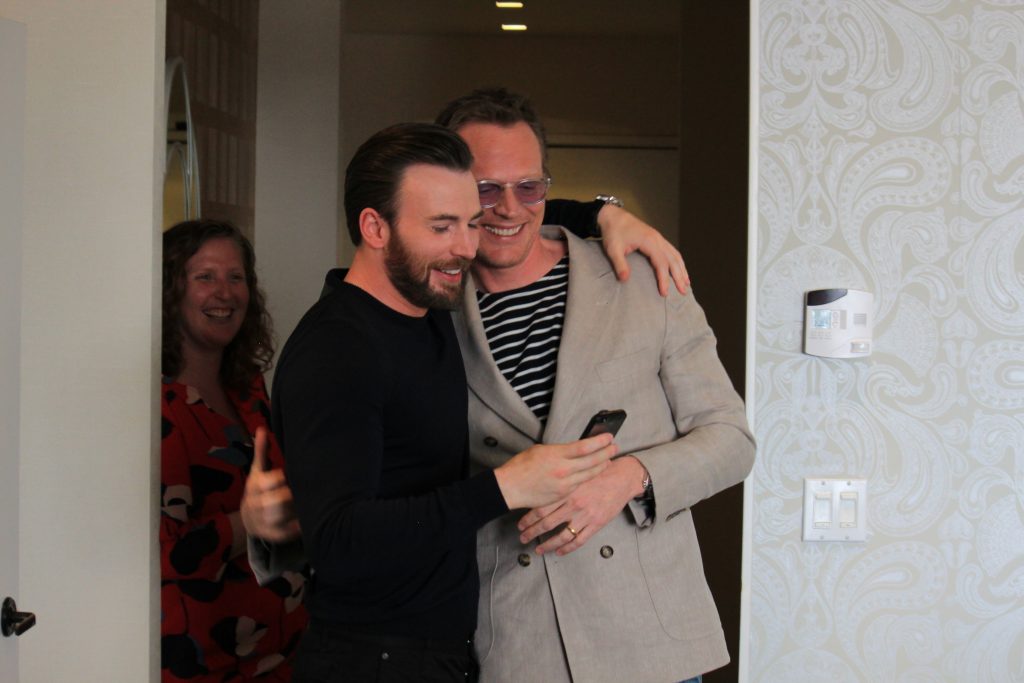 And though it may be true that Paul Bettany was featured in Esquire in a story titled, "Breaking down Paul Bettany's Perfect Suit", Chris could not resist teasing him!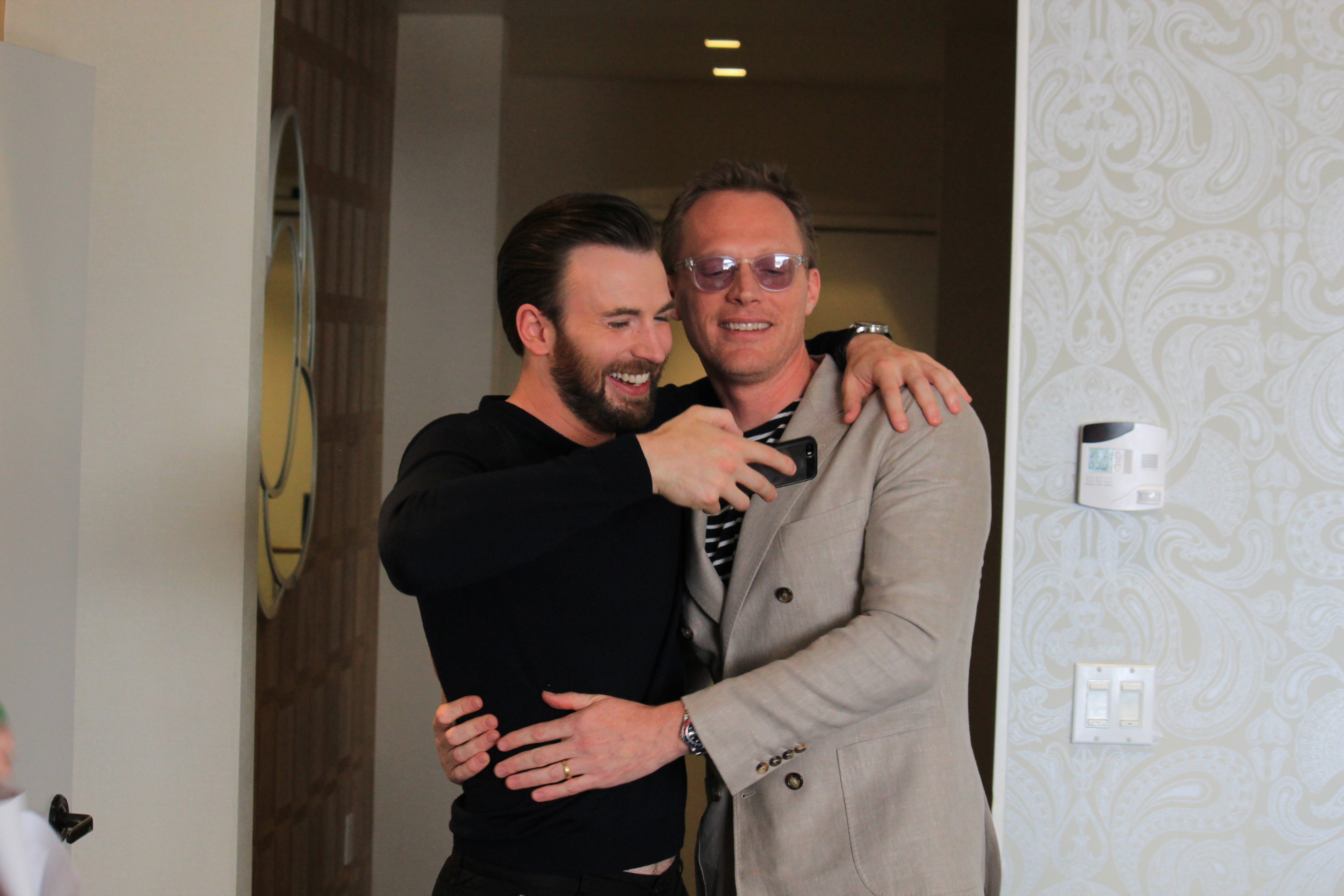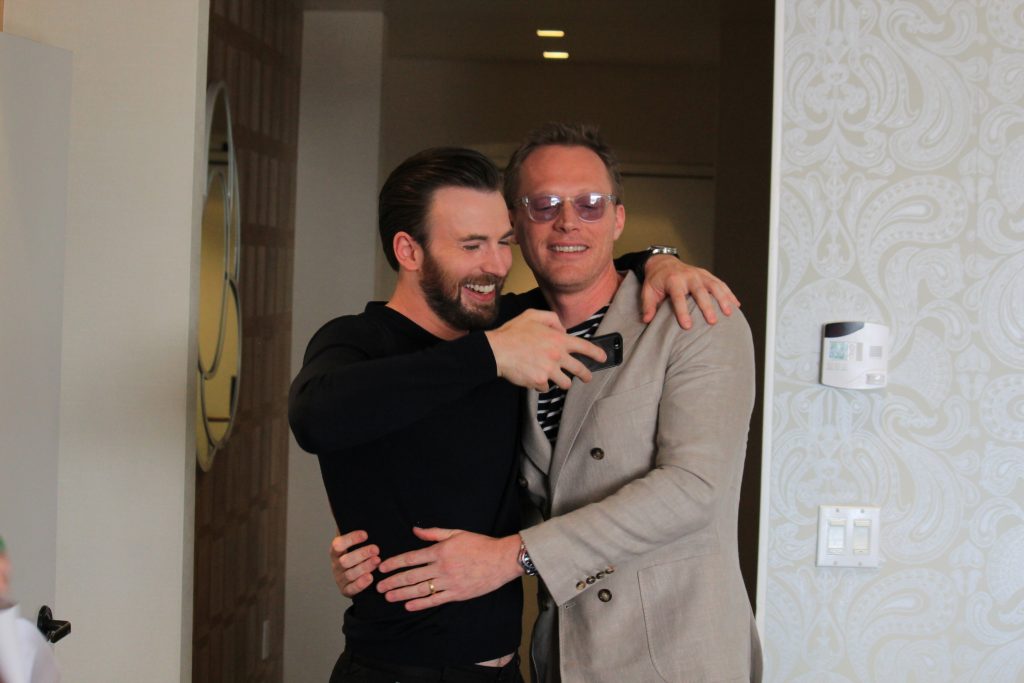 Excuse the blur! It was too good not to share Chris showing photos of Paul's fashionable photo shoot...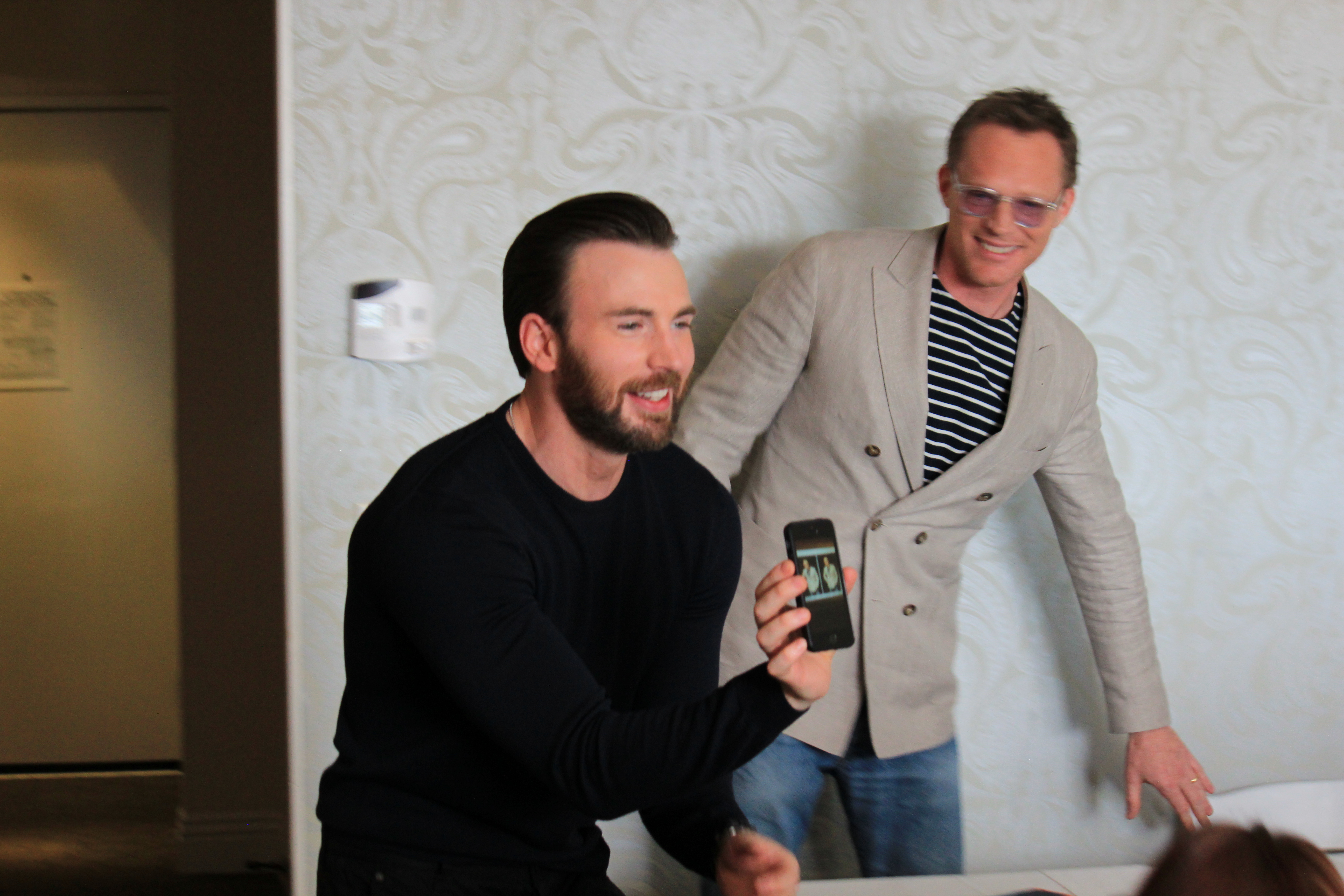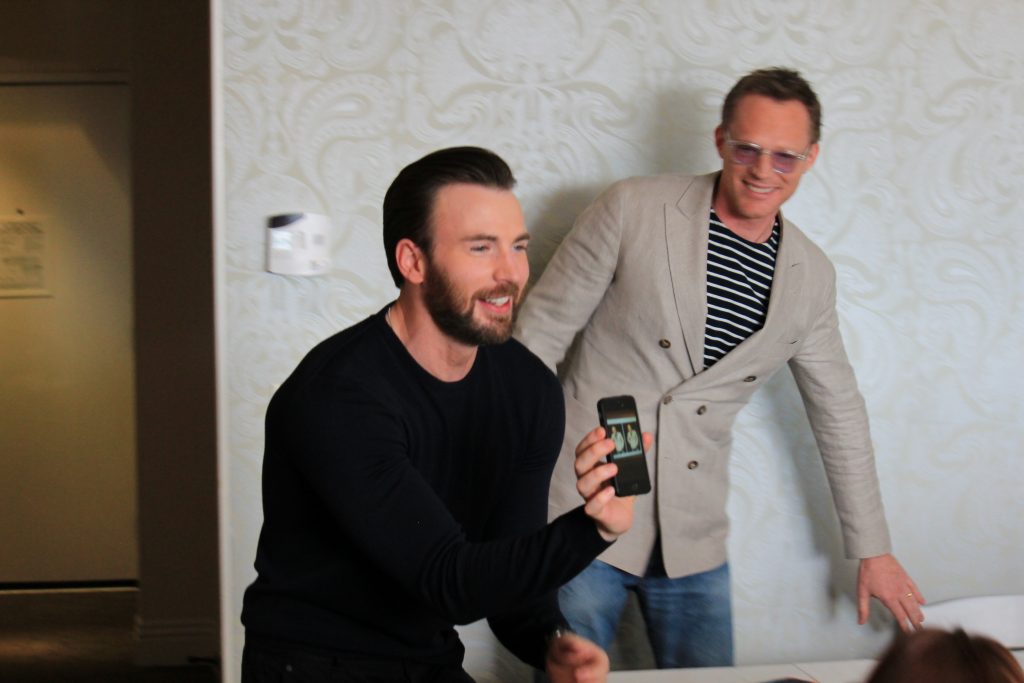 This interview was, without question, the funniest interview I've ever been a part of. Things I can't repeat were said.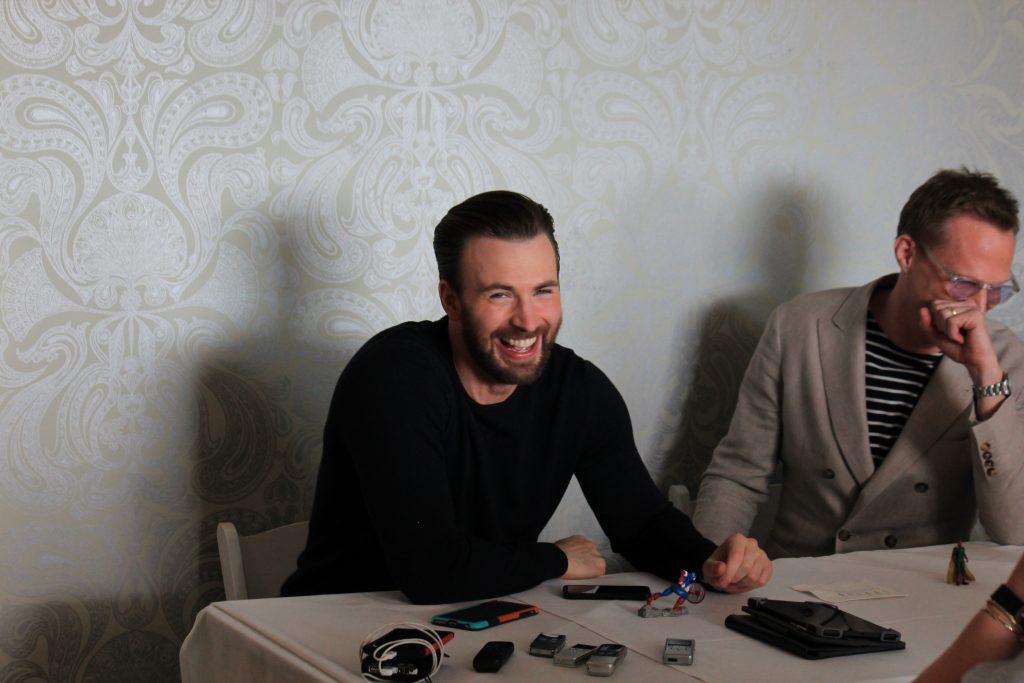 Hilarious things. Things that made our hero, Captain America, blush like you can't imagine. It was so much fun to see these two actors cracking up with a room full of bloggers. Best. Interview. Ever.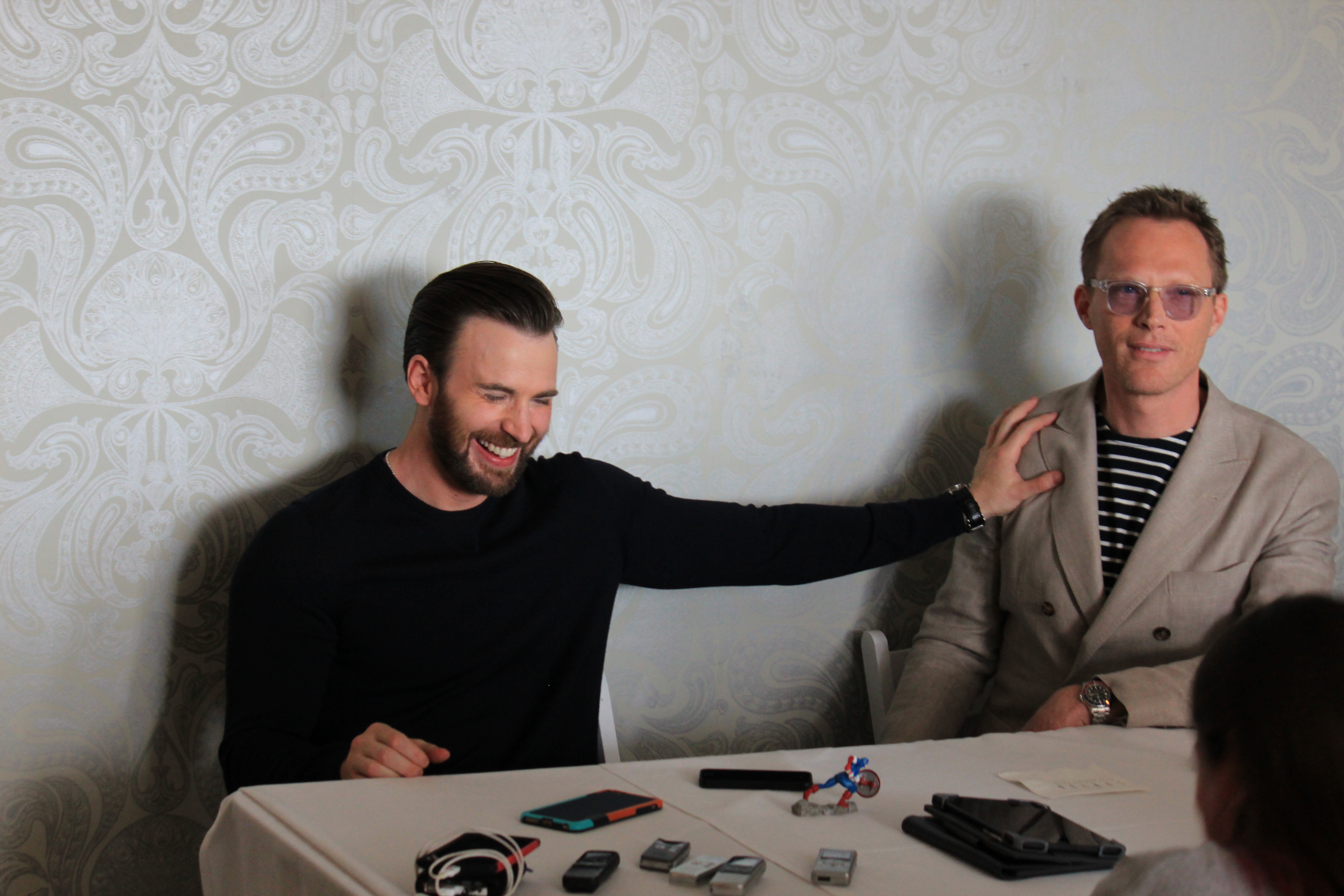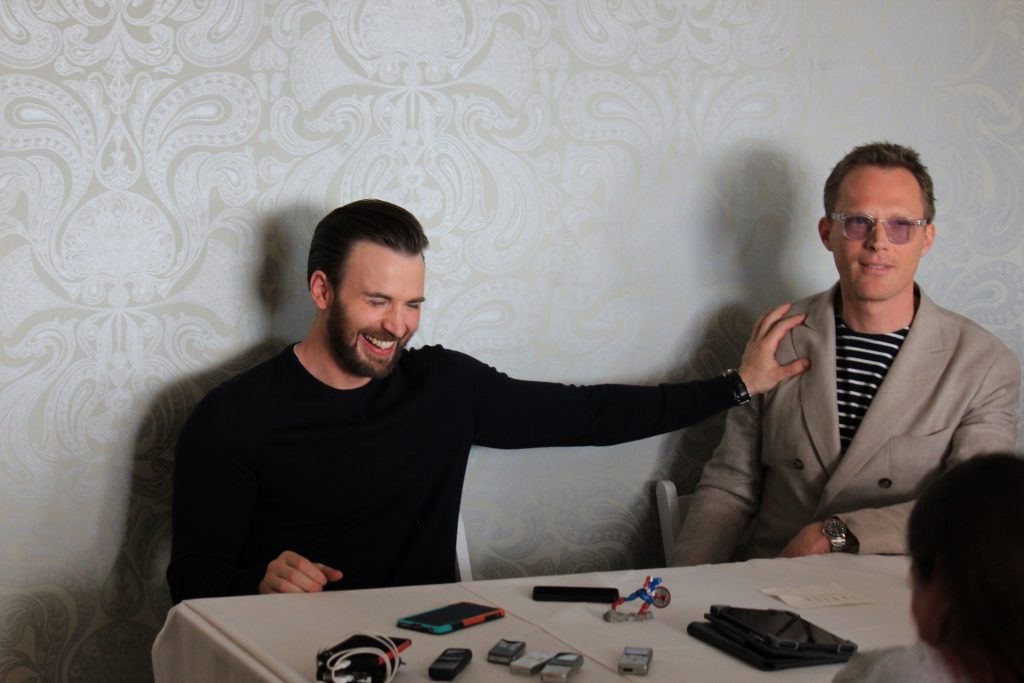 But these gentlemen had other places to be, so we had to get started with the interview.
Paul: What can I do for you all? Probably wondering why I brought you all here? [Laughter]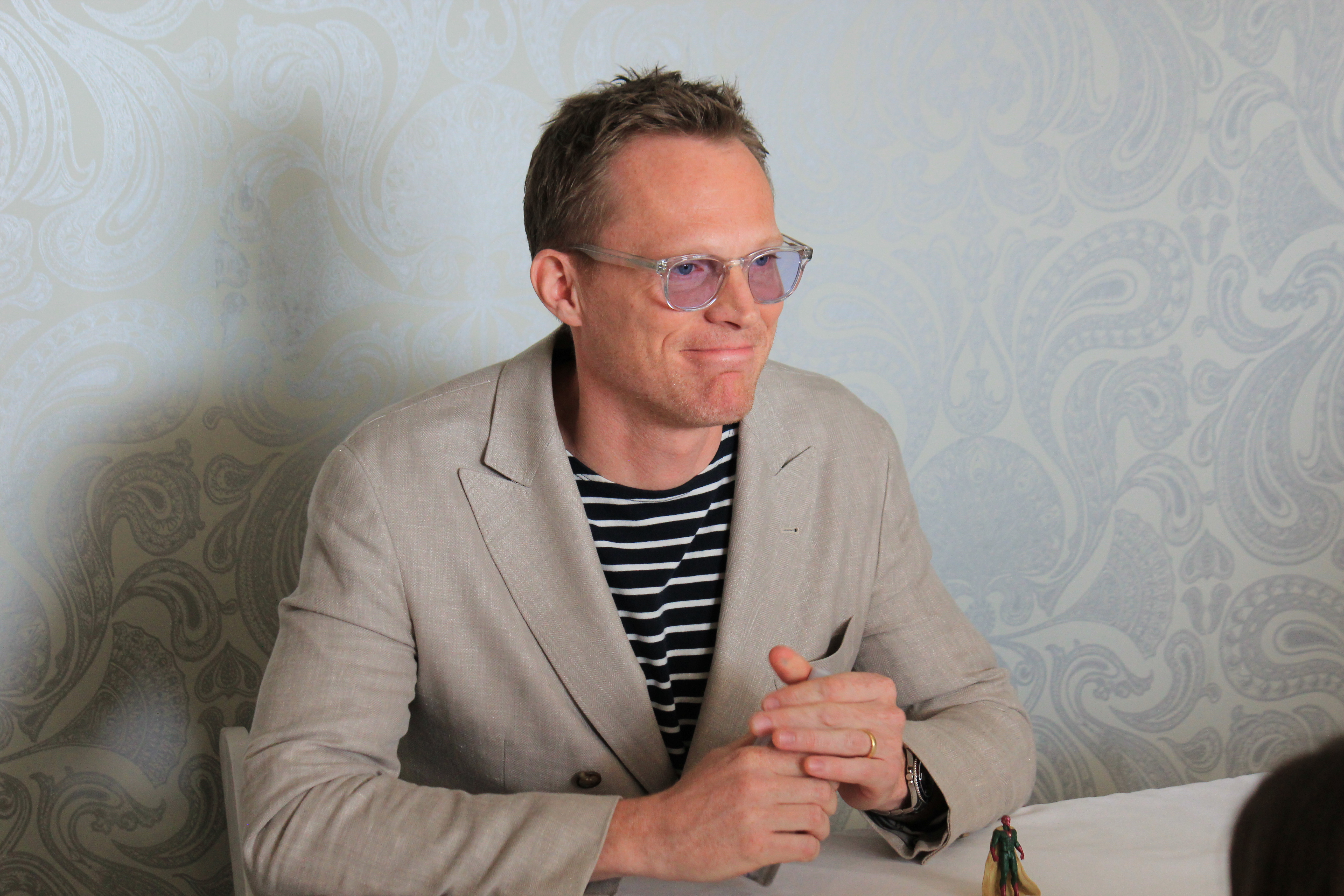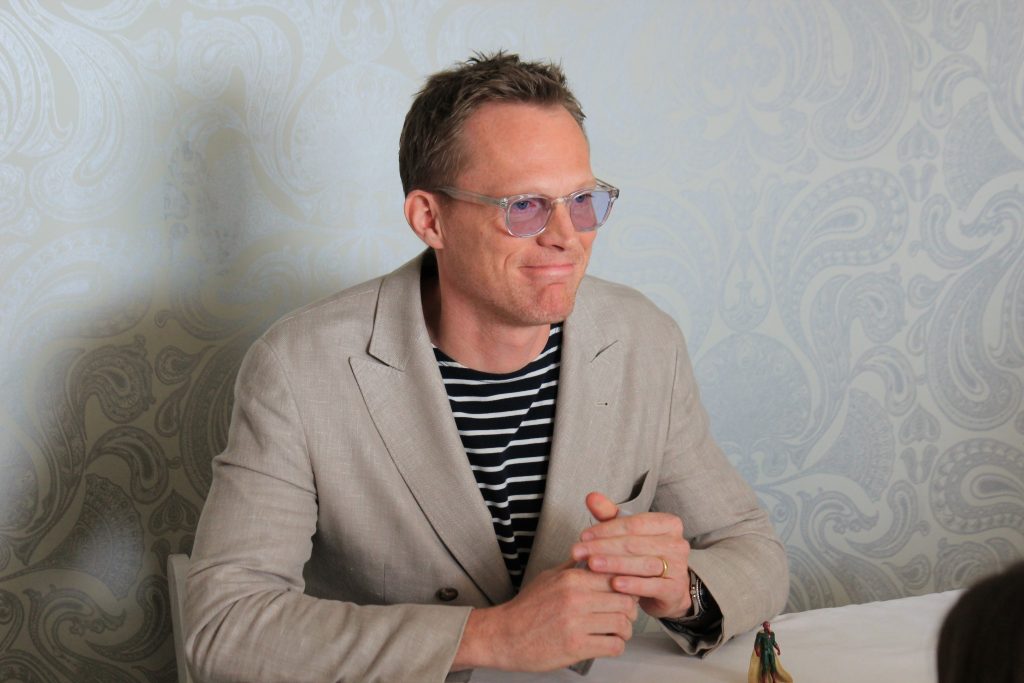 Q : The directors were telling us a little bit of how hot it was filming the airport scene. Can you tell us about the makeup process and the struggles with that?
Paul: It was hot. You all come out of your air-conditioned trailers in your costume and makeup and everybody's looking rather like super heroes and movie stars. And then in about naught point 5 minutes later in 105 Atlanta weather, you look a lot less like a movie star. Initially, everybody looks so great.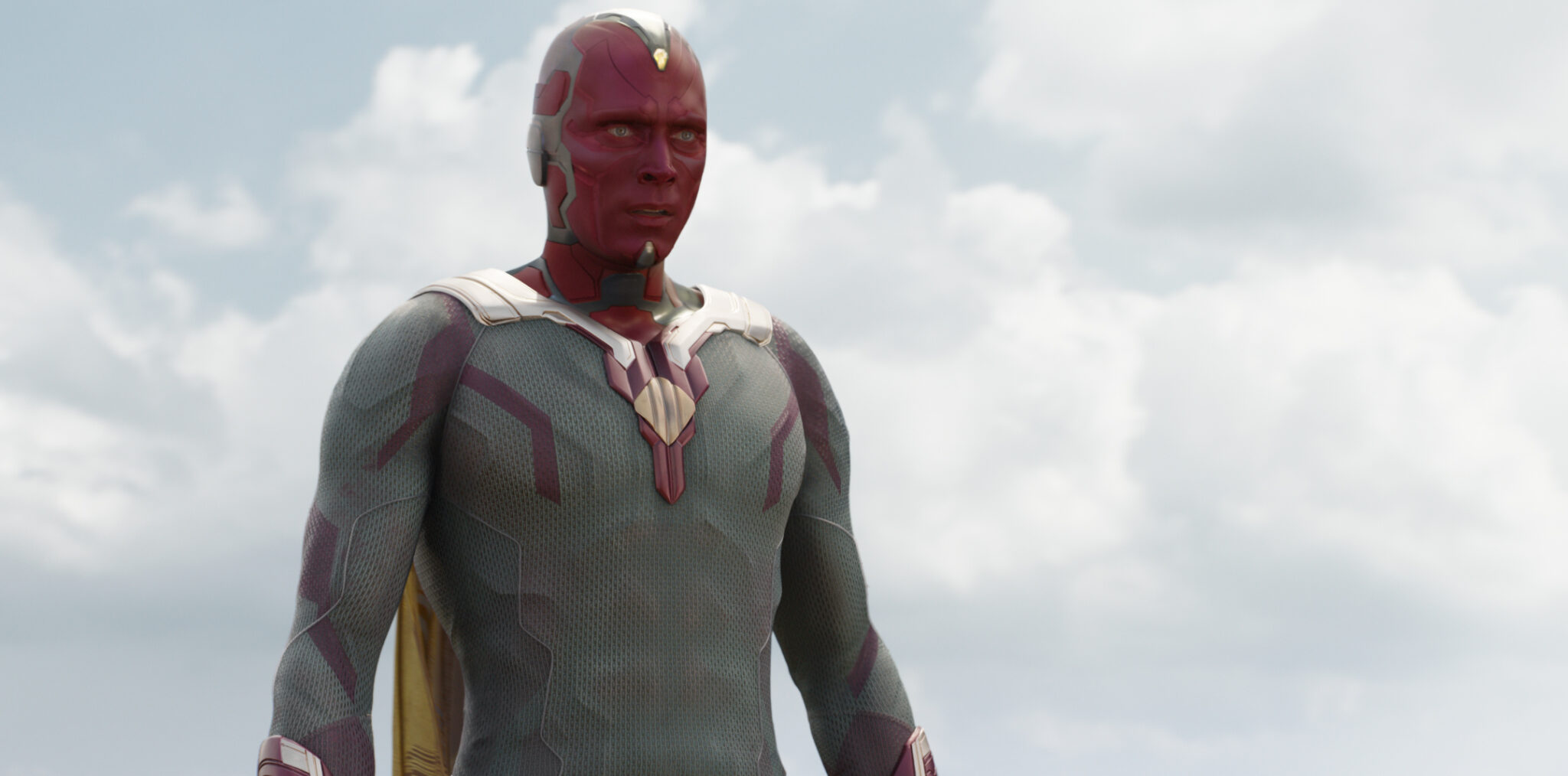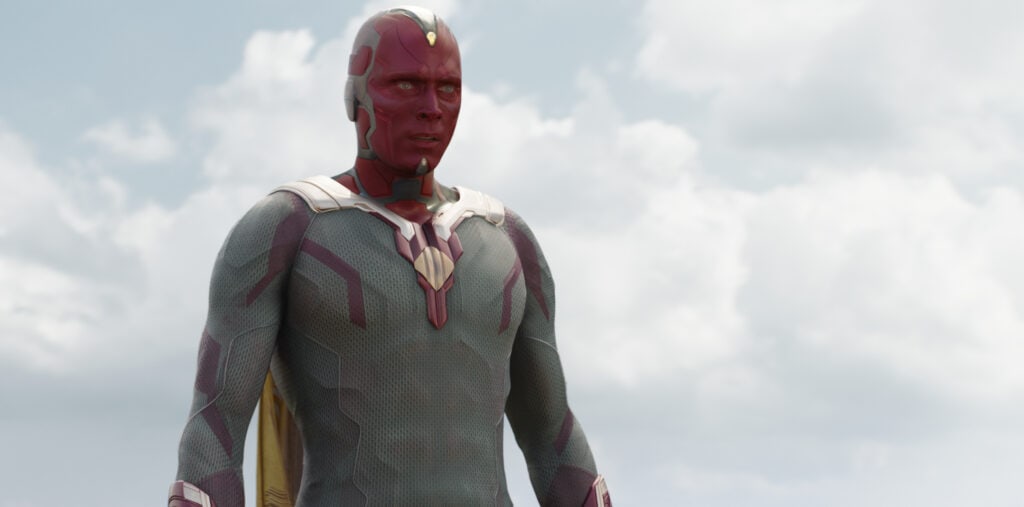 And then you just see people kinda like, 'Ugh," you know. It was a lot. Both me and Chadwick have this special suit that goes on underneath. Which pumps ice cold water through it.
CROWD : Wow.
Paul: Yes it's nice, isn't it? If you can imagine...close your eyes and imagine being inside a gin and tonic. It feels exactly like that.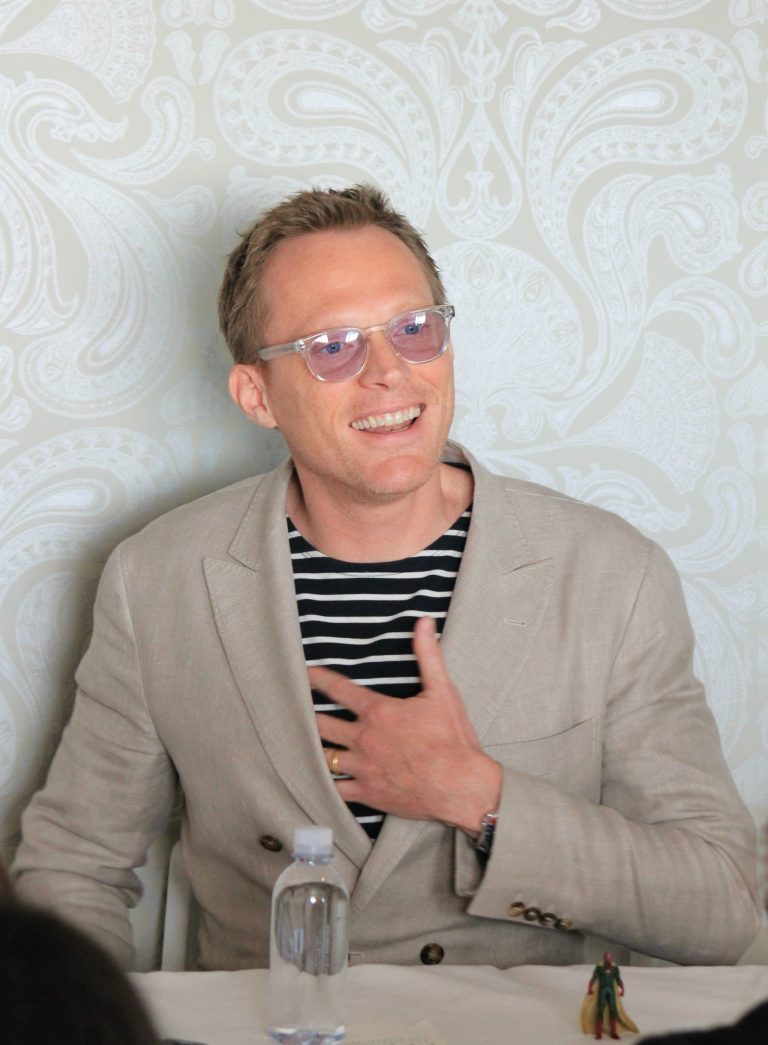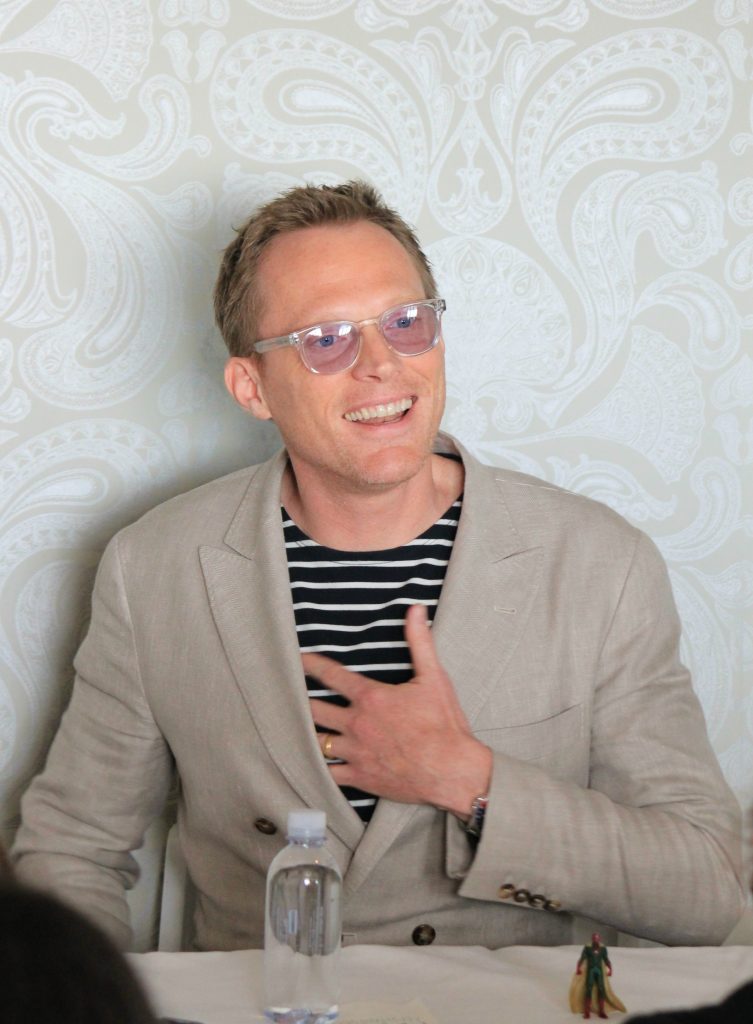 Q. Can you talk a little bit about you and Wanda?
Paul: I think you will find Vision, in this movie, on a sort of personal quest. In the previous movie you see him born. Which I don't expect ever to do on camera again in my career.
He is naïve and yet omnipotent, sort of struggling with learning about the world. I think in this movie you find him trying to be more human.
We found ways to realize that visually with him wearing clothing and all of that. Human clothes. Albeit from the 1950s, but human clothes.
And the reason I think he's doing that is he's kind of interested in working out how loyalty works. And I think that loyalty probably works through love.
Logic doesn't really afford for loyalty because if new information comes to light, he might well flip, and be on Captain America's side, right? 
But love is the water that makes soil hold roots, right? So I think he, in order to protect humanity, he needs to understand what love is.
And he and Wanda both share certain similarities, which is they don't know the extent of their powers. And that's terrifying. I mean, you've all got kids, right? To your kids you're all called mommy. [Laughter]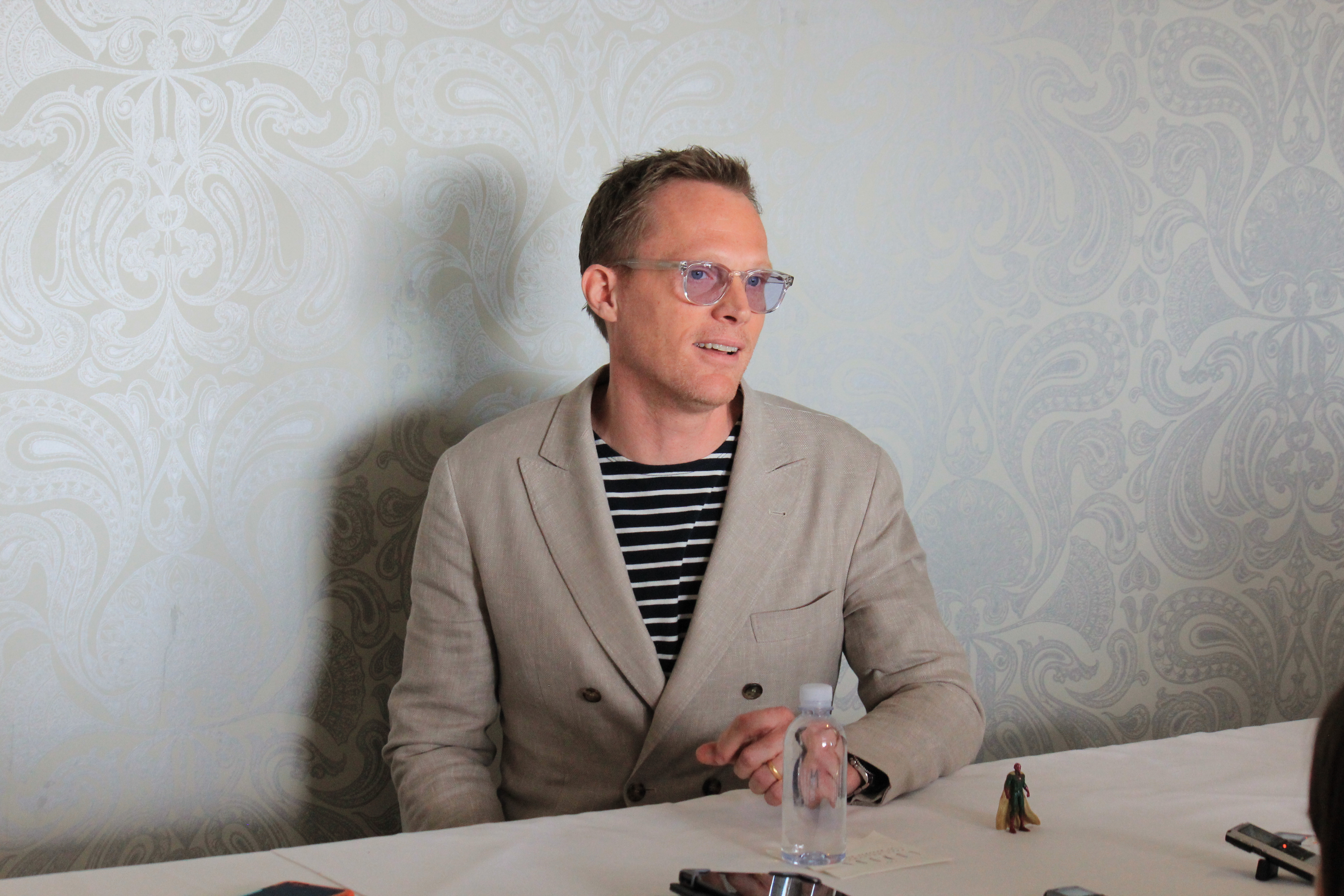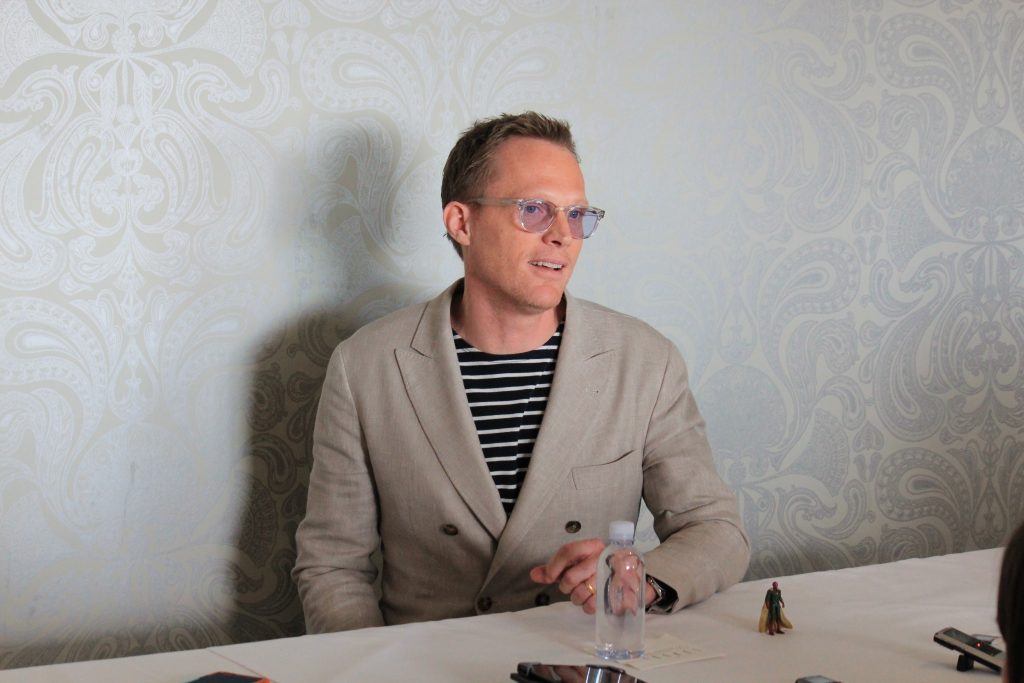 When children grow to understand where the walls are, and they need boundaries, it's frightening. You see it in every playground that you're in with your own kids when a parent hasn't given their child boundaries.
How mad children are when they think they own the whole world. Do you know what I mean? (He's talking to 25 moms. I think we know!)
They are absolutely at the center of it. So I think that they're both [Vision and Scarlet Witch] struggling with that, and it's kind of terrifying them. And the vision working out what love is- that's gonna be very important moving forward in terms of humanity.
Sidenote: We know Marvel does stray from the story in the comic books, which I love, because it's a fresh new story, and the possibilities are endless. But I can't help wonder if this is the beginning of something between Vision and Wanda. I hope it is. How about you? (Update: Have you seen WandaVision?!)
Q. How do you personally relate to Vision?
Paul: I have to relate to him as a human being, cuz' I am. And I've never met a synthetic person.
Although, in Los Angeles, I question whether I have a lot. But, you know, it's funny. I sort of think much in the way that I was just sort of describing, like imagining a child, a naturally, clever child who can do anything, almost. And is forced into a situation of having to grow up very quickly.
Hasn't happened to me yet, personally. But, that's how I do [relate.] And I think you use that step, with him being distracted and acting in a very non-logical way, and with aggression. And he calls this a massive hurt. He makes a mistake. And that's interesting. Because that is the very double-edged sword of being human.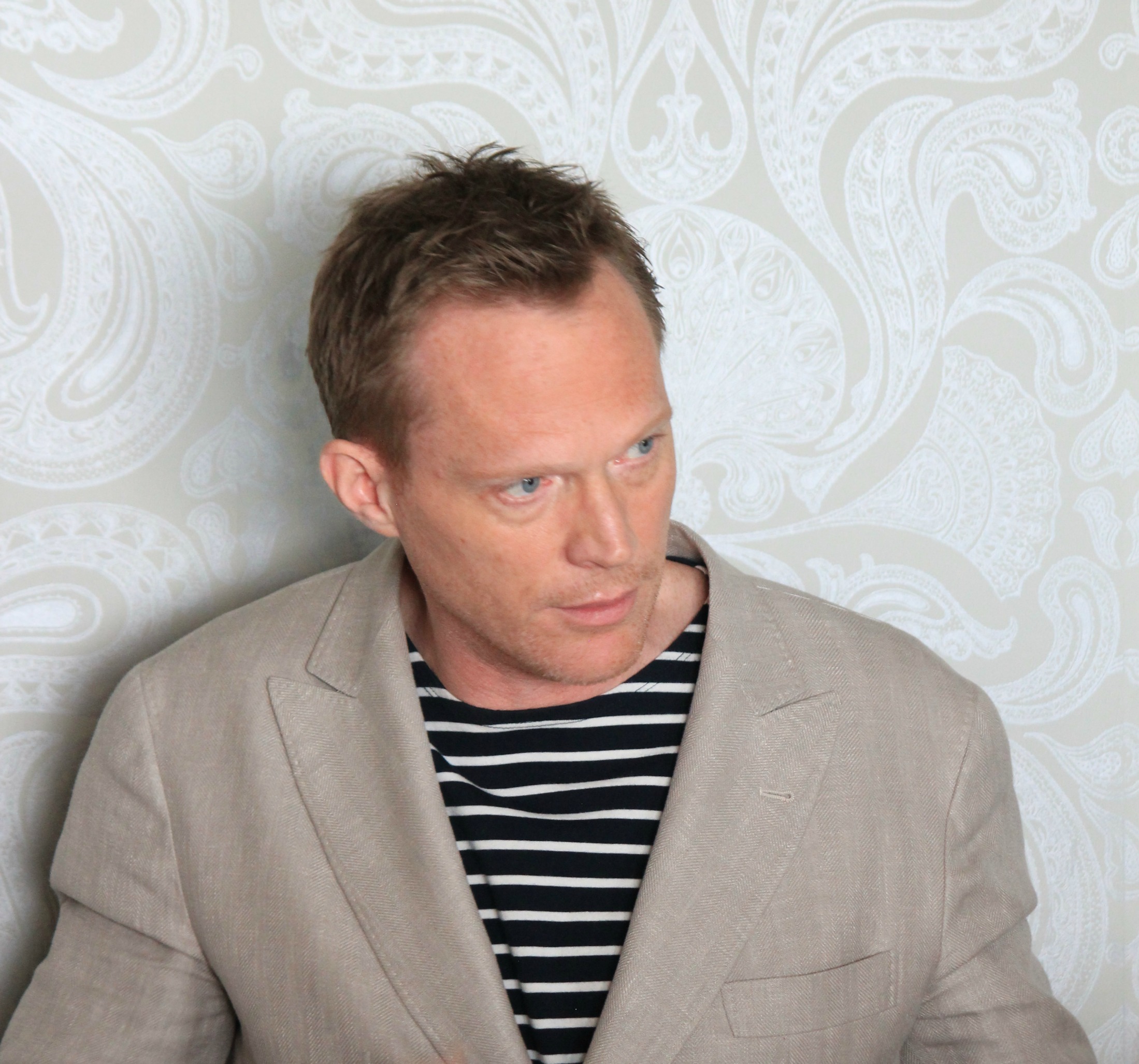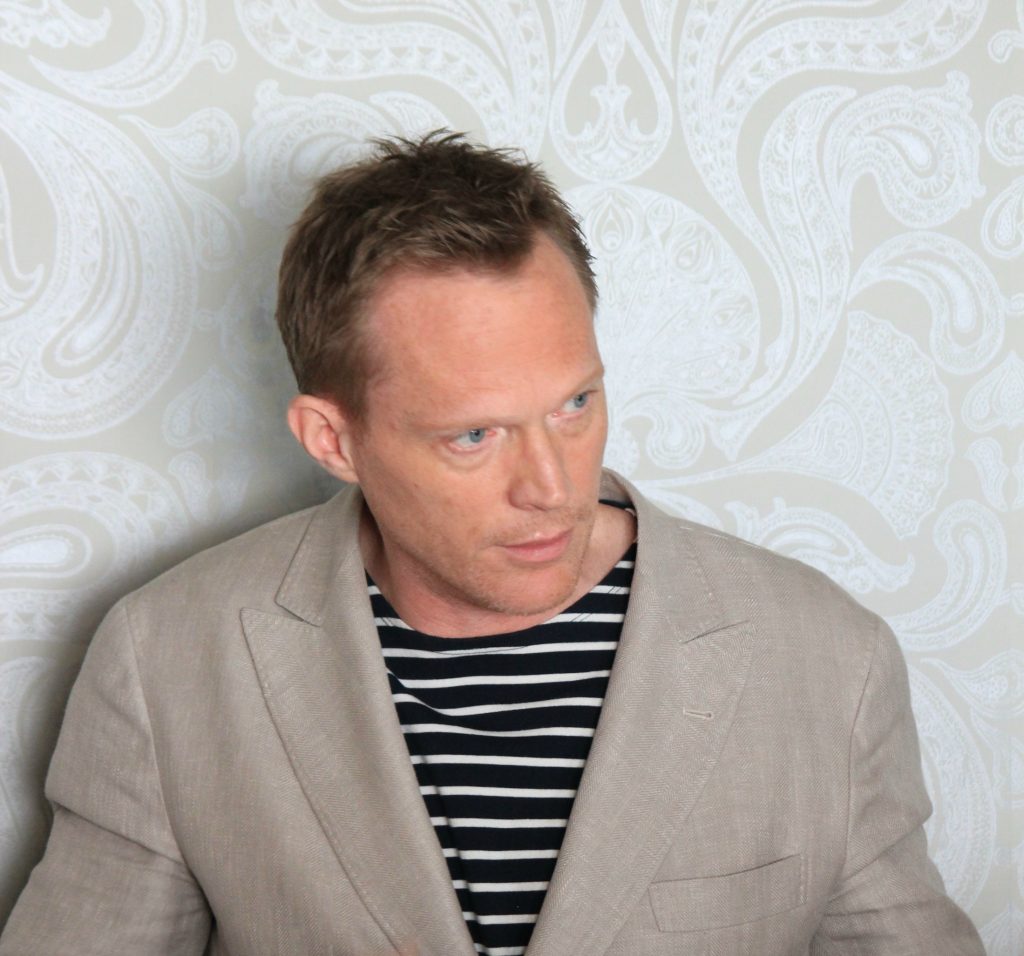 Q. Can you put to rest any rumors about playing Bond?
Paul : It's an impossible question. It's very flattering that there's this talk about it. Were such a negation gonna take place, I don't know of one. So, I can't confirm or deny.
Q. You're a director now yourself. Is it different being on the other end?
Paul: Yeah, and I think more actors should do it. It really gives you much more of a respect for the directors that you work with. And I really enjoyed my own period of being an actor and just enjoying my responsibility, because you're obviously taking care of a much larger picture as the director. 
And your day is just filled with a thousand questions; 99% of which are what color do you want the red shoes to be? What?! It's been amazing. And I loved doing it. And will do it again. I'll do a comedy next time. 
Q. I read that you hadn't watched the Iron Man movies in the beginning. Have you watched them now?
I did my homework and I watched them all. And I really loved them. I think the stories are becoming more and more rich and complex and I think you see that in this movie, in terms of the interpersonal relationships between all of the super heroes.
Often these sorts of movies are just plain escapism. This movie talks about some of the things that we sometimes want to escape from.
Unilateral intervention from a super power is really what, on one level, this film talks about. And the need for a strong regulatory body. 
And that's pretty topical stuff. Which is amazing for a movie that's this broad and this much of a popular franchise, I think to touch on those sort of subjects is kind of great.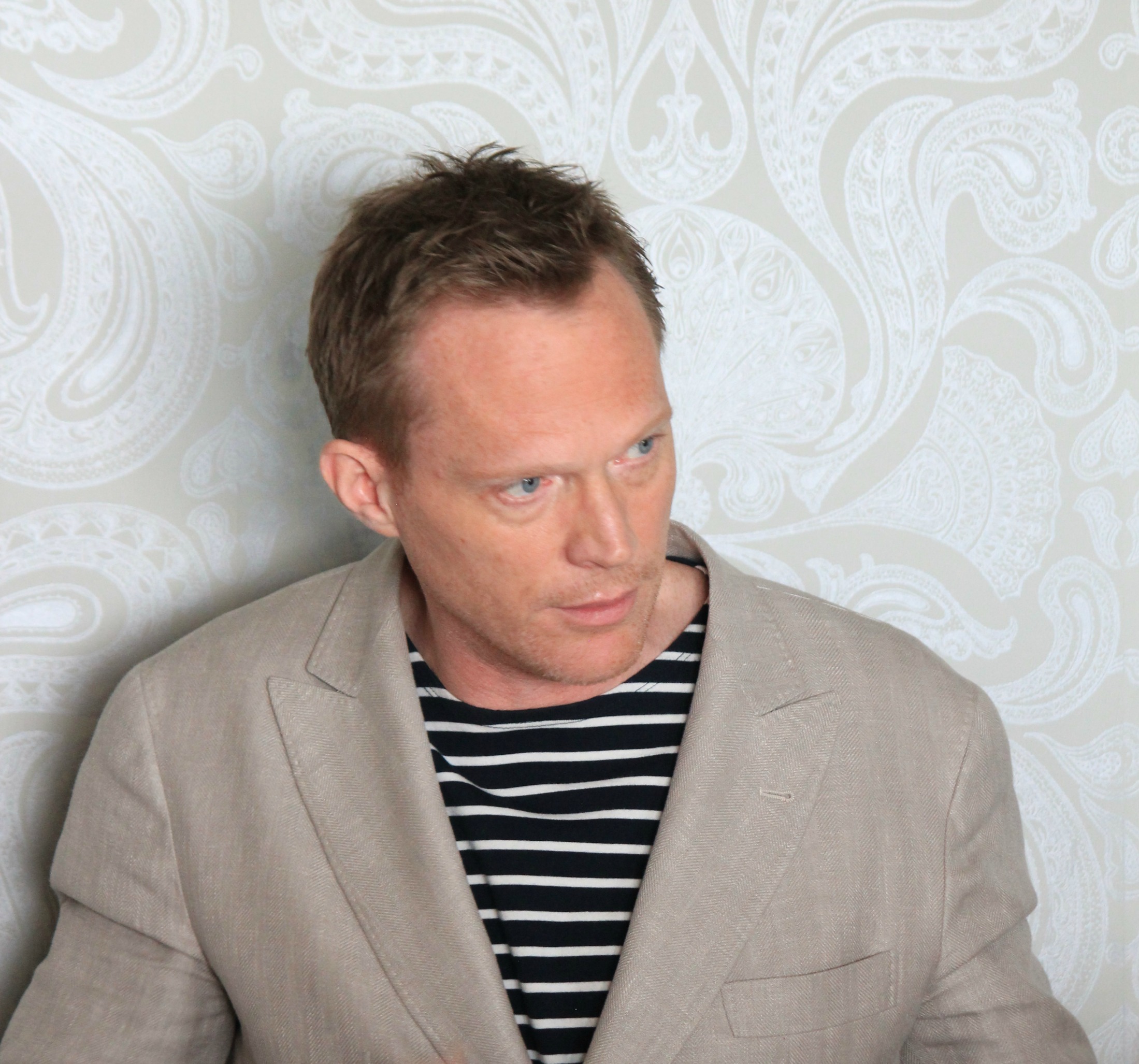 Q. So, how do your kids feel about having a superhero in the house now?
They love it, actually. My daughter met me as the Vision for the first time and I think she was just three. Or maybe just even about to turn three. And she just ran up to me and gave me a hug.
She knew entirely who it was. And I had been very worried, you know, what her response would be. And then at the end of the day when I took it all off she had her first-ever meltdown.
And she went, I want purple daddy! Which, as I'm sure you can all imagine, was a little depressing. 
Q. Going off that, how much of it was costume and make up? And how much of it was CGI?
PAUL : It's costume and makeup. And initially the makeup is between and hour and a half and 2 hours when everybody's rusty and they're starting off again. Then they quickly get it down to about an hour. 
Which is frankly amazing for the transformation that they achieve. And then the costume is about 45 minutes. So, you really have to plan how you're hydrating yourself because that's a 45 minute reset when you think I need to...[go!]
And then there's some sort of circuitry, I don't know how to describe it. They're lines, basically, the makeup starts from under my eyes.
And goes all the way... a bald cap that glues here. [Top of head] And then goes all the way under. And what the CG does is continue the lines and circuitry into my eyes.
Q. So, they weren't contacts?
Paul: No, there were no contacts. They stopped short of that. They think, 'Oh, we're punishing him enough than to put contacts on him. Poor bastard's in spanx and a muscle suit. How about let's give him some contact lenses?' [Laughter]
Q. What was it like being his voice for all those movies and then finally becoming a character?
Paul: I just love it. It's a double-edged sword, of course, because I used to show up for 45 minutes, talk a bit, and they'd give me a big bag of cash. Now I gotta go to Atlanta and wear spanks.
It's been so much fun. I loved doing it and I look forward to it when the date is set for the next one. You meet a bunch of people that you know and it's like coming back to a family. It's lovely.
Paul took a couple of minutes to get a group shot with us.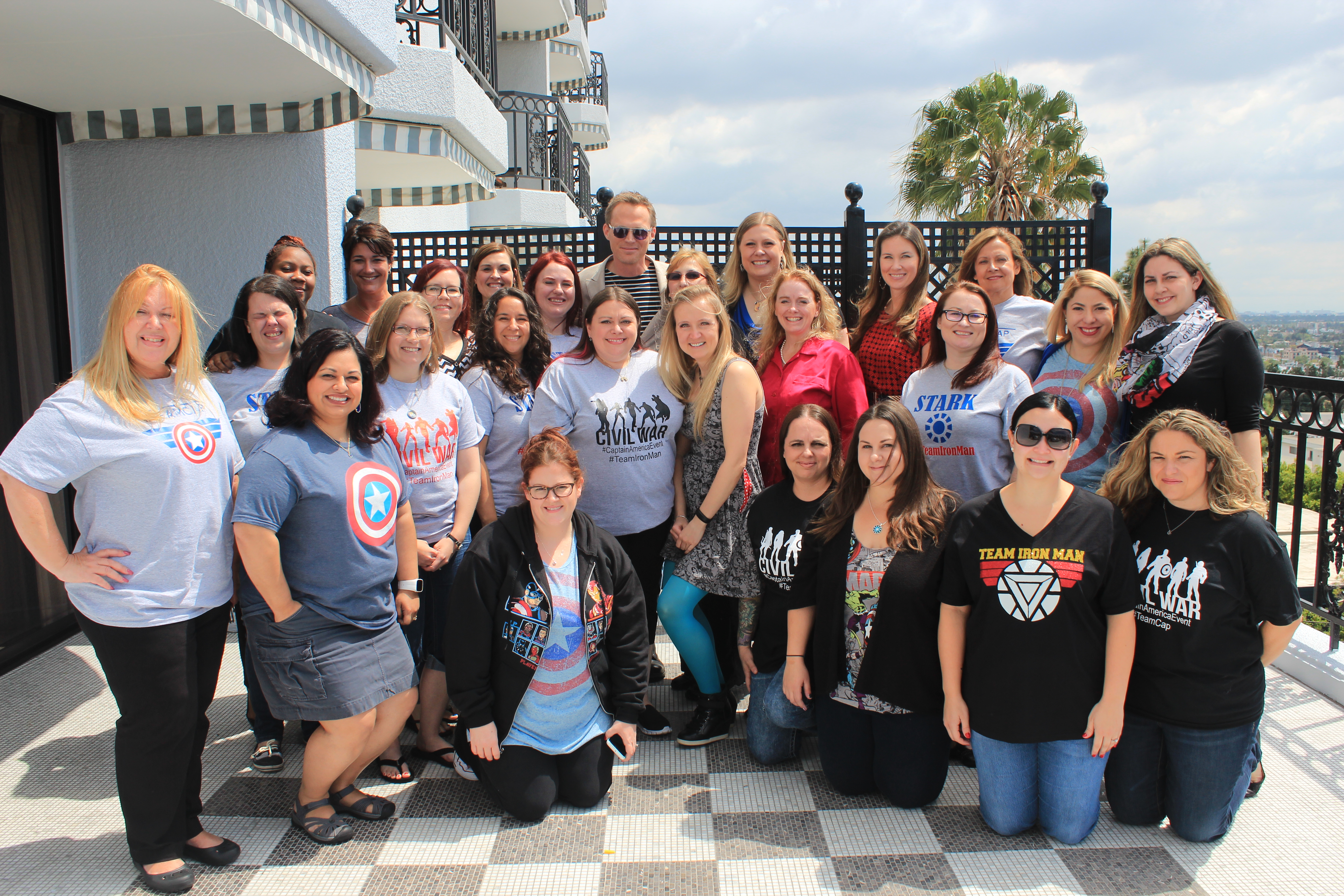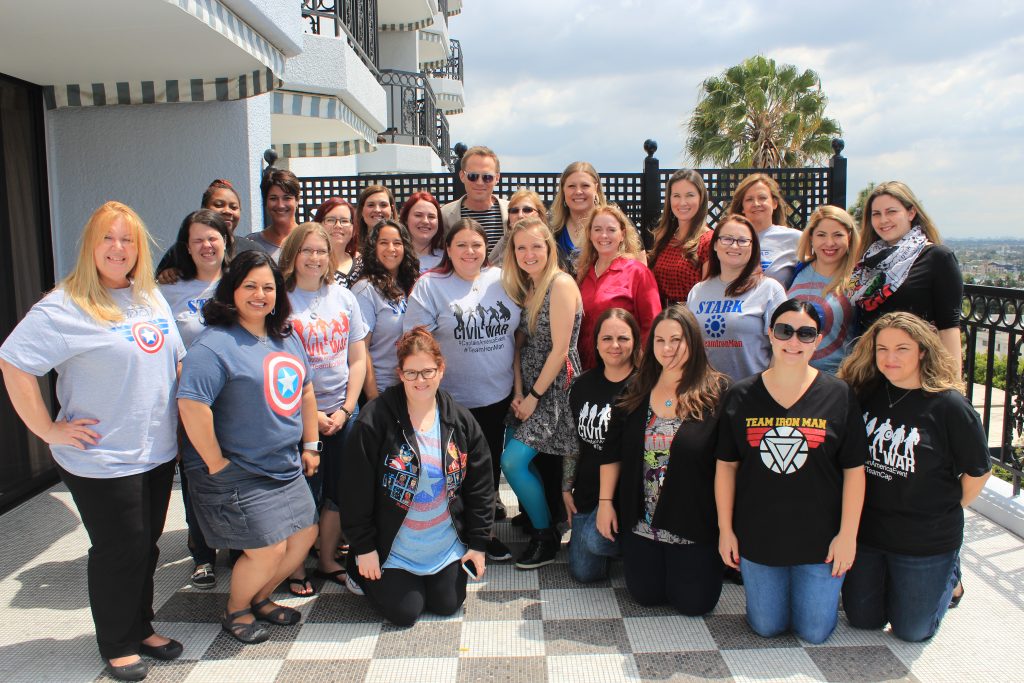 I hope you enjoyed Paul's interview! He is an amazing guy. Incredibly sweet, so well spoken, so handsome, and you will love Vision in Captain America Civil War!
Watch this short clip of Captain America Civil War, and head to theaters to see it this Friday, May 6!
Visit the official CAPTAIN AMERICA website