Who's ready to get to know a little bit about Michael Rooker, Yondu, of Guardians of the Galaxy Vol 2? Let me try to set this up for you.
As I shared in the backstage interviews with Producer Jonathan Schwartz and Property Master Russell Bobbitt on Monday, and yesterday's interviews with Chris Pratt and Zoe Saldana, these were really exclusive interviews.
We were sitting in a tiny room with a small desk surrounded by 10 chairs and in walks Michael Rooker, Yondu, in full dress for filming. He is so funny, and an incredibly nice guy, which made for a really relaxed (and hilarious) interview.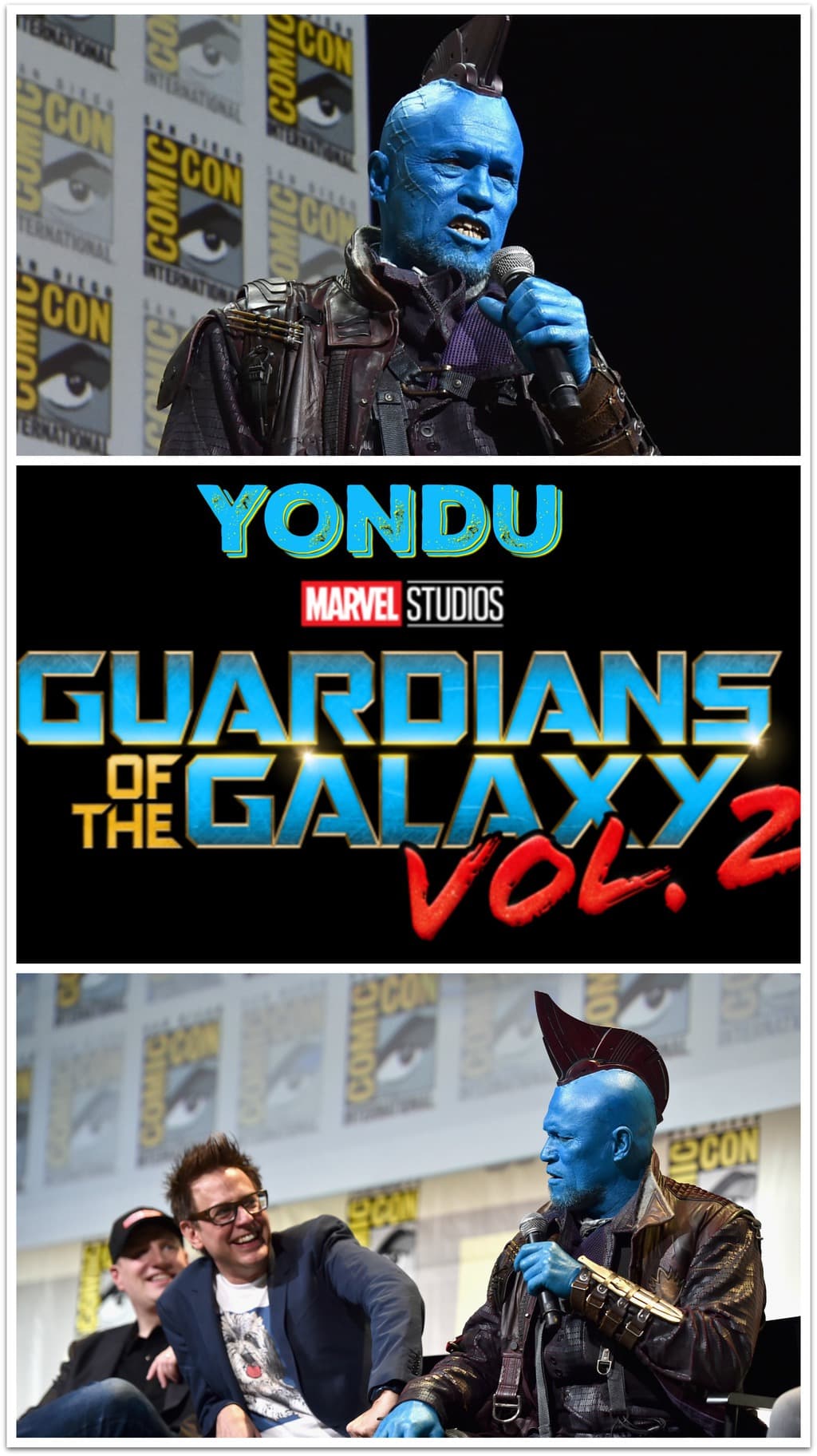 Michael: Wow. Let me look at you. Y'all are purty. Wow. How about my eyes? You like my eyes? These are not mine. They're contacts. I brought my teeth, too, just so you can see them. I just threw a little show and tell! These are my teeth. These are my uppers.
Michael placed the teeth in his mouth.
...Like that? Ain't they something? This is my little bottom one and they look like that. That is some good-looking man there! [LAUGHS]
I know. I do the same thing when I saw myself in the mirror with it. We got to learn how to talk with these so my voice is already a little bit throaty, so I just keep it sort of back here and it's better if I don't have a regular conversation. If I'm yelling at somebody like that, then you can't tell that I got anything in my mouth.
Michael was so relaxed and fun to chat with, and after seeing his eyes, teeth and his infamous fin, we had to talk make-up, How long did it take, and was it all make-up?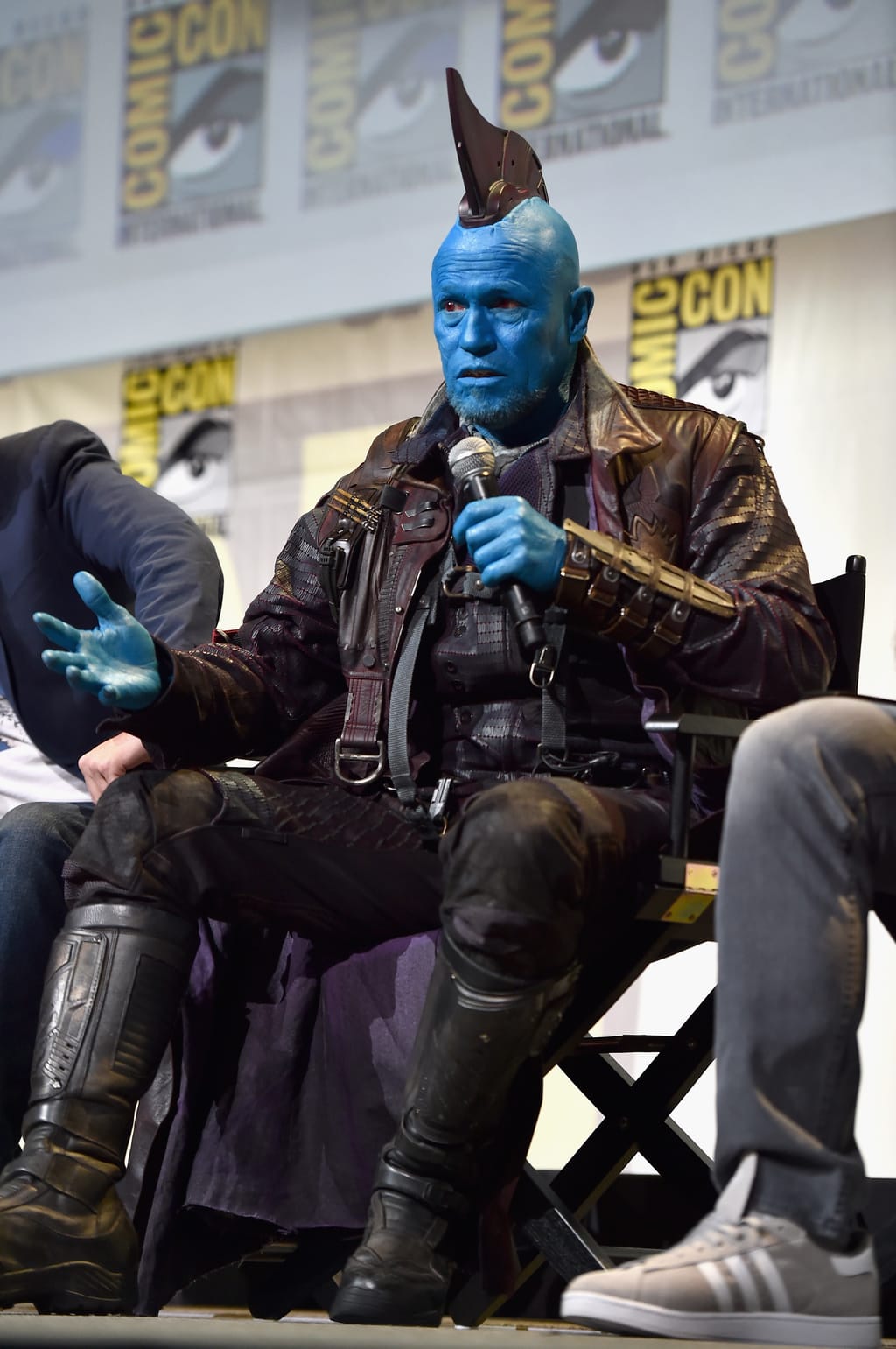 Michael: About two hours, and no, half of this is makeup and half of this is just me. I'm like a blue man from Kentucky. You know they have real blue people in Kentucky, and they're called the Blue People of Kentucky. [LAUGHS]
You may remember that fin on the top of Yondu's head in the first Guardians movie. A lot of fans of the comic books were not happy with that as it was larger in the comics.
But Yondu gets a little makeover in Vol 2. It looks heavy, so we asked if it was more difficult to carry than the last one.
Michael: Yeah. A lot of people like this fin, and it's awesome. The fin's not heavy. Not at all. It's hollow, and I thought they were going to put practical lights and different things in it, but they decided not to. they just decided to keep it just uh, just natural and not, well, what's natural. It's a fin growing out of my head, you know. [Laughter]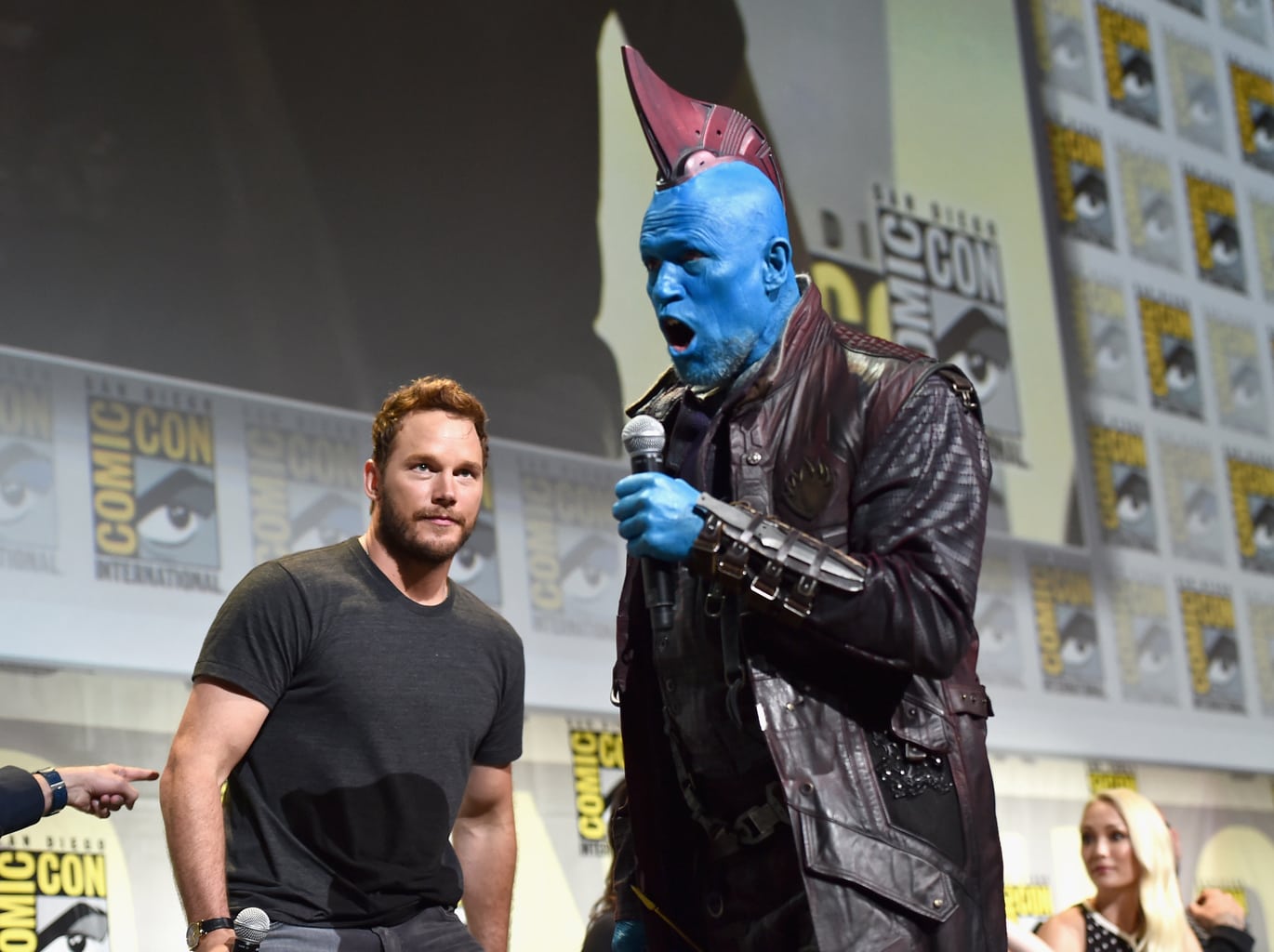 In the comics, things are typically a little different than they are on film. In the Guardians of the Galaxy comic, Yondu's fin lit up when he used his arrow, which he controls by whistling. Would we see that in Vol 2?
Michael: They didn't put the lights in. If they're going to do that kind of stuff, they'll do it in post-production. [So at this point, we don't know if the fin will light up.]
We asked if the fin was part of the storyline.
Michael: Yes. Do you want to know the story is? I'm not sure if I can or not. A bit, yeah, because you saw my fin in the last movie. It was a short little stubby thing, and that worked but, that worked for my ship.
That's what they told me anyway. Well, your ship is low and you know, with a regular big fin, you would be hitting the ceiling. I was like, 'Oh, okay.'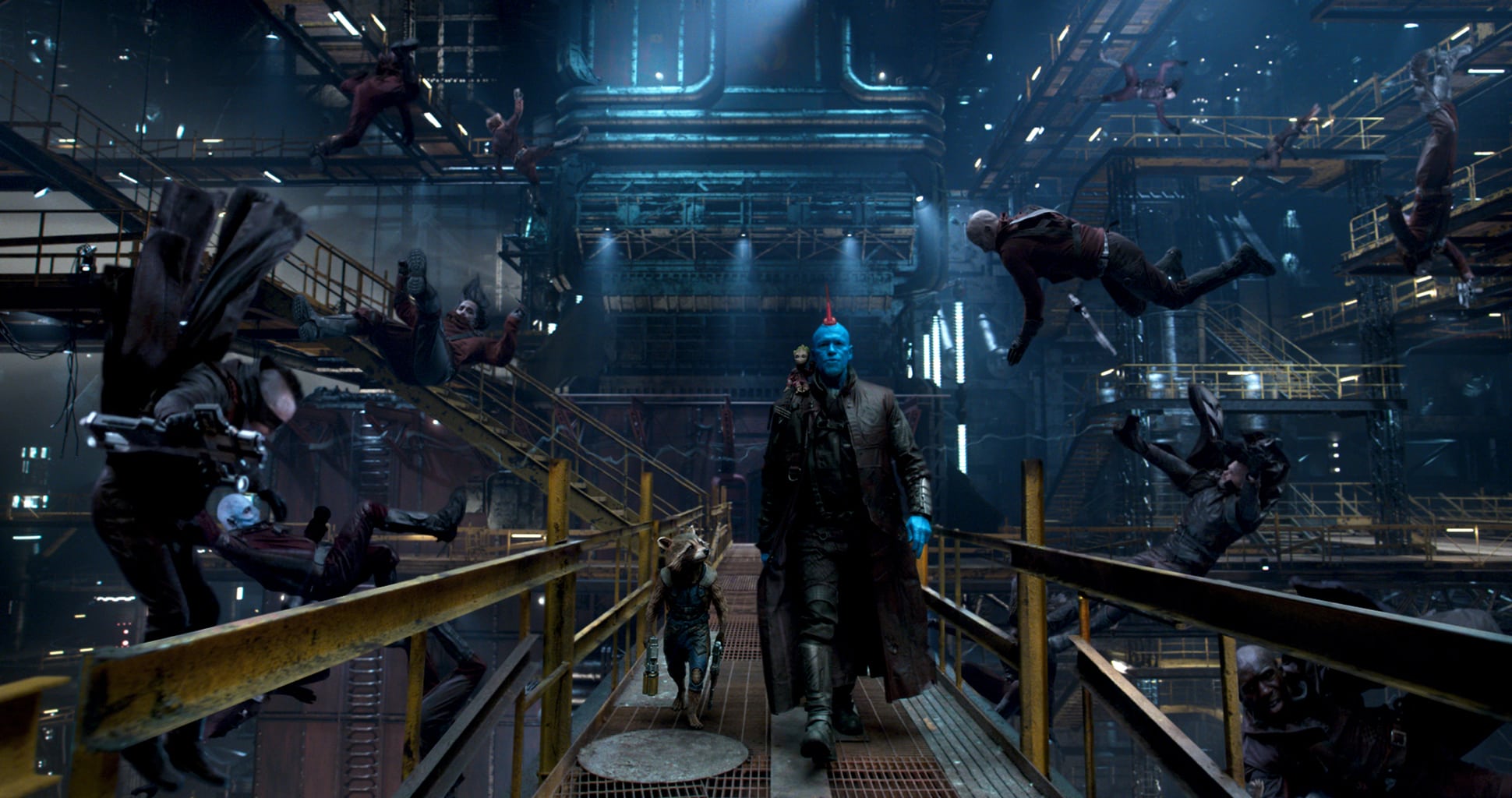 So I fell for that [LAUGHS] Anyway, this time around, I have a little of both. I have the short fin and this fin here.
As I said, Michael is just a blast to be around. The next thing we knew, he wanted to know about us.
Each of us told him where we lived, and he thanked us for hanging out. But we had more questions, and we knew that any minute they were going to steal him away for filming. We wondered if he every teamed up with the rest of the cast.
Michael: They've teamed up with me [LAUGHTER]. Please. I'm the one that can whistle and take out a whole army, okay? [LAUGHS]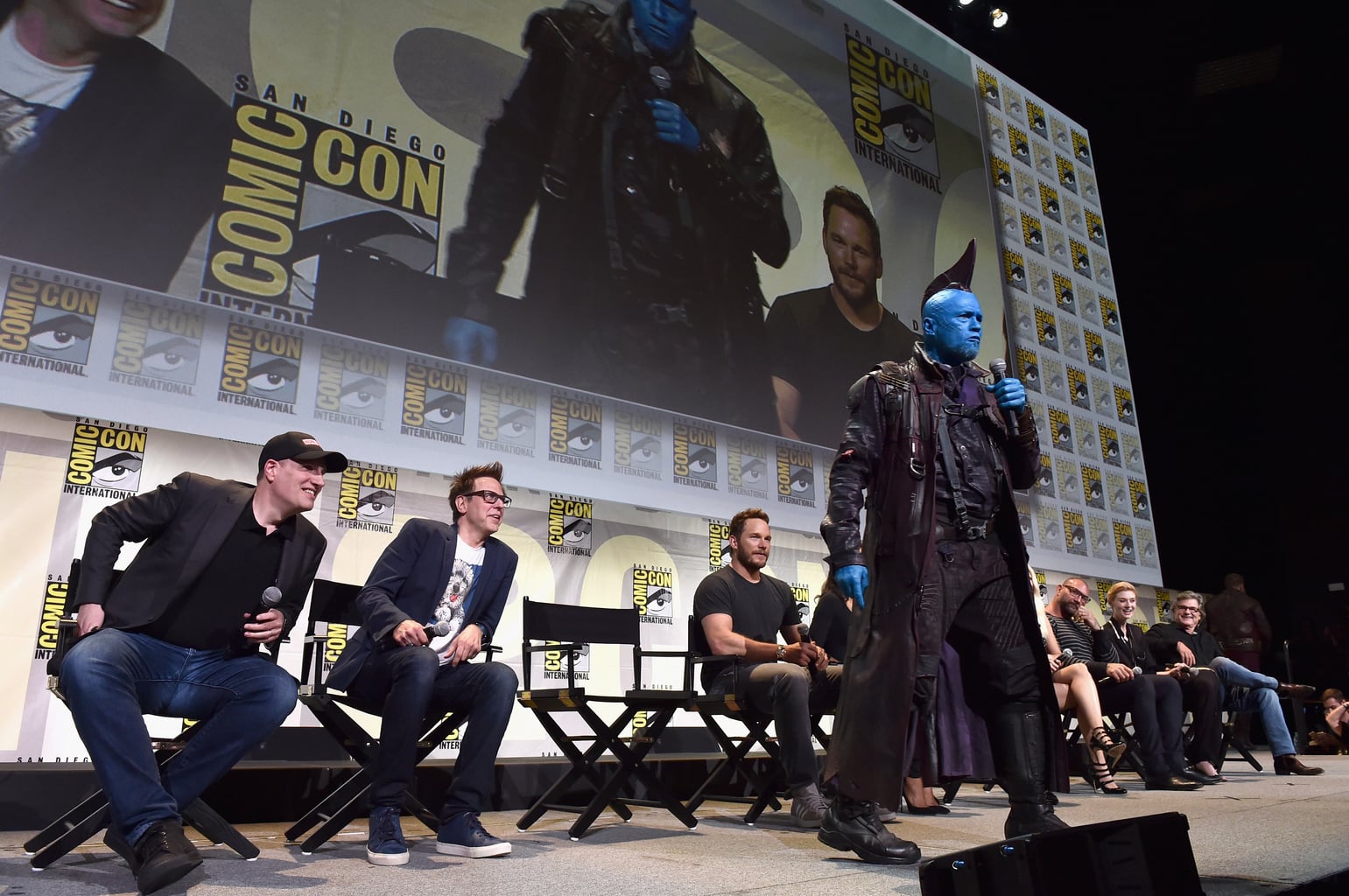 We wanted to know how he felt about the script for Vol 2.
Michael: Oh, I was, yeah. I was. It's a great script. You know, Gunn wrote it, and it's a continuation of Yondu in the first script.
He wrote that for me, so he just wrote more odd things that I get to do and stuff because he knows me and he knows I'm a wee bit odd, so he just plays on it and writes some silly things. It's not all silly, but it's fun. It's a lot of fun.
I have a good time doing it and he's a good writer and great director, and I was forced by him to be in this movie.
If you guys can maybe call the HIT team, hostage rescue team, and maybe get me out of here, I would really... You know, if he hears that I've been saying this, he's going to come and he'll hurt me again. [LAUGHS].
He'll make me do another scene while he's directing. It's so painful. He is a great guy. Great director. We have a lot of fun.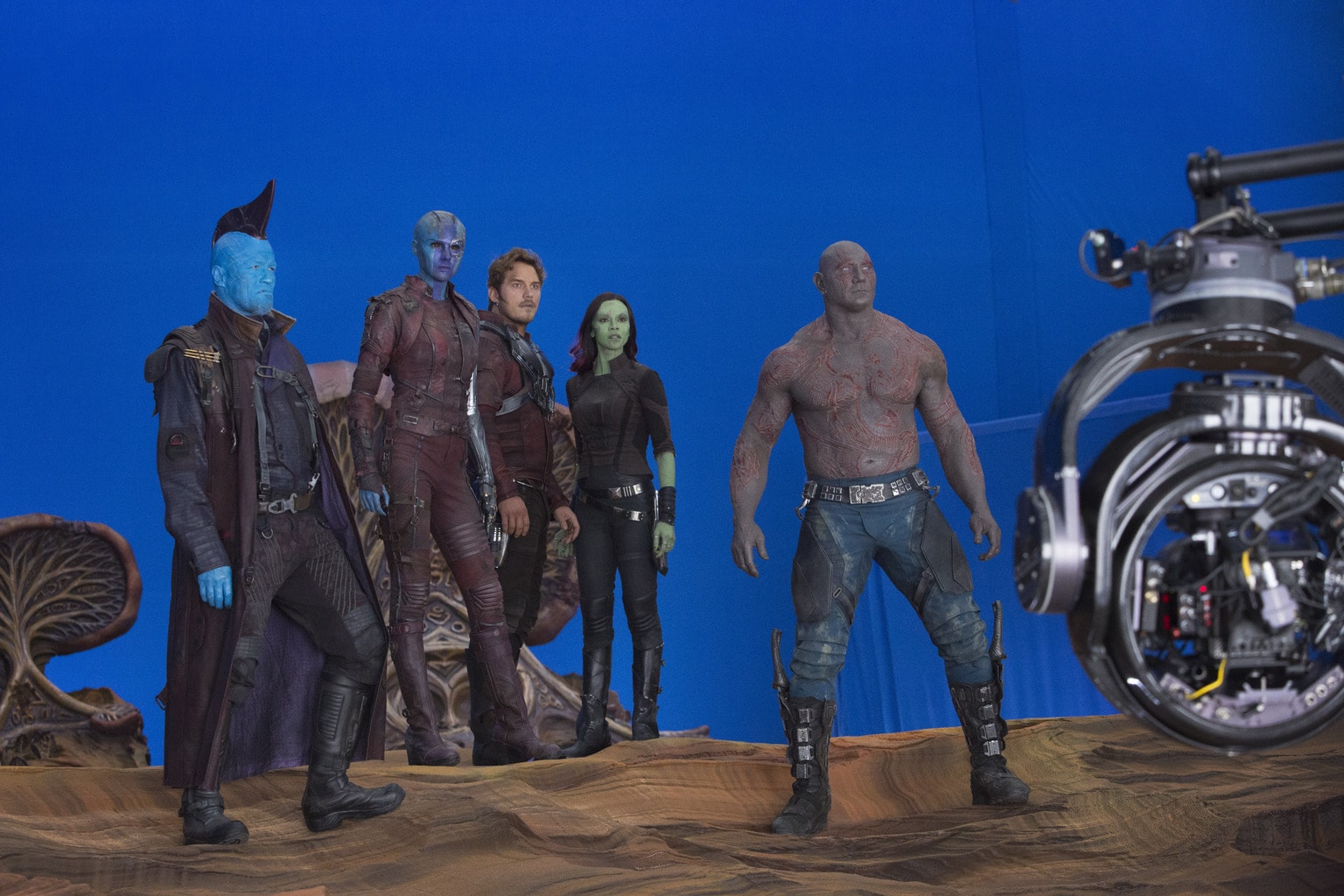 We loved this side of Michael Rooker, and we asked if he hoped the audience would see a different side of Yondu.
Michael: You do see some differences from the first one. You don't get too in depth with the first one. We get to learn a bit more about Yondu and stuff.
His relationship with Quill, and experiencing some more cool stuff with Yondu. Yeah. I won't tell you specifics because I don't want you to know. Na na na na na [LAUGHS].
Here's what we do know. The latest trailer:
We could only imagine how much fun they had on set. Was it hard to get into character?
Michael: Na, not too hard because it was really written for me, so he uses a lot of my ways I deal with things. I think the thing that attracts people and the audiences to this film is the first one, because the characters are very human-like.
We have our faults. We all think we're better than we really are, you know.
If you remember the ending of first Guardians, Quill got over on Yondu. We wanted to know if his crew would rebel.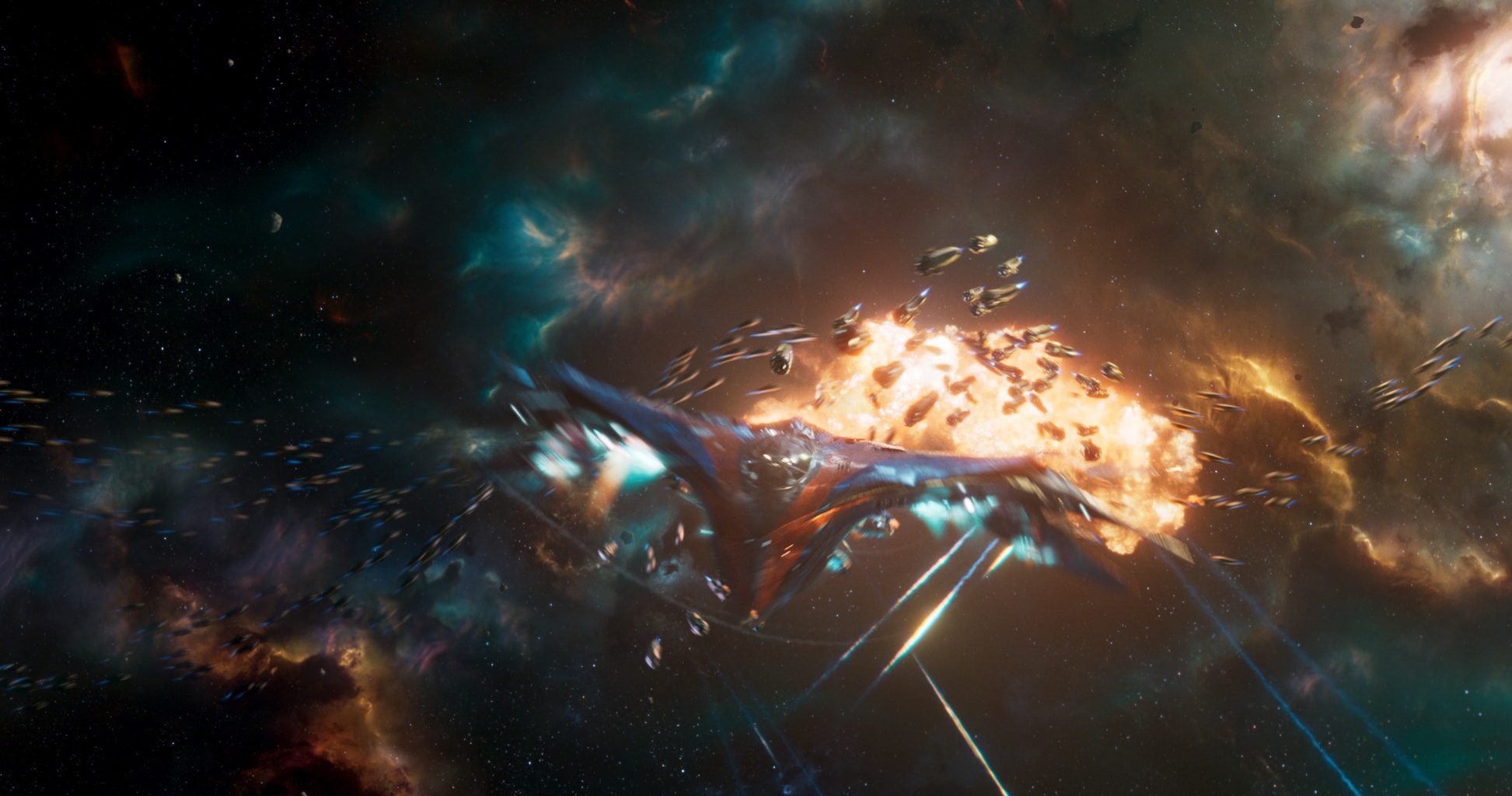 Michael: Who told you that? What does he know? Geez. I'm here to entertain you. I'm not here to give you any kind of information! [LAUGHS]
My crew is a very violent and aggressive crew. And they're always looking, I'll just put it this way, they always look for a weakness.
They're always trying to challenge me in the background and stuff and trying to figure out ways to be me or be the leader and all that kind of stuff. You know, like any kind of rebel, skull, and cross bone group of crazy maniacs.
Space motorcycle gang or something [LAUGHS]. Who knows, right? And so yeah, they're loyal.
There's loyalty going on, but there's also a lot of rivalry, almost in everything, and that's kind of what is going on. It goes on all the time because of who Yondu is. He's the leader of this whole ravaging group.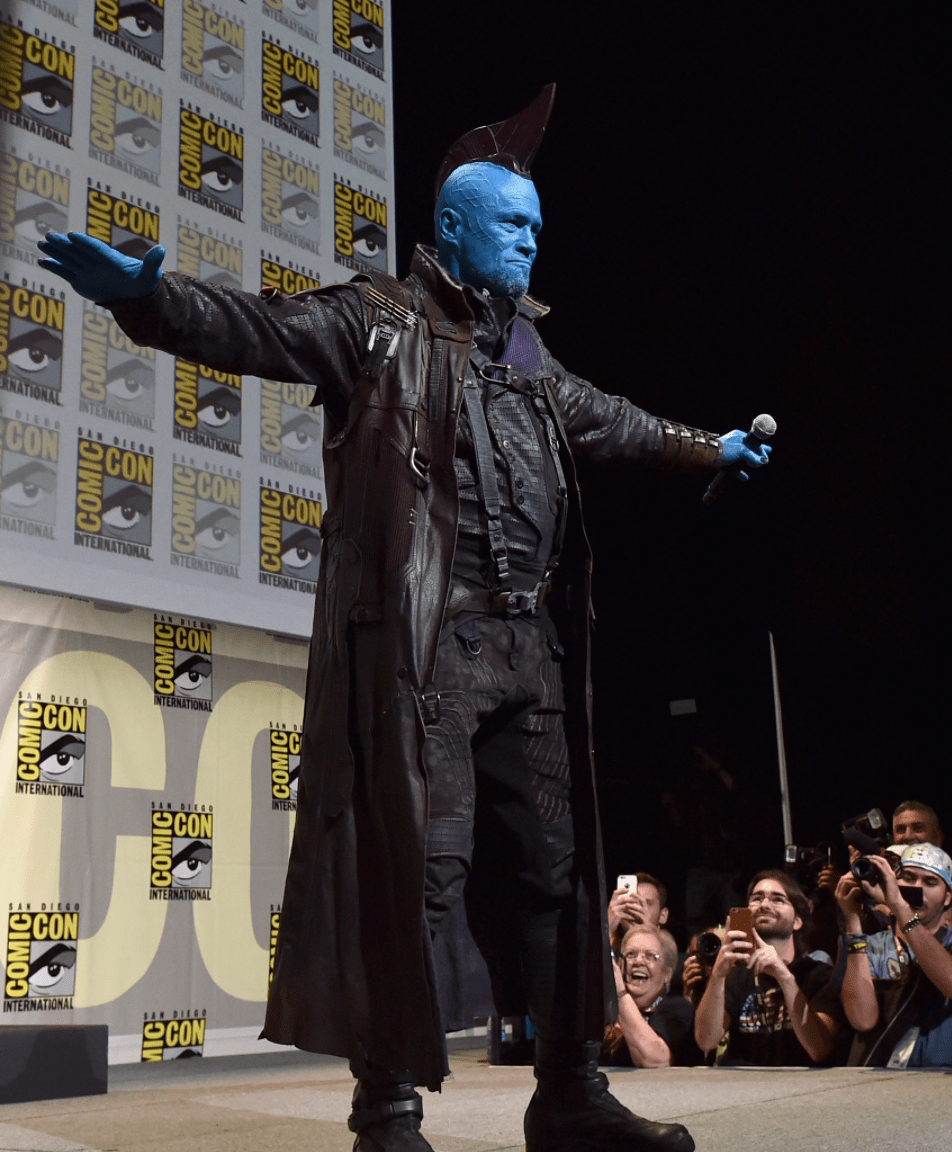 We asked if Michael had done a lot of stunts.
Michael: There's some wire stuff going on, but it's pretty safe. We got these harnesses and everything, the cables hold thousands of pounds, so and I'm not that heavy, but if you get tangled up in it, it can not be fun.
But we're not doing any real stunts. I don't consider it stunts, you know. It's just part of some of the action that we're going to be doing. There are stunt doubles and whatnot.
We had to ask what attracted Michael to this role.
Michael: He made me! Yeah. He was tough. [James Gunn]
We played along and asked, if he had a choice, what would have attracted him to this role?
Michael: If I had had a choice, the payday! It's kind of nice. The pay day's nice and my pay day's not the biggest payday, but it's a good payday, and it's nice for my mortgage and people like me more when I have money. [LAUGHTER]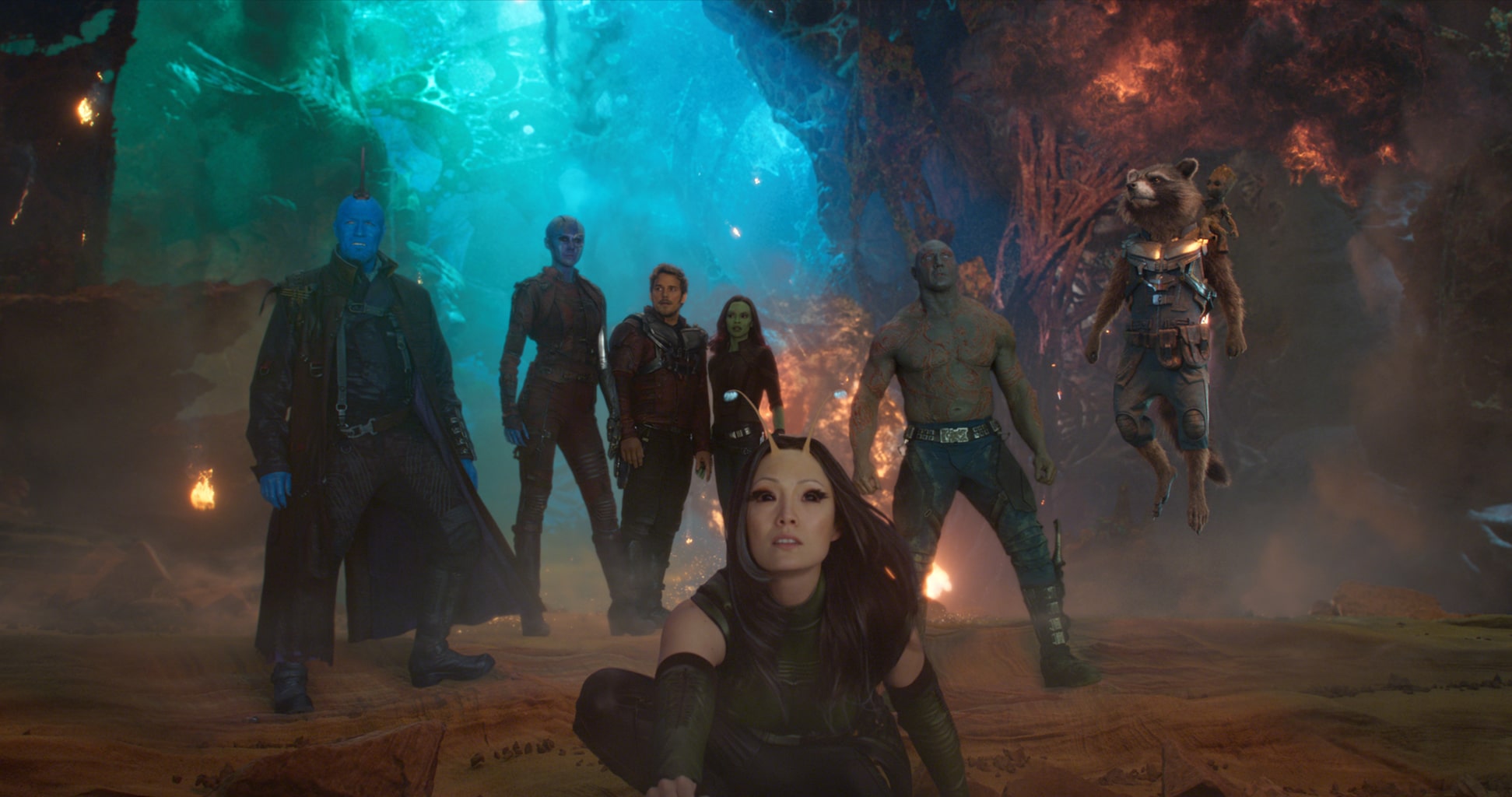 We asked if we could talk about his whistle.
Michael: Oh, you talk about whatever you want. I'll give you any answer. What do you want? [WHISTLES]
We asked if they used his actual whistle.
Michael: Well, it's harder to do with the teeth in, so I can still do it, but it's a lot more difficult, so I'm probably going to be doing some ADR [automated dialogue replacement] in my future for this whistle.
It sounds pretty good, but they enhanced the other whistle, too, so I'm assuming they'll enhance this whistle. My whistle that I'm using now for Yondu as well. We'll whistle some this afternoon, I think. If you're around, you can hear the whistle. (NOTE: That on-set post runs Friday!)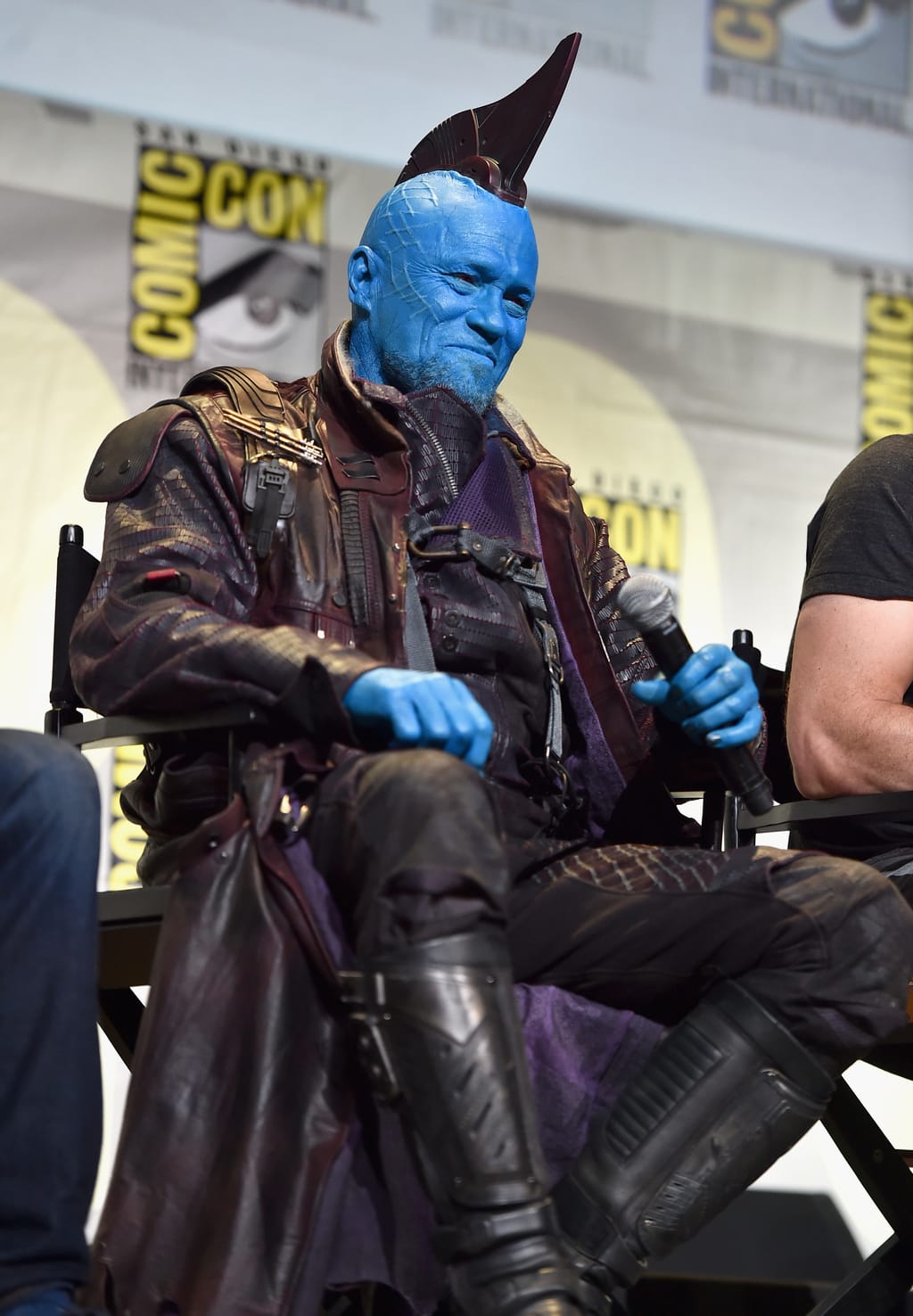 Some people laugh at me, but it's true. There's a whole group of individuals that are blue. They have blue skin. It's some sort of disease that has to do with your, the oxygen levels in your, in your body. I would never ever lie to you. They do not have red eyes.
We asked who was Michael's favorite character, besides his own?
Michael: I like Rocket. Rocket's got the attitude. He reminds me of James Gunn a lot. True.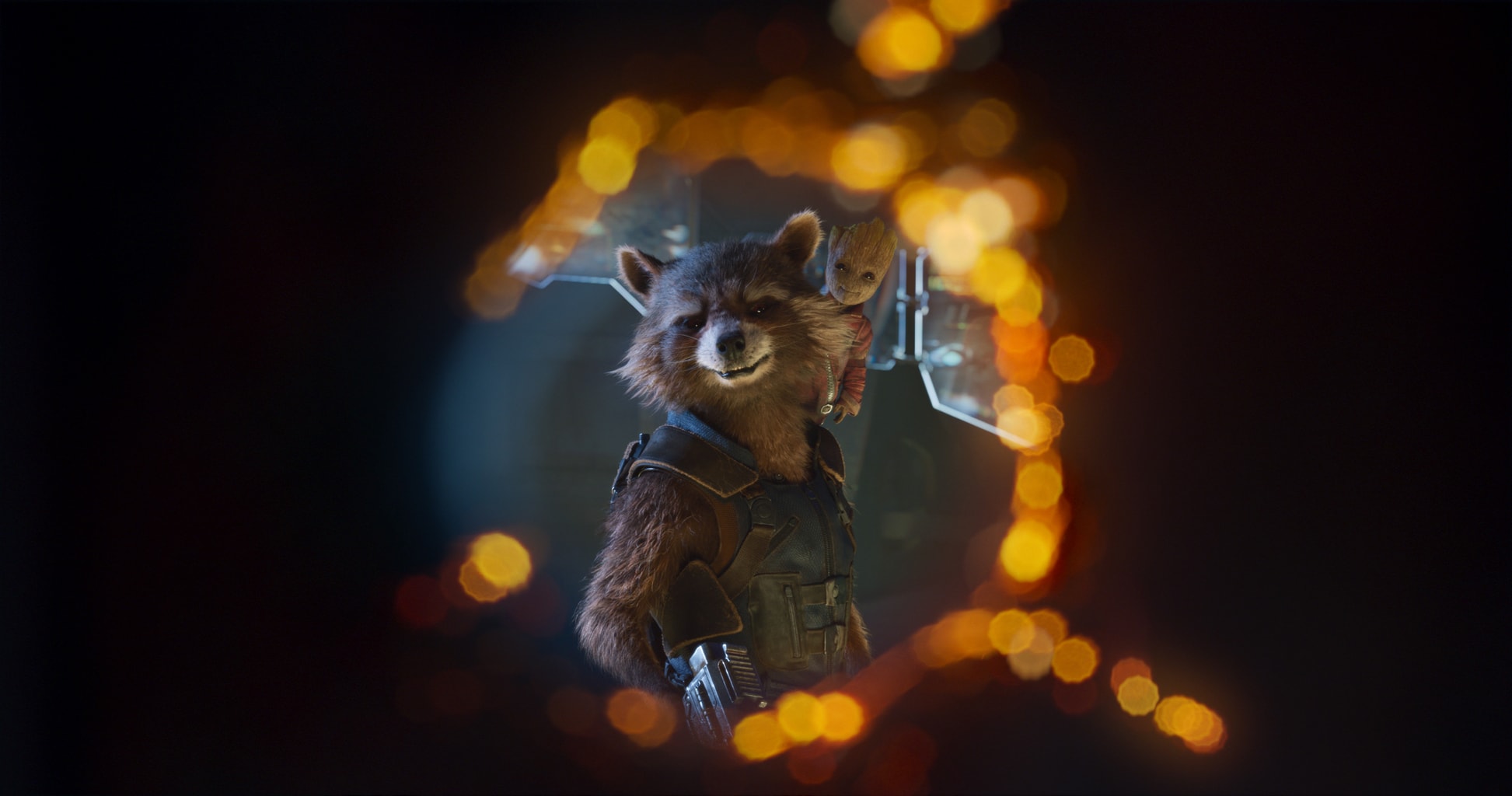 We knew the time would come, and it was time for Yondu to get back to the set. We asked if he'd take a quick photo with us, and he said he'd love it.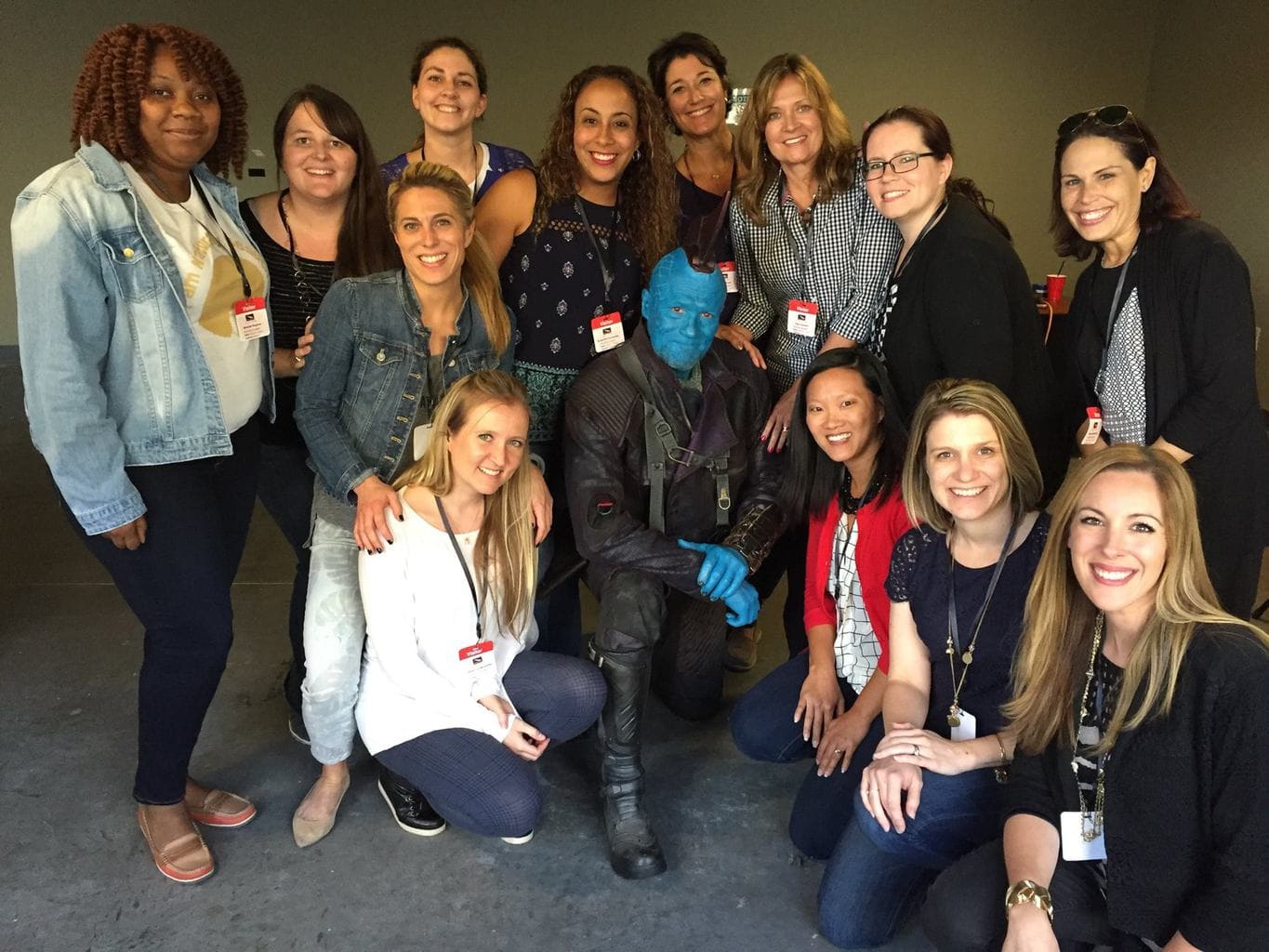 So. Much. Fun.
GUARDIANS OF THE GALAXY VOL. 2 is available on DVD.
Photo Credits from San Diego Comicon, Alberto E. Rodriguez/Getty Images for Disney ©Marvel Studios 2016
Why Kurt Russell Wanted to Be Part of Guardians of the Galaxy Vol 2
James Gunn of Guardians of the Galaxy Vol 2