I was so excited to have the opportunity to interview the directors of Moana, John Musker and Ron Clements.
I hope you've read all the interviews with the stars; Dwayne 'The Rock' Johnson, Lin-Manuel Miranda, Auli'i Cravalho, and Nicole Scherzinger who voiced Sina, Moana's mother. I remember being so excited for Moana was back when I attended the D23 EXPO and the film was first announced.
Moana has become such a huge hit! Please tell me you've seen it at least once! If not, grab your copy now!
What little girl wouldn't be thrilled to be able to dress up like this beautiful Disney princess?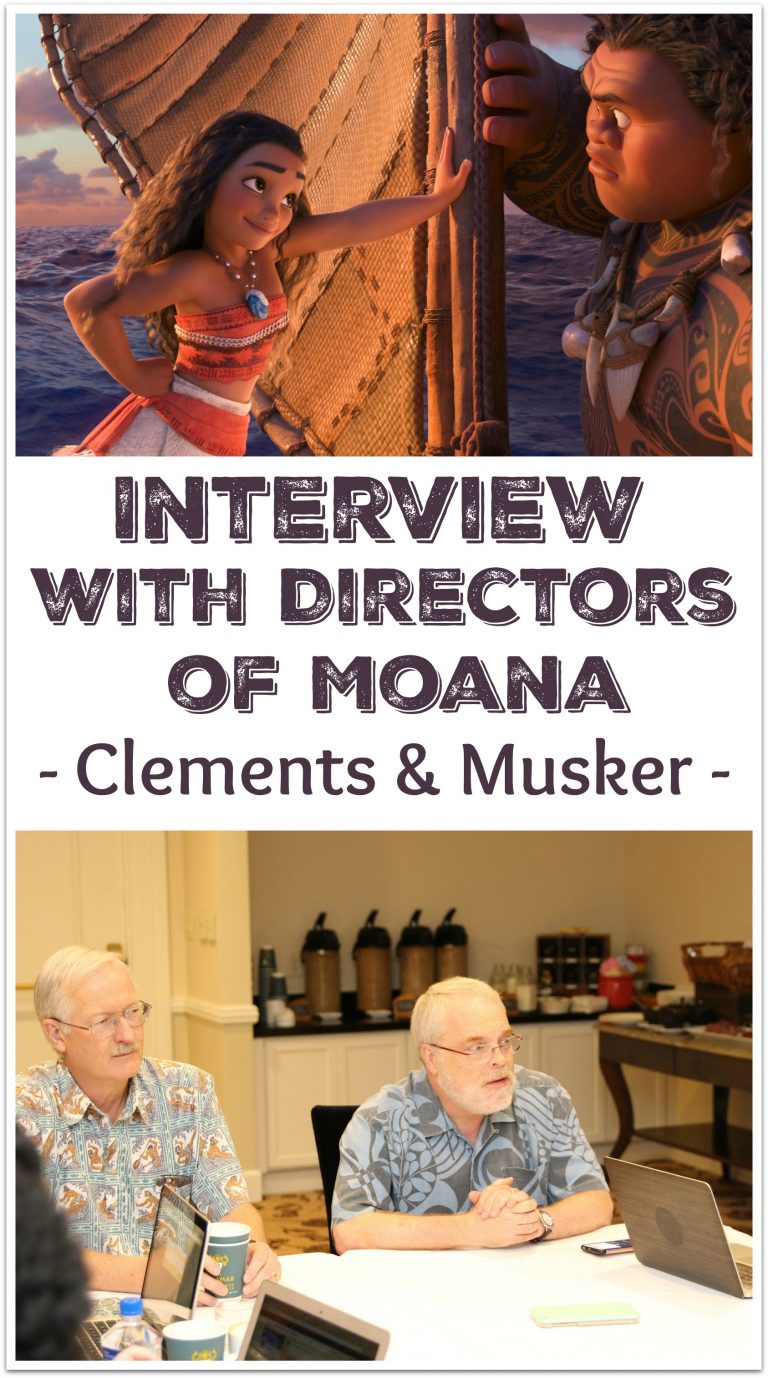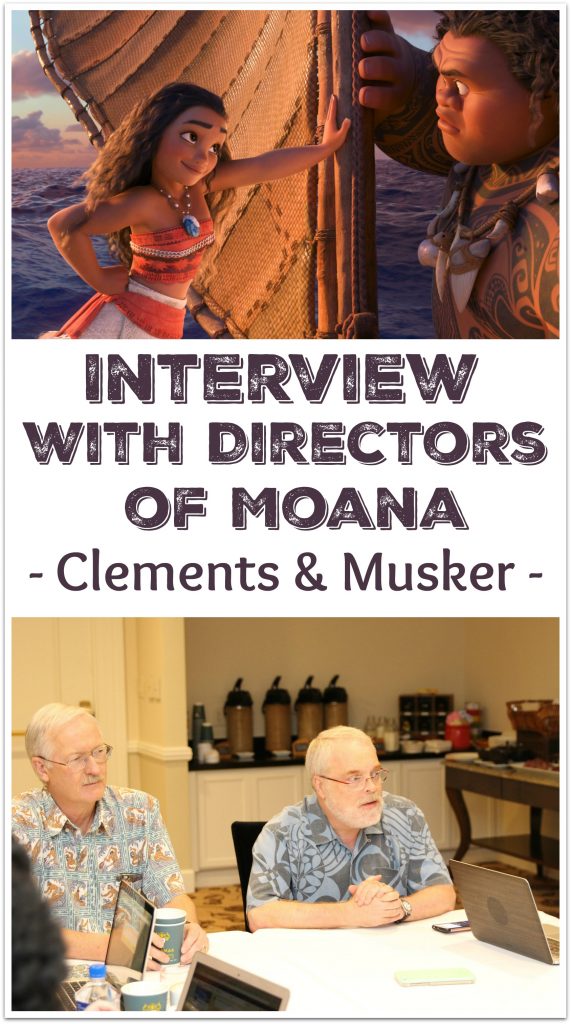 My daughter who is in college studying animation would say the directors are the real stars. And when it comes to the world of directors, you don't get better than these two.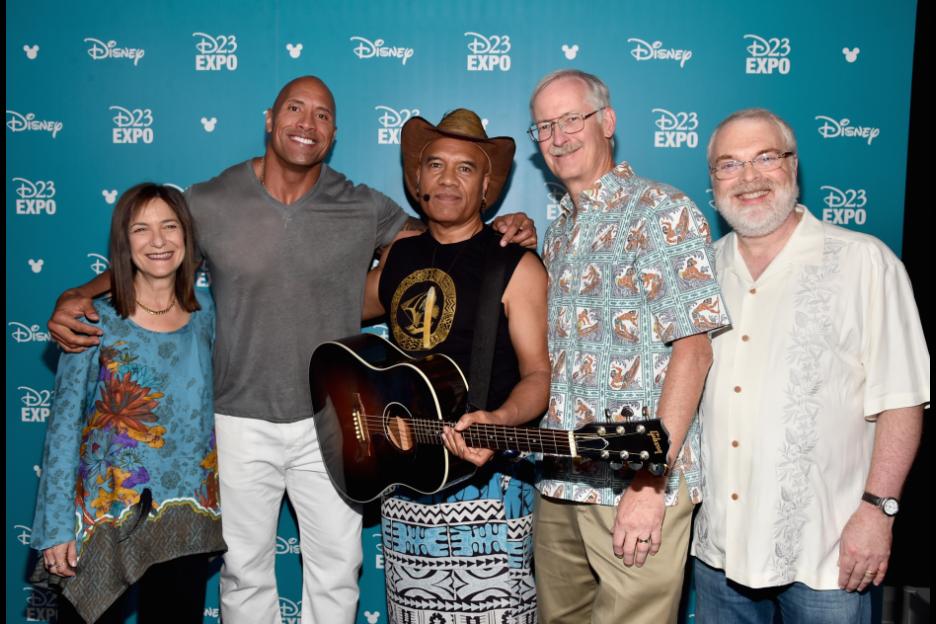 Interview with Ron Clements and John Musker
I love Ron Clements' story. He started out working for Hanna-Barbara, famous for Tom & Jerry, The Jetsons, The Flintstones, and so many other great cartoons.
After just a few months there, he was accepted into Disney's animation training program, where he worked as an apprentice for two years under Frank Thomas, the supervising animator of classics like Peter Pan and Lady and the Tramp.
His first feature debut was as a character animator for Pete's Dragon and The Rescuers. Clements presented a two-page idea for The Little Mermaid as well as an idea for Treasure Planet to Michael Eisner, Disney CEO and Jeffrey Katzenberg, Disney Chairman, and the rest, as they say, is history.
The Little Mermaid is said to have rebirthed Disney Animation.
John Musker says he knew he wanted to be an animator by the time he was eight years old. He ended up at CalArts with John Lasseter, Tim Burton, and Brad Bird, which are pretty amazing people to rub shoulders with today.  
He was at one time a character animator under Clements, and they eventually teamed up to co-direct.
Looking at the films they directed, I'm so grateful they became partners and eventually worked under the direction of John Lasseter, where they oversaw the production of The Princess and The Frog, which was a huge hit worldwide, and will forever remain a Disney classic. They are now known as one of the leading director teams on Disney films.
We started the interview by chatting about the animation.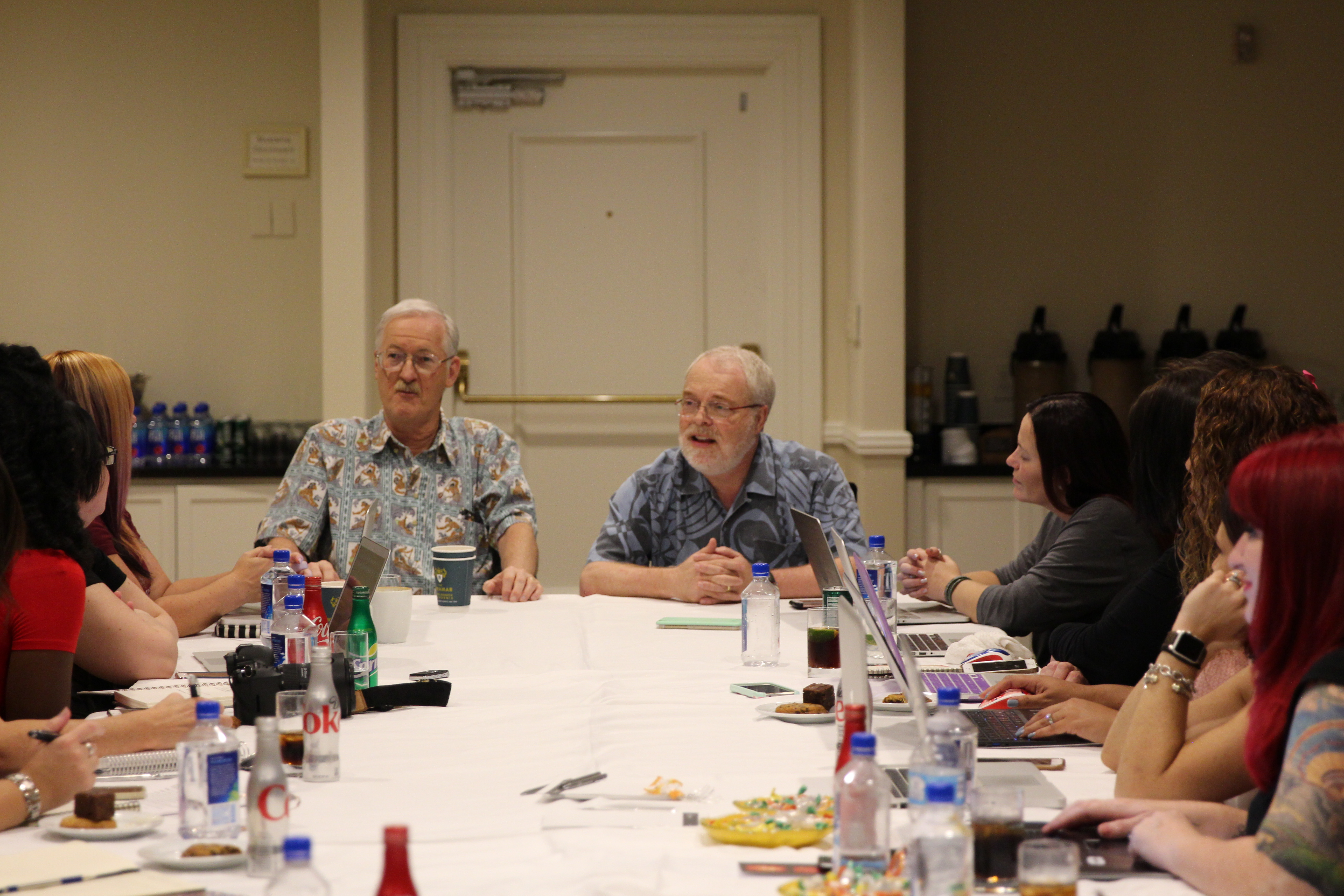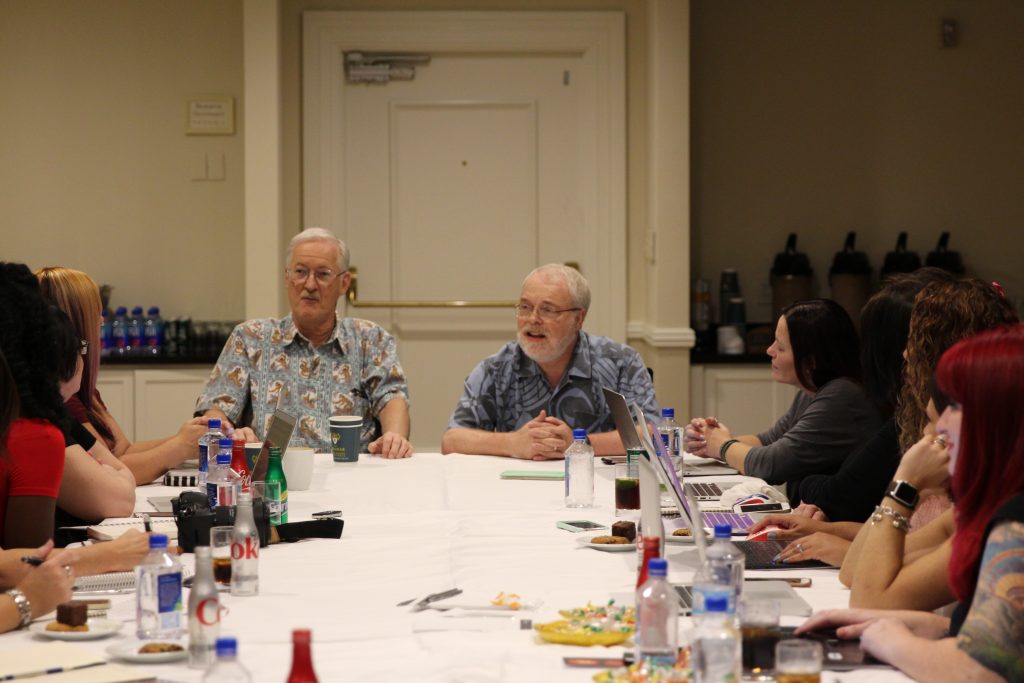 Q: This was your first primarily computer animated film, how was that different? Were there new challenges or new opportunities?
RON: In terms of the script, the storyboarding and the voice actors, that really isn't different. But the actual production process is quite a bit different. We had to actually have tutorials before the movie even started.
JOHN: One of the big things is, in hand-drawn, you can get going a lot quicker. You have a piece of paper, you've got a pencil, you can start exploring the characters.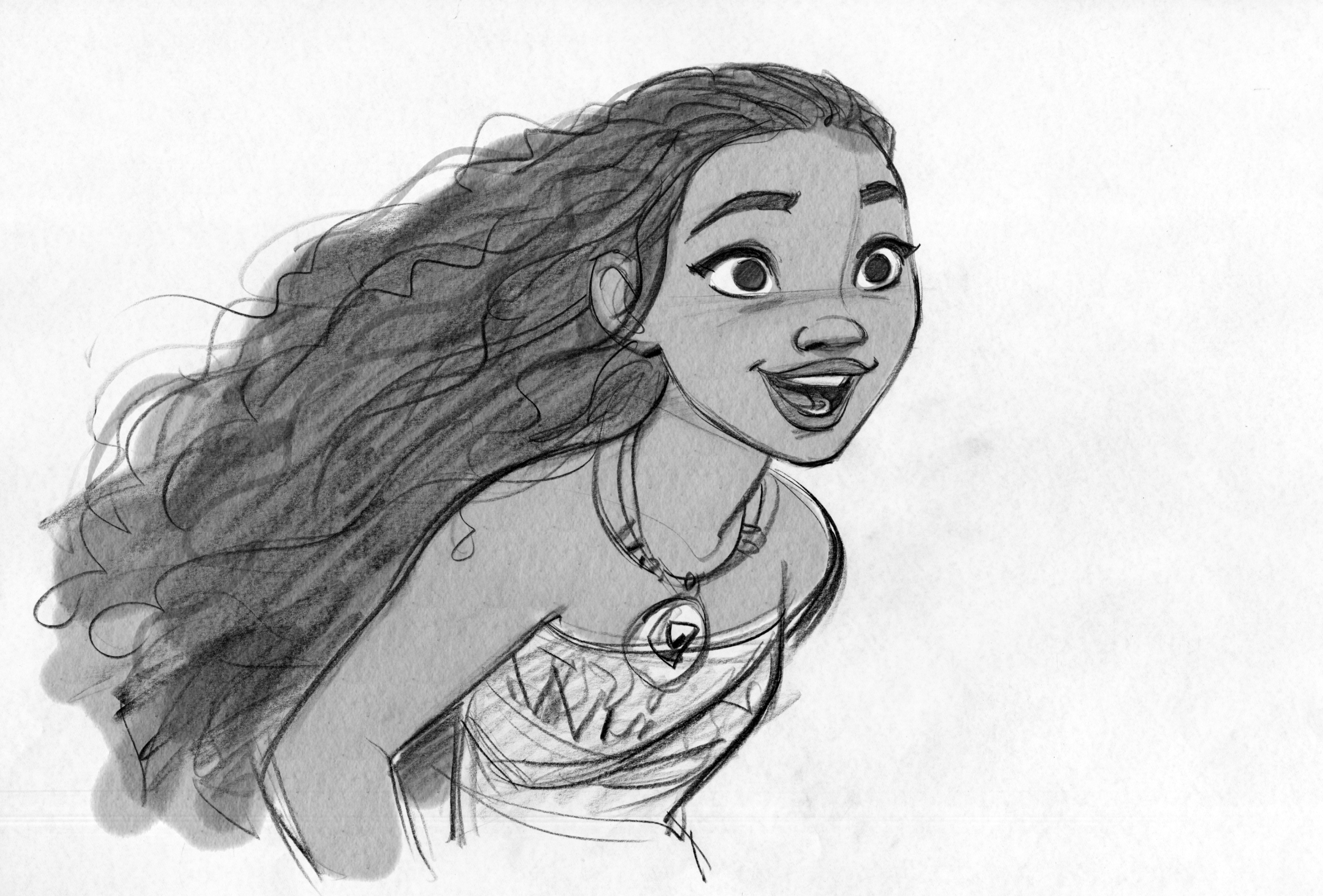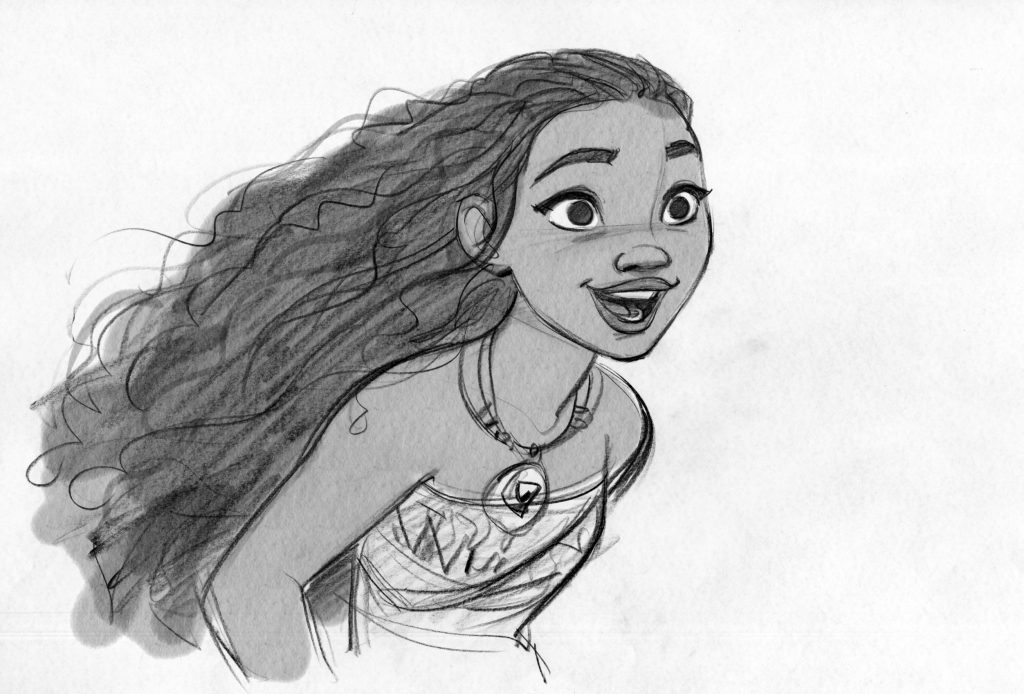 In CG (Computer Graphics) they've got to build the characters, literally sort of create them in three-dimensional space. They've got to rig them which means they'll put all the armature in there so they can move around. They've got to create the world they work in. So, it's a longer set of time.
Also, we had the crazy thing when we go to these review sessions where we'd look at it and say 'Okay, so is that the real sky in that shot?' And they'd say 'No, no, that's just a placeholder. Forget the sky.' And we go 'Okay, but those trees, we should take those...' 'No, no, the trees, were going to trade those out later for the real trees.'
And then we'd say, 'So we can ignore those rocks?' 'No, the rocks are the real thing.' And we wouldn't know, looking at it, why one was real and one wasn't.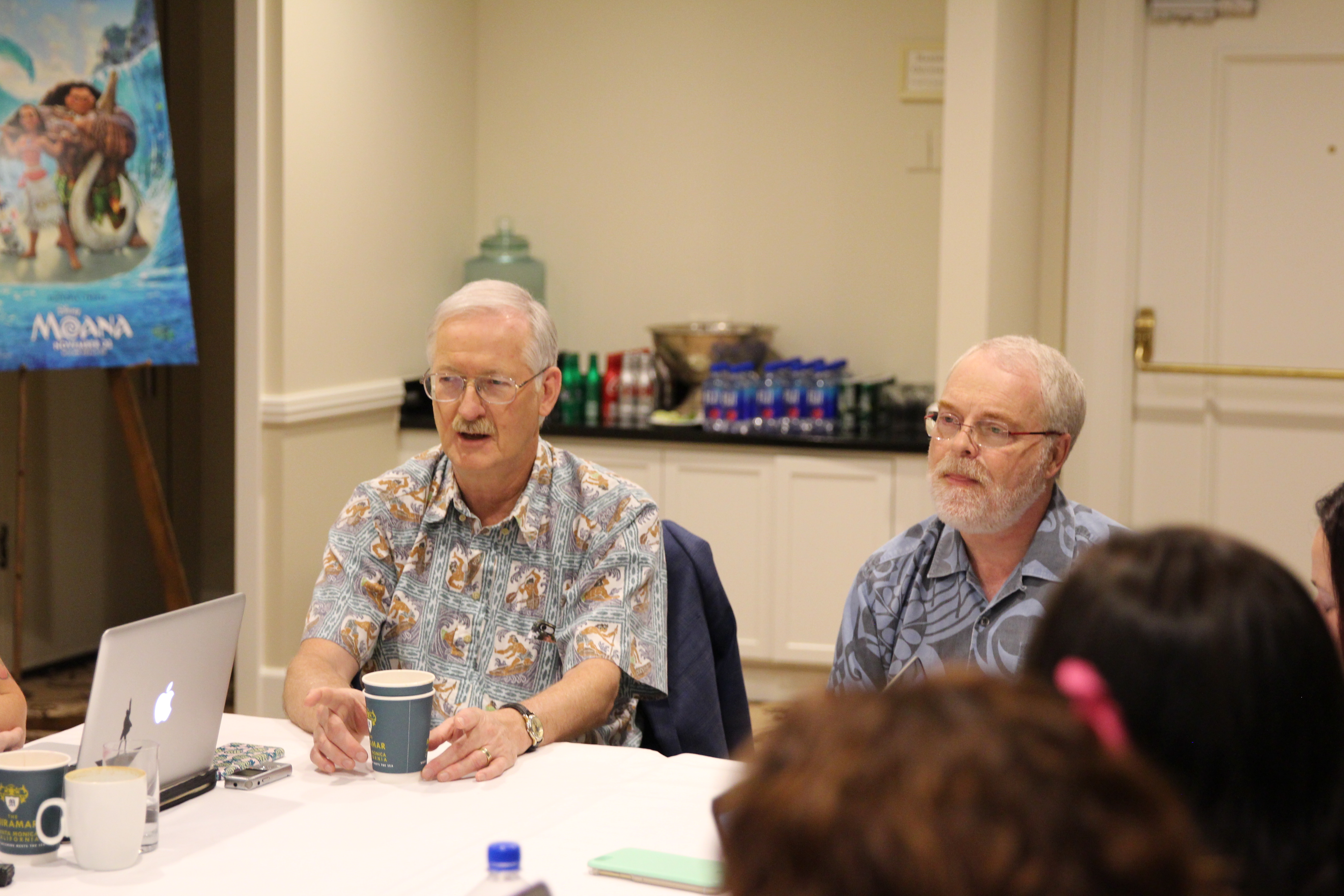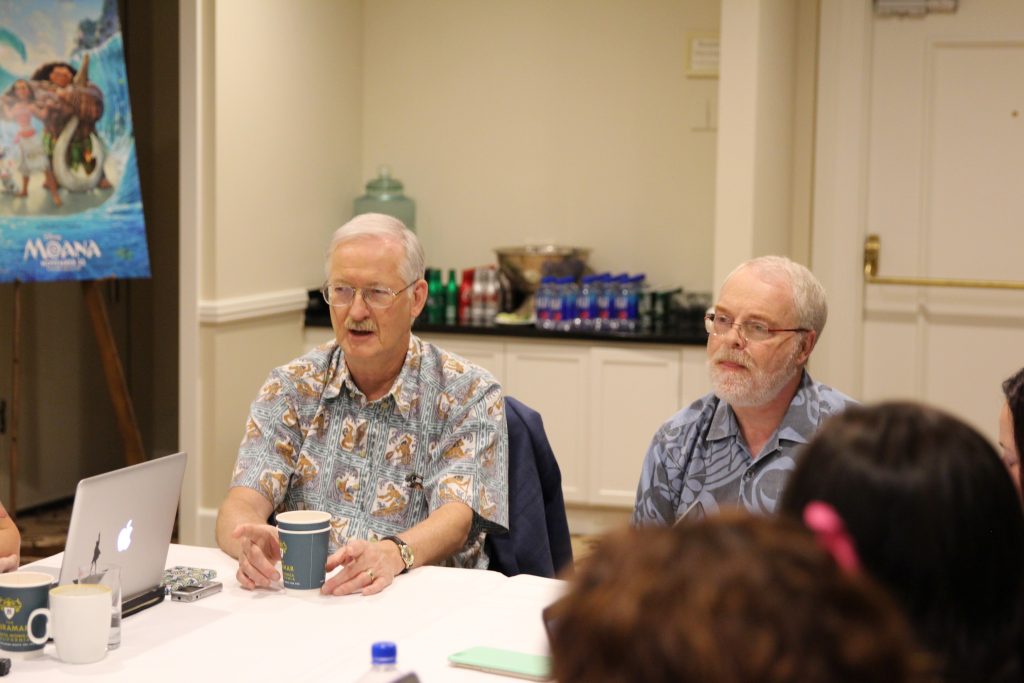 RON: It's very complicated. I mean with the camera movement and the textures and the hair..
JOHN: And certainly, the ocean in the movie.
RON: And the lighting. There's a lot of cool things you can do. But a lot of things even had to be figured out in the movie. Even the idea of a living ocean that has a personality, a lava monster, some of those things particularly where character animation and effects animation merge, that isn't done usually.
So there were a lot of things to figure out how to do it and a lot of really smart people that sort of said, 'We actually don't know how to do this, but we are confident that we will figure it out. We'll figure it out before the end of the movie.' And they did. They really did.
Q: So, you guys have directed three out of the now five movies of princesses of color for the Disney film franchise. What steps did you take to respect the culture but yet share it?
RON: We did huge research five years ago when we first pitched this movie. We spent three weeks in Samoa, Fiji, Tahiti. We met with cultural ambassadors, linguists, anthropologists, sailors, and chiefs.
JOHN: We got to sail in Fiji with navigators and we really tried to connect with those people. It wasn't a tough gig.
You got to go to Tahiti for three weeks. But we really tried to connect with the culture and learn how proud they were of their background as the greatest navigators the world has ever seen. They use dead reckoning to find their way across the sea. (Remember that from the film? That is accurate of how they really navigated!)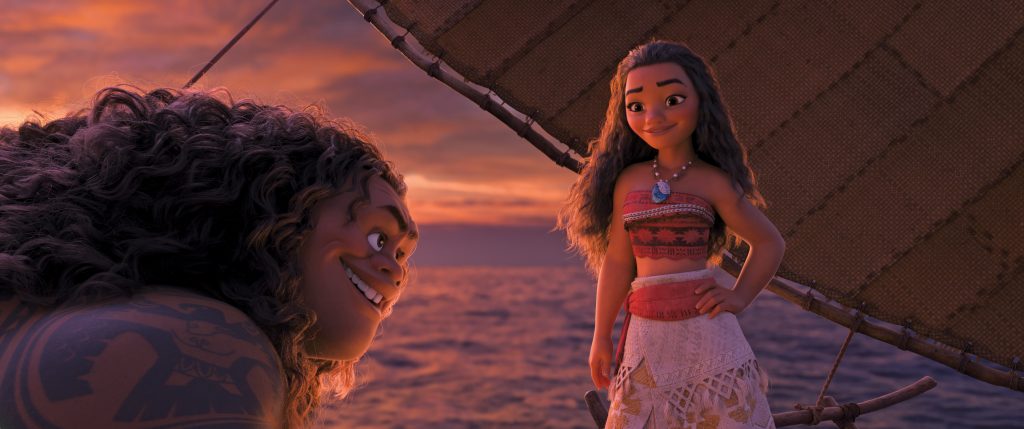 RON: And the importance of respect for nature, respect for the environment, and also the interconnectedness and extended families and the idea of your heritage and your legacy.
We heard this expression in Tahiti, 'Know your mountain.' And your mountain is essentially everything that led up to you, all the people that led up to you, everything that happened, all of the things that if they didn't exist, you wouldn't exist. And they said if you don't know your mountain you really don't know who you are.
JOHN: This was translated from Tahitian to us,'For years we've been swallowed by your culture. One time can you be swallowed by our culture?' We absolutely took that to heart. That became sort of our mantra as we did the movie over the course of the years and we kept people involved from the Pacific islands.
We had an oceanic story trust that we bounced story ideas off of, costume ideas, the way the characters looked throughout this process. We would Skype with them. They came out to visit sometimes.
And case in point, Maui, in the early going he was bald. He had no hair. Some drawings were a little more like Dwayne. Then when some people saw it, from Tahiti particularly, they said 'No, no, no, long hair is part of his power. So, he's got to have long hair.'
So we looked at this great Polynesian football player's long hair and we had seen these great dudes with great manes of hair. And so we gave him that kind of hair. I can't imagine him without that.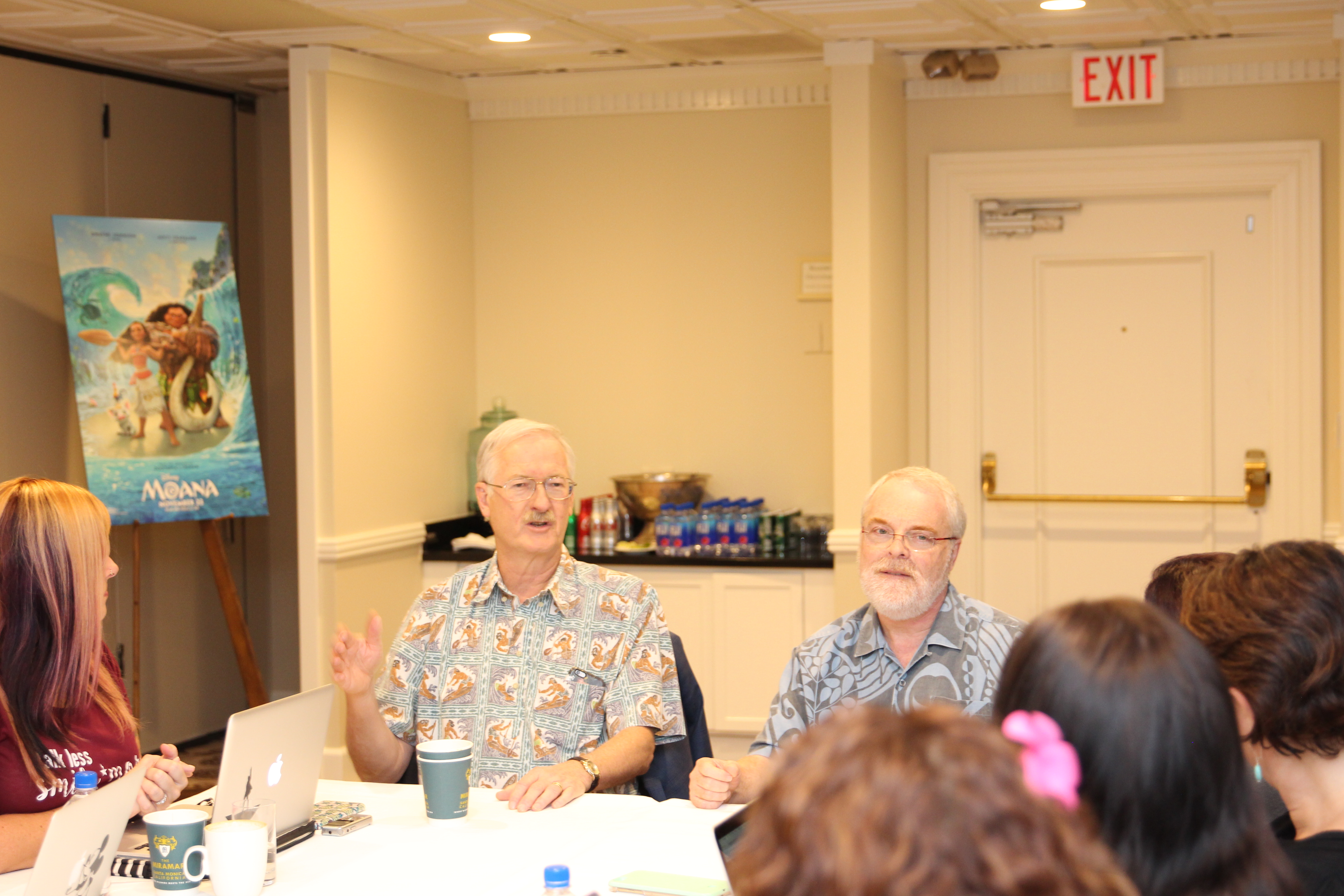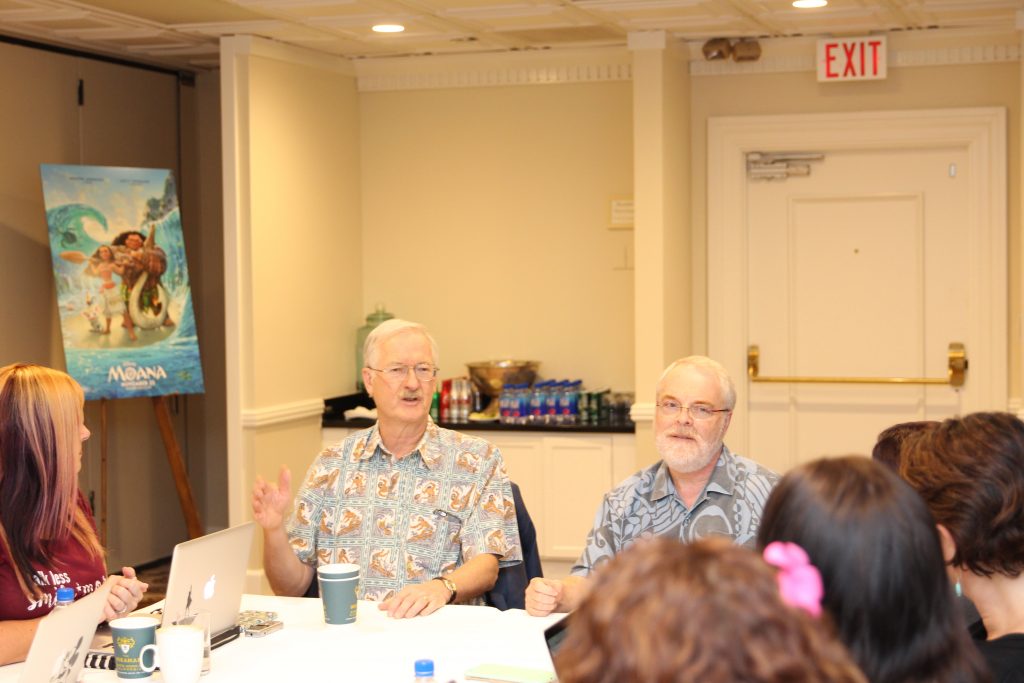 RON: Moana has great hair too.
JOHN: It's a good hair movie.
We mentioned that we had read somewhere that the movie was originally going to be mainly about Maui. John said he was intrigued with the area of the Pacific Islands, and read in Polynesian mythology about Maui.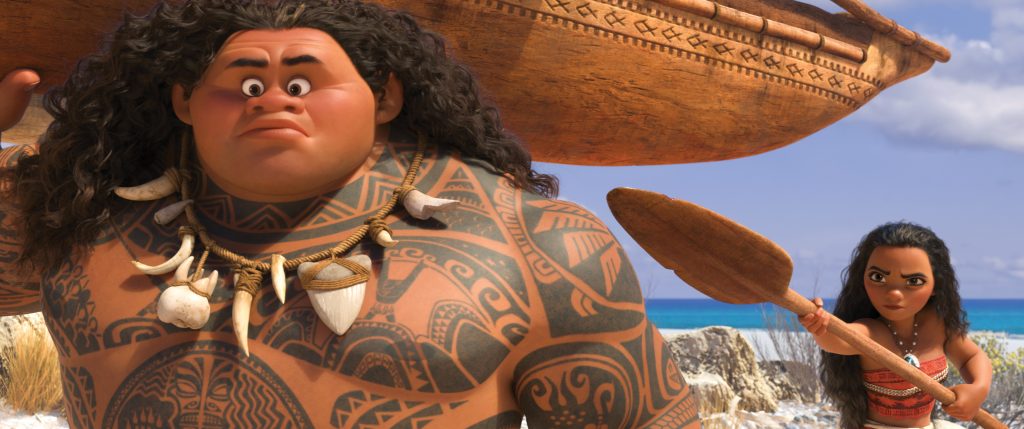 John: He was a shape shifter. He had a magical fishhook. He could pull up islands. He had tattoos, was kind of a superhero.
And I was like, 'Why has this never been done in a movie before? And so I showed it to Ron. We pitched a simple idea to John Lasseter. It was even called Mighty Maui actually. Then John's like, 'You've got to do research. You've got to go to the islands.
And when we went there and heard about navigation and all this, and it was really Ron's idea, 'what if we have a character called Moana, which means ocean, and we built it around her, someone who wants to be a navigator like her ancestors?'
And we saw it as a true grit type story where she really is this determined, forceful individual and she teams up with kind of a washed up, you know...
RON: Flawed, seriously flawed demigod.
John said it was a challenge to keep Moana in the focus, and that Maui's story would, on occasion, take over. He said it was important to the Producer, Osnat Shurer, as well, to keep the focus on Moana when Maui threatened to take over.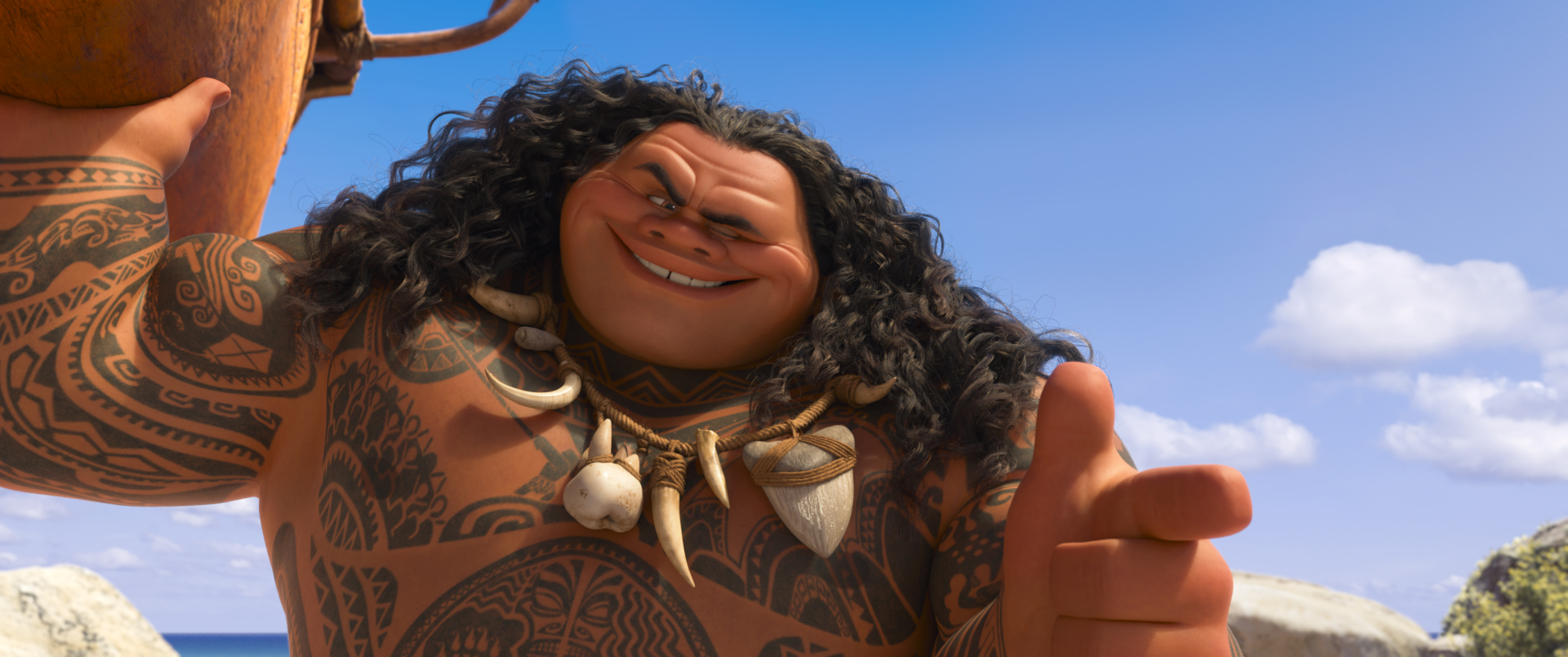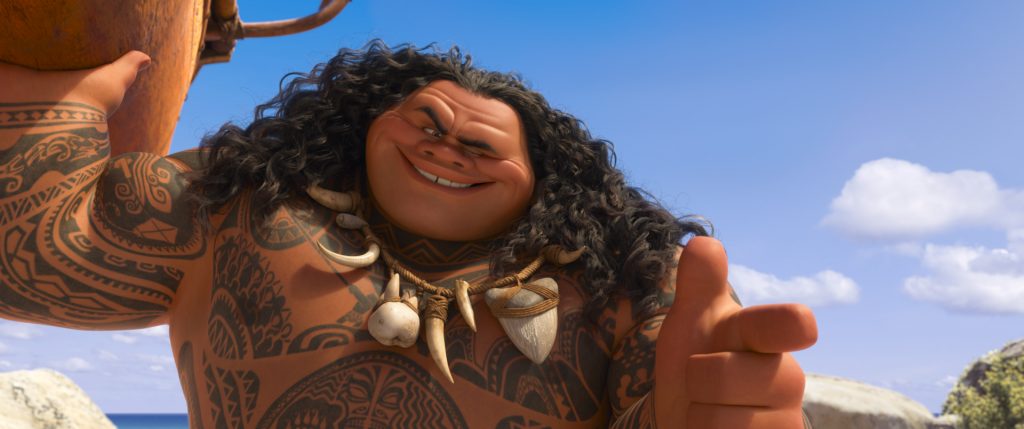 RON: We thought of a hero's journey for Moana. She's on a quest to save her people. She faces numerous obstacles. She's resilient. She's also empathetic, which is an important part of who she is. And fearless. And she really finally proves herself and becomes the person that she's meant to be.
I told John and Ron that my daughter watched Treasure Planet in first grade and it's what inspired her to become an animator and that she is now at Sheridan.
JOHN: Sheridan's a great school up in Canada, up in Toronto.
Yes! So, I asked her class for questions and of course many of them wanted to know what you could tell them about breaking into the industry, but one of my daughter's friends, Dani, had a great question.
Q: How does it feel to have worked on The Little Mermaid and now on Moana? Did the transition of 2-D to 3-D change the way your vision developed for the end results?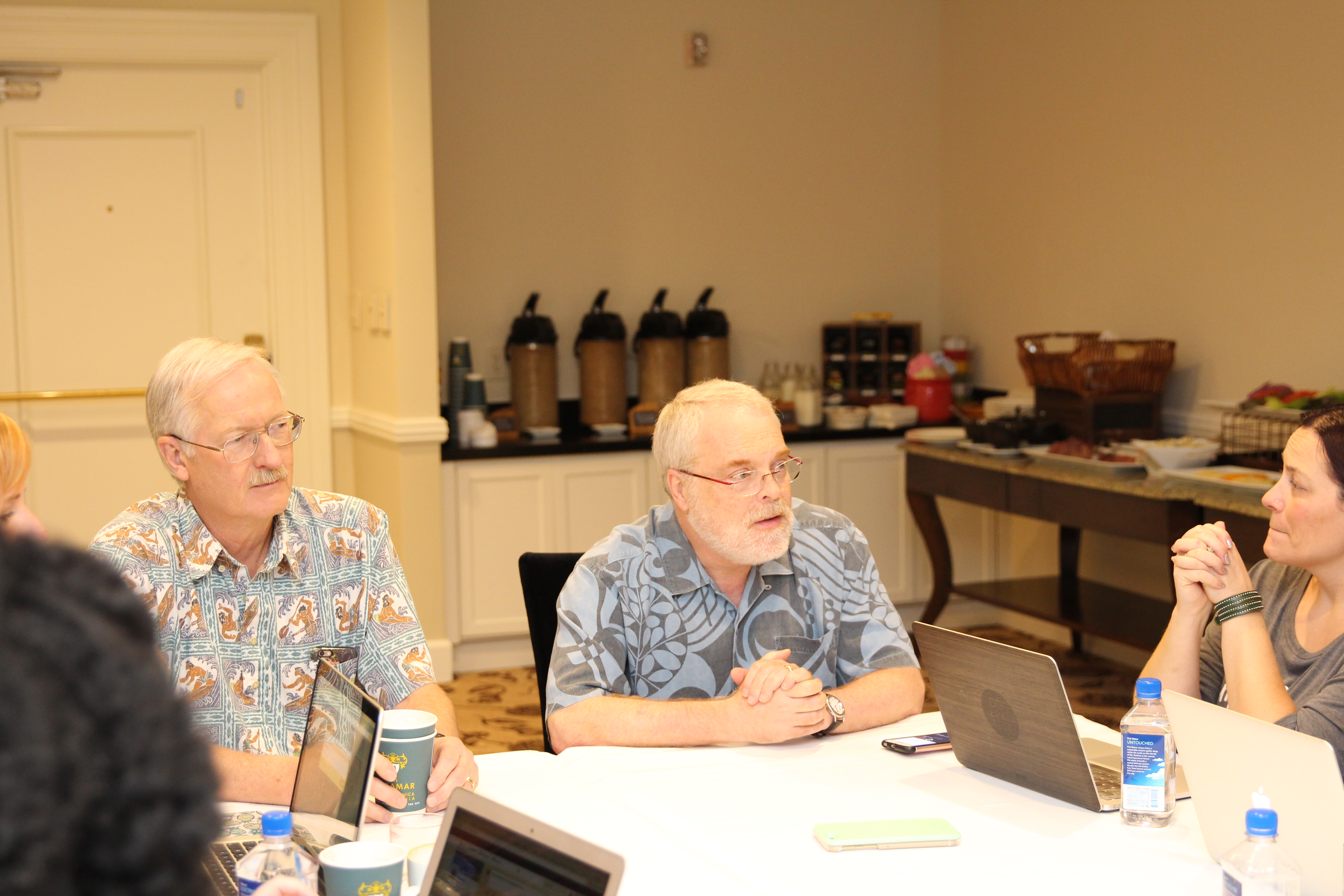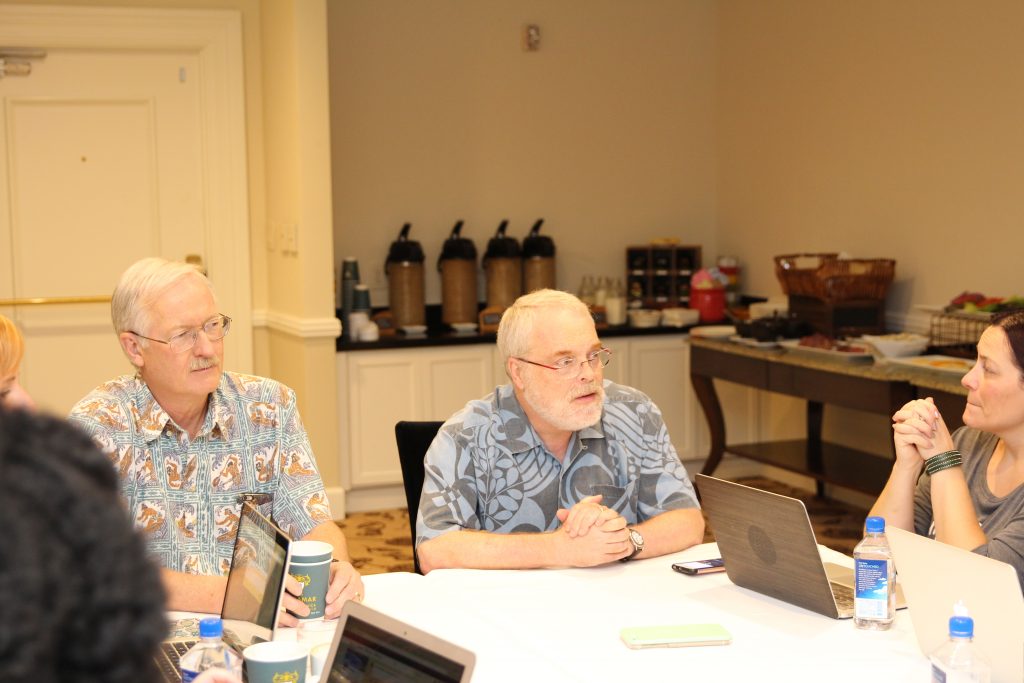 JOHN: Well, it was interesting even just in a superficial way that for a lot of the animation we work on, the CG animators, a lot of them are in their 20s and 30s. They saw Little Mermaid when they were eight years old, and they're like this is what got me in animation. I'm working with you old guys, you know. So, that was kind of fun.
RON: I was 20 when I started at Disney; been there 43 years. And I worked with Frank Thomas who's a legendary animator, who was my mentor, and he was 62 and I was 20, and now I'm 63 and we're working with a lot of very, very young people that are really excited and gung ho, and they're just so eager.
JOHN: It was fun on this movie though because, in terms of the CG and the hand-drawn, we got to use both. And Eric Goldberg who did The Genie in Aladdin did mini-Maui, the tattoo. So, we were able to incorporate hand-drawn elements.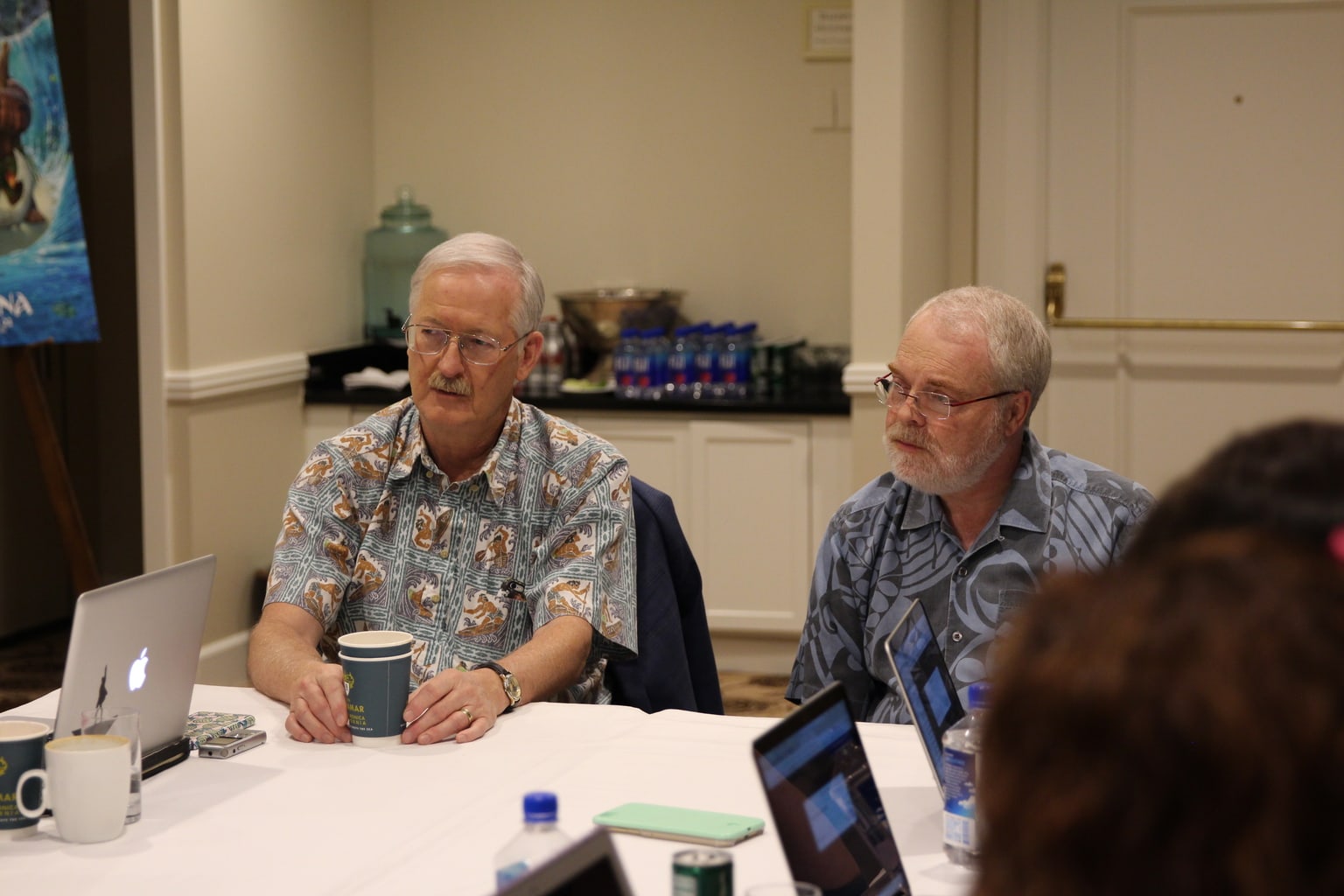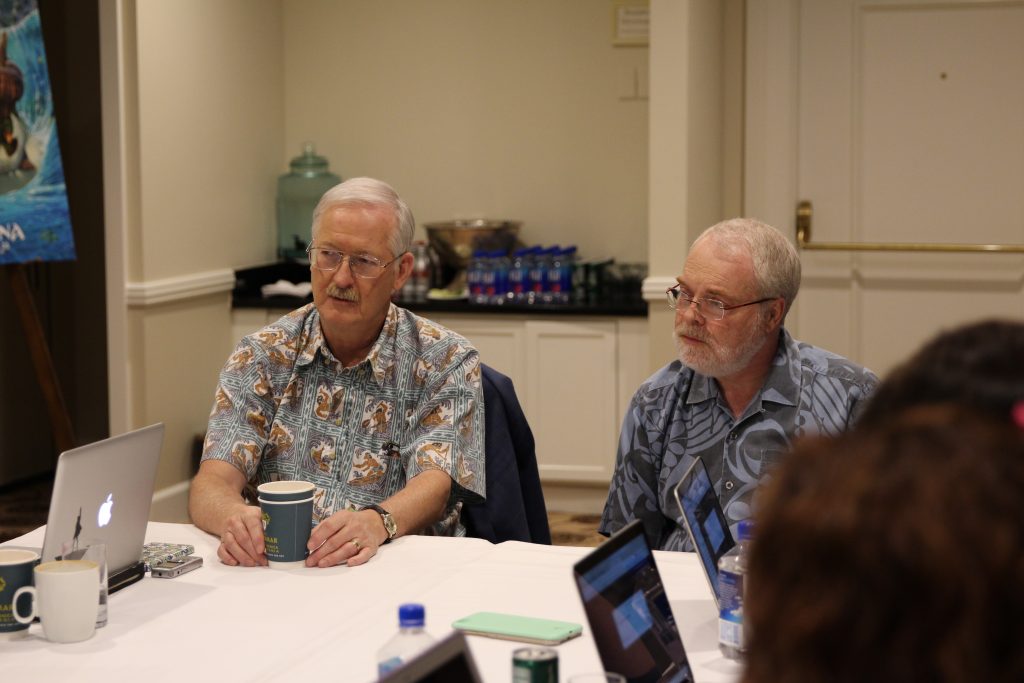 Speaking of that tattoo, check out this featurette with Dwyane Johnson showing us Mini-Maui:

John also said they were thrilled to work with so many younger artists on Moana, where they would do the CG Maui and Eric Goldberg would do the hand-drawn part, and they could learn from Eric and see his techniques in terms of the acting, his timing, and his comic sensibilities.
He said the younger artists were thrilled to get a chance to learn from this kind of living legend of animation. He said it was fun for them to learn new things and work with new artists.
We hoped these two were planning more movies together.
JOHN: We don't know what we're doing after this one. This has been five years in the making and we're doing a couple of months of promotion, then hopefully we get a few weeks off. Who knows what we're doing. There's a lot of great movies in the Disney pipeline after this from various directors.
We chatted for a while about Easter Eggs in Moana, but I'm saving that for another post. Let's just say be on the lookout for a lot of them! John and Ron took a minute to take a photo with our group.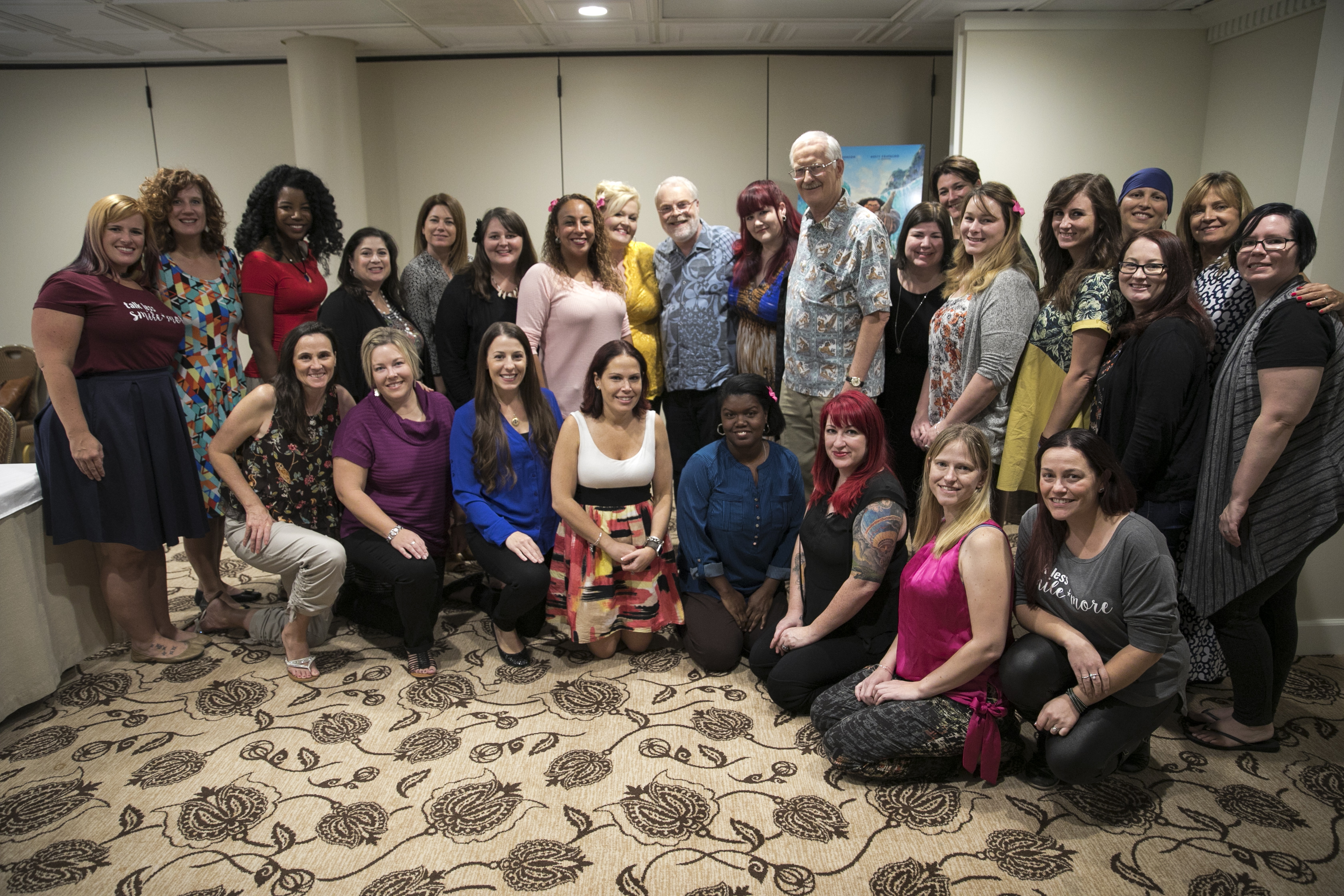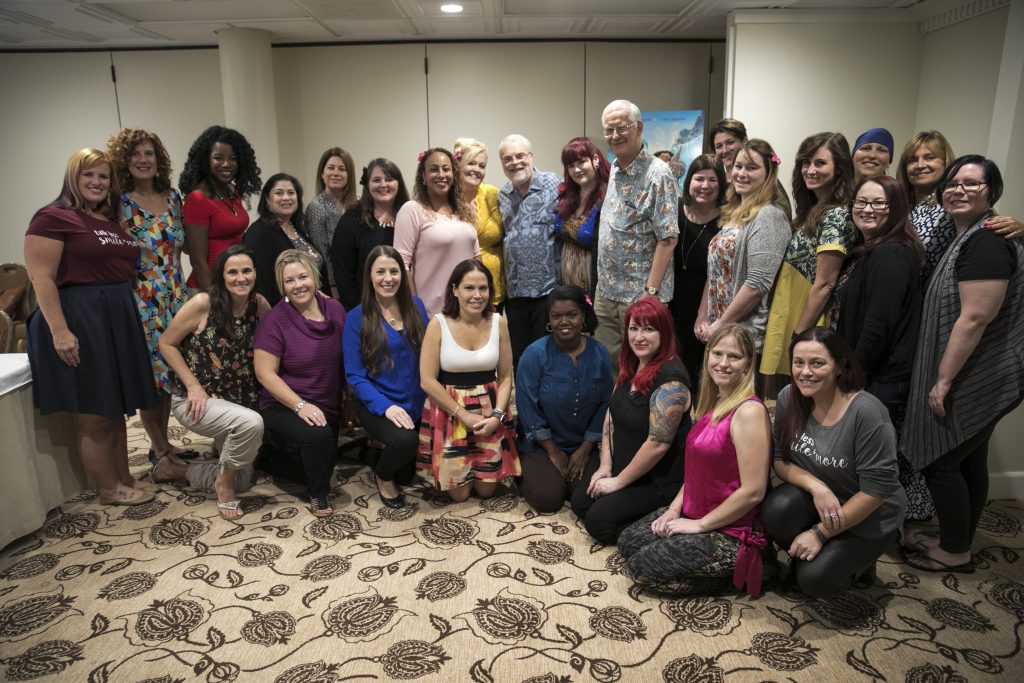 If you haven't seen the trailer for Moana, check it out here. And get to the theater as soon as you can! Read why I think you need to see this film!
Like MOANA on Facebook, Follow on Twitter, Instagram, and Tumblr
Visit the official MOANA website!
Disclaimer: Disney invited me to attend this all-expense paid trip to attend the Moana World Premiere and other events surrounding the movie.