I met Ava DuVernay the day after I saw the film, A Wrinkle In Time. From the moment she spoke, I knew why everyone I've met who has worked with her has said yes, without hesitation.
Ava DuVernay is so passionate about changing the world through storytelling, and she's making a difference.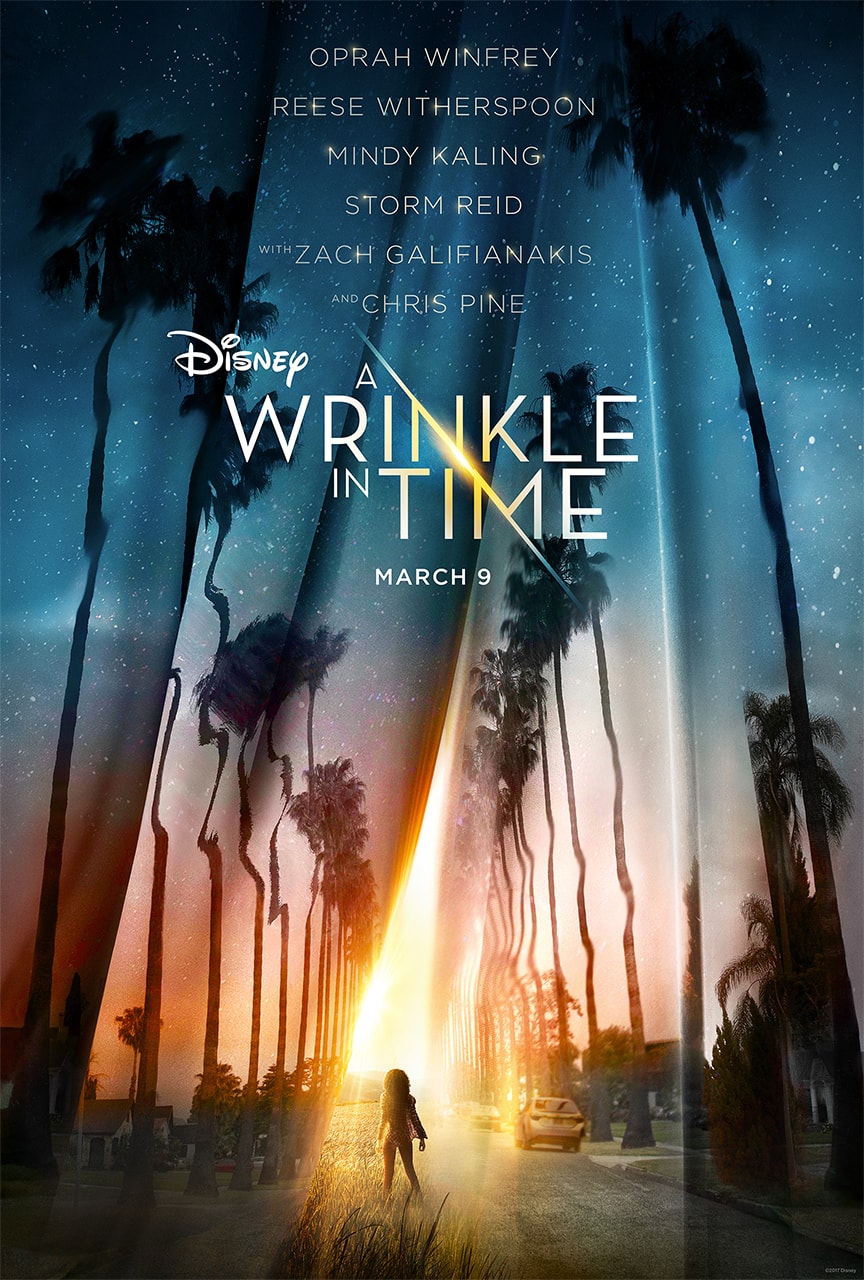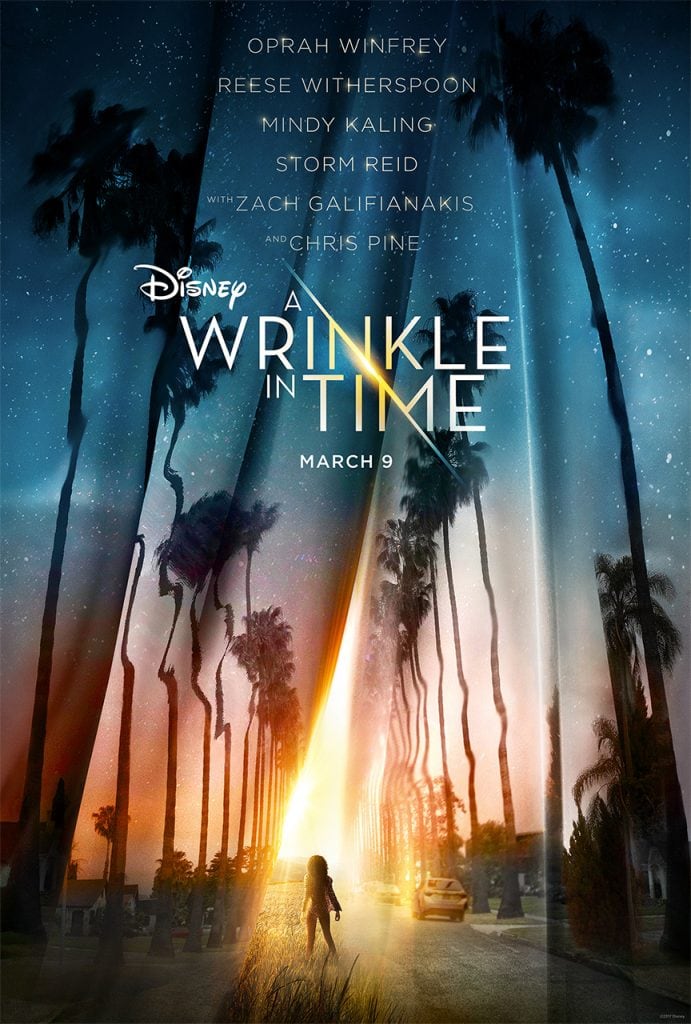 For research before interviewing DuVernay, I watched 13th, which was nominated for an Academy Award and won four EMMYs as well as BAFTA and Peabody Awards.
13th is said to be one of the most critically-acclaimed films of 2016. DuVernay's historical drama SELMA was nominated for four Golden Globe awards and two Academy Awards, including Best Picture.
And when Ava walked into the room, she was excited to see us.
Ava: Does it feel okay to say mommy bloggers? What should I call you guys? Go mommy bloggers. You all are about to go on the gram. How are you doing?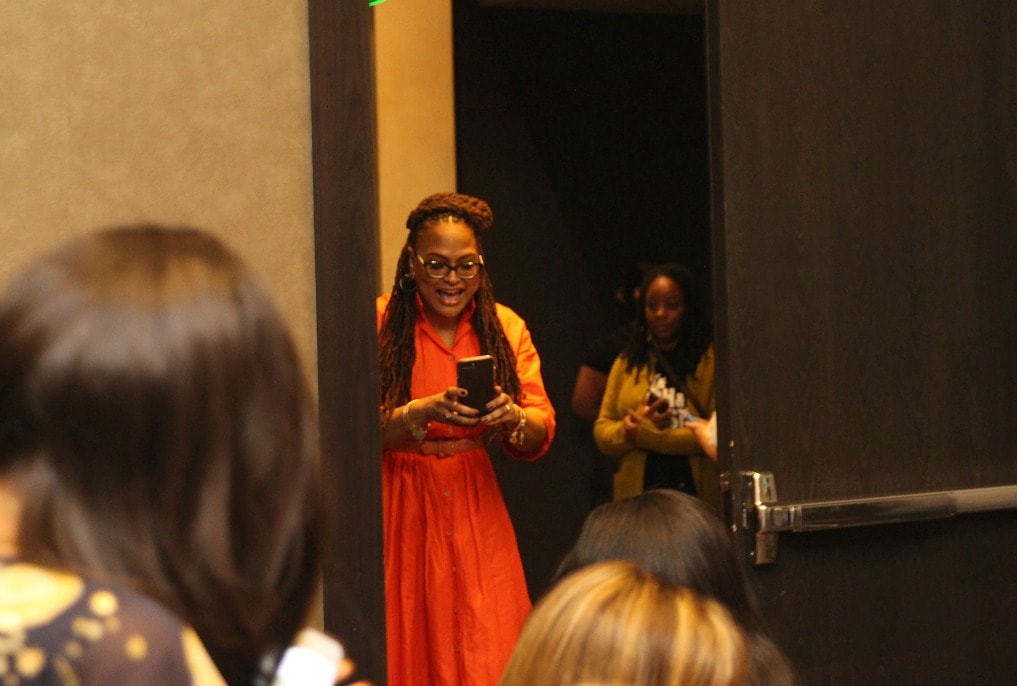 And just for fun, here's her Instagram Story: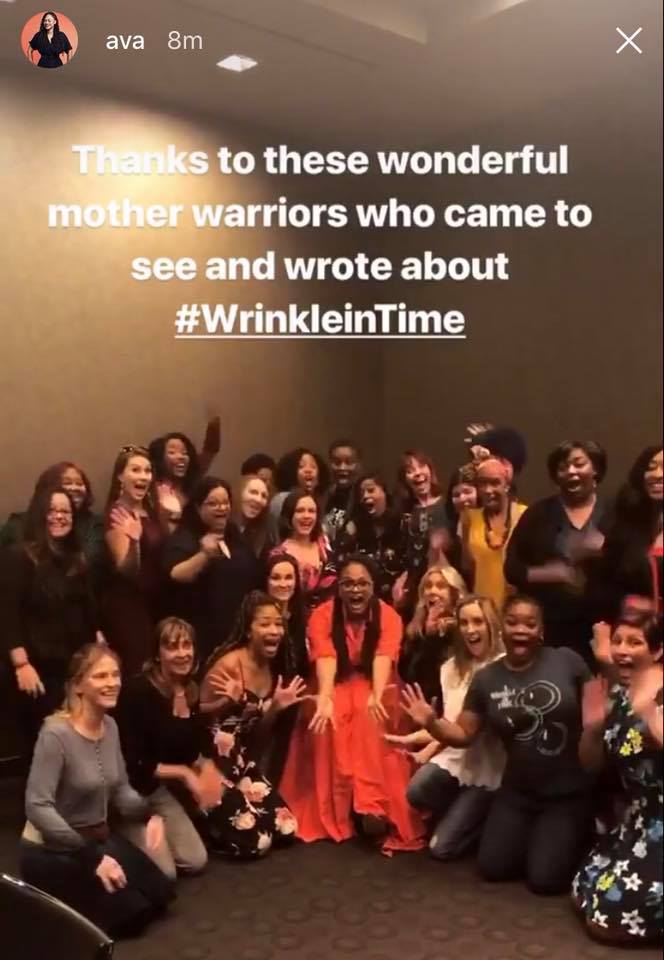 Interview with Director Ava DuVernay
We started out by telling Ava how much we loved the film. We had seen it the night before. We wanted to talk about her desire to make a movie for children.
Ava: I just really wanted to make a film for kids right now. I don't have children. I don't have children by choice. I always said that my films are my children. I put my blood into them.
It's really what has my name on it. It's what I'll leave behind in the world and so to be able to make something specifically for kids today, something that I hope endures for kids for a long time to come was very emotional to me.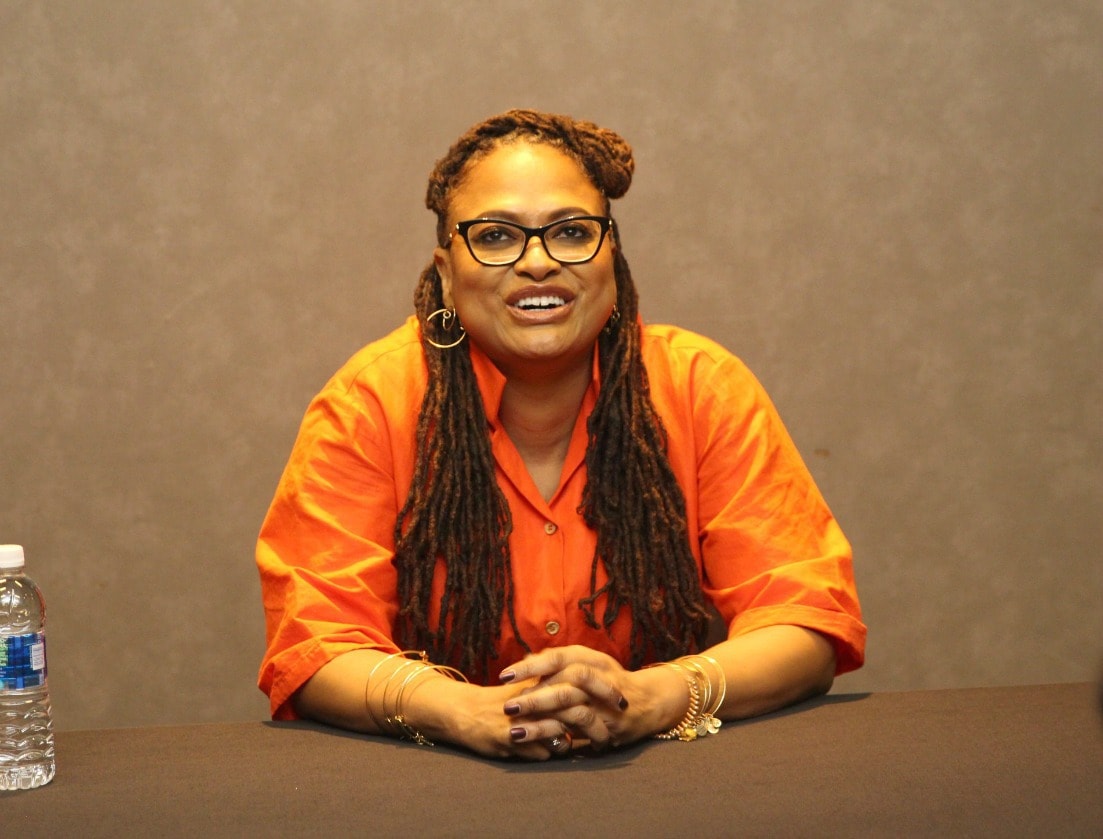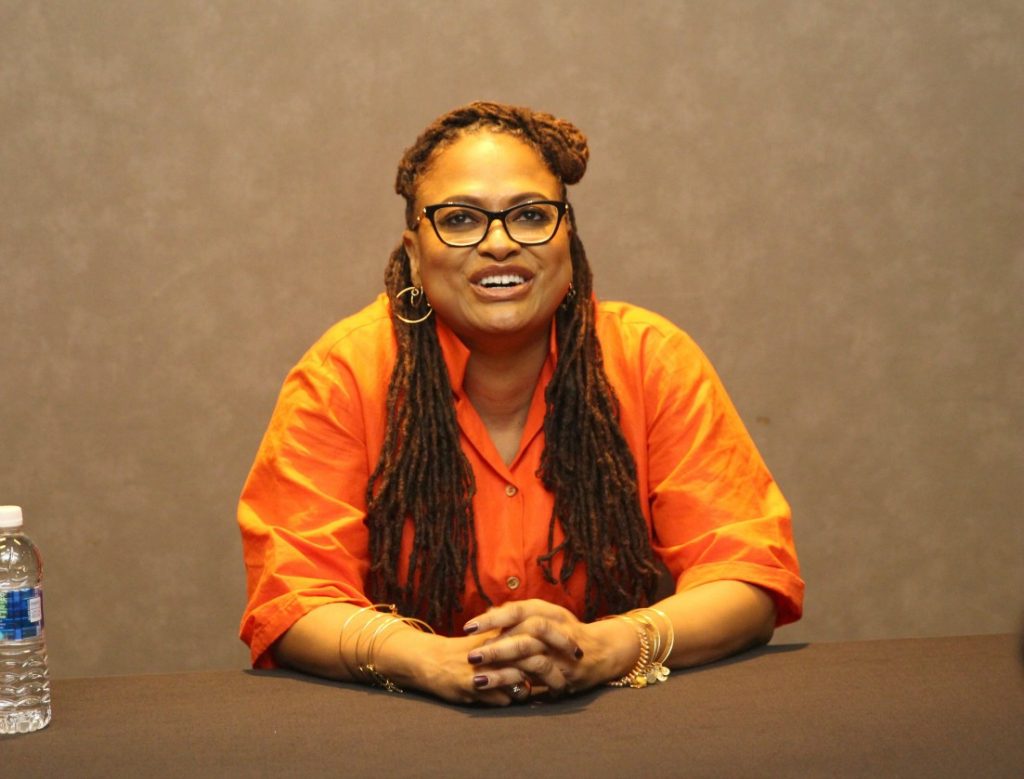 So it was important that we approached the story in a way that we were always thinking of young people but then also with the young people that we had on set making sure that they felt safe, included, and that their voices were being heard because I was really listening to them a lot about what's cool, what do the kids wanna see. What they said surprised me.
They liked not to be talked down to and a lot of times in kids movies there should be more jokes, kids like to laugh. But kids also like to think. They like to feel.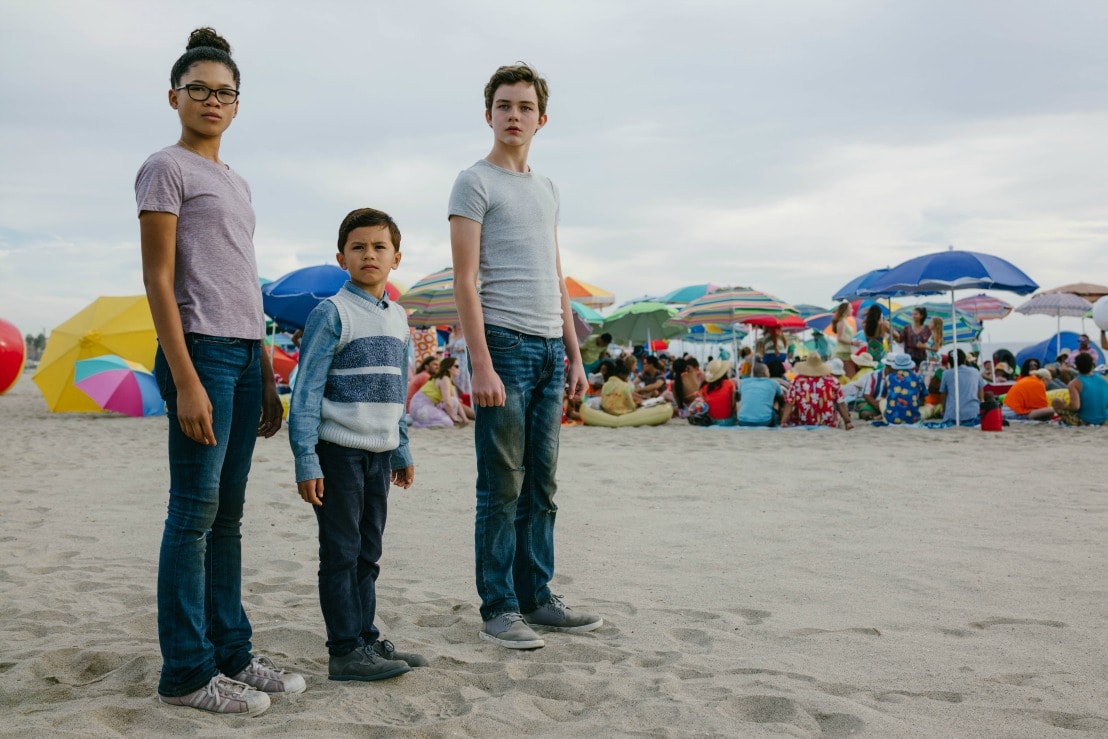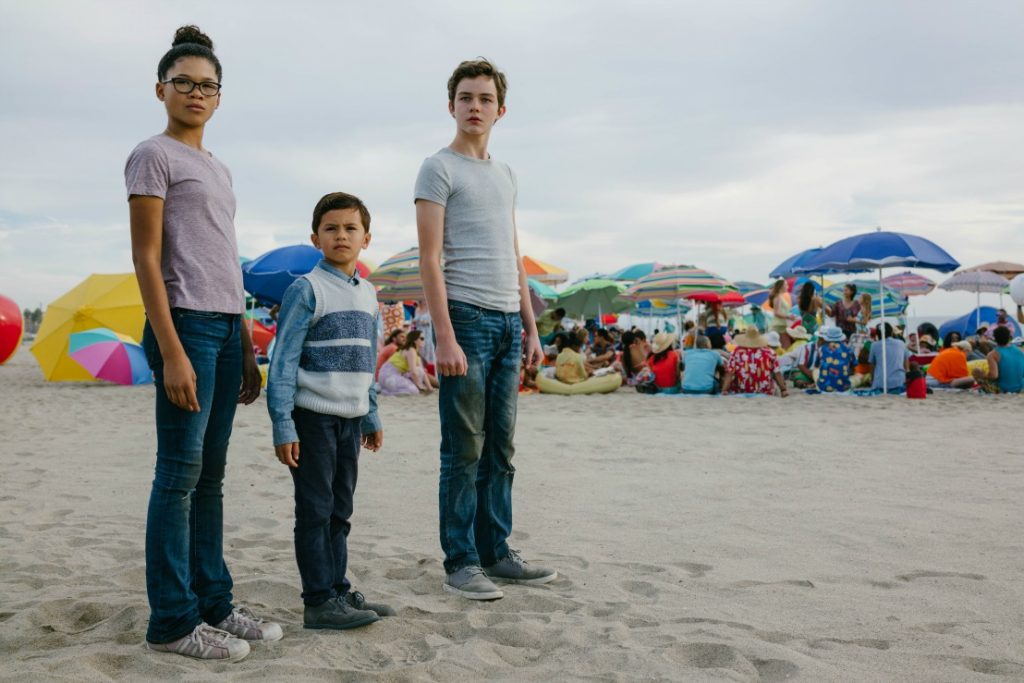 And so the first 30 minutes of the movie, it's just about Meg. There's no magic. For 30 minutes we make you sit down and sync into the heart of a young girl and she's trying to figure out things, struggling at school, struggling with the bullies, struggling with an absentee father, all those things.
We demand that you just look at this girl for 30 minutes before the fantasy magic happens. It's worth taking some time to look at that before you send them off flying.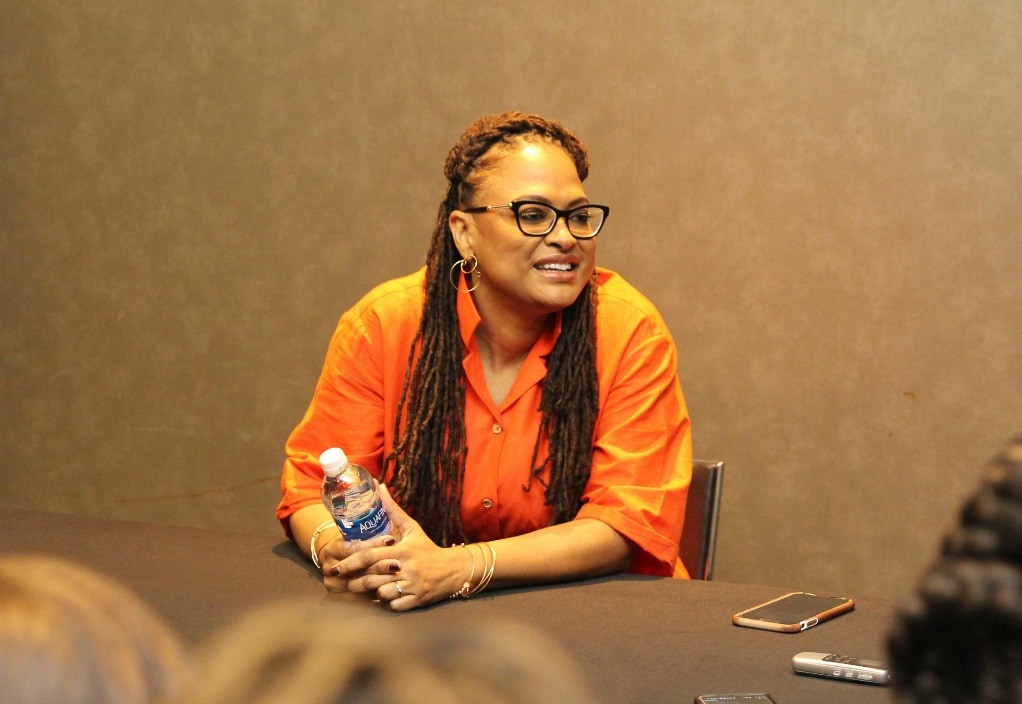 Speaking of this girl, Meg, played by Storm Reid, we wanted to know what of Ava went into Meg's character. (Also see my interview with Storm!)
Ava: I almost started to cry at the press conference. Mindy said something really incredible. She said that she loved sci-fi growing up but sci-fi didn't love her.
She never got to see herself in it as a girl, particularly as a brown girl, specifically as an Indian girl with dark skin. So to be able to be in a film where there are representations of her, representations like Storm, was so important to her.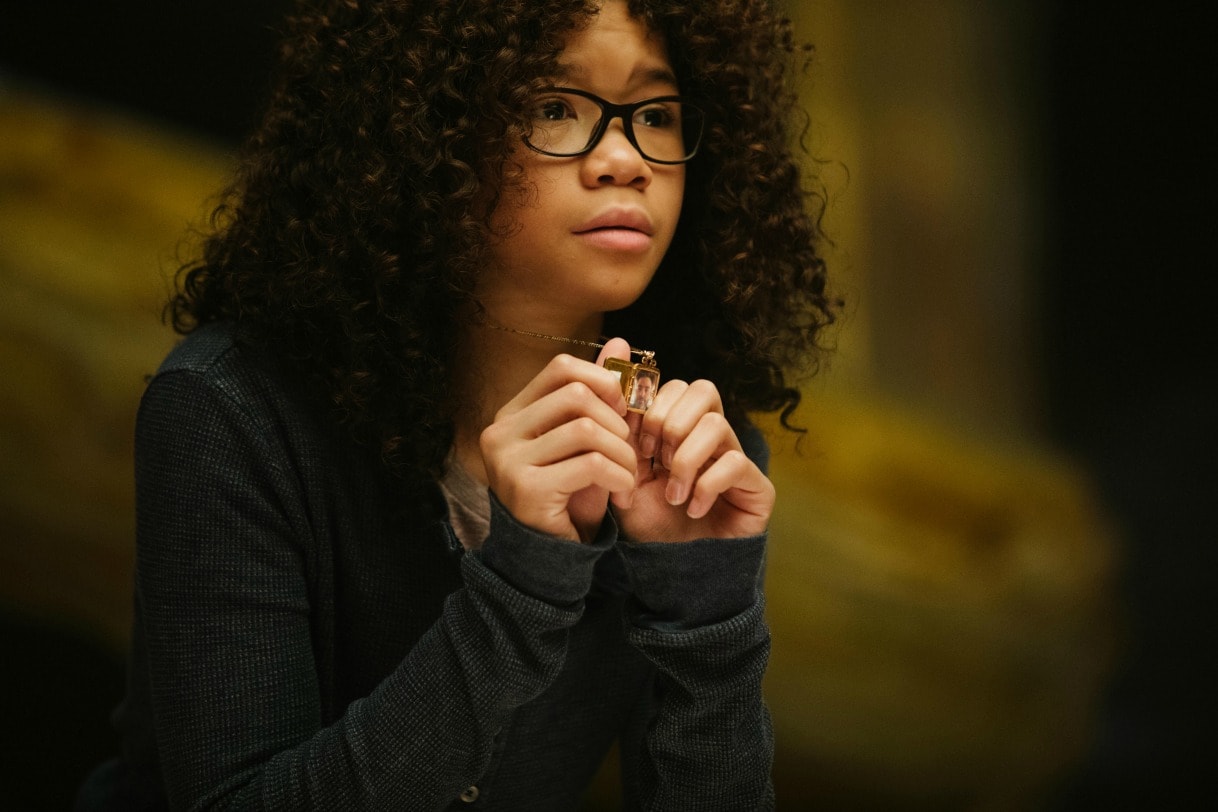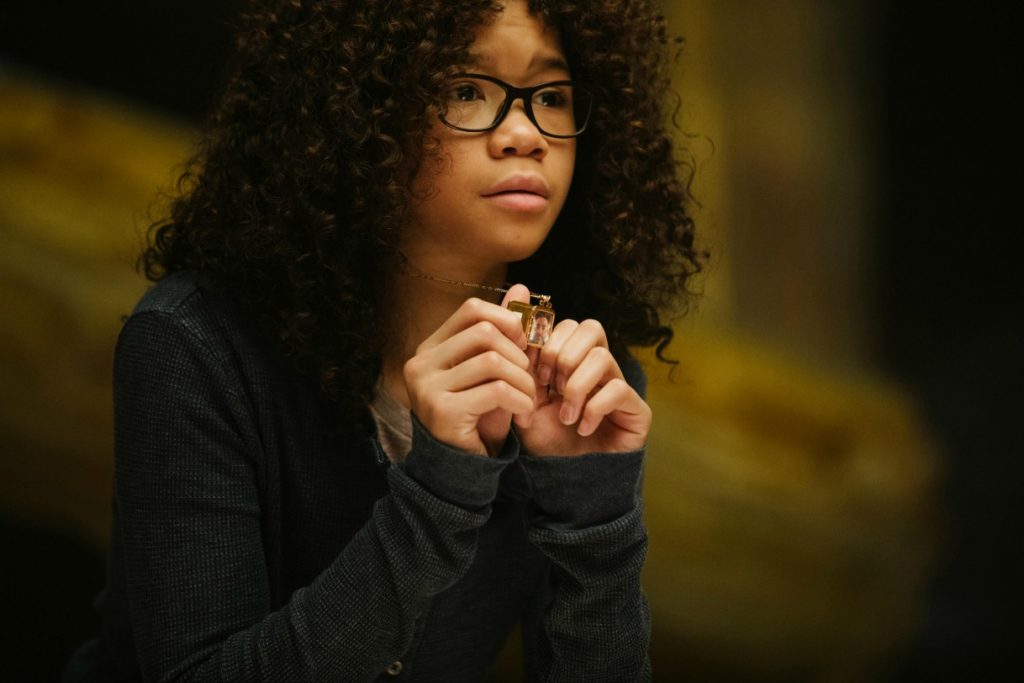 I think it was the same thing for me, you know. Storm's a little girl from the inner city. We've moved the book to be in the inner-city, from the book to the movie.
A little girl from the inner-city who wears glasses, who doesn't know how fantastic she is, and I related to that. I remember being that.
I remember dreaming about all the things I wanted to be and not knowing if I could be them. Not seeing anything in my world beyond my mom who loved me and my family who loved me to tell me you can do it and nothing else said you can do it.
Nothing else said you can do it. School didn't say you can do it. Society didn't say you could do it. Nothing said you could do this.
Nothing said you can be here and direct this movie. You know, nothing said that you can do any of it. So you have to find it in yourself and that's what this book says. That's what the movie is saying. So I related to Meg very much.
We asked if this film expanded Ava's creativity and vision as a storyteller, and her answer made us laugh.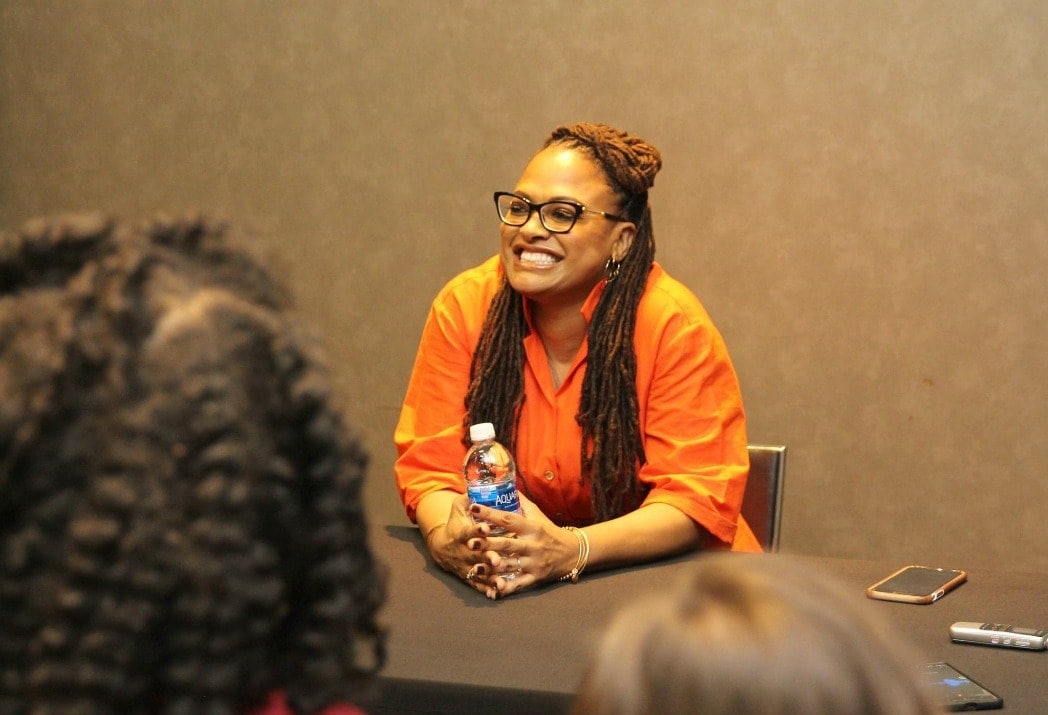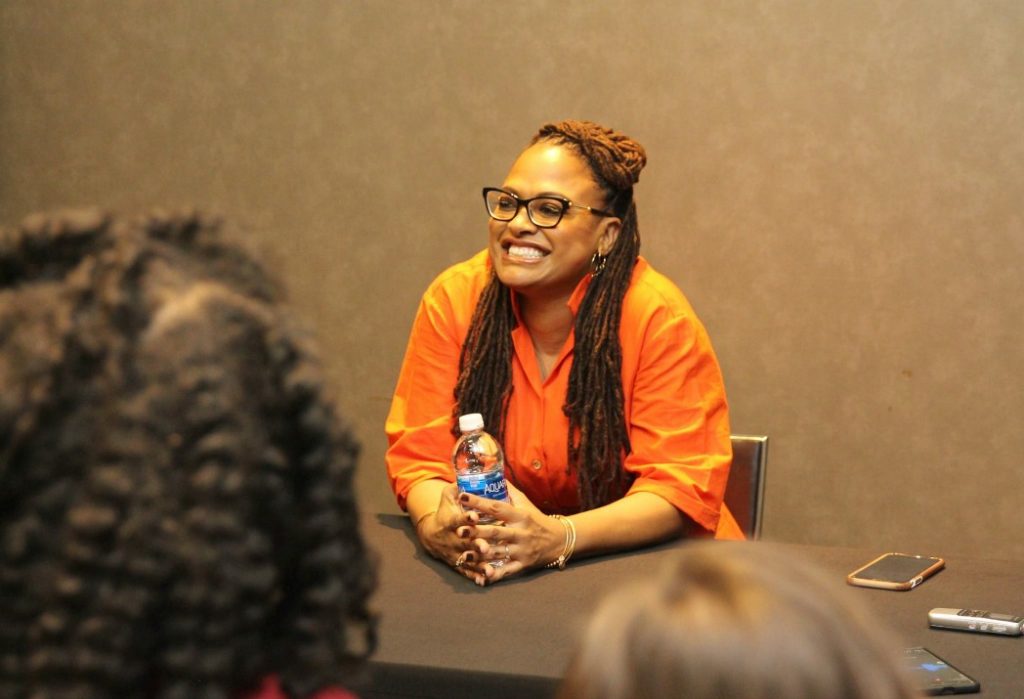 Ava: Well, money helps. Money helps a lot. We made Selma for 20 million dollars and this was 120 million dollars.
When you make Selma and you try to do period clothes and violence and crowd shots and Dr. King and the cars it's expensive because you can't just go out and get them off the street. They're very specialty items.
I came here and I remember one day I was saying to Jim Whittaker, 'This is gonna be a good shot. The camera's not here but it'd be a bigger, better [shot] if I had a second crane doing this.'
He was like, 'Oh, you want a second crane? Were you saying you want a second crane?' I said 'No, I was just... can I have a second crane?' He's like 'Yeah, just tell us what you want.' And I was like 'I want a second crane!'
So, it was just like, once I had to free myself to say it, I can ask them what I want and there's actually a budget to do it.'
Things are changing for women directors, and it's about time!
Take a look at the trailer:
As I said in the beginning of this interview, Ava DuVernay is all about changing the world through storytelling. We wanted to know, what did she hope would be a takeaway from A Wrinkle In Time?
Ava: I really, I really want it to be a seed that blossoms into something beautiful in young people about the way that we treat each other, and the way that we see ourselves, and the way that we're seen. Movies have the power to do that.
There's a lot of division and darkness in the world and to be able to say you could be a light, and that if your individual light shines... Oprah always says it's easier for one light to illuminate a dark room.
So if we were the darkness in this room and someone just turned on one candle there would be light in the air. But it's really hard for darkness to drown out light.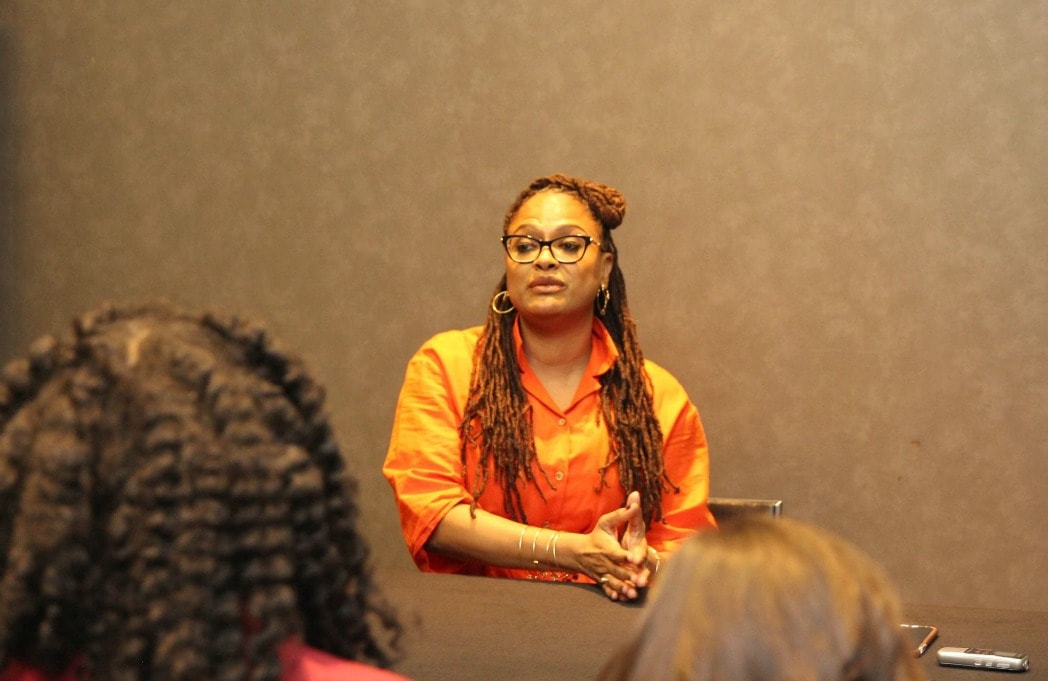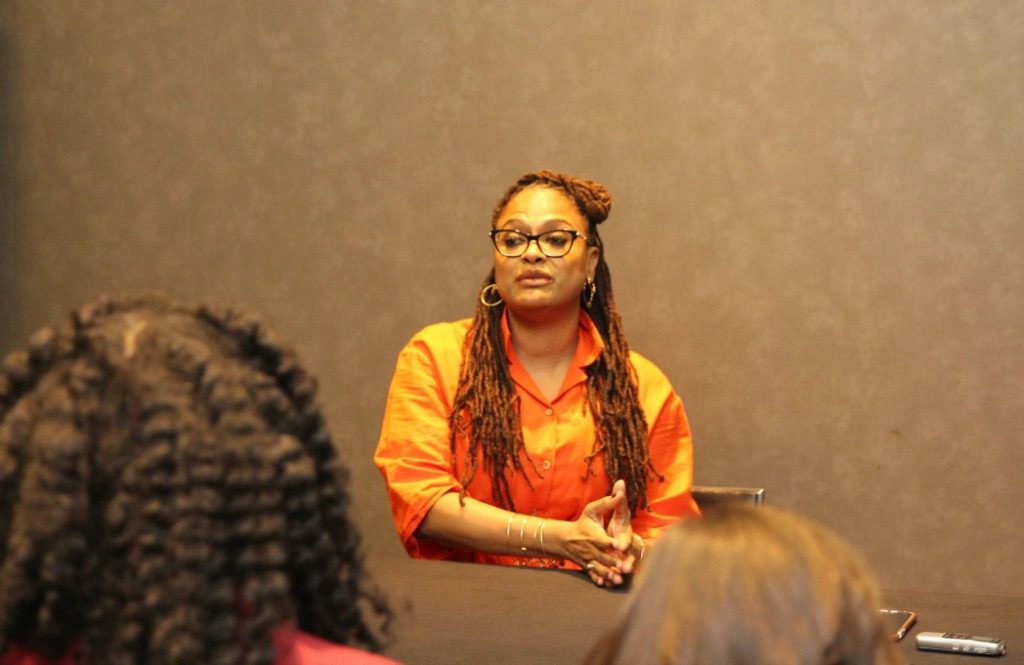 It's like if you could say to kids that you alone can make a difference in your world. You don't have to be Gandhi. You don't have to be King. You don't have to be Malala.
You have to start right now. Mrs. Whatsit says in the film, 'I'm trying but they're human and very limited.' It's real, you know what I mean?
There are some adults you can still see that light in and some you just can't, where it's gone. The child in them is gone. So this is for kids and for people who still have a kid inside of them.
We told Ava that when we interviewed Rowan, who plays Veronica, she told us Ava knew everyone's name on set. She said Ava DuVernay was loyal to everybody and succeeded because she brought people up with her. We had to share that and ask her how it made her feel that she made such an impression on this young girl.
Ava: That's kind. Why would you not? I used to be a crew member. I used to be a publicist and on sets and I would be only one of the few women, and one of the few black people, and probably the only black woman so many times, but regardless of who I was, so many directors just didn't know their crew members' names. I thought how disrespectful.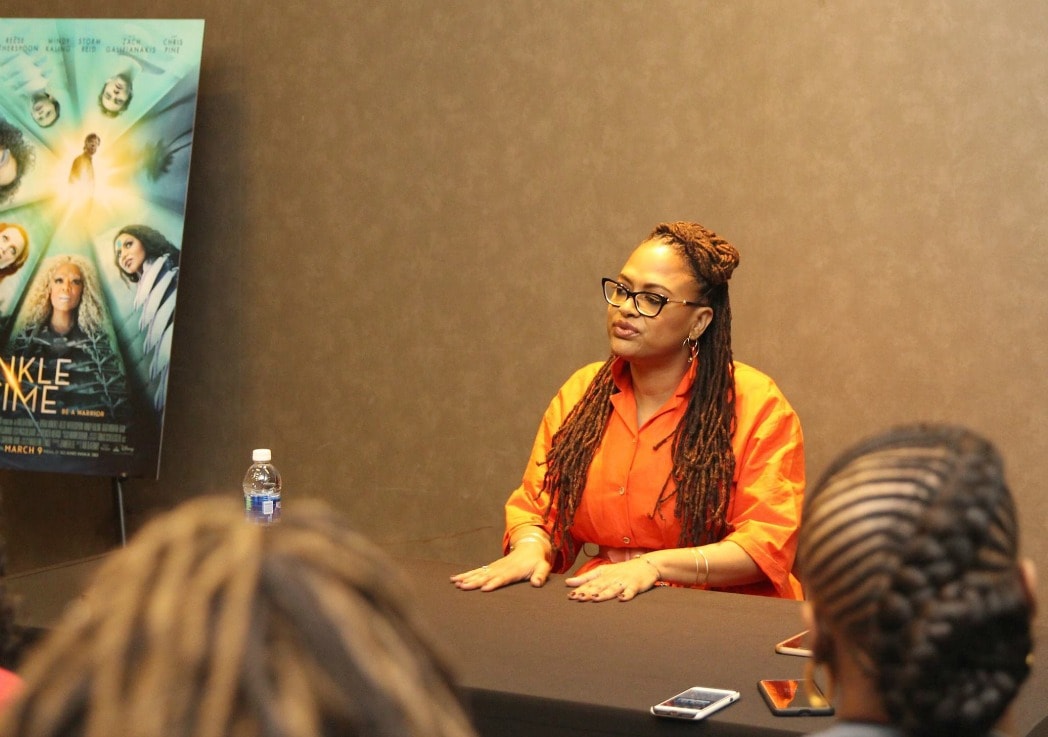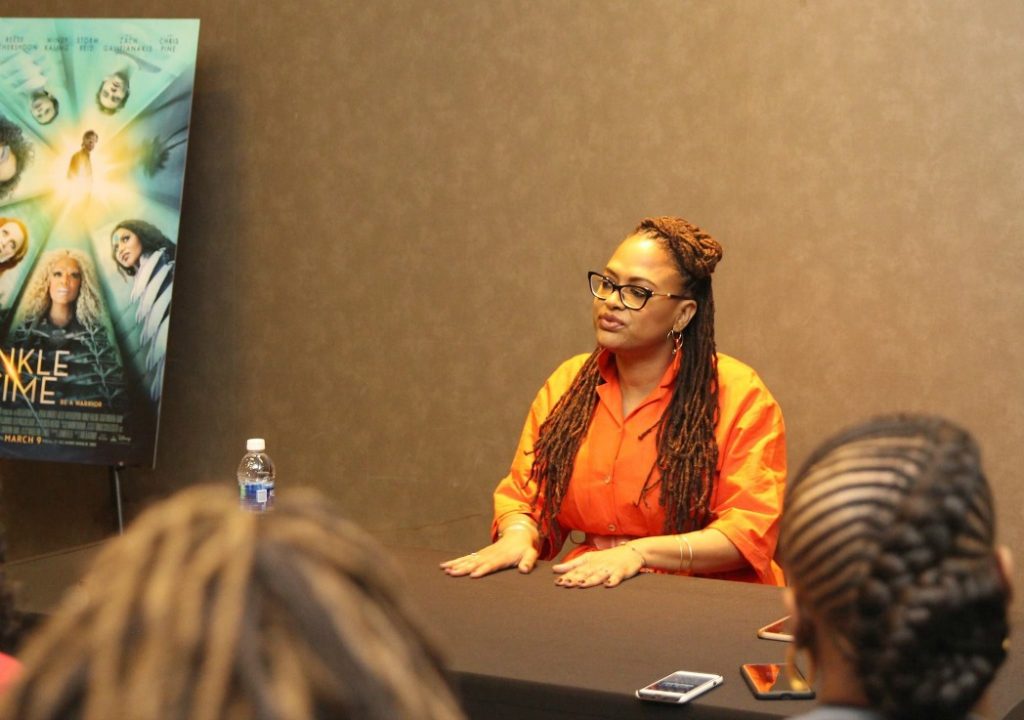 These people were here before you got out of your trailer. They set up the trailer that you can go into.
This is someone's father or mother who's been here since five o'clock in the morning. Everyone's working hard. How do you walk past people and not know their name?
We had to ask about casting. Did she have Mindy Kaling in mind from the beginning?
Ava: Mindy Kaling was the first person who came to my mind because she comes from the comedy world so she was perfect for the kind of Chaplin-esque playing with not having a lot of words, but she's stunningly gorgeous so she can pull it off.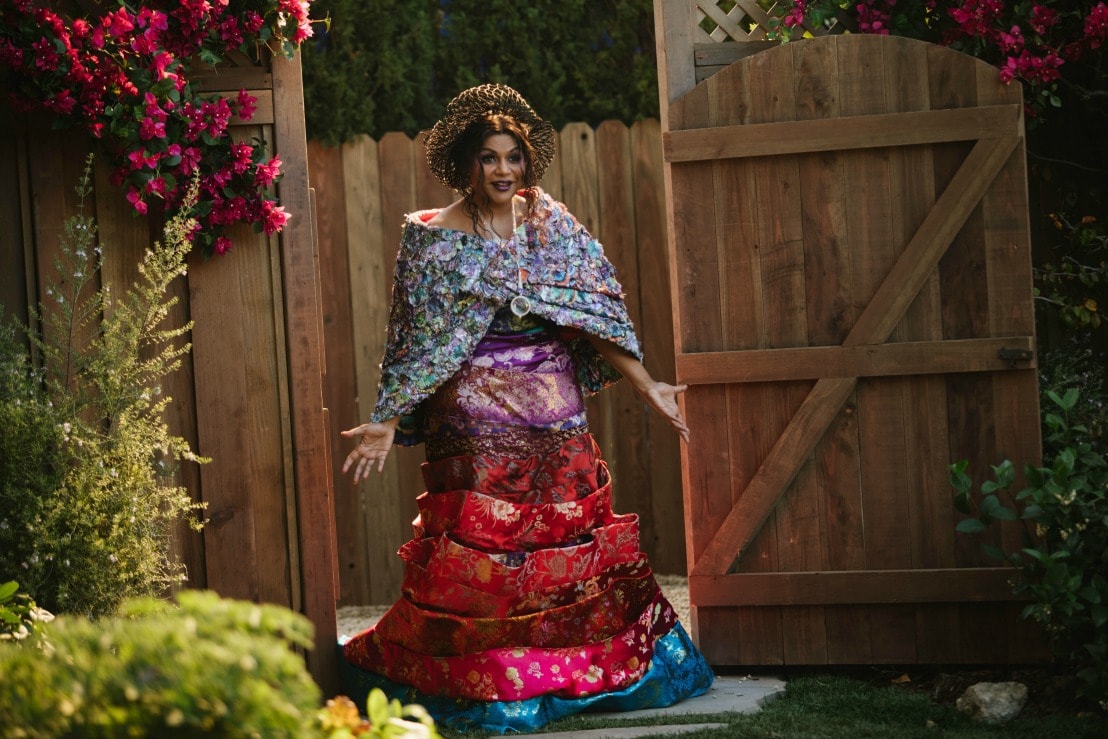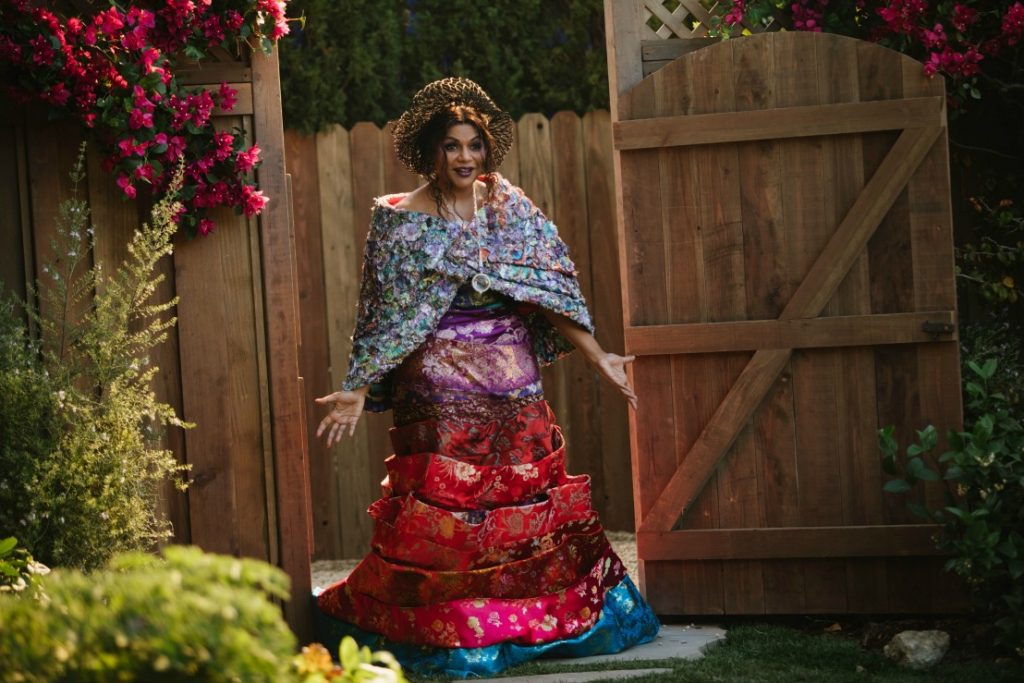 Oprah came to be because she just wanted to hang out in New Zealand. She wanted to the South Island in New Zealand and I said 'Where are you gonna be hanging out? Do you wanna work? Do you wanna do a little something?' And so she came on board.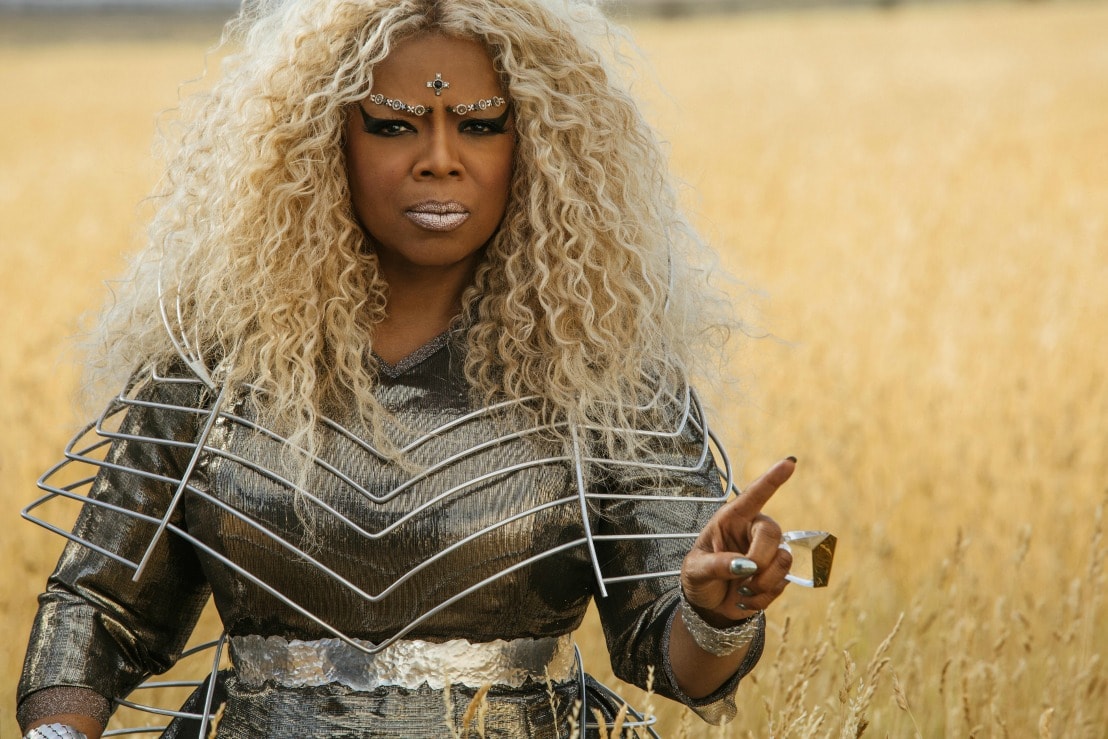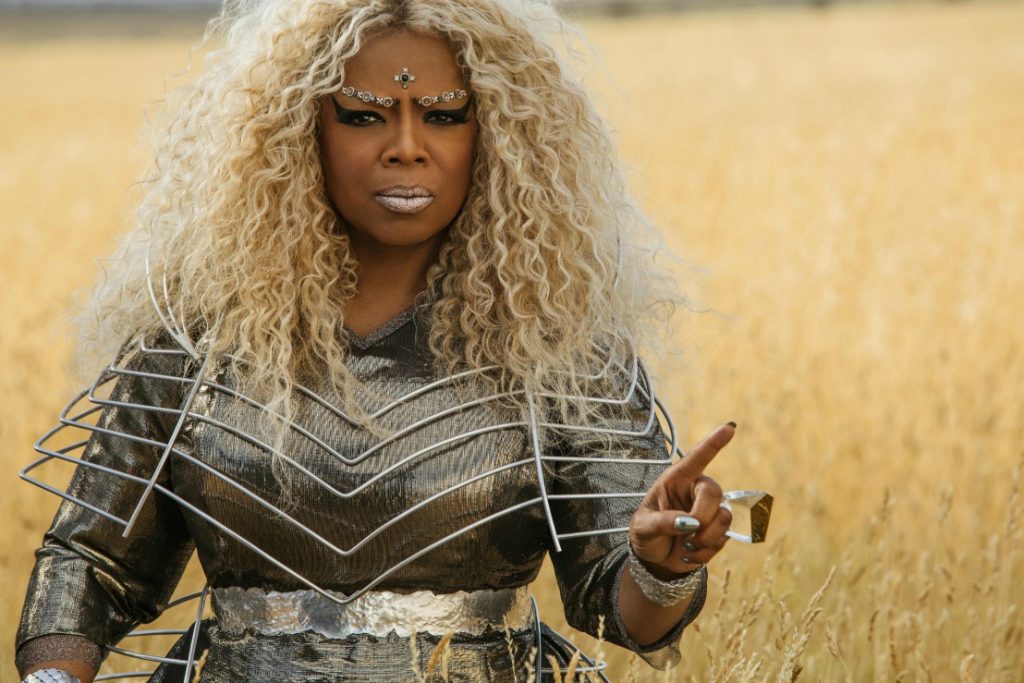 Reese is someone I've long admired because you know, Reese could have just been content to be a really beautiful blonde actress and that would have been enough and we would have applauded her for it. But she said 'No I am a pretty blonde actress, producer, entrepreneur, and designer.'
Check out my interviews with the 3 Mrs; Oprah, Mindy, and Reese.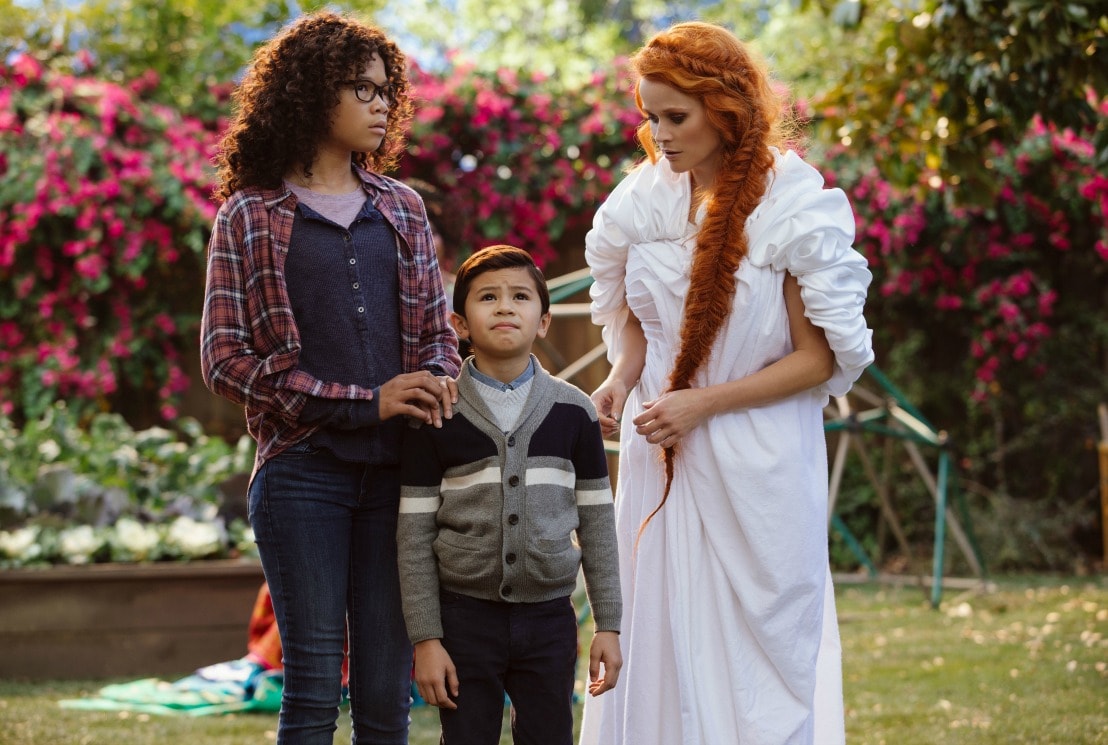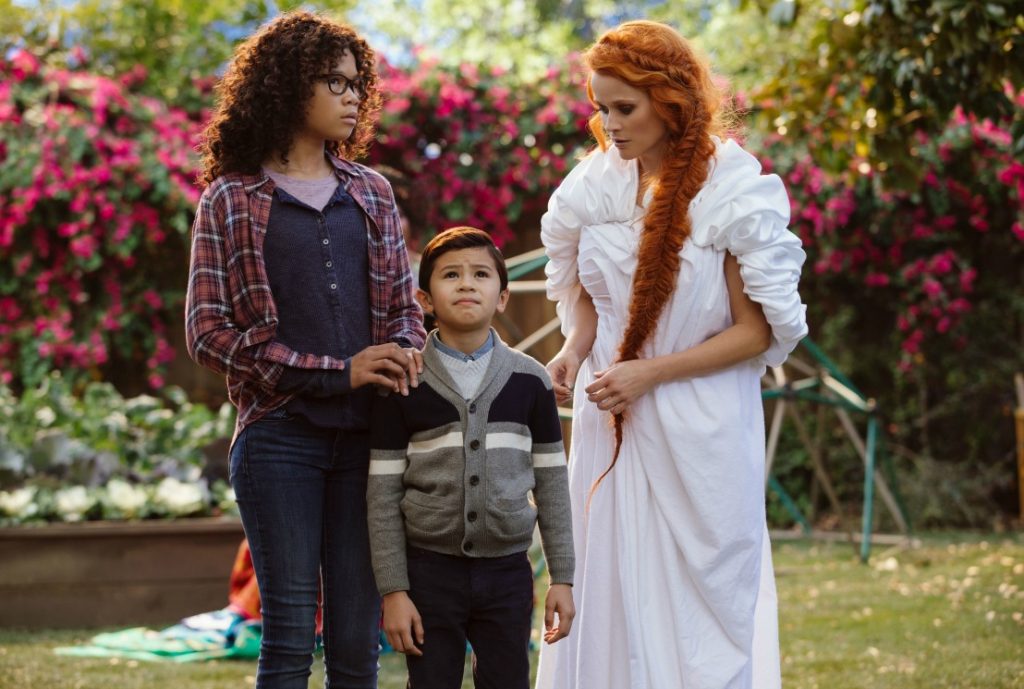 Finally, we talked about how everything Ava has been involved in so far has meaning. That's the Ava stamp. Was she intentional about this with every project?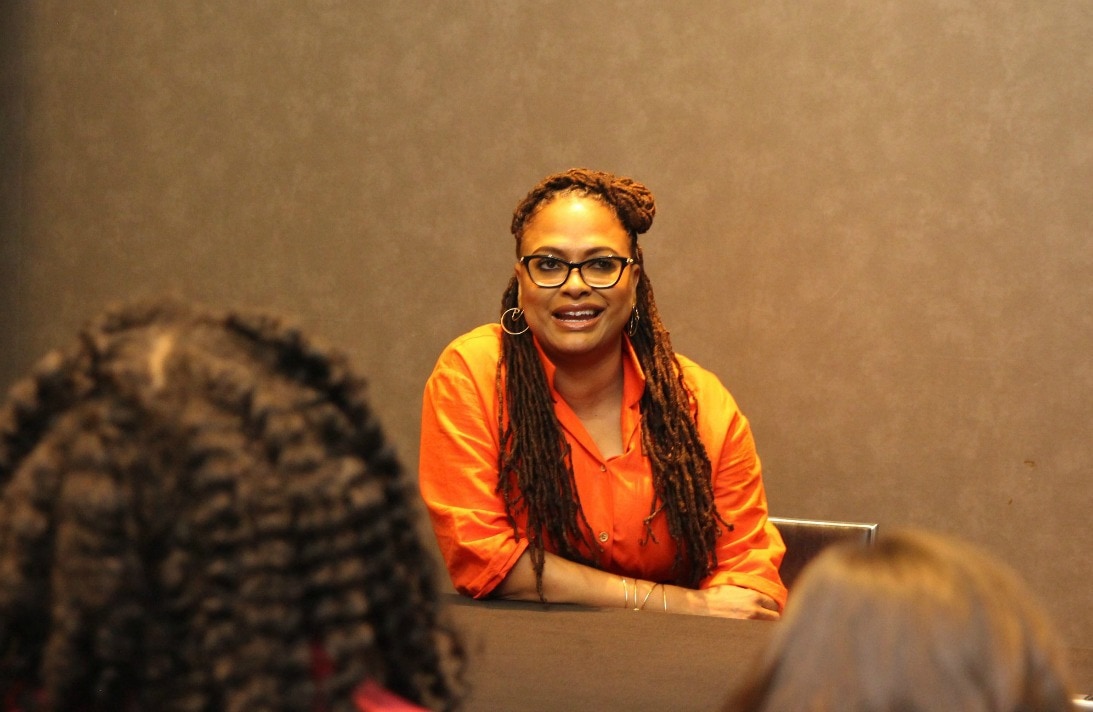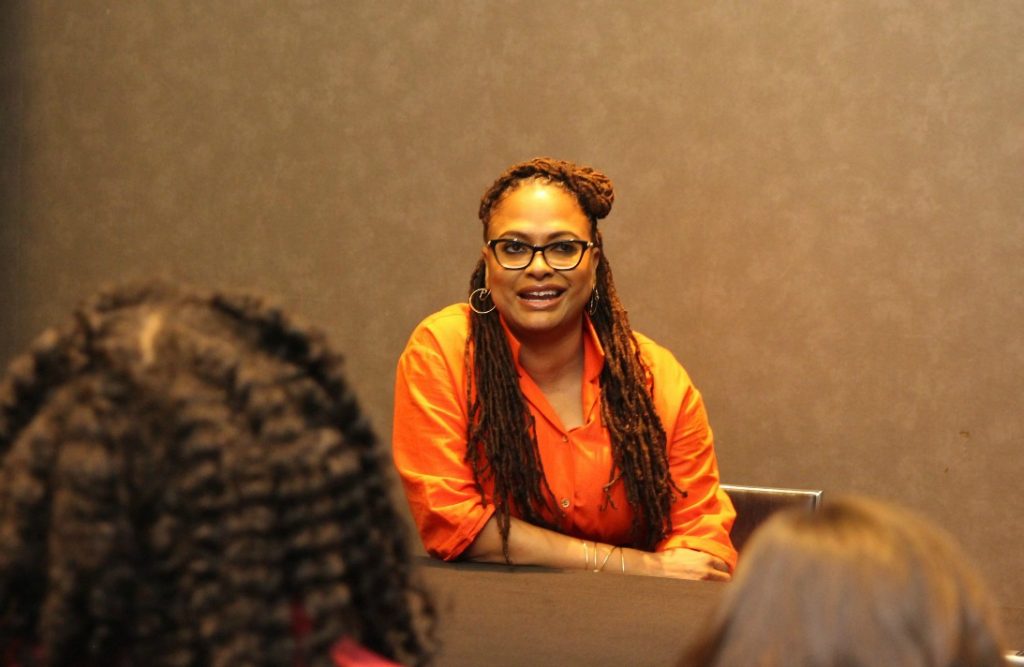 Ava: I just want them to be meaningful. I don't want them to be junk food where you come in, you see the movie and you walk out and you forget about it by the time you get to the car.
I want the images to stick to your ribs like soul food and I want you to think about the stories or get something from the narratives, just try not to let it be empty calories. The only way to do that is to put love in every frame.
And it's clear that Ava DuVernay does just that. There is love in every frame of A Wrinkle In Time and, hopefully, the audience will really take the message to heart, because we need it.
Ava took a minute to get a photo with us.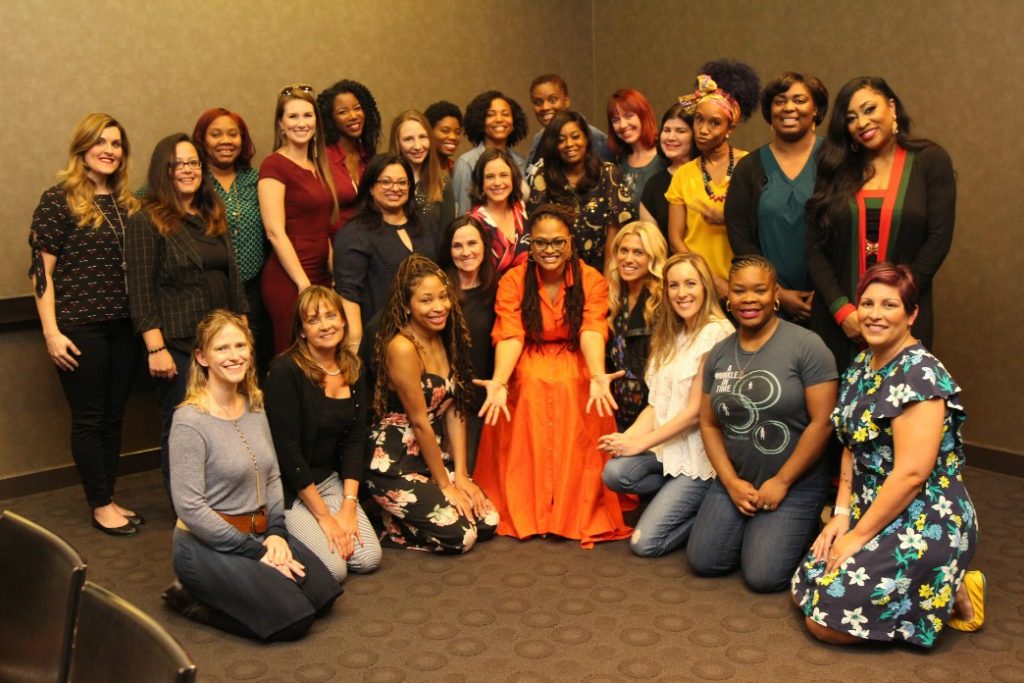 A WRINKLE IN TIME is in theaters now! See my thoughts on the film!
See my interview with Oprah, Reese & Mindy who are the Mrs., Storm Reid who plays Meg, Rowan Blanchard who plays Veronica, and check out my interview with Jennifer Lee, Screenwriter (and director of Frozen!)
This was all-expenses paid trip to experience the A Wrinkle In Time movie event in exchange for sharing it with you. As always, many thanks to Disney for inviting me to participate in this incredible event
Exclusive Interview with A Wrinkle In Time's Storm Reid
Rowan Blanchard Interview - More Than A Mean Girl
A Wrinkle In Time Movie Review ~ My Thoughts
Screenwriter Jennifer Lee: Staying True To The Journey