Have you seen Million Dollar Arm yet? I know it hit some areas last weekend, but no worries if it's not in your city yet. It will probably be in a theater near you by tomorrow! In case you missed it, I was able to interview Jon Hamm last week while I was in Hollywood for the event, and in just a few minutes, I have a conference call to chat with the lovely and talented Lake Bell. If you have any questions for her, please get them to me right away!

Jon Hamm is a pretty big star, as is Alan Arkin, who was also in the movie. But for me, the real stars are the people who lived it. Don't get me wrong, I think Aasif Mandvi, who played Dinesh, and Madhur-Suraj, who played Rinku, were fabulous in the film. I mean really fabulous. But the guys who left their country and their families, and came to America to live their dream, they are the real stars to me. And JB Bernstein? He is a rock star. Besides truly being one of the nicest guys on the planet, he went to India and searched until he found these boys. They would have never even known how big to dream if it hadn't been for him.
I was able to sit down with all three of these wonderful men and chat with them about the movie. We were curious about whether the movie is 100% true to the story. JB Bernstein said most of it was pretty accurate, like being inspired by American Idol and Cricket. But he did have business partners, Will Chang and Aash Vasudevan, both portrayed in the movie, and they had some ideas, too. It wasn't until they got together that the idea really took off. Here's one of my favorite clips from the movie where JB and Aash are pitching Will Chang. Be sure to check out the look on Aash's face at the end!
JB is a dad, as you see at the end of the movie, and as he was in a room with 24 mom bloggers and one dad blogger, we had to ask, What kind of advice did he have for dads? JB laughed, saying his little girl is only 3, so he didn't know that he would qualify to give advice quite yet. When you see the movie, you'll see that he really did have experience before his daughter was born. JB talked about that:
...you know, having Rinku and Dinesh live with me gave me a taste of Fatherhood. It reminded me of the importance of family. It reminded me of the importance of being surrounded by people that you love and that love you. And being able to take pride in other people's accomplishments, a lot of the rudimentary lessons of life came back into focus, so I think in a lot of ways, I started being a parent, although it was kind of baptism by fire with these guys...the best advice I can give to any parent I think is to treasure your time. The time goes so fast, and there's no way you can possibly cherish time enough with your kids. Other than that, I'm actually in the taking advice mode so if you have any, just text. A lot of you have been tweeting me. Send out all the advice. I'm taking it.
Did I tell you he was great? I don't think we have ever seen this much interaction on Twitter with a celebrity, and we have enjoyed JB so much.
We chatted a bit with the young men, Dinesh and Rinku. We asked Dinesh how it felt to see himself in the movie. He said it was a very big deal for him, and his family was happy, too. Can you imagine what it must have been like for these guys to come to America?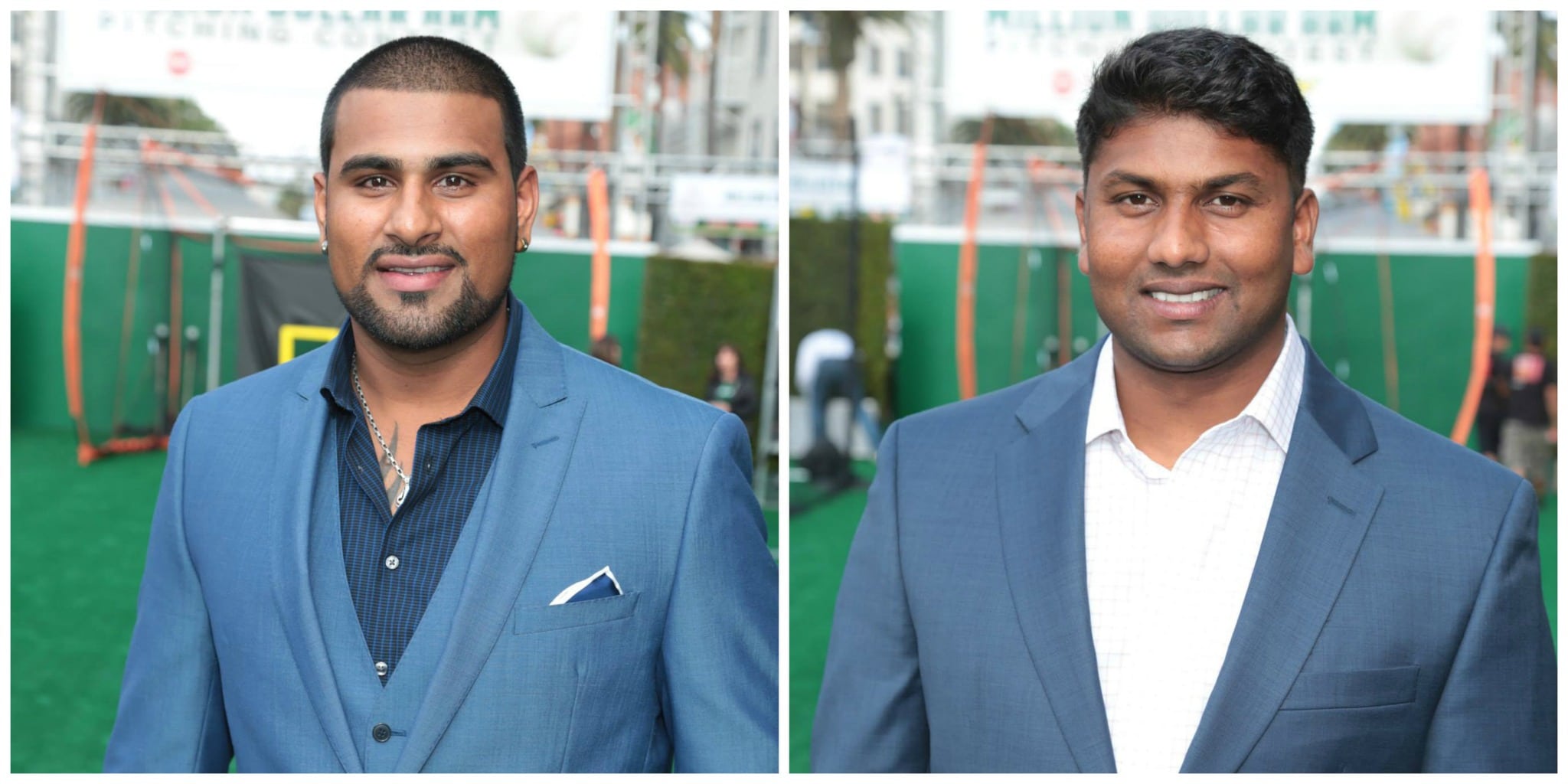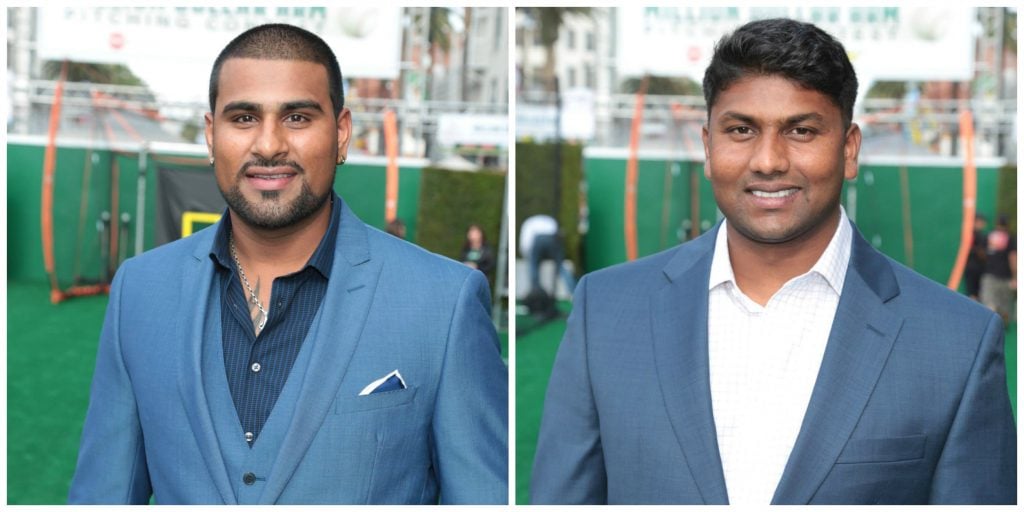 We asked Rinku how he felt about Suraj playing him:
He's done a great job. I mean, he's not just a great actor, he's also a great human. Meeting him as a person, it just really meant a lot. I really liked it. It was pretty inspirational. The way he actually did it was awesome. That really made me reminded me of 2008, little Indian that I was. [LAUGHTER]
Speaking of those days, we wanted to know what it was like back then, to leave their families. The quiet Dinesh said his family was very afraid for him. They actually did not want him to go. By they way, this is one of the parts you may need tissues. I did.
Rinku also spoke about leaving, not just his family, but the culture, friends, even food. They were both only 18, and it was a very hard decision for them. They didn't know the language, and JB was the only American they knew. I don't know what I would do as a parent at that point. Rinku said he's glad he made the decision to come. It's changed his life and his family's life. He said he wouldn't be the man he was today if he had not said yes to JB Bernstein.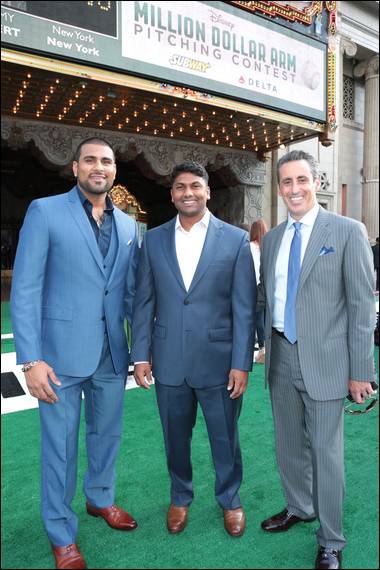 We asked Rinku how it was to learn the game. Remember, they had not played baseball. He said that just like if you took an American Baseball player and made them learn Cricket, they would have no idea how. It was totally different:
It did take a year but I believe that it doesn't matter what you're doing in your life if you're willing to give whatever you got inside and out, you are gonna succeed.
Well said, Rinku.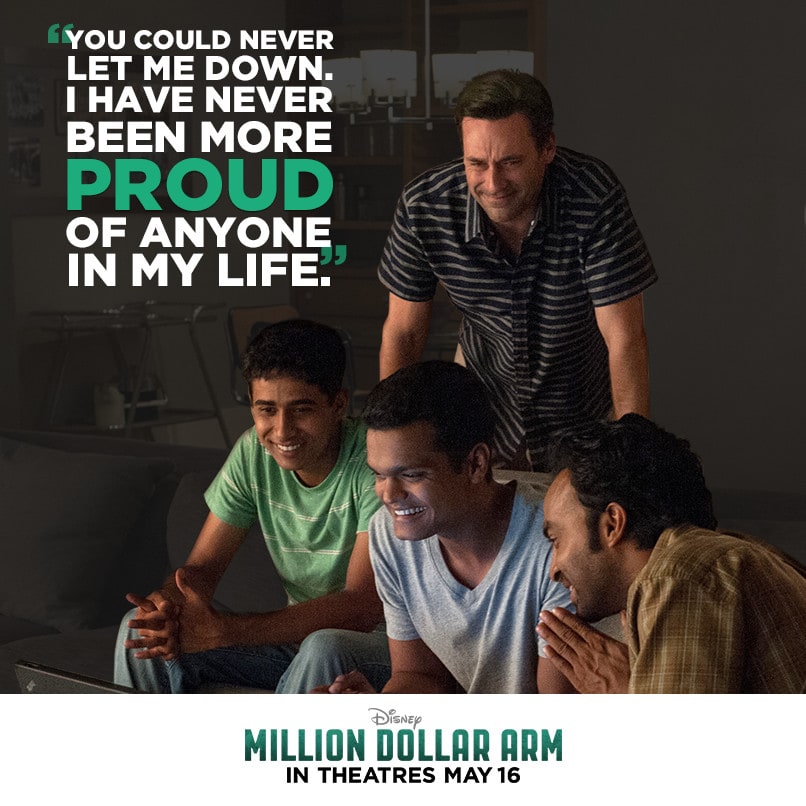 I asked if they were excited about the movie, and this was JB's response:
Our hope is really two things. One is that people take away what these guys have endured, persevered, in order to be successful- and take away that lesson that dreams are possible in this country, more so than maybe anywhere else in the world.
And then, for my story, I think that I'm excited for people who realize it's never too late to change. It's never too late to... be a better person.
Rinku agreed with JB and added,
...since we did something different than those kids, it really opened their eyes and they are dreaming big now just like we proved them. We proved them, even their Mom and Dad. They talk about, they be like Rinku and Dinesh. We already have done enough to make them realize that- if you want to see dreams, see something big.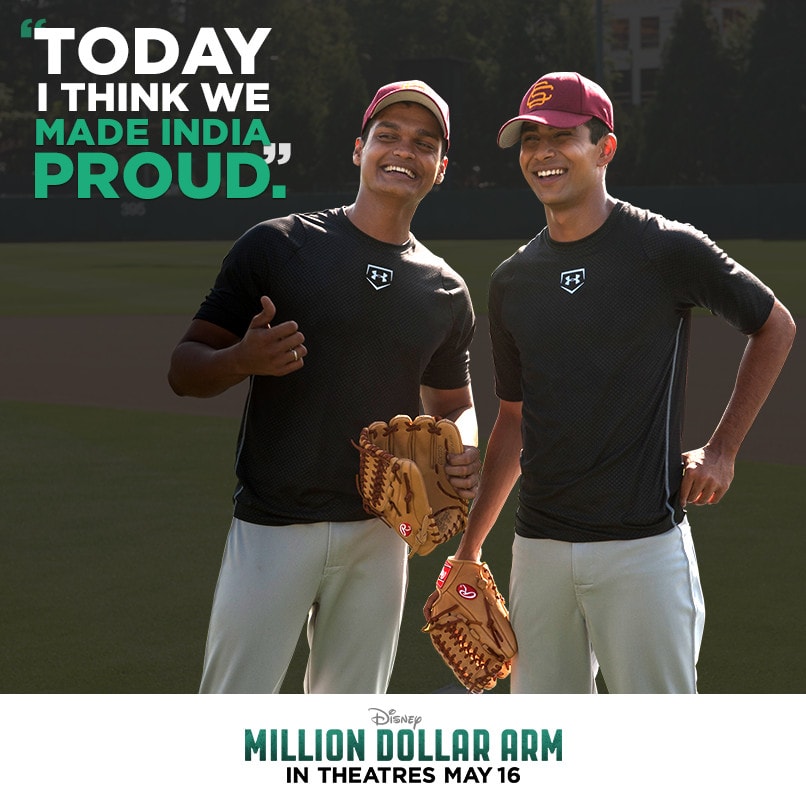 Okay, I'm in tears again. If this doesn't make you want to run out and see this movie, I don't know what will.
Million Dollar Arm hits theaters May 16. That's tomorrow. Go. And come back and tell me how much you loved it. 'Cause I know you will.