I was so excited to interview Nicole Scherzinger who played Sina from Moana. She is a powerful force!
No matter what you do in life, you cannot ever take any of it for granted. ~ Nicole Scherzinger
I hope you've been following along with all the interviews and fun from the Moana event!
One of my favorite characters in the film was also one of my favorite interviews. Nicole Scherzinger voices Moana's mom, Sina.
As I mentioned before in my Reasons You Must See Moana, her mom really "gets" her.
Moana's dad wants to protect her, as all good dads do, but Sina understands Moana's need to go beyond the reef, and leaving the safe village is the only way Moana can save her people.
You may recognize this beautiful actress as a member of the Burlesque group Pussycat Dolls, who had a number one hit in the US with Don't Cha as well as a role as a judge on The X Factor.
She does such a wonderful job voicing Sina, and told us she really loved the role.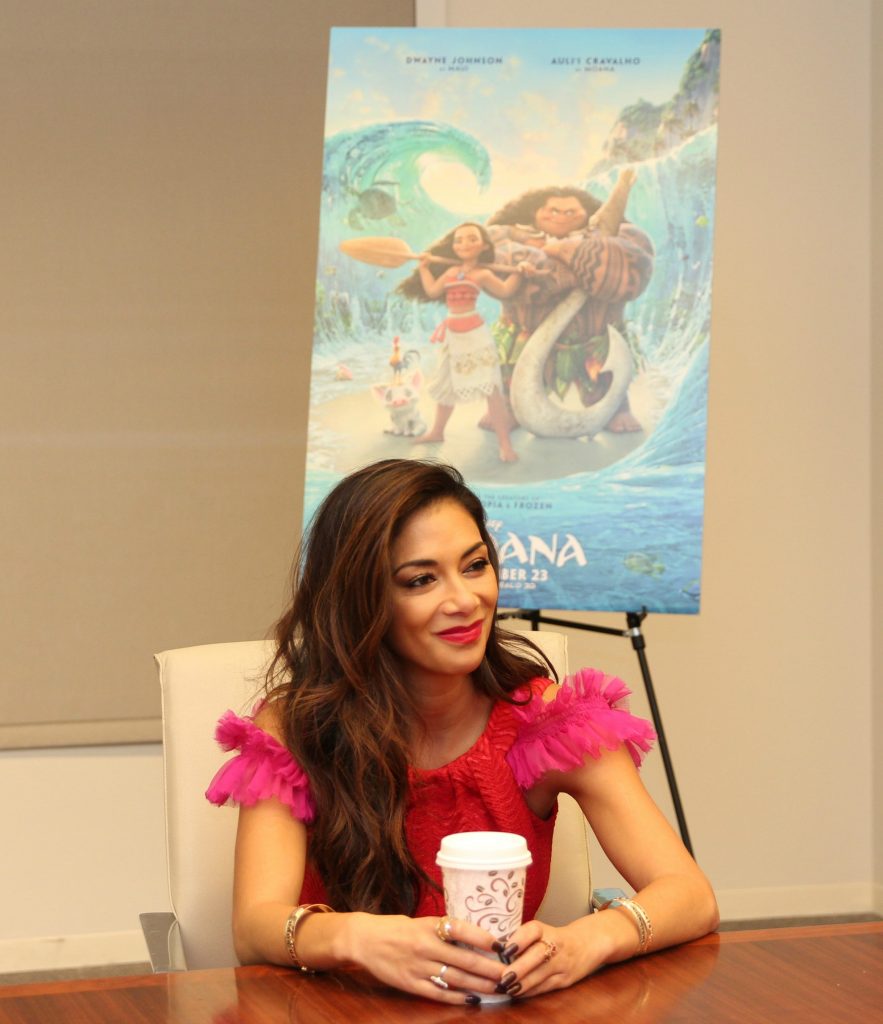 Nicole: I felt I had to be a part of the project because I'm from Hawaiian descent. I knew that the movie was gonna be about the Polynesian people.
I don't think Disney ever really did a film like that. I know they touched upon it in Lilo and Stitch, but I know people from my family were [saying] 'No, that's like the fake kind.'
Plus I didn't wanna go back home and hear from family 'how come you're not in Moana?' [LAUGHTER]
It's the story of our people. Where we come from. And I'm just so proud that Disney did right by us. By the Polynesian people.
And stayed true to our culture, where we come from, our power, our people, our lifeline, and just told a beautiful story about a young girl.
It wasn't a love story. It was a heroine story about a young girl's journey, which we can all relate to - discovering who we really are and what we're meant for; what our purpose and our destiny is.
That's a beautiful story, and then I have the honor of playing Moana's mother, Sina.
Some of her lines, they're very simple, but it's very telling. And they're trying to give me the back story. And I was like, please, I lived this, I lived with my mother and my tutu, which means grandmother in Hawaiian.
In our culture, the men are the head of the household, but the women are the backbone. They are everything. They are the strength. They keep it together. And in my family, my tutu had twenty-one births, and then eighteen children that survived.
In our culture, the men are the head of the household, but the women are the backbone. They are everything. They are the strength. They keep it together.
And in my family, my tutu had twenty-one births, and then eighteen children that survived. And so that's just from my tutu.
And then my mother, she had ten kids and so on and so on. So my tutu already has like seventy-five grandchildren and great-grandchildren combined. We have a really, really big family at home. So I just felt like had to be a part of this.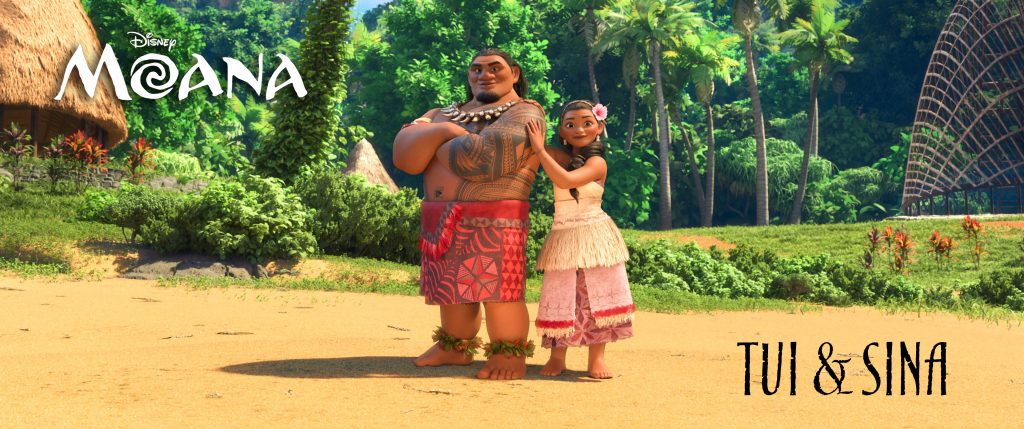 Nicole asked how we liked the film, and we all told her how much we enjoyed it, and how much our kids were going to love it, too.
She shared that she thought it was so great for girls and boys to look up to someone like Moana. We agreed that Moana is a wonderful role model.
We talked more about Nicole's family, who is mostly in Hawaii, on the big island. Her mother had her at a very young age, and they moved to the US with her adoptive father who was in the Marines.
But Nicole said as soon as she grew up and could afford it, she would move her mom back to Hawaii, and she did.
Her mom and dad are back in Oahu, next to her Tutu and Papa. She would be going home for Christmas, and planned to see the film with her family then.
Nicole: To watch a Disney film [that's] gonna be seen all over the world; To hear the music and have the spirit and have the beauty of the Islands where you're from, and the real spirit and energy of the Islands.
They always say you don't have to be Hawaiian. You can be Hawaiian at heart, you know. It's just really special for us.
I knew Nicole had done a lot of live performing and asked how this was in comparison.
Nicole: I wanted to be Whitney Houston. [LAUGHTER] It's 'The Greatest Love of All' that made me realize that I wanted to sing.
And so from a little girl I always performed live, and I was fortunate enough to go to a performing arts school. And did a lot of theater, and a lot of musical theater.
So the stage is my favorite place to be - really musical theater is. I just finished doing Cats a year ago in the west and I was supposed to be doing it on Broadway.
And I wanna go back to the theater when the time is right. But I do love being in the recording studio, as well as touring.
Doing this movie was such a new experience for me because I've never been an animated character.
And...when you're acting, you're acting to not the other actor or the character, you're acting with another person giving you the lines. And so you have to just imagine everything.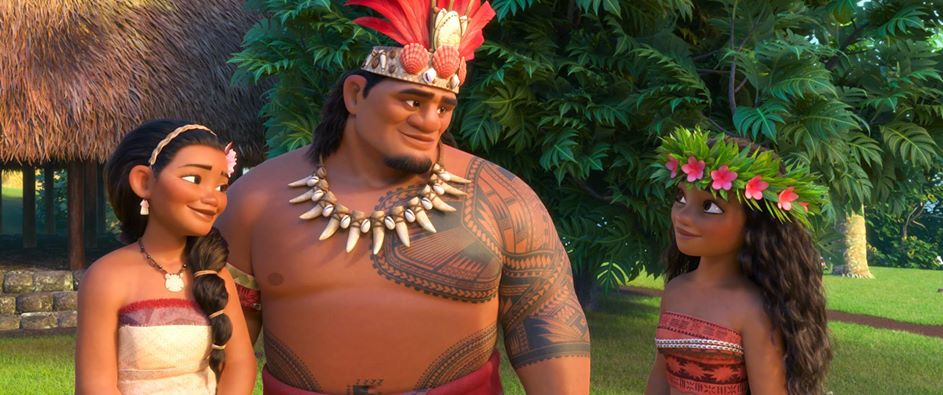 To be so creative in your head. And they show you these sketched out drawings of your character in the scene. And you just have to kinda close your eyes and put yourself there and kind of be extra animated.
I thought it was hilarious because they had cameras all throughout the whole recording studio because it makes sense, you know? W
hen you'd be like, oh my gosh, that fish really looks like Will Smith. How did they do that?
Because they see all the different expressions of your face and try to incorporate it into the character to bring it to life as you.
And I probably looked crazy when I was doing it. They make you do all kinds of sounds; 'now you're sad, make a sad sound.'
One time, I was recording and I closed my eyes and they're like 'You've just seen Moana for the first time. She's back.'
And I was running, and I was feeling it, and the breath had to be right. And emote the right energy. And the hug, 'okay, a soft hug and then a hard hug.'
And I opened my eyes and I felt like 'Wow, we really did something.' And I was literally on the opposite end of the room from them.
They're like 'Sorry, we didn't wanna disturb you. You were in it.' It was such a cool experience.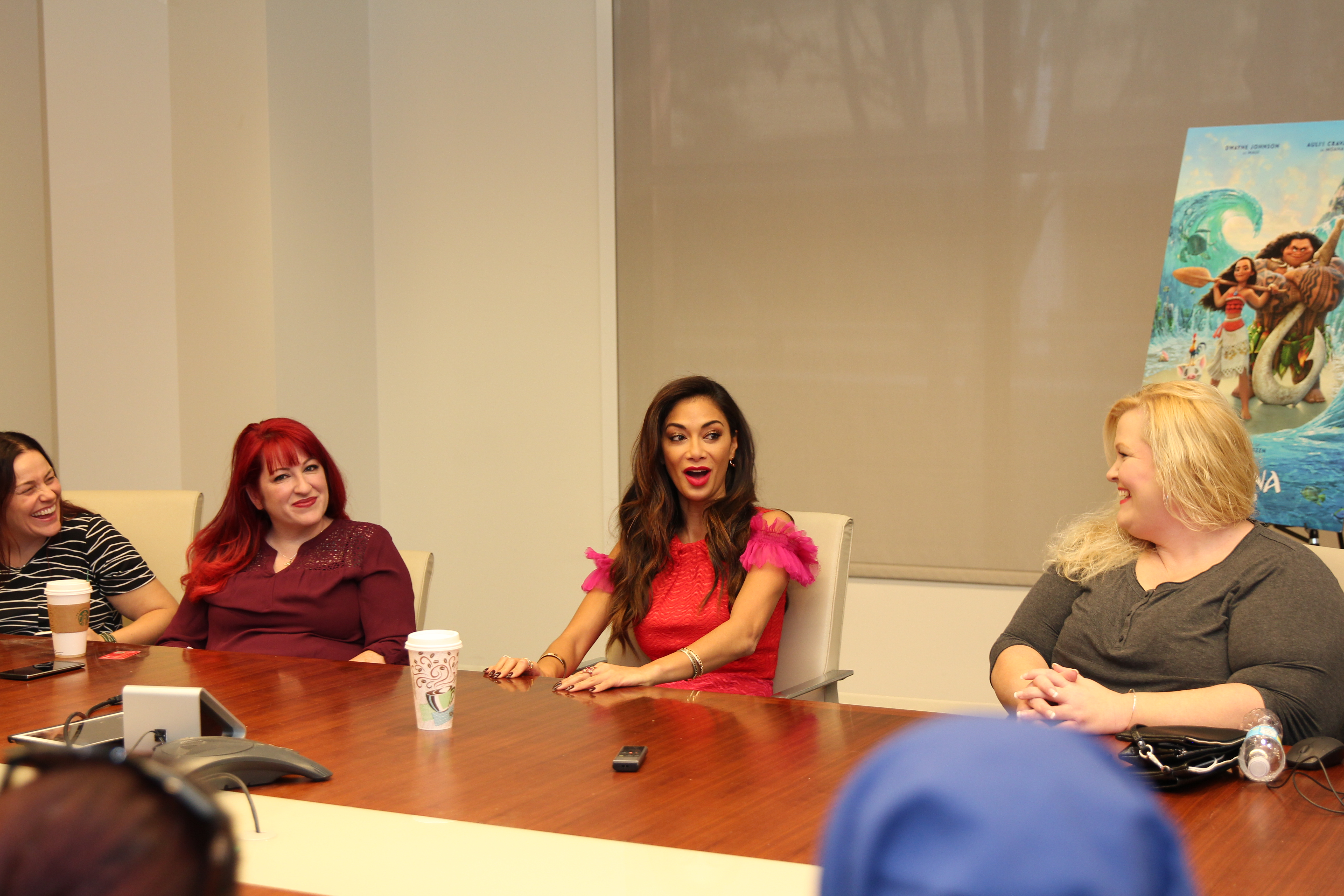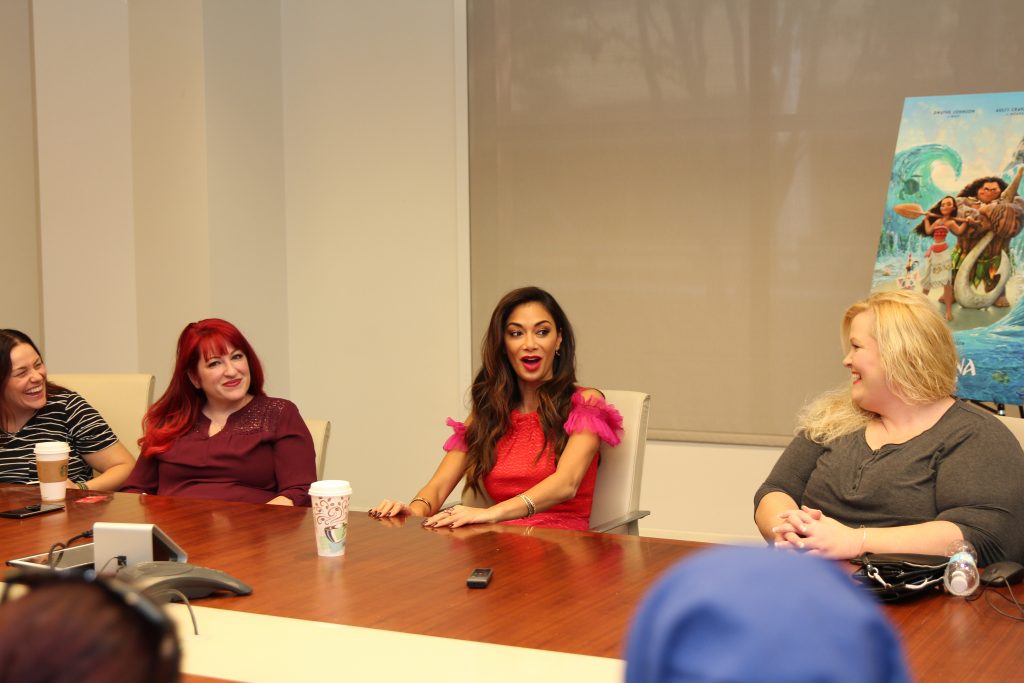 I don't take anything for granted, especially where I come from, with what I do. Anything I see.
I've been all over the world. I've seen the most beautiful things. I've done such amazing things. I've performed within this past month with Andrea Bocelli several times.
I've performed with one of my closest friends, Prince, with his band for his memorial concert in Minneapolis. The most amazing funk musicians and singers ever.
It's just such a blessing. No matter what you do in life, you cannot ever take any of it for granted. Even coming back to X Factor and dealing with Simon Cowell... [LAUGHTER] you just have to be thankful.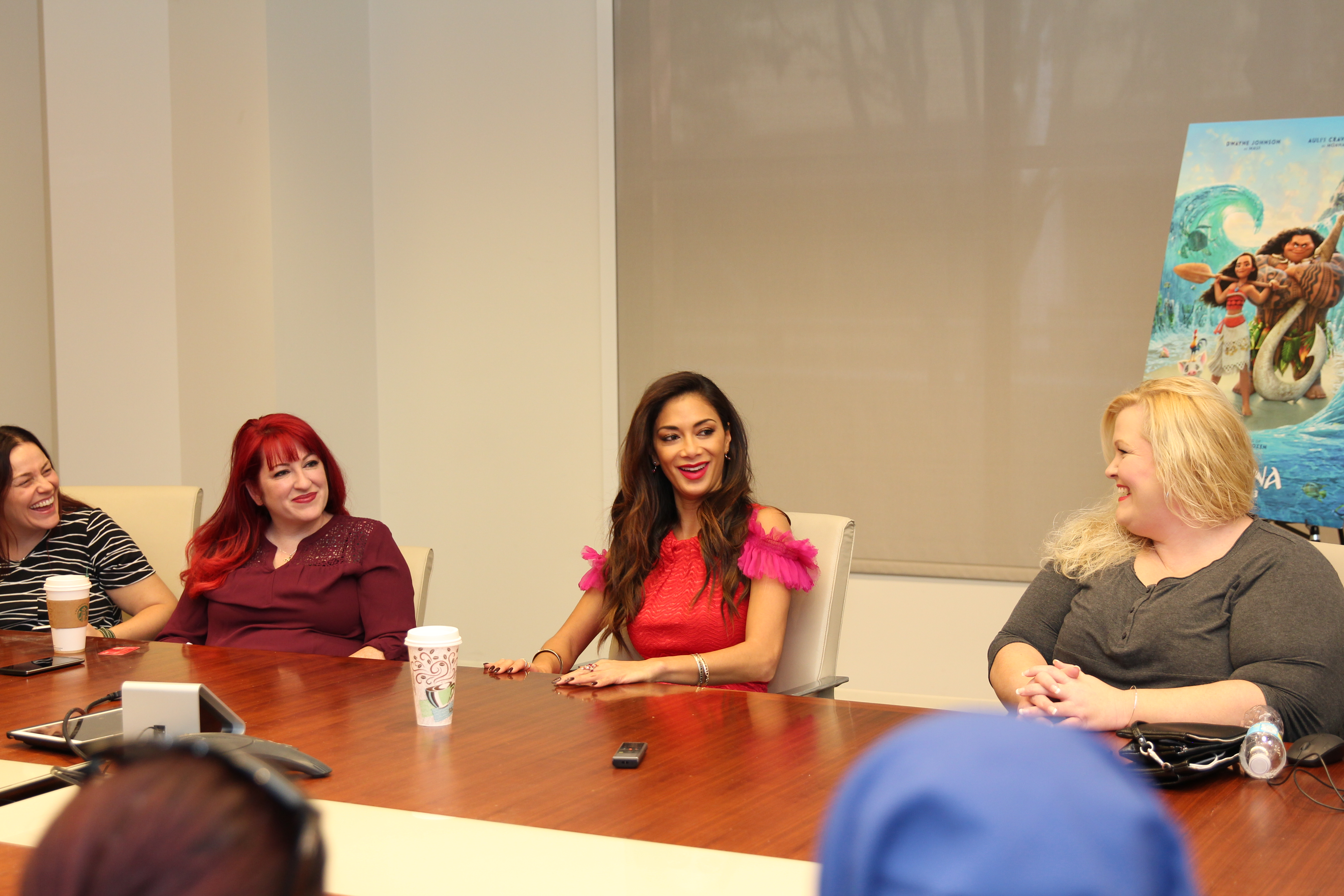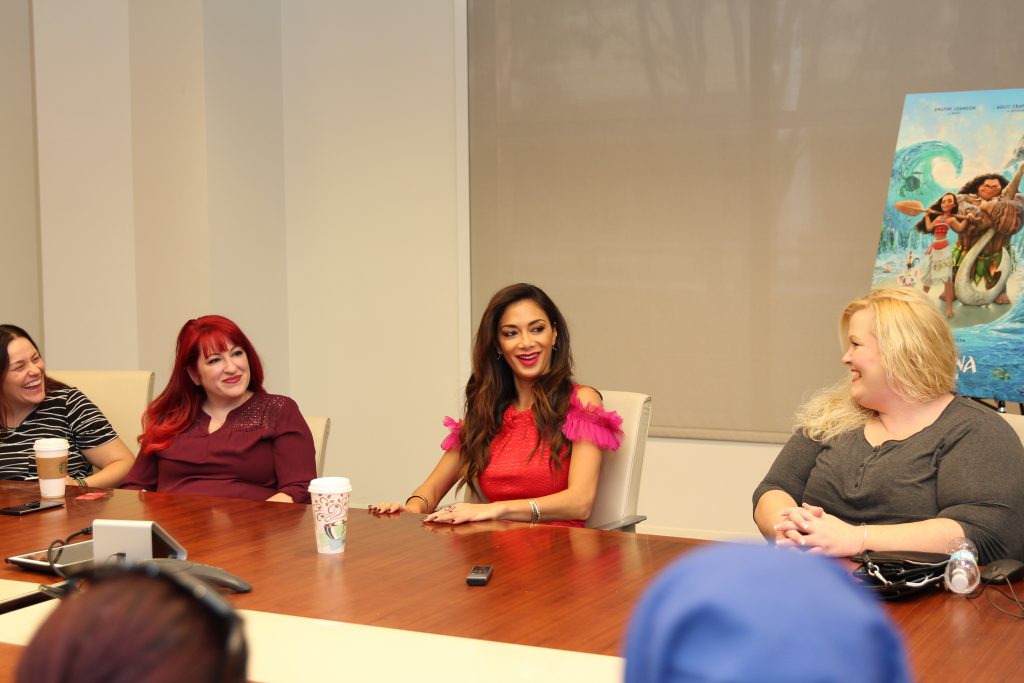 We wanted to know more about the role Nicole played. Was there anything that she brought into the character from herself?
Nicole: In the script, they had a couple different readings, different ways they wanted to get the story across.
Especially the part where she's trying to explain to her daughter that you can't go be on the reef.
Trying to explain because your father's been there and he's had a great loss and he's just trying to protect you. And I think all artists draw from personal connection. 
And she says a line, 'Moana, sometimes who you are or who you want to be, it just doesn't- it's not meant to be.'
And I drew from that experience, and I drew from my mother. Oh my gosh, I can't cry. I'm sorry. A moment here. I'm very emotional. I haven't slept. Just flew in from London and I'm like thinking about my family.
But I know that my mom and my tutu and all the women in my family have sacrificed everything for their children.
They're just selfless -not to be like, 'hey, I'm selfless.' That's just who the women in my family are.
And when I listened, when I thought of that line, I really thought of my mother and my tutu and how sometimes who you are or who you wish you could be- I'm sure they had their own dreams. And their own aspirations.
So in the end when Moana made that choice, her mom was like, okay.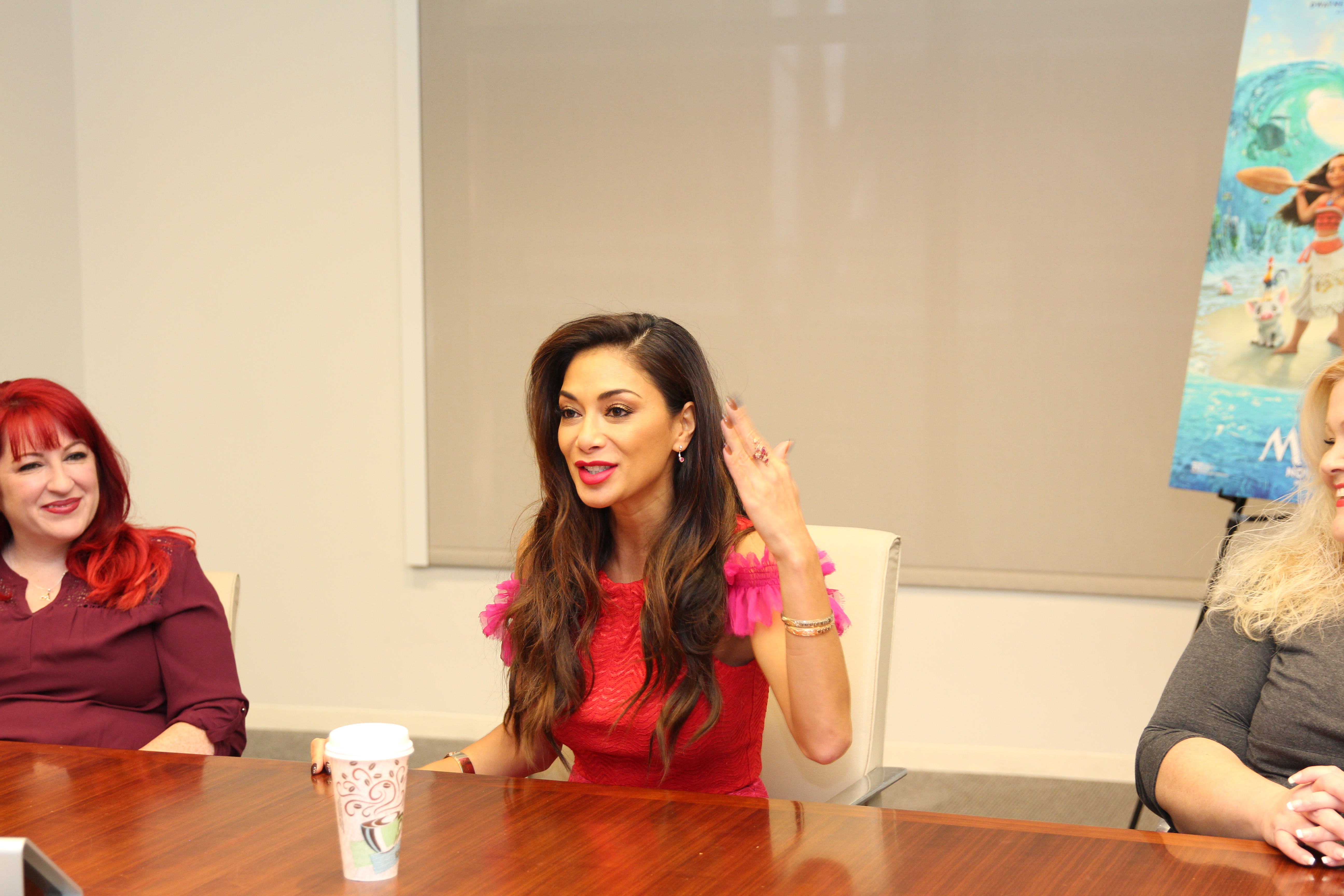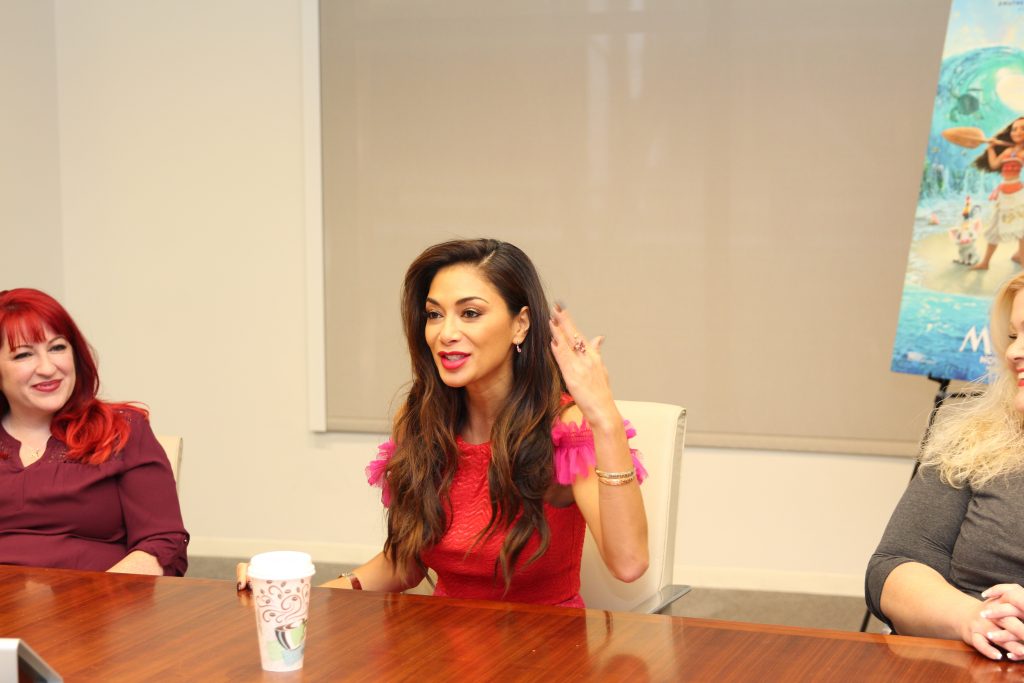 But that's why moms are so great, right? 'Cause my mother, she's, oh my gosh, you guys, seriously. I'm like thirty-eight years old, and my mom still treats me like I'm little Nicolelsky. She calls me Nicolelsky.
'What was that in the interview? What are you posting on Instagram? Are you working? [LAUGHTER] What are you- what is this twerking?'
I was like Mom, it's an art. I actually had to learn that, Mom. [LAUGHTER] Great dancers taught me that. I worked on that, Mom! 
Nicole has big plans for the future. She didn't want to tell us too much because she said she would just rather do it and have us see it then.
She shared about being happy with where she is, but not slowing down anytime soon.
Nicole: I believe we're all made for a purpose. A great purpose. And I haven't got there yet. In interviews, people are usually like, 'Wow, you've done so much. What is there left to do?'
I'm like, 'that's funny, 'cause I feel like I'm just scratching the surface and just using a fraction of my potential.
I decided last year that I was gonna create my own show, and do my own album that comes out of it. I can't die with this in me.
Obviously, God has His own timing. When you really live through stuff and experience life, and experience love, and experience heartache and all those things, you really change as a woman.
You really grow as a woman. You grow more confident. You really start to discover who you are.
Even though Moana is sixteen in the film, she is discovering. I'm sure you guys feel like if we really look deep within, we're still discovering who we are.
I'm so glad Nicole put her all into this role. After chatting with her, I can see why it was an easy choice when Disney chose her to play Sina.
It was so awesome to be able to chat with her, and we think she had a good time, too! We did a quick video with her that ended up on Disney Animation's Instagram!
Blogger roundtable... the verdict is in, they loved #Moana! Mark your calendars for its premiere in theaters on November 23rd so you can fall in ❤️ with it too!
A video posted by Walt Disney Animation Studios (@disneyanimation) on Nov 15, 2016 at 10:29am PST
If you haven't seen any of the trailers, take a look at this featurette! And please go see the movie while it's in theaters!

Check out my Moana World Premiere experience with Dwayne "The Rock" Johnson, Lin-Manuel Miranda, John Lasseter, and more from Moana!
I hope you've seen the film. If you haven't, grab a copy now and watch it as soon as you can. It's such a wonderful movie!
8 Amazing Reasons You Must See Disney's Moana