In A Wrinkle In Time, Dr. Kate Murry, played by Gugu Mbatha-Raw, struggles with parenting alone while continuing her research to try to find out how and why her husband strangely and suddenly disappeared.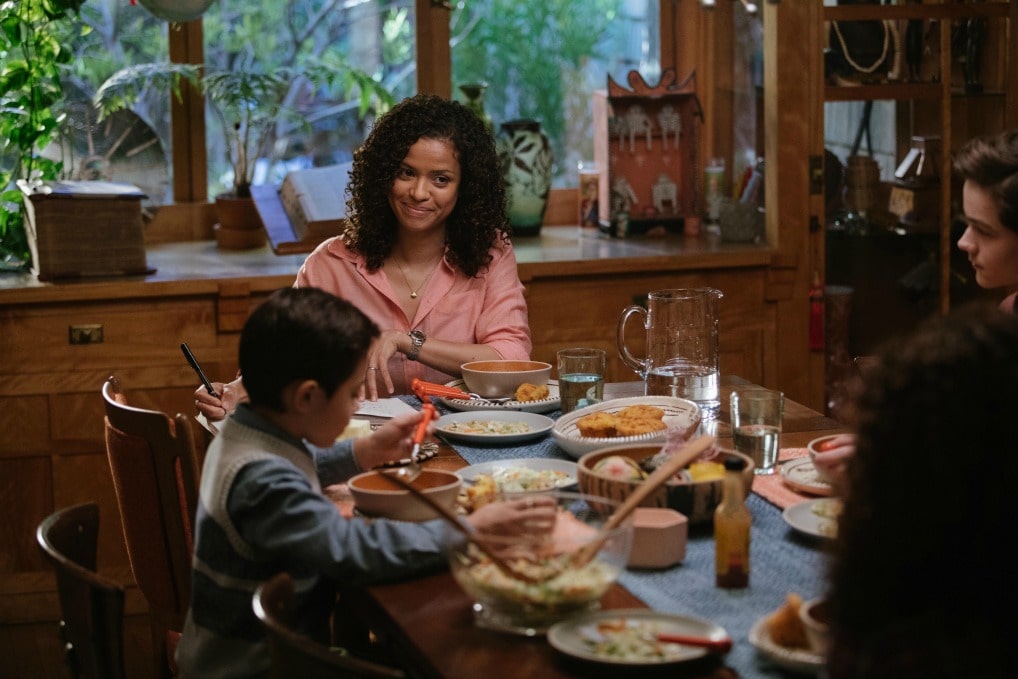 A Wrinkle In Time is the classic book you probably remember reading in school. It's actually my daughter's favorite book from her childhood. With Jennifer Lee at the helm as screenwriter and Ava DuVernay directing, this beloved tale is coming to theaters this Friday, and you are going to want to see it.
I was so fortunate to have been able to see the film and interview most of the cast, from The Mrs (Oprah, Reese and Mindy) to Storm Reid who beautifully plays Meg, and several others. This team of actors has really made the book come alive.
Gugu Mbatha-Raw Interview
Our excitement may have surprised Gugu a little when she walked into the room looking like she was straight out of Vogue Magazine, gorgeous, and dressed to the nines.
I had to ask what designer she was wearing. She said she didn't know. I asked what she would be wearing to the World Premiere, and she didn't know that either. Right away, we knew this lovely woman did not get hung up on trivial things like fashion, even if she did look like a runway model. She had more important things on her mind.
Gugu Mbatha-Raw plays such strong female roles. She won the British Independent Film Award for her performance in Belle in 2013 and later starred in Beyond the Lights for which she was nominated for a Gotham Award, as well as in last year's Beauty and the Beast.
Trained at the Royal Academy of Dramatic Arts, she is no stranger to the stage or screen, but she had never played a mom before. When asked about her role as Dr. Kate Murry, this is what she had to say:
Gugu: You know, I've never played a mom before. I don't have kids. You know when Ava first approached me to play the mom in this I was kind of like, 'Oh are you sure? I don't know if I can pull this off.' And then I saw a picture of Storm and I was like, oh my gosh, look at that, look at her. I saw myself in her.
I didn't have anybody who looked like myself with Storm as the heroine in those kinds of movies when I was young. So, there was sort of a special sort of cultural significance for me to be ushering in the next generation in that way.
I don't get to go to all the fantastical lands that Storm and Deric get to go to in the story. So I really felt like my job was to ground their domestic reality and create that warm, solid family unit that everyone was so desperate to return to.
As many of her roles have been about strong women, we asked what she hoped kids, especially little girls, would take away from her role as a single mother and the story of A Wrinkle In Time.
Gugu: Some of the themes are actually very similar for me and what I'm drawn to; the idea of finding your voice. I think the idea that who you are is enough is something that I really respond to in this story, especially Storm's character growing up, being bullied at school, being uncomfortable in her own skin, not sure where she fits. Those are definitely themes that were in 'Belle' and 'Beyond the Lights' and in many stories that I'm attracted to.
The idea of being authentic to who you are, that you don't have to find validation from your career or from the music industry, from any external forces. I think that you have all the potential inside of you. And that's something I think I would love young people to feel and learn and understand.
This is how I feel about the film, too. It has such a powerful message that could really change lives. Bullying is about acting out insecurities. It's about getting attention. Our girls need to know they are important, and that they matter.
We asked Gugu if she was an avid reader, and she shared that she really struggled with reading as a child. She laughed when she told us her mother would ask her about her reading homework and would say 'Oh, here comes the theatrics' when Gugu would try to put off her reading homework.
She's glad her mom persevered because reading is now a big part of her job as she has to read scripts. She hadn't read A Wrinkle In Time when she was young, but read it for her role in the movie.
We asked what attracted her to this role of Dr. Kate Murry.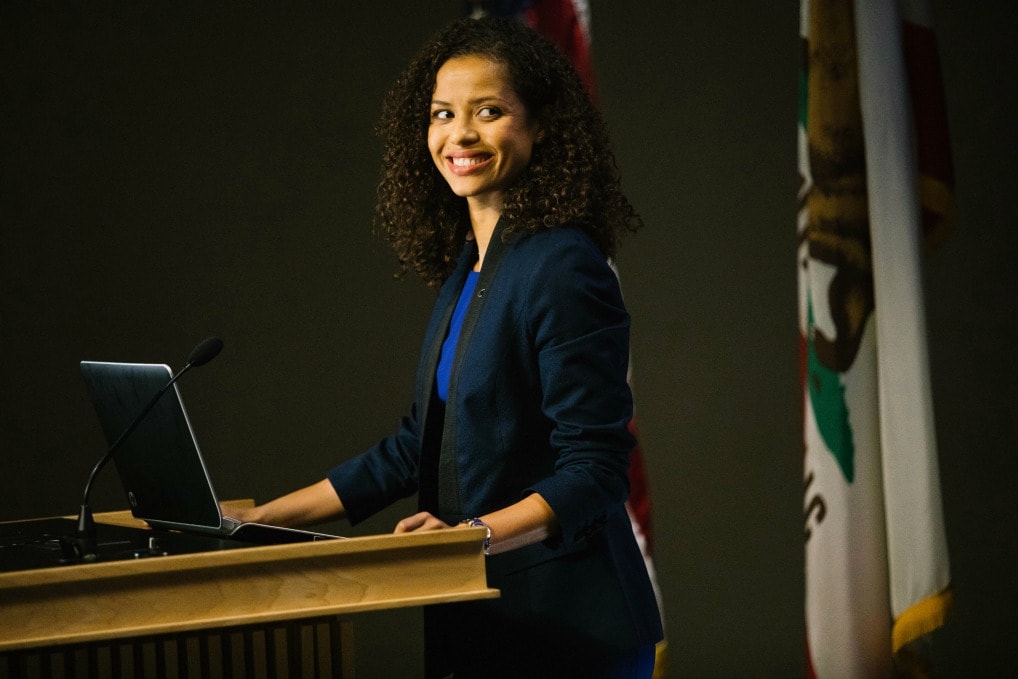 Gugu: Ultimately it was really the opportunity to work with Ava DuVernay. Not having a relationship with the book, I had met Ava when Selma was coming out the same time as Belle. There were a few press things. We'd always met each other at sparkly industry events but we'd never sort of had a real conversation.
She invited me to be a part of this short film, a series of shorts that she made for the opening of the Museum of History and Culture at the Smithsonian. And we did one short, one day of filming to represent Hurricane Katrina in this series of different shorts. And I think maybe she was sussing me out that day because, literally a couple of weeks later, I got the offer for Wrinkle.
If you haven't seen the trailer for A Wrinkle In Time, take a minute and watch it now.
Just talking to her about it and her passion and her vision and knowing that she'd cast Storm and how she wanted to tell this story, it was a no-brainer to me. I really wanted to be a part of this game-changing moment in the industry. I could feel that the way she was going to cast this film, the fact that it's historically significant that she's even directing this film as a woman of color. And I wanted to be a part of that girl gang. I wanted to be celebrating what this means culturally.
We wanted to know what part of the script really resonated with her.
Gugu: I think Oprah has the line 'All you have to do is find the right frequency and be who you are.' And I was like, that's the key to life, isn't it? Just find the right frequency. Find your tribe. Find your purpose. Find the thing that sets you alight and know your frequency, your vibe and then just do that, do you, be authentic.
Are you taking all this in? Because I want to make pins for all of it for my quotations board on Pinterest!
I had read that Gugu used fragrance to get into the head of her character. It made sense when she explained that they were shooting over the holidays and took a break. She wore Jasmine for her role as Dr. Kate Murry, so when they returned from the break, that scent was able to help her get back to that headspace.
We had talked about the fact that Gugu had said she didn't see people of color in roles like this when she was growing up. We asked if there was a moment that she could look back on where she said 'This is my time to be a warrior. I'm going to reach my goals.'
She said she credited her mom with encouraging her and instilling confidence in her and supporting her. Her mom was a single parent and worked full-time as a nurse. She didn't enjoy her job.
Gugu: I would see her come home from work really tired. I remember thinking quite clearly when I was about 11, I was like, okay, I'm going to do a job that I love because you know I can see that this is wearing on my mom. And I respect and know that she's doing that as a sacrifice for me, but if I get the chance I'm going to do what I love. So I made my hobby my job basically.
We asked about the scientific aspect of the script. Did she have to do any research to be able to understand the whole astrophysics thing?
Gugu said she had to confess, it was a nightmare. Fortunately, the author of The Jazz of Physics, Stephon Alexander, was on hand to help. He was there to talk them through in layperson's terms.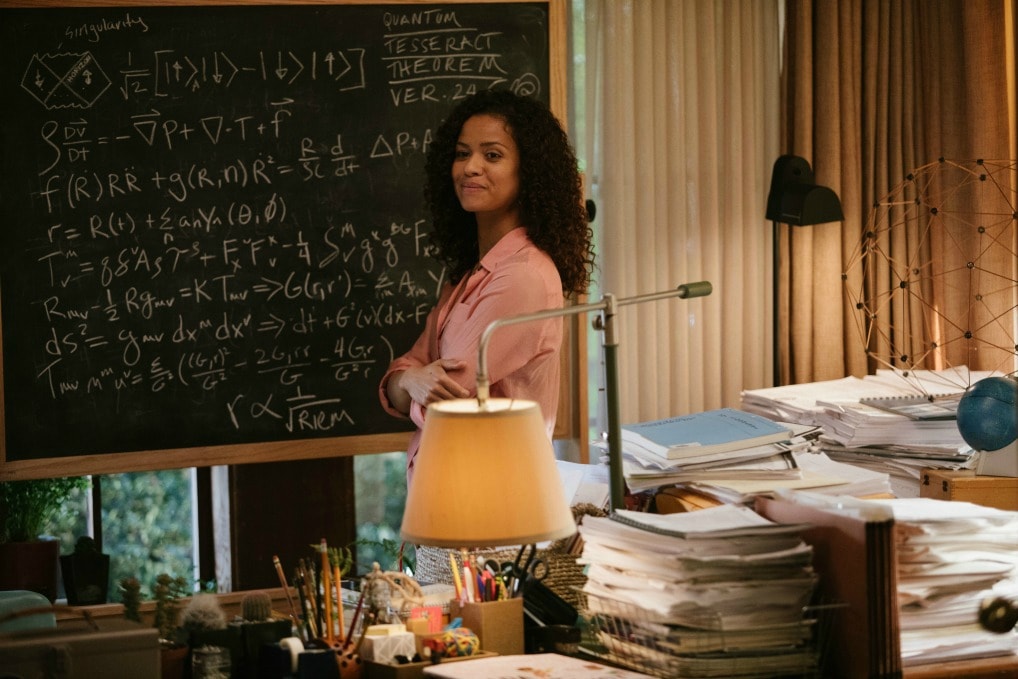 Gugu: We had dinner with him and could ask him lots of questions. We also got a trip to the Jet Propulsion Laboratory in Pasadena to meet real astrophysicists and rocket scientists and people planning trips to Mars. That was really fascinating.
It's funny you learn these things for a role and then it evaporates out of your brain afterwards. But it's great to have the chance to sort of step into someone else's shoes in a completely different world.
A Wrinkle In Time will definitely take us all to new worlds never seen before. I can't wait for you to see it!
Gugu Mbatha-Raw took the time to get a quick photo with all of us.
A WRINKLE IN TIME is in theaters now!
See my interview with Oprah, Reese & Mindy who are the Mrs., Storm Reid who plays Meg, Rowan Blanchard who plays Veronica, and check out my interview with Jennifer Lee, Screenwriter (and director of Frozen!) as well as Ava DuVernay, Director.
And you've got to check out who I met at the World Premiere in Hollywood.
This was all-expenses paid trip to experience the A Wrinkle In Time movie event in exchange for sharing it with you. As always, many thanks to Disney for inviting me to participate in this incredible event.