While in LA for the Moana World Premiere and interviews, we were also able to go behind the scenes with Disney Channel's Stuck in the Middle. In case you haven't seen the show, it's about life as a big family (seven kids) and what it's like to be the middle child. 
Harley (played by Jenna Ortega), a teenage girl who is "stuck in the middle of 3 younger siblings and 3 older siblings. Between the brothers and sisters and Mom and Dad, we're talking a family of nine, and that can create a lot of craziness. And I mean a LOT!
One of the unique aspects of the show is that Harley often breaks the fourth wall, sharing with the audience what is going on. I think kids can really relate to that, and it makes Harley and the other characters very real.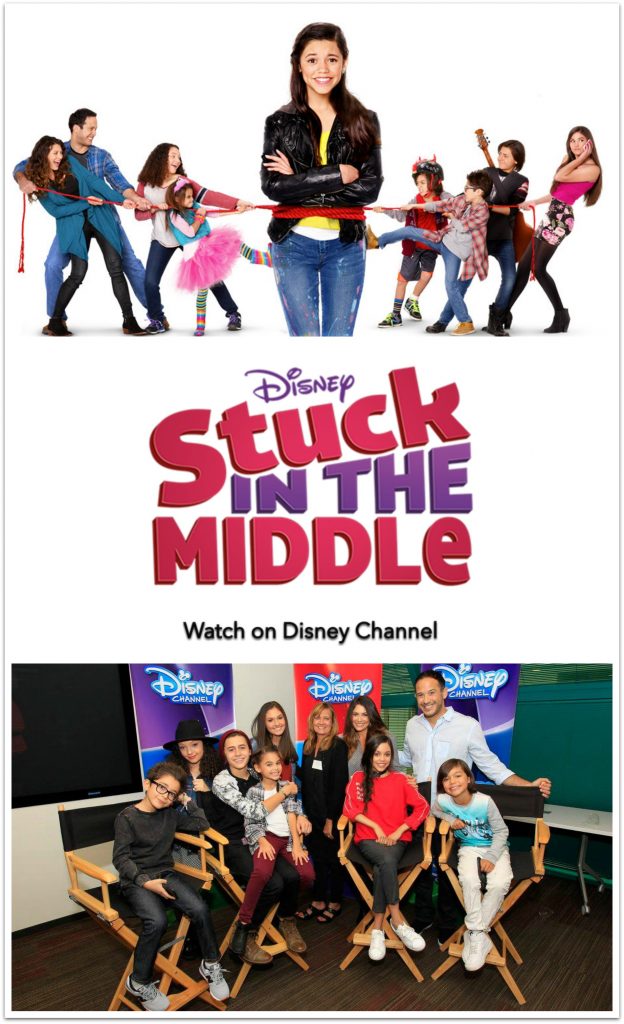 My niece, who just turned 13, is a huge fan of the show, so I'm betting if you have kids, they are watching Stuck in the Middle! And with so much that is not family friendly on TV these days, you can safely watch this show with the whole family. I love it!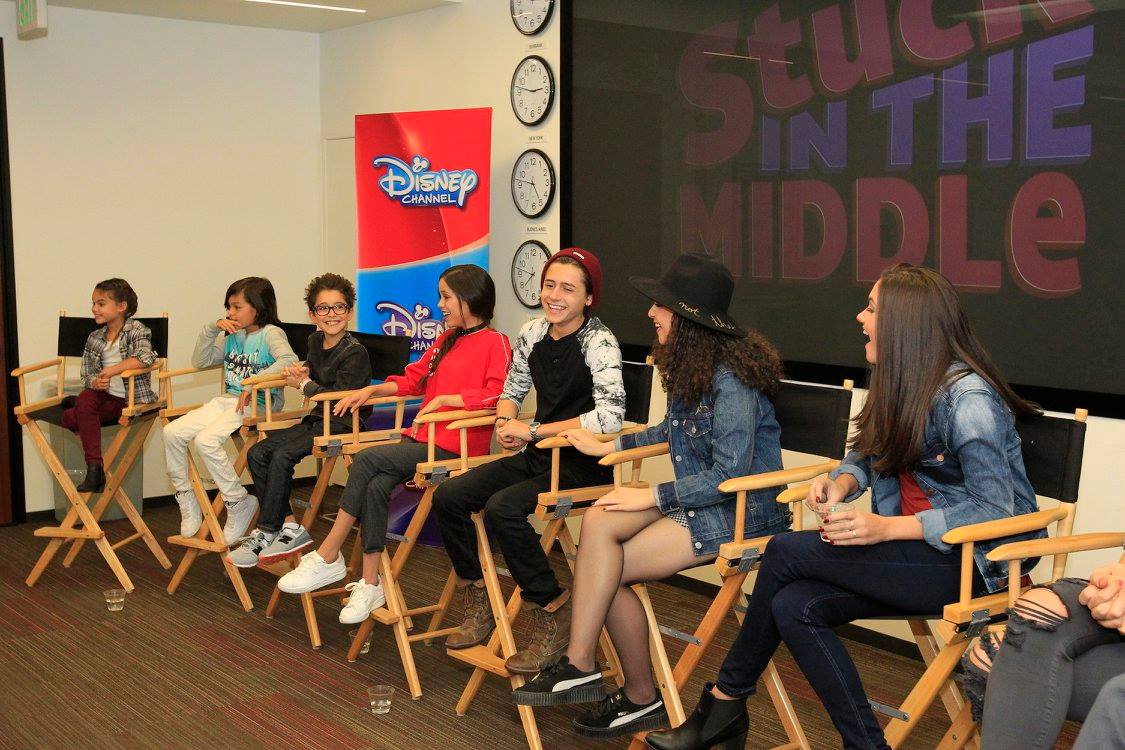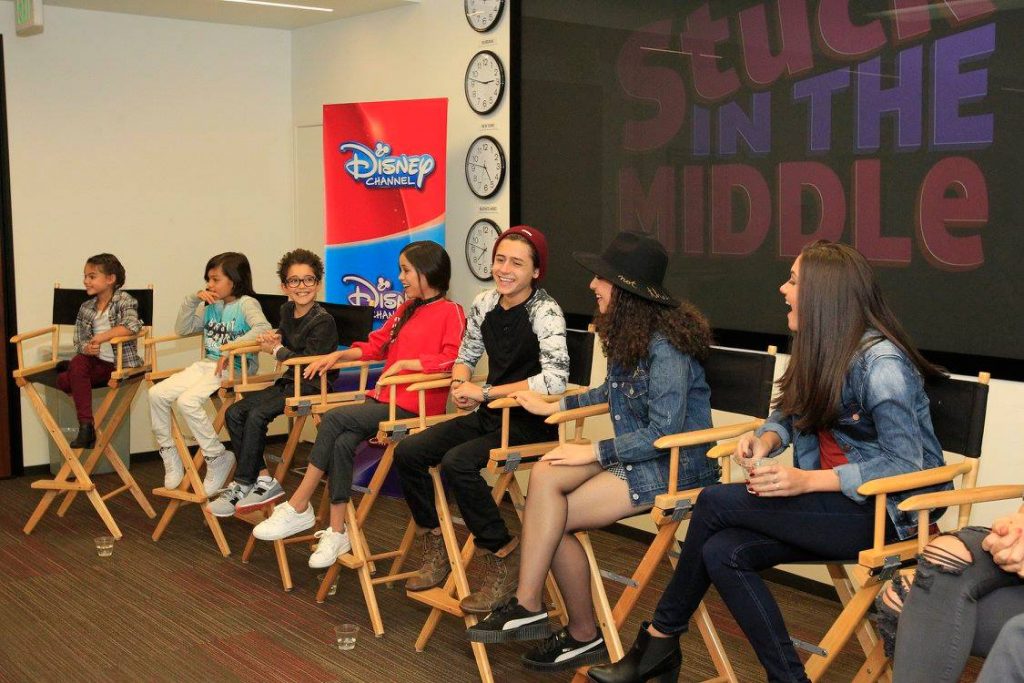 The cast was so much fun to hang out with, and they said over and over how much they appreciate their fans. Our interviews are normally not very long, but this "family" was happy to hang out and ask question after question. As we are 25 "mom bloggers" we had a huge number of kids among us that are fans!
The show stars Ariana Greenblatt, Malachi Barton, Nicolas Bechtel, Jenna Ortega, Isaak Presely, Kayla Maisonet, Ronni Hawk, with Cerina Vincent and Joe Nieves as parents. If you didn't know otherwise, you would think this group was a real family - they seem so close.
Q & A with the Cast from Stuck in the Middle
We asked, How many of the group was from a large family in real life?
JENNA: I'm from a large family. I'm one of six kids but if you add one of my nephews there's seven. But my sister just had another nephew so now there's eight of us. And they're always over at the house because we babysit them so there's eight kids in my family I guess you could say. So it's pretty big.
ARIANA: I have just a little brother.
KAYLA: I have a brother, cousins and three dogs.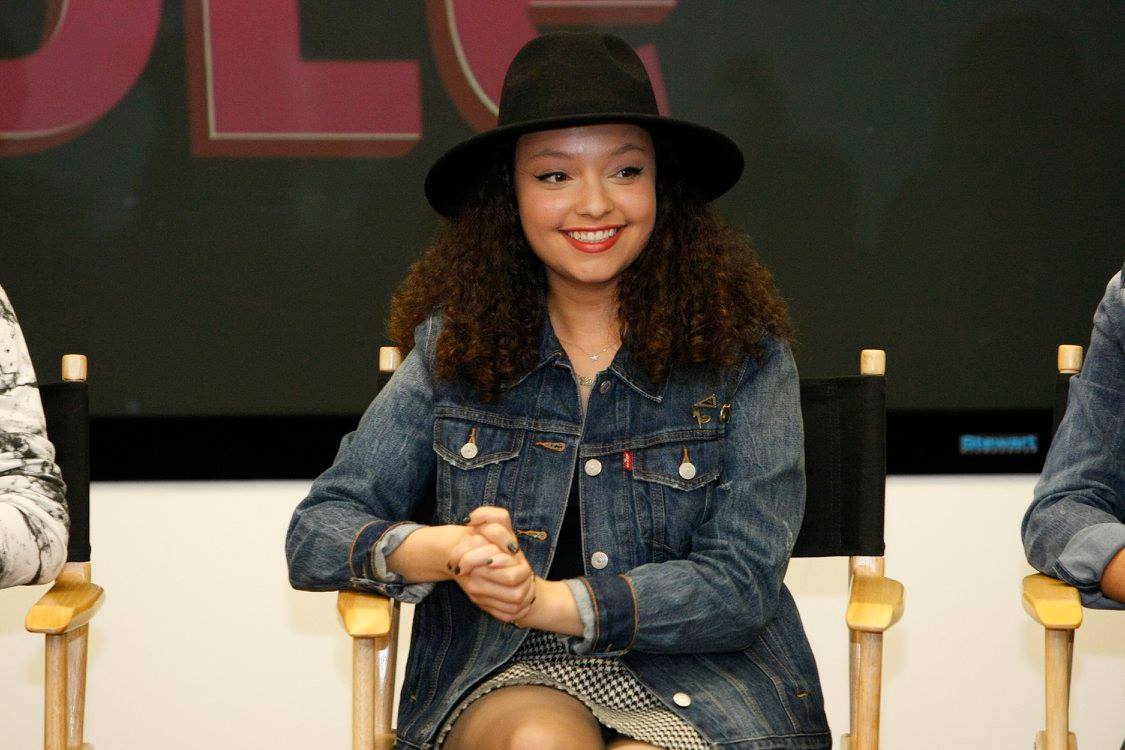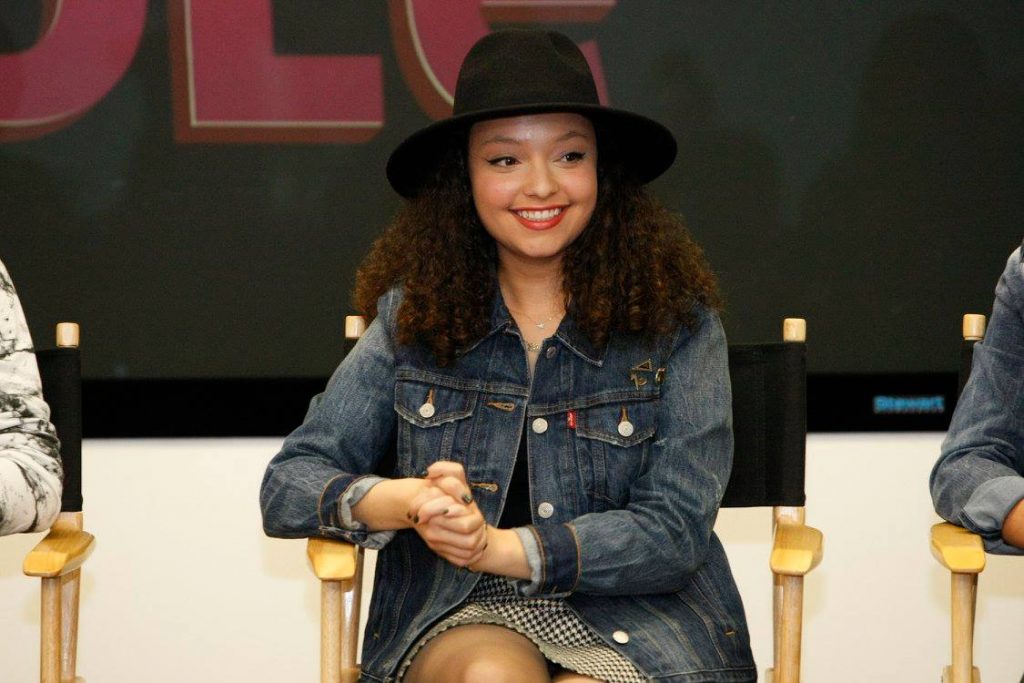 I told the group my niece, Kristen, was freaking out that I was there. If she hadn't been in school I would try to Facebook Live with her. She is such a huge fan! Kristen wanted to know:
Does Harley like being stuck in the middle?
JENNA: I love being stuck in the middle. I like Harley's storyline because at first she's kind of uncertain of where she's going with her life. She feels very invisible. But later on, she realizes that she is very important. She plays a very important role in her family. I think it's important to know that for those middle children out there who feel like they're not noticed that they are. And they are very important in the families because they make their families their families.
One of the bloggers said her daughter recently read an article about Jenna in Discovery Girls' magazine about pranking.
Did they do pranks on the set?
GROUP: Yes!
It seems one of the family members was more guilty than others, and it was pretty unanimous that Isaak was the guilty party.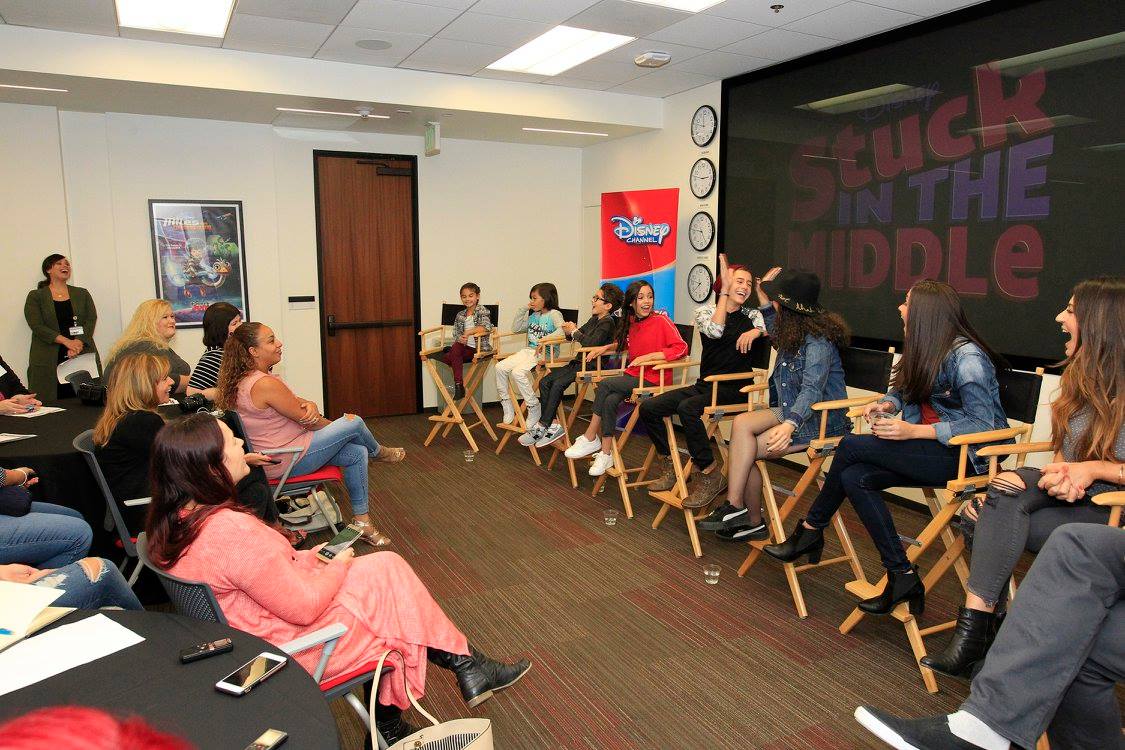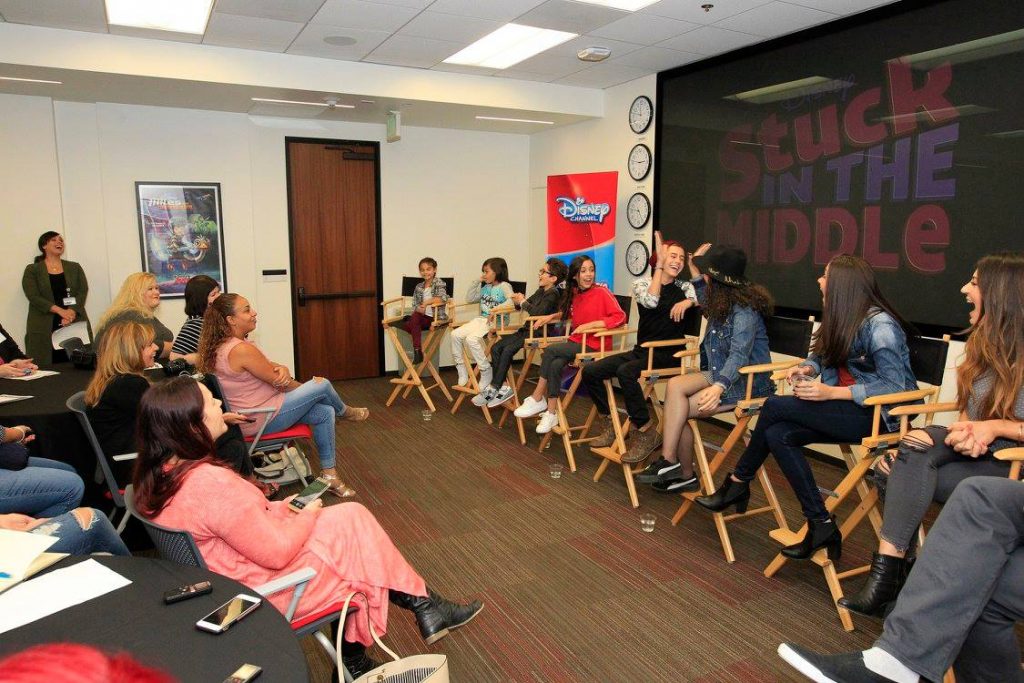 JENNA: The thing about his pranks though is that they're not set up. They're jump scares.
ISAAK: I think what they're talking about is when you pranked me.
JENNA: Oh! It was April Fools' Day and we were filming onset. And he kept telling everyone, 'hey guys, I have the biggest prank. I'm going to get all of you guys. You guys don't even know.'
ISAAK: There was no prank.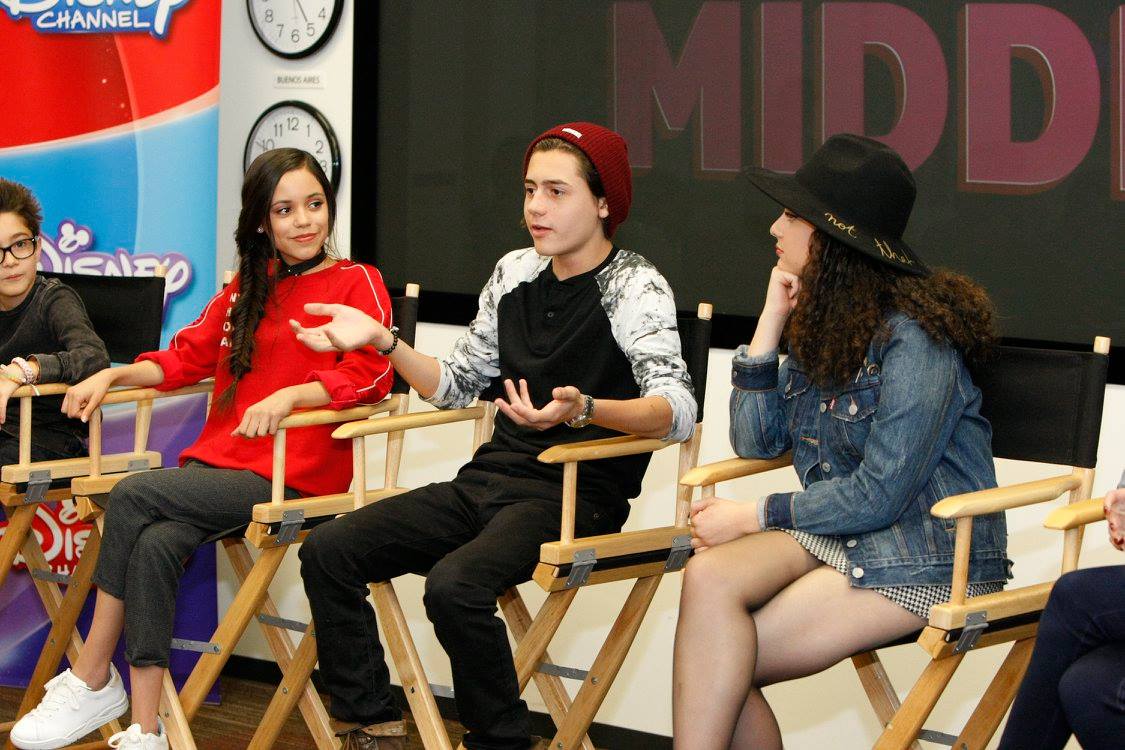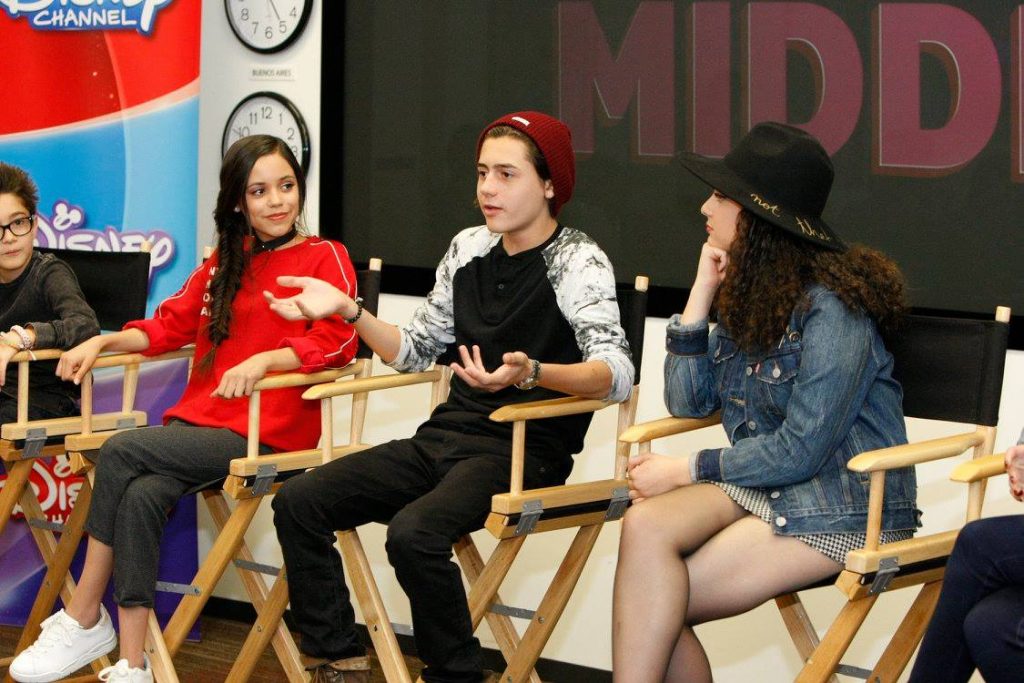 JENNA: That was the prank. That was his prank that he didn't have a prank. But a couple of my siblings happen to be on set that day. And I said, 'Well, we have to get Isaac before he gets us.'
So Isaac is like the biggest Oreo fan. So my siblings and I, we got a packet of Oreos and we opened one of them. And we put deodorant in there. And Isaac runs in and we're eating like the normal ones. And he said, 'Oh my gosh, give me one, give me one.' So we give him the deodorant ones.
NICOLAS: He shoves it in his mouth. Chews it and then after he chews it he runs to the bathroom!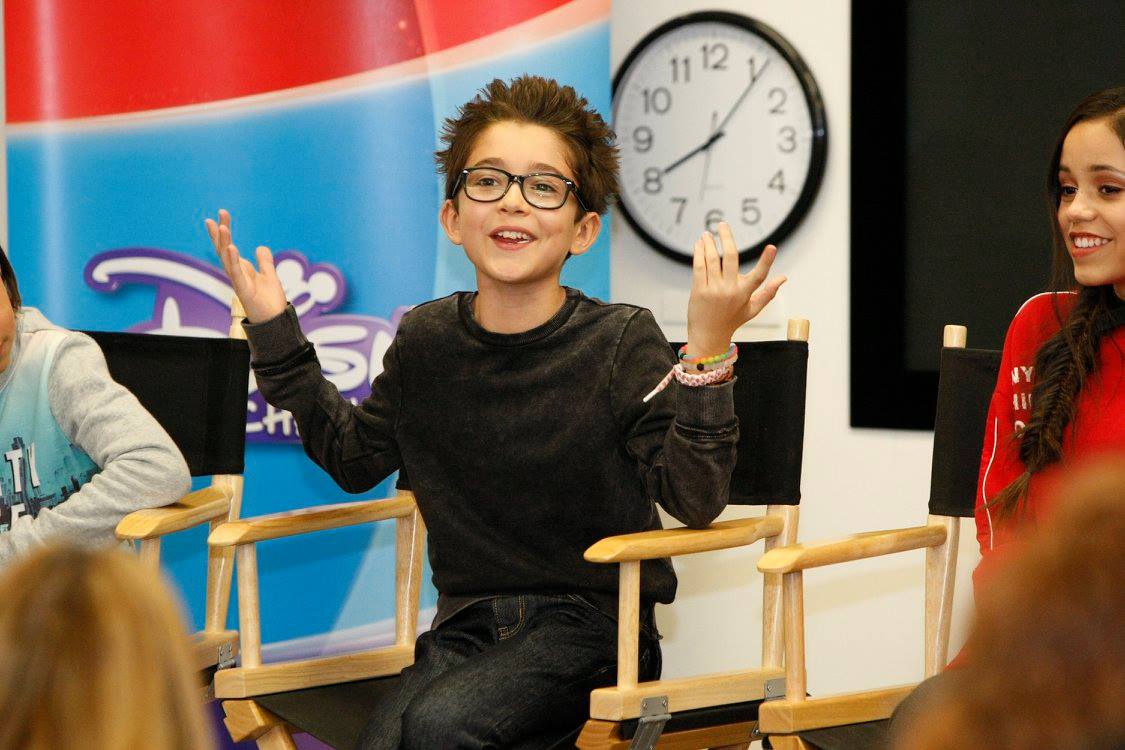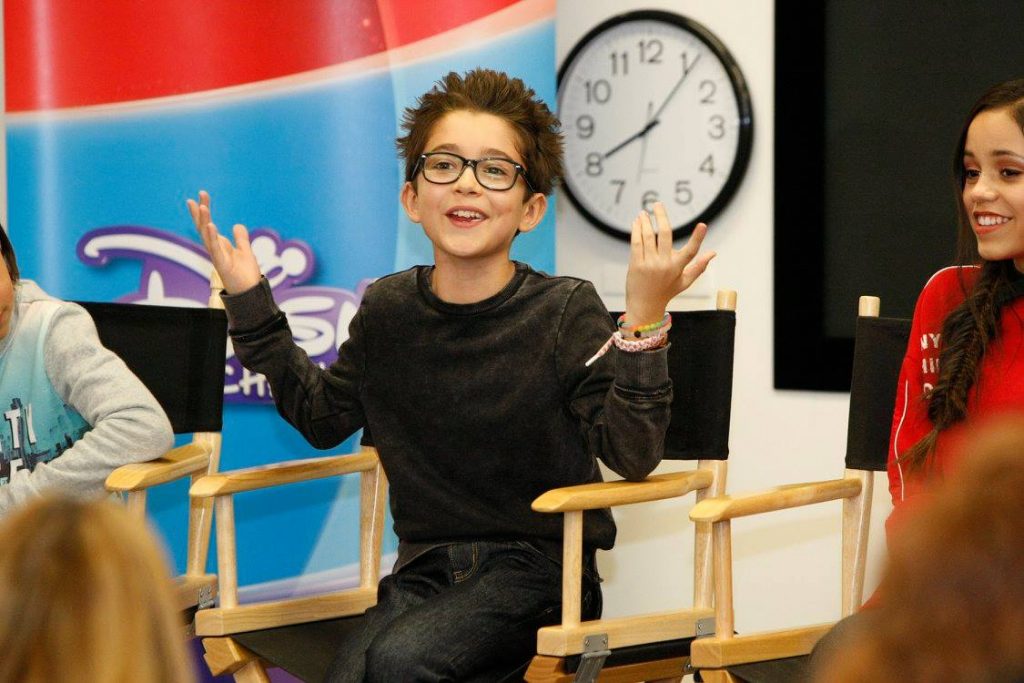 KAYLA: He was just like a little girl, too.
ARIANA: He didn't even think twice because he loves Oreos so much!
ISAAK: I walked right into it. I was like 'oh wait, can I have one?' Her sister hands me one. I'm like, 'great.' I take a bite of it. As I'm chewing I'm like having different thoughts. I'm like 'wow, is this a mint Oreo? This doesn't taste right.' And then, and then I freaked out.
ARIANA: Was it used deodorant?
ISAAK: I don't want to know. Don't tell me! Don't tell me!
And this my friends, is real life on the set! Unscripted. You can only imagine how funny the episodes are with a crew like this! According to Ariana, the cast is "Family, just straight up family. Off the set we hang out at dinners. And we really love each other."
JENNA: It's like they're my second family.
JOE: And that happened right from day one. It was immediate and fantastic.
ISAAK: I know for Malachi and I, we're only children, walking into this big family. It was actually like adopting a family. I learn even from the younger ones how I can be better as a person. And I've learned so much from them as a person.
I grew up just my dad and I. It was just us two. So Cerina was like a mom figure to me. So walking in I was like, I have a mom now. And it's great. I got to learn how to be more of like a son to a mom. And I got to learn how to be an older brother figure and a brother figure to these three.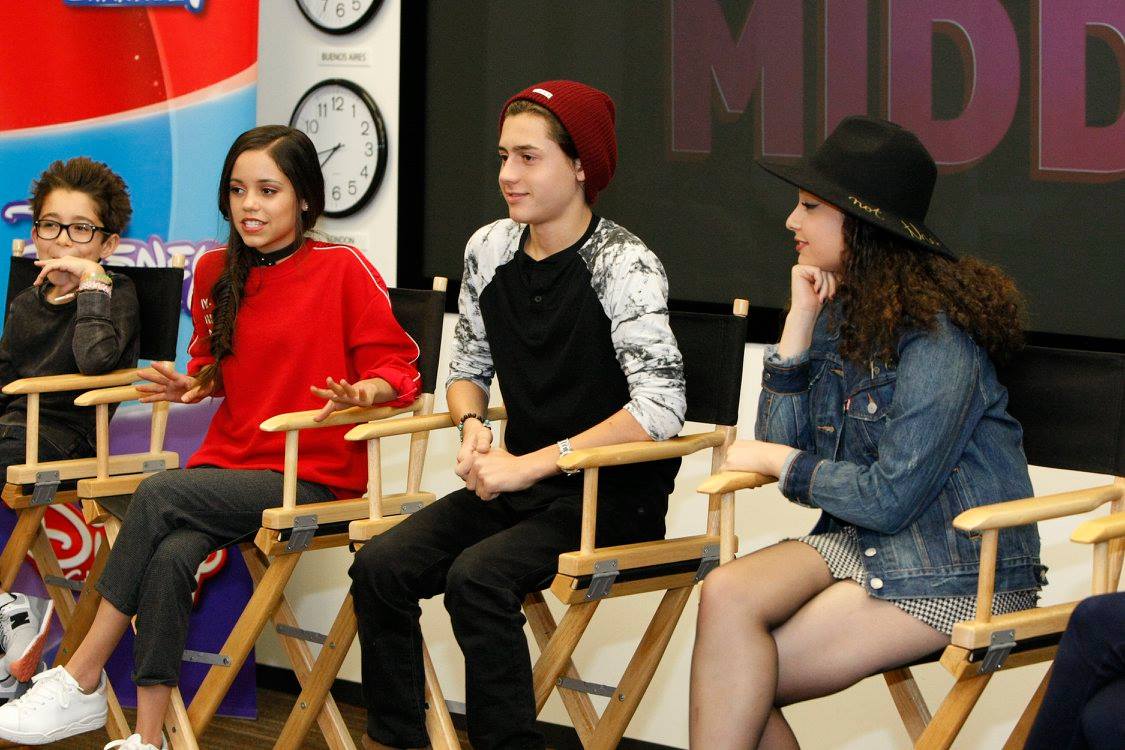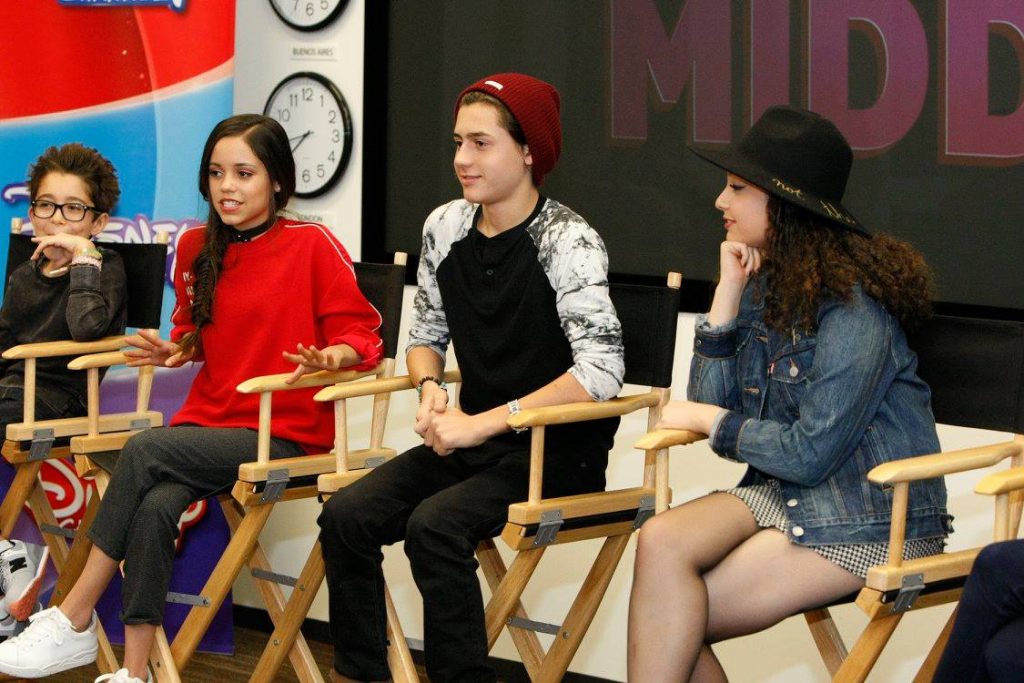 MALACHI: It's really, really fun to have siblings onset.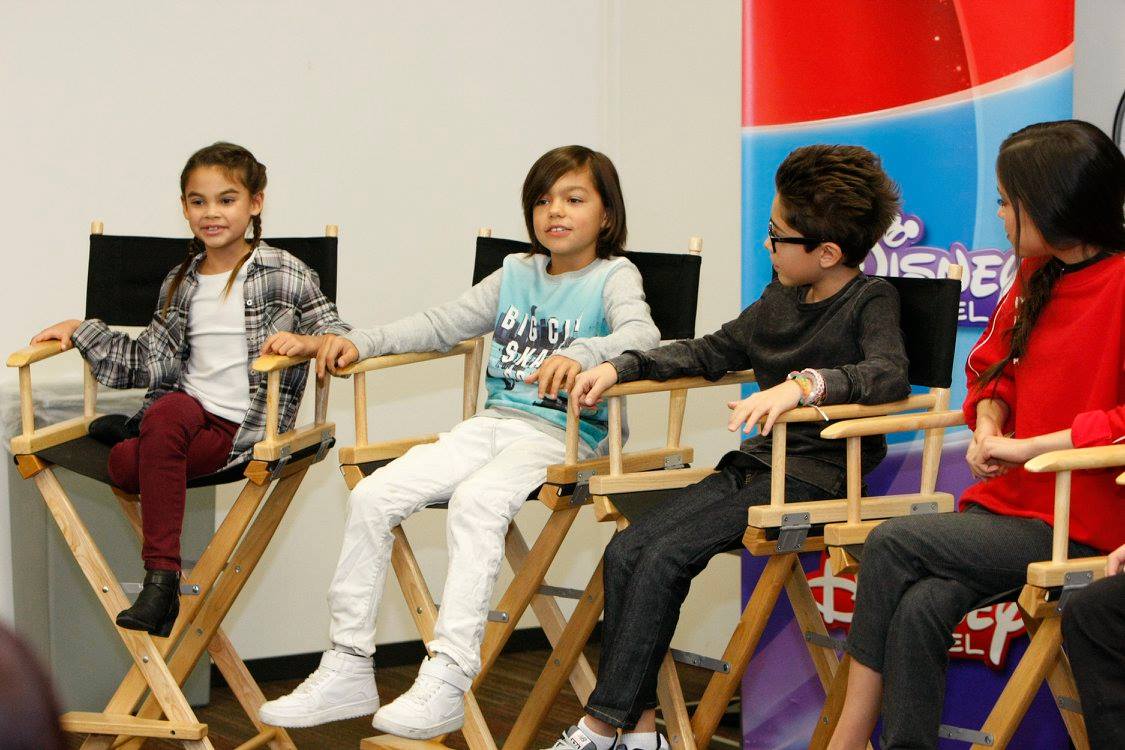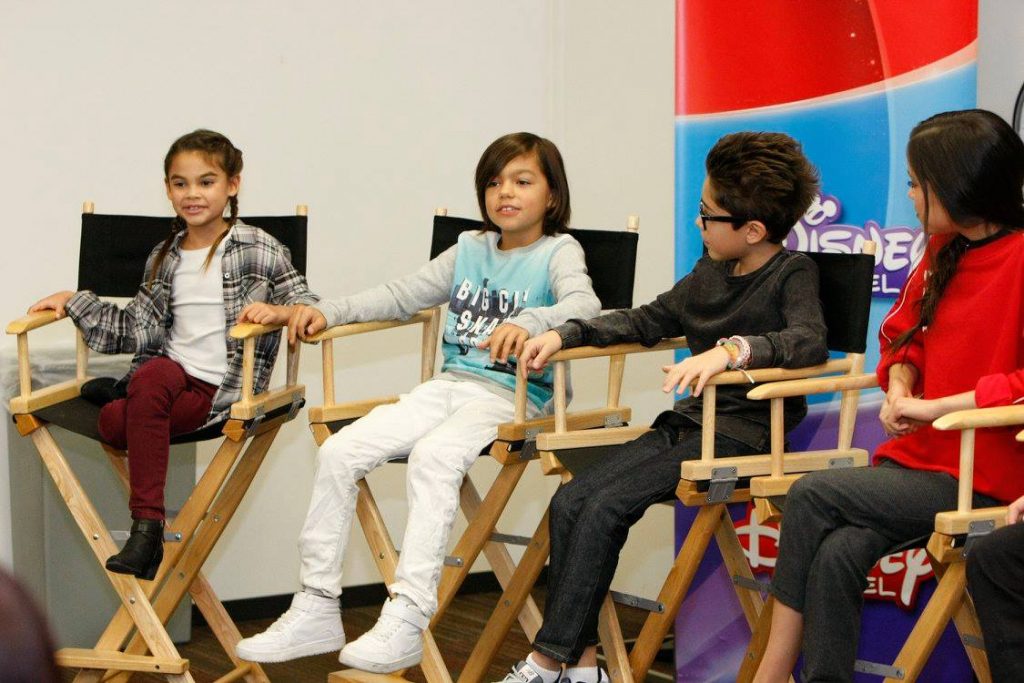 CERINA: I will say that I'm not a mother in real life.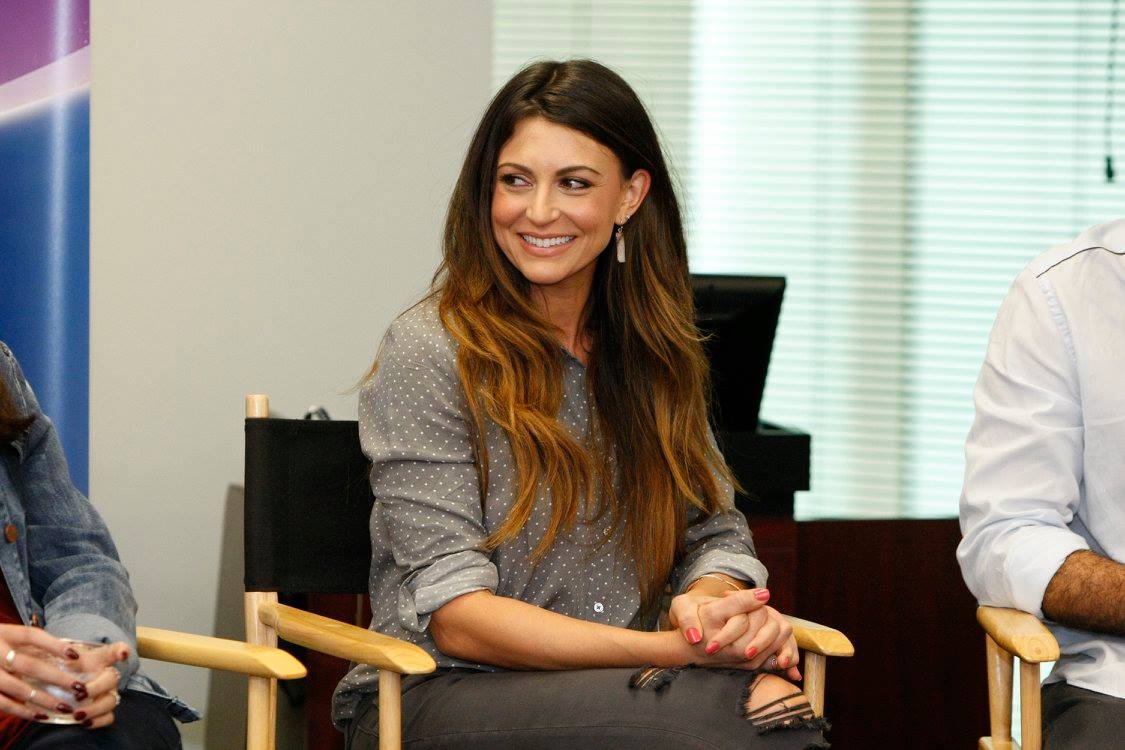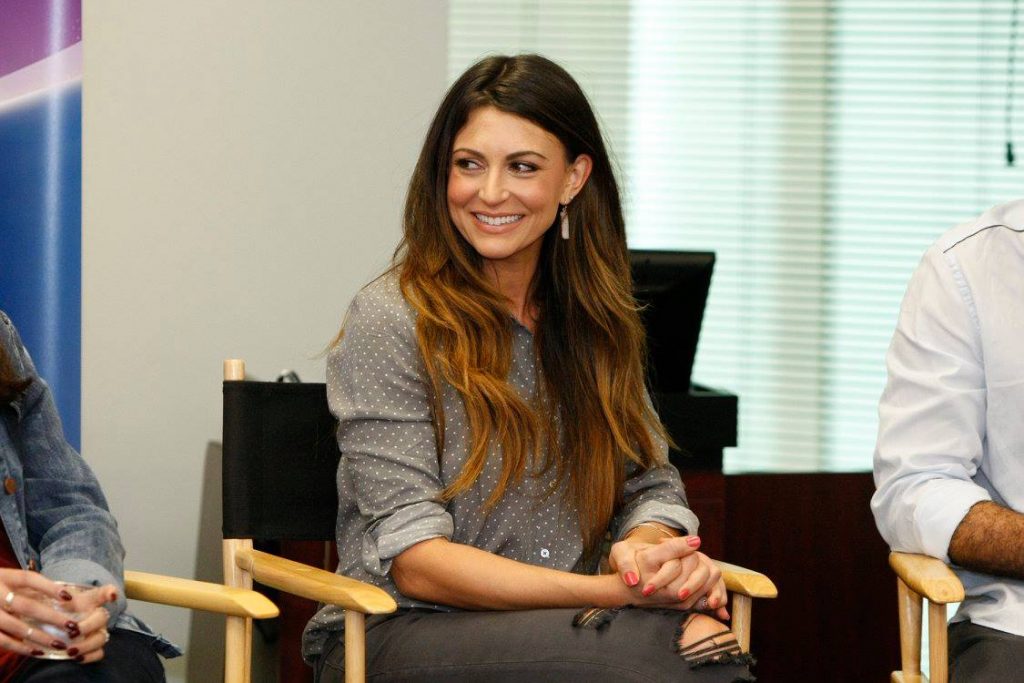 NICOLAS: But you're the mother to me. She's very motherly.
CERINA: I always wanted seven kids. It was a weird childhood thing, you know, fantasy. And I have them all, but in a different form. It's really cool. We're bonded.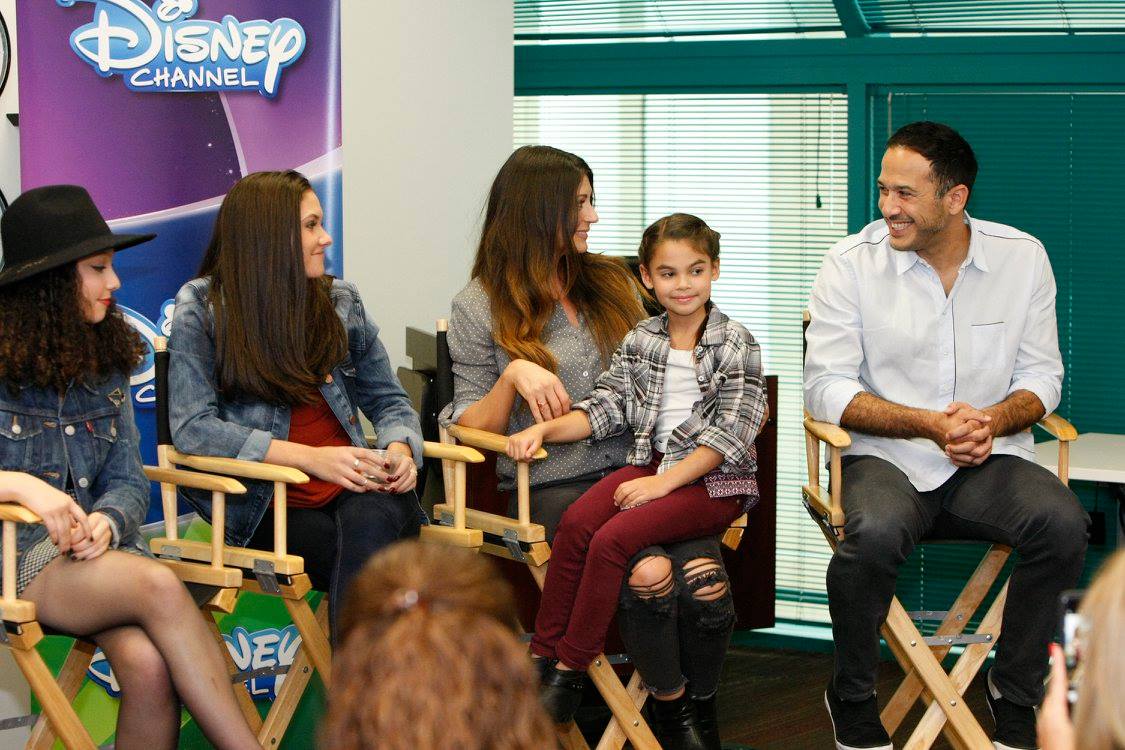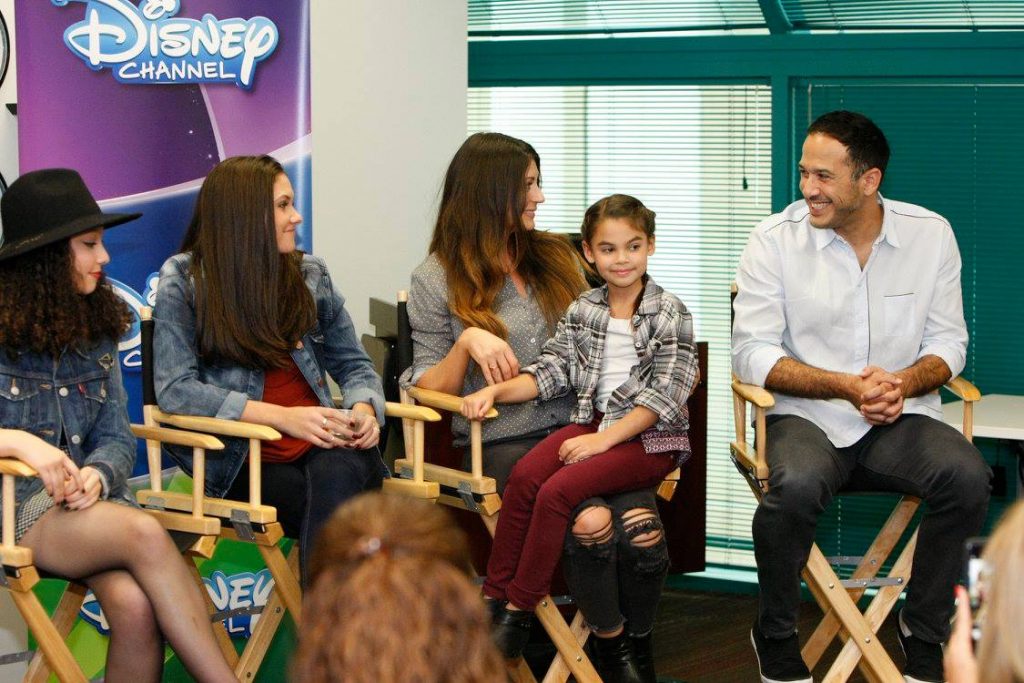 ARIANA: Onset she gives us tickle scratches.
JENNA: We'll be filming and once they yell cut, all the littles will run over and she'll just take turns scratching all of them.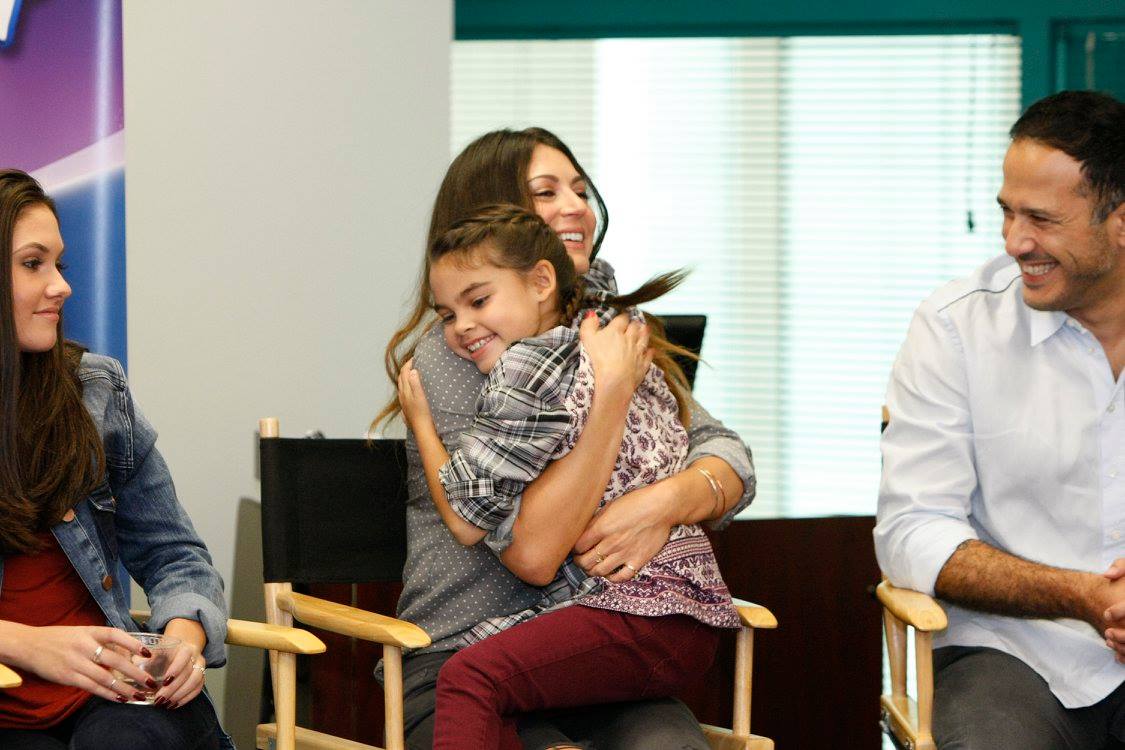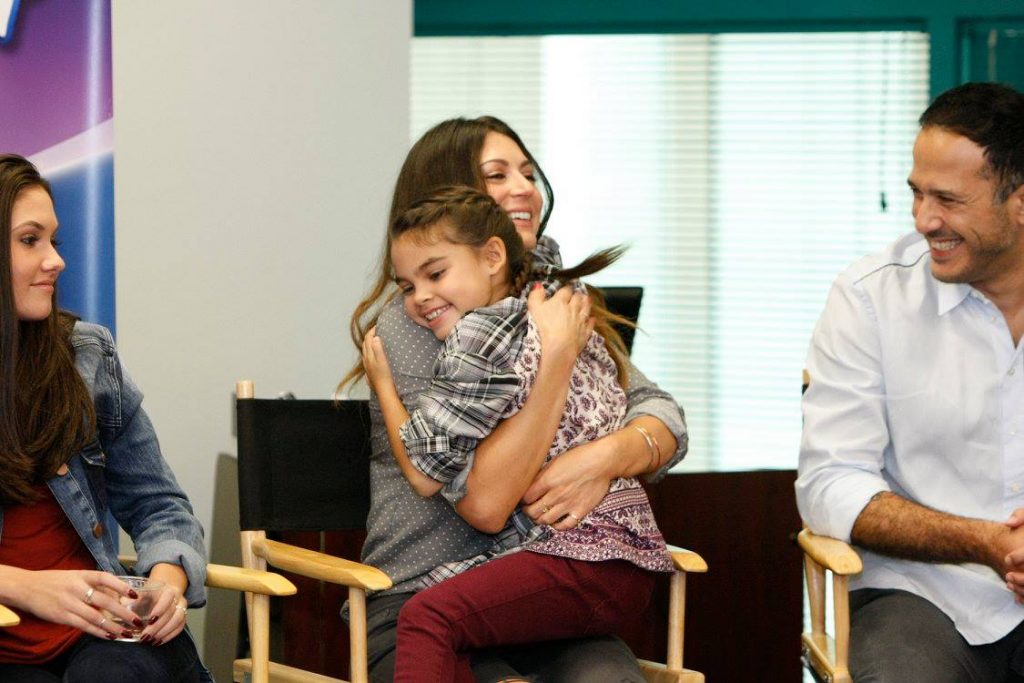 MALACHI: Again, what I was saying is that it's amazing how you can have siblings when you actually don't have siblings.
CERINA: Love is love.
We wanted to know, is it really like that all the time?
ISAAK: We're like a real family, we have everything, which really helps brings the onset chemistry. We have the bickering and we have the jokes and we have the emotional moments together that really helps bring that to the screen. You know if everything was happy and joyful 24/7, I feel like it'd be very phony. But because we experience all the emotions that kids do, it really helps onscreen.
We asked the group how it felt to be in households all over the country, with millions of viewers.
Collectively from the group: Great. It's great. Grateful. Overwhelmed.
Jenna added, I think our storyline is very sweet. The main idea of what we're trying to get across to families is you should celebrate being a part of a big family.
Like it's not such a bad thing. And to affect people all around the nation is amazing. I'm pretty sure I speak for all of us when I say this was like a dream of ours to be on a Disney Channel show.
So the fact that, you know, we're walking down the street and people are like, 'hey, Harley, you want to grab a photo? Hey, Jordan,' and reach out. It means a lot to us.
The group talked about what it was like to audition for the show, how there was a glass wall and they could see each other, and they were just rooting for one another.
JENNA: When I first said I wanted to be an actress, I told my parents, 'I want to be on the Disney Channel show, you just watch.' They're like, 'Okay Jenna.' I'd twirl my baton and I'd go, 'hi, I'm Jenna Ortega and you're watching Disney channel.'
NICOLAS: It's really cool when even the parents walk up to you and they say 'My family watches. I love your show,' 'Oh, you're one of my favorite characters. You're one of my kid's favorite characters.'
It feels so good to know that it's not just kids who watch the show and appreciate your hard work but it's the parents too.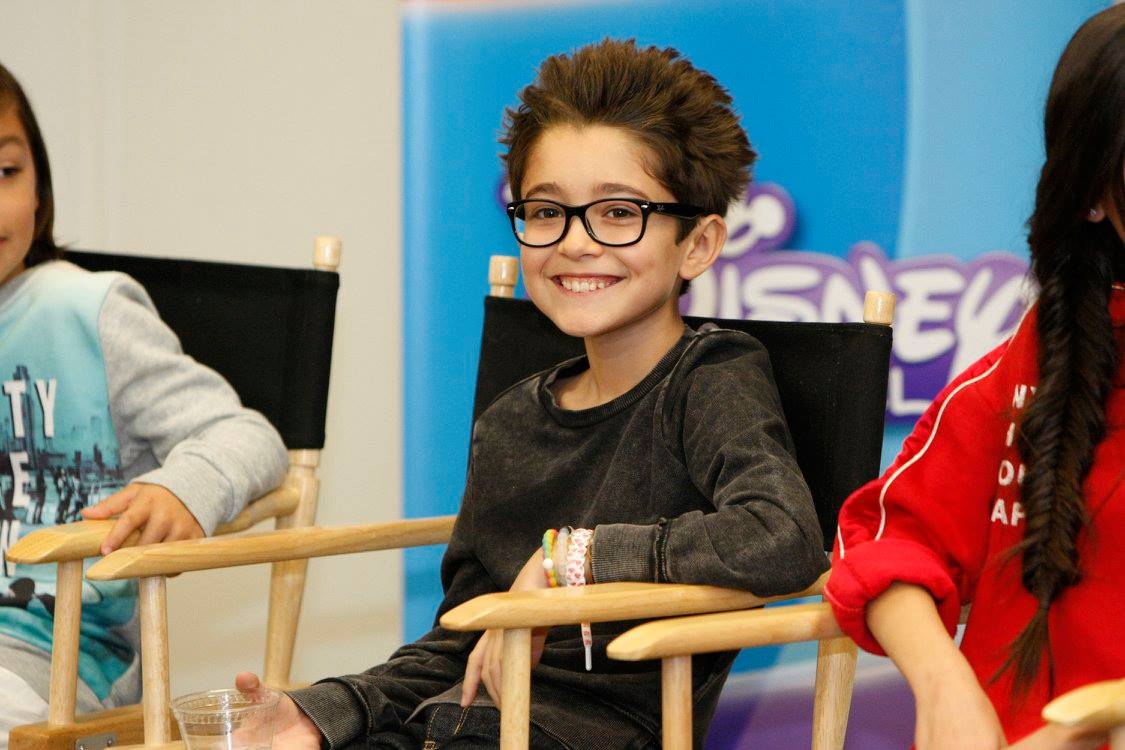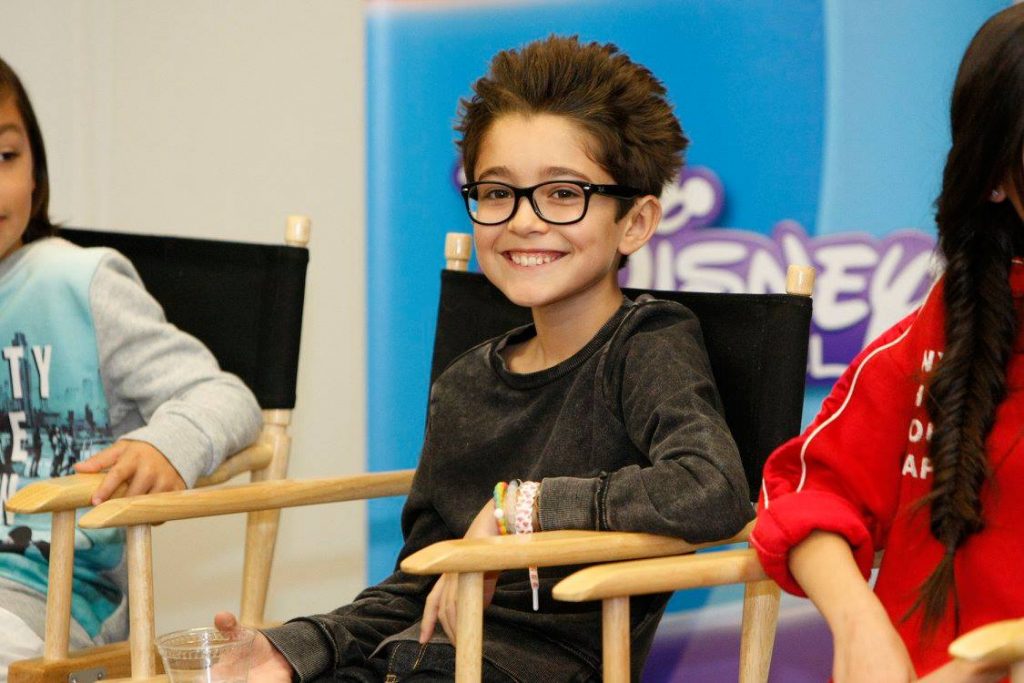 KAYLA: Yeah, it's a family friendly show that everyone can watch.
CERINA: We have to credit the writers too. We get to say their lines. They created a different kind of a show for Disney. And the writers are brilliant and the jokes are funny and it's real. And we have a production team that wants to keep everything looking real and feeling real. So it's cool to be a part of. It takes a village to create this.
NICOLAS: The [writers] are really spot on. But when you really think that there needs to be something to make it more believable because you do have siblings, they're really open to your ideas. They actually care about our opinions when it comes to that kind of stuff.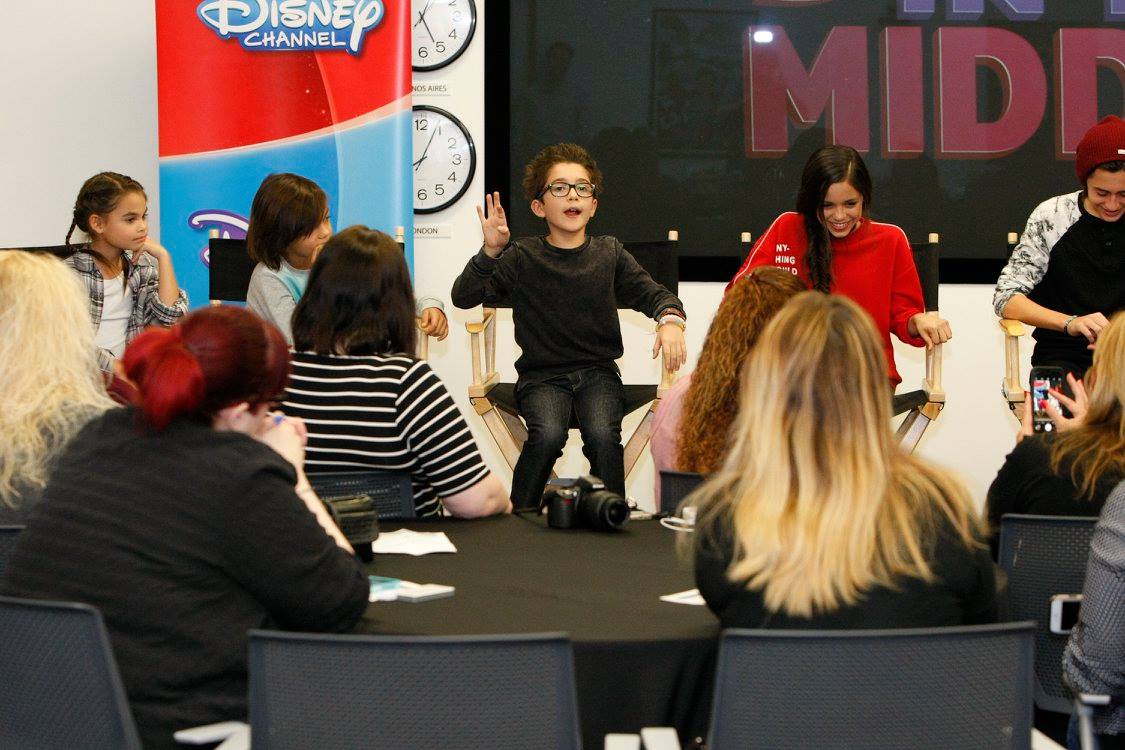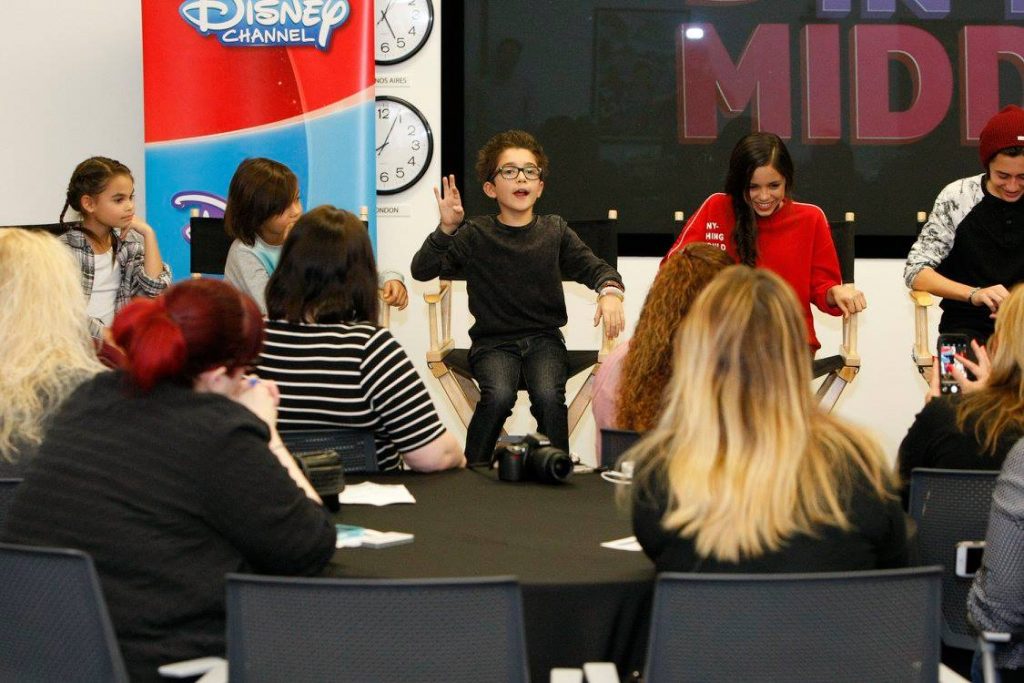 I had a question for Ariana who plays Daphne, and is trouble with a capital T.
You're trouble. Was it hard to learn to be trouble or did it come naturally for you?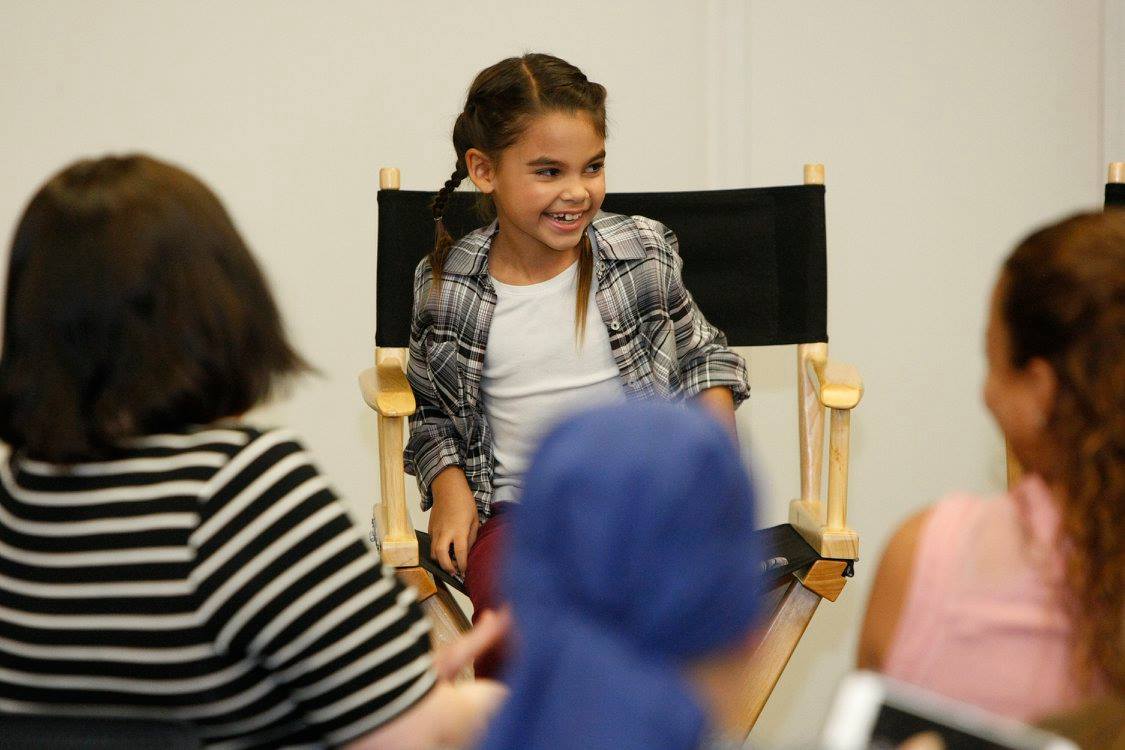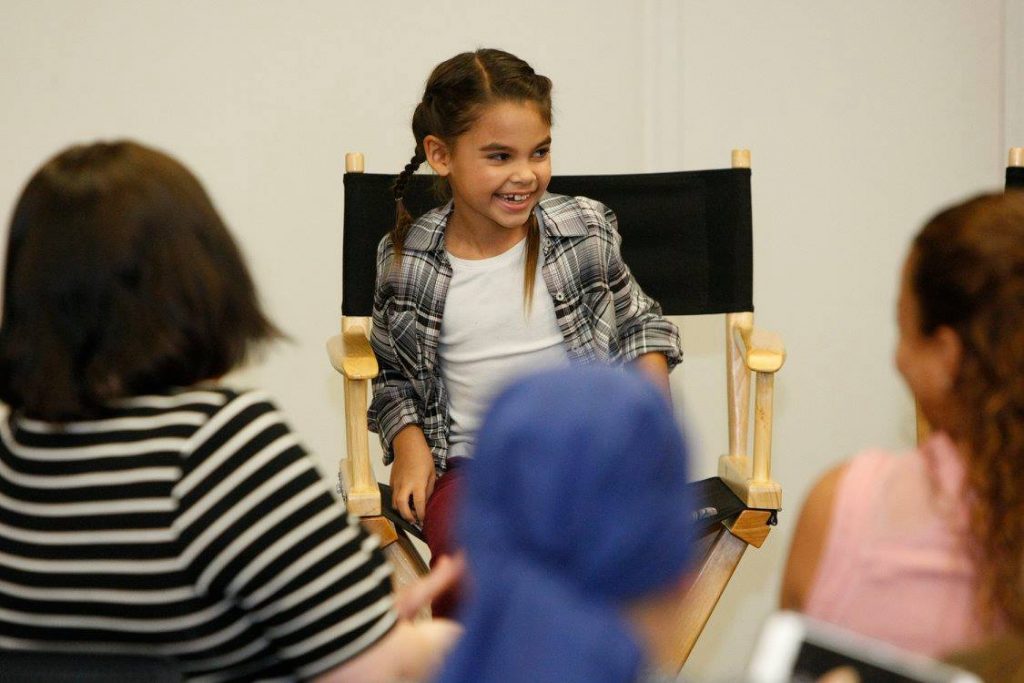 ARIANA: Well, sometimes it just comes naturally. [Laughter] I'm not like 'Daphne trouble' in real life. But around the table we just start busting out laughing. We don't get to do that in real life. Like shave someone's eyebrows off or swim in cake.
When the show was picked up again for season 2, everyone was thrilled. I'm not sure if they were more thrilled that the show would continue, or more thrilled because they would continue to hang out together.
We asked, what has changed for them since being on a Disney channel TV show?
RONNI: I think when people like come up to you and it's just you see how happy they can get because of you being around them. I like to go and visit charities and you see how happy they are. To make an impact like that is really cool.
JENNA: Or when people come up to you and you know like, how did you get there? I have so much I want to do but to get here was such a journey. And you know we just appreciate this.
CERINA: I will say to answer your question, too, Joe and I talk about it all the time. We've been working for 20 years and doing lots of different things. But we say to each other in our dressing rooms, it's the best job we've ever had.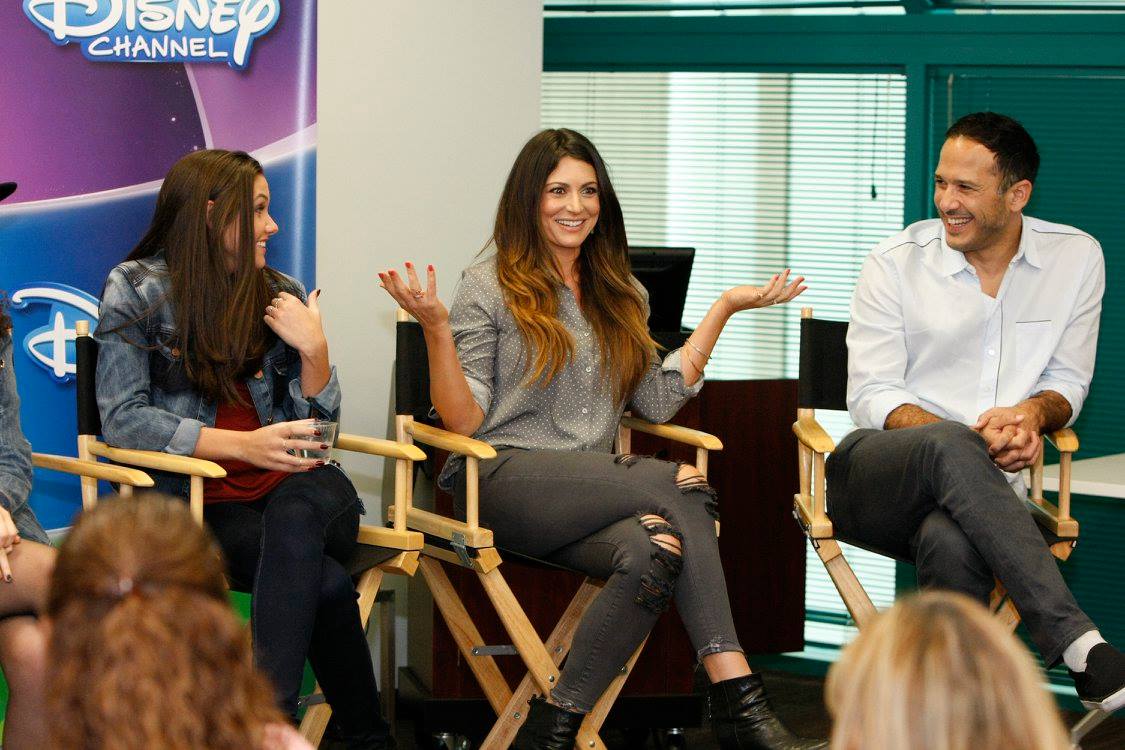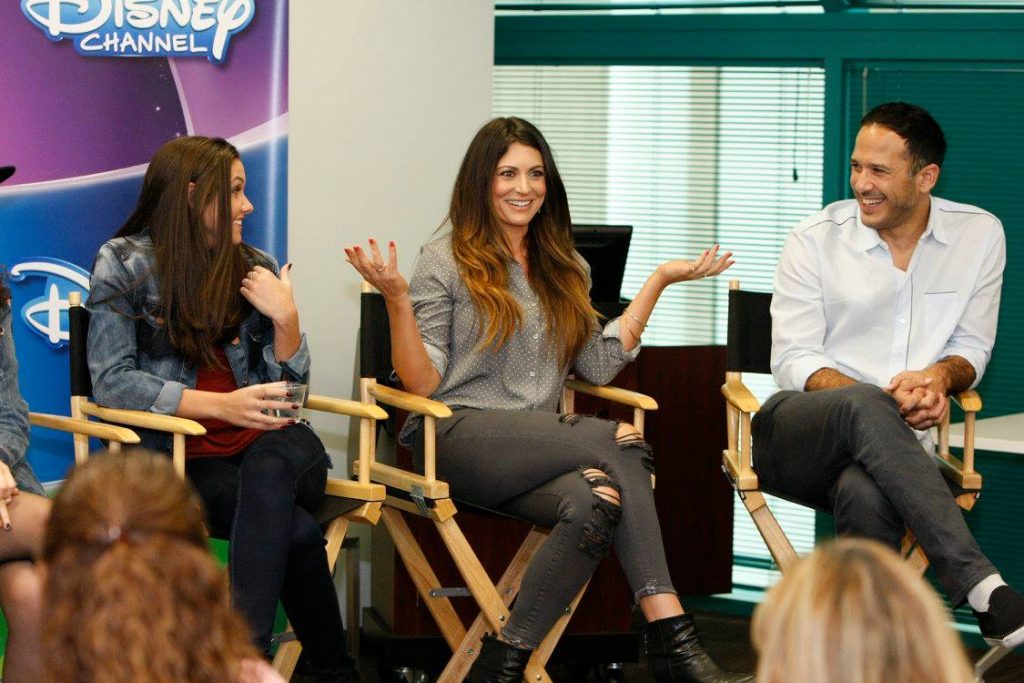 JOE: We went to an event last night and it's been over a year now since we shot the pilot. Just watching it, it was the first time where I was really proud of them. They all looked beautiful. They handled themselves so well. I was beaming with pride for my TV show children. I was really happy. They were gorgeous.
I wanted to know, what was their favorite episode?
KAYLA: When we got our eyebrows taken off.
ISAAK: I'd say for me it'd either be the episode where I direct the boys being cops, stuck with no rules, eyebrows.
ARIANA: To be honest, I love all the episodes. The cow one was so much fun!
JENNA: We honestly appreciate you guys' support so much because out in this acting business it is so hard to keep a job. So the fact that we can come to set every day with people that we love and enjoy spending time with and do what we love; we wouldn't be where we are today without you guys.
As we wrapped up, we asked the cast, in one word: Sum up what Stuck in the Middle means to you.
JOE: It's simple. It's special.
CERINA: Gratitude.
RONNI: It's joy.
KAYLA: A gift.
ISAAK: Indescribable.
JENNA: Relatable.
NICOLAS: Exciting.
ARIANA: Everything.
MALACHI: I think amazing.
We thought this family was awesome. That's my word for the show!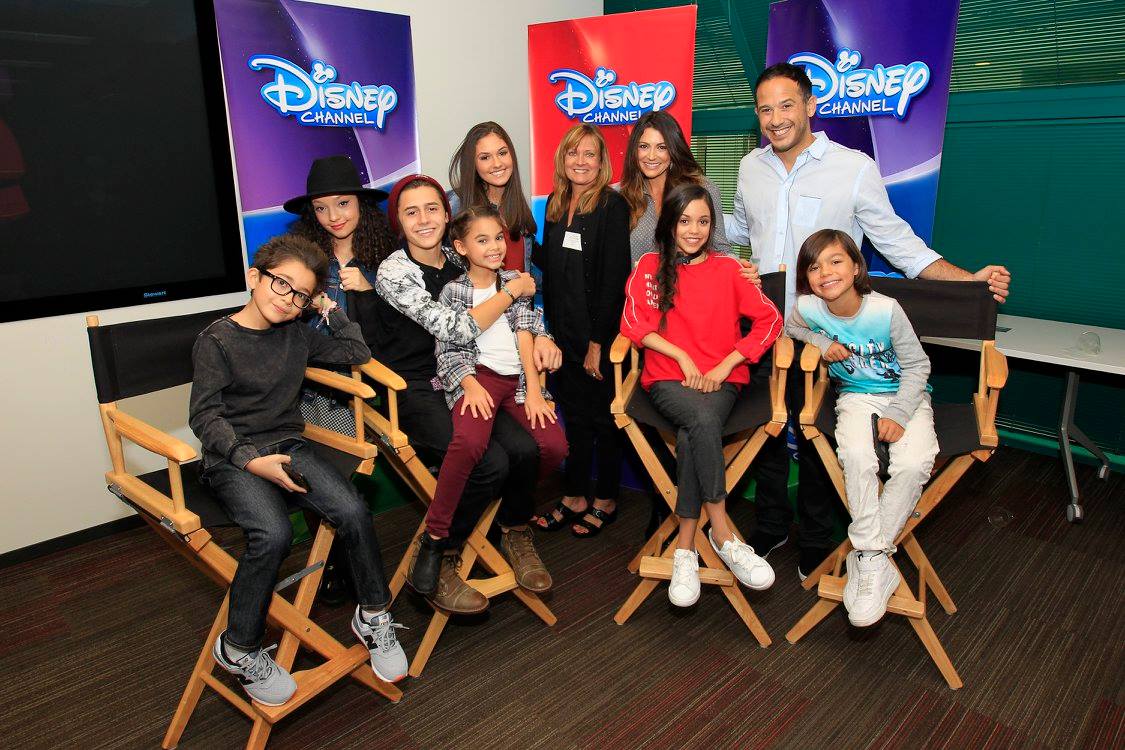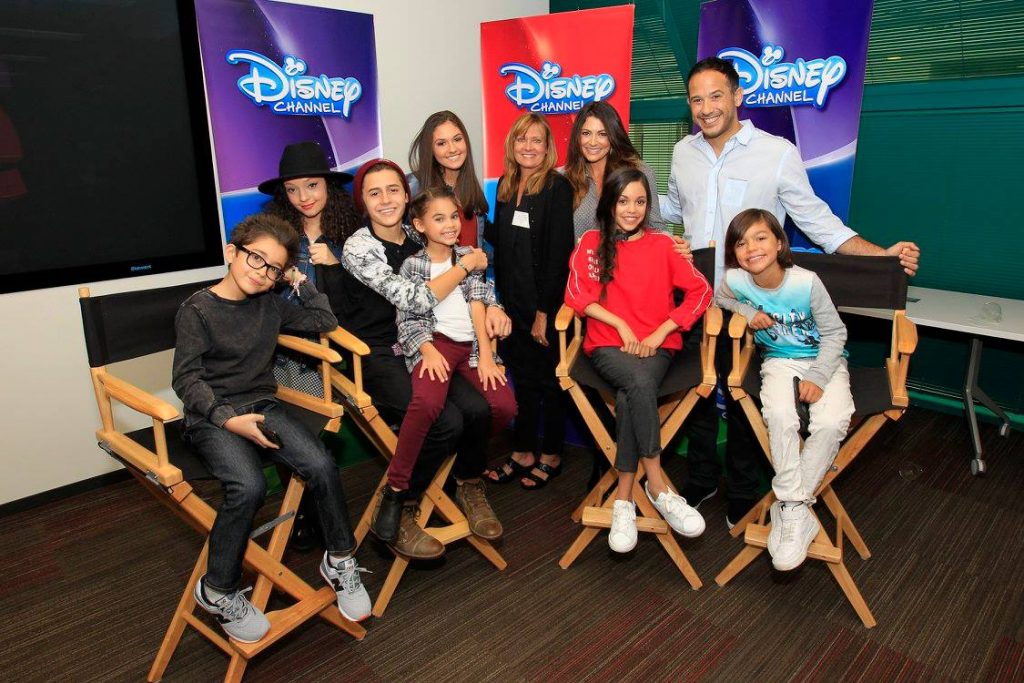 Disclaimer: Disney invited me to attend this all-expense paid trip including a visit to the Disney Channel. Check out our itinerary to see what interviews you've missed and what's coming soon!