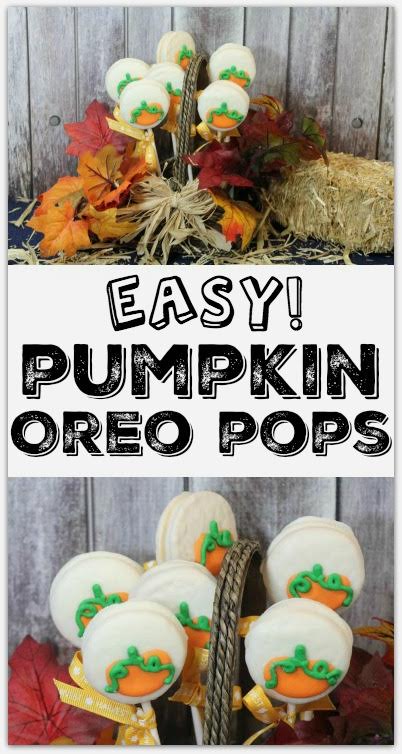 You've probably seen those adorable little dessert pops you can get in your favorite coffee shop or bakery that sell for a couple of dollars each. These Pumpkin Oreo Pops are such an easy dessert recipe, you can totally DIY! Get the kids in the kitchen with you to help make these delicious cookie pops on a stick! These directions can be used for all kinds of holiday recipes, but this one is perfect for Halloween and all the way through Thanksgiving! They are also a fabulous gift idea! 
Easy Pumpkin Oreo Pops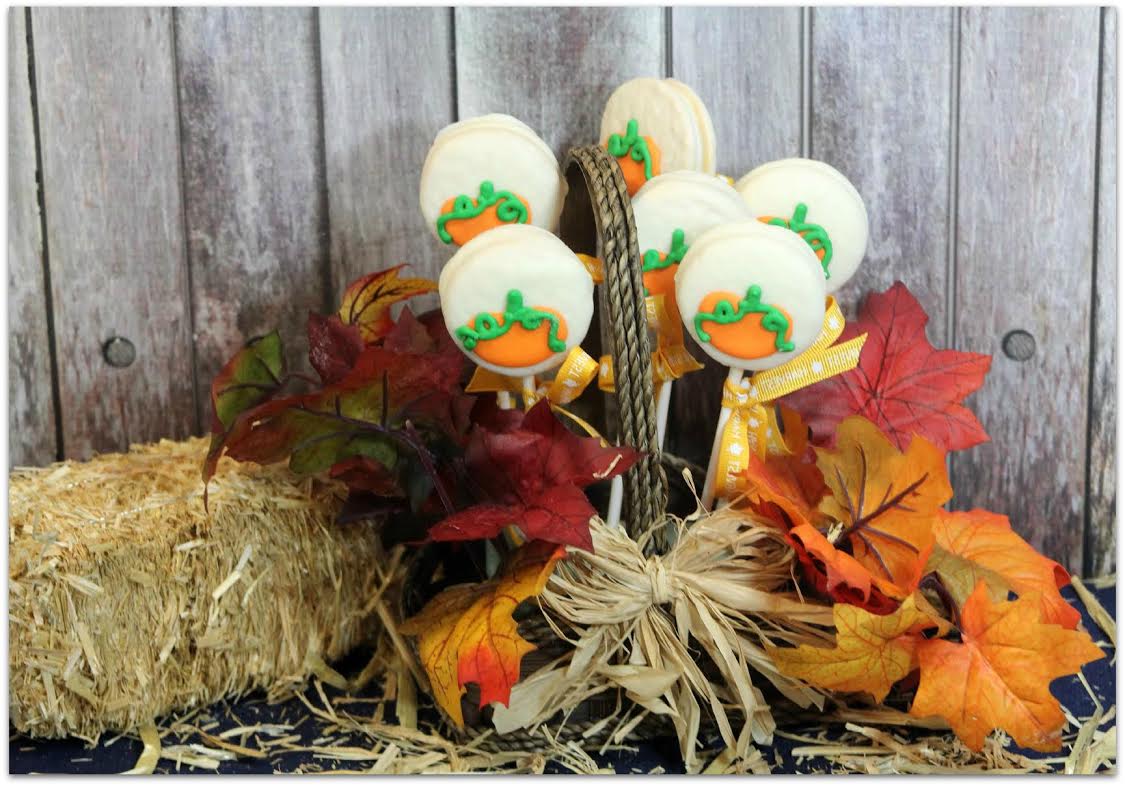 Ingredients: 
1 package Oreo cookies
1 bag of Ghirardelli white chocolate wafers
1 package candy sticks
Orange ribbon
Royal icing
(You can also buy cute little pumpkins if you don't feel confident enough to make them. I have faith in you, but I do understand time constraints!)
Royal Icing Ingredients:
2 egg whites
1 C powder sugar
½ tsp cream of tartar
Orange & green  gel food coloring

Cookie Pop Directions:
-Line a cookie sheet with wax paper.
-Separate the Oreo cookies, keeping the filling in place. Keep the separated Oreo cookie intact.
-Put the candy stick in the center of the filling one half of the way up the cookie
-Melt the white chocolate in a double boiler, stirring occasionally.
-Dip the half of the Oreo cookie piece without the filling into the melted white chocolate to add as "glue".
-Place the dipped  Oreo cookie  half on top of the other half of the cookie.( the cookie half with the filling).
-Place the dipped cookies on the lined cookie sheet and into the freezer for 10 minutes.
-Remove the Oreo cookie from the freezer and automatically dip it into the melted white chocolate again.
-Place each dipped cookie onto the lined cookie sheet and put in the refrigerator for 30 minutes.
Royal Icing Directions:
-Combine all ingredients in a mixing bowl mixing on medium speed for 4 minutes. (except your food coloring)
-If icing is  not stiff enough add ¼ C powder sugar.
- Spoon the icing into a bowl.
-Divide the icing into two bowls.
- The first bowl  add orange  gel food coloring, stir to mix..
-The second bowl add green gel food coloring, stirring to mix.
-Spoon the orange icing into a piping bag with a #2 tip.
-Spoon the green icing also into another piping bag with a #2 tip.
-Referring to the picture of the cookie pop begin to outline the small pumpkin in orange.
-Allow the outline to briefly dry then fill the pumpkins in with the orange icing. Allow to dry for at least 30 seconds so the green doesn't bleed on the orange.
-Using the green pipping bag add vines on to the pumpkins.
-Place the cookies on a cookie sheet lined with wax paper.
-Allow the iced cookies to dry.
Looking for other delicious dessert recipes? Check out these Pumpkin Snickerdoodles or these 50 Spooky Desserts for Halloween!