We don't cry over spilled wine in our house unless it was a really good bottle and we weren't able to drink it!
My husband's birthday is tomorrow. He was born on labor day, so he always jokes that his mom was in labor on Labor Day.
We usually celebrate birthday weeks in our house. What that means is that we've already been celebrating for several days, and will continue for a few more. We love parties around here!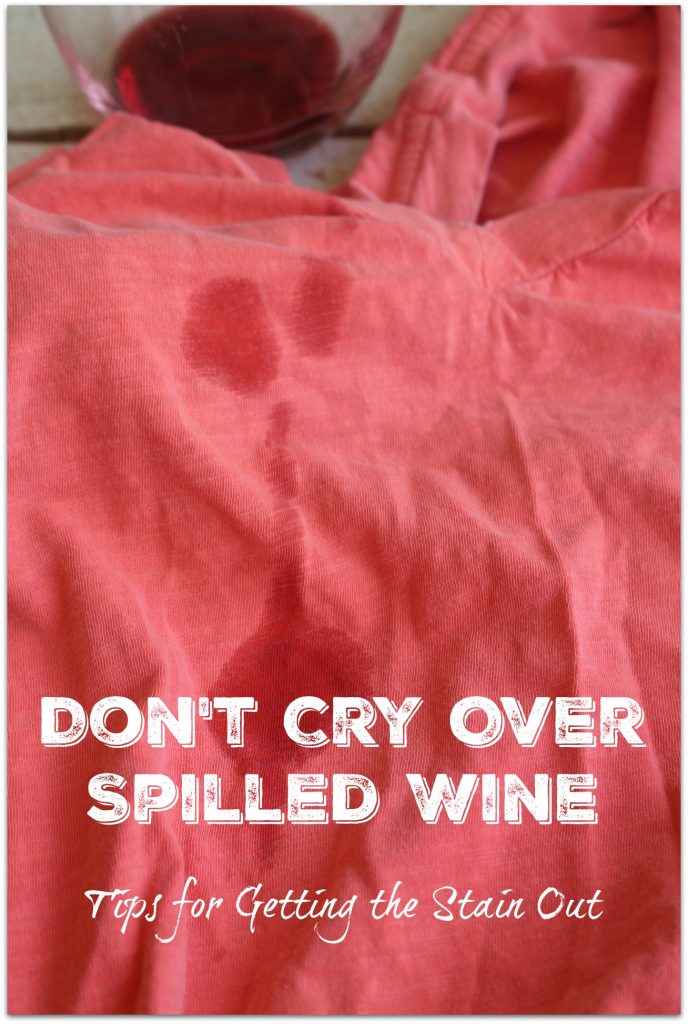 I'm lucky to have a husband who enjoys cooking. Even during his birthday week, he offered to grill a few nights ago. He makes the most amazing grilled chicken.
A side of fresh corn on the cob and a glass of red wine and I'm a happy girl. Except that during dinner I managed to miss my mouth. I swear, it was my first glass and I had already spilled wine!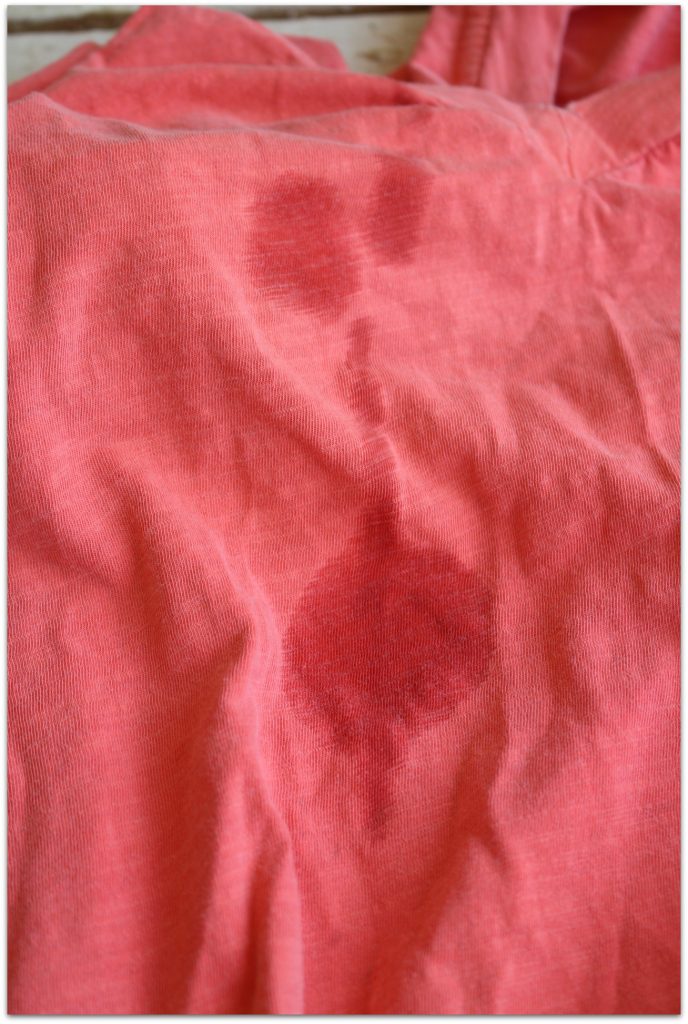 I jumped up and immediately changed my shirt. One of the keys is getting the stain-fighting power of Clorox 2 on the stain right away.
Stains like red wine do require a little more prep. For a red wine stain, blot with a paper towel to soak up the excess wine. Keep blotting until there is no more wine on the paper towel.
Grab a bottle of club soda and pour it all over the stain. Even if you don't drink club soda, have it on hand for this purpose, and if you're out to dinner, ask for club soda and blot as best you can until you can take care of the stain at home.
Toss the garment into the washer on hottest temperature allowed for the material, adding Clorox® Stain Remover & Color Booster. I used the Clorox 2 Stain Fighter Pen for Colors for a little extra insurance.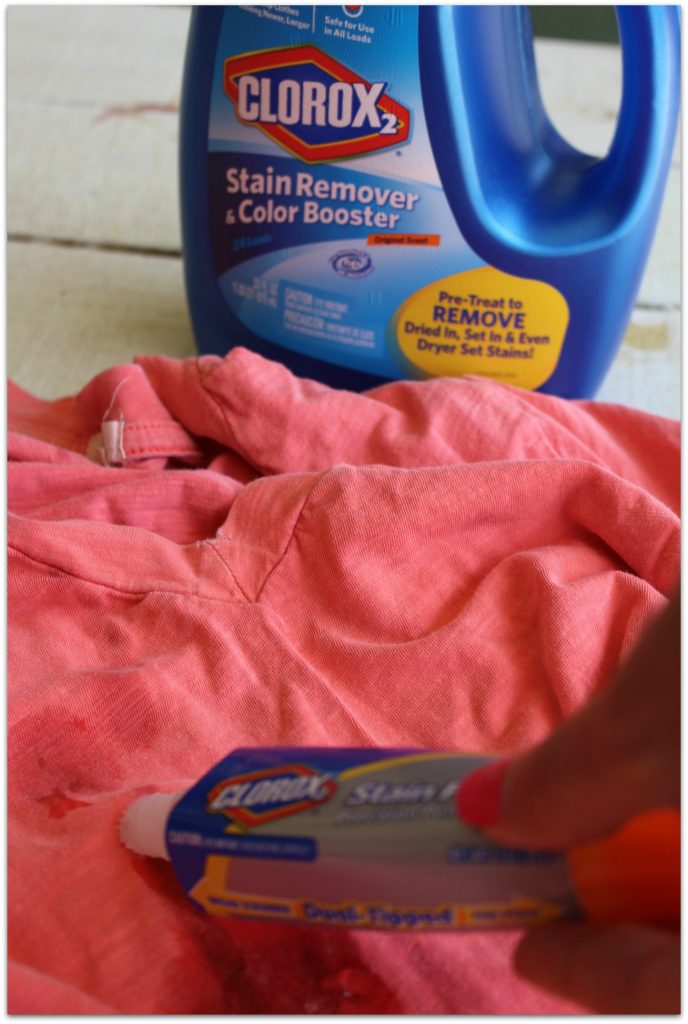 For a really tough stain, add a little salt during the blotting process to help absorb the stain. Let the salt sit for a few minutes before rinsing and rubbing with fingers.
Note: Do NOT leave salt on the garment for an extended period or you could end up with holes in the material. Not that I've ever done that...
By the way, I've also learned from my mistakes to be sure the stain is out before tossing in the dryer. Some stains may need a second wash, depending on how quickly you were able to take care of it.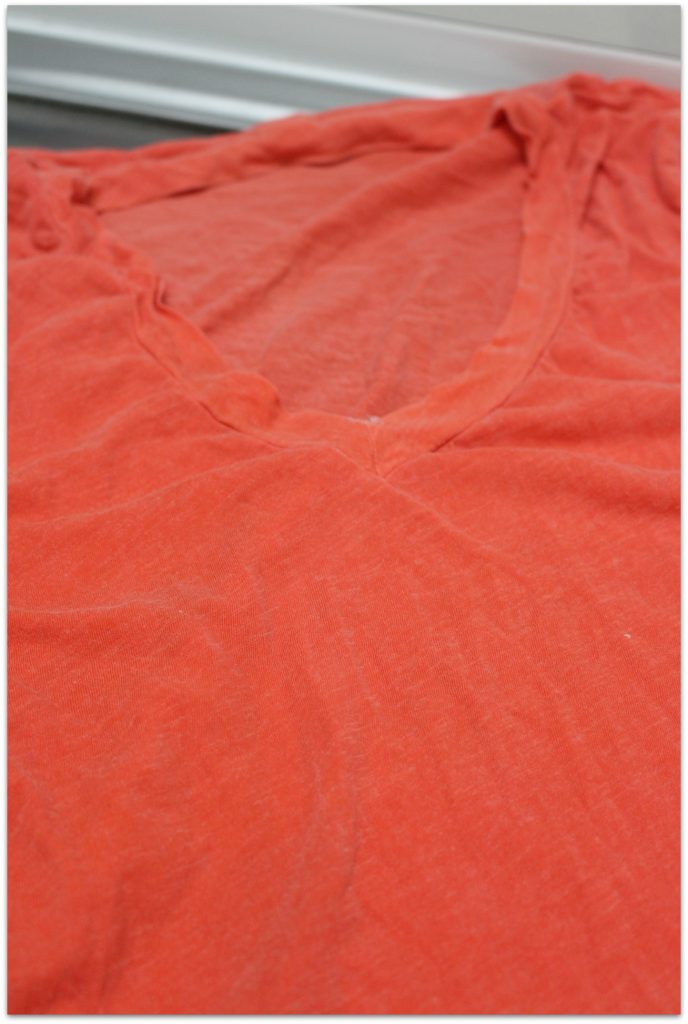 After tossing the shirt in the washer, I went back to dinner...and my wine. More carefully this time.
And you know what? I didn't worry one bit about that stain. Grass stains, mud splatter, and wine spills. They're signs of life well-lived.
And while you want to delight in the discovery, savor the new skill, or celebrate the accomplishment, you want the stain gone – all gone.
Clorox 2 does the trick, so we don't waste time worrying. For tips on how to get more out of life and laundry, visit the Clorox website.
I am participating in a VIN campaign for Clorox® . I am receiving a fee for posting; however, the opinions expressed in this post are my own. I am in no way affiliated with Clorox® and do not earn a commission or percent of sales.