The first word that comes to mind after attending the red carpet premiere of Delivery Man at the El Capitan Theatre in LA is...magical. You see the El Capitan on TV when it hosts world premieres or live shows, but being there when a premiere is taking place, not across the street looking at the action, but there, among the stars...magical is the only word that does it justice. If you ever go to Hollywood, you have got to make this one of your stops.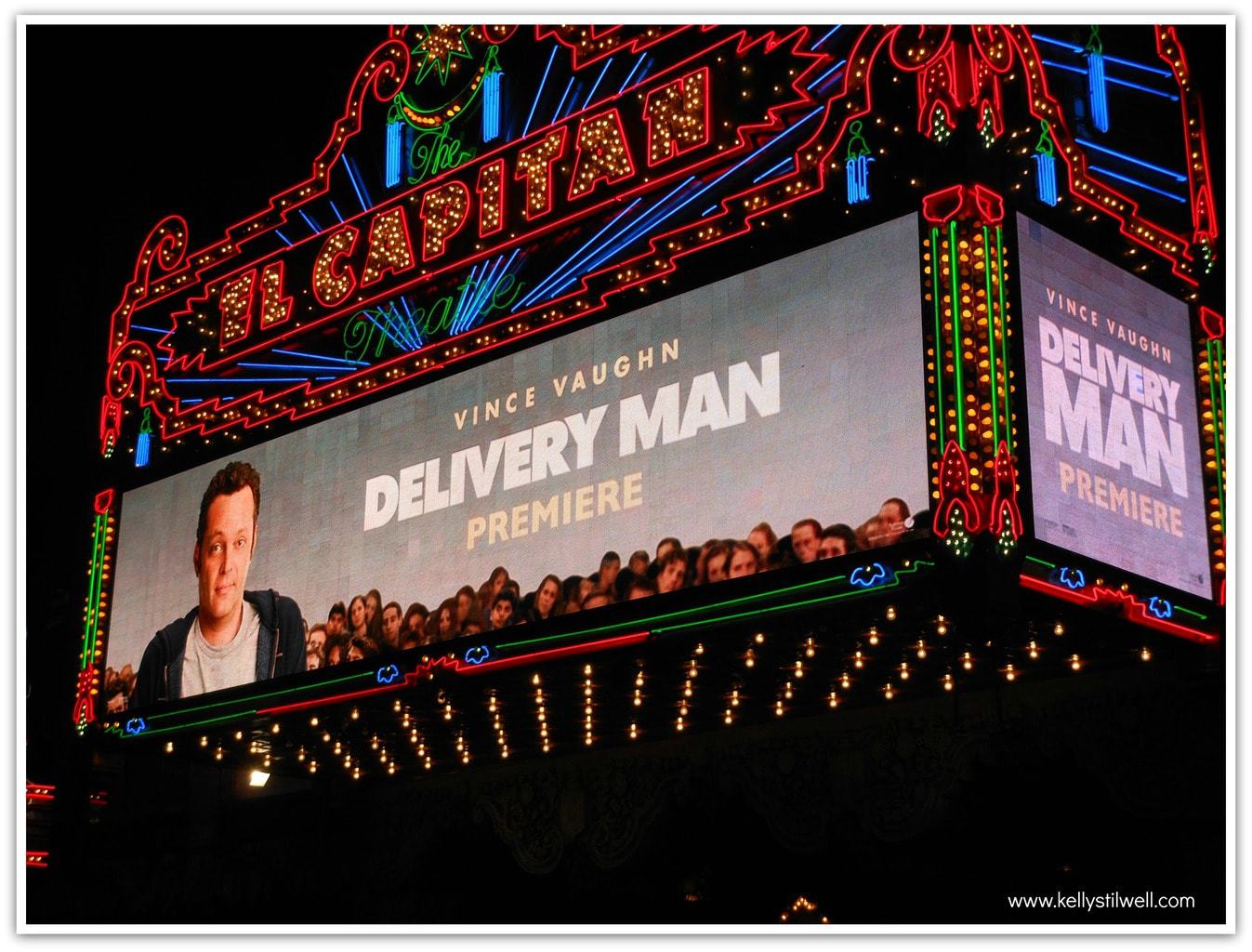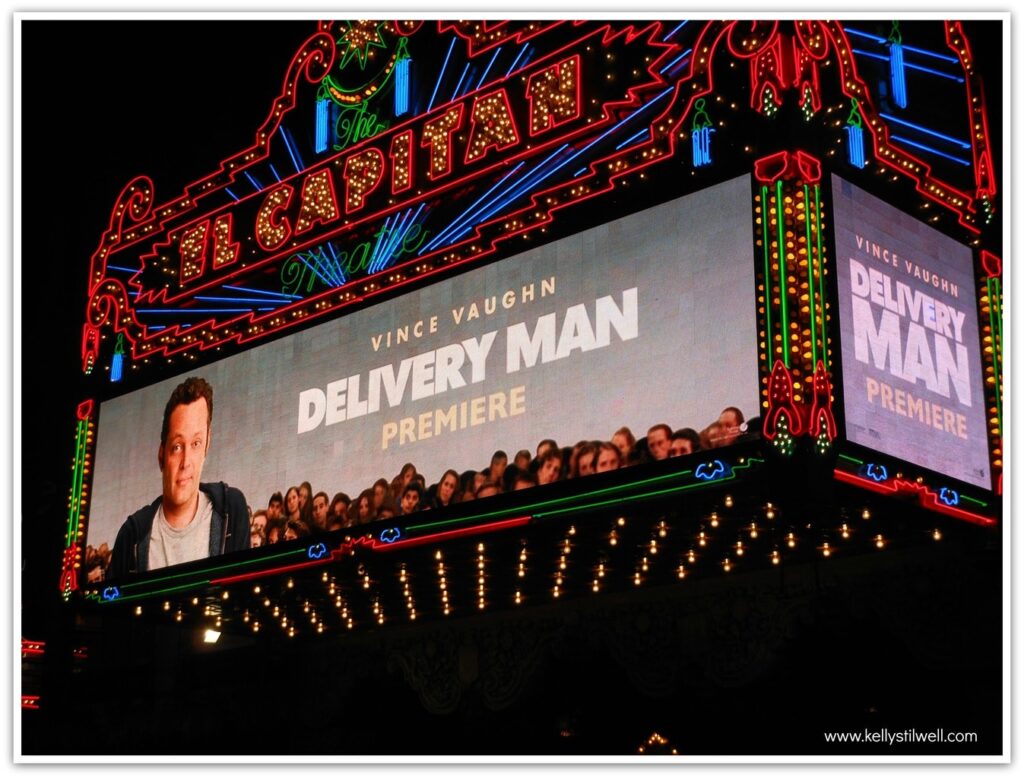 Okay, there is one other word that comes to mind...nervous! We walked to the theater from our hotel, just across the street, and you have to walk down the "Oscar Staircase" to get to the El Capitan. (You'll see a pic of the staircase in my next red carpet post!) You can see all that's going on as you walk down this massive staircase, and that's when the butterflies began. Lights, limos, cameras flashing. And I was about to be in the midst of it. In the middle of the papparazzi and people screaming for autographs. On the red carpet. Praying that I don't trip and fall. This is what the mayhem looked like as Bobby Moynihan, who plays Vince Vaughn's brother in the film, signed autographs. He was really a nice guy, by the way.
I love this one of Chris Pratt, Cobie Smulders, and Vince Vaughn. I'll share the interviews with them soon. They were all just wonderful.
By the way, if you think Chris looks a little different than he does in the movie, you're right. He gained 70 pounds! He's lost it now, and said in a Twitter party yesterday that he didn't think he would be willing to gain that much weight for a movie again, that he didn't think it was healthy. I would imagine it was fun to gain, but can't imagine having to lose that much.
This is what our view was like as we approached the red carpet. As there were so many cameras and stars to be photographed and interviewed, we were rushed along to the end. I tried to enjoy every step and just take it all in!
And I was on that same red carpet. Here's proof!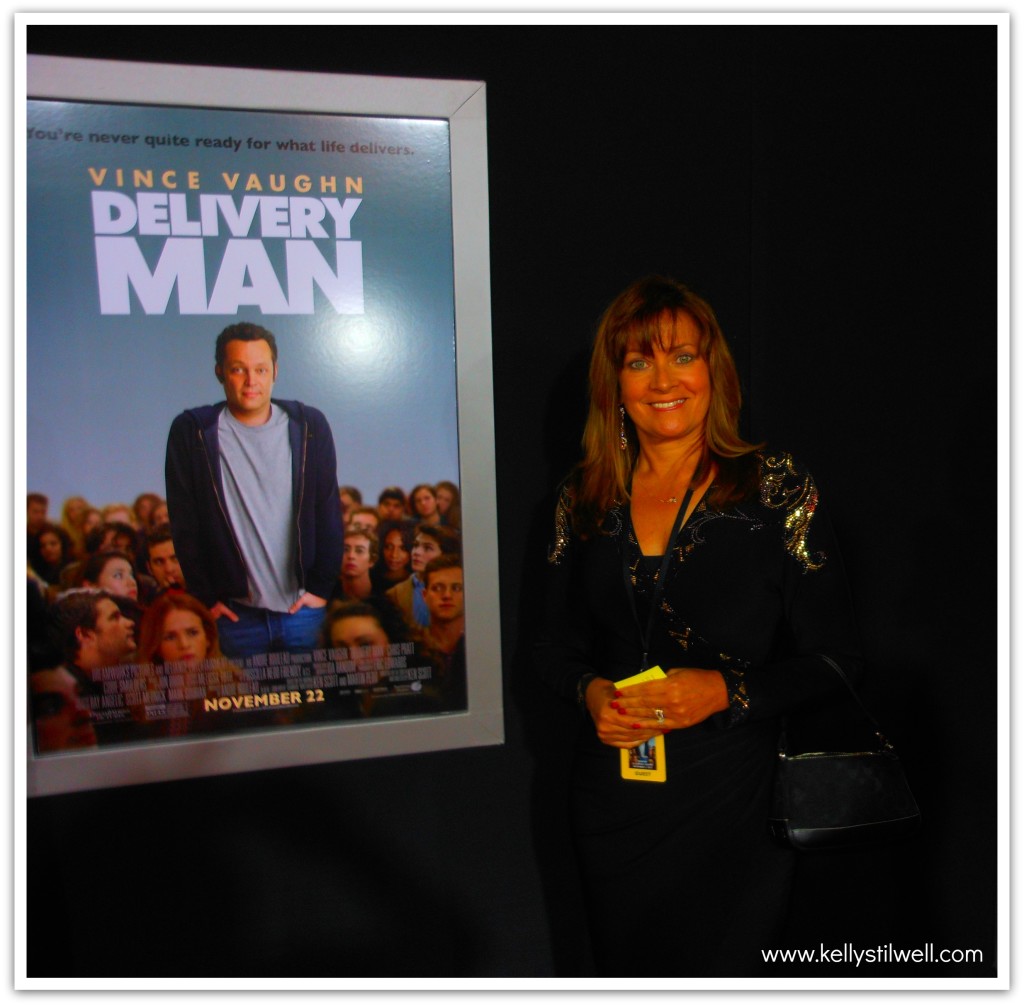 Once inside the theatre, I was thrilled to see we were seated in the first two rows. The El Capitan was so Hollywood! In fact, when the theatre debuted in 1926, it was "Hollywood's first home of spoken drama." The elaborate East Indian design, at a cost of 1.2 million, was not like anything seen before in a theatre. I just love Hollywood history! There was an organist playing as we found our seats. The Wurlitzer pipe organ is spectacular and was such a treat. It's on a platform that rises for the performance.
Once the music is over and the organ lowers, you know it's showtime. Though I saw the movie back in July, I couldn't wait to see it again! Delivery Man is such a sweet film. I can't wait for you to see it, too. I loved it as much as I did the first time! It's funny, it's touching, and it's the perfect movie to see with your siblings over the Thanksgiving holidays. I hope you'll let me know what you think once you've seen it. I'll be reviewing the movie as we get closer to the release date of November 22, so I'll share it with you then!
If the magic of this night had not already been enough, we were invited to the after-party at the Hollywood Hard Rock Cafe across the street.
It was crazy getting through the crowd here, too, as everyone is trying to get a glimpse of the stars. Once inside, people were just mingling, having a bite to eat, relaxing.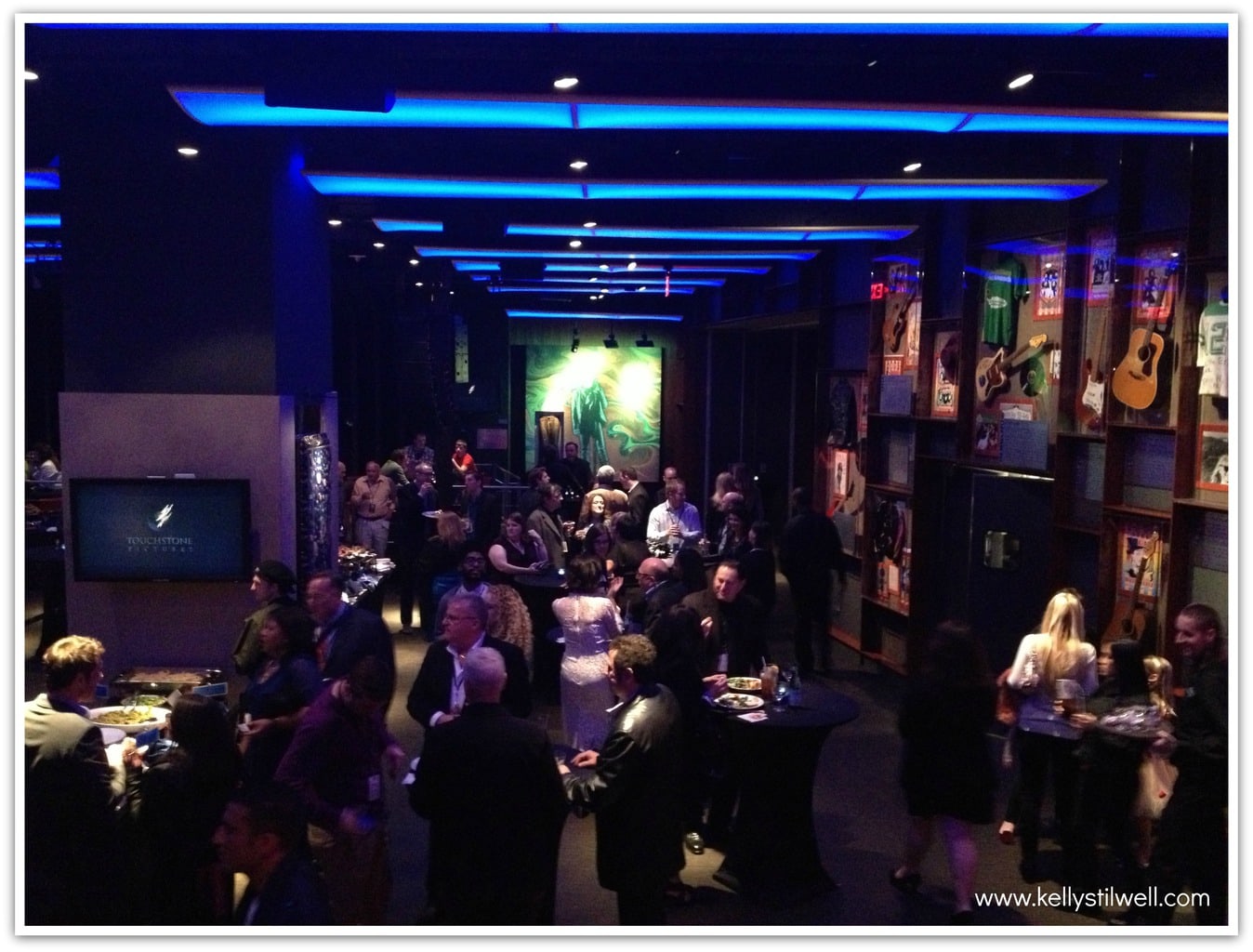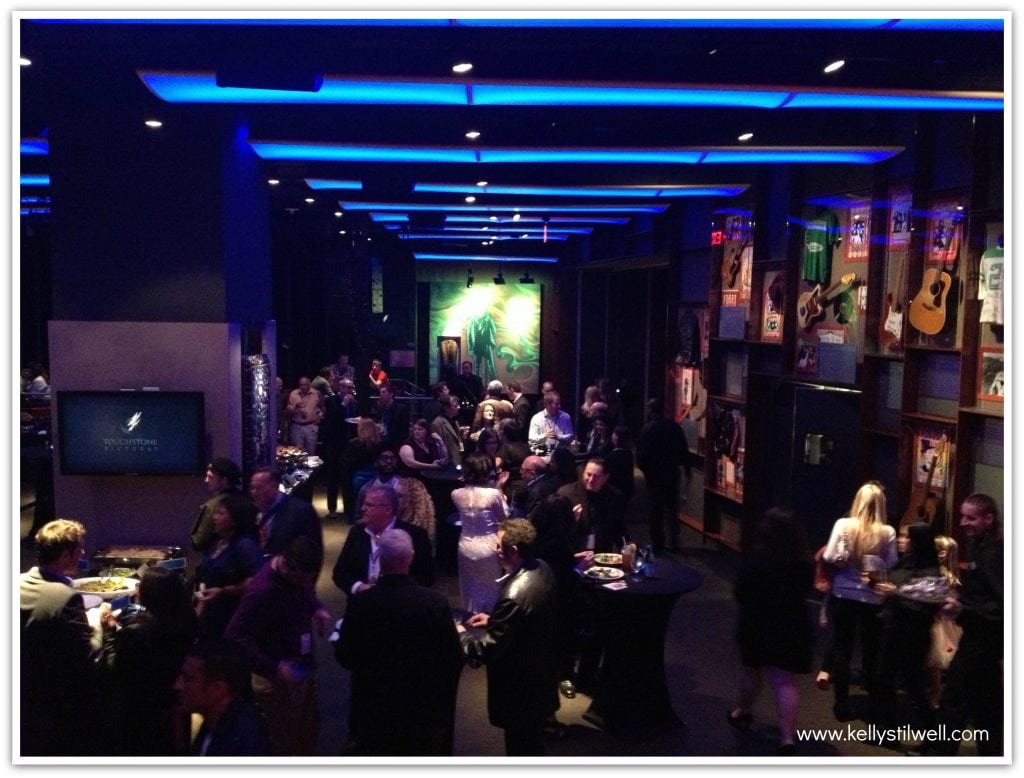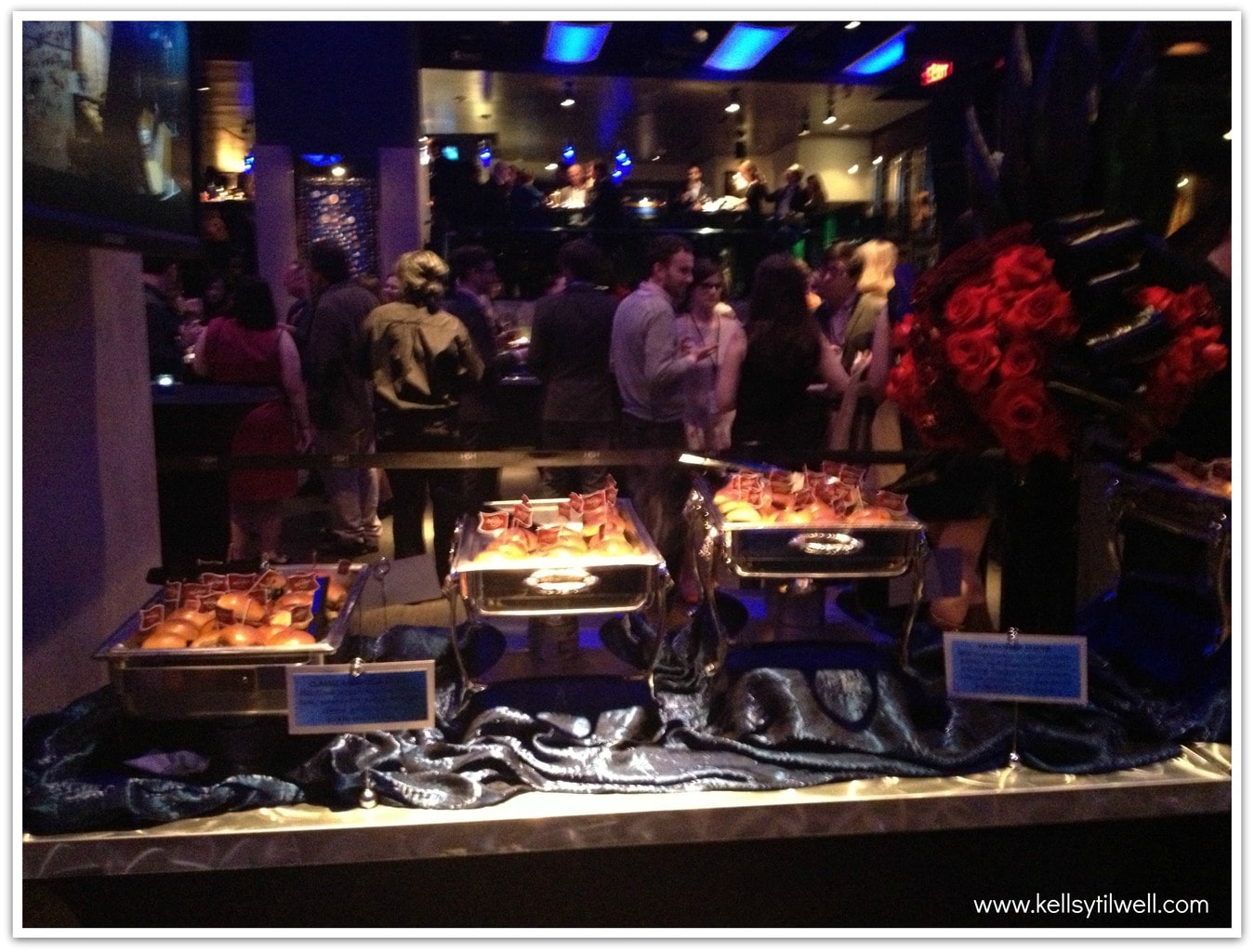 Chris Pratt was so nice and was happy to pose for photos. I was wishing I had brought my bigger camera.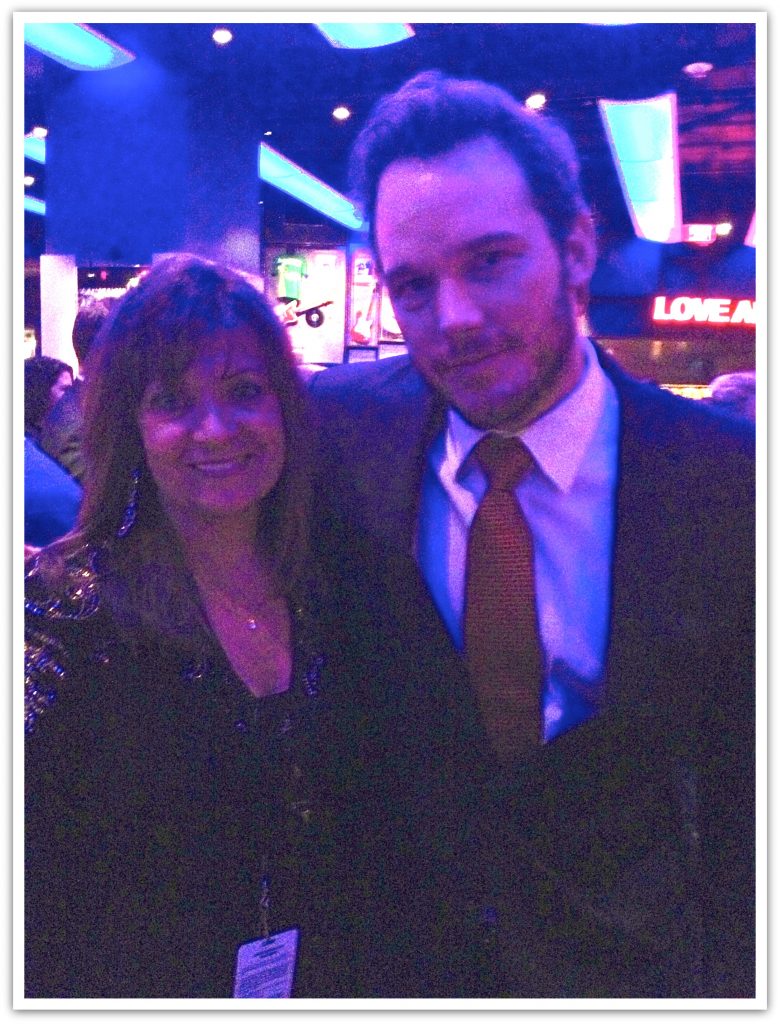 One of my favorite "kids" in the movie, Stephen Ellis, was also kind enough to stop for a photo. Delivery Man was his feature film debut, and I thought he was fabulous. His facial expressions were wonderful. He wore glasses in the movie. You'll pick him out right away, even out of the 533 kids! I think we will be seeing a lot more of him.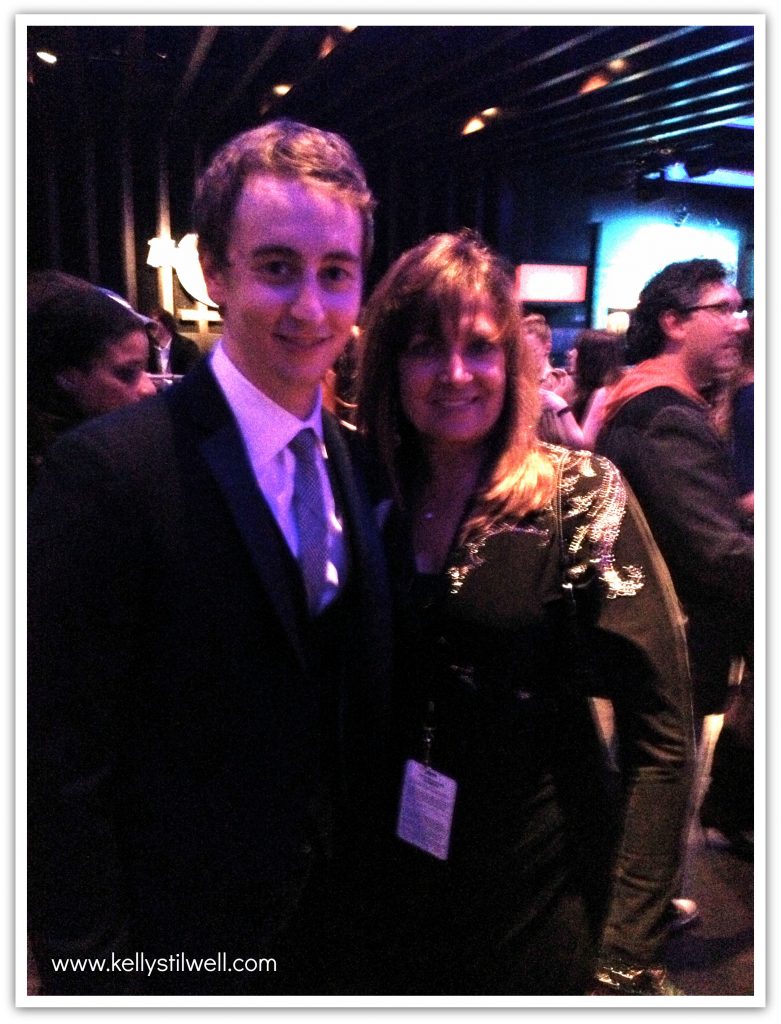 I had such a fabulous time at the premiere and after party. It was one of those experiences that you never expect to have, and I'm so grateful to Disney for the opportunity.
So, what will you be doing on Thanksgiving weekend? Grabbing your family and going to see Delivery Man, I hope! It's the perfect balance of funny and sweet.
***Disclosure: I was provided with a trip to attend the Delivery Man event in exchange for sharing it with you. My expenses were paid by Disney. As always, all opinions are my own. ***