We all have opinions on what makes a family. My parents were divorced when I was 13. As my dad was an alcoholic and abusive to my mom, the divorce was a good thing. I had one younger brother until I was 19, when my mother remarried a man who got custody  of his two children. All of a sudden, as a young adult, I had a younger sister and brother. In the last year, I got a Facebook message from a woman who was my father's daughter from his first marriage. I knew she and another half-sister and half-brother existed, but, growing up, it was not encouraged that we connect. I'm thankful that she reached out to me as I'm not connected to to anyone on my father's side. It's crazy to see the resemblance when looking at a photo of my half-brother and comparing it to my brother. They look like...brothers! I guess we are not that different from many American families.
In the new film, Delivery Man, you'll get a glimpse of another crazy family. But as you can see, no matter how a family is formed, there is a special bond they share. Check out this brand new clip:
I can't wait to see the movie! Delivery Man stars Vince Vaughan, Chris Pratt, and Cobie Smulders, and is not suitable for children.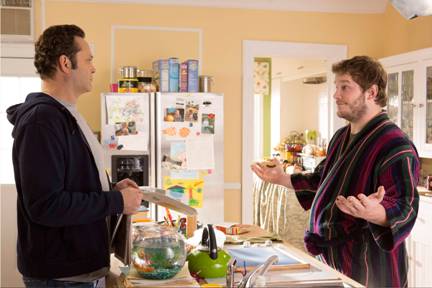 Rated PG 13 for mature themes.
Keep up with Delivery Man so you don't miss any of the trailers!
"Like" DELIVERY MAN on Facebook: Facebook.com/DeliveryManMovie 
Follow DELIVERY MAN on Twitter: @DeliveryManFilm
Follow DELIVERY MAN on Pinterest: Pinterest.com/DeliveryManFilm
Follow DELIVERY MAN on Instagram: DeliveryManMovie
Delivery Man comes out November 22!