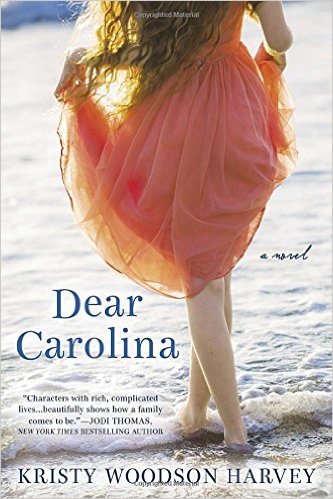 To be honest, I don't do a lot of book reviews anymore. Often, when I'm sent books, they have so much bad language in them that I end up not finishing them. Many, I barely begin. When I am sent a book that grips my interest right from the beginning and is family friendly enough for me to include here, I have to share it with you. Dear Carolina
 by Kristy Woodson Harvey is the best book I've read in a long time.
Dear Carolina
Dear Carolina is a story we hear a lot. A woman who is too young, fresh out of rehab, unmarried and can hardly take care of herself, has a child. Another woman who has it all, a husband, a gorgeous home and a thriving business can't have the second child that she would give just about everything up to have. One baby girl. Two strong Southern women. And the most difficult decision they'll ever make.
From Amazon: Frances "Khaki" Mason has it all: a thriving interior design career, a loving husband and son, homes in North Carolina and Manhattan—everything except the second child she has always wanted. Jodi, her husband's nineteen-year-old cousin, is fresh out of rehab, pregnant, and alone. Although the two women couldn't seem more different, they forge a lifelong connection as Khaki reaches out to Jodi, encouraging her to have her baby. But as Jodi struggles to be the mother she knows her daughter deserves, she will ask Khaki the ultimate favor…
Dear Carolina is written to baby Carolina, by both her birth mother and her adoptive mother, and is about how the lives of these two women intersect. The way the author wrote chapters going back and forth between the lives of the two women was a work of art. Just as I was riveted by Khaki's story, the chapter would end and I would almost be sorry, wanting to learn more about what came next. Then it would be Jodi's turn, and I'd feel the same way about her, not ready to be torn away from her life. One more chapter. But it's 2 am! The short chapters led me to believe one more would satisfy me. Needless to say, I needed a nap when the book was finished.
You can find Dear Carolina
 at your favorite book retailer.