Sitting a few feet across from Dave Bautista in full makeup and costume was pretty surreal. And you may not know this about Dave; he is one of the nicest guys you could ever meet.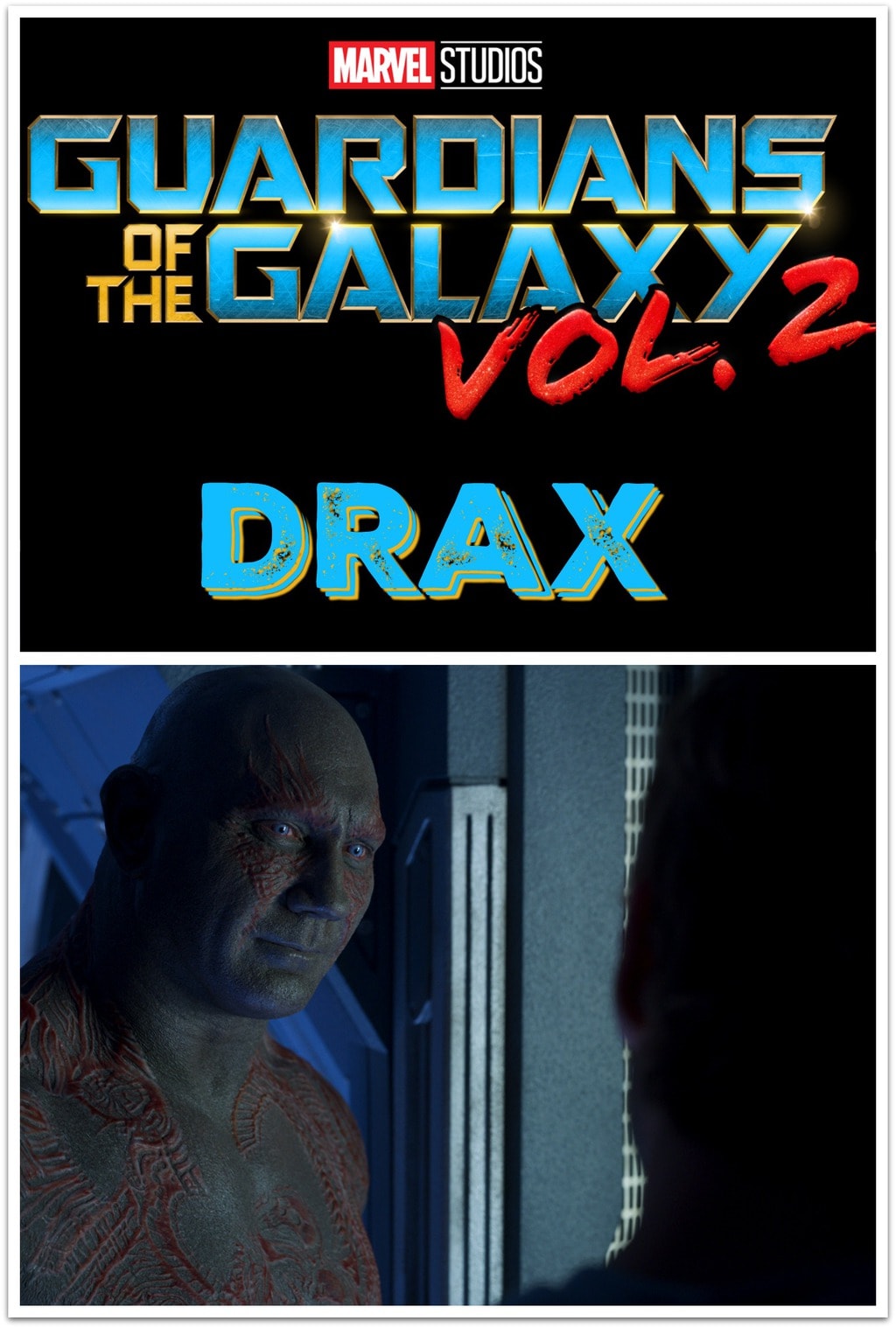 And speaking of nice people, the entire cast and crew we met with on set was amazing! Interviewing Michael Rooker as Yondu, Chris Pratt, Zoe Saldana as the amazing Gamora, and going seriously behind the scenes to wardrobe where someone fondled Chris Pratt's underwear (TRUTH!), chatting with Jonathan Schwartz, Producer, and Russell Bobbit, Props Manager...it was insane!
If you haven't seen Guardians of the Galaxy, pick up the first one. After you've seen that one, you'll want to pick up Vol 2! SO fun!
I even held Baby Groot and touched Rocket!
I adore this guy!!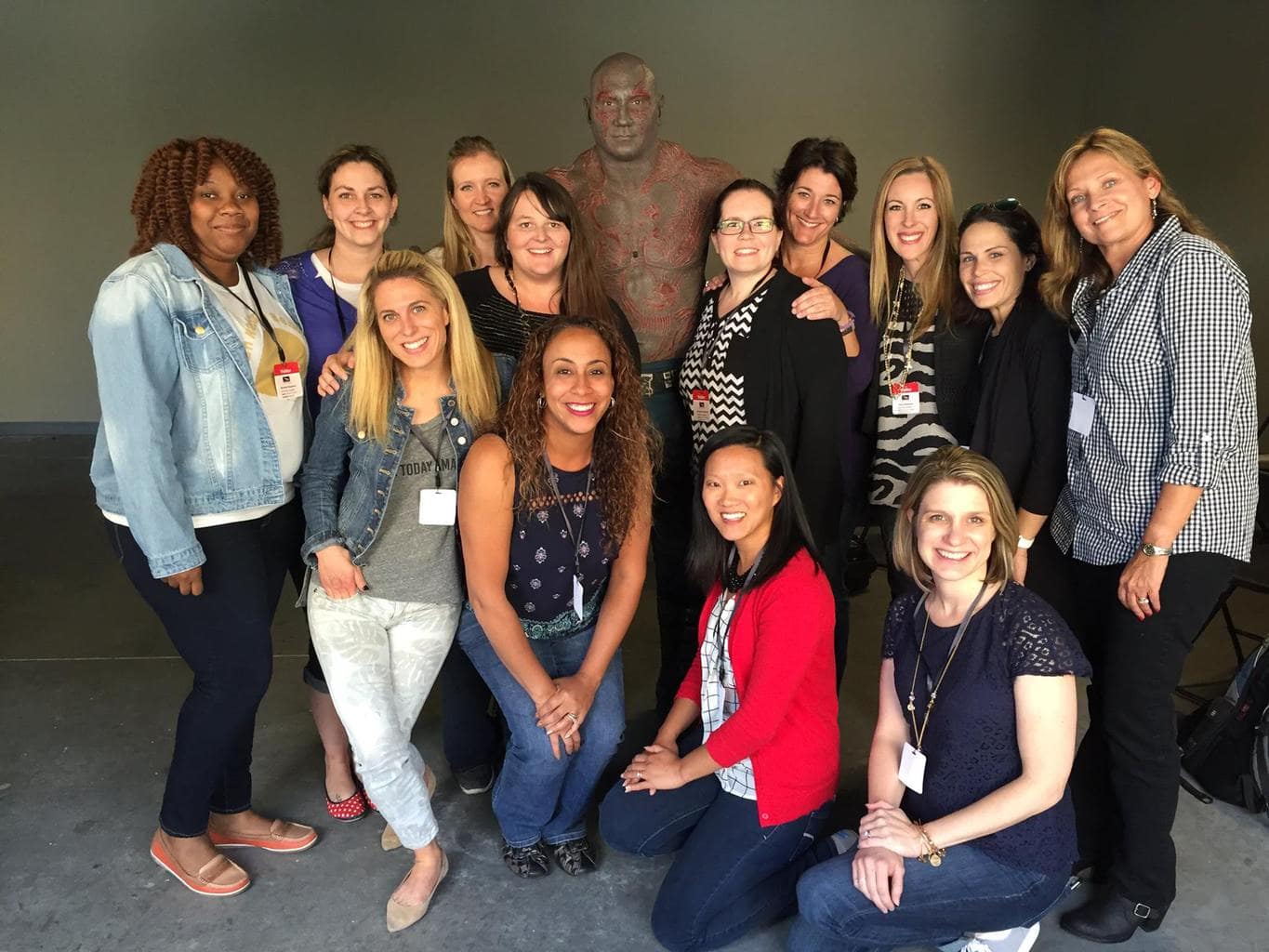 I think every interview has started with the same question, but this crew had such a blast on the first Guardians movie, so we had to ask-
What was it like being back on the set?
Dave: It's awesome. It's so weird 'cause this is the first reoccurring role for me, so it was weird because I actually got to be part of the screen testing process rather than screen testing for myself.
I just realized how comfortable I was in the role. Even when I watched the first film, I can see that I transitioned from being very nervous and very uncomfortable to being very comfortable. It was a huge deal for me.
That was my first really huge film. We all know each other. We spent so much time together, not only on the first film but also on the press tour.
So we all got to be really close. Especially when we were in London because we really only had each other to lean on, you know, 'cause we were foreigners in a foreign country, making this film, and nobody really knew what to expect from it.
We all got really close so we're like family. Whenever we think of the first film, we always sing Cherry Bomb on the set. Zoe will start singing it and it's like I really love that song. Yeah, we always end up singing that song. [SINGING] Cherry Bomb!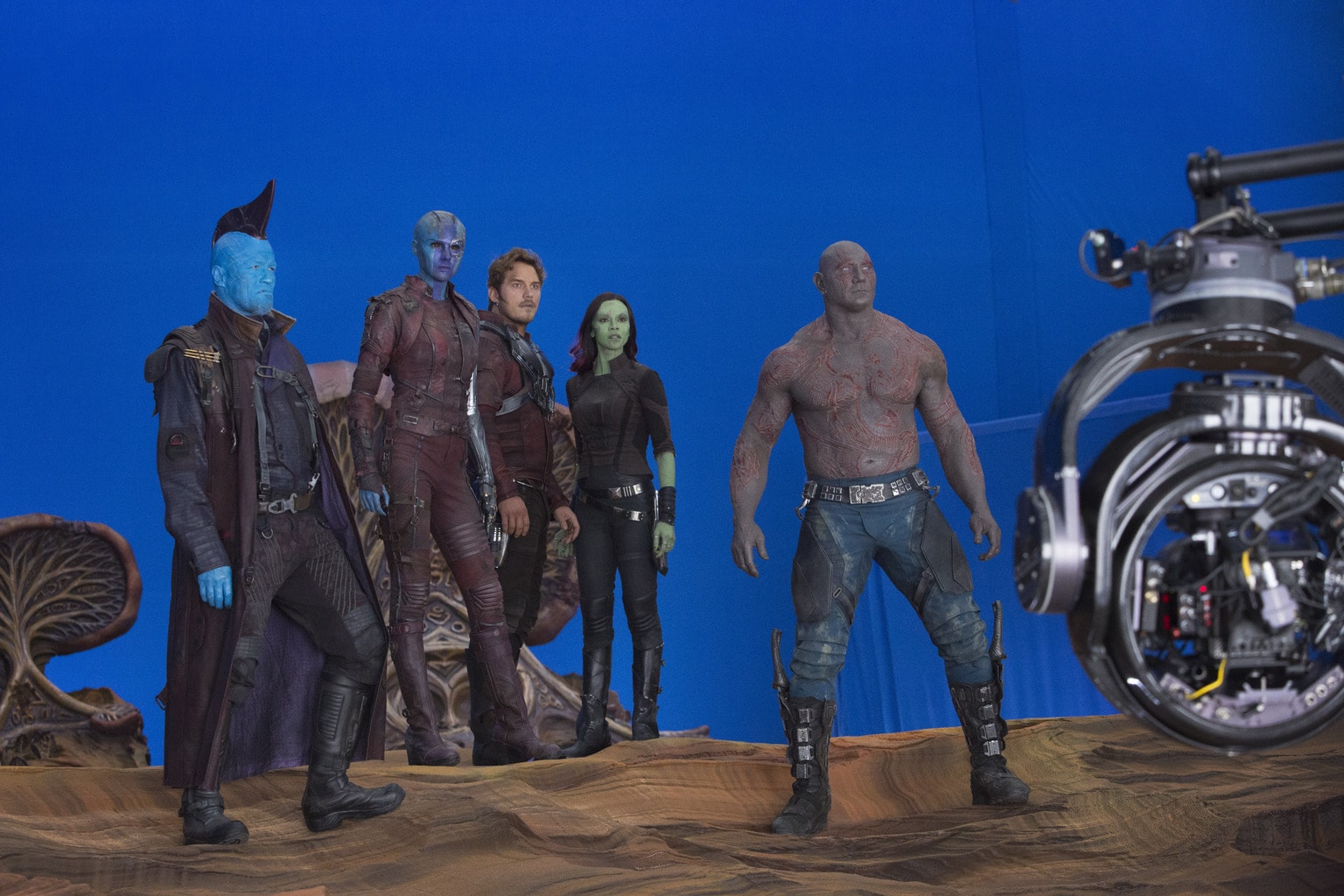 Speaking of his first reoccurring role, we asked if he was finding more or less pressure with delivering Drax to the audience.
Dave: Way less pressure, 'cause I'm already so comfortable, and now I feel like I am Drax and I own Drax, he's my character.
Of course, the brain behind Drax is James, but James has written this role for me. He knows what my strengths are now and he's written it for me. He just has a good idea of who Drax should be and I think he really knows how fans want Drax to be as well. He knows what they're expecting.
I just feel so comfortable in the role and it's been much, much easier, and no pressure. There's a little bit of pressure now that I watched Captain America [LAUGH] and it was so well-done.
Were you guys there? It was so well-done. And I was like, wow, it's a hard act to follow. Marvel just keeps stepping it up, man. They just keep stepping it up.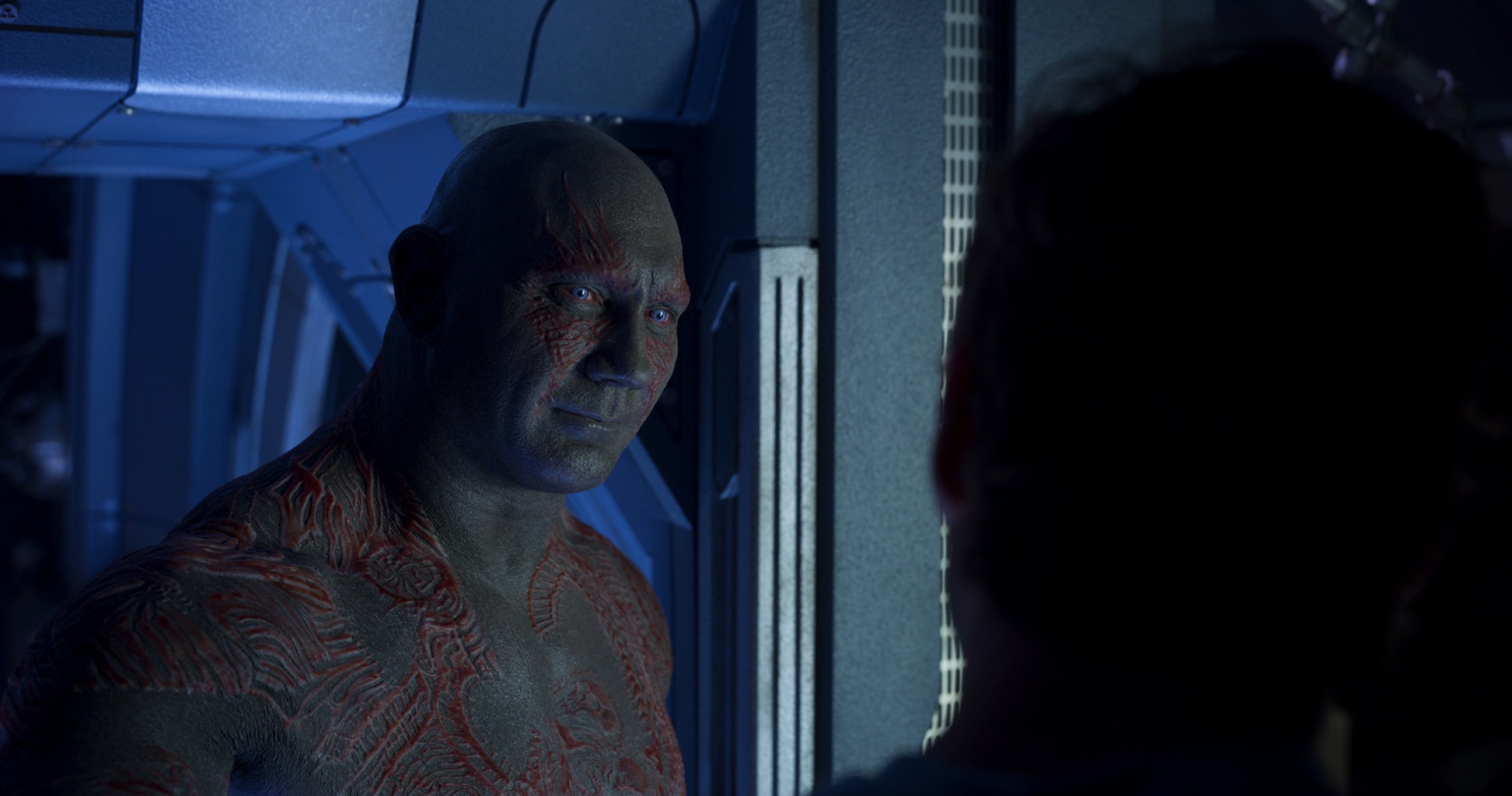 Check out this trailer of Guardians of the Galaxy Vol 2, especially my favorite part- Dave at the end:
Sitting across from the extremely fit Drax, we had to ask about how he had to prepare for the role physically.
Dave: That's so funny you ask because I didn't really train for the last one. I had the luxury of the big sheets of latex and I came in and did the first makeup test for this film, I was like, wow, I really have to be in shape for this. [LAUGH]
Because the makeup is unforgiving. I mean, it doesn't hide anything. So I actually trained rigorously for this and I still do.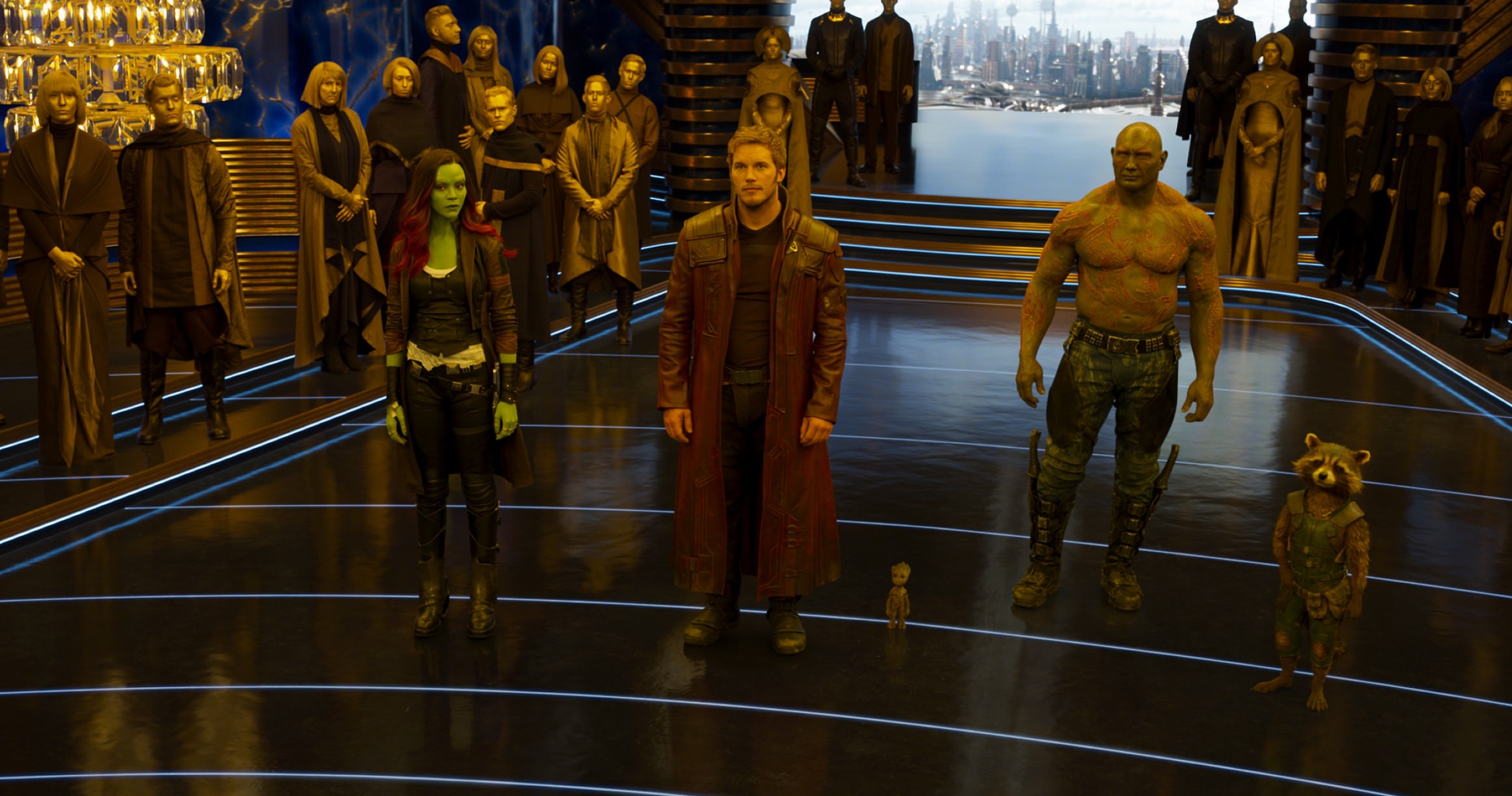 I can't train on the days that we work but the days that I'm off, people always say 'What do you do with your days off?'
I worked out, I train, you know? Surprise, surprise, I went to the gym. Sometimes twice a day. I've been hitting it hard 'cause I want to deliver. I want Drax to look the part as well. I really took this more seriously, so hopefully, it'll show.
I'm kinda thinkin' it does. How about you? This was from the San Diego Comicon.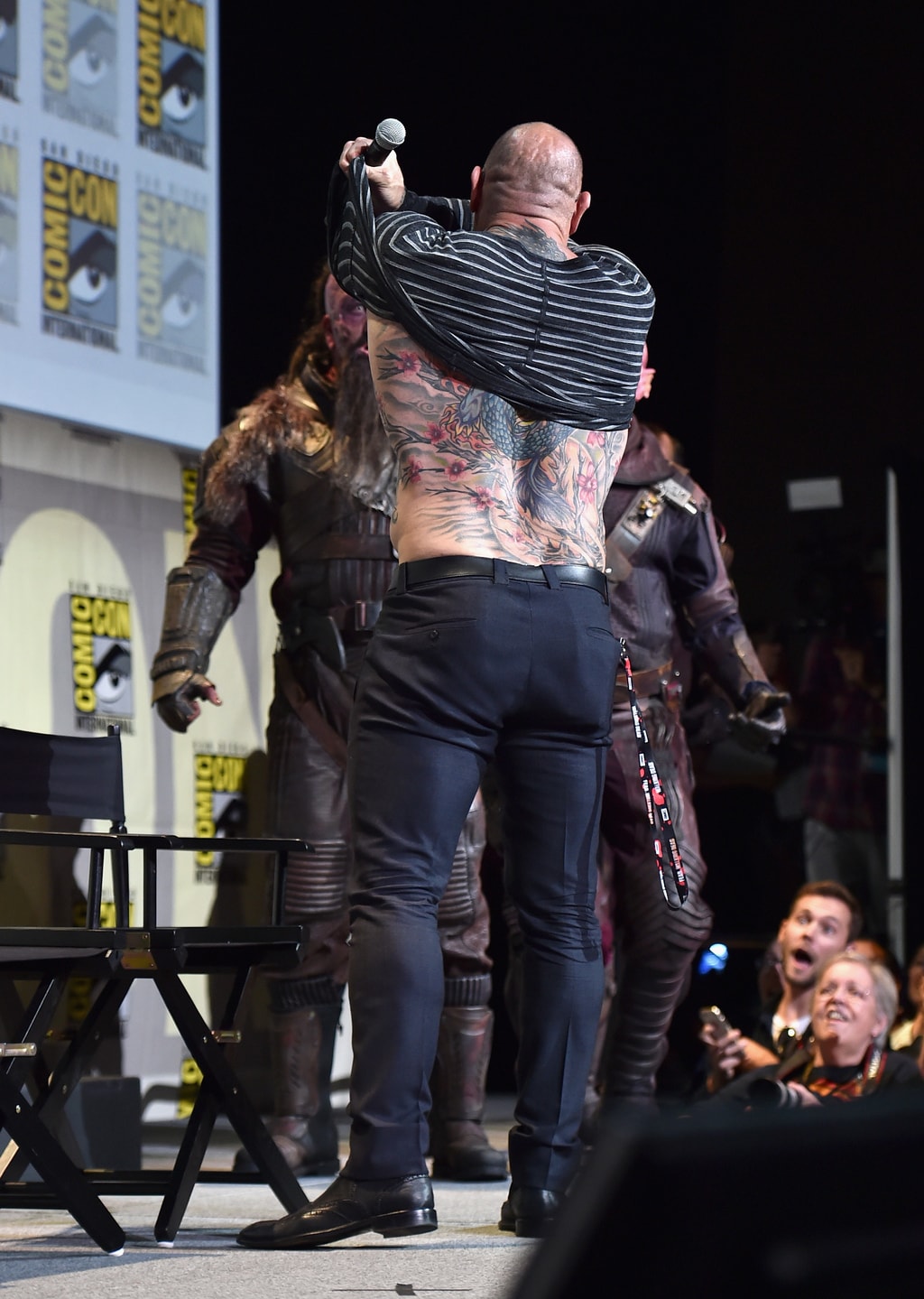 We also wanted to know a little about the makeup process.
Dave: It's awesome, because in the first film, if we got it done in four hours, it was great. It was a great day. I mean, everybody was celebrating.
This one is like an hour and a half at the most. But the thing is, 'cause it's a whole new system they're using, it's so funny, they attack me with these paint rollers.
They used to just dab on the paint and that's how they started the process. Now they attack me with paint rollers. There's like five guys rolling paint, and then there's other stuff, too.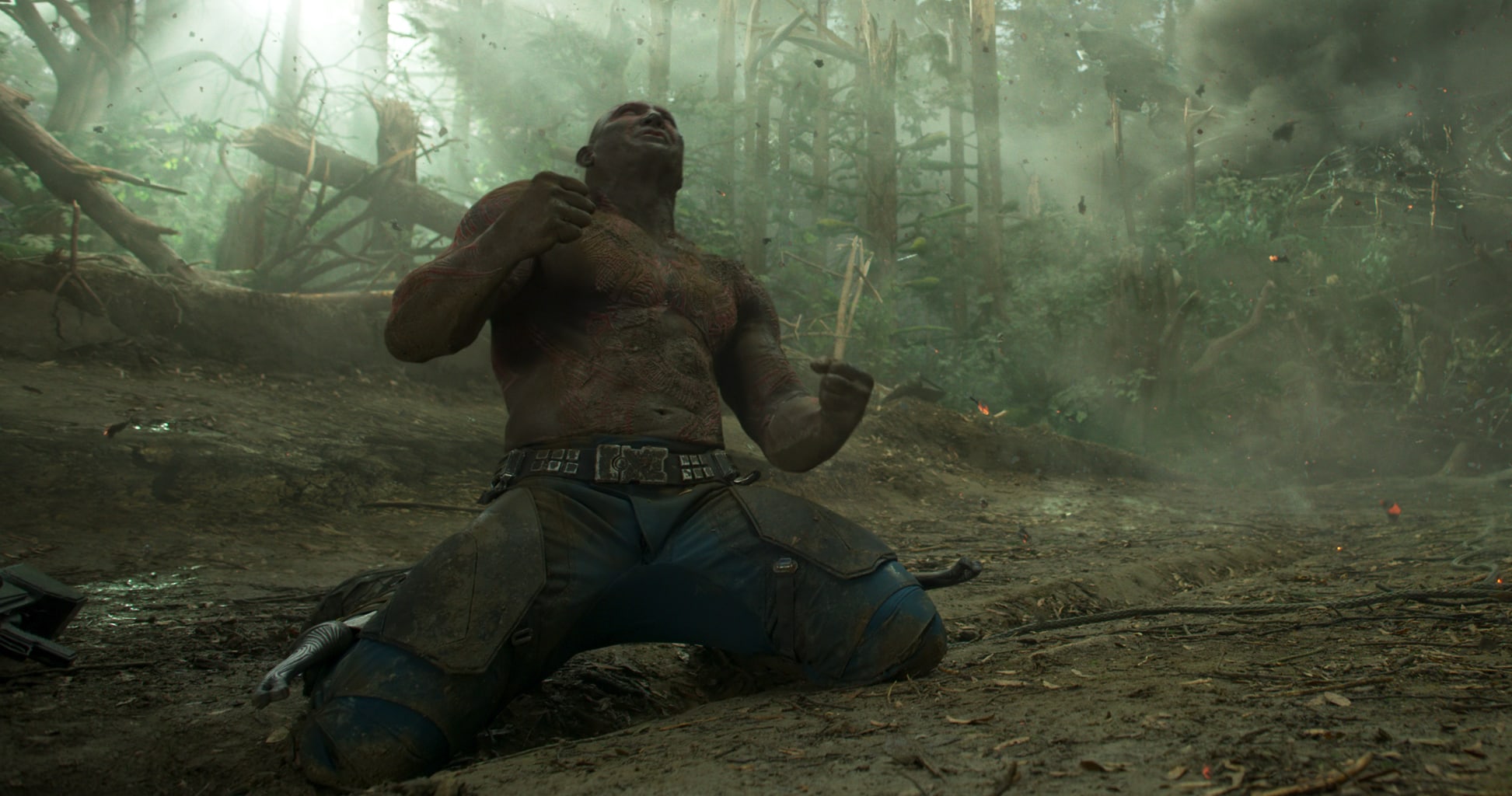 The tattoos were actually sheets of silicone on the first one. Now they're just transferred so all of these are individual. They're glue.
They're moldings of glue so they stick on to me, but also it's very hard to get off. So at the end of the day, I sit in the sauna for about an hour and I sit there and I kind of start to really sweat it off, and they come and peel it off of me.
But still, it's so fast now it's not even an issue. It's uncomfortable and it smells bad. On hot days, I'll take this off and the glue will just kind of look like string cheese. It's really not bad compared to the first one. The first one was rough.
Speaking of the first one, we asked; Did he have any idea how big it would be?
Dave: It's weird, it's weird. And it is one of those things where we just didn't know. Nobody knew, and we weren't gonna know until after the opening weekend.
And then after the opening weekend, everybody was just sitting around in shock, 'cause not only did it do as well as we were hoping but it did way better than that.
I mean, it was like breaking records. So it was great. It really kind of felt satisfying, you know, 'cause we all believed in it. We knew it was gonna be great. It was really, really satisfying.
If you watched that trailer, you saw one of the new characters, Mantis. We wondered if Drax had any kind of relationship with her.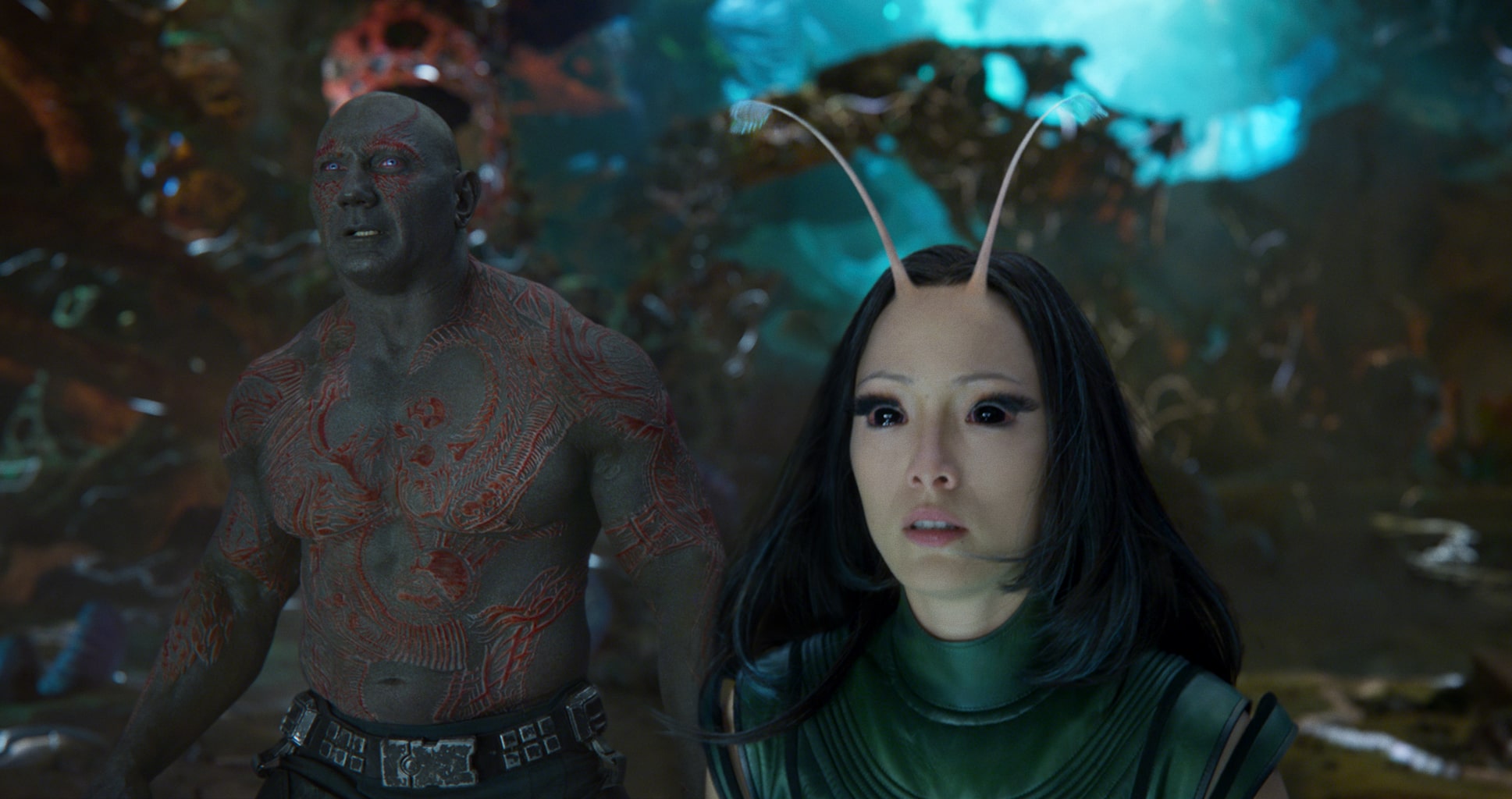 Dave: I don't know what's safe to say without getting in trouble. [LAUGH] I also don't want to give anything away, either.
But I will say Mantis and Drax definitely make a connection. It's probably not the connection most people are going to expect or that people might be reading into, but definitely a connection.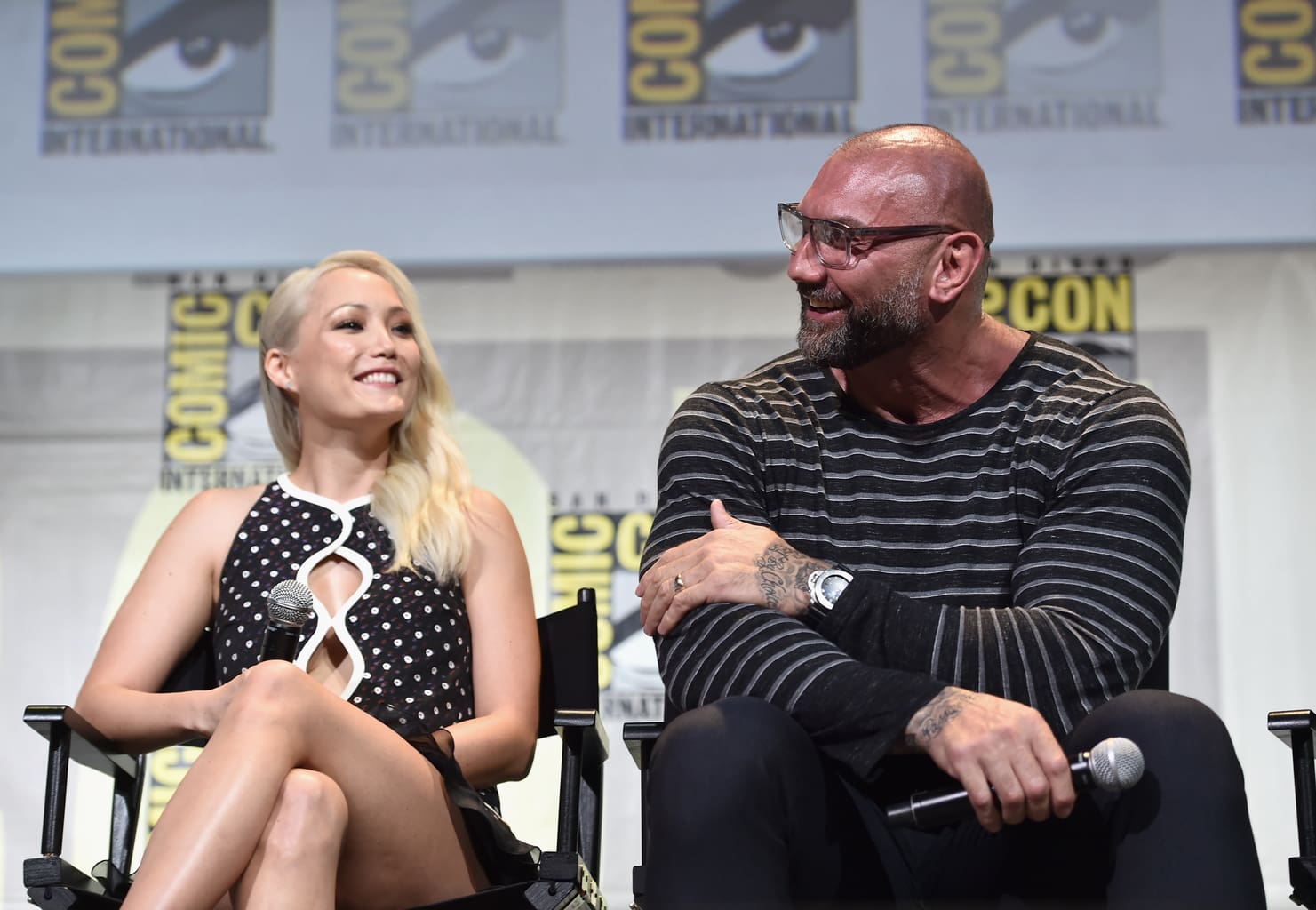 I think that people have to remember, fans have to remember that the heart of Drax is his heartbreak over his family so there's never...I don't think there's ever gonna be that next love interest for Drax.
I think he had that love interest. She's gone. That's what he's driven by is that heartbreak, you know, that seeking revenge.
We asked what he loved about playing Drax.
Dave: You know, what I love most about him, I think, is that he is not what people expect.
When I did the first one, I think people expected Drax to be a certain way, and James went the totally opposite way with him, 'cause, you know, I think if you take a big guy and he looks menacing and he looks terrifying, it's easy to be that guy on screen, you know?
You growl a lot, you snarl a lot, you cut people's heads off and it's easy. There's just nothing challenging about it. But to be that guy and look that way, but then to make people laugh, I think is the challenge.
And I think that's the fun part, and that's what I love about Drax. And so I think it's fair to say that there's a lot more of that in this film. I think Drax just has...he has a bigger role in this film.
I think he struck a chord with people in the first film. Uh, James gets a real kick out of writing for Drax.
I know that he does, 'cause we'll sit there and we read and he just laughs and laughs and laughs. And also when I deliver the lines that he's written, I can hear him laughing.
I know he's amused by it, so I know he really loves the character, and my role has definitely increased in this film.
I am so glad to hear that because I just adore Drax! We asked Dave what a typical day on set was like.
Dave: It's been really structured. Usually, we come in first thing in the morning. My typical pickup time would be about 4:30-5, come in, do my makeup and we're usually right on set and we stay on set.
We do a running day. We run a 10-hour day. We don't have lunch breaks, we don't go and chill for an hour. That's it.
Usually, we come and we eat on set and we hang out on set. Whatever we do once we get to set, we're usually on set for the rest of the day. Then we wrap and I go hit the sauna.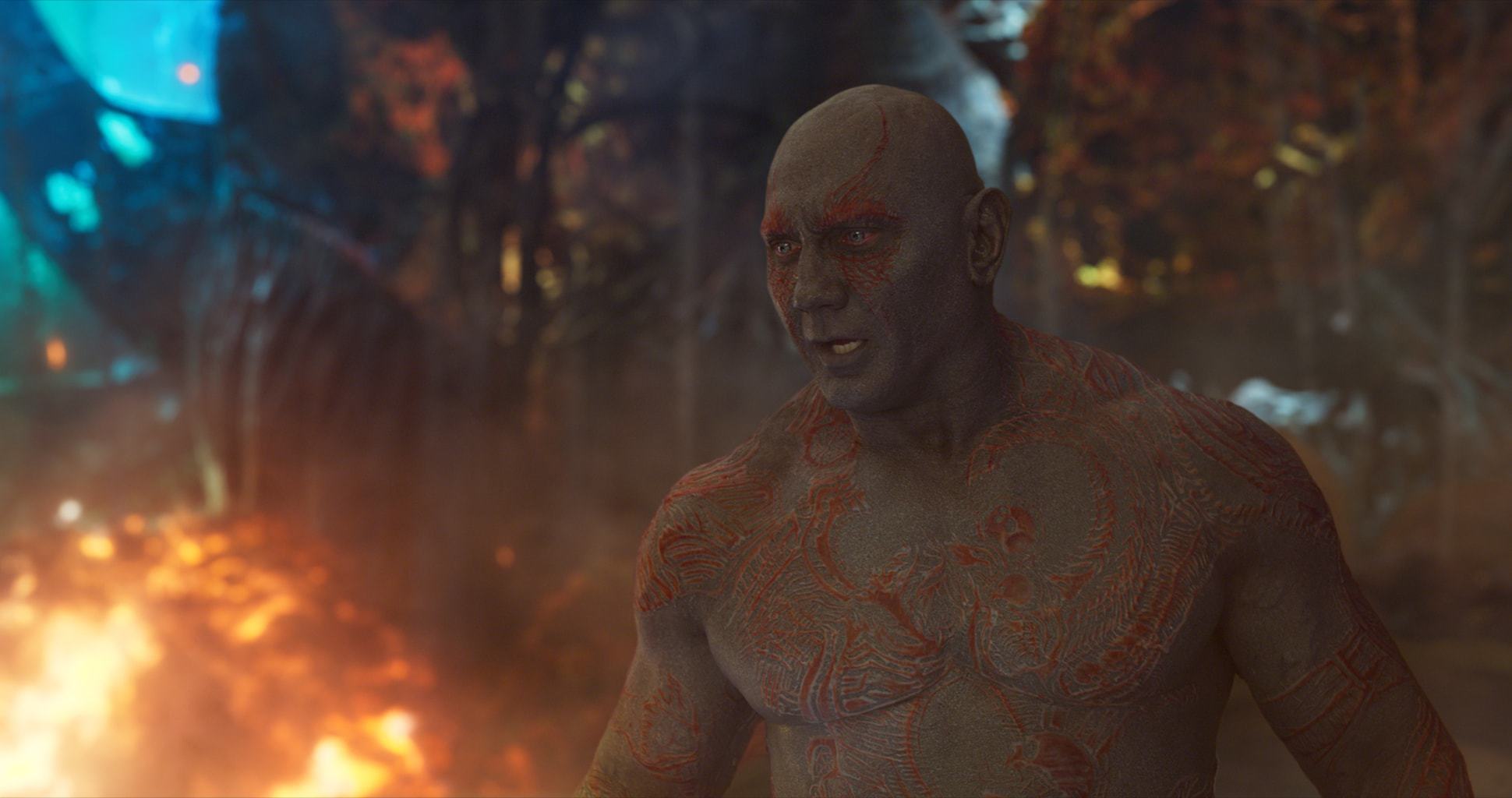 [LAUGH] We usually start about 8:00 so if we do a 10-hour day we're usually out of here or wrapped by six. Sometimes we go over.
It's not uncommon for us to go over but, I'd say eight at the latest. We've had a couple days where we started late and ended late but, typically it would be eight to six, just on set hanging out, eating, laughing.
A lot of laughs, a lot of talking. Me and Zoe and Chris, it's not uncommon for us to be standing in a circle talking when everybody's going 'We're rolling. We're rolling.' [LAUGH] And we just lose sight of it.
We were on set a little bit (post coming Friday!) and it was a lot of fun, not just for us, but for the actors, too. We asked if there was a scene that was most difficult to keep a straight face.
Dave: Oh, there's been more than a few. There's been quite a few. It's weird because sometimes when you're off camera you're not so much into it.
When you're off camera you're more likely to smile and laugh at the scene as, you know, more of a spectator rather than being in the scene as an actor.
And a lot of times when I will do my close-up and I have to deliver these lines very straight-faced but they're funny, funny lines, and Zoe will just start laughing at me off camera or Chris will start laughing.
And I have to say 'stop laughing!', 'cause once I get the giggles, everybody gets the giggles. But there's a lot of that in this film 'cause the script is just...it's just so funny. Just so well-written and so funny.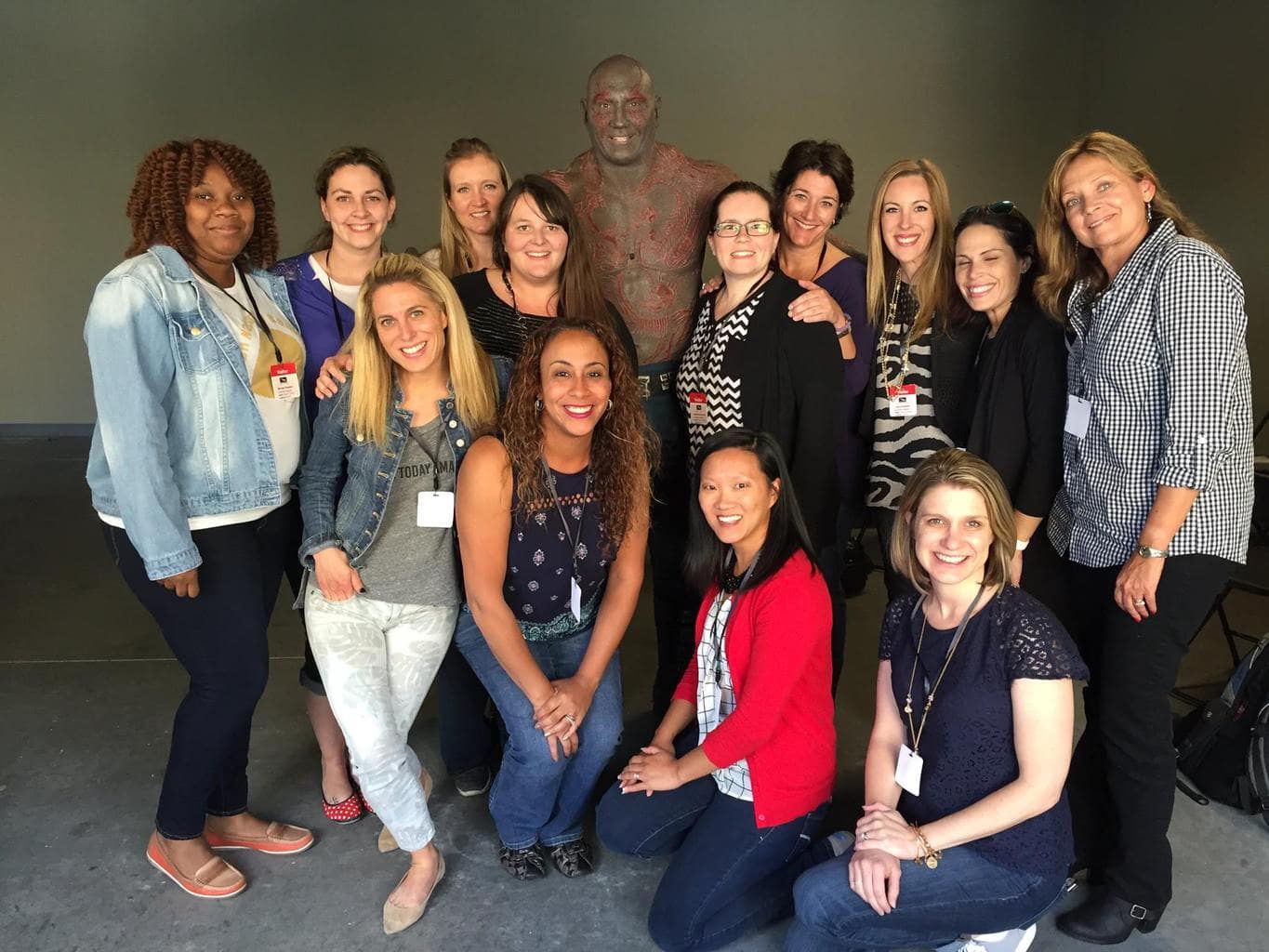 Was there was one thing he would like to see for his character?
Dave: Well, I'd like to see my character in The Avengers. [LAUGH] You know, this is wishful thinking. Otherwise, I'm pretty satisfied with the character.
He's actually more than I ever thought he could be or really wished that he could be. I have to give a lot of credit to James for that. He's been the creative mind behind Drax and I think he's really created an incredible character.
What about stunts? Was Dave doing his own or did he have a stunt double?
Dave: I have the same stuntman from the first film. I met him on that film. It was really hard finding a stunt double for me for a while.
They found him for me on that film and I've dragged him around the world. He's been on three other films with me since then, 'cause he's just great.
It's hard to find a big guy who's like super athletic but also really experienced. And he fits the bill, man.
I'm a professional wrestler and, you know, I can do my own stunts. Sometimes I don't want to do my own stunts, you know? I don't want to!
He was with me and there was a part where they set the character on fire. And I was like 'Stuntman, please.' I don't want to be set on fire. You know, I did my 10 years in WWE. I've proved that I'm tough enough. I don't have anything to prove.
Obviously.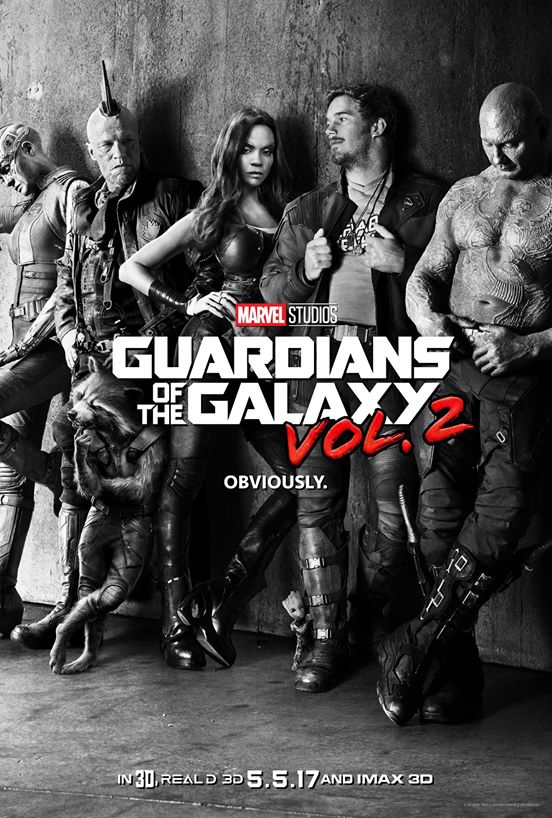 Many Marvel fans love the original stories in the comic books. We asked if Dave was a fan.
Dave: Not so much. I got my superhero fix from TV and later in movies, like everybody else. Cartoons of course. But I was more that kid sitting in front of the television or going to the movies than I was to sit down and read a comic book, or any type of book.
I had issues reading. I still do, you know, a little dyslexia going on. So I still struggle a bit. And it's hard for me to sit down and read a book. I learn better verbally.
We knew Dave had to get back to the set, but we had one last question. What did he hope families will walk away with? What message did he think they would get from watching this film?
Dave: I have a great answer for that. Or an easy answer for that; I don't know if it's great.
I'm afraid to say it because I don't want to give away too much of the storyline, but there is an answer to that and there is a great message in this film.
I think that even the message from the first one, even more so with this one, is just sometimes you have to think about the greater good rather than yourself, you know? I think that was the message in the first one and I think that will be again in the second one.
But I think this film even more so is about family. And without giving too much away, I don't want to say much more, but I think this one is much more about family and friendships.
And when I say friendships I mean, sometimes your friends are your family, you know? And sometimes you choose your family. I think you get a lot more of that in this one.
I loved this movie so much. If you haven't seen it, watch the trailer and then watch it on your favorite streaming service!
Will there be another Guardians of the Galaxy movie?
According to IMDb, there will be a Guardians of the Galaxy Vol. 3, and it will star many of the same characters/actors.
Is the Guardians of the Galaxy a comedy?
The Guardians of the Galaxy movies are funny, but there are some poignant moments as well. Both Vol 1 and Vol 2 have a great story.
Is Guardians of the Galaxy for kids?
There are moments of adult humor in the movies and they are rated PG 13, so I would not recommend it for children.
If your kids are fans of the Marvel movies, how about a superhero party with these Captain America Cupcakes, Iron Man Cupcakes, or Captain America Cookies?
*Because this was a secret set visit, we had a very limited number of photos. Many thanks to Alberto E. Rodriguez/Getty Images for Disney for the photos from San Diego Comic-Con Marvel Panel.