This interview with Hawkeye and Scarlet Witch was so much fun. I can't think of a better way for an interview to start...
Elizabeth Olsen: A lot of Stark shirts in the audience.
Jeremy Renner: We're gonna have a problem...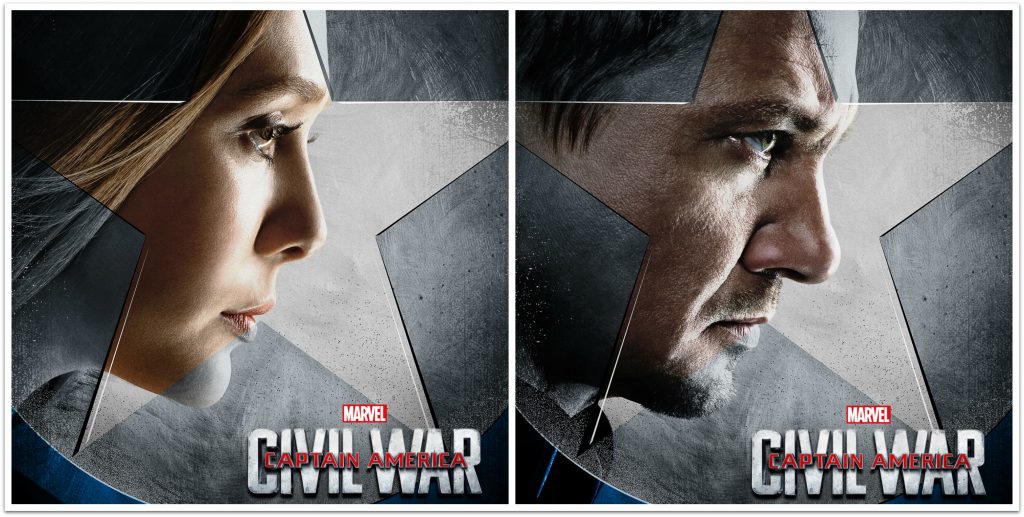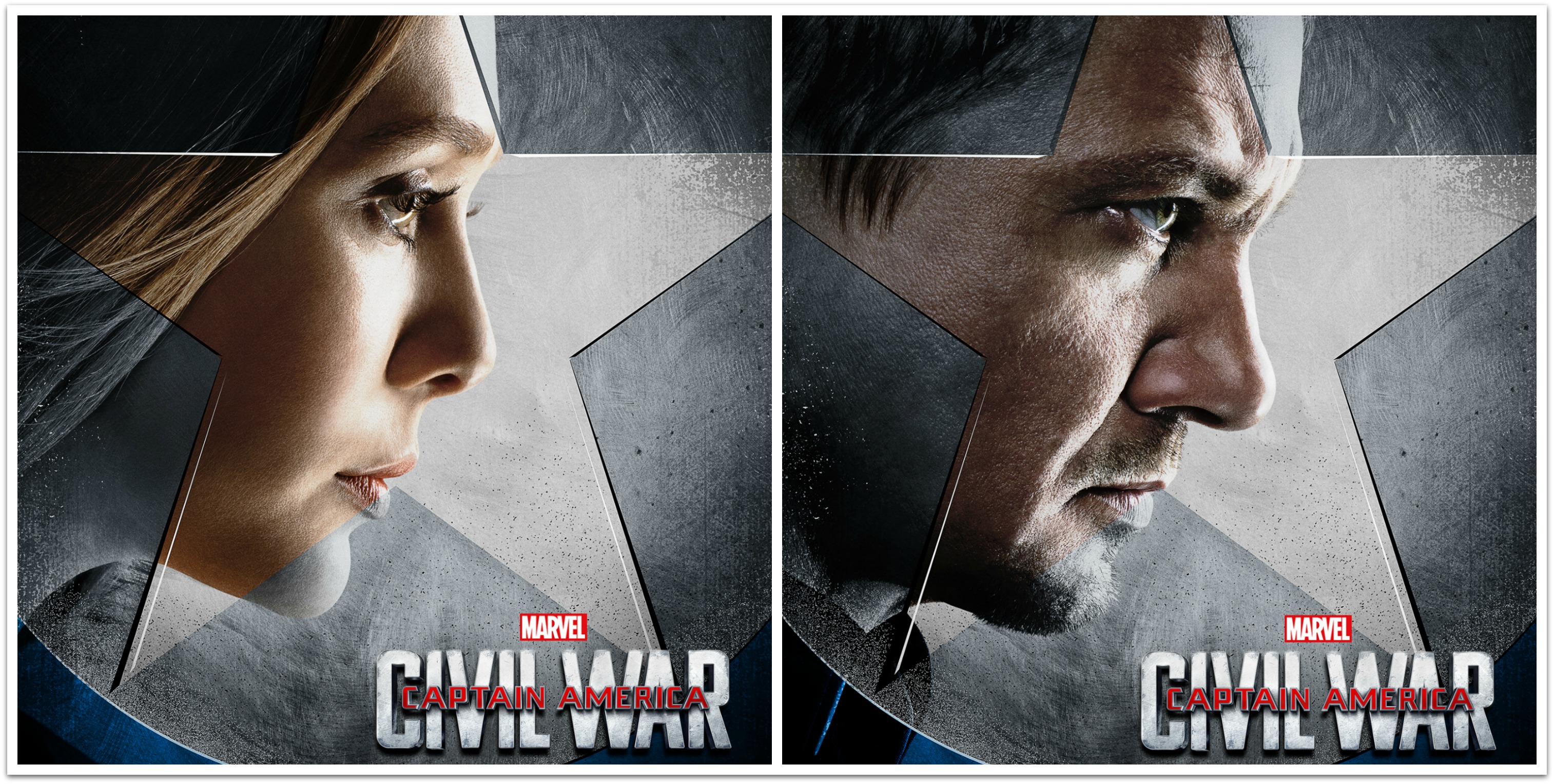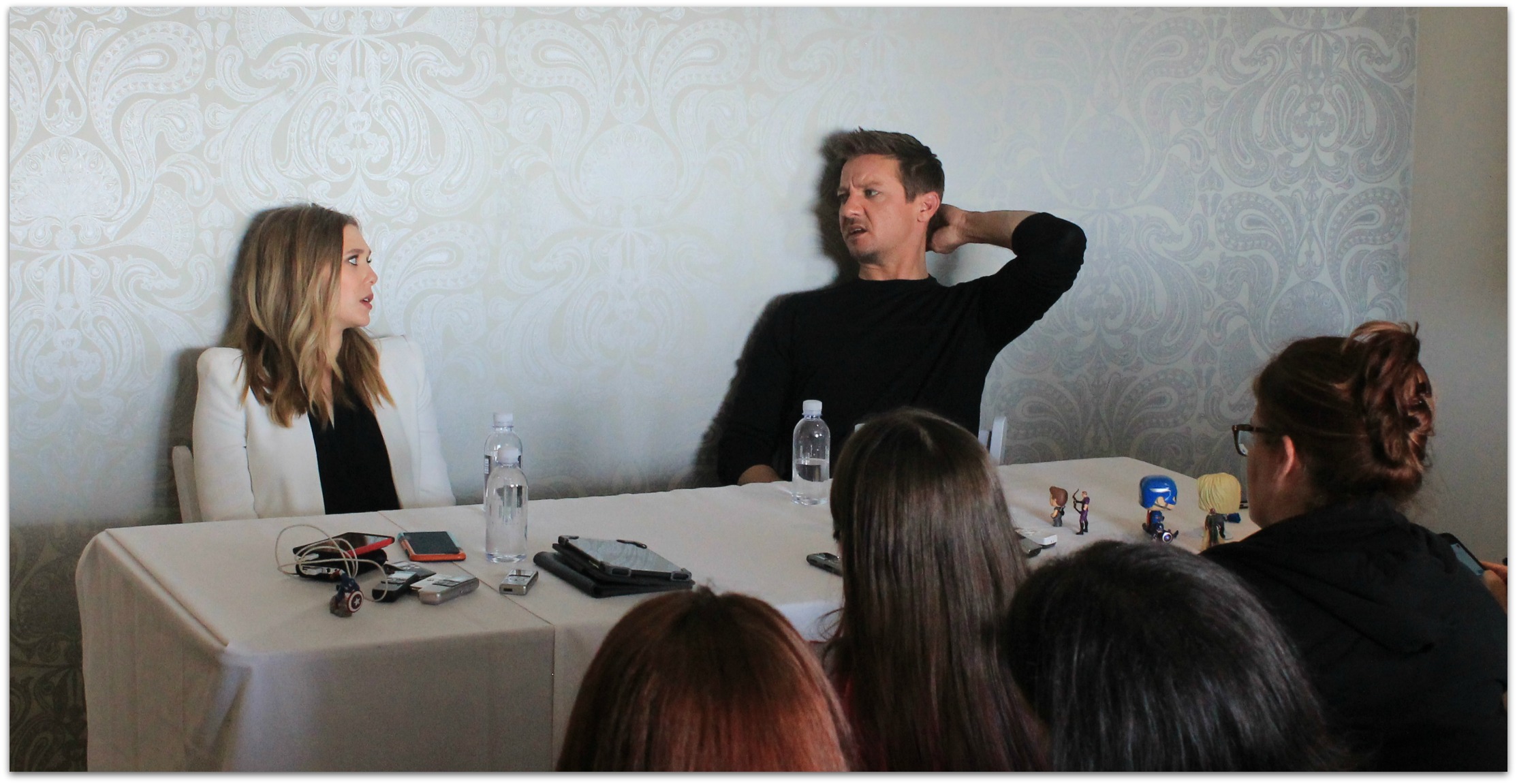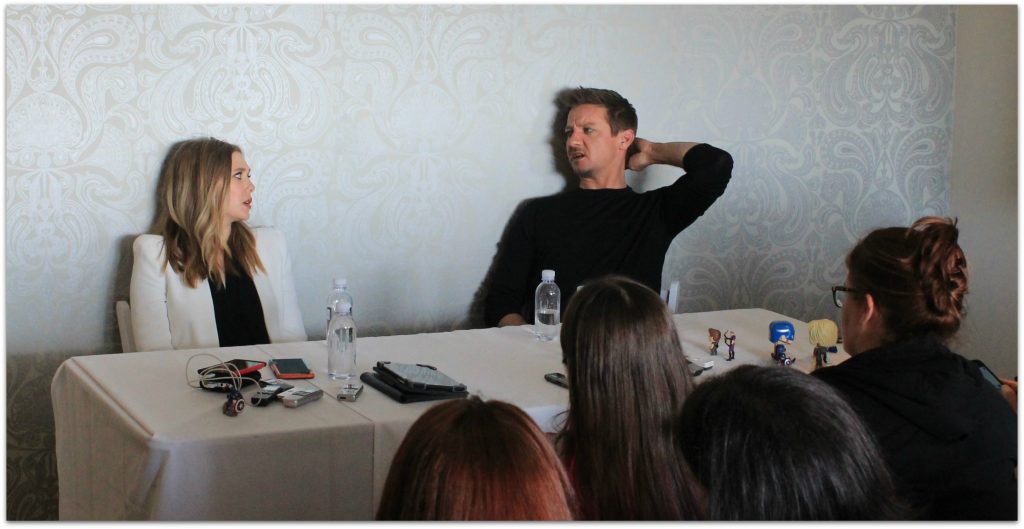 Captain America Civil War is one of my favorite of the Avengers movies. I hope you saw my interview with Chris Evans. So much fun!
I wish I could convey the energy in the room when these actors were with us. It's still surreal to me that I was there, sitting in front of Jeremy Renner, Hawkeye, and Elizabeth Olsen, Scarlet Witch from Captain America Civil War.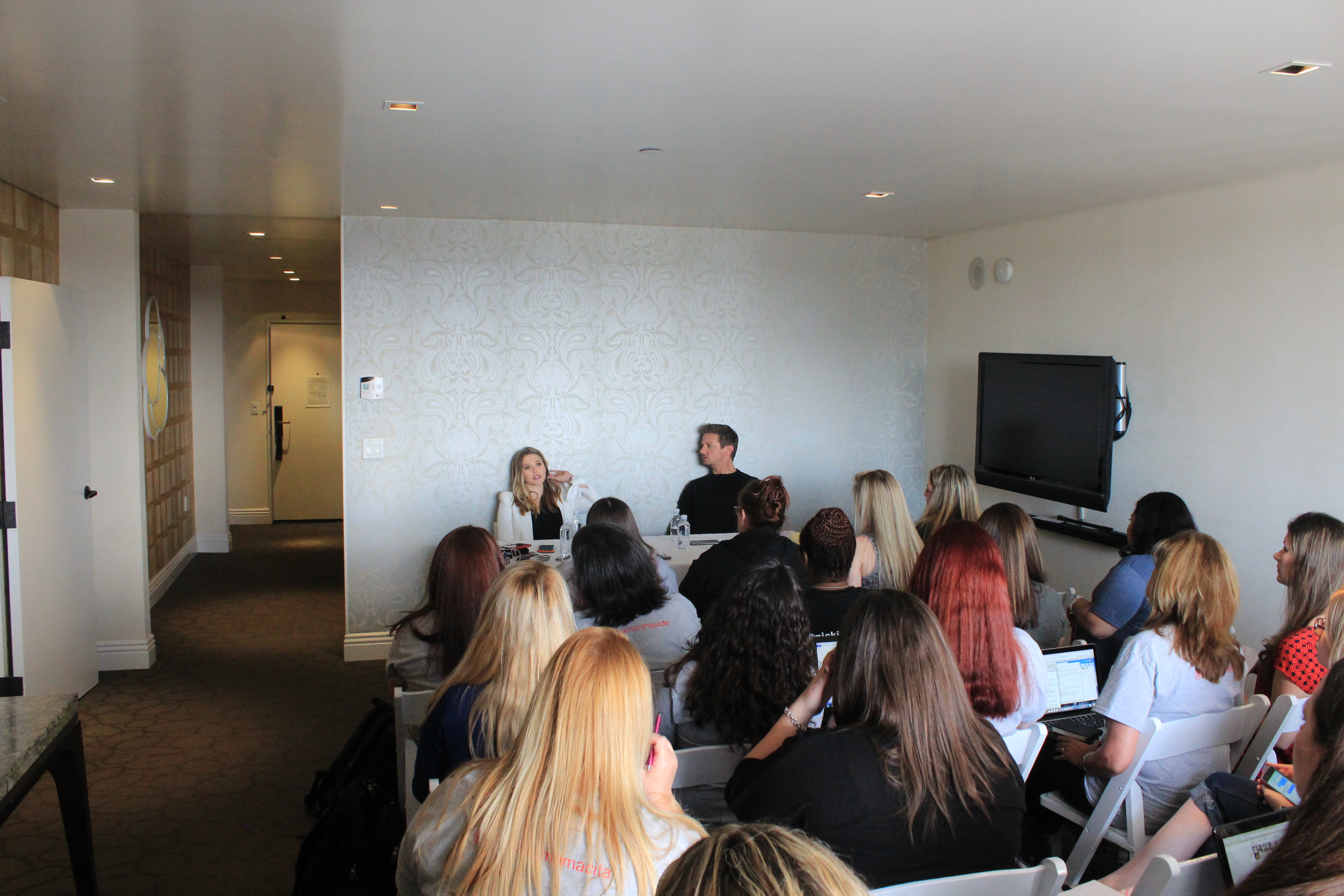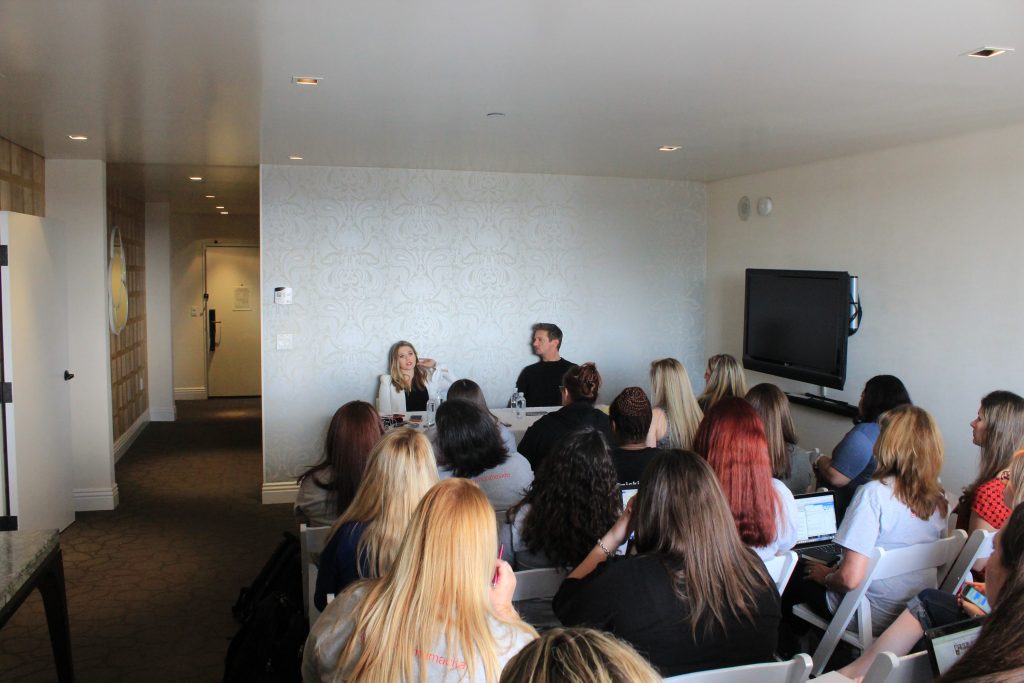 After we explained that we were evenly split into Team Cap and Team Iron Man, Elizabeth and Jeremy relaxed a little, and Jeremy started playing with the toys we had put on the table that represent them in the movie.
This brought up the answer to a question I didn't think about asking.
Is it weird to have toys of your character and likeness?
Elizabeth: I love it. I think it's the weirdest thing, and I think it's awesome. My friend walked by the Lego Store in New York and took a photo of Scarlet Witch. She's such a weird Lego.
Jeremy: She has the snap-on hair.
Could you guys tell us a little bit about your stunts and how much was you, and how much was the stuntmen?
Elizabeth: I think we do as many stunts as we can, and they a lot of times take a second crew out, or they'll film things when we've already been wrapped from the movie, when they're in Germany, and they might do stuff then. But when we're there, we do everything.
Jeremy: It's almost just practical stuff. I don't do CGI. It happens outside, and they fire an arrow because it's gotta go somewhere, right? Into the cameraman. [LAUGHS]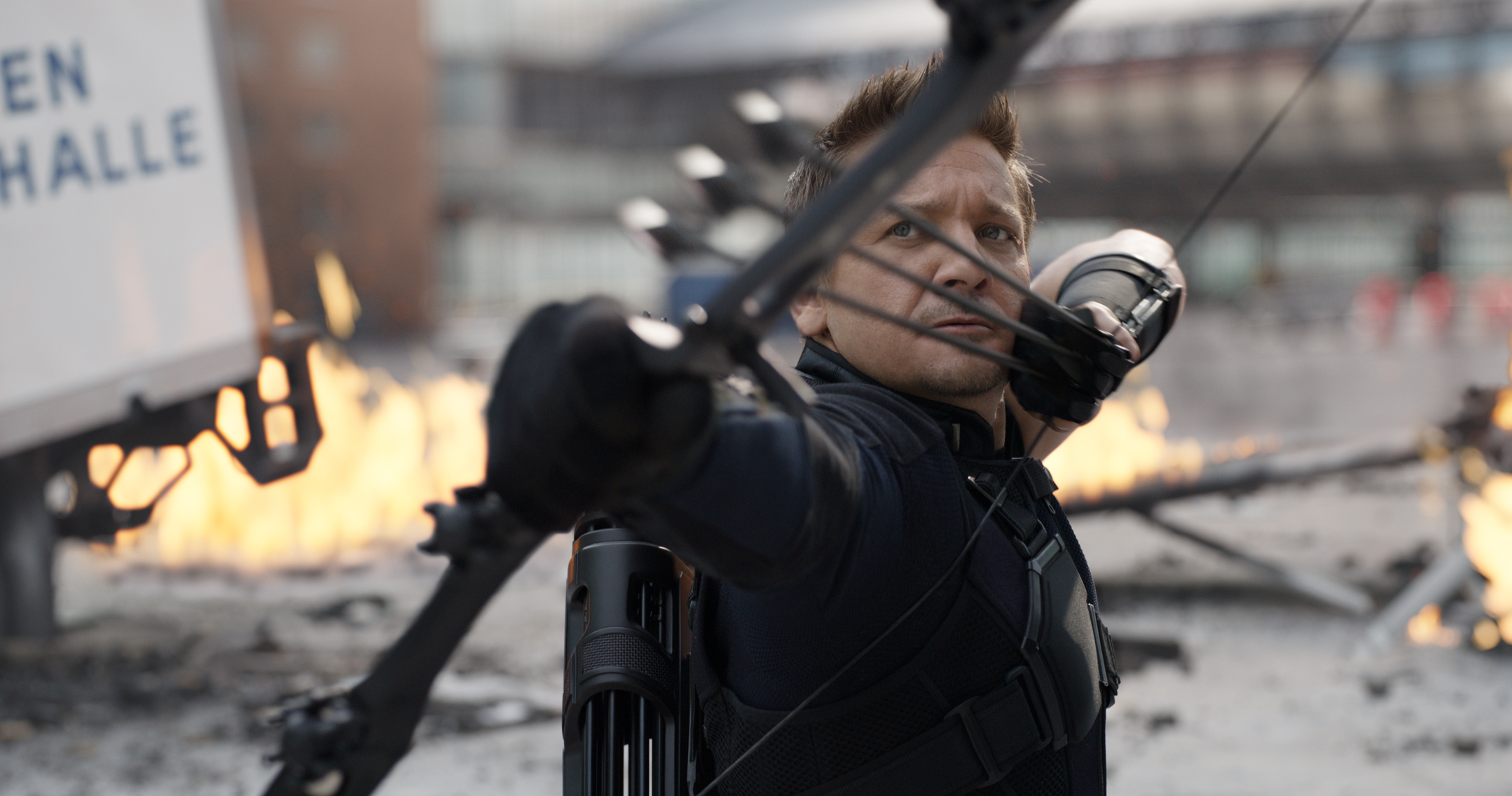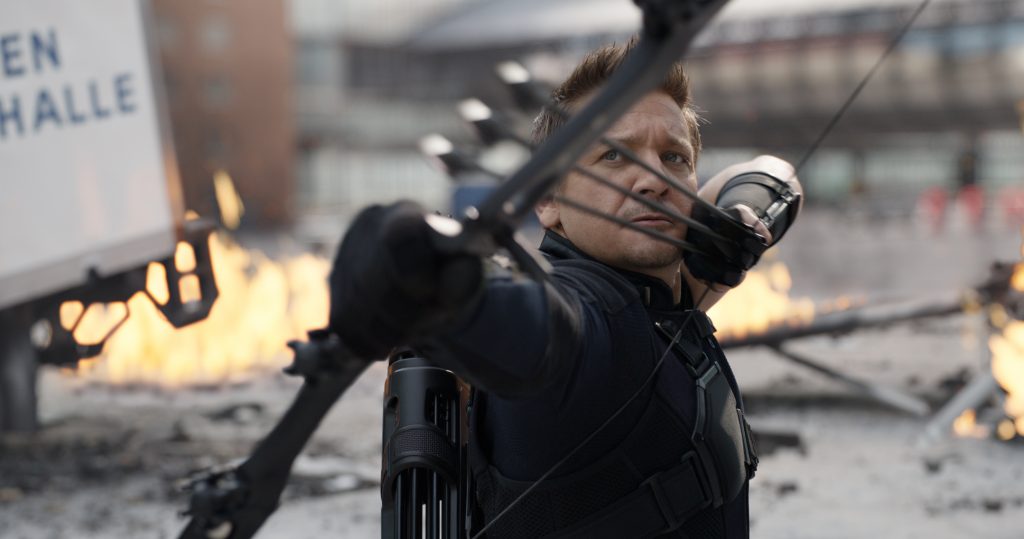 Elizabeth: Also, I don't like having a stunt person do what I do.
Jeremy: There's one flip I cannot do and that I couldn't do. So my stunt double- he's badass.
And talk about badass stunts...check out this featurette!
What inspired to do the role of the Scarlet Witch?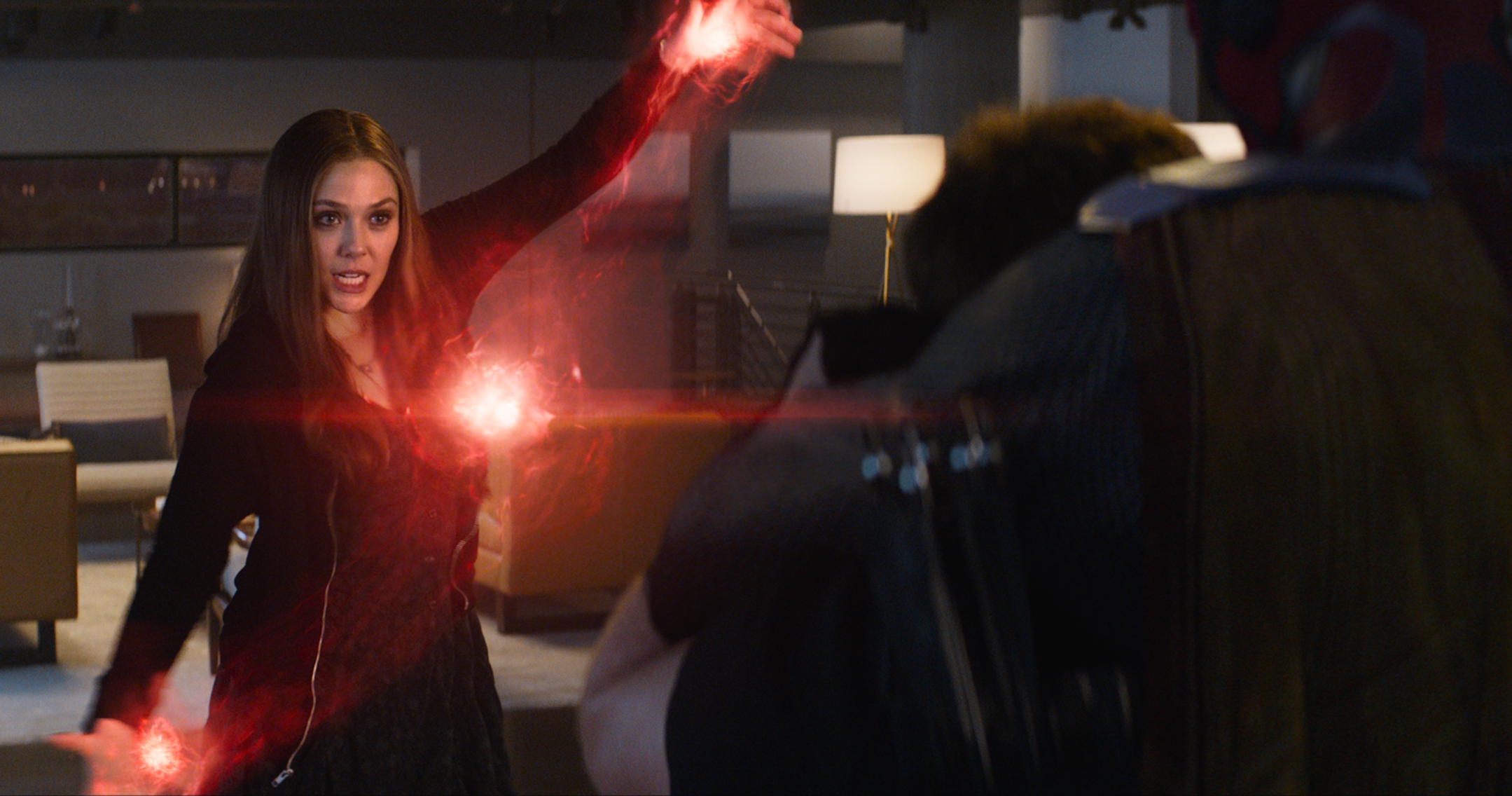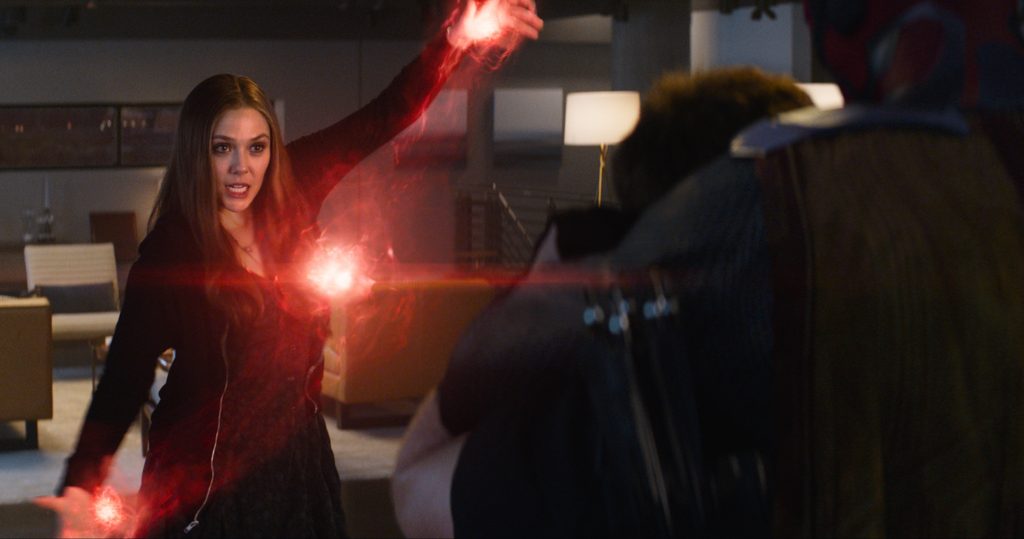 Elizabeth Olsen: I was already a fan of Ironman and Avengers. I saw it with my dad when working in Serbia; it was about the second time seeing it, and I loved it.
I was meeting with Joss [Whedon], but I didn't know what character it was gonna be, and Joss started explaining to me who the Scarlet Witch was.
He also said, when you look at the comics, just know you will not look like that. I will not put you in a leotard, and cape, and a head cast. [AUDIENCE LAUGHS]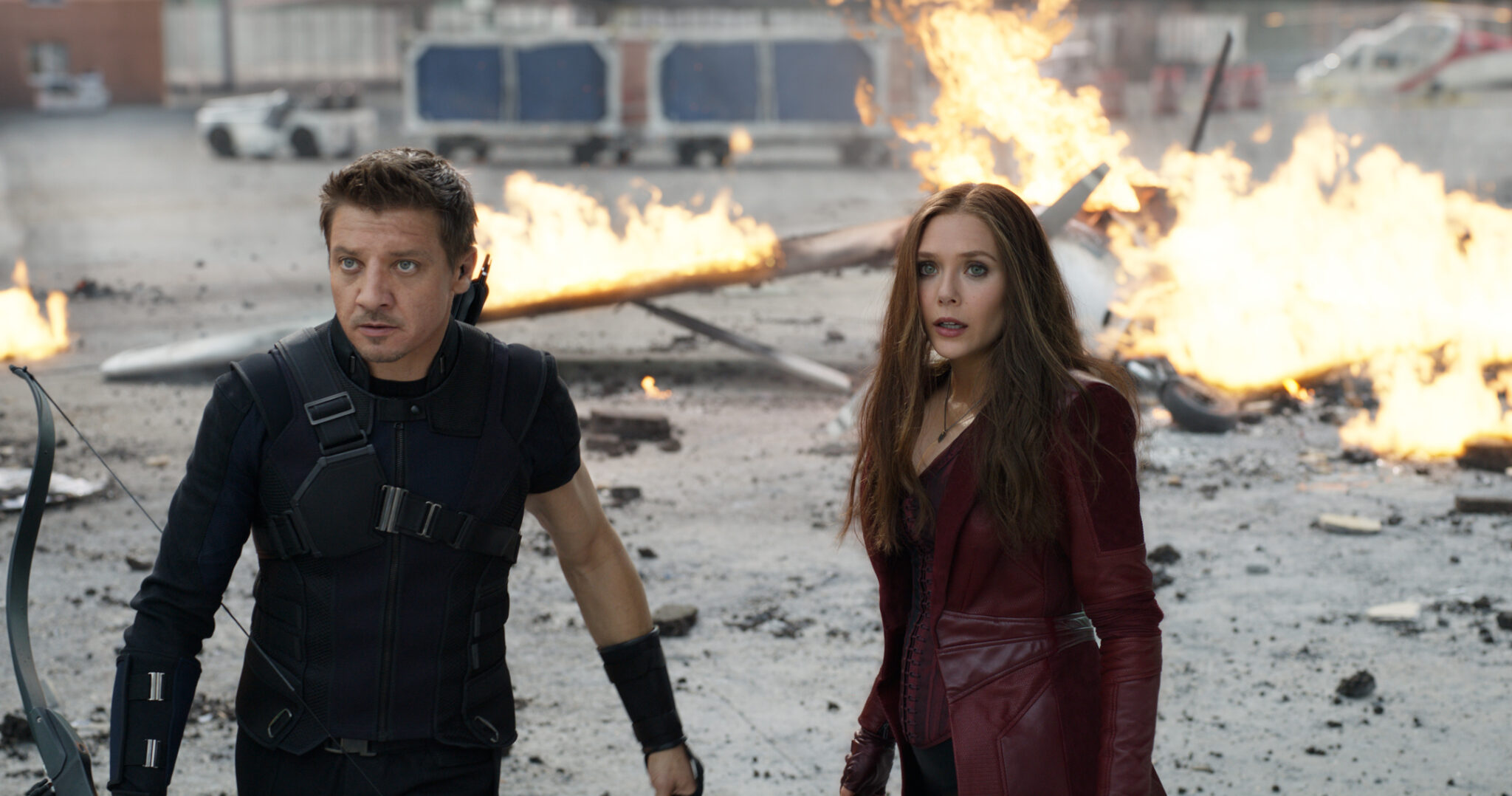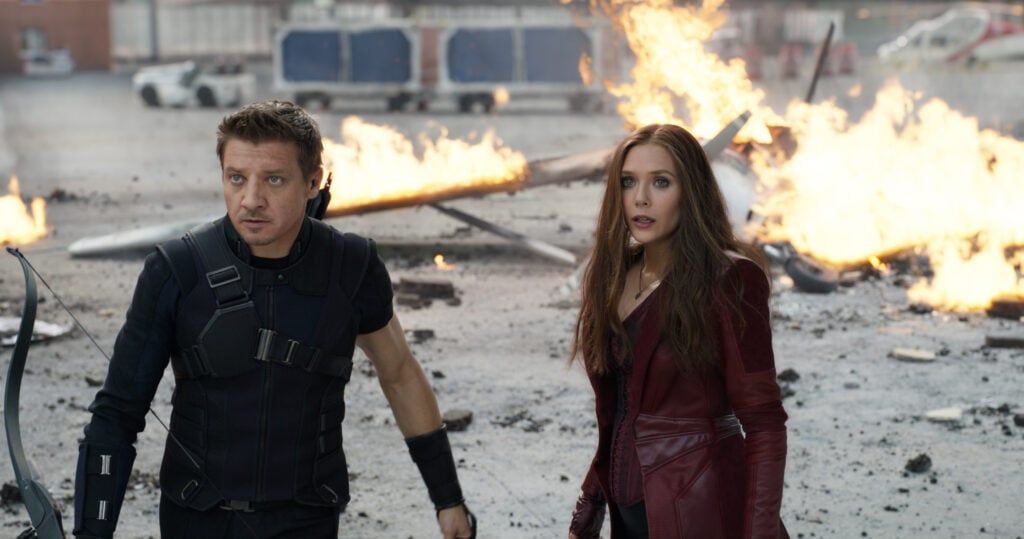 And then I started reading more about her journey, and the fact that her mind is the only thing that limits her and the possibility of this kind of insanity, being able to manipulate reality- that she can manipulate her own reality, those kinds of things, to me, are really cool. 
I didn't know when they would come into play, or if they will, and I still hope we play around more with that part of her. But I just think she's a really cool character, and it's a lot of opportunity for storytelling.
There is a lot of action; but there's a lot of humor in the movie. Did you guys have improv, or was that just something they wrote in?
Jeremy: The Russo brothers were great. They'd always have alt lines for certain things and these sort of one-liners, and then they just let you kind of run with a bunch of different things, so I have no idea what makes a cut, even when we did.
I can't remember. That was probably the funnest part of the job was improvising- that was fun.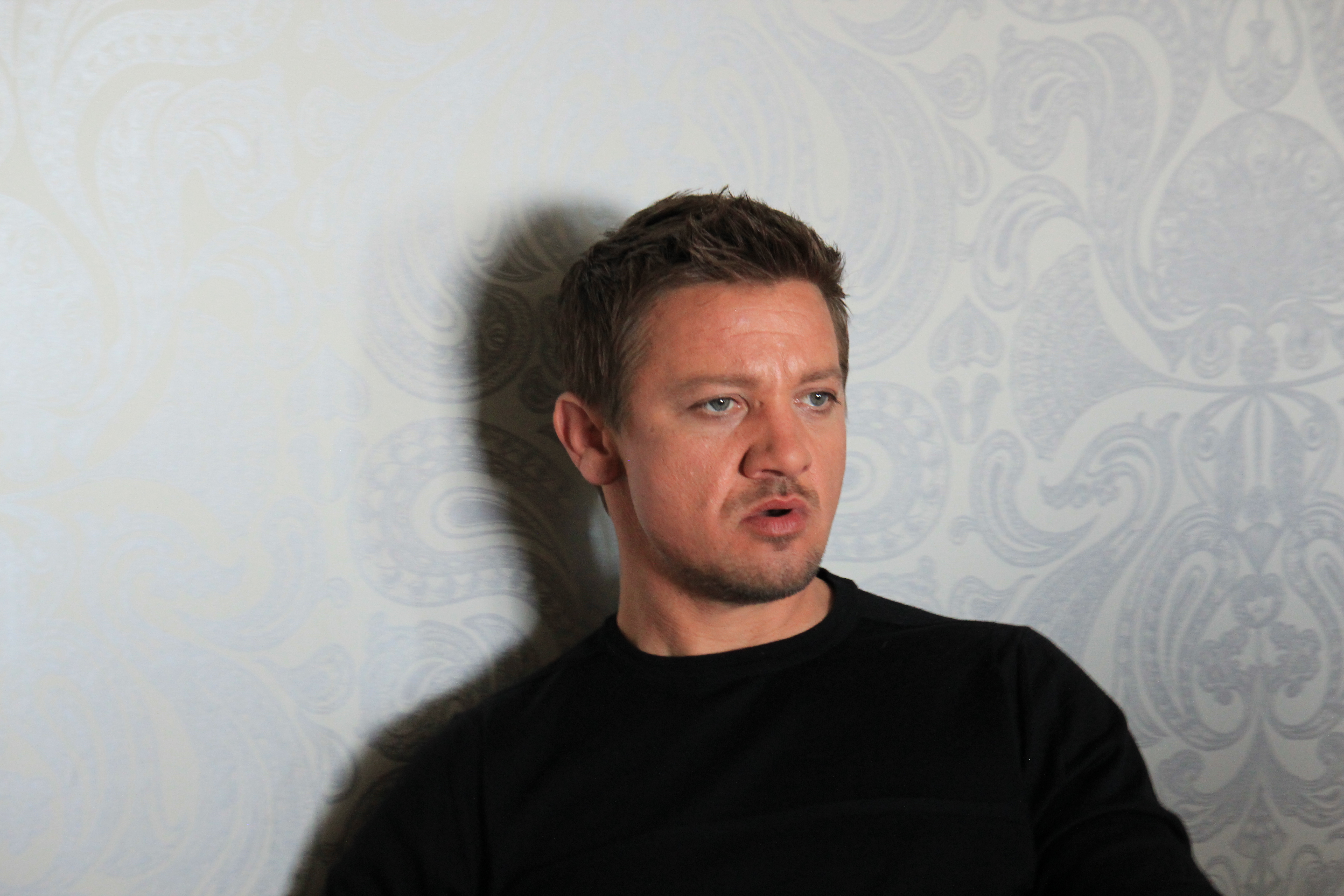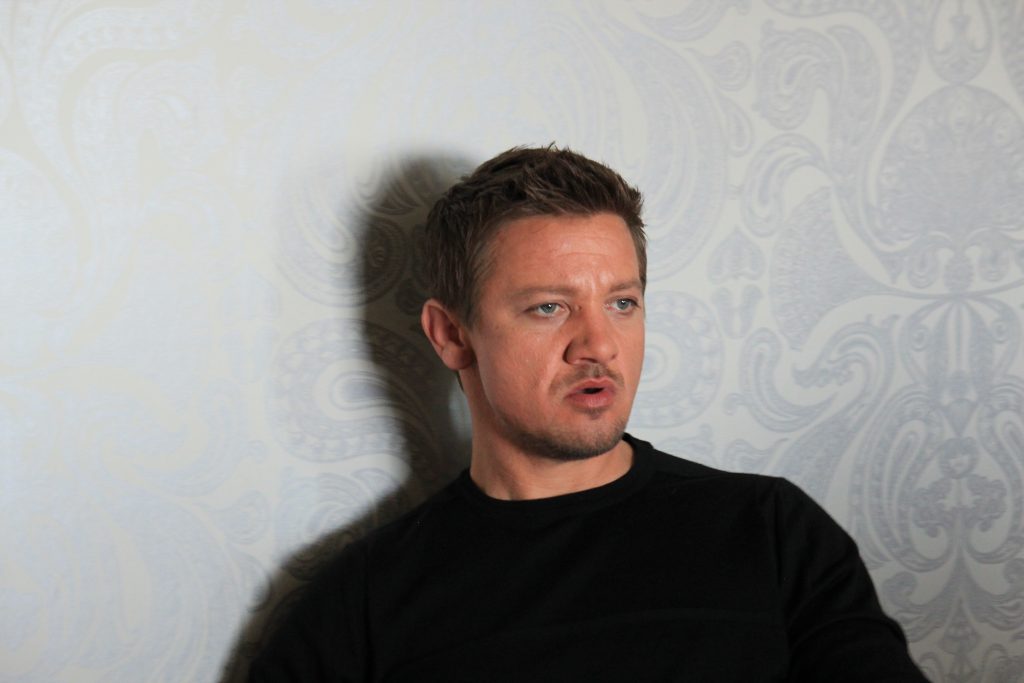 One of my readers wanted to know if there was ever any real-life tension on set. Both Jeremy and Elizabeth said "no", right away. They said there were a lot of laughs, and a lot of inappropriate humor!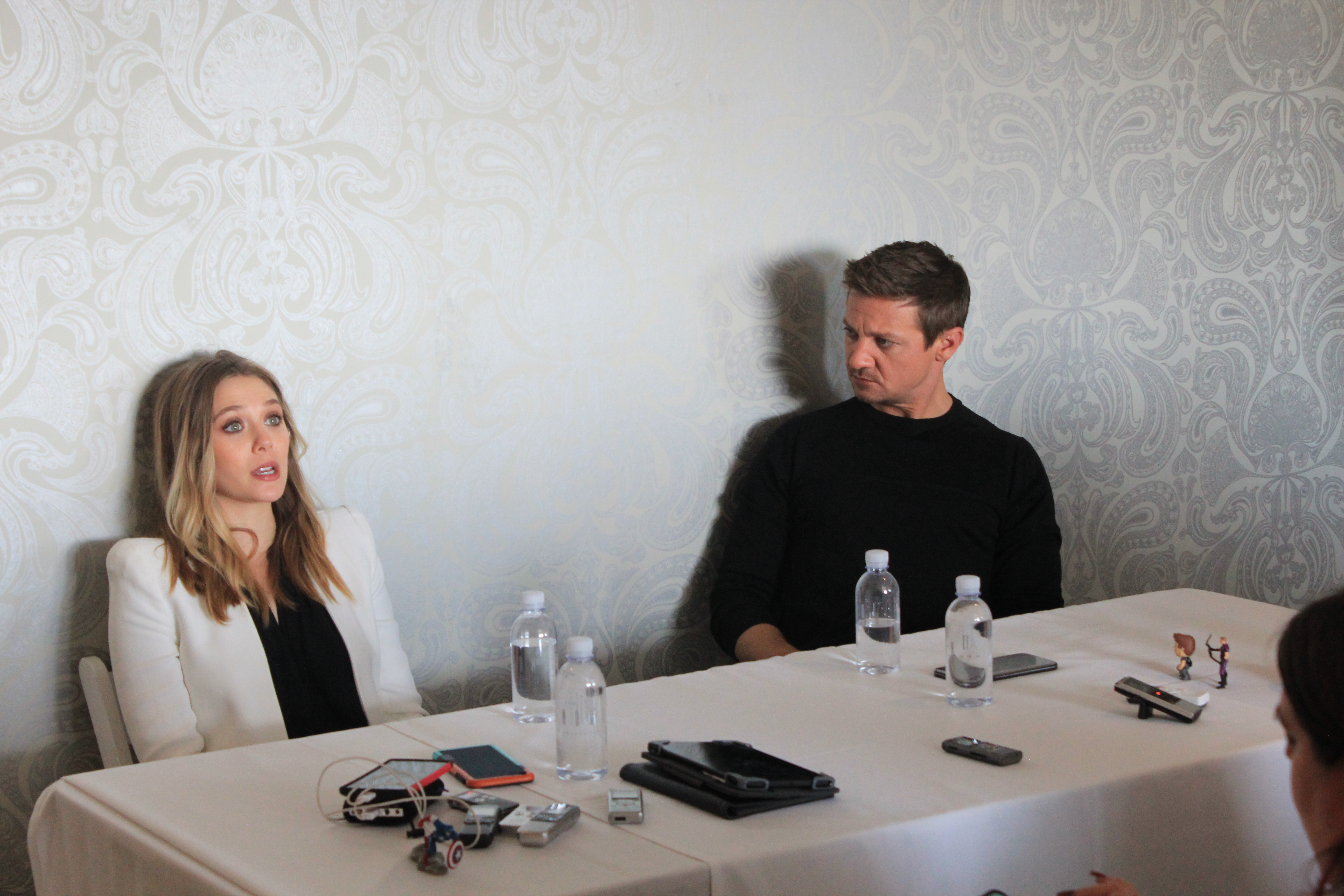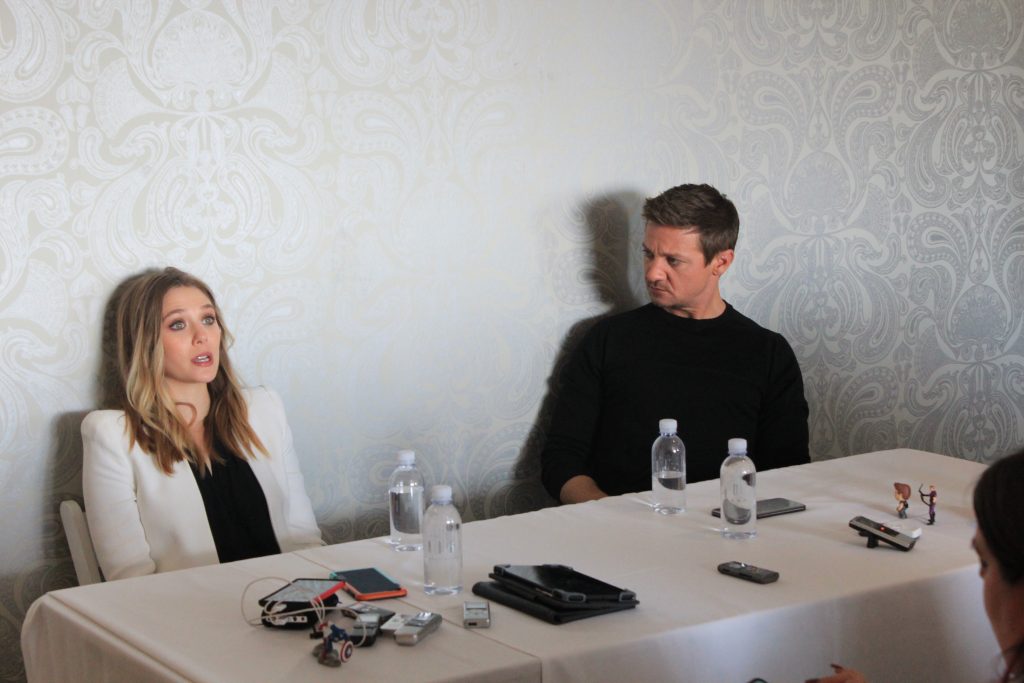 Elizabeth: I mean, Paul Bettany, who is in such an uncomfortable costume and he's sweating through these prosthetics, and he can't take them off, and he's so miserable, and he is still one of the funniest people on set. I think everyone just has a good attitude. If we complain, we complain and laugh about it, and move on because...you can't complain about it. It's a really awesome job. I'm so excited for us to keep going.
Jeremy: Yeah
Elizabeth: Just because it's so fun to hang out with everyone.
Jeremy: Yeah
Elizabeth: And to go to different locations. It's just fun.
Jeremy: Until they kill us. [AUDIENCE LAUGHS]
Elizabeth: Yeah. Until we die.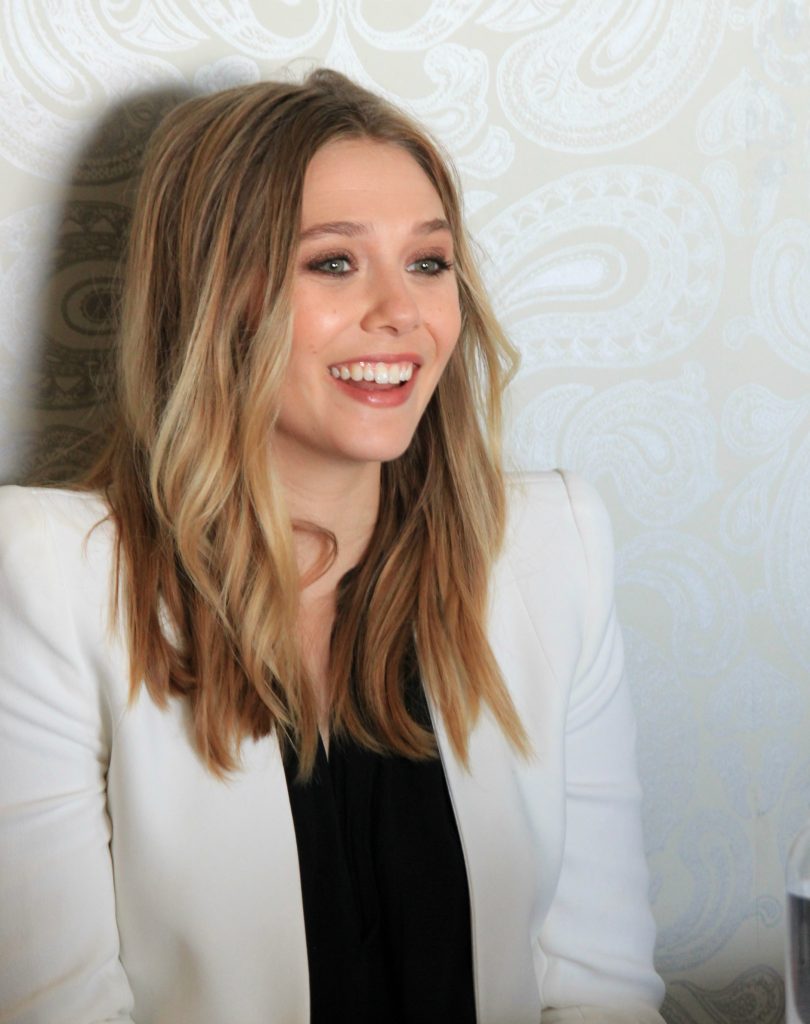 Can you share an on set story that was funny, that happened while you guys worked together?
Elizabeth: One of my favorites is you, me, and Paul filming that sequence just because it was so funny.
Jeremy: Oh, when you sent him down into the earth?
Elizabeth: It was like four in the morning- and I'm as sincerely and genuinely as possible trying to make him a thousand tons, you know? And shove him down to the bottom- center of the Earth. [AUDIENCE LAUGHS] We were giggly and loopy, and that was a hilarious day on set.
A lot of people are asking about a Hawkeye film. How would you feel if they came out with just Hawkeye?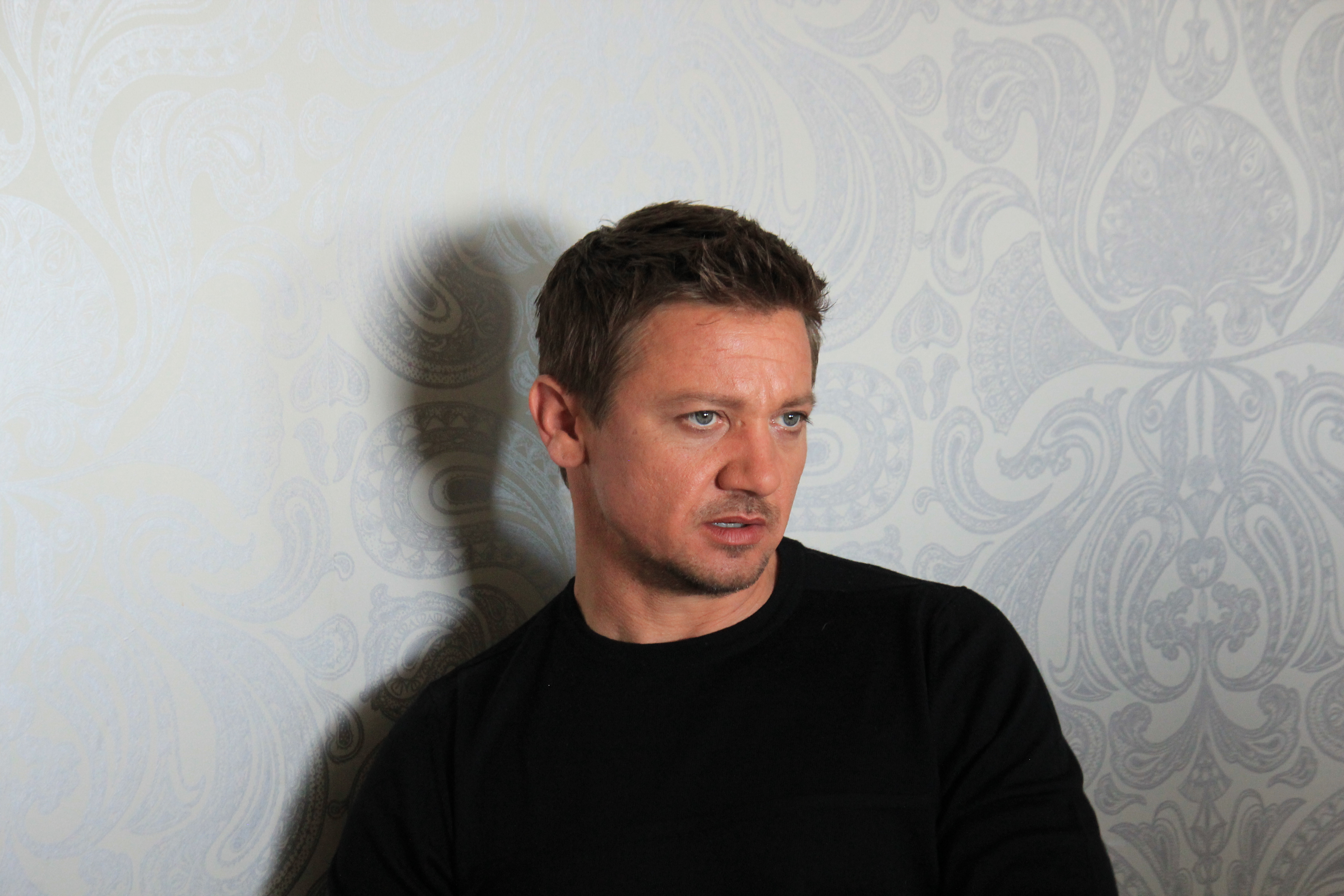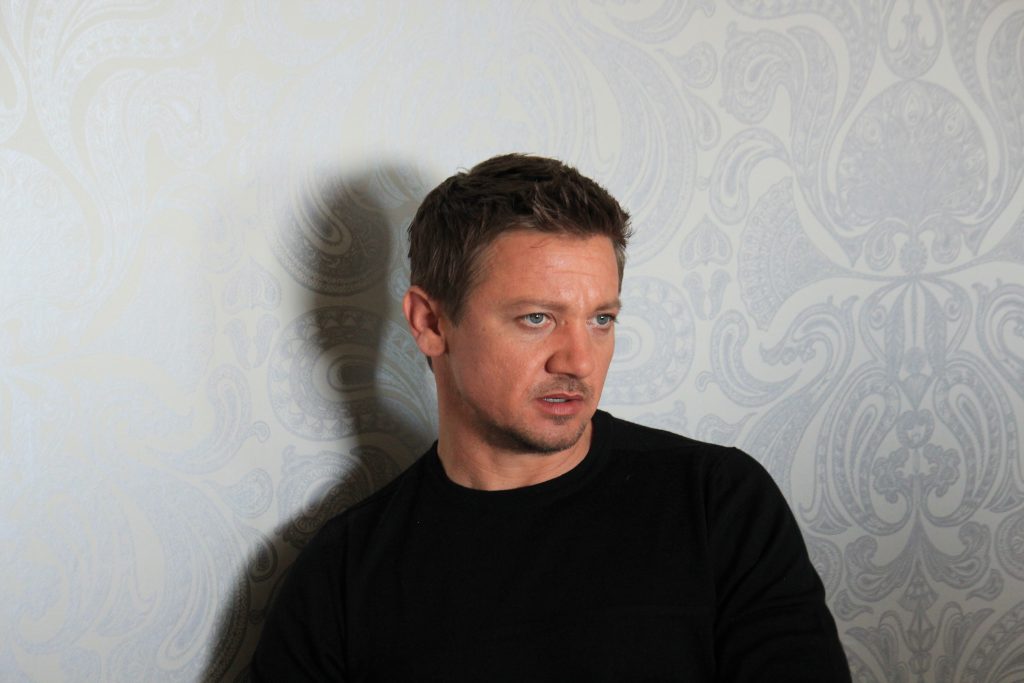 Jeremy: I think there's a lot to explore, to go back a bit. There's gotta be a reason- not just throw it out there. But I love the character. I'm always willing to do it- explore it more, until they kill me. [AUDIENCE LAUGHS]
Elizabeth: Or until you're fifty and tired.
Jeremy: Until I'm fifty, yeah. Don't wait too long, man. [AUDIENCE LAUGHS] No one wants to see that. [LAUGHS] Old man in tights.
Was it difficult to change the dynamic that you have with Black Widow from the previous movie to this movie?
Jeremy: I like working with Scarlet and I love that character of Widow. She's a badass. Her character and herself. I just wish there was more. I think they have a really good history together and a lot of secrets. 
I know the audience would like to see more of that, too, so I hope it happens in a future movie.
Elizabeth Olsen and Jeremy Renner were kind enough to take a quick photo with us.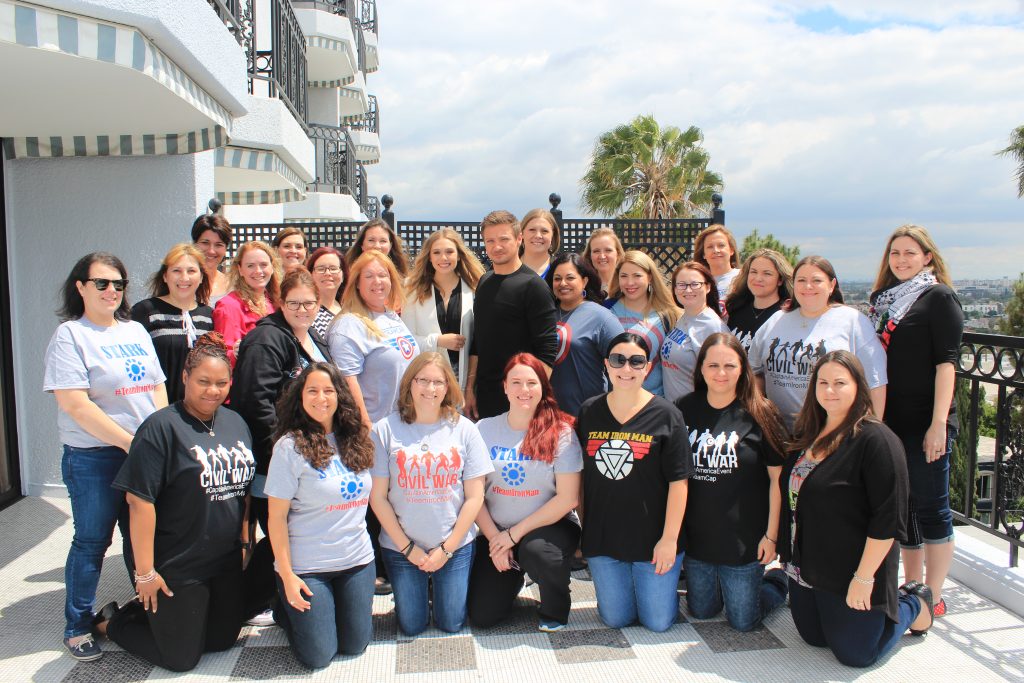 A huge thank you to Disney for inviting me on this incredible trip, as well as Coralie Seright from Lovebugs and Postcards for the amazing interview photos!
Captain America Civil War is so good! It's my favorite so far of all the Avenger movies!
Follow Captain America on all their social channels to keep up with all the news!
Visit the official CAPTAIN AMERICA website.