Last month when I was in LA to finally see Kubo and the Two Strings in its entirety, I was also able to interview a few of the stars of the film.
I shared my interview with Matthew McConaughey last week. Matthew voices Beetle, and is amazing in the film.
Kubo is voiced by the awesome Art Parkinson, who "grew up" right before everyone's eyes according to Charlize. I remember Producer Adriane Sutner and director Travis Knight saying his voice changed before the movie was even complete!
Today I want to share one of my favorite characters, Monkey, voiced by Charlize Theron. No spoilers, but once you see the film you'll understand what Monkey and I have in common, and that something is the most important thing in the world to us.
One of the first things we discussed with Charlize was the fact that she hasn't really been in a film that her kids could see until now. Kubo is definitely a film you can see with everyone in your family, and the message is really about family.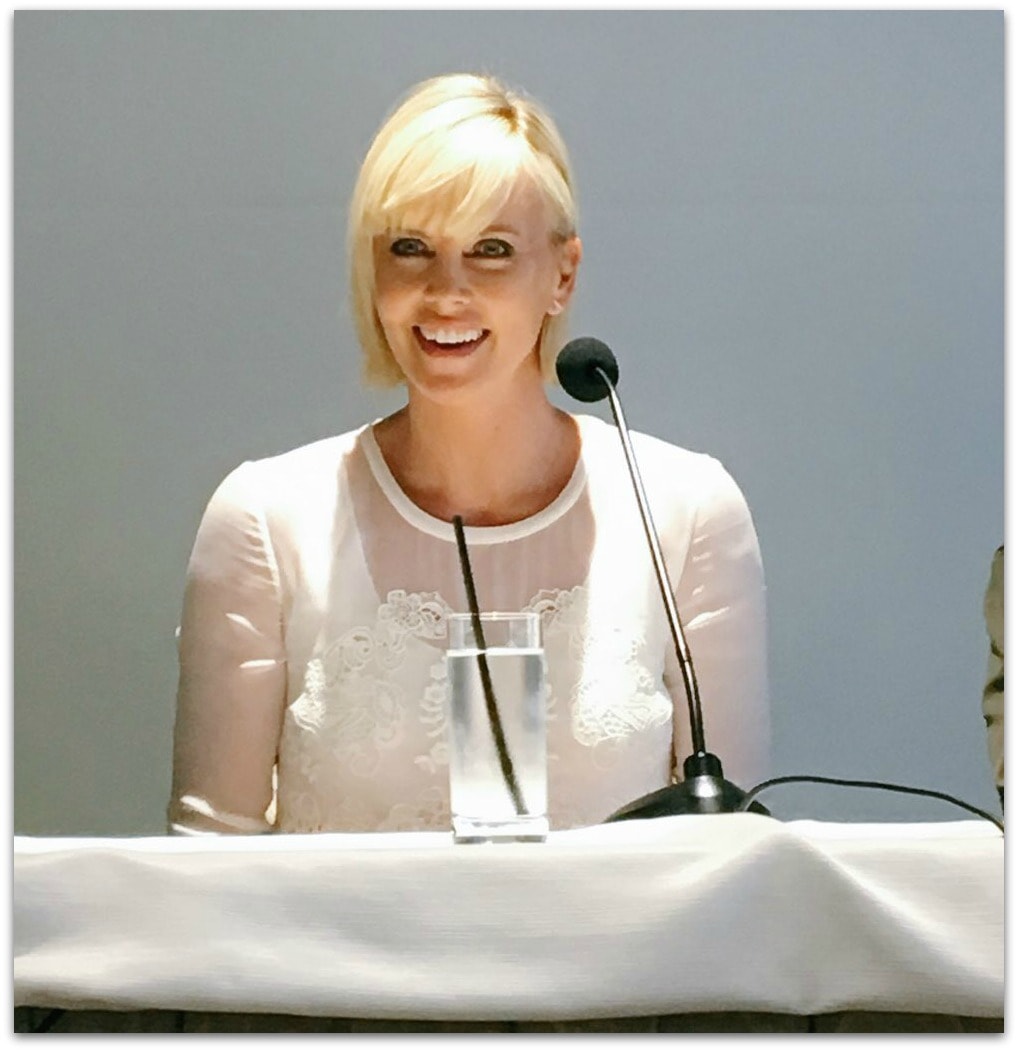 Charlize Theron: I've always joked that my kids would have to be 52 before they could see anything I've been in.[LAUGHTER] So it's nice that that now has changed.
I had never done a voice, other than to my son sometimes when I read and he would always say, "Don't do that!" [LAUGHTER] "You sound weird." I was nervous because I didn't really know the process but the process is very relaxed, and very much like other films.
It's really kind of coming back to the core and the foundation of storytelling. Travis was really encouraging of keeping things very grounded and very real, and so I felt comfortable with that.
I didn't know if that was how this process would be. I didn't know if there were things that kind of bled outside my comfort zone with this process, but you know, it's very much like any other movie I've done before. You're just trying to kind of look at the material and have that inform you.
Art and I got to do some stuff together which was really helpful too, to have him in the room, and we got to play off each other a little bit. Although I don't recognize him right now. I'm like having a moment of just like who is this man sitting next to me?
Though Charlize plays a Monkey, we wondered if there were experiences as a parent that she drew from to help with this role.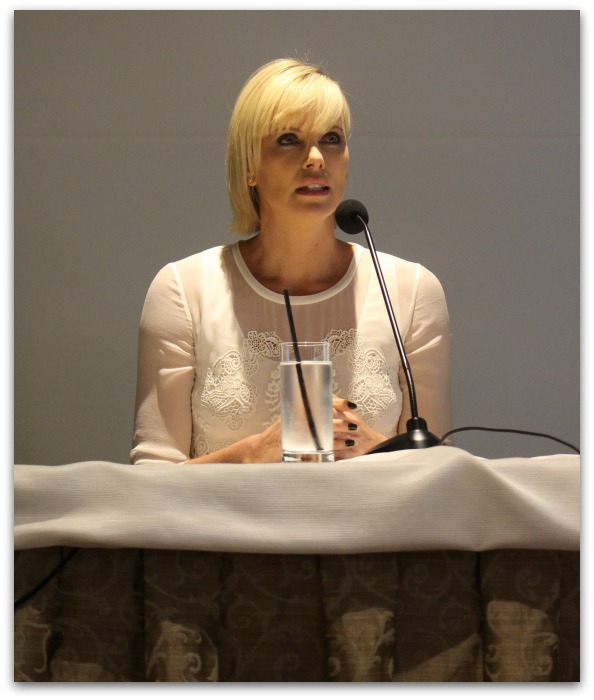 Charlize: I was raised by a mother that never shied away from anything, so now being 40 I just appreciate that; being a parent myself, and raising my children very similarly, because it had such a huge impact on me.
There was no part of my life that I felt somehow cheated from, where I saw or experienced something that I just went 'Wow, why did nobody say this to me?' My mom always told me exactly what the answer to a question was.
Sometimes I think she went too far with it [LAUGHS]. Later on I realized that to be honest and truthful to your children is the most important thing that you can do as a parent. And I look at my son who's four and a half right now (My baby is only one), but I see in four and a half years how he's developed from honesty, and it's so refreshing to see.
He's really very unique and to see him kind of flourish in his uniqueness in this new world is a really beautiful thing, you know? And I think Monkey is so similar to that. I think Monkey has two very, very different characteristics, and one is very nurturing and one is very dry and sensible.
It's sometimes almost brutal. It's the person who says 'get up, get up.' And I connect with that.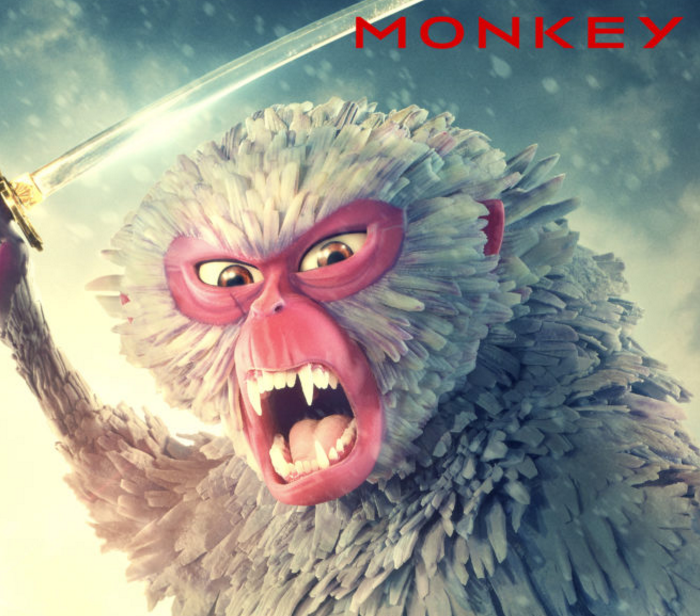 Charlize is a transracial adoptive parent, and one of the press in the room also has an adoptive child from another country, and wanted to know if Charlize had advice.
Charlize: It's the most frightening thing, you know, and until you really become a parent you don't understand how unbelievably frightening it is.
There's a part of you that can kind of let some of that stuff slip with yourself, but with a child you just feel like you have this promise that you've made to the universe.
When you're raising a child there are things that are not completely in your control and that is the hardest. But again, I talk to my kid – well, the baby obviously not, but the little boy.
You want to have a conversation in a way that they can understand it, and there's a part of you that you don't want to bust the bubble for them completely on humanity, but you also kind of want to let them know the brutality of what can happen when we don't take care of our humanity.
And my son, I kind of break it down to him as far as just how much we need to take care of each other and care for each other and how we're all interconnected, and the fact that he's brown and I'm white and that's the interconnectedness of the world, that's the beauty of our world.
I was kind of trying to hit on the thing that when we don't' care for each other, we hurt each other. And he said to me the other day, so sweet, we were driving past a homeless person and he said, "This is what you're talking about, Mom." I said, "What?" And he says, "We should go help him."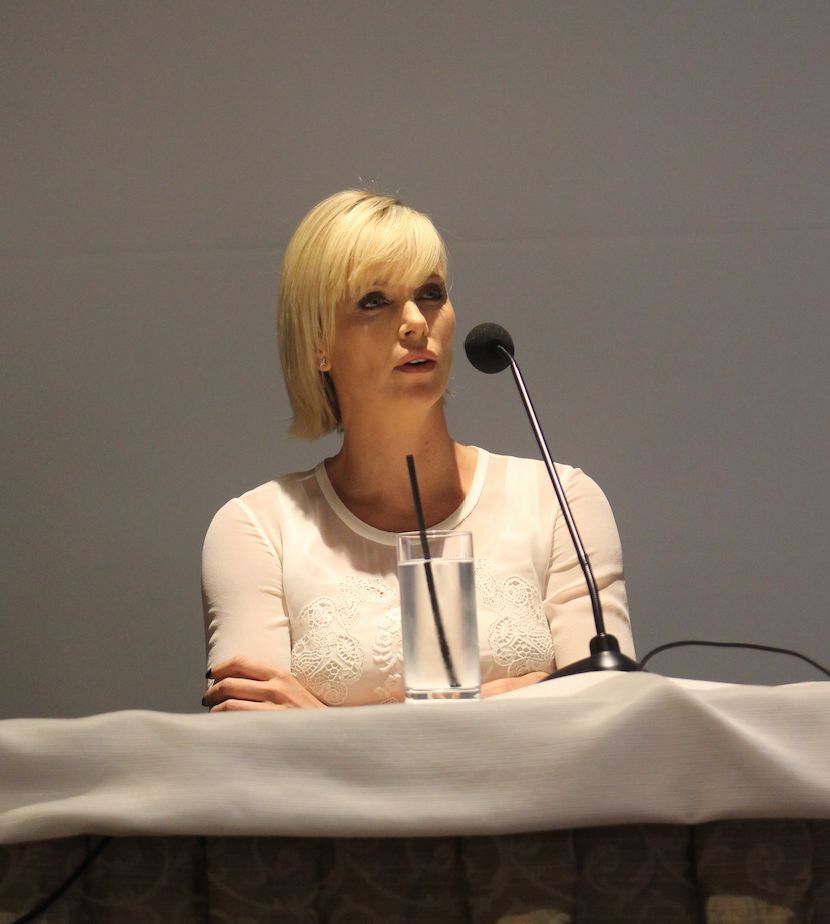 And it's just the kind of connection of realizing humanity, that it isn't about compartments and it's not about what we traditionally think things look like. I think that's what's beautiful about this movie.
Ultimately, it's about 'What do we think family is?' And it takes it and turns it upside down and is telling you a story that family is not necessarily always what we traditionally think of it, right? And I think we need more of that.
I think we need more of that so that there's more compassion in the world, because the more we have empathy towards things that are different, whether it's our color, our race, our beliefs, our culture, where we come from, how we choose to live our lives, our sexuality, our identity, the more we have empathy towards those things, I think the more we'll actually accept each other and the more peace there'll be.
It's a very, very long road, you know, but you've got to wake up and try and see the light at the end of the tunnel. But it's really tough. It's hard.
Kubo and the Two Strings is so much fun, and we asked Charlize if there was much ad libbing.
Charlize: Oh, yeah. Travis is, by the way, one of the kindest people you'll ever meet. I mean, he's just very consistent in who he is and very warm, very encouraging.
He gave us all ownership in this and he has a real understanding that we wanted to kind of step into these bodies and become alive in this and the only way you can really do that is to know that the sky is the limit; there's not any kind of hard lines for you to be in. And he so very much did that.
Charlize was a delight to interview, and I know you're going to love Monkey! Remember, Kubo hits theaters this Friday, August 19th!
Want to know more about how this incredible stop-motion movie was filmed? Check out this set visit from Laika Studios.
10 Things You Didn't Know About Kubo and the Two Strings
Filmmakers Travis Knight and Arianne Sutner talk Kubo and the Two Strings