As you know if you've been following along, I went to LA last week to attend the red carpet premiere of Thor: The Dark World. What you may not know is that just before the premiere, Tom Hiddleston met with me and 24 other bloggers to talk about the film.
Yes, Loki was in the room with us and we kept our composure! It wasn't easy! Hiddleston has become such a big star, and we were thrilled that he took time to meet with us.
Our group wore our #FreeLoki shirts to Disneyland and we had so many comments about them! Though Chris Hemsworth is certainly a gorgeous man and is wonderful in the movie, bad boy Loki has won the hearts of many fans of the Avenger movies. People are raving about this sequel to Marvel's Thor (2011). And with good reason. My heart raced for most of the movie! This film is so jam packed with action, yet has such a great storyline, too. I saw it for the second time last night, along with my family this time. My 14 year-old said she thinks it was the best movie she has ever seen. I had such a good time watching their faces at some of the shocking scenes! If you didn't go for opening weekend, go today! It is so good!
So, what is Hiddleston like in real life? To begin with, the man has a smile that instantly puts you at ease. He walked into the room filled with 25 bloggers like he was coming to a party, and charmed every one of us.
Hiddleston: Hello! How's it going?
(Group applauds wildly!)
Hiddleston: I feel like I'm a president or something, which I really am not. Have you all seen the film?
(Groups laughs and explains we are attending the premiere later, and will be sitting next to him in the theater!)
Hiddleston: Ahh, okay. Well I play the bad guy, you probably know that. I feel like I should be sitting here with a white cat and (Group laughs) stroking it, "For my next question."
Q: How did you get in character to play a bad guy, and do you really like playing those kind of roles?
Hiddleston: Second question first. I love playing all kinds of roles, and I hope it doesn't sound too pretentious, but I always feel like human nature is like a piano and there are 88 keys and there are some white keys and some black keys and each character is a different chord on the piano. Basically, I hope that in the course of my life I will have played all 88 keys in lots of different ways. So I'll have played heroes, and villains, and princes and kings and warriors and beggars and thieves and lovers and, fathers and wizards and all of those things. So that's it, for me, that's why I'm an actor. I love studying people. I loved playing him. And, I suppose the first question, my answer is he's the God of Mischief. Thor is the God of Thunder and Loki is the God of Mischief and his mischief is the thing that I love playing so much. His playfulness, his sense of fun, and the challenge of course is to make him real, and vulnerable and complex.
Q: How has Loki changed since we last saw him? Has he reconciled with his dad?
Hiddleston: Certainly not with his dad. I think Loki's very angry with his father still. Basically you find him in the wake of what happened in the Avengers. He's in prison. (Laughs) Yes, he should be wearing an Asgardian version of a kind of boiler suit and... he's not in a good way. He's basically been written out of history, condemned to be forgotten, unseen and unheard and haunted by his demons for eternity. I think he's keeping himself sharp by reading a lot and keeping his mind exercised. He's not great at the long game, Loki, but he's very good at improvising. So he'll always manipulate every situation to his own advantage. How has he changed? I think he's almost freer in one sense, spiritually. He's more mischievous, he's more fun, he's more provocative. But he's also more damaged. I think there's a kind of spiritual vulnerability, which is really acute. And I think he hits rock bottom in this film. He's more alone, he's more lonely, more sad, angrier. You'll see. I'm sorry, I don't want to reveal too much.
Q: If someone visits your home and looked inside the refrigerator, what would they find?
Ah hah, well I've been on the road for a bit so, I was very conscientious and emptied the fridge of all perishable food. My mum taught me before I went away, didn't want to come home to like moldy bread. I think there's probably some bottles of fizzy water and maybe some old cheese in the back, but cheese is alright I think. Normally it's full of green vegetables and... butter, and a few eggs. You know, just sort of fridgey stuff, really.
Q:  In Marvel's Avengers they team up a lot of superheroes and I was wondering if Loki teamed up with one of Marvel's villains, who would it be and why?
Well the thing about getting a group of villains together is they don't get anything done because they're all acting out of self-interest. (In his best villain voice) "No, I want to take over the world!!" "No, but it's mine!!" "No, but..," and then it's over, it's finished. Who would Loki turn up with? I'd love to see the Enchantress, who is a sort of a big, beautiful blonde, who is as untrustworthy and as skilled in the powers of magic as he is. And they have quite an interesting dance that they do of recognizing that they're basically the same, but that's why they shouldn't be together. Who else? I mean I love the bad guys. I'd love to see him with Dr. Doom, who was one of Spiderman's big villains, and there's a villain called, Surtur, and he's the fire demon who's a pretty crazy cat. I think that would be an interesting alliance.
But I feel like if Loki ever teams up he's just using people, you know. In Avengers he teamed up with Thanos, who's the big guy you see at the end of the credits. That deal they made was that the Tesseract, the blue cube, that Loki could use it to take over the Earth. Once he had the Earth in his clutches he would hand over the Tesseract to Thanos, who would then do whatever he wanted to with the Universe. So the stakes are pretty high. The good thing about Loki is he is genuinely dancing on this high wire tightrope between good and evil, between redemption and damnation, so you never know what he's gonna do next.
Q: A lot of people are wondering, is there gonna be a Loki spinoff movie?
Hiddleston: At this point in time, officially, I know nothing.
Q: Go unofficial.
Hiddleston: You won't tell? (Laughs) Honestly, the people have asked me about it and the idea that anyone, whether it's one man and his dog wants to see Loki in a solo movie is such a huge compliment. I hear it's more than one man and his dog, but you know, we'll have to see. I honestly don't know what the future of Loki is,  but it has been a roller coaster and it's been more than I have ever expected. So, I feel that there's no point in me having expectations anymore because whatever happens is gonna surpass them, so I'll just buckle up and ride it out.
I have to add here, again, that Tom was due at the red carpet premiere in an hour or so, yet when our interview time was nearing the end, this was his comment: Oh let me see if I can get everyone in, I'll do it really fast. As I mentioned before, this star loves his fans!
Q: Not giving too much away, what was your favorite part of the film?
Hiddleston: Working with Chris Hemsworth. There are a couple of scenes where I feel like you just really get a sense of the particular chemistry of these two guys. My friendship with Chris is something that infused that relationship, because when we met in 2009, we were both in our late '20s. We'd been kicking around the business for the same amount of time, and we became very firm and fast friends. And we've had this amazing adventure together. I think our friendship really infuses the Thor/Loki relationship in this film, and that's probably my greatest pride. There's a scene where they're arguing over who gets to drive, which I feel is, one of my favorites.
Q: I read that you surprised kids at a screening, so how did you get involved with the charities to surprise them? It's such a great thing, they were so excited to see you.
Hiddleston: I did, yeah. Well it was so thrilling for me. I knew I was coming here this weekend. What day is it, Monday? (Laughs) It seemed like nothing to stop off in New York and introduce that. I've done some work with UNICEF and I believe very passionately in the work that charities like Variety and The Children's Aide Society do for children as well. I heard they were doing it, so, it really cost nothing to just hop over and surprise them, especially with Halloween, as well. They were all wearing Free Loki t-shirts and they all had Thor helmets and hammers and I got sort of cheered and booed at the same time, 'cause I was the bad guy. It was great.
Q: This is from a reader who has an Avengers Club in her school...
Hiddleston: Amazing.
...And she wanted to know if you'd get a chance to play a villain again, will you bring back some of Loki to that character?
Hiddleston: I think if I play a villain again I'd have to be very specific to his particular brand of villainy. I think that's what I see as my job, is to be really rigorous to that character's truth. And so Loki's truth is playful and mischievous and vulnerable and damaged, but another bad guy might be kind of, I don't know, chaotic or...cold in some way. I don't know, it's a really good question. But I suppose there's only so much range one man has, you know.
Tom chatted with us a while longer sharing about playing Captain Hook in a new animated Disney film, The Pirate Fairy.
Hiddleston: It's basically a prequel to The Peter Pan Universe and Tinkerbell's involved. One of the fairies called Zarina, voiced by Christina Hendricks, goes and makes friends with the pirates. At first they're really fun and there's this young cabin boy called James, and he later reveals himself to be Captain James Hook. (Oohs and ahhs from the group.) Ahhh, I like the response.
Someone asked Hiddleston to do one of his impressions, which he obliged, doing a Sean Connery and Christopher Walken impression using Loki's lines from the movie. Even though we had kept him a little longer than we should have, as I said before, this star really loves his fans. And his fans clearly love him back.
What was your favorite "Loki" scene in the movie?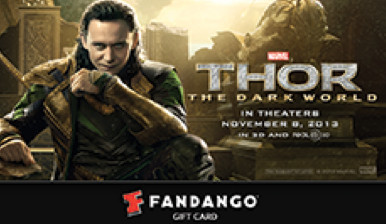 ***Disclosure: I was provided with a trip to attend the Thor The Dark World event in exchange for sharing it with you. My expenses were paid by Disney. As always, all opinions are my own. ***