Last week I was invited to sit down with the cast of The Real O'Neals, and it's easy to see why they seem like a real family on the show. They totally click off-screen, too. You would think they had been friends for years. I guess that's what makes this show special! It was fun to hang out with some of the cast and a few of the writers to find out more about how this funny new show comes together each week.

If you're not familiar with ABC's The Real O'Neals, it's about a family who looks perfect on the outside, but has real issues to deal with just like every family. Some of the characters will probably seem familiar to you. A Catholic mom who volunteers and raises money for charity, and a dad who is a cop and trying desperately to be a good father and best friend to his kids. A perfect marriage to outsiders, until it's over, and he moves out of the house...and into the basement! The struggles between Eileen, the mom, played by Martha Plimpton, and Pat, the dad, played by Jay R. Ferguson, will have you laughing out loud.
But The Real O'Neals isn't just about Mom and Dad. They have three kids who, like with any family, have three completely different personalities. One son is an anorexic athlete, another who recently came out as gay, and a daughter who is too smart for her own good. There may be struggles, but in the end, this family really seems to get each other, and it's so much fun to watch.
I have to say my favorite character in the show is "Aunt" Jodi, a very close family friend. She's hilarious on the show, and an absolute delight in person.
The Executive Producers
As much as we love the actors from our favorite shows, the writers are really the masterminds behind it. And with so much going on in The Real O'Neals, our first question was where they got all the ideas for the different episodes. The three writers we met with have eight children between them, and that creates plenty of stories! How fun would it be to sit around a room and create a show from real life situations? (I could share a few pretty funny situations myself! Can you relate?)
It was fascinating to find out that the eleven writers can simply sit down and talk about life, and create a television show watched by millions. Casey and David Windsor have been writing together for 16 or 17 years, and they've worked with Stacy Traub for a long time, as well. That these three producers collaborate so well and the fact that they are joined by such diverse writers, some who are gay, some who are divorced, and some who are Catholic, they have a lot of stories to work from. David shared, "We just try to bring everyone's experiences that they don't mind exploiting for television into the show, and I think it's worked out."
Casey elaborated, "We just wanted it to feel very, very authentic and real. So we would have a lot of conversations in the writer's room. 'We want to tell the story this way. Is this accurate or is this your experience?" I guess that's what makes The Real O'Neals real. Everything that happens has been run through someone who has been in a similar situation. And that's what makes it so relatable.
The Cast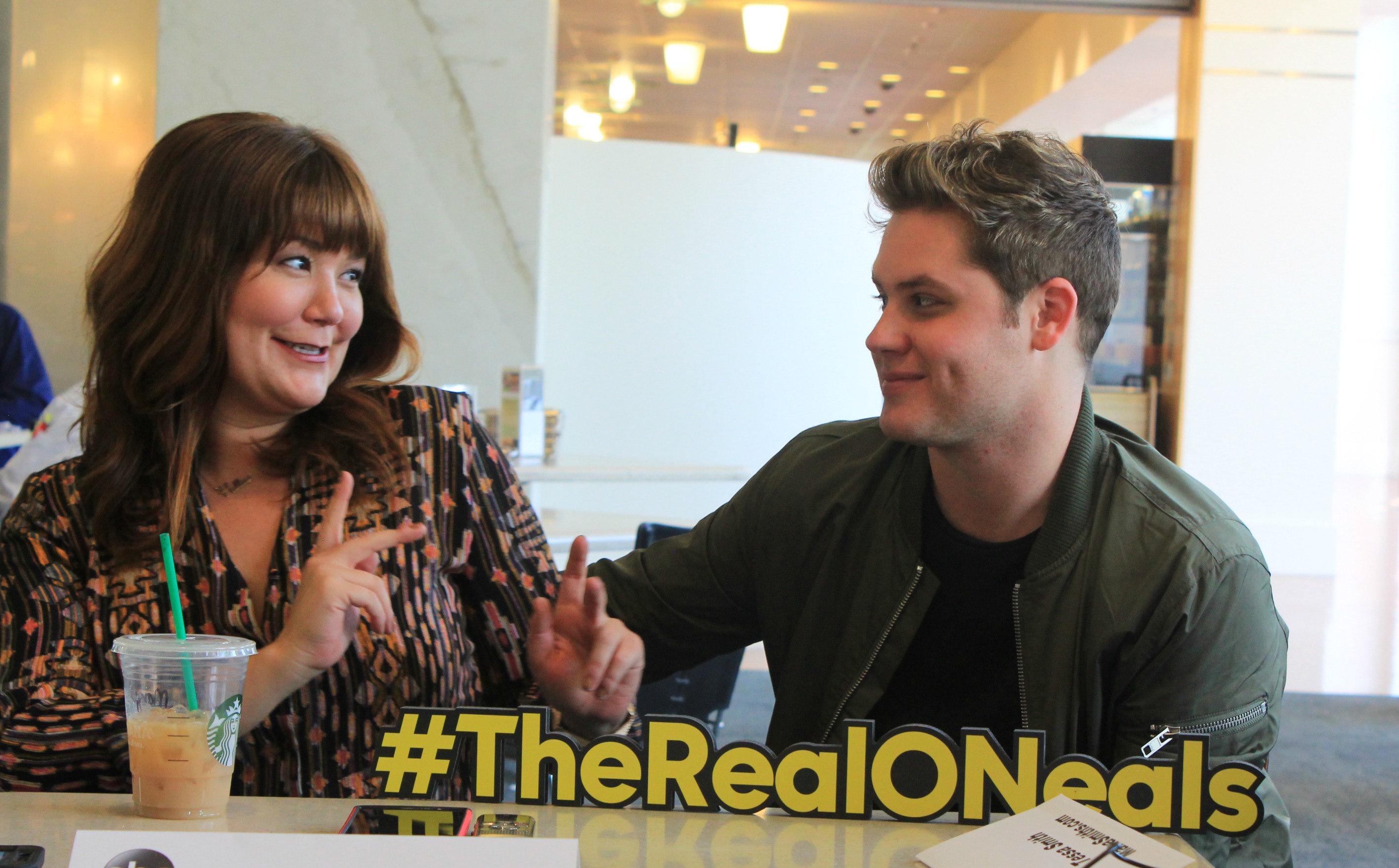 Chatting with Noah Galvin, who plays Kenny, Matt Shively, who plays his older brother Jimmy, Mary Hollis Inboden, who plays Aunt Jodi, and Jay R. Ferguson, I learned a little more about what makes the show work so well. They are as funny off-screen as they are in the show.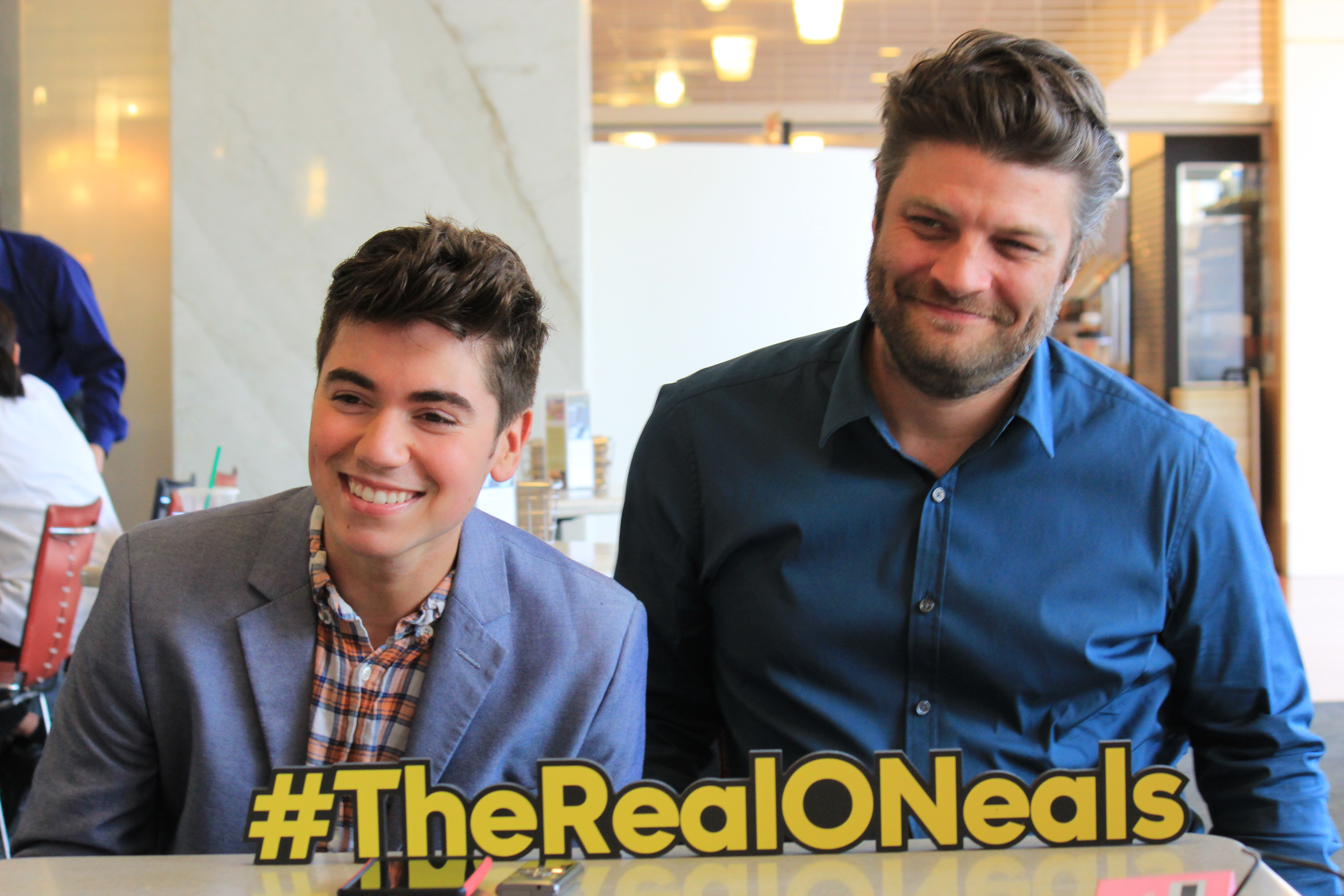 Matt told us, "I've done enough (TV) to where I've worked with plenty of people, and this is the first time where, first of all there's not one weak link in the cast. Usually you have one person you work with where you're like, 'Hmm, they're hard to work with.' I've never worked with such easy people."
In fact, the group has group texting set up, so they chat all the time. If there's a question, no one has to call anyone or catch up with them. They just text! Mary said she counted 210 text messages that they sent on Christmas day! They were all with their real families, yet kept in touch with their on-screen family. So if they look like they're family on-screen, that's why. They really are that close in real life.
It helps that so many funny things happen on set. Humor really does bring people together. Noah shared, "You've got to be able to laugh at yourself." And it's a good thing. I can't wait to share more about that with you next month. Let's just say there's a prankster among us, and there may be a surprising reveal about who uses the most hair products. Just sayin.'
As a mom myself, with many readers who are moms, Eileen O'Neal will have you cracking up in "The Real Book Club" episode that airs tonight. But as usual in The Real O'Neals, there are moments that just have you smiling as you watch the characters navigate life. Moments we've all had.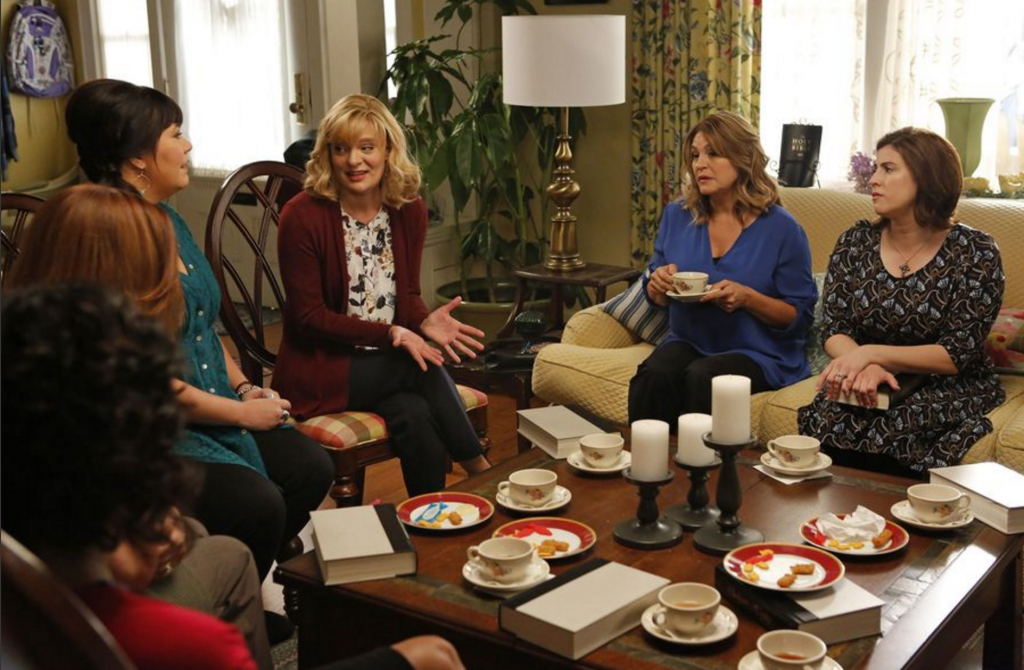 And if you've been in a book club, especially one with other moms, this will probably remind you of at least one conversation from your own book club. Seriously, does any book club read the book every time? And there is always wine involved. Sometimes more than others. Tune in at tonight and every Tuesday at 8:30 on ABC.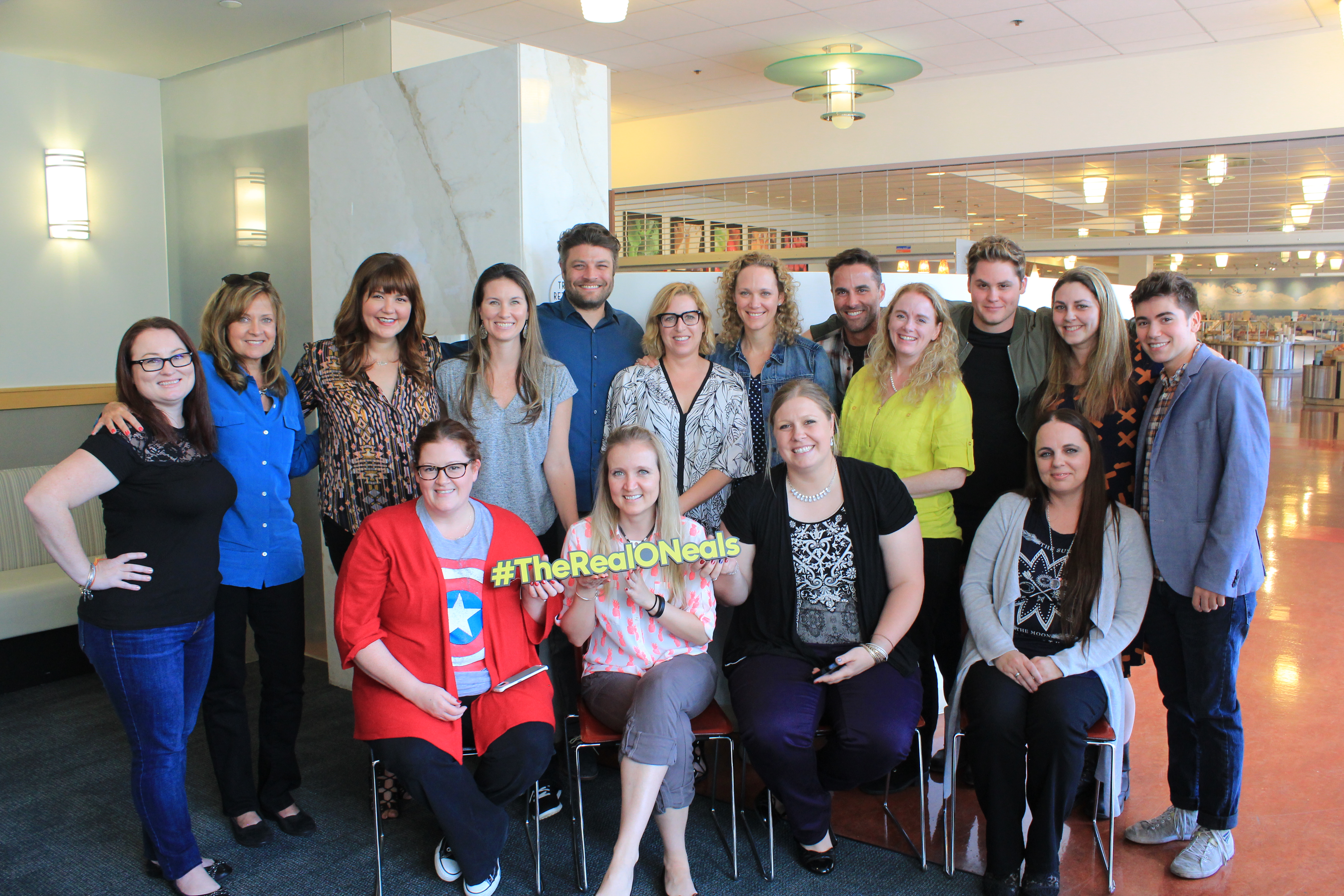 Have you watched The Real O'Neals? What's your favorite episode?
And if you love ABC's The Family, you'll want to check out my interviews with them, too.
Thanks to Disney for inviting me to be part of this event. All thoughts are my own, just so you know 🙂