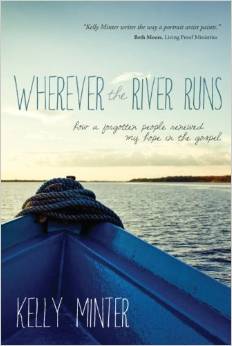 I was excited when asked if I would like to review Wherever the River Runs as I've met Kelly Minter. I'm thinking it was about seven years ago, when we still lived in Maryland, and Kelly was playing music at Spring Meadow Farms, a family owned market, pumpkin patch, and occasional music venue. It was our first time hearing Kelly Minter and her band, and we enjoyed it so much. Unfortunately, we never heard any more about her or her music. This book explains part of the reason why, and this short video will give you more insight as to why she wrote this book.

Kelly's music was Christian, and when she was introduced to the president of the record label she had signed with, her life changed...dramatically. John Paculabo would introduce her to the people of the Amazon, and going on the journey with her is almost like being there. Well, that is, without the bugs, snakes, and piranhas.
When I was first reading this book, I thought, no way would I do that. No way would I be able to handle it, physically or emotionally. Kelly met families who were suffering in ways we cannot imagine. She met children who had no parents, left to raise younger siblings in the jungle. She could make a difference while she was there, and yes, she could send money to those who lived there and could help provide for the children, but then she would have to leave. That would tear me apart, but at the same time, I could not live there.
I think what really moved me, and what moved Kelly, is that the missionaries who live there feel blessed to be able to do what they do, and having just a small part may be just what God wanted for Kelly. And she made a difference:
The pastor and his congregation had done the painstaking work of cultivating this budding shoot over the past twelve months, while I'd merely passed through the summer before, tossing a seen in his heart...Occasionally God leads us through someone else's meticulously tended orchard and grants us the glory of twisting off the apples that ended up in the award-winning pie. We know the final product isn't a result of our own labor and toil, we're just so happy He gave us a part in the story.
I am not usually much of a non-fiction reader. I seem to lose interest fairly quickly. But this book kept my interest until the very end. Kelly Minter is such a wonderful writer that I found myself bending the corners of pages so I could share it with you. Like the time she met a man who lived in the village he pastored only two days per week, because he didn't have a house there or money to build one. "But praise God, I got a job cleaning toilets at a supermarket...for twenty reais a day!" This is enough to afford going back to the village on the weekend and sleep in the back of the church. Kelly says," Pastor Naum had just assigned God's goodness to a job cleaning toilets, the way I say He's good when the leather boots I want are half-off and I just can't believe it because I never thought I could afford them." Wow. Kelly speaks to all of us, doesn't she?

This book really made me understand what missionaries do, and why they do it, on a whole new level. Joy permeates the book, even through all the sorrow Kelly sees in the Amazon. "I like to say the first time I went to the Amazon I saw it's beauty, the second time its people, and the third time I saw God."
The book is just so beautifully written that I can't wait to pass it on. You can pick it up on Amazon, along with other books and Bible studies by Kelly Minter. I'd love to hear what you think if you read it. Please come back and share in the comments.
I received a copy of Wherever the River Runs so I could read it and share my thoughts. No other compensation was received. There is an affiliate link above in which I would earn a small percentage of what is ordered on this site, just so you know. 🙂