This is a difficult book to review. About halfway through the Firebird, I wanted to put it down and forget it. I was not really enjoying it. I found the beginning difficult to get through. I picked it up, and put it down. A few days later, I picked it up again. Frustrated, I again put it down and swore I was done. I'm not sure why I continued, but I'm glad I did.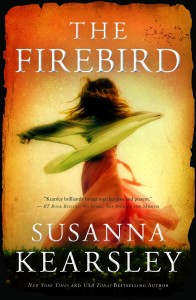 From the book: Nicola Marter was born with a gift so rare and dangerous, she keeps it buried deep. When she encounters a desperate woamn trying to seel a small wooden carving called "The Firebird,", claiming it belonged to Russia's Empress Catherine, it's a problem. There's no proof.
But Nicola's held the object. She knows the woman is telling the truth.
First of all, this book is L-O-N-G. 526 pages long. However, I've read books that long before and enjoyed them from the very beginning. I think what went wrong here for me is that this book had two stories that could have been complete on their own. Of course, the Firebird was the central part of the story, and finding it was the whole point of the book, so it could not have been separate. Still, there was just so much information about both Nicola and Anna, I felt like I was reading two books.
The story of Nicola was wonderful. I loved seeing her relationship with Rob unfold. I was fascinated by the business of selling famous pieces of art. I was excited when she began to embrace her gift.
I also enjoyed Anna's story, and all the wonderful characters in her life. I love historical fiction, so this part of the book was very interesting.  There were just times when I skimmed a page because it was too much information. I like being able to form a picture with words. I want to be able to envision things the way the author means for me to see them, but I don't need to know everything.
Still, there were parts of the book I enjoyed immensely. At one point in Anna's story, she was playing chess with her uncle, and this conversation unfolded: "See now, nothing that we do in life is easy," said the man. "Your pawn will capture mine in his next move, and yet that move will leave ye open to attack from my bishop three moves hence. Each choice we make has an effect for good or ill, for all we may not yet perceive it at the time." I loved how Anna's uncle spoke to her like she was an adult. She had certainly been through more than most adults ever endure. I loved her spirit.
Another line written about Anna's relationship with her uncle made me stop and mark the page: "How could she let him know that when he's gone away and left her, she would carry in her heart a hole the size and shape of him?" When a book has lines that make me want to remember them, it's a book worth reading. There were more. I must have marked at least a half dozen pages. Susanna Kearsley is a wonderful writer, but I think sometimes we want to share more than the reader wants to read. That was how I felt at times about this book.
I know in a book review I should either recommend a book or not. That is difficult for me with The Firebird. If you can get through the first half or so, you will enjoy it. If you are not the type of reader who can plow through to get to the well-written second half and ending, The Firebird may not be for you.
That probably does not help you make a decision! Perhaps reading a few of the other reviews on GoodReads will help!
I received a copy of The Firebird in order to write this review. No other compensation was received.