Disclosure: Disney provided me with an all expense paid trip to LA for this premiere and a host of other activities. As always, all opinions are my own. Just so you know!
As you probably know, I was in LA for four days for the Big Hero 6 red carpet premiere and after party along with a host of other events that I'll be sharing over the next couple of weeks. It was a whirlwind event with more interviews and parties than I've ever experienced before, and there's a reason for that. Big Hero 6 is about to take the world by storm! This film is so magical, so beautiful, and has such an emotional and inspiring story that it will be on the lips of every family with kids when it comes out on Friday, November 7th. No kids? You'll love this film, too. It's a movie everyone will enjoy. I'll be sharing more about it tomorrow for release day!
For now, I just want to share about the red carpet premiere experience. The entire area was decked out for Big Hero 6, including the building across the street where we saw Jimmy Kimmel Live the last time I was in LA.
This ticket is what I needed to show to get by security.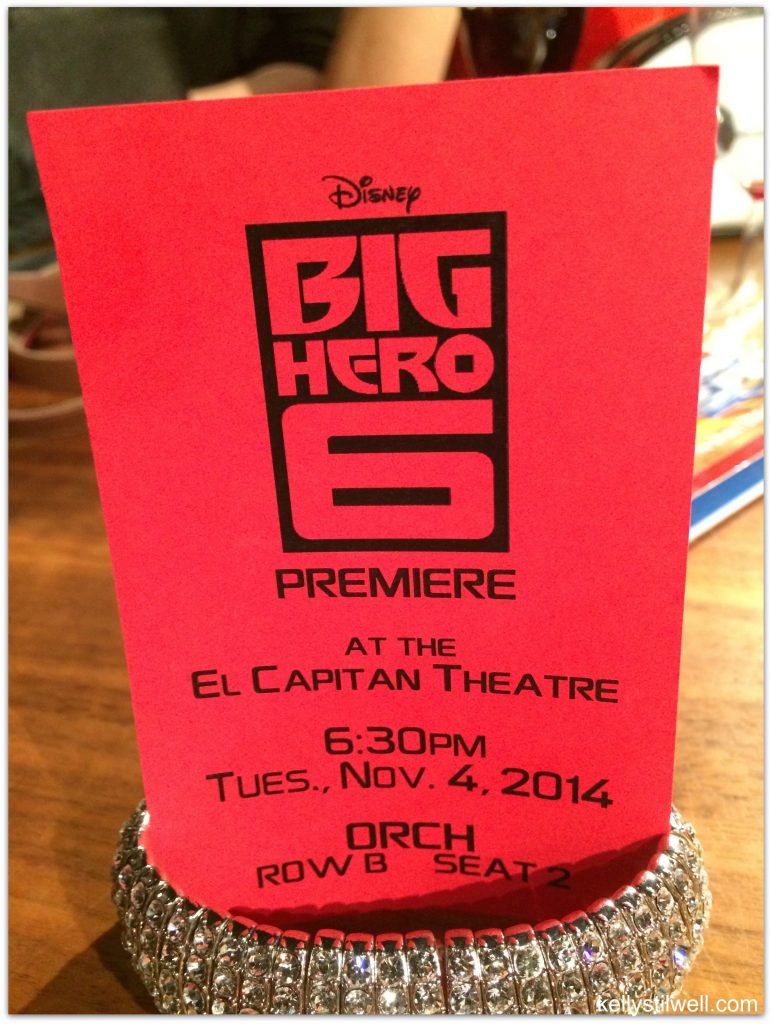 Of course, the attire is usually dressy, so all 25 of us were all in cocktail attire.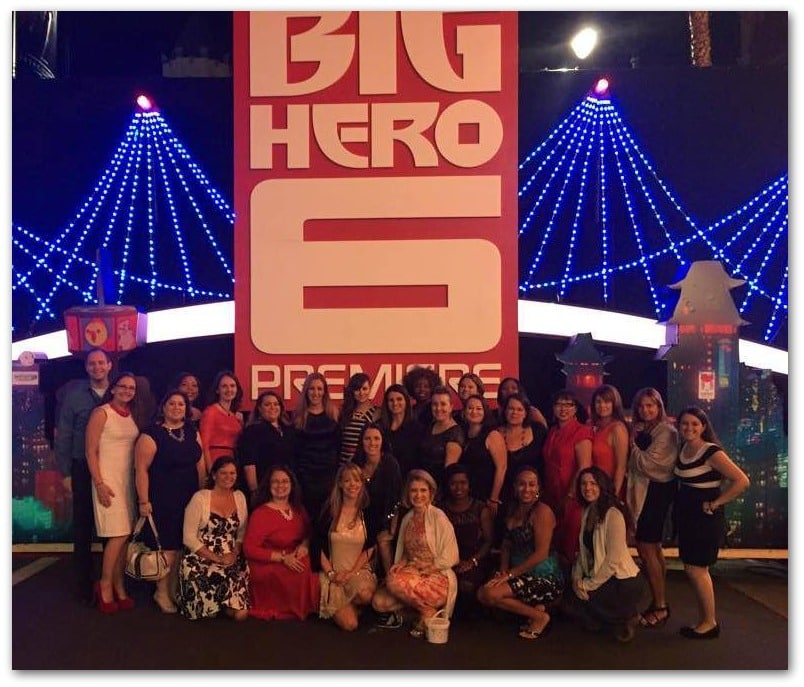 A red carpet event is big, with the actors (in this case, voice actors), producers, directors, writers, animators, and others involved in the film in attendance. Once you arrive at the El Capitan Theatre, the area is roped off and you have to show your ticket in order to get a wristband. There are people everywhere trying to get a glimpse of their favorite actors. Especially for an animated film, people don't always know who their favorite character was voiced by. They may be taking pics of of people thinking they are involved in the film. Who knew? Even this could be someone famous!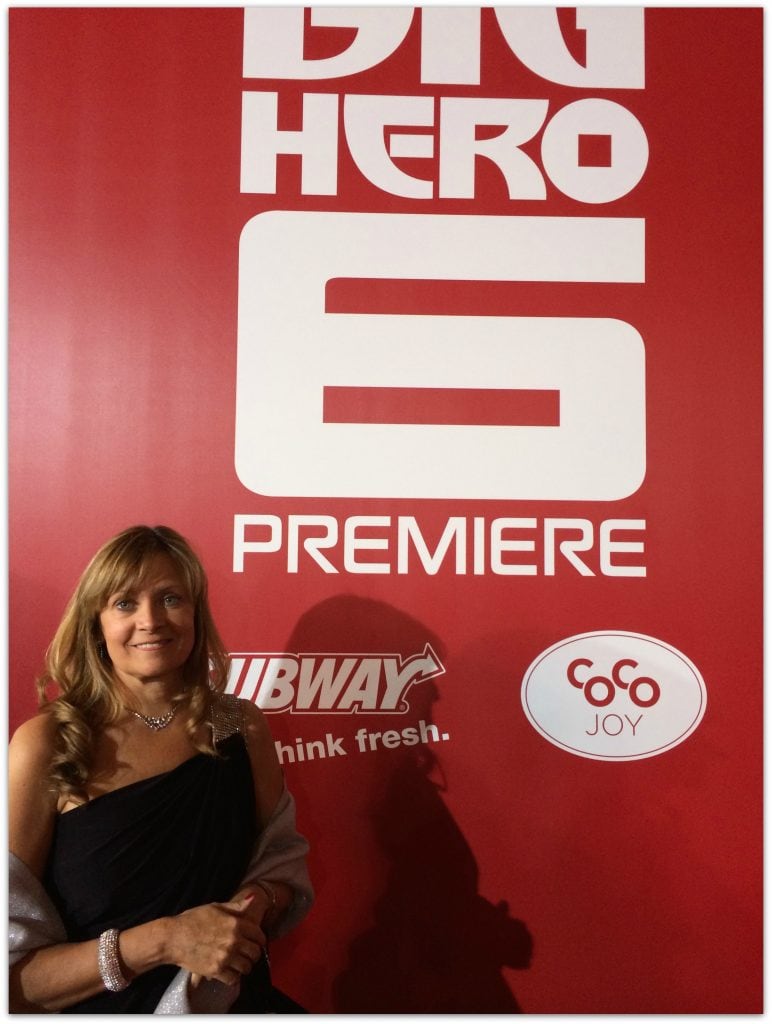 And who is that other woman she's with? Could she be famous?!  That's Stefanie from Mommy Musings!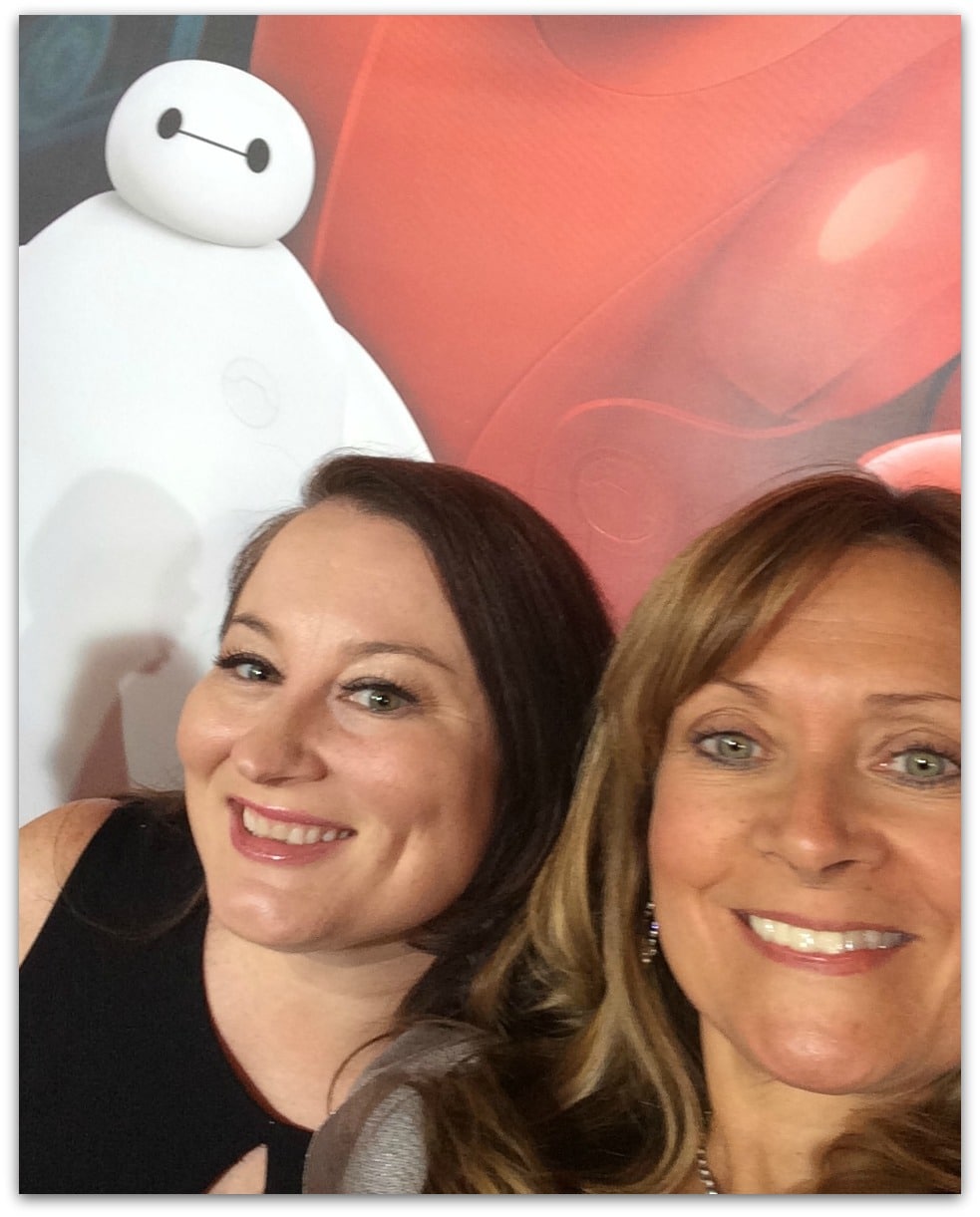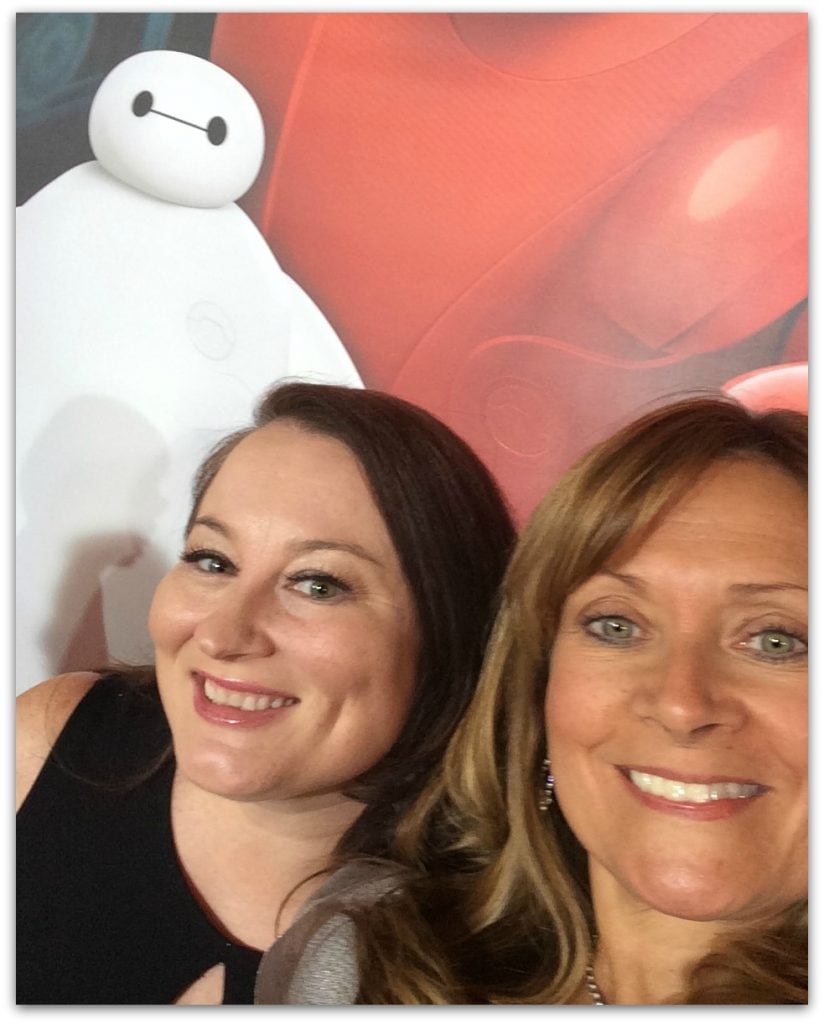 I think I heard someone say they recognized this one! It's Amy from Mom Spark Media!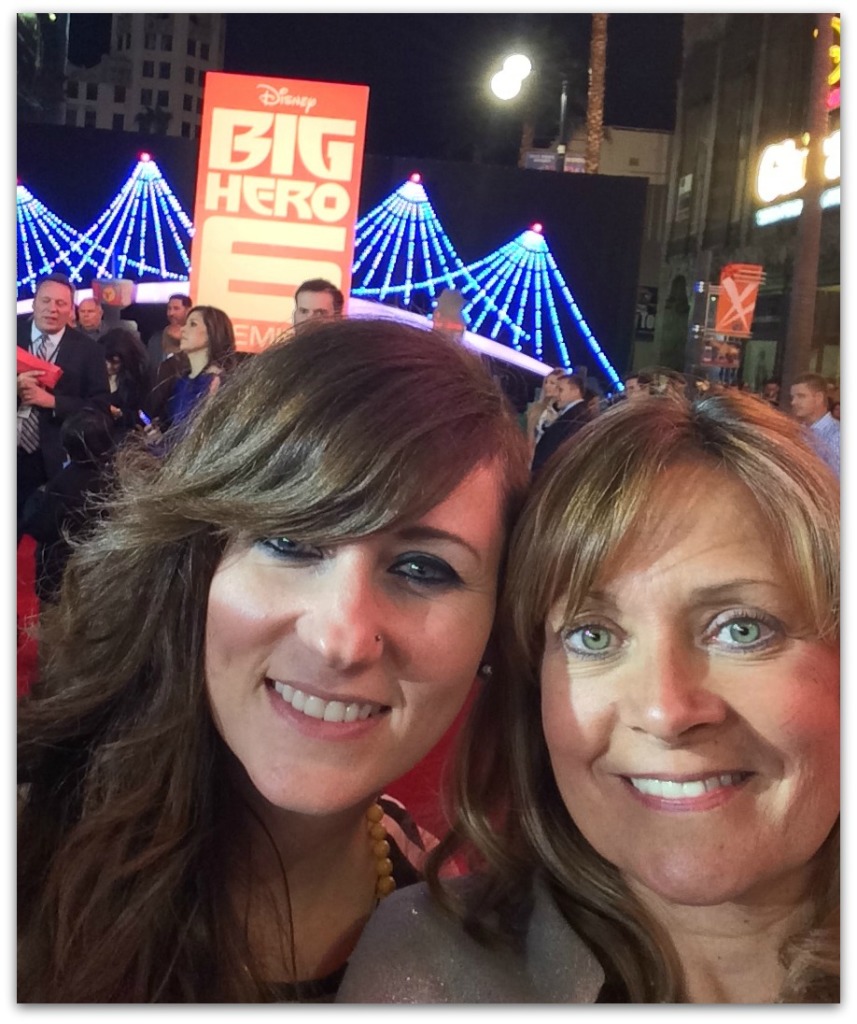 We had such a blast taking selfies and watching for stars while on the carpet. Typically, we are rushed through this part of the event, but not this time! We were really able to enjoy the walk on the carpet, and spotted stars everywhere!
The voice cast was all on hand for photo opps. From left to right, we have Daniel Henney, voice of Tadashi, Maya Rudolph who voiced Cass, Ryan Potter, the voice of Hiro, Scott Adsit who voiced Baymax, Jamie Chung who voiced Go Go & Genesis Rodriguez who voiced Honey Lemon (interviews coming soon!), T.J. Miller who voiced the amazing Fred, Kate Lowes who voiced Abigail, and on the end is Damon Wayans, Jr. who voiced Wasabi.  
Robert L. Baird, one of the screenplay writers, was at Disney Animation Studios while we were there and I kept running into him. That's part of the excitement of being at the Studio. You never know when you are face to face with those who make the magic happen. I can't wait to share that day at the Studio with you!
Speaking of magic, the Producer, Roy Conli, and Directors Don Hall and Chris Williams posed with the characters Hiro & Baymax. I've got interviews coming soon with them, as well! I still can't believe how much we fit into this trip and how much I have to share with you! One more from the carpet because one of the most amazing men in the Disney family was there; the one and only John Lasseter! 
 As much fun as it was being on the carpet, it was time to go inside the amazing El Capitan Theatre for the premiere of Big Hero 6! I was able to see an advance screening a couple of weeks ago, but couldn't wait to see it again!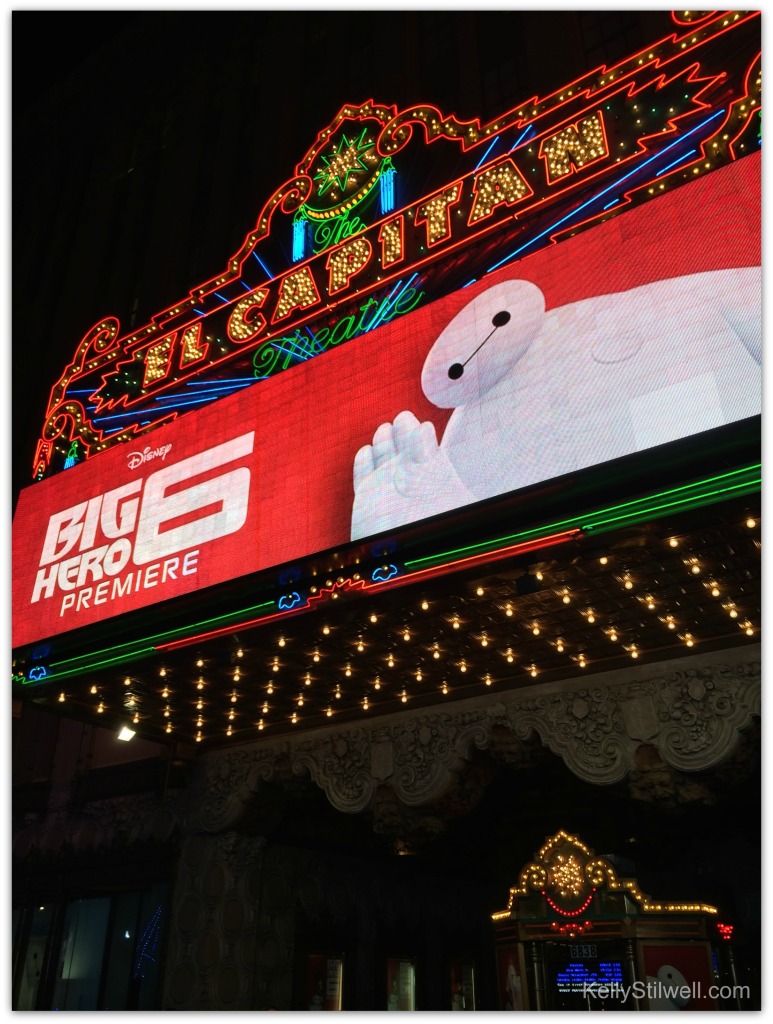 This theater is so opulent, with an East Indian designed interior and Spanish Colonial Exterior. Big Hero 6 was my fourth premiere at the El Capitan, and each time I am in awe, not just because of the design, but because this is Hollywood's First Home of Spoken Drama since debuting in 1926. I'm always thinking about the stars who may have sat in the same seat I sat in, or walked down the aisle to their seat. Stars like Clark Gable, Henry Fonda, and Orson Wells. It's mind-blowing!
Before every premiere at El Capitan, the organist comes up from out of the stage and plays before the show.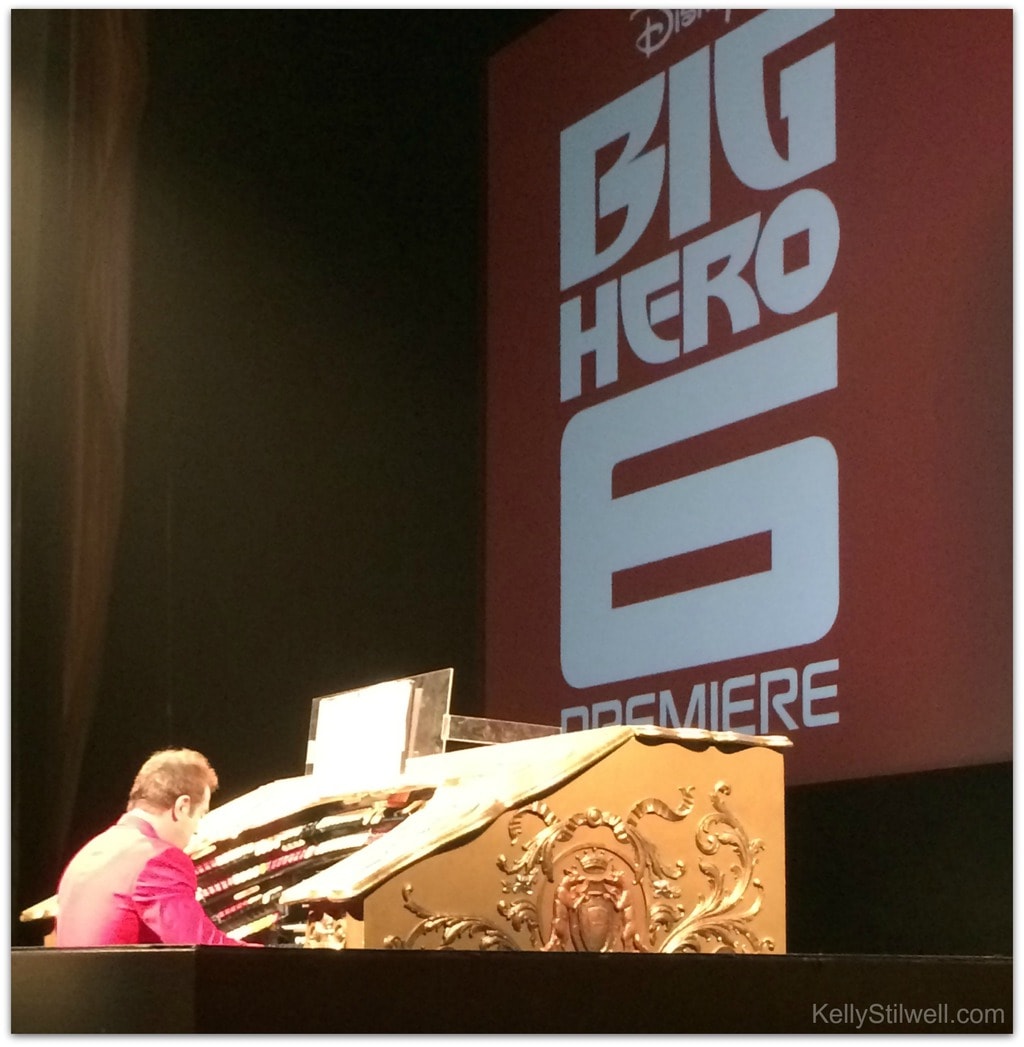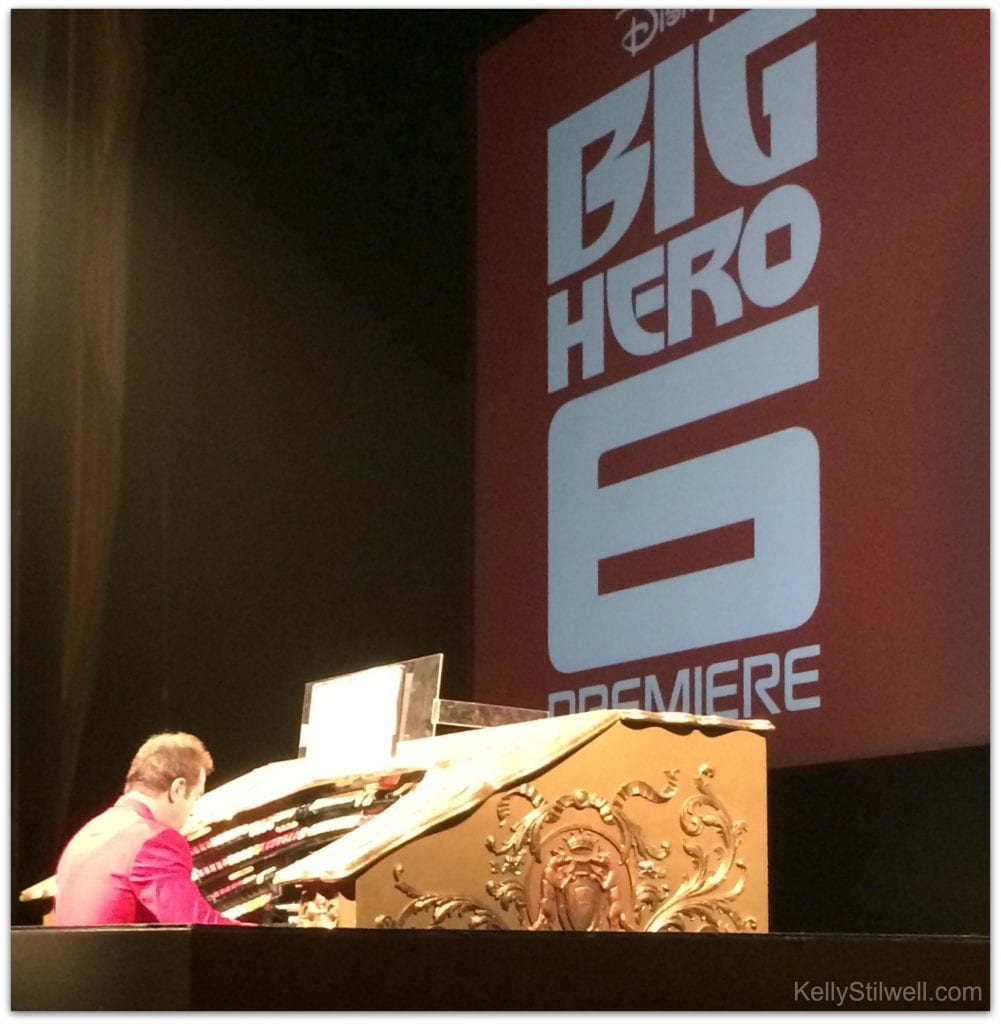 I'll tell you more about the movie tomorrow, but I'm so excited to share about the premiere after party! This was the best after parties I've ever attended. There was so much to see and do! I loved how the restaurant had an open feel to it. The inside had a walkway all around this beautiful garden with food like sushi, lo mein, and other Asian specialties, set up along the way.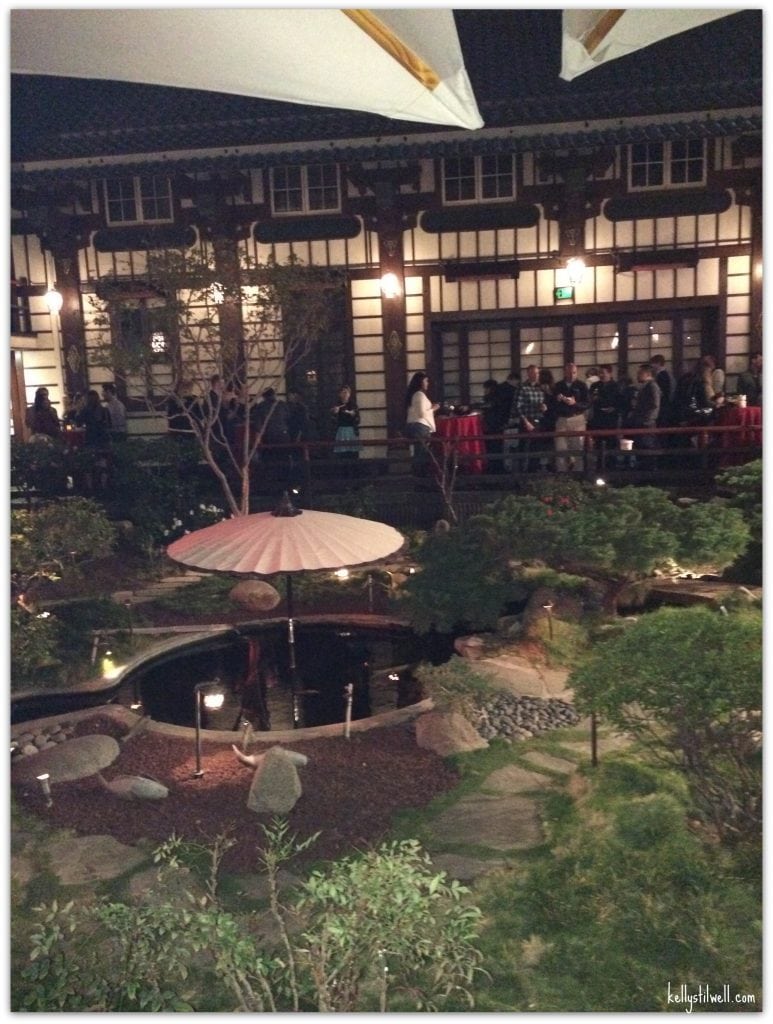 I was excited to meet Ryan Potter who voices Hiro!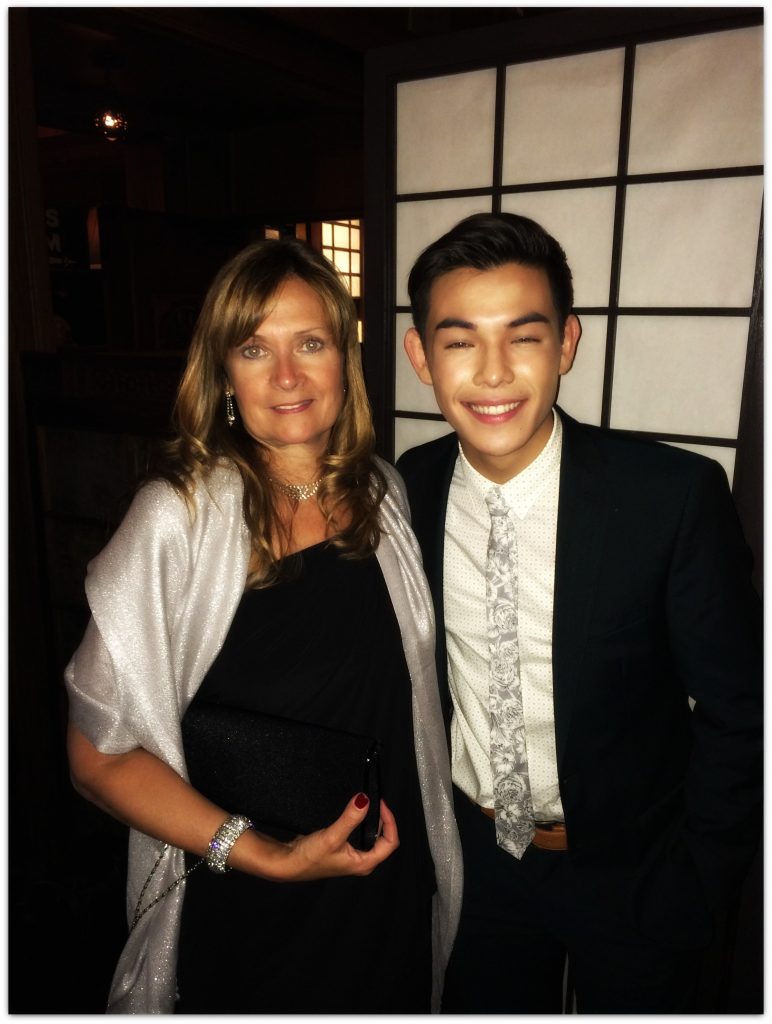 There was an entire room set up with activities for kids, though there were more adults taking advantage of the selfie station with Baymax, the green screen station, the cupcake station, Disney Infinity play area, and more. Serious creativity was put into this party. Disney doesn't do anything halfway.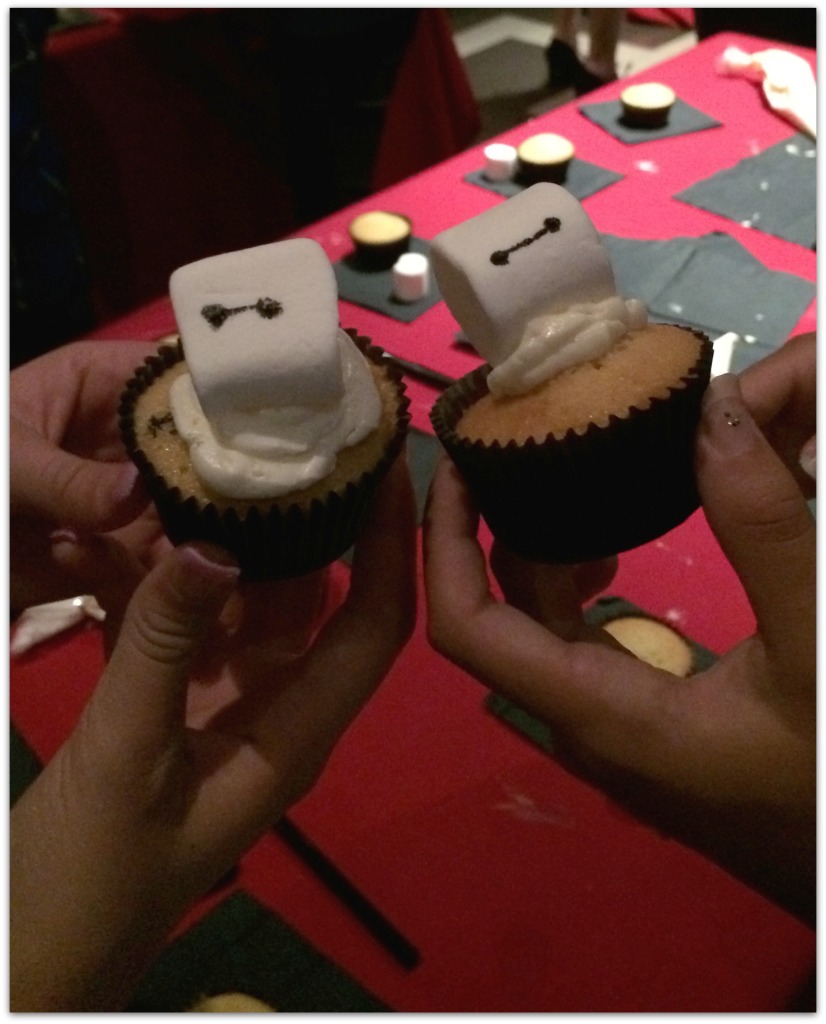 We especially had fun with the green screen!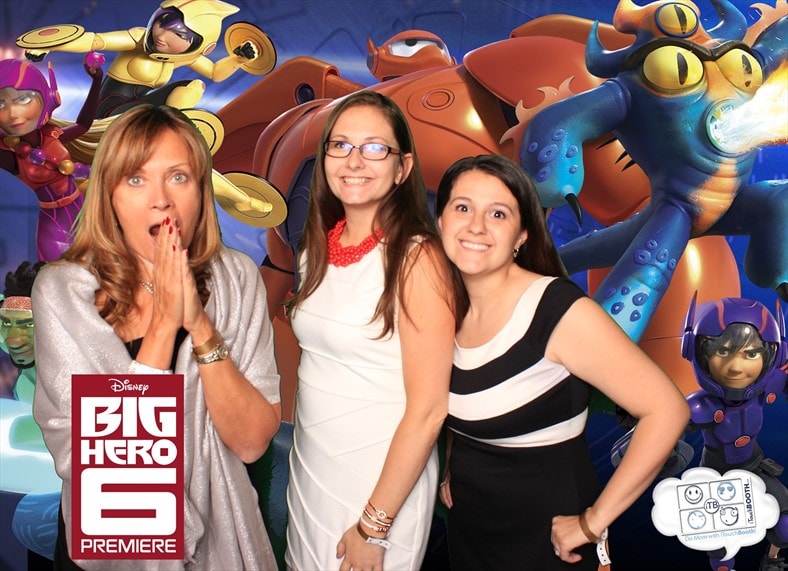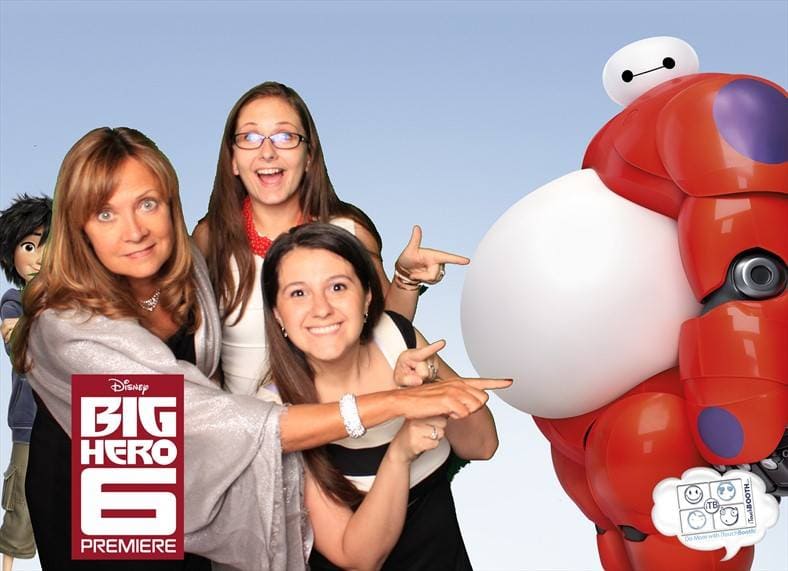 What an amazing night! Thank you Disney for inviting me to be a part of it! 
Big Hero 6 slams into theaters tomorrow!! As my husband hasn't seen it, I'll be going for the third time, soon! Movie review tomorrow! 
Want to make a fun lunch for your kids? Put together this Big Hero 6 Bento Box!