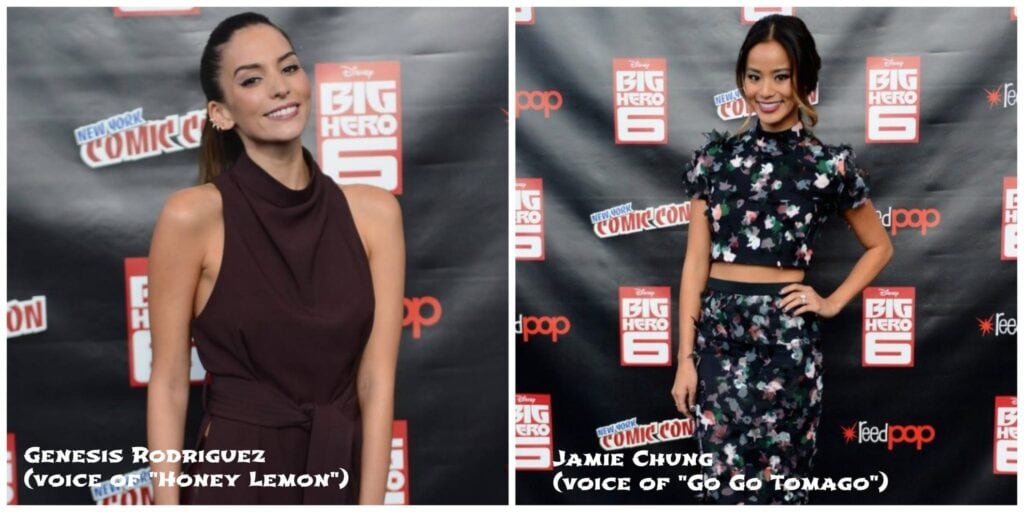 Have you seen Big Hero 6 yet? I took my girls to an advance screening a few weeks ago, before I headed out to LA for the red carpet premiere. As my husband was out of town when we went the first time, I saw it for the third time a couple of nights ago. I love this movie so much!
When in LA, along with the directors of Big Hero 6, I was able to interview voice actors Jamie Chung (Go Go) and Genesis Rodriguez (Honey Lemon.) Besides being absolutely gorgeous, both women were so humble and kind. We had a blast chatting with them about the movie and their roles.
We were curious about what their favorite part of playing their characters was. I was thrilled to see two very strong female roles. Jamie Chung said her character, Go Go, doesn't say a lot in the beginning of the film, but when she does say something, it's "very on point and sassy. She's described to be the female version of Clint Eastwood, and said it was fun to sass it up. "Literally if I said a line with too much of a smile, the Directors Chris and Don said, No, No, No, No, No. A little bit meaner. I really feel like I was acting a fool and I was getting paid for it!"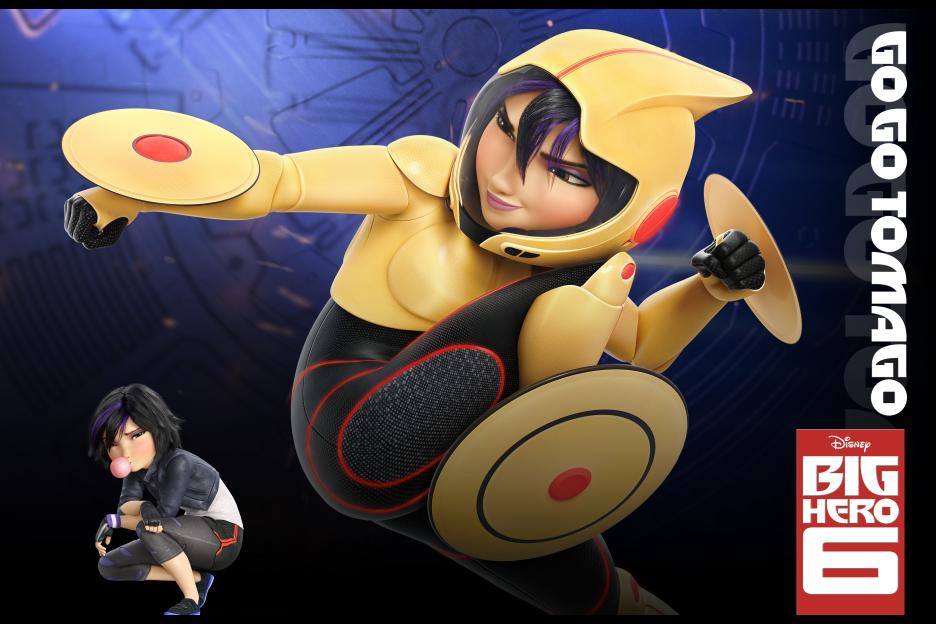 Genesis said it was really just the biggest blessing to have this cast, with such warm and loving characters, because you'll never get to play that kind of part in a live action thing. She said she thought she could speak for the both of them. "We've been huge Disney fans all of our lives and you know, we've been Princesses and I literally would comb my red hair in restaurants as Ariel. It's like a dream come true to be able to play these strong Female Characters and bring that down to future Generations."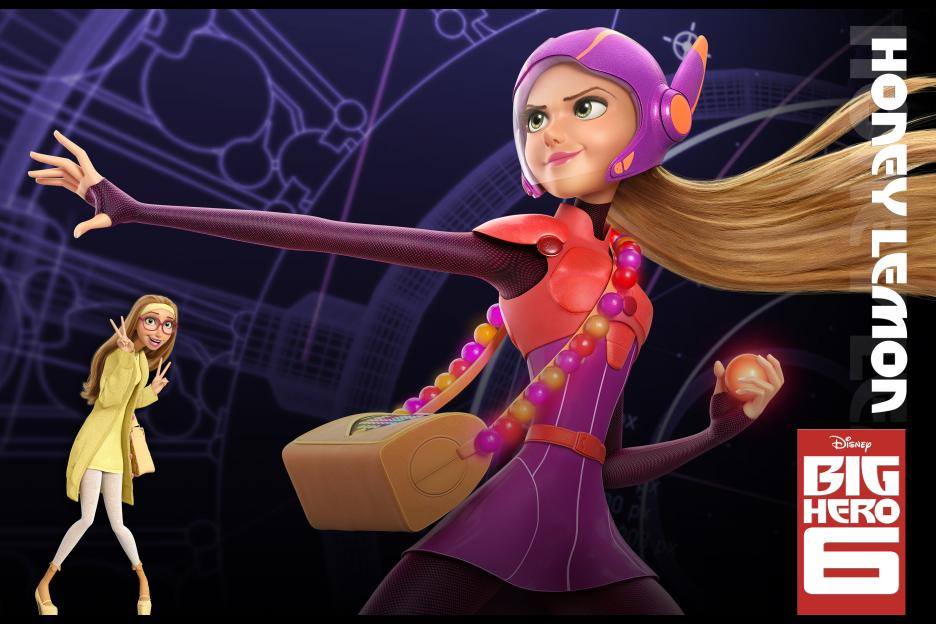 We asked if they had ever voiced an animated character before, and Jamie told us she had never done anything of this caliber. "You know, once you've done a Disney Animation Film, it's like kind of the top of the top, you know what I mean?"
Jamie said what she loves about this film is that there is no stereotype. "You know, it kind of breaks all of those boundaries in terms of being a nerd, and being not cool. This is the absolute opposite of that. And in terms of strong female characters, Honey Lemon and Go Go are so different from each other and yet they both represent strength in their own way." She added that she thought Disney was great about not making a cookie cutter example of what a strong woman is. "They both come in different shapes and sizes, and different shades and what not, and that's what I love about it."
You often see clips of voice actors being very animated when doing their lines. We asked, was that really the case when they were in the studio?
Genesis said she heard a story of a famous voice over actor who prefers to lay down and say all of his lines. She didn't know how he could do that because she has to do the motions and thinks Jamie is the same way. I can't imagine! I know when I was in the sound booth (see it tomorrow!) I was not moving and it sounded like it. If I ever get the chance to do that again, I'm going to prepare more by getting warmed up and try to be more active while talking. It is not as easy as it looks!
We talked about what it was like to audition for a role with Disney, and Jamie shared that she had actually gone in to audition for a different role in another Disney movie. She said all the important people were there, like John Lasseter and the creative team. She explained that there was artwork from the film up on the walls, and she figured they were just doing a table read. As her character really had to come alive, she said it was a huge responsibility. After the table read, she didn't feel like it was going any further, and then John Lasseter and the casting director asked her to read for Go Go. So cool! It's like they had in their minds exactly who they needed for that character, and though she wasn't right for the one she read for initially, she got an amazing role from that audition! Can you imagine?
It was fascinating to learn how much they really do improvise. Genesis said there is not much you can do to prepare as every day the script changes. Jamie agreed, "You really have to tap into your inner kid and make that voice."
Both women agreed that their characters had some of their real personalities. Jamie said personalities really do come alive. "If you look at each character and compare them to the person that's playing them, they embody that character. Genesis to me is Honey Lemon, you know? Her own personal attributes are what kind of gives this character life, and I think that's what they did with casting. They wanted the characters to kind of represent the actors that are playing them." Genesis is definitely Honey Lemon. Just take a look at her nails!
I was surprised to hear that the voice acting was not done together except for a little between Ryan Potter (Hiro) and Maya Rudolph who played Aunt Cass. Otherwise, they were done on their own. I kind of imagined them all in a room together!
We asked both women what their favorite part of the movie was. Genesis said Jamie has the best line in the movie, "Woman up!" I have to agree. I love that line! She also said one of her favorites was the car chase. Jamie liked the part where they were all trying out their new gear. Funny she said that, because her character was my favorite during that part, where she was trying out her new wheels.
Did they have a favorite character in the movie, besides the obvious Baymax? Genesis loved Fred, and said TJ is such a funny comedian, too, and so much like his character. Jamie's favorite was Wasabi. 
I'll admit, I cried three times the first time I saw Big Hero 6. We wondered if the film had any emotional parts for them. Jamie said she didn't cry the first time because she was just taking it all in, but when she saw it a second time with her nephew, she did cry. The part where Hiro says he can't leave Baymax got her! My whole family agrees with that! It was so emotional. Genesis said she cried three times, too!
Jamie said she loved that even in a Superhero movie, Disney is sending the right message, which is that intelligence is not sex or race biased. Everyone has the equal chance to succeed. Genesis felt the same way. Being into robotics and technology herself, she hopes the movie will encourage girls to be the first one to raise their hands in class and realize that being smart is cool. Our girls need to see role models like this. Strong, smart, and determined. Three great traits I want for both of my girls! I love a movie that has strong female characters, and one our kids learn from. Check out my 7 Things your Kids will Learn from Big Hero 6.
What did you think? Did you like the message of the movie? Who was your favorite character, and why? Share in the comments below!