Walt Disney Studios invited me on an all-expenses paid press trip in order for me to be able to share it with my readers. As always, all opinions are my own.
Who watched the Mistresses Season 2 premiere last week? Steamy, right? So now you know Savi is no longer with Harry. I was not happy about that one. You knew I was Team Harry. They were married, and I really thought they should try to make it work. I still don't know how Savi could choose Dom after Harry told her how much he loved her, even after all she has put him through. Then again, maybe there is more to Harry than we know. I thought his choice of rebound was a little beneath him. Savi thought so, too. Or was that just jealousy?
Speaking of jealousy, how about the new attorney Savi will be sharing an office with? Poor Dom has had to spend some extra time with Antonia Ruiz (guest star Rebeka Montoya) getting her up to speed in the workings of the firm. I don't know what the future will bring (honest-I really know nothing!) but I have a feeling our Savi is going to get a little of what she's dished out, if you know what I mean.
No matter what happens with the love interests of any of our Mistresses ladies, they will always have each other. Right?
While I was in LA for the Million Dollar Arm premiere, I also had the opportunity to visit the set of Mistresses at ABC Studios. It's fun to look at these clips now that I've seen a lot of the set in real life. Here's a photo of the table above that I took on the set! I should have grabbed a few of my blogging girlfriends and shared a pretend toast! Hindsight…
Here's another peek into Savi's kitchen on set!
This was just a taste of what we were able to see on our tour of the set of Mistresses. I think we all agreed that our favorite part of the tour was Karen's store, Maison Sur Mer. I wanted everything I saw! We were all writing down the names of the furniture and accessories throughout the store. Gorgeous!
Don't you just love the colors? I would have spent hours there if we didn't have other things to see and do that day! If you watch this show, it will be fun to see if you recognize these areas of the store!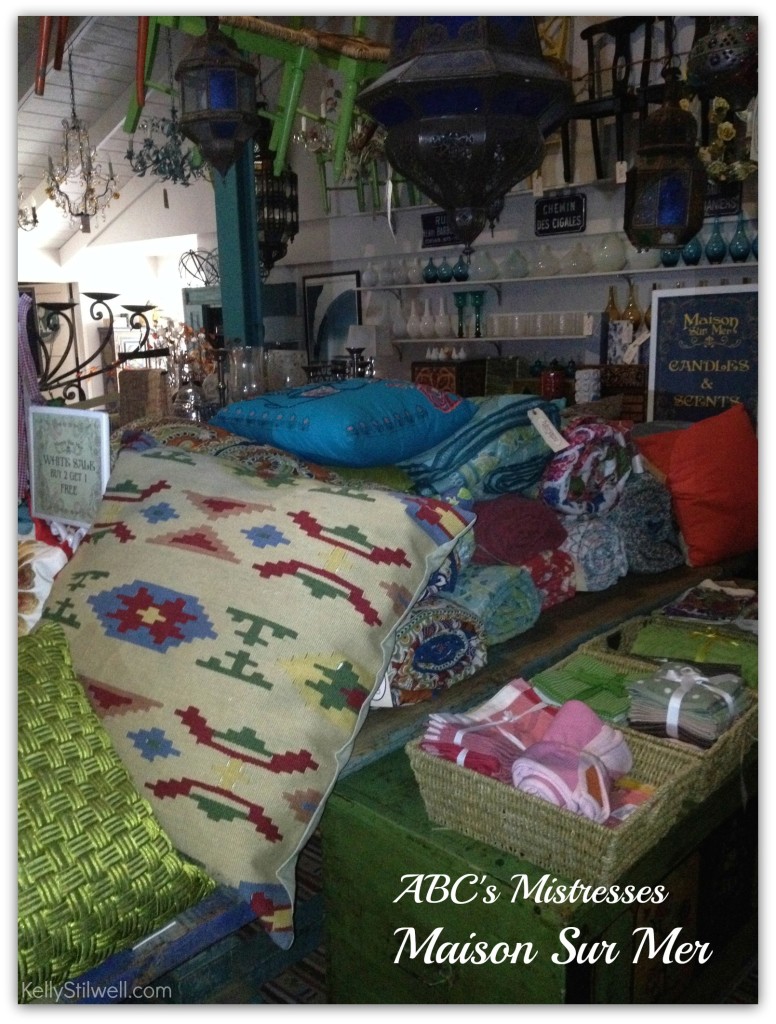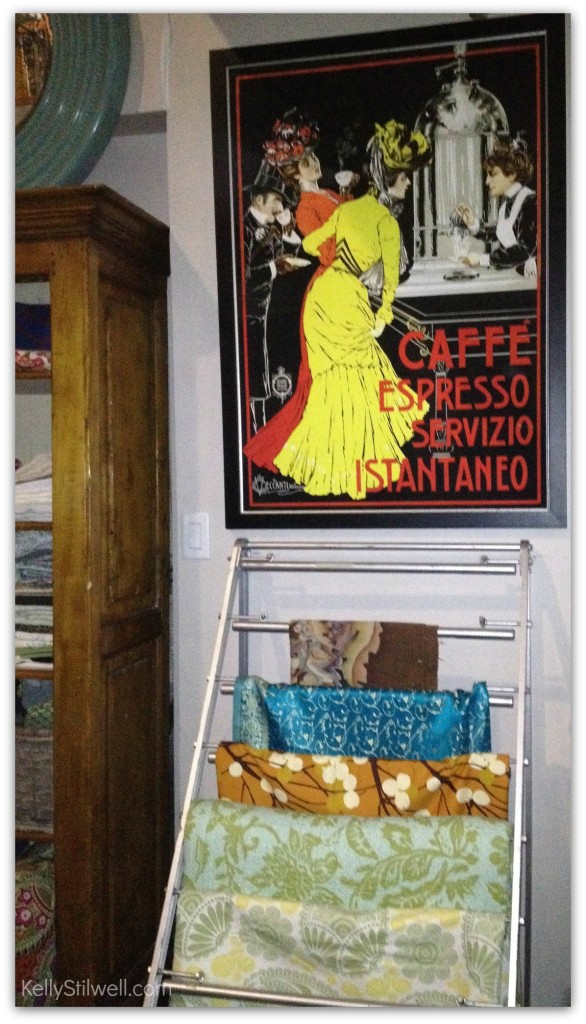 I told you last week that while we were checking out the set, we had a very special surprise visit from one of the actors who even kissed one of the bloggers in our group! If you missed it, you have to see that photo!
We were also able to watch actual filming of the show, which was very cool. We pulled into a residential neighborhood in Culver City to see the crew set up outside. We all wondered what it would be like to have a television crew across the street. I guess that's all part of living in LA!
Jes Macallam and Justin Hartley were both on set the day we were there, but we had no idea they would come out and spend time with us! It was fun to meet Jes as she's from the area where I live in Florida. She told me her dad still has his dental practice here. We had fun posing!
Jes introduced us to the handsome and so sweet Justin. They were both so much fun! I'm still not sure how it happened, but somehow Justin talked us into singing happy birthday to him, though his birthday was months before. I guess it just goes to show that he had us all wrapped around his little finger from the beginning…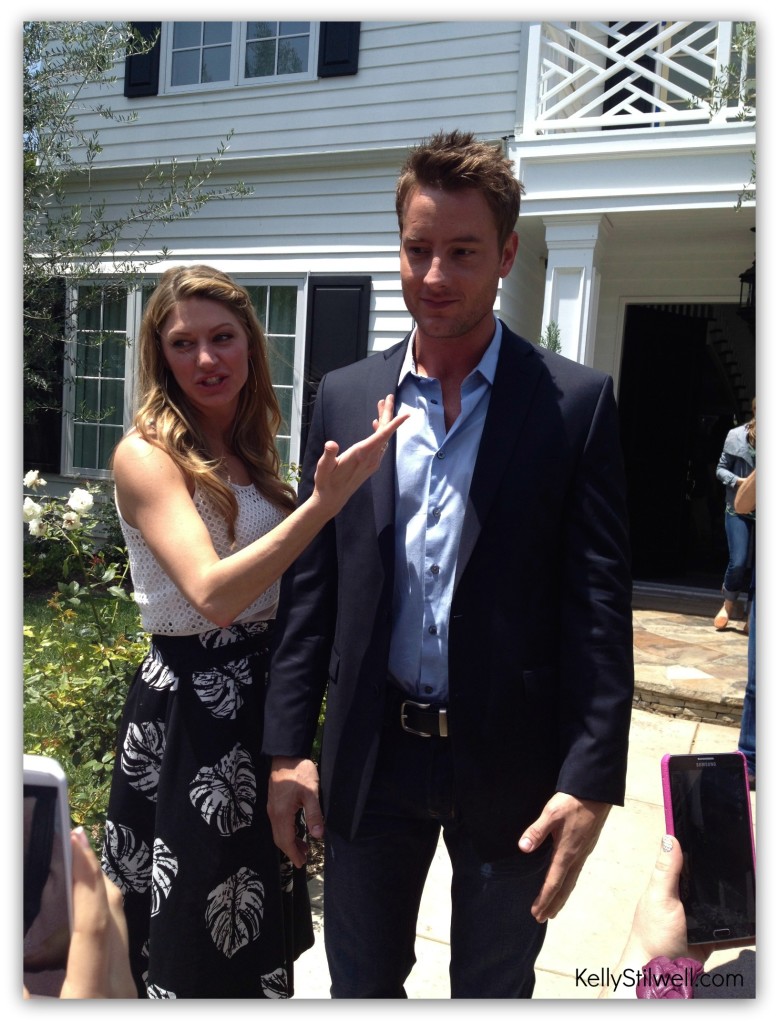 It was really fun spending time with Jes and Justin, and seeing Jason while we were at ABC studios. I've said before that Mistresses is not a show I regularly watch, but now that I've met a few of the stars, I might have to peek in now and then, just to see what they are up to 🙂
Mistresses airs on ABC on Mondays from 10- 11 PM ET. This season is going to be a serious roller coaster ride, so if you watch this show, you don't want to miss even one episode!
You can keep up with Mistresses by following them on all their social media channels:
Like Mistresses on Facebook
Follow on Twitter
And check out the Mistresses page on ABC where you can learn more about this and all the other fabulous shows on ABC TV!