I was invited on an all-expense paid trip to LA in exchange for sharing the experience with you. All opinions are strictly my own. Just so you know.
If you've been following along, you know I went to LA last week for the premiere of Big Hero 6. I met with the filmmakers and directors, the voice actors, the artist who drew Baymax, went to Dancing with the Stars and saw an upcoming episode of Galavant (So funny!) and more! I've got so much to share with you over the next couple of weeks, including lots of pics from the black-ish set visit! For today, I'm excited to introduce you to Kenya Barris, Creator & Executive Producer of the show, as well as the kids who make black-ish so special. 
Kenya Barris is known for a great sense of humor. He's been a writer since 1998, working on several television shows, including CBS's "Listen Up," The CW's "The Game" and "Girlfriends," and Fox's "I Hate My Teenage Daughter." He also co-created "America's Next Top Model," which is currently shown in 49 countries with 21 internationally-formatted offshoots. Recently, Barris wrote and created BET's "The Start Up," starring Diggy Simmons, and "We Got Next," Hulu's first half-hour comedy series. "black-ish" is loosely based on his own life. Barris was born and raised in Los Angeles, and is married with five children.
One question I had was from one of my readers who asked where the name black-ish came from. If you've watched the show, you know it's not about race at all. It's about family. The writers ran through a lot of names for the show, but said once black-ish was brought up, nothing else fit. There was a little controversy over it initially, but once people saw the show, they got it. I think it's perfect.
We were able to see tonight's episode while we were in LA, and I have to tell you, it's awesome! I can't give too much away, but you can get an idea from the shots below. One of the things I love about this show is that I can so relate! My husband had a meeting one night while we were away and I took our girls to Sizzler. They thought it was amazing that they could get seconds of anything they wanted, and even thirds! I knew I'd better seize the opportunity to take them there, because my husband would not walk through the door! I grew up going to Sizzler, and had such fond memories of it. Turns out this episode was based on a real experience Kenya Barris had of going to Sizzler!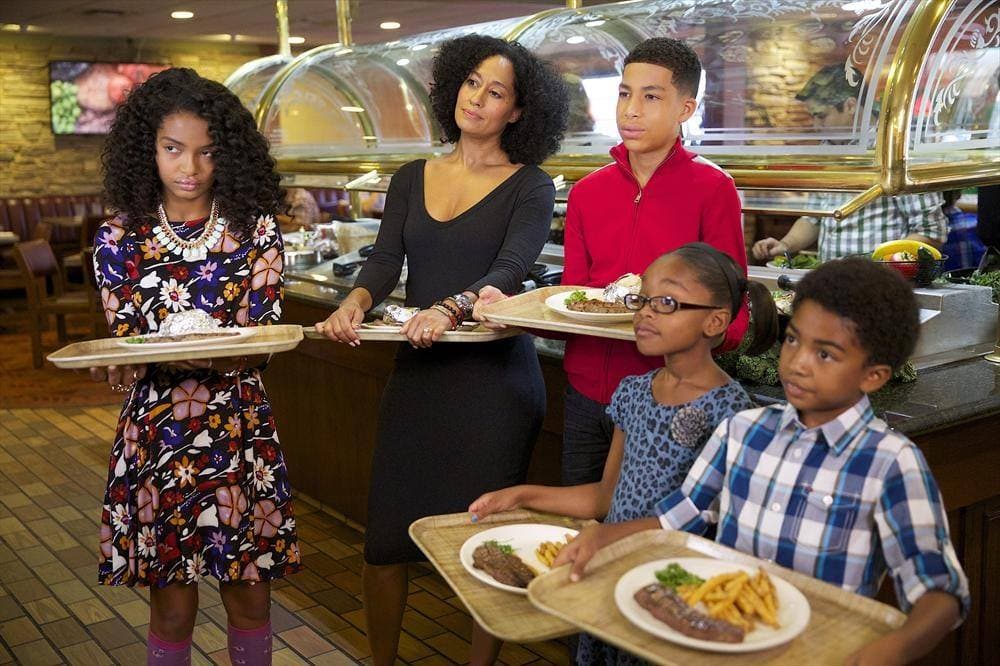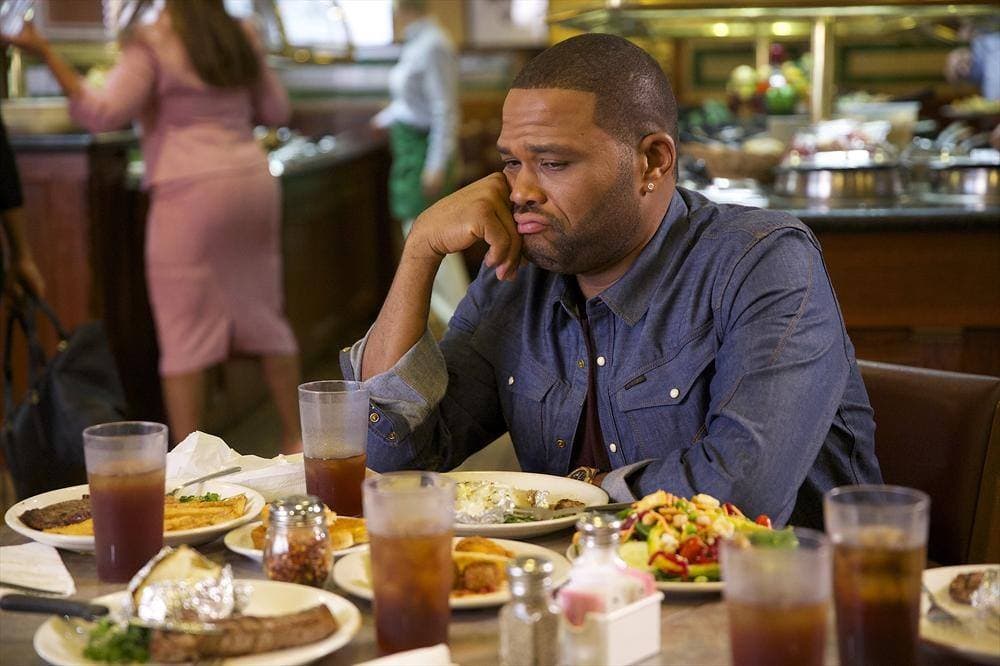 Meeting the kids from the show was really fun. They are so sweet, so polite.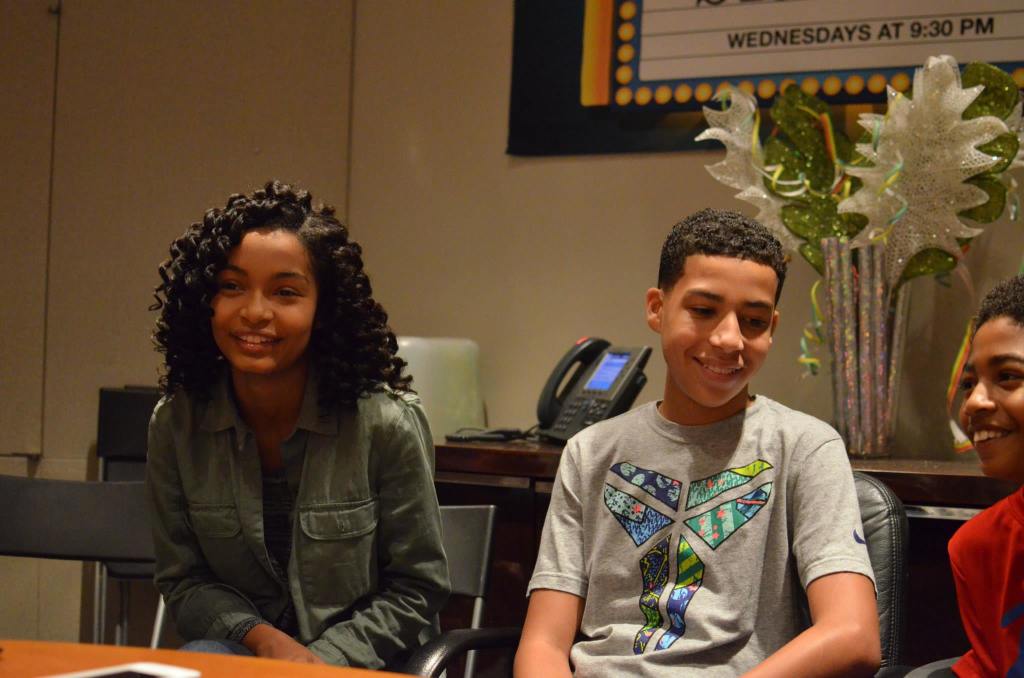 All four of the kids agreed that it was a blast to come to work everyday. They said it's not like work at all, and that they really were like a real family. They said pilot was so much fun to shoot and they instantly bonded with each other. 
Marsai Martin, the younger girl, plays Diane Johnson, twin sister of Jack, played by Miles Brown. Watching them together was adorable! They sat right next to each other, even sharing a seat. You can tell they are truly best of friends.
We asked if their characters where similar to their real personalities. Yara Shahidi, who plays Zoey Johnson, said she is not very much like her character. She spent her summer taking classes at Oxford, and is not on social media as much as she should be. She even needs to be reminded to tweet that the show is coming on! On the other hand, Marsai, who is as much a pistol in real life as she is on the show, loves social media, and had even retweeted a few of our group's tweets! She did say she doesn't have siblings, so this is her first experience with that.
Her on-the-show twin-brother feels his character is very similar to him in real life, as does older brother, Marcus Scribner, who plays Andre Johnson, Jr. He said he feels like a lot of the conversations that have happened on the show have really happened to him.  
The kids also feel like their lives are pretty normal. Yara said her family and everyone at school is so supportive. She said one of her teachers even commented that she saw the ratings were good, and that she was keeping an eye on them!
Marcus cracked us up when he said his grandmother is in sales and talks about how her grandson is on black-ish in her sales pitch! And Marsai told us her grandparents had black-ish on every TV in the house, and her grandpa said if anyone in the family wasn't watching he was going to "sock them!" I told you she was a pistol!
What was most special to me during this set visit was that all the parents of the kids were on set, and agreed to talk with us. 
It was really cool to see how close they are. If one parent has to be somewhere else, they cover for each other. But most days, they are all there. They said there is a lot of pressure on the kids. They still go to school, have homework, and on top of that, they have to be on set to film, study their lines, and everything else that goes with being on a hit TV show. We see so much negativity about child actors, but these families are so grounded. These kids are blessed to have such amazing parents!
We had so much fun meeting with this group. Such wonderful people, and they spent so much time with us. 
I hope we get to see the kids from black-ish grow up on the show, because I just adore it. 
Be sure to tune into black-ish tonight at 9:30/8:30 central on ABC. The cast usually tweets during the show, which is really fun! Follow the hashtag #blackishABC!