I love easy, healthy meals, and this Baked Penne with Tomatoes & Turkey Sausage is one of my favorites. I homeschool my girls, and my oldest also takes classes at a local college, so they are home more than most kids. My husband works from home, too, so I like to make meals that will provide leftovers. I know some families don't like leftovers, but we think just about everything is better the next day! This penne dish was definitely better, and still delicious on day three! I originally found this on the weight watchers site, but I've changed it up a bit. I hope you enjoy it!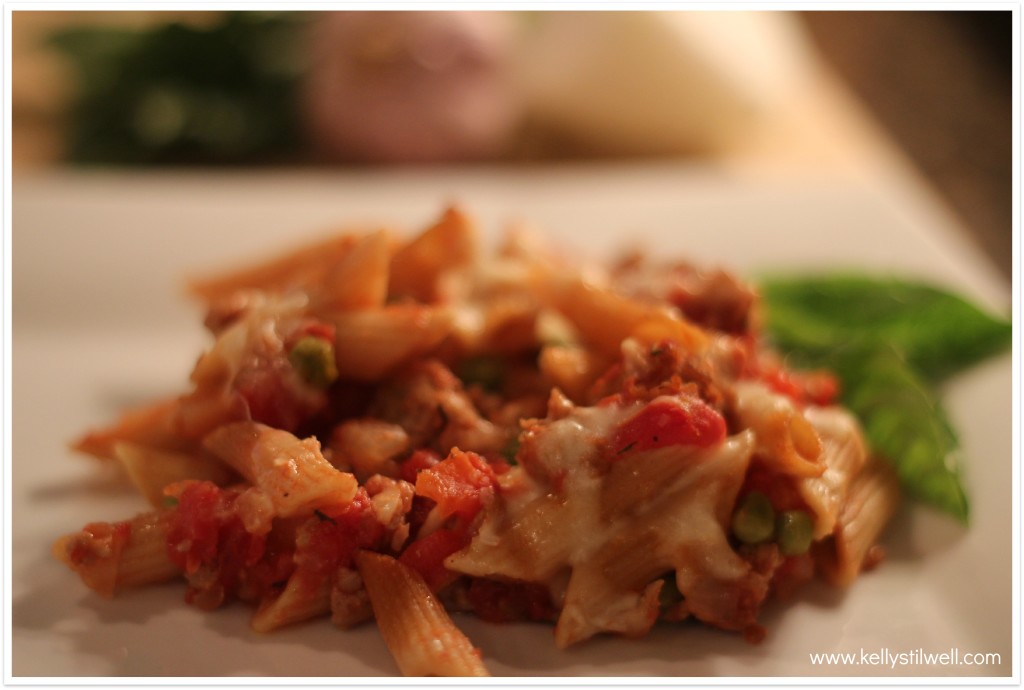 Ingredients (printable)
1 ¼ pound turkey sausage, casings removed
1 large onion, finely chopped
1 large clove garlic, minced
2- 14 ½ ounce cans of diced tomatoes, no salt added
3 Tablespoons tomato paste
2 teaspoons Tuscany Blend (Spice & Tea Exchange)
1 teaspoon dried thyme
½ teaspoon dried fennel
½ teaspoon garlic salt
½ teaspoon pepper
13 ¼ box whole grain penne
1 ½ cups frozen baby peas
8 ounces low-fat part-skim mozzarella cheese
fresh basil, optional
Instructions
Preheat oven to 350 degrees.
Put water on to boil for pasta.
Cook sausage in a large saucepan, breaking up pieces with a wooden spoon as you brown it over a medium heat. Once sausage is cooked, drain off fat.
Add pasta to boiling water, cooking according to directions on box.
Add onion and garlic to sausage, cooking until soft. At this point the whole house smells delicious, and I am tempted to stop what I'm doing and eat the sausage, onion and garlic with a spoon. But then what would I make for dinner?
Add tomatoes, tomato paste, and all seasonings. Bring to a light boil, and reduce to simmer. Add frozen peas and cover pot. Continue cooking 5 minutes.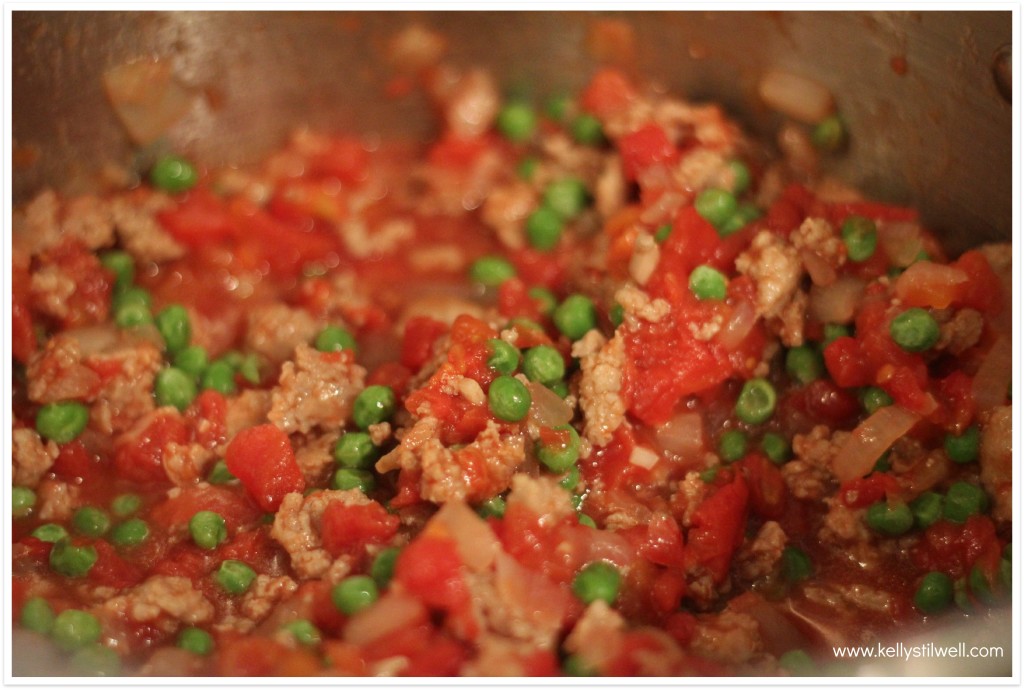 Once pasta is al dente, drain and add to sausage mixture. Add half of the cheese and mix well.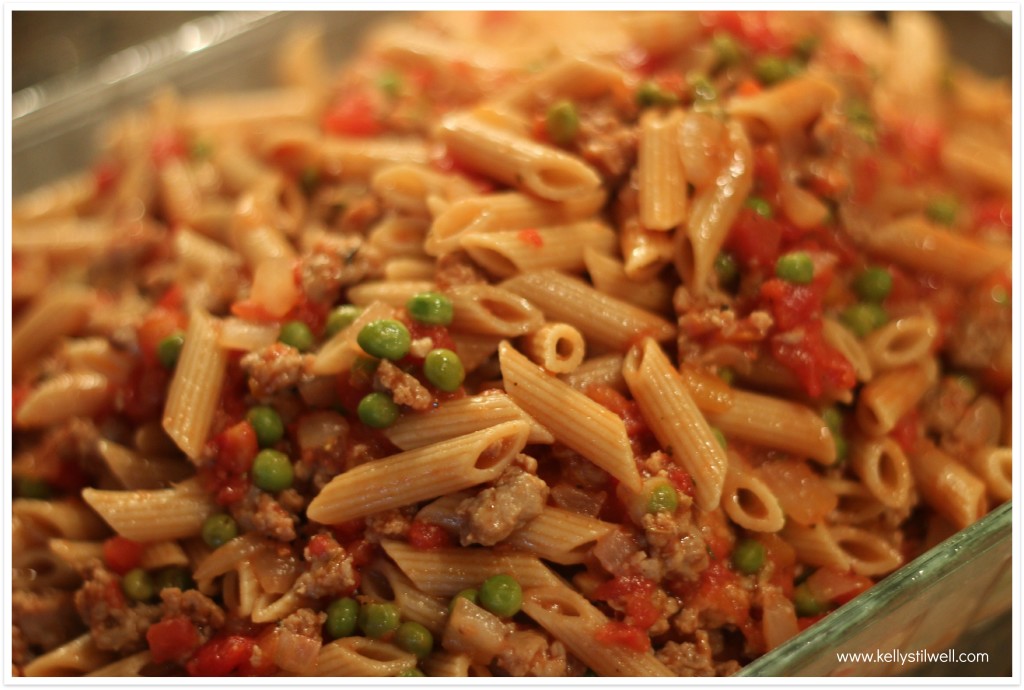 Coat a 9x13 dish with cooking spray. Pour everything into the dish, and top with remaining cheese.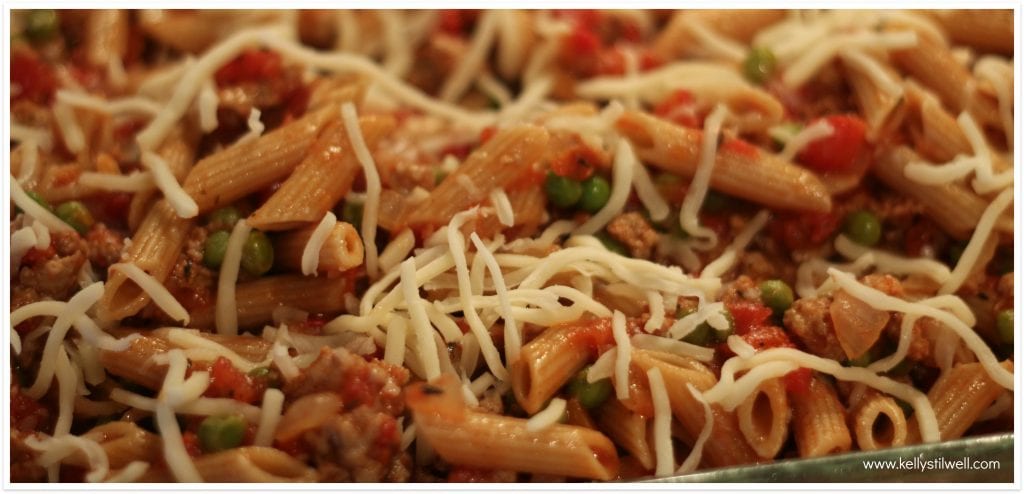 Bake for 20 minutes. Let stand a few minutes before serving. Makes 10 servings. Leftovers freeze well, too. I hope you enjoy it as much as we did. After seeing these pictures, I'm ready to make it again!