Meeting the team from Disney's Planes and learning about how the animated movie process works was an amazing treat. I guess they were excited about our visit, too!
Storyboarding Disney's Planes
Sitting down with Dan Abraham, head of story on Disney's Planes, the movie, and Art Hernandez, who was one of the amazing storyboard artists, was the icing on the cake for me.
If you know me, personally, or through this site, you probably know my daughter plans to work in animation.
She is only 17, and actually I'm sitting in Panera Bread writing this while I wait for her to get out of her drawing class. Spending time with people who are in the business, and even where she hopes to work one day, was just magical.
Update: My oldest daughter graduated with an Honours Bachelor's of Animation last year and is freelancing while we are dealing with Covid. It's been a great time for her to work on her portfolio.
My younger daughter is a junior in the same program!
As I really had no idea how the process worked, it was fascinating to listen to Dan explain how a film comes to be.
He shared with us that, ideally, the story artists get the script, and they work off that, which was the case for Disney's Planes.
Each storyboard artist would get three different chapters from the script. They take that written word and transform it into a visual.
Dan explained they "kind of make a comic book version of the movie to set up the staging, where the characters are, what the locations look like, and where the camera is in this world." Isn't that awesome?
I could visualize how they might begin the work, and how it would take off from there, taking on a life of its own.
Art Hernandez elaborated, "We're faced with the unique task of trying to make sure that everything works. And in the world of Planes, that's not the easiest thing to do because you have to try to cram all of these characters with wings all into one shot.
"The other unique part of this is that it's not just about staging and about where we place the camera or the composition of the shots. We're limited to three things to get emotion, expression, personality."
In other words, Art explained, planes can't throw their arms up in the air when they're angry, or simply stroll over and pick something up.
All these emotions have to be planned out in a different way. If that isn't difficult enough, as I shared before, John Lasseter is very much into the truth of the materials, so if you are going to make a plane do something where it has to bend, and it's metal and metal doesn't bend, it won't work in the script.
Did you have any idea that so much went into a Disney animated film?
Dan went on to explain that there are a lot of challenges. They even put together a kind of mock version of the movie with the drawings shot along with temporary music and side effects to see how everything plays out.
That's the point in the process when they can not only figure out what's working and what's not, but also how the characters are shaping up.
Can they relate to them? Are they funny? Are they likable? This process takes about a year and a half to two years, and about 40,000 panels, many of which are not used. And I thought I had a hard time editing!
Art told us he was so glad when things were switched to digital. "What we used to have to do is draw everything on small squares of paper.
"And Dusty, for example, if we were still doing this the old way, if he was up in the air flying, you'd drop one big background, and then you photocopy that over and over again, cut and paste Dusty through the whole thing, and then scan that and send it to editorial.
"We don't have to do any of that now. Draw the one background. Draw Dusty once, and you can just take a line off at the push of a button. It just makes things so much better, and so much more streamlined."
But Dusty still has to be drawn the first time, and we were about to get a lesson!
Art Hernandez stood at the front of the room and walked us through the steps.
We were all given pencils and paper.
It wasn't as easy as I thought! I went back to erase a line and had a hard time catching up!
We were all concentrating pretty hard!
Here's my finished drawing! I don't think they will be calling me to join the team any time soon, but it's a keeper for sure! I'll never forget the day I got to spend with these guys!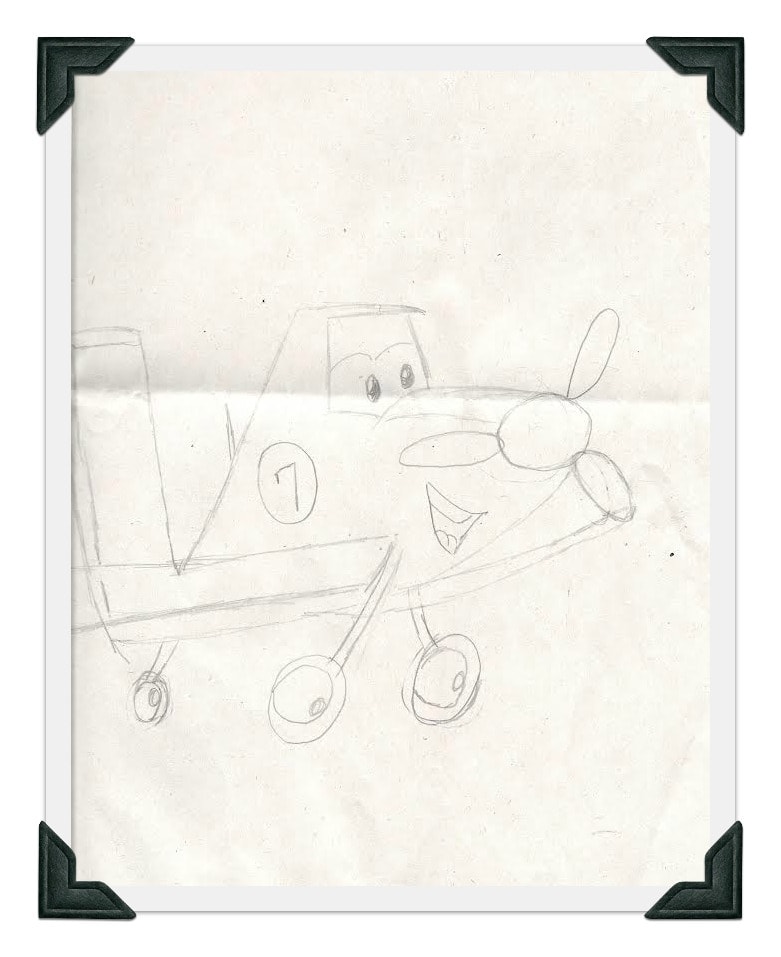 I was sorry when it was over, but we had to fly! (That was bad, I know...)
To learn more about the making of the film, check out chatting about Disney's Planes with the director and producer.
Be sure to pick up your very own copy of Disney's Planes, available on Blu-Ray and DVD!
Remember to follow Planes on your social media channels!
Disclosure: I was invited on a press trip with Disney. All expenses were paid. No other compensation was received.