We just love to hang out at St. Armand's Circle in Sarasota, Florida. You may have read about some of our adventures there in previous posts. If you are ever in the Sarasota area for Halloween, be sure to check out the events there. You will not be disappointed!
We met my husband's cousin there yesterday for a quick drink and some appetizers, followed by a visit to our favorite ice cream shop. There are several ice cream stores around the circle, but there is always a line at Kilwin's. Even when people have been stuffing themselves for days after the Thanksgiving holiday, there is always room for ice cream! But there is so much more than ice cream at Kilwin's!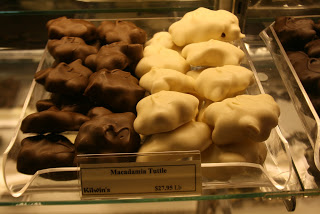 As I don't eat much ice cream (lactose) I browsed the candy while my family waited in line. Though Kilwin's is known for ice cream, the candy counter is just unbelievable.

They make all this right in the store. You can watch them make fudge in the front window. If you're lucky, you might even get to taste it.

You can also taste the amazing nut brittle, which comes in peanut, cashew, and mixed nut. If you love nuts, this is the place for you! My husband has to buy a bag!
I don't know what my favorite is, but the chocolate covered orange peels are phenomenal! My daughter loves the chocolate covered pineapple, too!
How about a chocolate covered candy apple? These are huge sellers. What a nice treat to eat while walking the circle to window shop. 
Don't these look delish? 
Trust me. They are! 
If I had to choose, it would be chocolate covered pretzels. I love the salty and sweet together.
Of course, most people leave with a bag of candy in one hand and an ice cream cone in the other. More choices. What kind of cone?
You can't go wrong, either way. Visit a Kilwin's if you can. We love the one at St. Armand's Circle, but there are many locations! See if there is one near you by visiting their website. Enjoy!