Abbott partnered with influencers such as me for its Ensure Program. As part of this Program, I received compensation for my time. The opinions and thoughts in this post, though, are mine.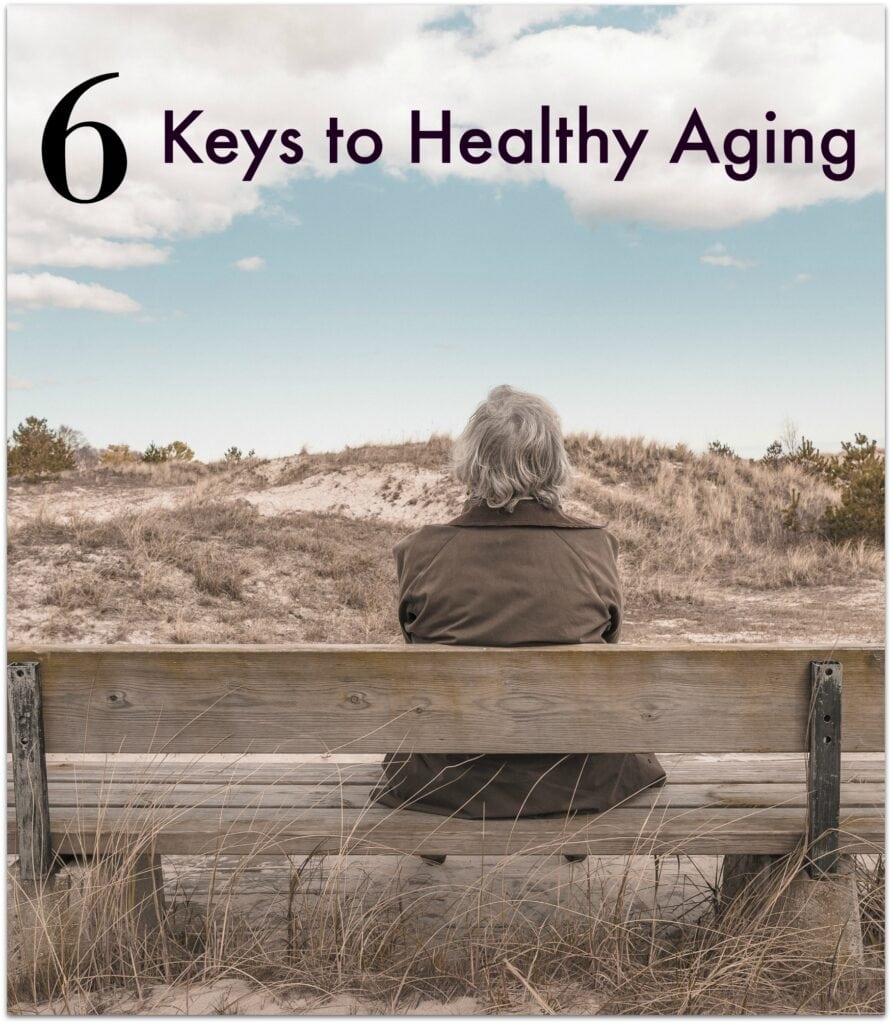 Healthy aging has become really important to me in the past ten years, so when Abbott, makers of Ensure nutrition drinks, reached out to me to partner on this post, I felt it was a great fit. I hate to admit it, but I hit that big 50 a few years ago. In a business where almost everyone is younger than I am, I have to take good care of myself just to be sure I can keep up in the coming years. I've been on a few press trips that started early in the morning and ended late at night and were full speed ahead from the time we began. If I didn't take care of myself, I wouldn't be able to do all that I do. And I have no plans to slow down anytime soon!
From what I've read, adults 50+ in America are pretty healthy, but want to have more energy. I couldn't agree more! A recent AARP-Abbott survey found that even though 85% of Americans 50+ believe they are in good or better health, and 82% feel they are eating well, 50% of adults wish they had more strength or energy.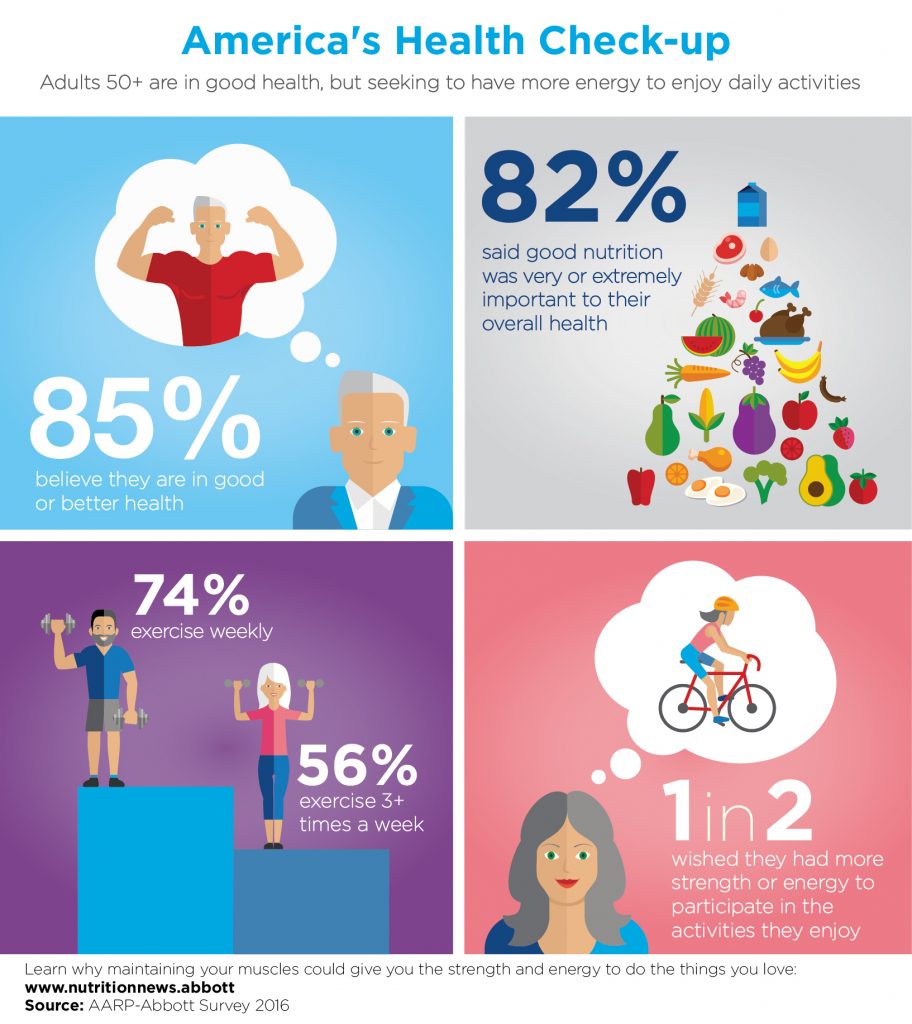 Exercise definitely improves energy levels. As we age, we lose muscle. Advanced loss of muscle is called sarcopenia. Though sarcopenia typically accelerates at around 75, that's not the time to get your act together. The time to begin taking care of yourself is long before that. In fact, after age 40, we lose 8% of our muscle mass per decade!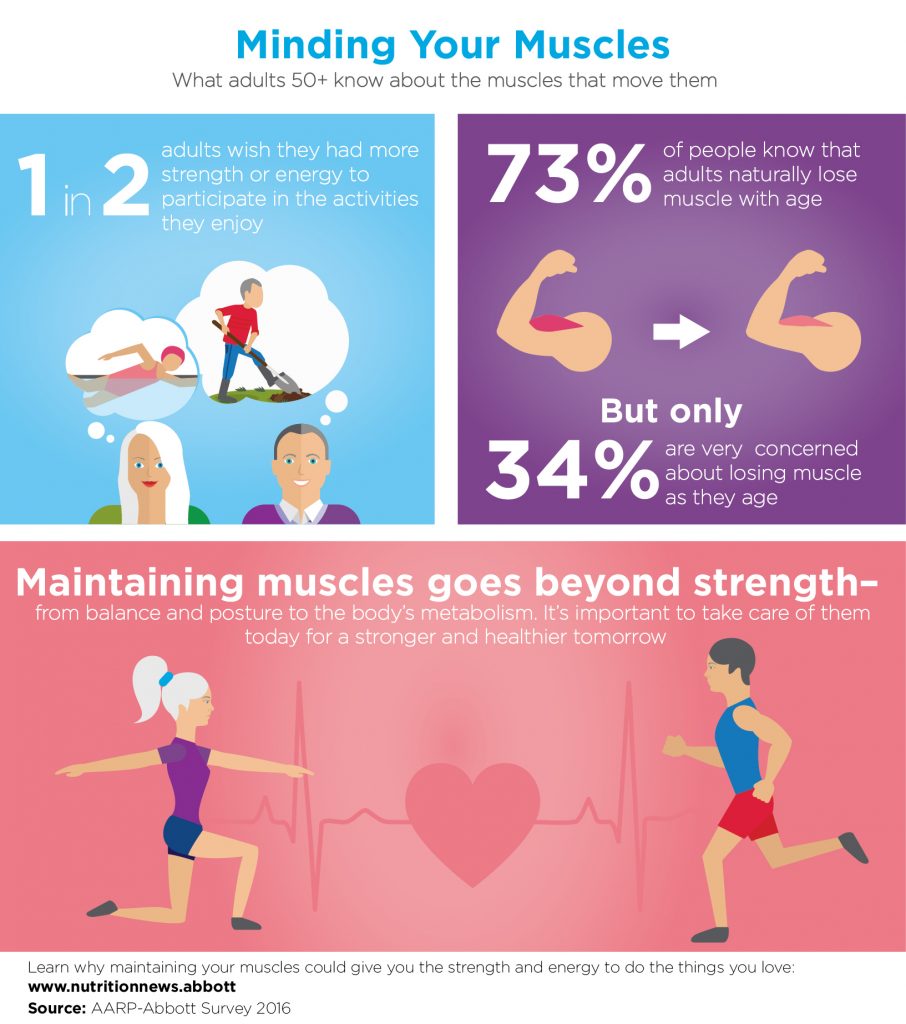 A couple of exercises that can improve your muscle mass are squats and planks, and you can do them anywhere without equipment, so there's no excuse!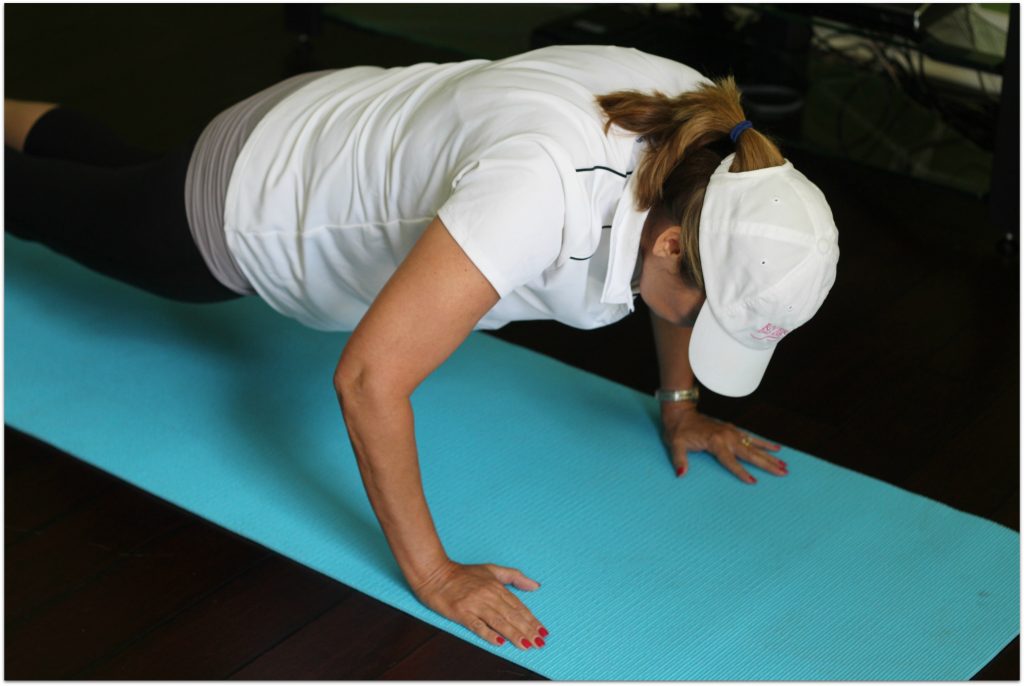 I'm taking control of my health now, so I can put off things like sarcopenia for as long as I can. So what are the keys to staying healthy as you're aging?
6 Keys to Healthy Aging
 Think Positive You may think that's cliché, but I believe it to be true. I know people who are younger than I am who are always down in the dumps about something. I am constantly reading, whether it's my Bible or a book about approaching life with a positive attitude. I believe in filling my head with good stuff! According to the Mayo Clinic, the benefits of thinking positive are numerous, and include an increased life span, lower rates of depression, lower levels of distress as well as better coping skills when presented with stress, better physical well-being, greater resistance to the common cold, and even reduced risk of death from cardiovascular disease, which is the number one killer among adults in the U.S.
Stop Worrying Worry is not good for the soul, or the body. Excessive worry interferes with your relationships, your job, and can even affect your immune system and digestive disorders. Take advice from Ann Landers: At age 20, we worry about what others think of us. At age 40, we don't care what they think of us. At age 60, we discover they haven't been thinking of us at all. Love it! Life is too short to worry.
Exercise Walking is good exercise, so get out and do it! Just be sure to keep a good pace so you are working your cardiovascular system. Walking strengthens your lungs, your heart, helps tone your muscles, and can help with weight loss. Another benefit is that it's a great way to clear your mind and take some time for you. My husband and I walk together two to three times per week, and it's an effective way for us to connect and talk about what's going in our lives. I also like to ride my bike. I'm blessed to live in such a beautiful area where I can get outside all year long.

Surround Yourself with Positive People I know this is a hard one. Sometimes our friends and family members aren't interested in the same things we are, and you just have to move on if you want to keep moving in the right direction. Remember to be encouraging when you do hang out. Hopefully, your optimism will rub off!
Healthy Eating The food pyramid is changing all the time, and it's hard to know how much of each of the different food groups are required these days. Dietary guidelines recommend women eat an average of 46 grams of protein and men about 53 grams. But some studies show that should be even higher for adults over 50. If you don't think you're getting that, don't run out to the store and stock up on meat! Many people think eating more meat is the key to increasing protein, but there are many ways to eat more protein other than meat. Salmon, almonds, and cheese are all great forms of protein.In fact, you can even drink your protein! Ensure® Enlive® is a delicious tasting nutrition drink that contains protein and beta-hydroxy beta-methylbutyrate, or HMB, which can stop muscle deterioration while helping you build muscle. HMB is already in small amounts in your body, as well as in some foods. Though it's hard to get enough HMB, just two servings of Ensure Enlive provides enough HMB to get the recommended amount to help preserve muscles. Ensure Enlive helps you regain strength and energy, remain active and independent, and maintain that lean body mass, even if you are recovering from illness, injury or surgery. If you've been ill or had surgery lately and you are over 40, you know what I'm talking about. Nothing shows you what aging can do to your body like not being able to recover as quickly as you could when you were younger!
Vitamins Finally, the last key to aging healthy is supplementation. You simply can't eat enough food to get all the nutrients you need, so it's important to take a good daily multivitamin with antioxidants. As we age, it's even more important. Ensure Enlive can help you with this, too, as it's a great source of antioxidants to help support your immune system. It's also a great source of prebiotic fiber. In fact, in the Nourish Study, which is one of the largest clinical studies of its kind, it was found that patients who drank Ensure Enlive twice a day saw improvements in their nutritional status, weight, and their vitamin D levels.
There's really nothing more important than your health, because without it, you really have nothing. Make a commitment to start taking care of yourself now. Have tips for healthy aging? Share them in the comments.
Abbott/Ensure believes that consumers and influencers are free to form their own opinions and share them in their own words. Abbott/Ensure policies align with WOMMA Ethics Code, Federal Trade Commission (FTC) guidelines and social media engagement recommendations.