I participated in an Influencer Activation Program about boating on behalf of Mom Central Consulting for Sea Tow. I received a promotional item to thank me for participating
Like most people who move to Florida, the weather is what attracted us. Where we live really is paradise, with temperatures in the 60-70's most of the winter, and in the 90's in the summer. Yes, we do have high humidity, but that's why just about everyone has a pool! It's also why we wanted to live by the beach. It's at least 5 degrees cooler here than it is in Orlando, even though we're further south, just because of the breeze.
We're also pretty lucky to be able to go boating any time of year. Though we don't own a boat, we have a lot of friends who do. We've been out with friends a few times and enjoyed it so much. We also like to snorkel and have gone out with a professional dive company when we were in the Florida Keys and St. John. I love this photo of my girls from when we were in the Keys. I have no idea what they were looking at!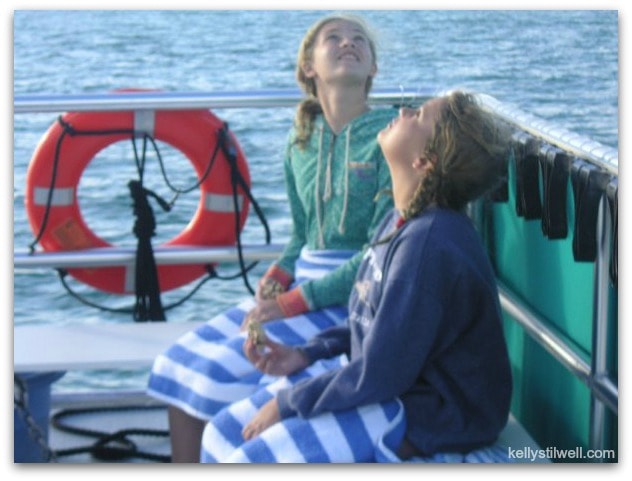 When we first bought in our community there was talk of a marina being built. My husband would love to get a boat, but I've always thought it was better to go out with people that know more about boating. There is so much to learn! What if you run out of gas? Hit a sandbar? I'm a worrier, and I think I'd be a nervous wreck if we ever took a boat out on our own.
Staying Safe on the Water
Fortunately, there's Sea Tow, a membership-based program that has your back when it comes to boating education, safety, and on-water assistance. A casual boater? There's a membership for you. More of an expert going out every weekend? Sea Tow has a program that can work for you, too. Anyone who has ever had a problem on the water knows that you can't really put a price on peace of mind, but you sure can put a price on a tow! In fact, the average tow home runs about $650! With Sea Tow, it's free with your membership. Hopefully, you won't ever need a tow, because Sea Tow is there for you if you run out of fuel, need disentanglement, or simply need a jump start.
Educational Resources
I love that Sea Tow has great educational resources on their website like the Captain's Classroom where you'll find equipment checklists, pages and pages of safety tips, and even kid-friendly snack recipes that are great for a day out on the water. The First Mate Checklist for Kids, below, is just one example of the helpful information just for kids on the Sea Tow website. Kids will love being able to use their own checklist of safety precautions! If you would like a copy of the Checklist, simply click and print!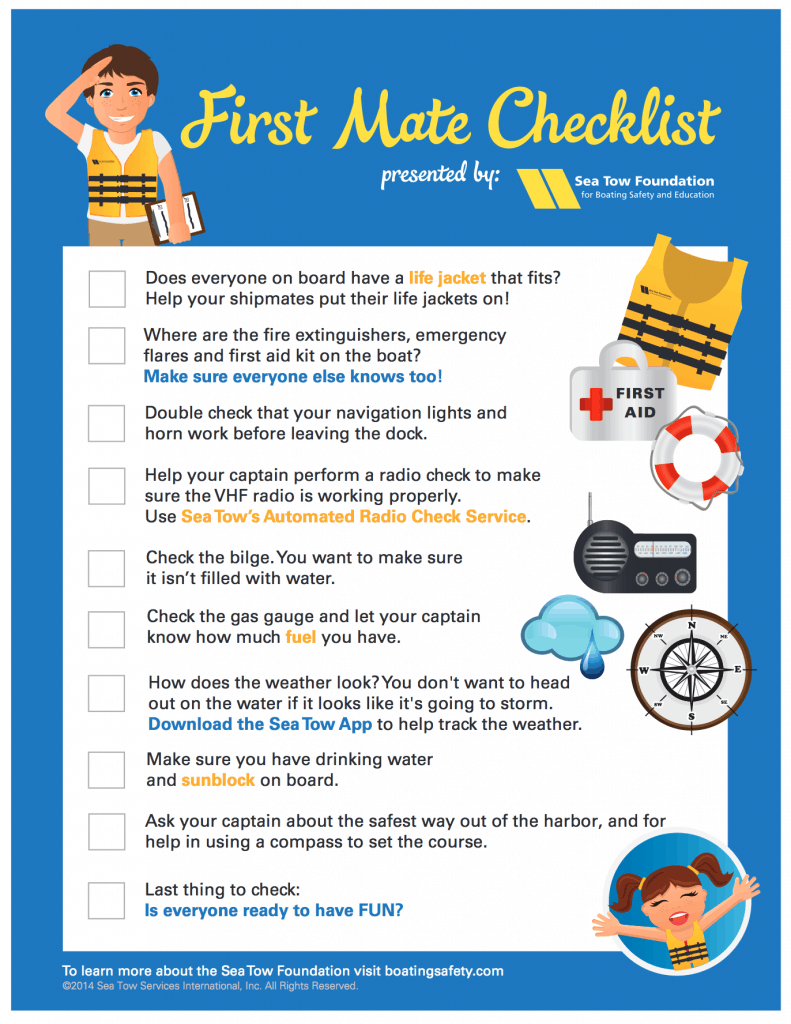 Though this is a great way to get the kiddos involved, the ultimate responsibility is on Mom and Dad, so be sure to follow the rules and be prepared for any emergencies.
5 Tips for a Great Day on the Water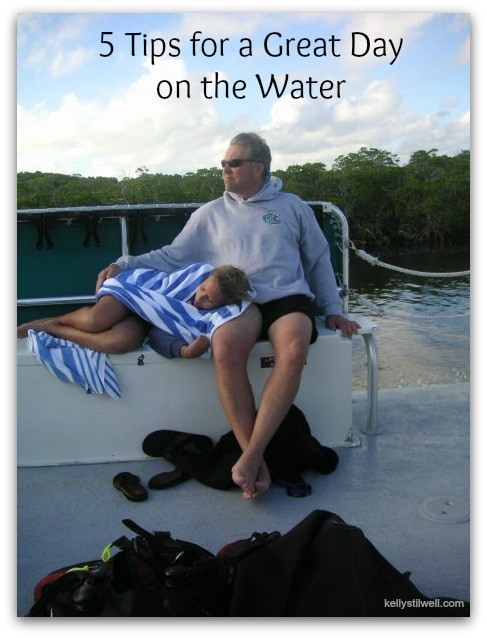 Always check the weather before going out for a day on the water. Storms can still pop up out of nowhere, but at least you'll be aware if there are any big potential storms brewing.

Always have a life jacket for each person on-board, and make sure there are kid-sized versions if you will be bringing children. Sea Tow has Life Jacket Loaner stations. Check to see if there is one

near you

. I found two in the area where we usually go boating.
Check to be sure your automated VHF radio is working. Sea Tow has a free automated radio check service. Learn more by visiting their website.

Always have lots of sunscreen on board. Even on a cloudy day, you can get a nasty burn if you're not protected.

Have water and snacks onboard, and always have a designated driver who is not drinking alcohol.
Have a fun day on the water! The Sea Tow Foundation, a non-profit focused on boating safety, works closely with the Coast Guard to make sure boaters use safe boating practices on the water through educational programs like the Sea Tow Challenge. Learn more about the Sea Tow Foundation and why they do what they do to keep boaters safe.
Where's your favorite boating spot? On the lake? River? Ocean? Share in the comments below!