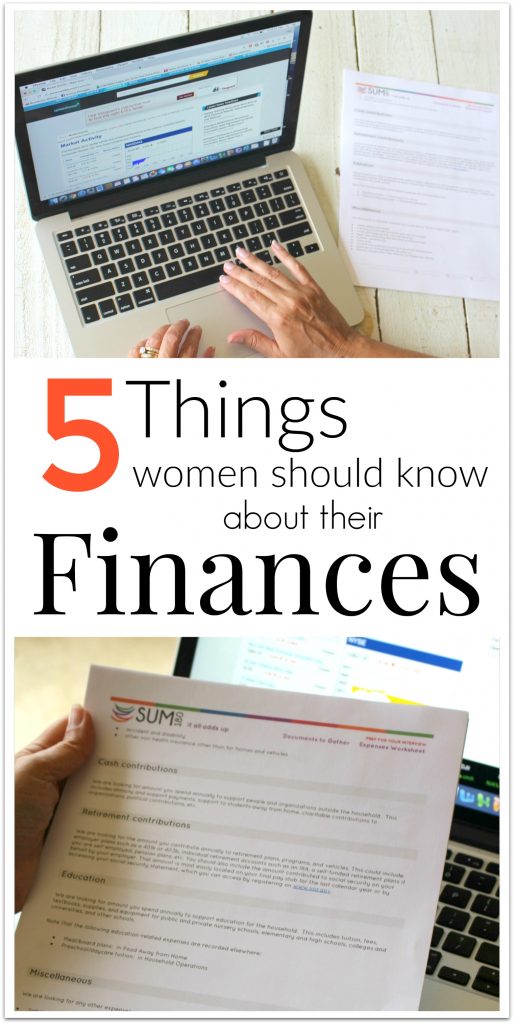 I was recently asked if I would be interested in having a financial plan designed for me through SUM180, and I thought it would be interesting to see where my husband and I are in the process. We are both in our fifties, and still have kids who will have college expenses over the next three to five years. We've been saving for their education as well as putting money away for our retirement. I thought we were in pretty good shape, but a professional opinion is always good.
What I learned surprised me. As a former stockbroker, I have a pretty decent amount of experience in this arena. However, once I got out of the business and didn't really keep up with the markets, I just stopped paying attention. Not only did I not know where the Dow Jones Industrial Average was, I also didn't really keep up with our investments. My husband has repeatedly tried to get me involved again, but I was busy, and had really lost interest.
Sound familiar? I think a lot of women get busy raising kids, being a taxi service, living life. But knowing where your family stands financially is important. I'm so glad I took the time to get this plan completed. Fortunately, I was able to gather all the information with the help of my husband, but sometimes, it's not that easy.
5 Things Women Need to Know About their Finances
Know where your documents are kept. As part of the financial analysis, I had to gather a lot of information for the SUM180 financial planners to evaluate. This was my first surprise. I didn't even know where half the information was! My husband was traveling, so I had to call him repeatedly to ask where the documents were, whether they were current, and what our passwords were. Let me back up for a minute. I was an investment advisor, and one of the things I never said I would do is not know where our documents were! I've seen women lose their husbands and not know what to do because they didn't keep up with their finances and investments. My mother-in-law lost her husband about thirteen years ago, and it was so difficult for her because on top of losing her partner of 63 years, she was concerned about being able to take care of herself financially. That should not be a worry at a time like that.
Know your passwords. Believe me, it's not always as easy as you think to change a password. Sit down with your husband today and write down the account numbers and passwords and put them in a safe place. Let this be one less thing you have to worry about.
Know how easy it will be to cash out. If, God forbid, something happens to your husband and you need access to a large sum of money, you need to know how the money is invested. Knowing you have investments in bonds is not enough. When do the bonds mature? If you have to sell them in a pinch, you could lose money- sometimes, a lot of money, depending on interest rates. The same goes for investments in the stock market.
Know how much interest income is being generated. If you are close to retirement or already retired, you need to know how much income is coming in from your investments. Wouldn't it be nice to know this ahead of time, so that if something did happen to your spouse, you would know where you stand as far as being able to pay the bills?
Know how much life insurance you have and whether you still have premiums to pay. How sad it is when the payments on a life insurance policy have been paid for 20 years and then something happens that a payment is missed. If your spouse ends up in the hospital not able to make decisions or even communicate information, that is not the time to start asking questions. Know this ahead of time.
After I gathered all the documents, I had to go into our accounts to be able to accurately fill out the information for SUM180. The more I dug, the more I enjoyed it! I felt empowered to really know where we stood.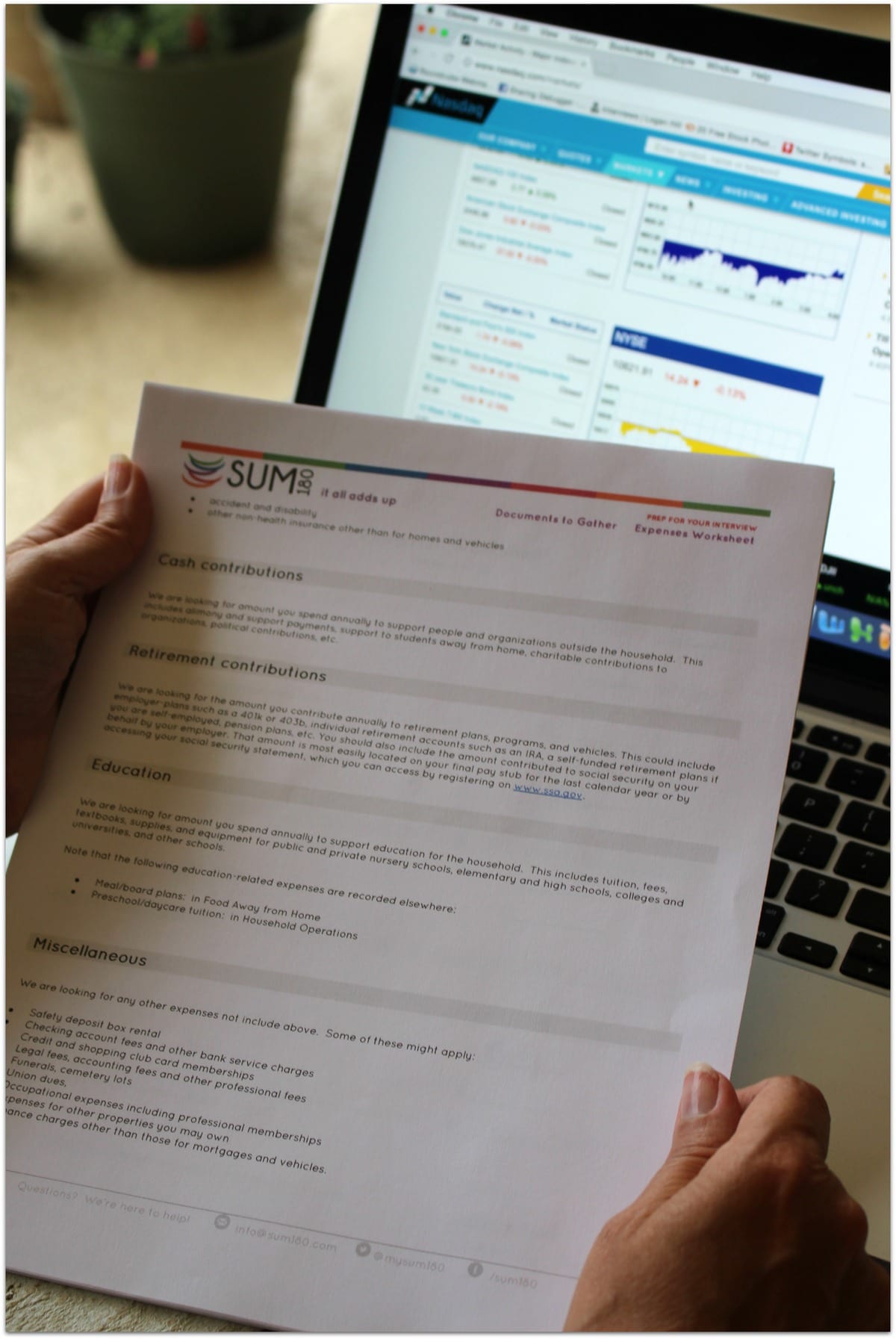 Do you know where you stand?
Honestly, I would love to see SUM180 partner with financial advisors. Knowing the whole picture is so important. That's why SUM180 has advisors that are Certified Financial Planners, who don't make money based on what kind of investments you make. I know from experience that many financial advisors make recommendations based on how much money they will make, and that's not the way to help families invest with their best interests in mind.
If this has been as eye-opening to you as it was for me, put it on the calendar to take some time to go through all your financial information with your spouse. Talk about taking the extra step to really see where you stand by subscribing to SUM8180.  By using the exclusive promo code SIMPLE50, you will receive 50% off a SUM180 subscription. But this offer is only good through the end of the year, December 2016. I'd love to see my readers take advantage of this.
Be empowered by knowing where you stand with your finances. Please let me know if you have any questions about SUM180, or log in to chat with the community for free.
This post has been sponsored by SUM180. I was provided with product at no charge to sample in exchange for my review. The options expressed in this post are my own. I am in no way affiliated with SUM180 and do not earn a commission or percent of sales.