What better place to learn about the animation of Inside Out then at Pixar, where the magic is made? Interviewing the artists who animated the film gave me a true inside look at the film.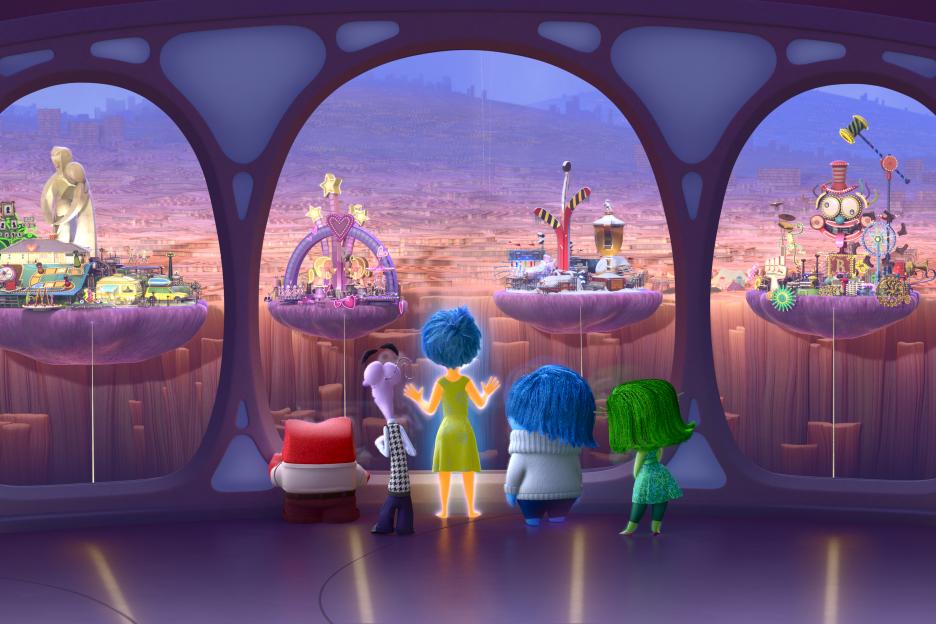 If you haven't already noticed, I'm a bit of an animation geek. My daughter decided about five years ago that she wanted to be an animator.
She has almost every Art of " insert Disney movie" available, as well as Walt Disney biographies. Update: My oldest daughter graduated from Sheridan College in Oakville, Canada this year (2020) with an Honours Bachelor in Animation. I'm a proud mom!
So, when I found out I was going to get the chance to sit down with Pixar animators, I was pretty excited. Let me give you a quick background about the people I sat down with.
Shawn Krause was the supervising animator on Inside Out. He joined Pixar back in 1994 as an animator and layout artist for Pixar's very first feature, Toy Story.
Following that huge success, he went on to work with Pixar as an animator on other feature films like A Bug's Life, Toy Story 2, Monsters, Inc., and Cars, all blockbuster hits.
Krause was also an animator for Finding Nemo and The Incredibles, as well as the directing animator for UP, all three Academy Award®-winning films.
Victor Navone started his work as an animator at Pixar in 2000 after they contacted him when they saw his work online. He didn't even consider animation as a profession until they contacted him!
Monsters, Inc. was his first film, and he's worked on almost every Pixar feature film since then. He's also worked alongside John Lasseter and Rob Gibbs as co-director on a number of short films. Have an interest in learning more about animation? Check out Navone's blog for tutorials!
Tony Fucile is an animation sketch artist who has worked for Disney Animation Studios on a number of films including The Little Mermaid, Aladdin, and The Lion King, as well as served as the head of animation for one of my family's favorites, The Iron Giant.
Fucile joined Pixar in 2000 as a character designer on the Academy Award®-winning film Finding Nemo, creating one of my favorite characters Crush.
He's also worked as a character designer and as a supervising animator on Oscar®-winning films like The Incredibles, Ratatouille and Brave.
Jamie Roe began with Pixar Animation Studios as an animation intern in June 2004, joining the studio in October 2004.
She began her work with the studio on the Golden Globe®-winning feature film Cars, working as a background animator on characters and crowds, and then as a character animator for Academy Award®-winning feature Ratatouille in which she won a Visual Effects Society award for outstanding animated character for her work on Colette.
Row also served as an animator on WALL•E, another Academy Award®-winning feature. Roe attended Ringling College of Art and Design, which is about 20 minutes from where I live.
Unfortunately, Ringling doesn't teach 2D animation, which is why my daughter decided on Sheridan College.
Needless to say, I was pretty much in awe being given the opportunity to speak to these amazing artists! So, what did I learn?
5 Things I Learned about the Animation of Inside Out
1) Animation Dailies is the daily brainstorm session. Dailies is the daily meeting involving the process of going over what has been completed so far and then perfecting it.
For Inside Out, the team spent about an hour a day on dailies, getting feedback from the director, Pete Docter.
They would watch a clip over and over and over and then make suggestions about how to make it better over and over. Dailies keep them on track.
2) Character placement is key. The placement of characters, like whether their arms are above their heads or by their sides, can make a huge difference in how that moment in the film is perceived.
These clips are brainstormed again and again until the team and director are satisfied.
3) Inside Out had 45 animators. A typical animated film can have 85 animators.
4) Inspiration comes from many places. They use the storyboards and clips of the actors as inspiration when collaborating in dailies.
The actors actually work with the animators on creating the character's personality. Take a minute and meet the characters!
5) Animation takes time. They complete about 3 seconds of animation per week, which is why it took a year and a half with 45 animators to complete Inside Out.
Now that you've learned a little more about the whole process of what animators do, doesn't it give you a whole new appreciation for animated films?
Did you learn anything new? Share in the comments! You may also want to check out my posts Camera, Action, Lights or Going Inside the Mind of Inside Out to learn more about the making of Inside Out.
Inside Out hits theaters June 19th. Check out the trailer!
Be sure to follow along on all the Inside Out social platforms!
Like INSIDE OUT on Facebook, and follow on Twitter at Pixar Inside Out and at Headquarters
Follow INSIDE OUT on Instagram
Follow INSIDE OUT on Pinterest
And don't forget to follow Disney/Pixar on YouTube
Remember, INSIDE OUT opens in theaters everywhere on June 19th!