Disclosure: Disney provided me with an all expense paid trip to LA for this premiere and a host of other activities. As always, all opinions are my own. Just so you know!
If you watched Agent Carter last week, you saw the gorgeous Hayley Atwell dressed to kill (literally!) in that fabulous 1940s fashion. I won't say I would have rather lived back then than now. No way. I love my technology! But the clothes of today? Not so much. I'd love to see some of the fashion from the 1940s revived. Maybe we'll see more of it as viewers fall in love with Agent Carter.
The designer for Agent Carter is not new to the business. Not by a long shot. Giovanna "Gigi" Ottobre-Melton is an Emmy award-winning designer. She grew up watching and learning from her father in his atelier in Beverly Hills. She then went on to the Fashion Institute of Design and Merchandising in LA, and ended up opening her own studio designing gowns for the Royal Saudi family. You can read more about Gigi on the ABC website. It's pretty fascinating! As the 1940s is one of her favorite fashion eras, she was thrilled to get the job to design the clothes for Hayley Atwell and the rest of the cast. Here she shows us one of her collections of ideas for the show.
It was amazing to be able to go behind the scenes and meet with Gigi.
You may wonder, as we did, where she gets some of the clothing. Obviously, a good deal of it is designed and made by Gigi. But she also gets some of it from shops that specialize in time-period clothing, and some of it even comes from thrift stores. I thought that would be an amazingly fun job to have, to always be on a search for clothing and other items from an earlier time. In fact, here's a tweet I borrowed from Gigi's Twitter page just to show you what might be in store: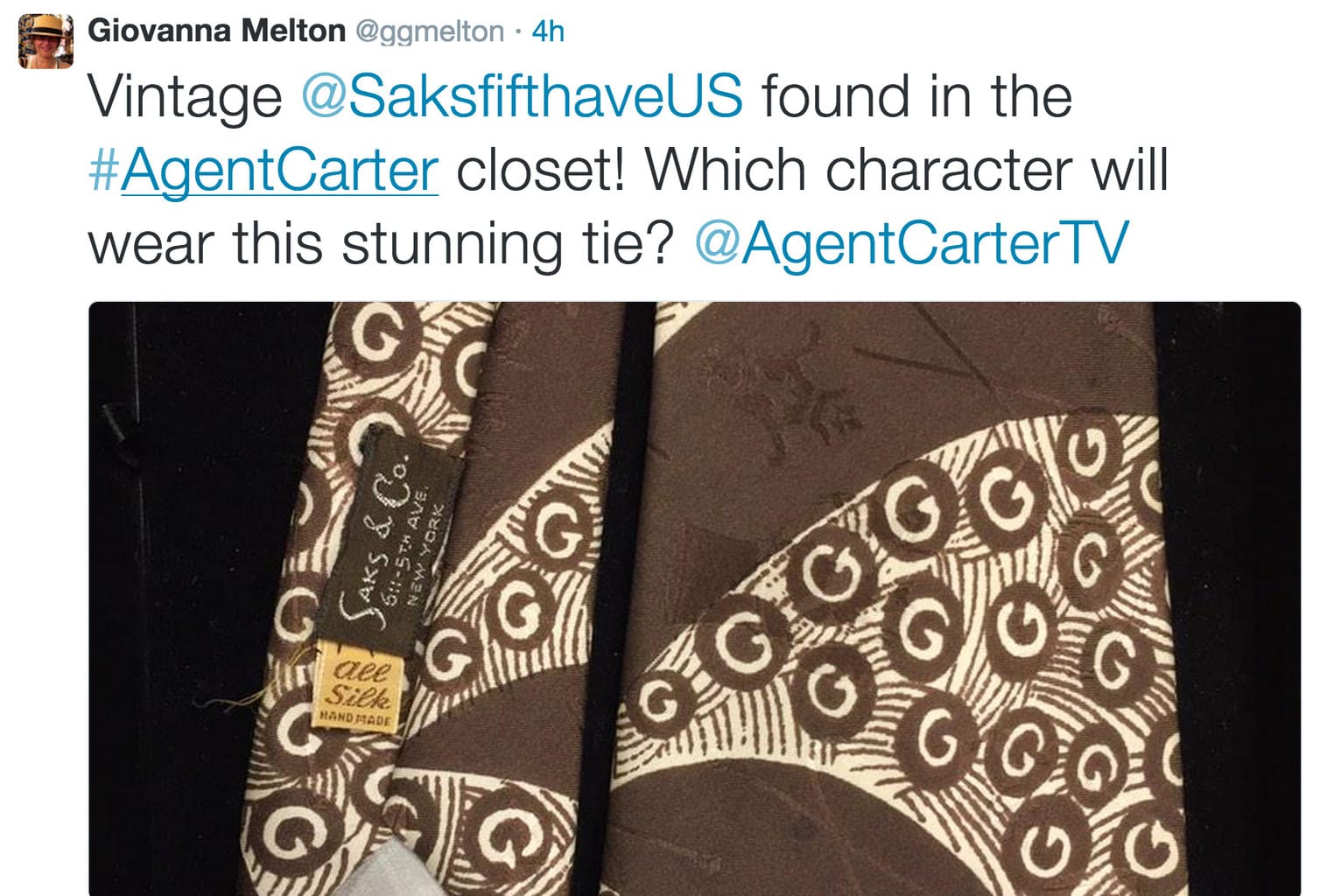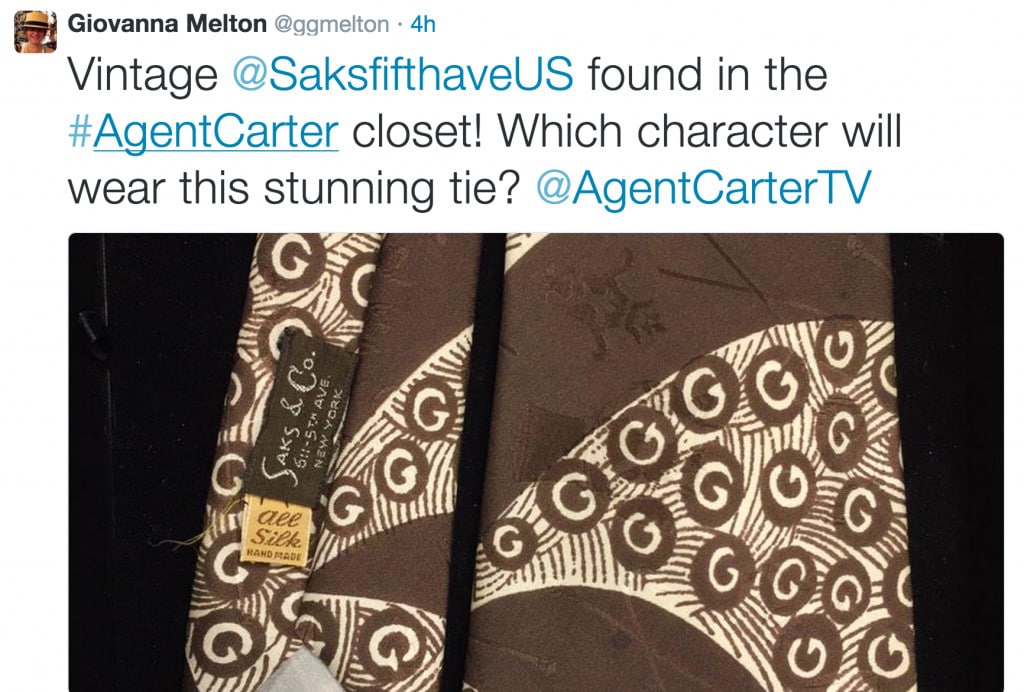 I always find it thrilling to be behind the scenes, even seeing something Agent Carter might wear in an upcoming episode, and then seeing her wear it while watching!
The costumes Haley gets to wear are stunning, and she wears them so well. We were curious about whether wearing this style had influenced her personal style. She said she has learned to appreciate the detail in clothes that are tailored for you.
Shopping in a mall or on the "high street" you can pick a nice dress and try it on and it doesn't fit quite right and it leaves you feeling deflated. But when you have well fitting clothes that are tailored for you, that flatter you, it gives you such a lift. The main thing is learning to wear the clothes rather than the clothes wearing you.
Here's Gigi again with The Hat. The gorgeous hat that Peggy Carter wears so well.
And The Gold Dress. Did you see Hayley in it last week?
Hayley said wearing these designs has certainly made her taste more expensive. She showed us the shirt she was wearing that was perfectly tailored for her, and it has a piece that is fastened at the bottom so the shirt stays tucked in.
It doesn't come out of her skirt even when she's fighting. Hayley said she's planning to have some of her shirts tailored that way. We all agreed that would be very cool to have. We also agreed the fashion from the 1940s was fabulous. I think we should bring it back!
5 Reasons to Bring Back 1940s Fashion
1) The curves Hayley Atwell has curves, and she is stunning. In her words,
This was a time (1940s) when women's bodies were celebrated. Their curves were celebrated. And it was such an elegant time. ~Hayley Atwell
2) The hats Who doesn't love wearing a hat? It just changes my entire mood. Lifts my spirits. Gives me a new confidence. And the hats from the 1940s were so elegant. I want a red hat.
3) Yes, the elegance. The Gold Dress. Need I say more?
4) The tailored look I love tailored. I have so many button down shirts that my family will not allow me to buy any new ones. (Little do they know...)
5) The men's suits So stinkin' sexy. Are you with me ladies? Chad Michael Murray plays Agent Jack Thompson.
Let's bring it back! Are you with me? Let's walk into stores with clips from Agent Carter on our phones and request more tailored, curvy, fashion! Who's with me?