This is a sponsored post written by me on behalf of Bona for IZEA. All opinions are 100% mine.
Don't you just love spring cleaning? Finally, I can open the windows and sliding glass doors and let the clean air in and the stale air out! Finally, the sun is shining just a little bit brighter. It puts me in the mood to catch up on all those projects I've been meaning to do for months, like getting rid of clothes I no longer wear, cleaning out under sinks, and organizing closets. All this takes a lot of time, and I'll do it slowly but surely, crossing things off my long list as I go. But there are a few things I must get done right away. Those things that are going to make a huge difference, and won't take a massive amount of time.
Wash the windows

Nothing will make your house look brighter than washing the windows. Make it a family affair. Even the littlest kids will be able to help! 

Clean the blinds

Once you get the windows sparkling clean, you're probably going to notice the blinds need a spring cleaning, too. For aluminum blinds, take them down and wash outside with a gentle cleaner, and be sure to dry well to prevent rust. For wood blinds, use a gentle wood cleaner. It's always best to follow the manufacturers instructions.

Deep clean out the refrigerator

Yes, that refrigerator needs to be cleaned out throughout the year. Sometimes, it's because we have a spill, and getting in there to clean it up motivates me to clean the whole thing out! But a deep clean is going to make you feel so accomplished. Toss out those old salad dressings and marinades. Pull out the fruit and vegetable bins and really give them a scrub. 

Clean the oven.

Again, this is one of those chores that needs to be done a couple of times a year, and if you are like me, you put it off. Most of us have self-cleaning ovens, which makes this an easy task. Our problem is that we have a bird, and the fumes can be harmful, even fatal, to a bird. This makes it a little more difficult. To be honest, I don't like the fumes, either. On a nice day, we can put the bird cage out on our closed in lanai, and join him for some relaxation. Put oven cleaning on your schedule and head outside while it self-cleans. If you don't have a self-cleaning oven, pick up some cleaner and follow the manufacturers instructions.

Deep clean those floors.

The thought of all the germs and dirt we bring in on our shoes makes me want to deep clean our floors more often. Opening the blinds and letting the sunshine in, I can see how dirty our floors really are! Having a messy cat and bird doesn't help either.  We have tile in our kitchen and that gets cleaned pretty regularly, but our office, bedrooms and family room are all hardwood. We tend to just vacuum the hardwood areas, but they do get a lot of use, and I've been thinking that I want to give them more of a deep cleaning on a regular basis. I read that the average person spends about two hours to deep clean their floors, still getting down on their hands and knees, and using three different products to do it. That's a lot of work. I've just recently discovered Bona PowerPlus for hardwood floors, and it's a time saver and a product saver, because you don't need three different products. All you need is the Bona® system.The Bona oxygenated formula loosens and removes all that heavy dirt build-up. The bubbling action lifts away that final surface debris.Bona provides a deep clean without the extra effort. I like easy! Bona is also GREENGUARD certified, ready-to-use, and residue-free. Bona listened to homeowners and developed a solution that is faster and more effective than traditional deep clean methods. Their mission was to give power AND time back to consumers so they spend less time deep cleaning but with the same result of beautiful, clean floors. Bona's new innovative, oxygenated cleaning formula paired with the PowerPlus™ Deep Clean Pad, a breakthrough in microfiber technology, takes deep cleaning floors to a new level by breaking up and loosening dirt and build up. For best results, use the Bona PowerPlus™ Microfiber Deep Clean washable Pad. It's time to kick the bucket and use Bona for a much easier deep clean on those hardwood floors! You can find the Bona Power Plus system at Lowe's, Bed Bath & Beyond, ACE Hardware and True Value.

And right now, Bona is hosting the Bona PowerPair Sweepstakes on their site for not only a Grand Prize, but 100 Instant Win prizes and the opportunity to get a $5 Starbucks gift card just for purchasing two Bona Products!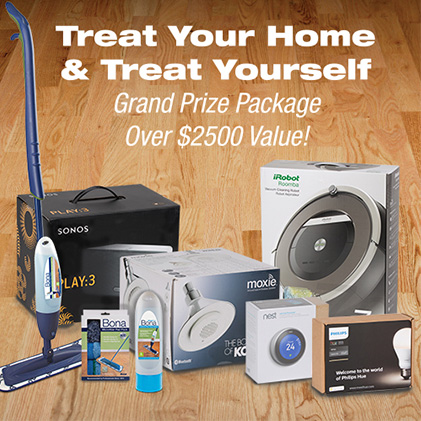 Grand Prize!  
NEST® Thermostat
SONOS® Speaker
iRobot® Roomba®
Hue®Light Bulb
Moxie® Showerhead
And One Year's Worth of Bona® Product!
Bona® Hardwood Floor Mop
Bona® Microfiber Pad Pack
Four Bona PowerPlus™ Mop Cartridges
Four Bona® Hardwood Floor Cleaner Refills
Two Bona® Furniture Polish
Bona® Cabinet Cleaner
ARV: $2,523
Head over and enter the Bona PowerPair Sweepstakes before this giveaway ends on May 2, 2016 at 11:59 p.m. ET! Good luck!