Interviewing Captain America's Chris Evans was such a great experience.
Fangirl time. And let me say, rightfully so. Because this guy is the real deal.
He is so kind, so sweet, so considerate, so good-looking, and SO funny!
Chris Evans is without a doubt the nicest celebrity I've ever met.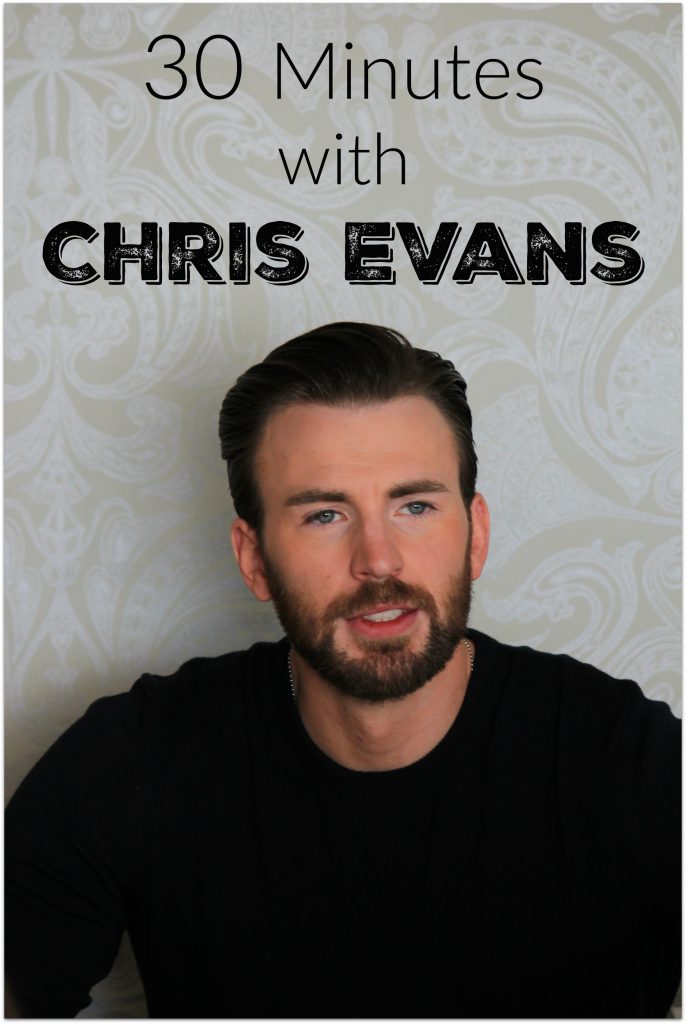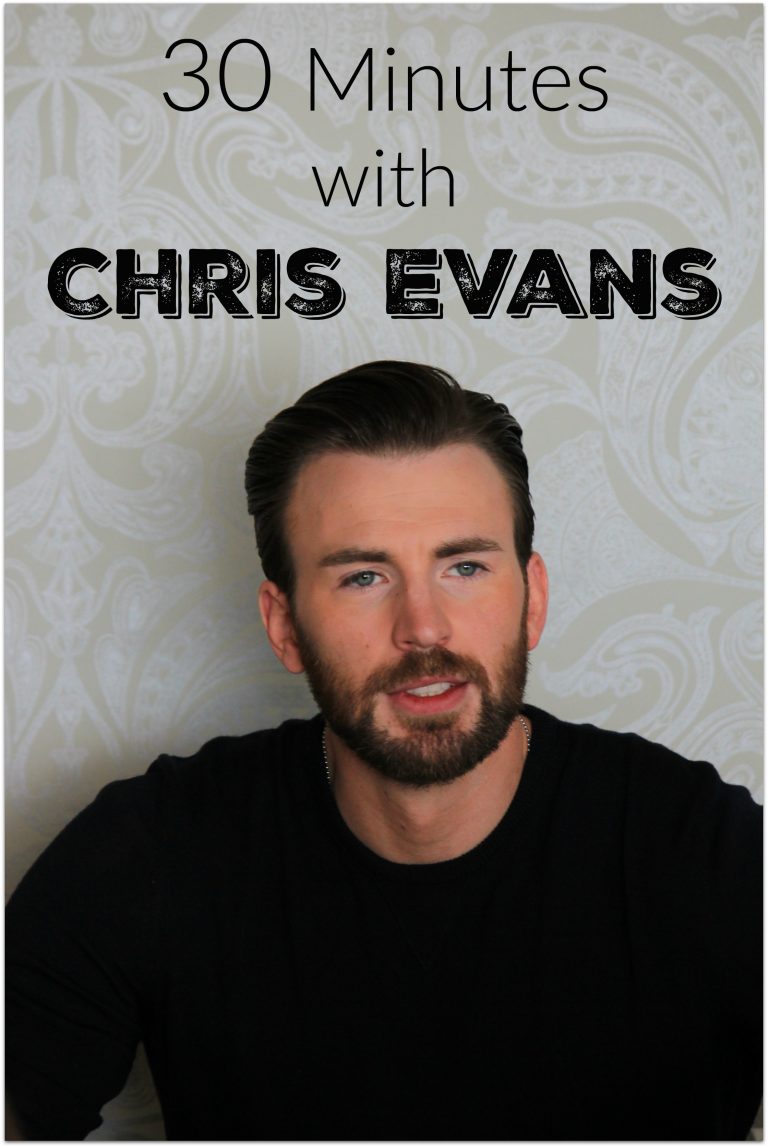 This interview was really fun, and we learned a lot about the guy who wears the Captain America uniform and carries that red, white and blue Shield.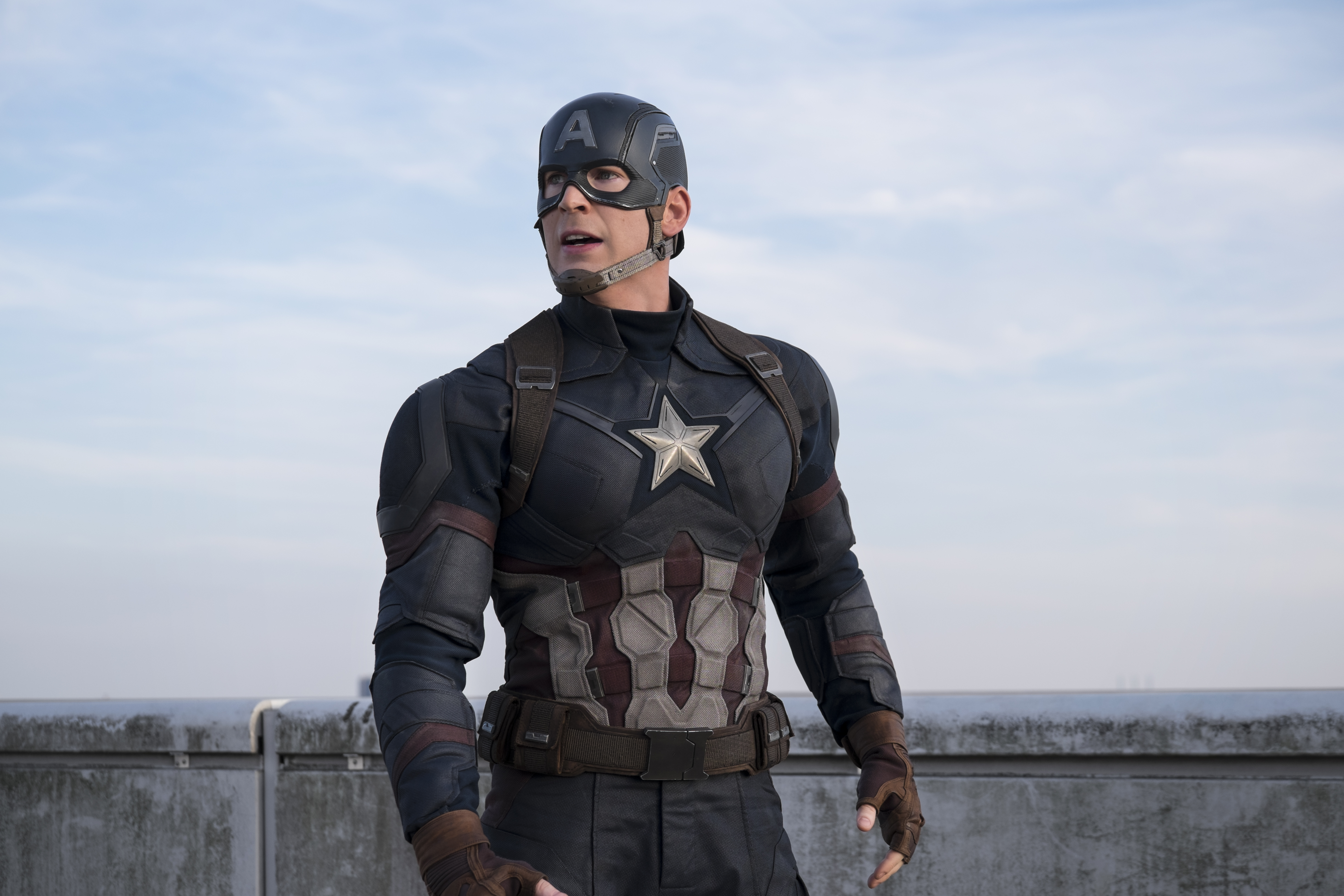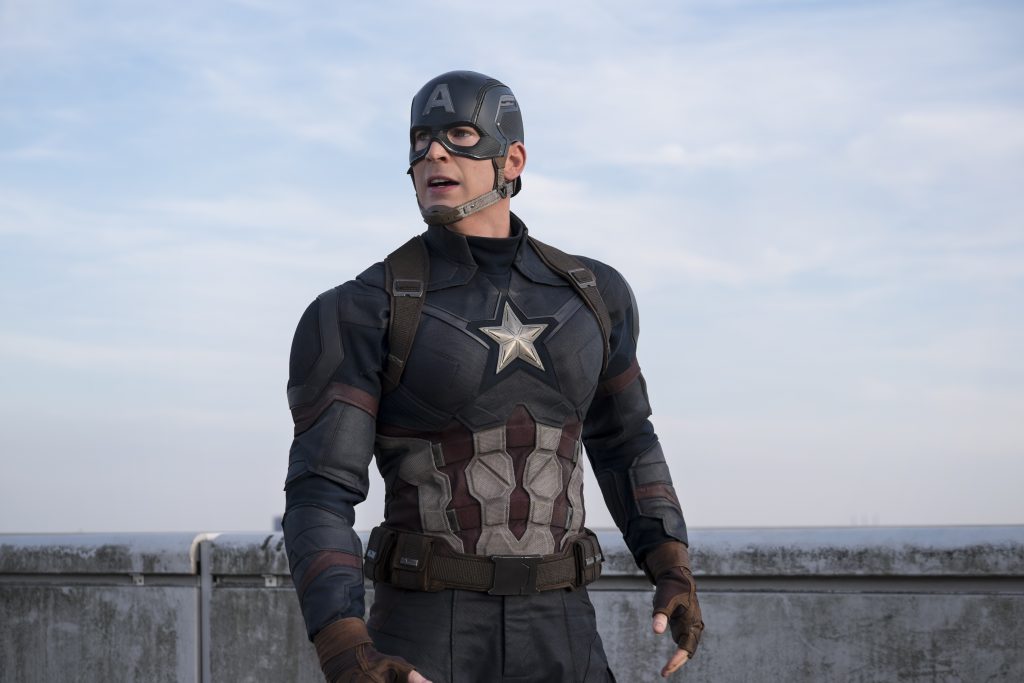 Which brings me to one of the questions we had for Chris.
Interview
How did it feel to put that uniform back on?
Chris Evans: I feel good now. I didn't in the beginning. In the beginning, it was terrifying. Don't our brains just manage to go to the most negative thing possible?
Whenever there's something in front of us, you just focus on what the worst possible outcome could be. So when I began the movie, it was all the things that could go wrong and how this could be a mistake. Over the course of five or six movies now, it feels great.
The Russo Brothers and Marvel and everyone have made it such a wonderful environment. They've proven themselves time and time again to be great filmmakers, and now, it's like a point of pride when you see the suit. You're excited to get the suit on and you're very honored and humbled that you get to have some sort of a connection to it because it is bigger than...you know what I mean.
Captain America will live on, there will be other Captain Americas. There will. And it will live on a lot longer than I will. So it's just nice to kind of have a little place in its lineage.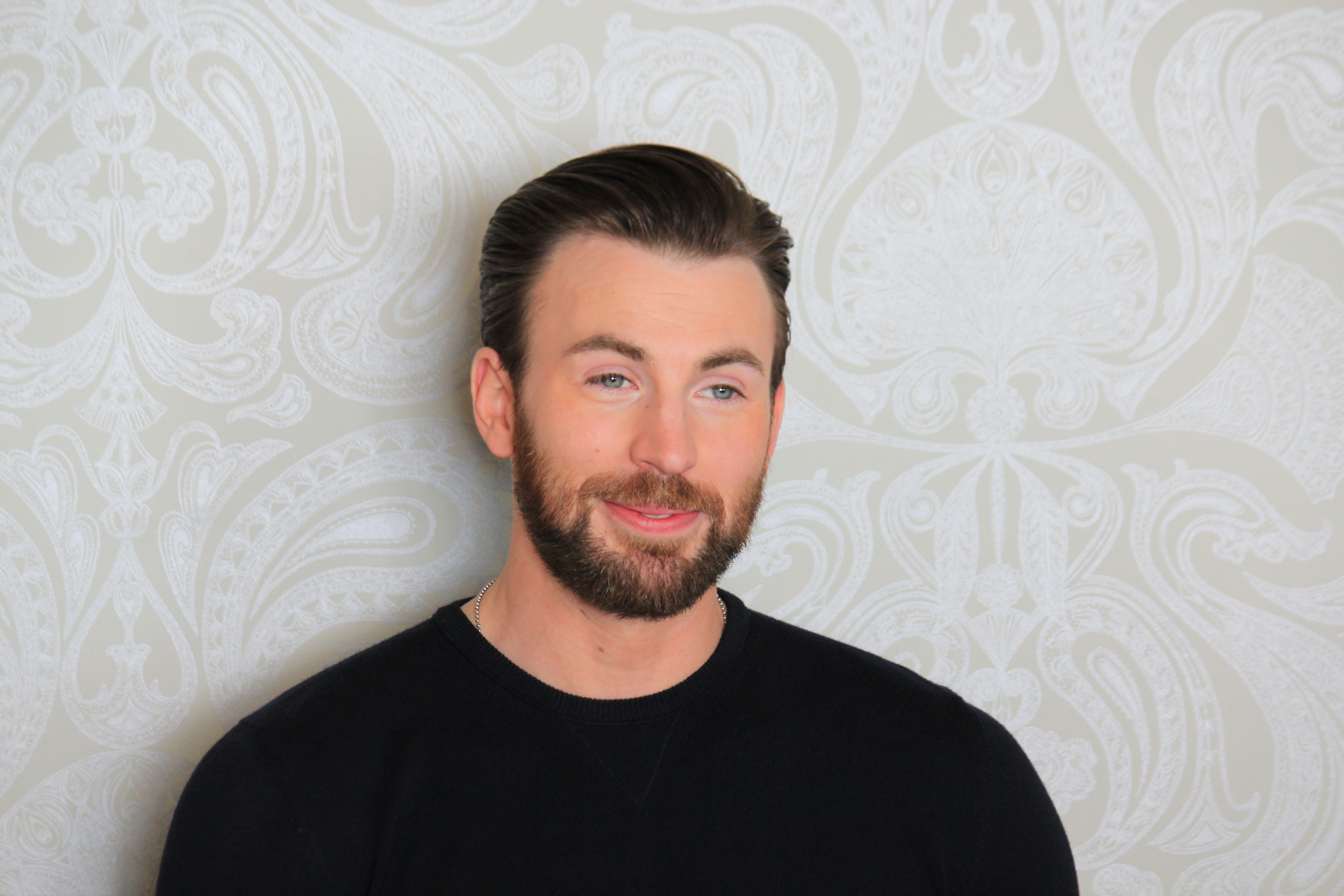 Captain America Civil War is a little darker than the previous films. We were curious about how Captain America's Chris Evans felt about that.
How did you feel about the darker role for Cap?
Chris Evans: It was nice. I think for the most part with Cap, the trickiest thing about the character is that he's just a selfless guy. He's not one of these brooding characters where you can, as an audience member, connect to his conflict and struggle.
He's very selfless, and I think to some degree it can feel vanilla. It can feel boring. His goal has always been doing what other people need. And I think in this movie, it's the first time he kind of did what he wants, and that's a little bit of a departure for him.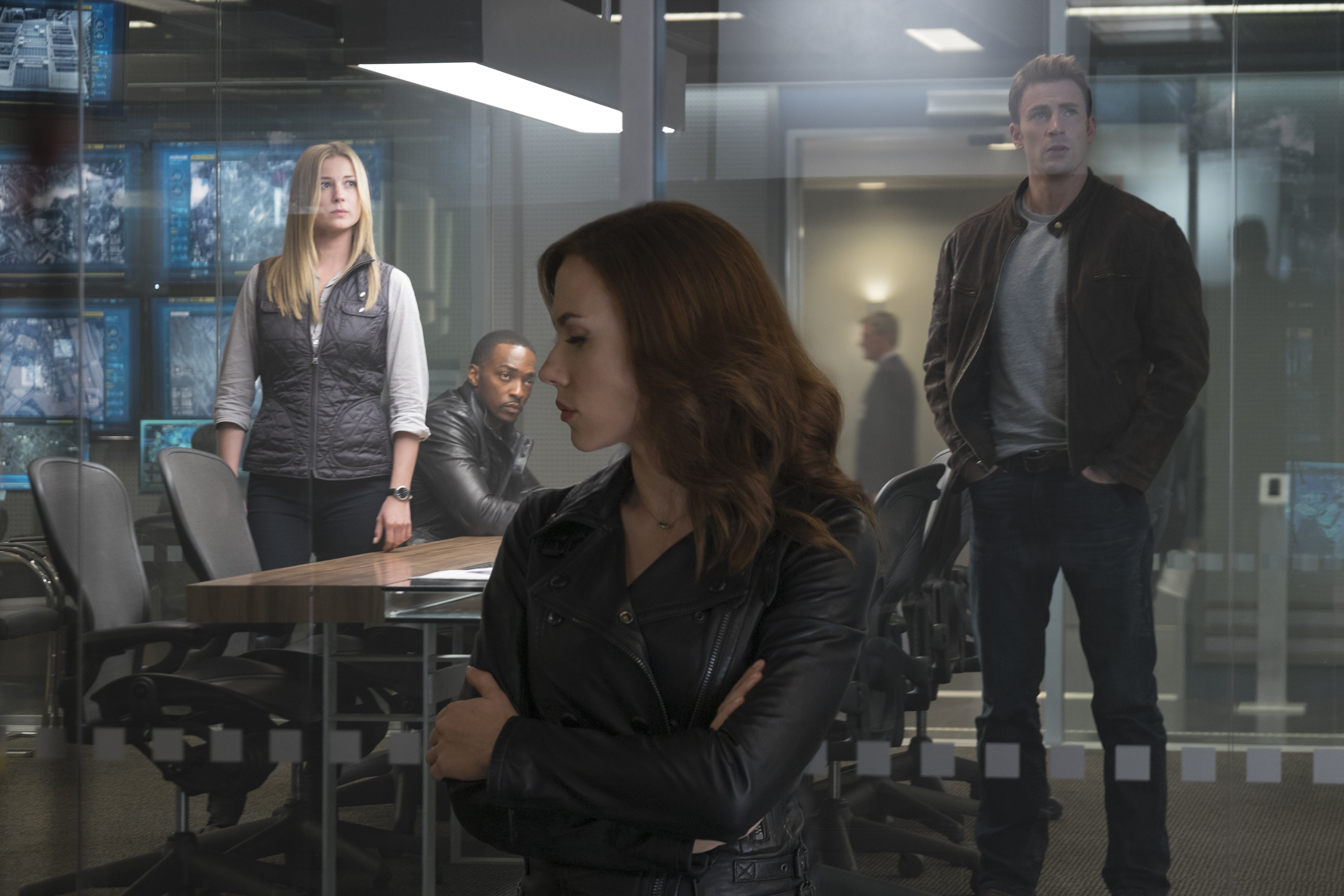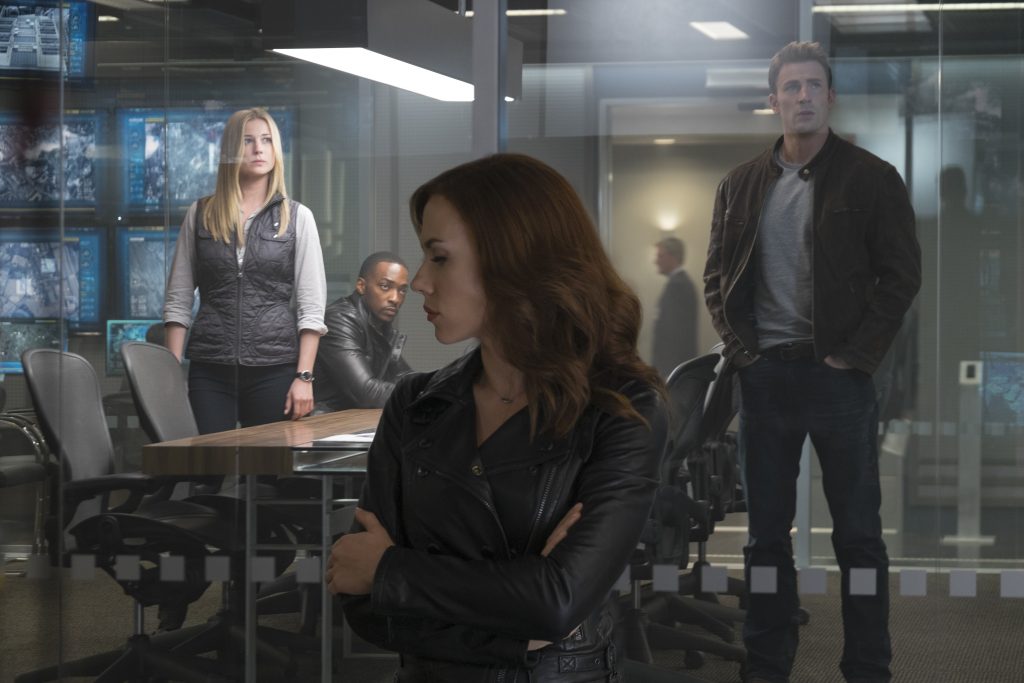 But it's nice because it's motivated by family. Cap woke up seventy years later and everyone he knows is dead.
And you have Bucky, this one guy, this one person who is the remaining chapter of his life before. So you're pitting his current family with his old family and you can't ask any man to choose that.
It's like taking the friends you went to high school with compared to the friends you met in college. These are two worlds you've got to somehow find a way to blend.
And for Cap, Bucky is his only remaining thing. And it's the first time he's really kind of said... I'm choosing me. Over you. And it's tough for him, but I like that. It gives him a little bit of conflict because...he can be a little boring. (Everyone laughed at that!)
What was the hardest scene to shoot? (We mentioned the helicopter scene)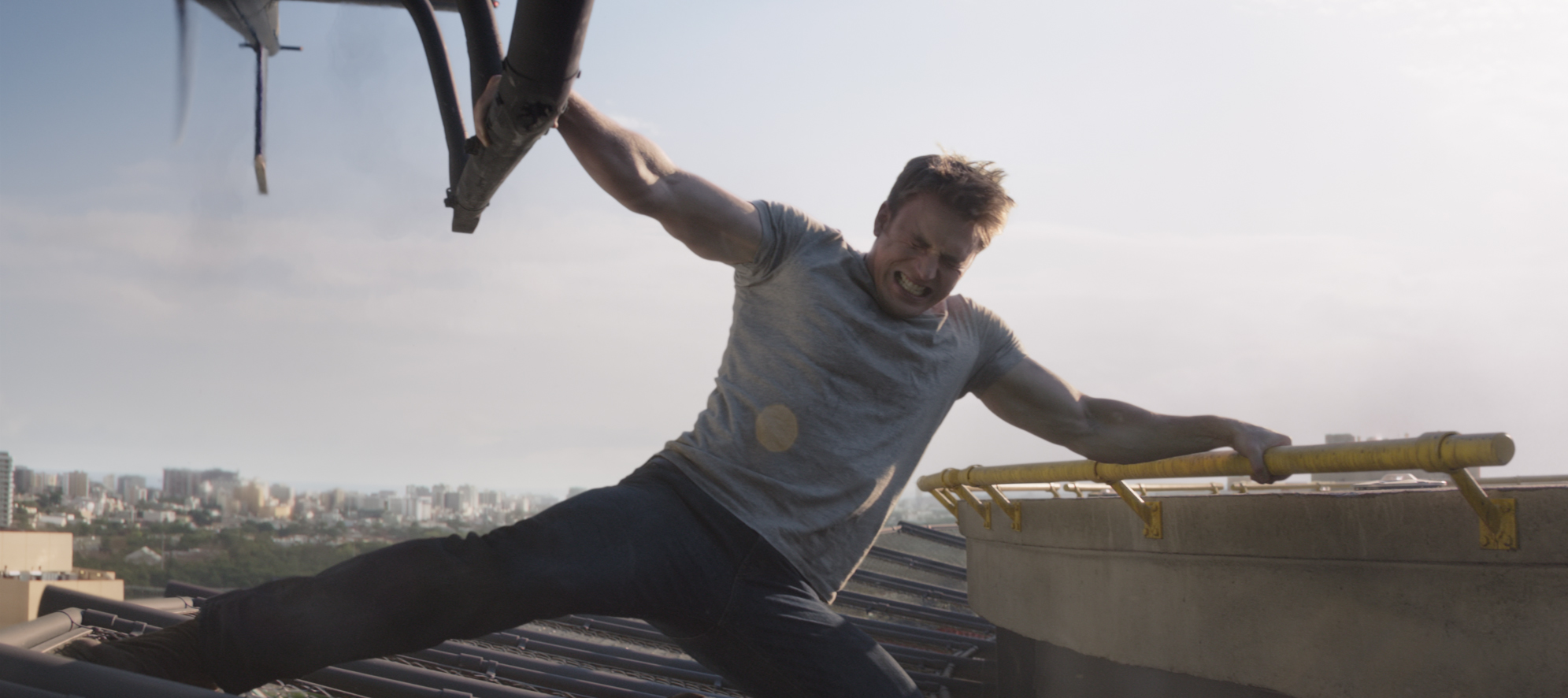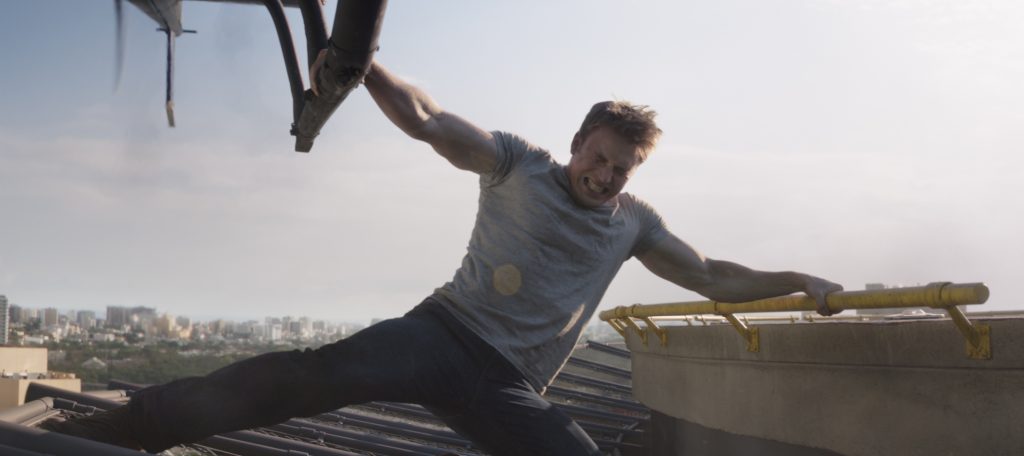 Chris Evans: My arm to this day is not the same. It's a fake helicopter, obviously, and it's on a rig, so you can actually move it. They did move it and it actually required [me] to hold it.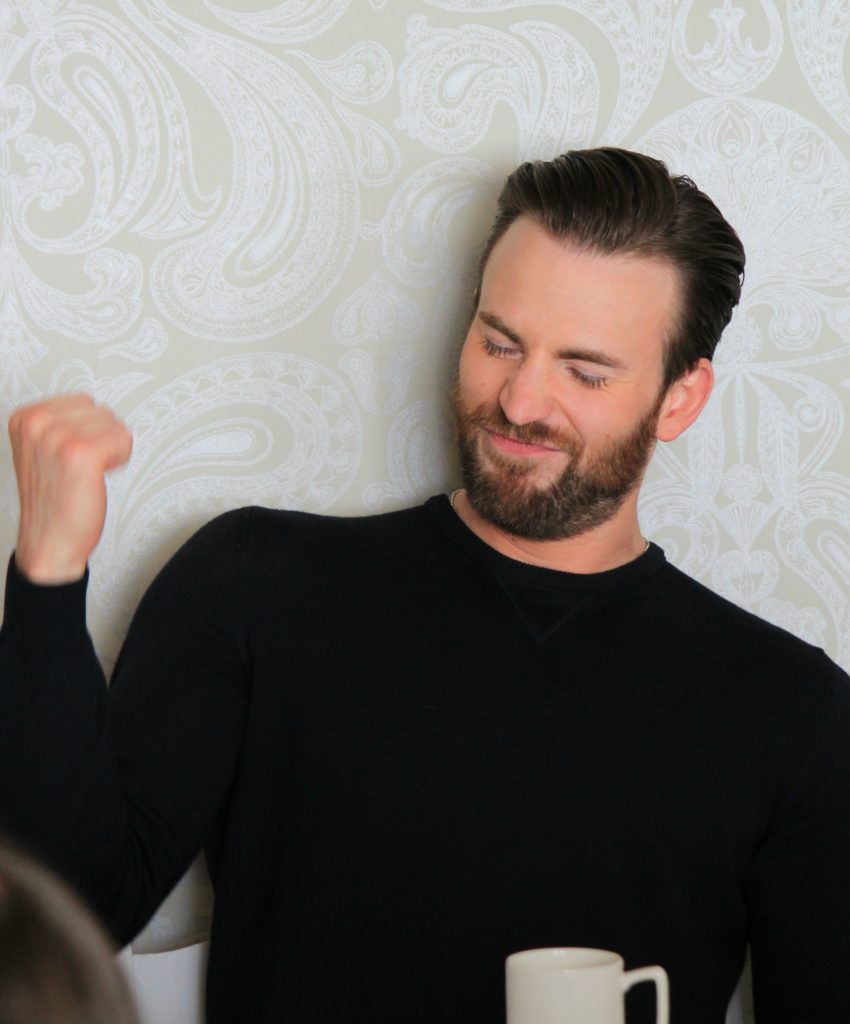 Not like I'd get any sympathy out of you anyway, (we all laughed- he is so funny!) but I really did bang something up.
It was a trick scene, but they're [the] good scenes. I think it's harder doing scenes with Downey because he's such a force.
He's so good and he owns the oxygen, and he comes in the room and he's powerful and the spine of the film is that conflict.
So when you have those scenes... I mean, you've all seen the movie.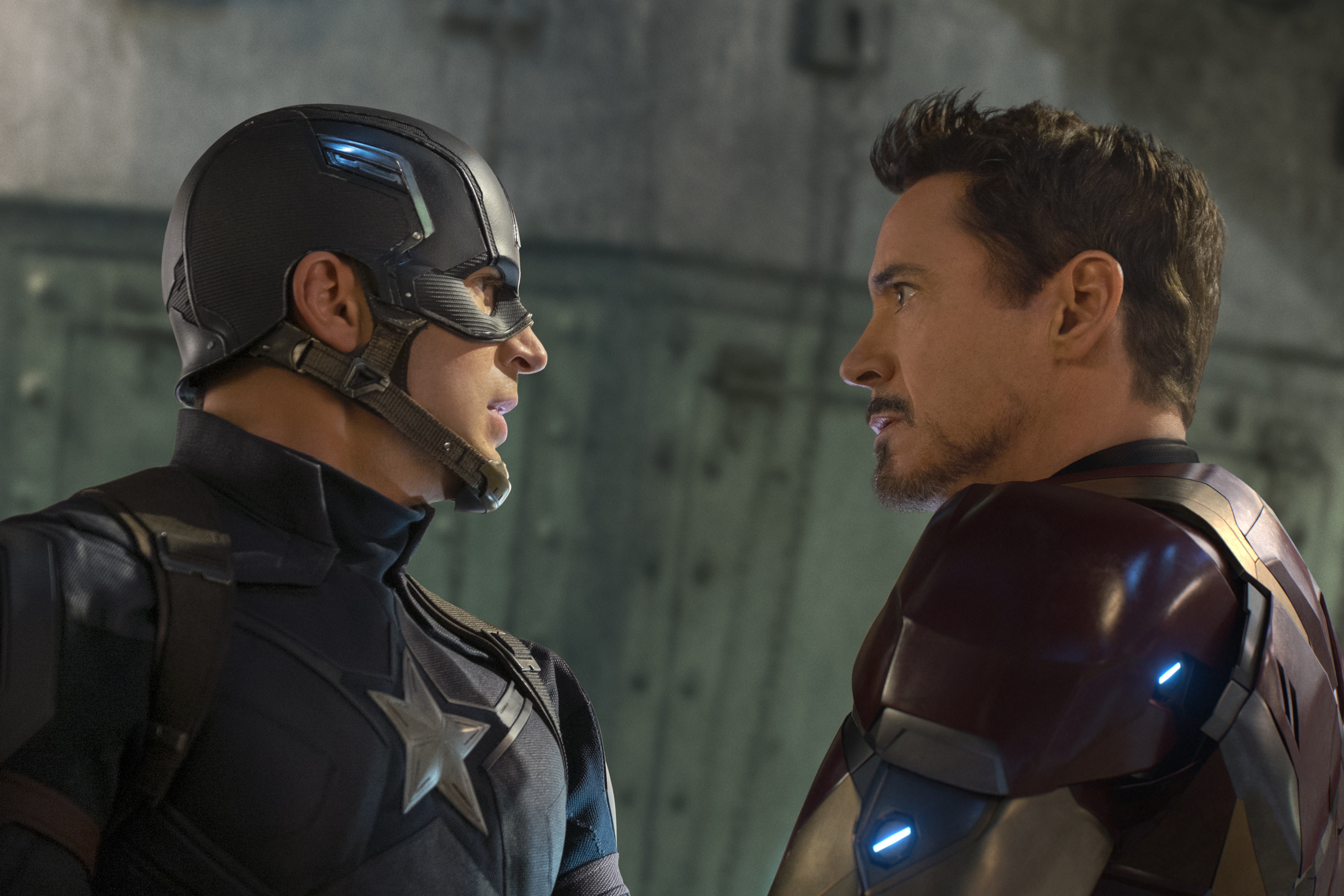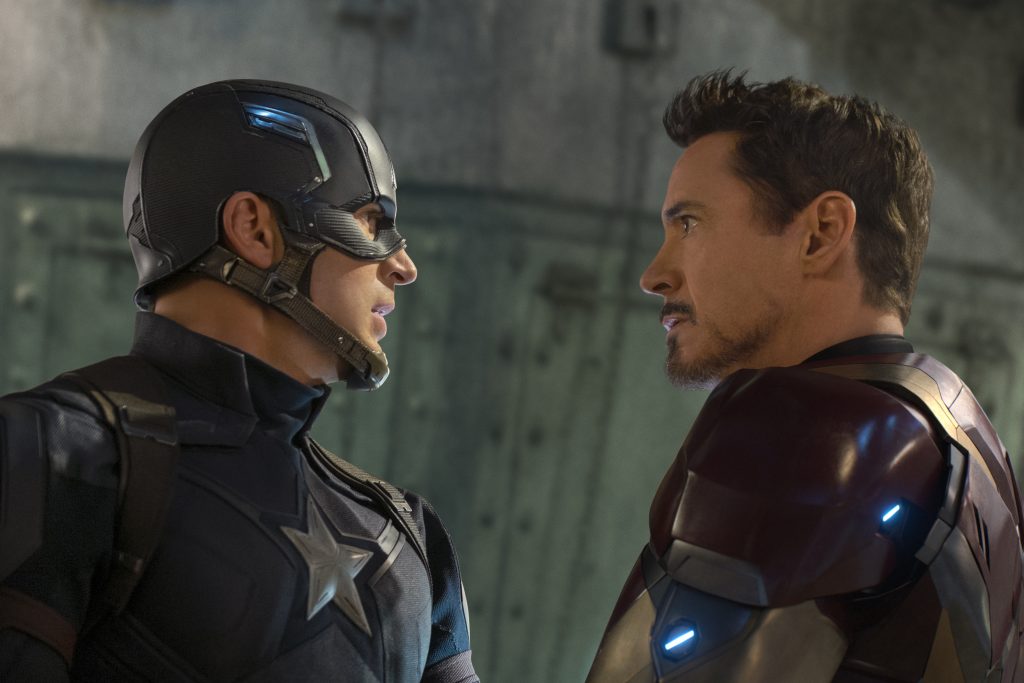 There's a limited amount of scenes where it's really just us, when we're not fighting, just us talking. And that's the framework for the conflict.
And if you don't invest in those moments, the conflict is going to be sour and fall flat.
So those few scenes that we have where it's just him and I were really intimidating to make sure you want to match him.
He's scary because he's so good. I mean he's so good. He's just good at anything he does, and he changes things on the fly so you just want to try and keep up, sparring wise, that you can hang with him.
So those scenes were the most terrifying. Terrifying, I'll say terrifying, terrifying.
Who would be a good faceoff for Captain America on Team Cap?
Chris Evans: Scarlet Witch would be trouble, wouldn't she? And we're lucky we have her, because without her when you look at Team Iron Man... just even having the Vision. Paul Bettany, he's still dangerous on the battlefield.
But Vision is so wonderful and so powerful. We'd be in trouble without Scarlet Witch, we really would. (See my interview with Hawkeye and Scarlet Witch)
Because of your friendship with Bucky, is your friendship with Falcon changing in this movie?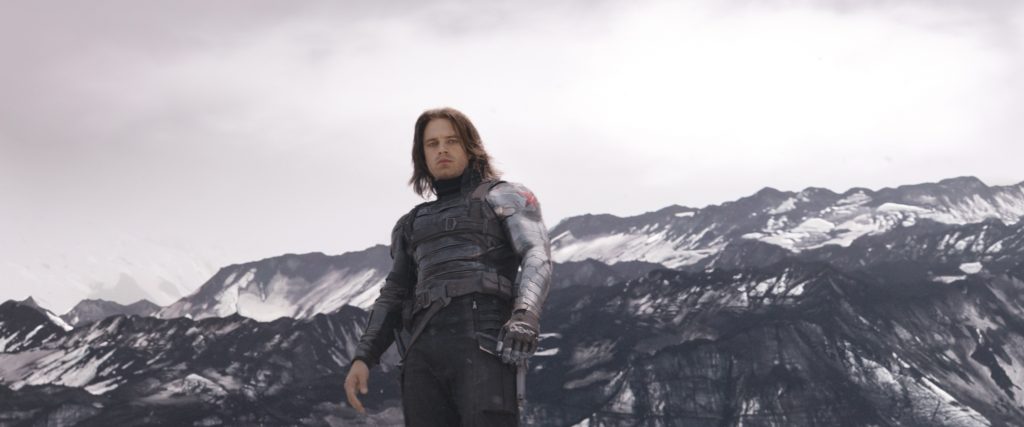 Chris Evans: That's been one of the big questions, are you Team Bucky or Team Falcon? It's tricky because in the comic books, one of these guys gets the shield. I don't know what Marvel is going to do.
I don't want to give them the shield anyway but I guess I gotta, which is fine. And listen, it's not my job to pick.
It's a beautiful relationship. Like I said, Bucky is the friend from old, and Falcon is the friend from today and they're both great people, both great characters, both great actors.
So, I'm thankful it's not my decision. Whatever happens, happens.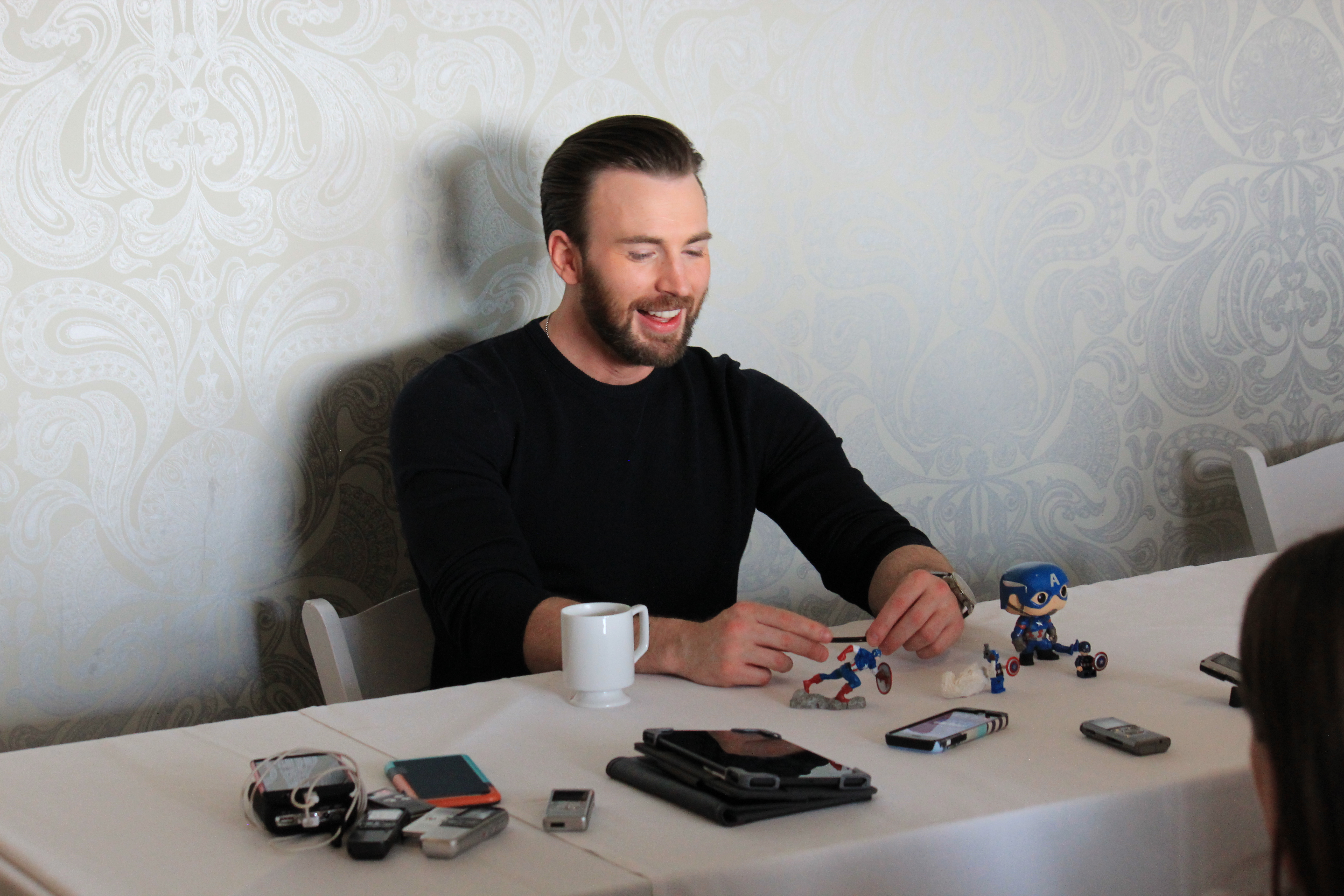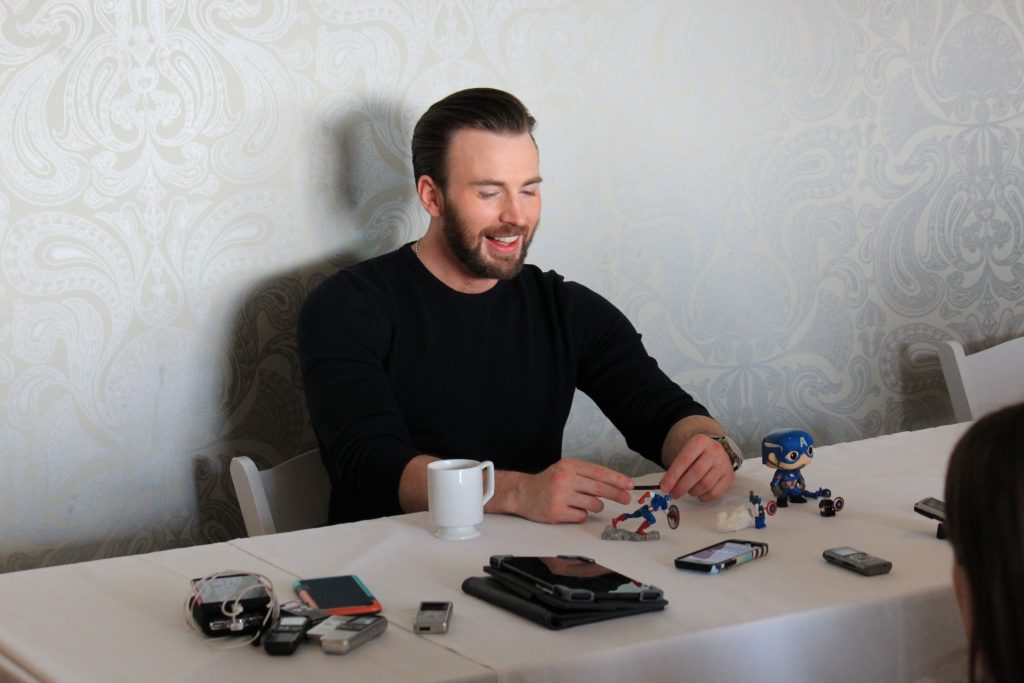 If you could go back in time, and have dinner or a conversation with someone from history, who would it be with?
Chris Evans: That's tough. Maybe JFK. Have you guys been watching the Race to the White House? So good. And it really is an amazing landscape.
I think it's a really tricky thing to try to be a politician, even being an actor.
Imagine being a politician, where you have to back everything you say. I think where politics struggles is when politicians become too political.
I think JFK was one of the last guys that felt to me like he's speaking like a human and it feels like a man talking. And he was tackling enormous issues of the time.
So I think it's a real interesting dichotomy- of being in this austere position when the country needed so much and he had to marry so many difficult challenges.
People really didn't want him to win either. I mean like, look. They shot him. In the end, they got him. He is one of the most interesting characters that I can think of.
Growing up who was your favorite superhero?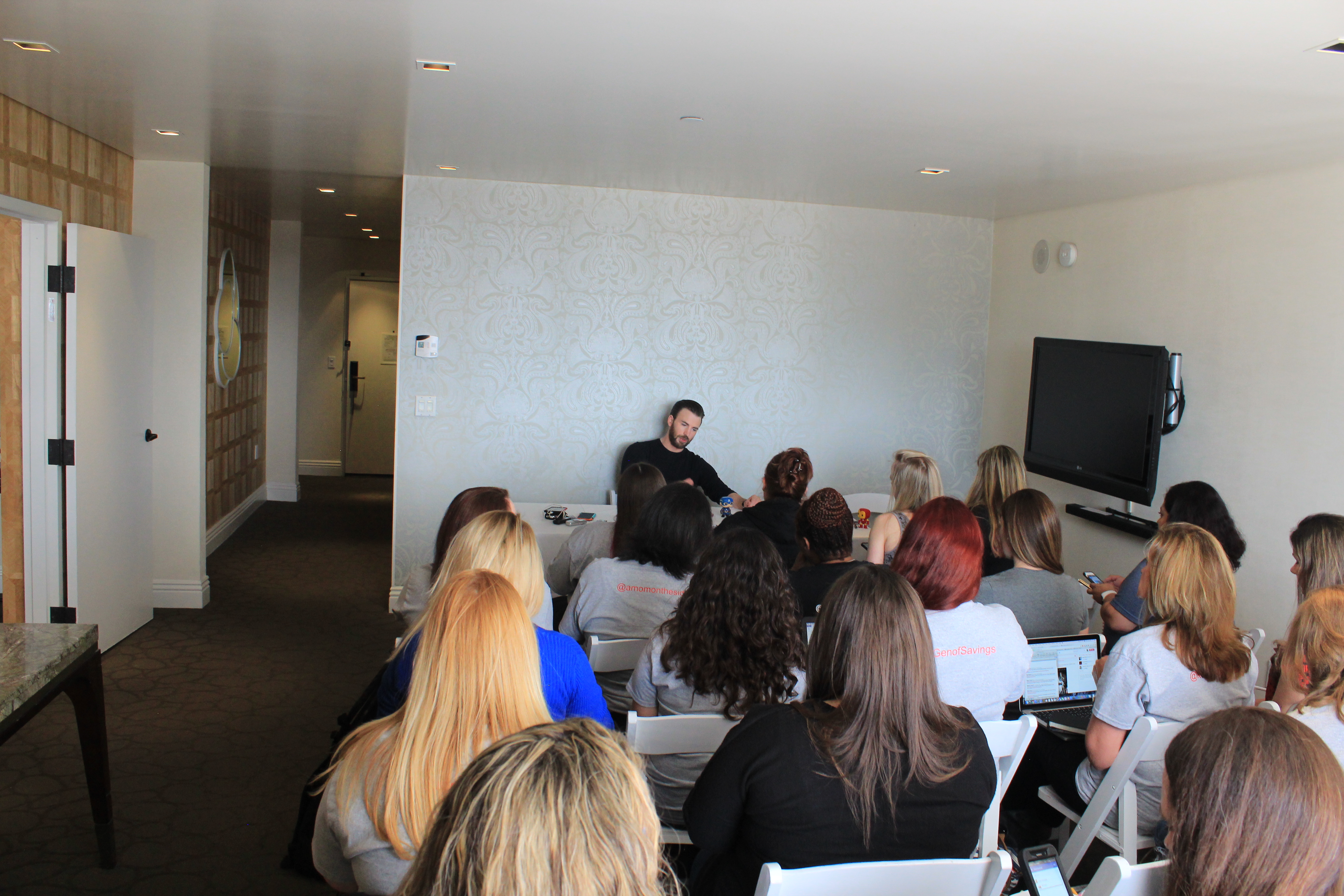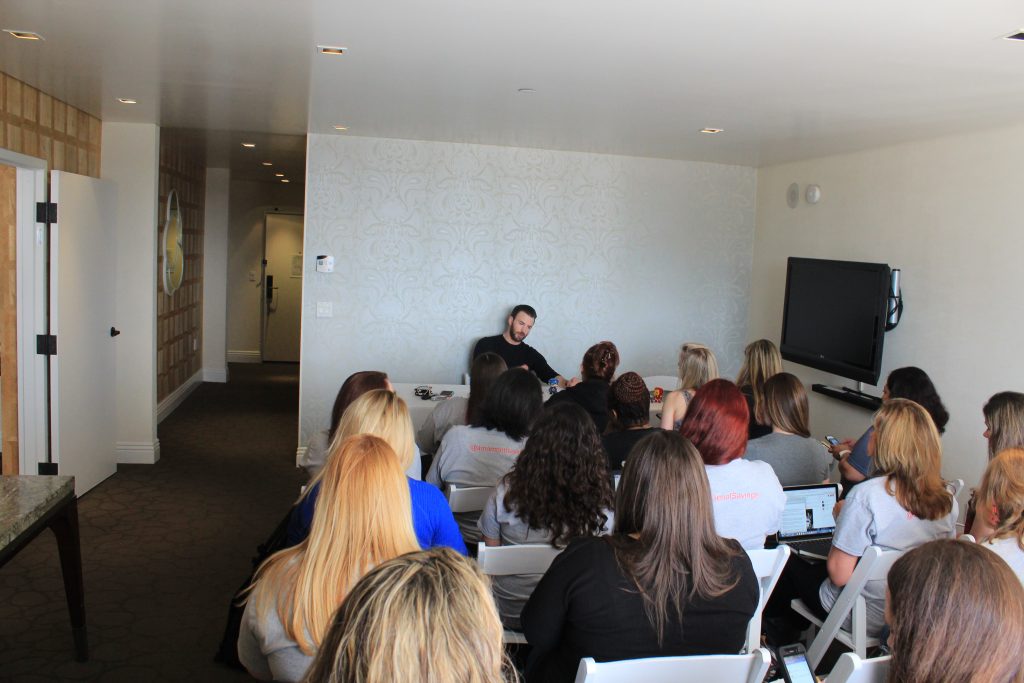 Chris Evans: I didn't have one. I had an older sister. That's why when I have kids, I'd love for my oldest child to be a girl because I think it softens up the boy.
Whatever Carly wanted to do, we did. So, My Little Pony and Care Bear, that was it. Just being in Carly's room was a big deal. (Doesn't this make you love Chris Evans even more?)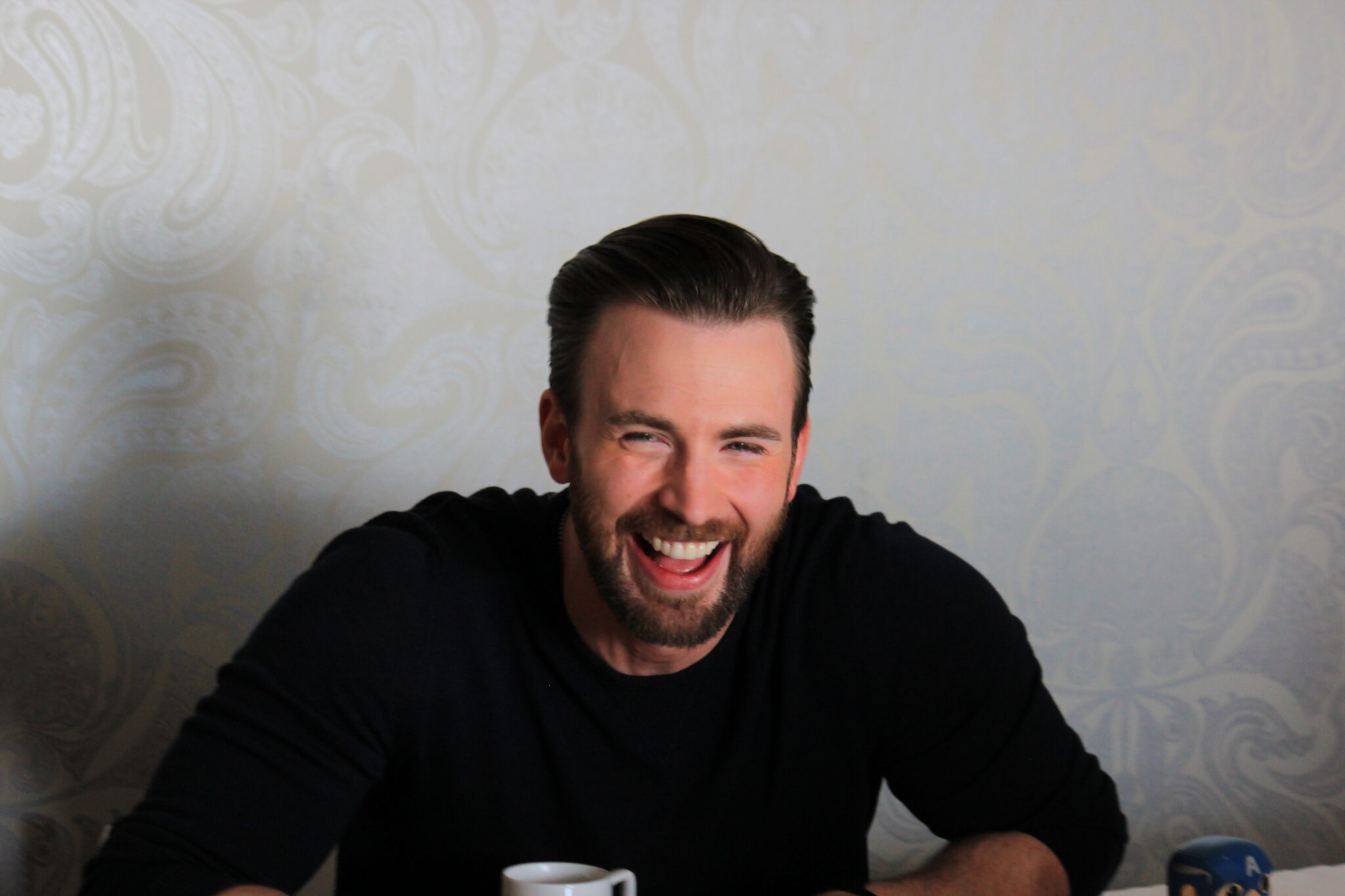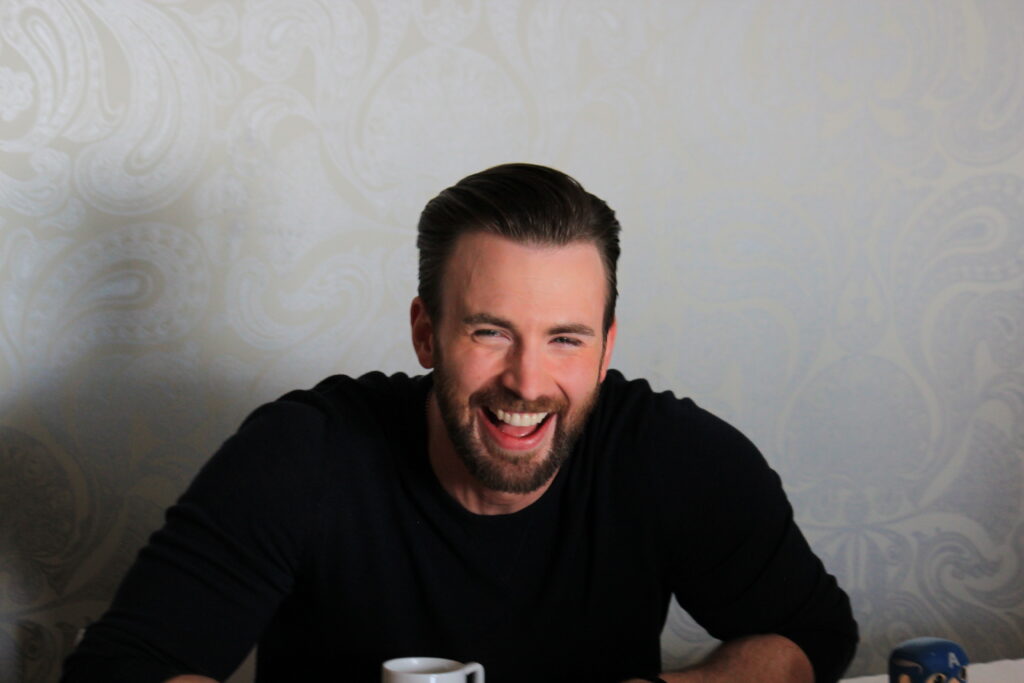 So comic books were not on my radar. I liked Star Wars, which was maybe the coolest thing about me, but that was my dad being like "please, please like Han Solo" and I was like, but Tender Heart Bear.
It's not untrue, it's really sad.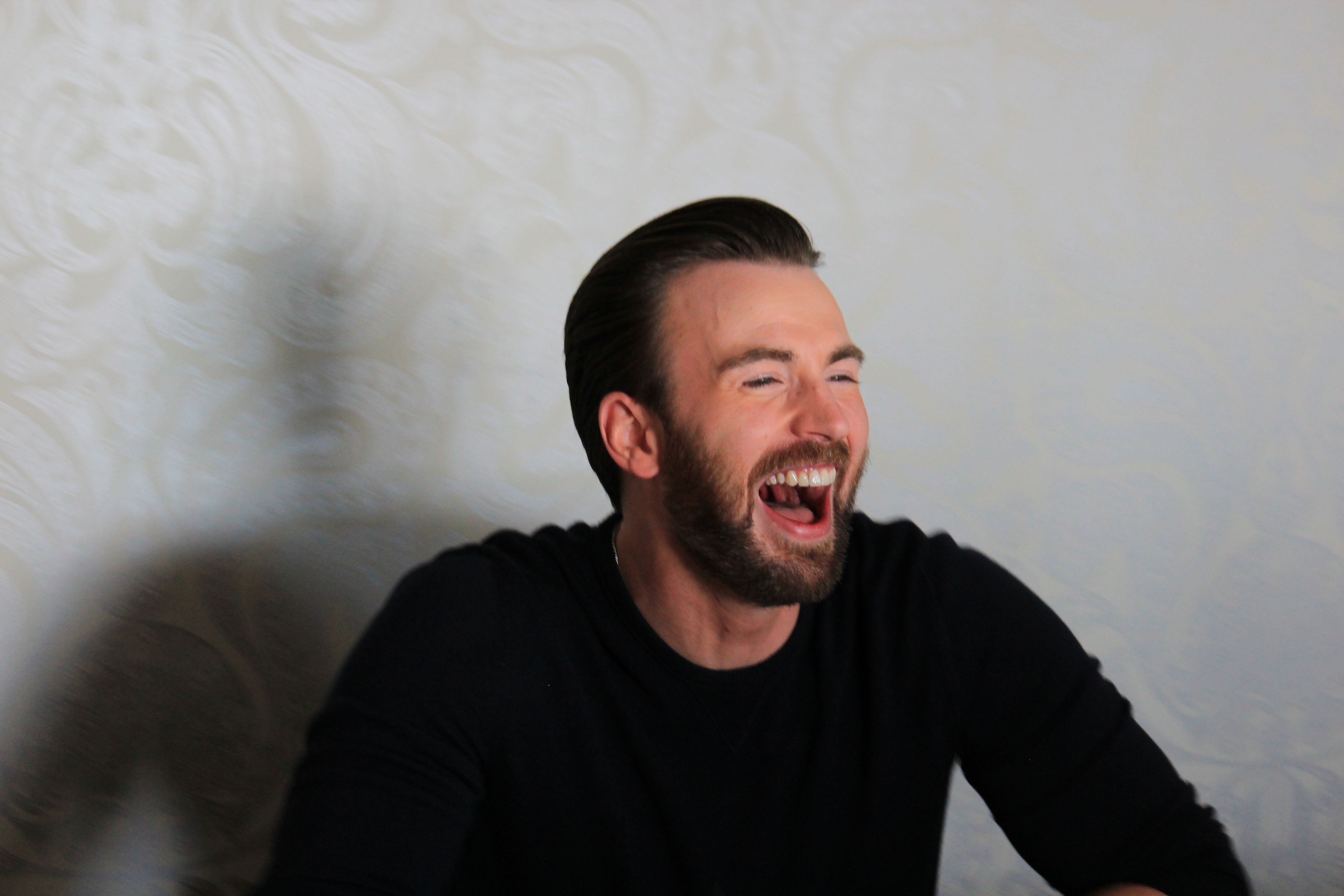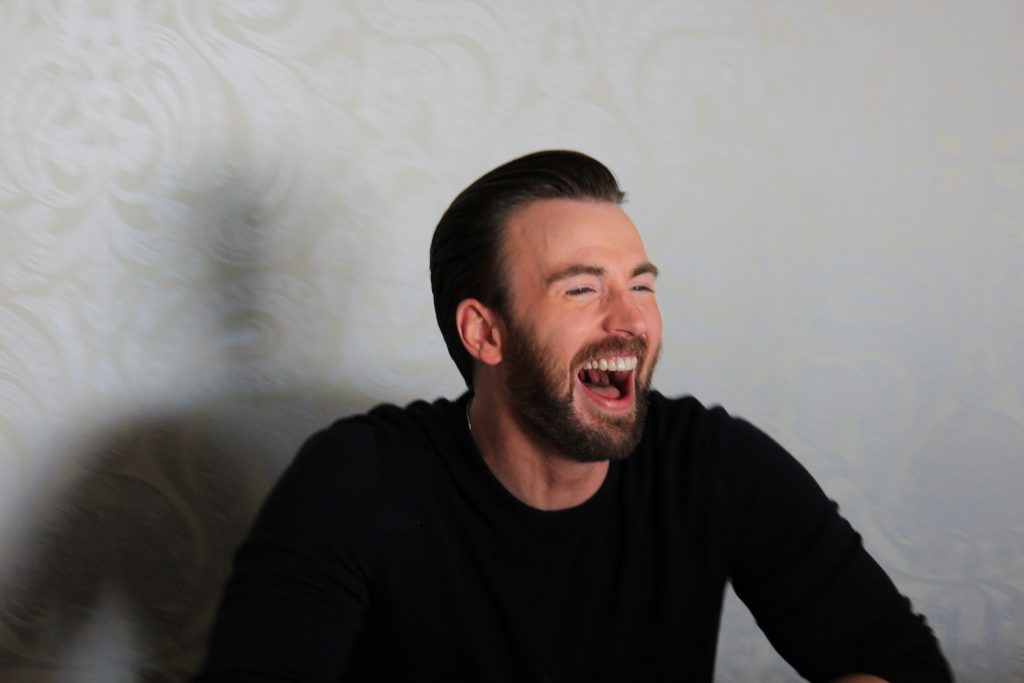 When we were getting arranged for this group photo, I couldn't believe my luck.
I'm not very aggressive when it comes to getting right next to the talent. But this time, I was right next to Captain America's Chris Evans. Wow.
And then, the photographer had to rearrange him, and he turned to me and said, "I'm so sorry." And he meant it.
Wow. So sweet. Such a gentleman. And so considerate. So there I am in the back, but I'll never forget how kind he was to me.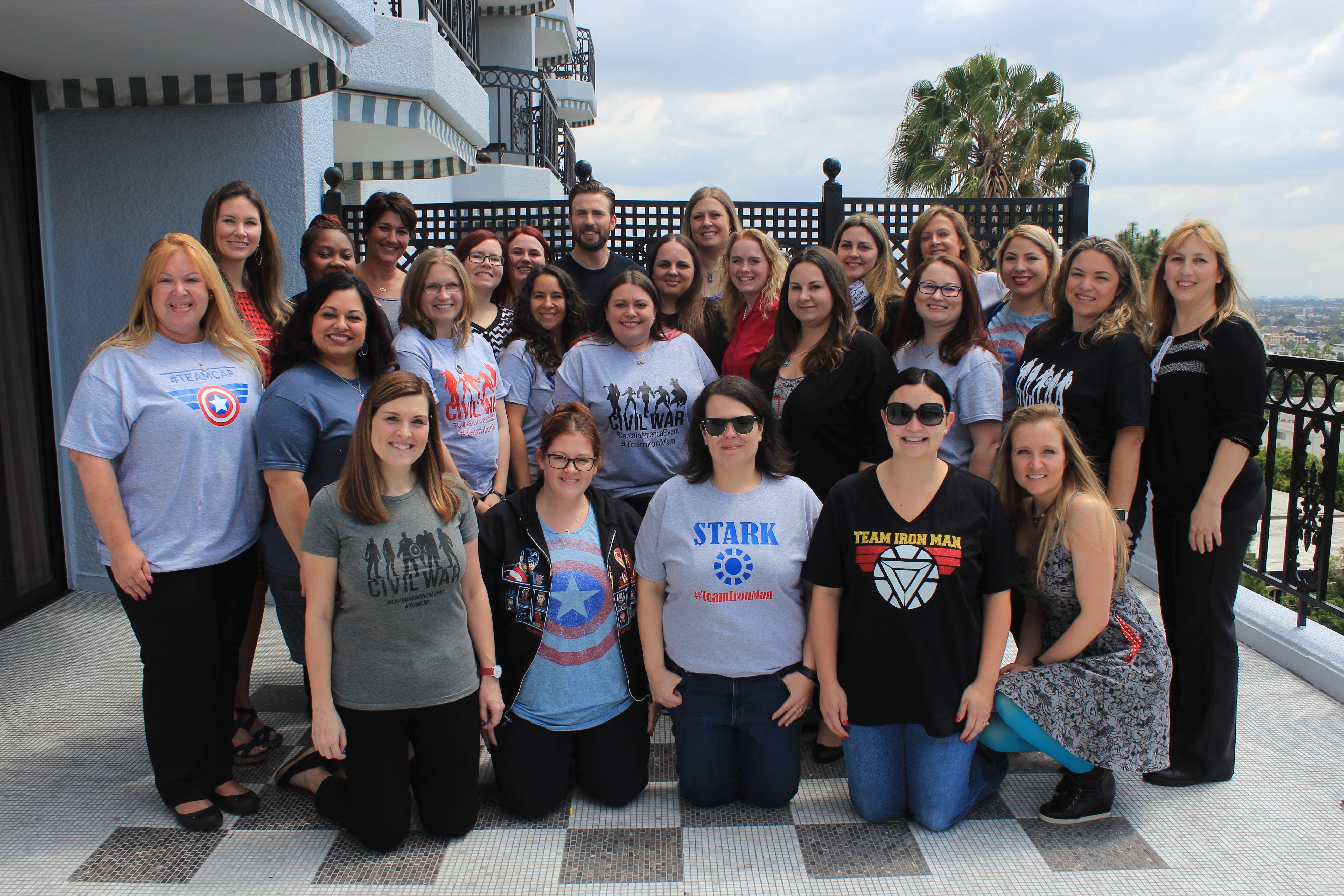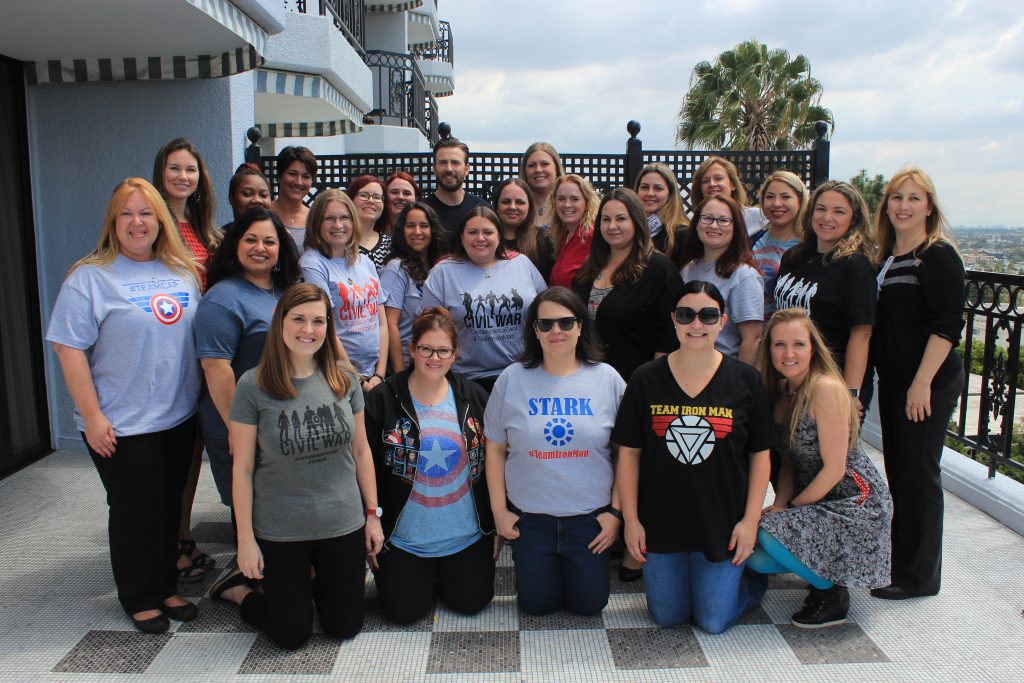 There are more interviews to come, including Jeremy Renner (Hawkeye) and Elizabeth Olsen, Paul Bettany (The Vision), Emily Van Camp (Agent 13) and the Russo brothers!
Here's a little teaser about the interview with Paul Bettany. So good!!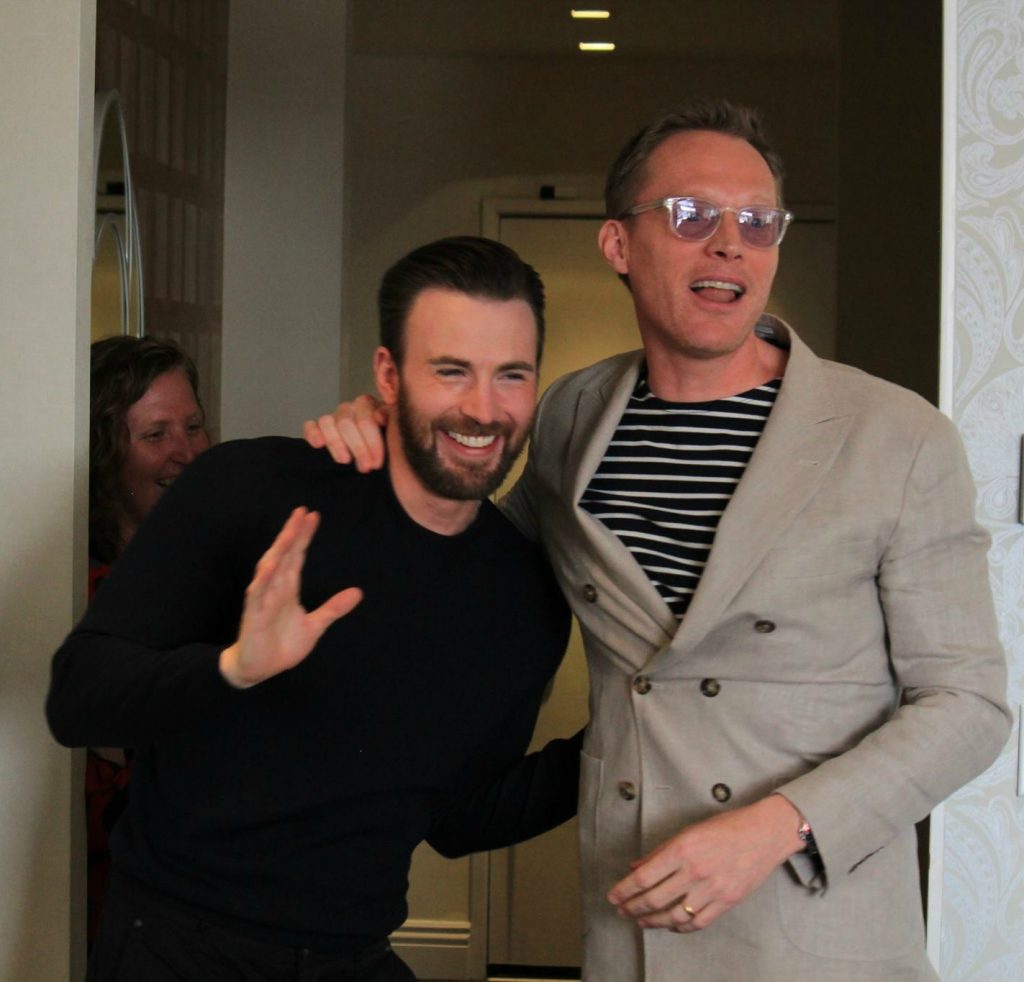 It's easy to see why chatting with Captain America's Chris Evans was my favorite celebrity interview ever!
Though this is now an old movie, it would be fun to watch it with friends and make these Captain America cupcakes or these Civil War Cupcakes. 
Is Chris Evans married?
No, at this time, Chris Evans is not married. If you see something that says he is, it is more than likely Chris Evans who is a radio personality.
Does Chris Evans have children?
No, at this time he does not have children. If you see something that says he does, it is more than likely Chris Evans who is a radio personality.
How tall is Chris Evans?
Chris is 6 feet tall. And even more handsome up close. Just saying.
Captain America Civil War Cupcakes
Behind the Scenes On the Set of black-ish on ABC