While I was at the D23 Expo a couple of weeks ago, I was able to attend the Disney Consumer Products and Interactive Media panel. Let's just say that if you have kids, you are going to want to check out Disney's latest products immediately, because they are going to be HUGE this holiday season! Watch this short trailer about Disney Interactive. You might want to watch while the kids are in school, because they are going to be pretty excited when they see it!
New Disney Interactive Gaming Products
With the upcoming new Episode VII, STAR WARS: THE FORCE AWAKENS hitting theaters this December 18, the crowd went absolutely crazy to hear there will be two very special limited-edition PlayStation®4 Star Wars bundles inspired by Darth Vader:  Star Wars: Battlefront and Disney Infinity 3.0: Star Wars. Both bundles include a fully customized PS4™ featuring an image of Darth Vader, a controller inspired by Darth Vader's suit and more. Visit Playstation for all the details on the Limited-Edition PlayStation®4 Hardware Bundles, available November 17!
A few fans got the thrill of a lifetime when stars from Episode VII, STAR WARS: THE FORCE AWAKENS gave them their characters from the game!
By the way, there's a FREE official Star Wars app that puts fans into the Star Wars universe right from their mobile devices! Available for iOS and Android, the app provides breaking news, rich media, social updates, special events, and interactive features for the countdown to Star Wars: The Force Awakens and beyond. You're welcome!
Other character reveals also included Nick Wilde and Judy Hopps from Walt Disney Animation Studios' Zootopia, Spot from Disney•Pixar's The Good Dinosaur and a limited edition set of Light FX Star Wars™ character figures that light up when placed onto the Disney Infinity Exciting new Disney Infinity integrations with Walt Disney World and Disney Cruise Line® were also unveiled.
Disney also announced a new character figure, Peter Pan, that will be released one year from now, selected as part of "Toy Box Artists Choice," an event held during this year's Toy Box Summit.
The next big announcement was that SQUARE ENIX® and Disney Interactive announced that the characters and world of Big Hero 6, Walt Disney Animation Studios' Academy Award®-winning film, will make their first ever appearance in the KINGDOM HEARTS III!
Producer Roy Conli made the announcement at D23 Expo, but you can see it here:
Disney Infinity 3.0 Edition's ultimate unlock was also unveiled during the presentation, and players who unlock all of the Disney Infinity figures in the game's Hall of Heroes will unlock the Keyblade from the SQUARE ENIX® KINGDOM HEARTS franchise! How cool is that?
All guests at the D23 Expo presentation received a special Kingdom Hearts Mickey Costume Power Disc, so you know I was excited to be there! The Power Disc unlocks a one-of-a-kind costume of King Mickey, Keyblade Master and King of Disney Castle for Disney Infinity's Mickey Mouse character, and this item is exclusive to the D23 Expo, so will not be sold at retail.
 As I shared a few days ago, this fall, Playmation Marvel's Avengers Gamma Gear, which is inspired by the 7-foot Hulk, will let you smash into battle putting you right in the Avengers action! Just by slipping your hands into the Gamma Gear and using the motion-based controls, you'll be able to to plow through missions and stomp through battlegrounds with different Hulk moves like Ground Slam, Thunder Clap, and other combos! Learn more about the Avengers Gamma Gear and preorder specials now, before the crazy holiday season is upon us!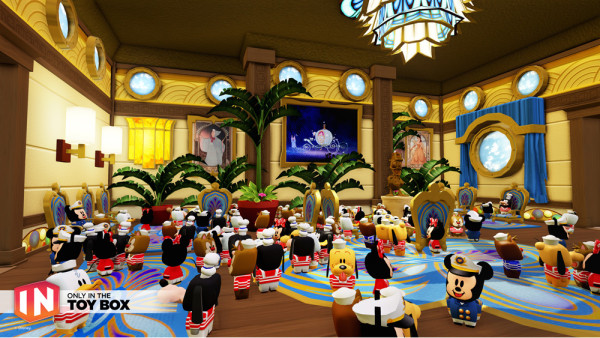 How about Disney bringing some of the Magic to the Parks? Disney Infinity announced the following integrations with Walt Disney World, Disney Parks and Resorts and Disney Cruise Line®:
Walt Disney World guests will be given exclusive access to the iconic "Disney Partners Statue," a Toy Box item that can only be unlocked with Walt Disney World's Magic Band.
Starting late October, kids will be able to visit the very first Disney Infinity space featuring Toy Box elements at Disney's Oceaneer Club on board the Disney Dream ship – a new dedicated interactive space featuring Disney Infinity 3.0 Edition game kiosks and interactive experiences. There will be in-game unlockables exclusively for Disney Cruise Line guests who own an Oceaneer Band, including the Disney Dream Ship Toy. In addition, kids will be able to play custom Toy Boxes created by the Disney Infinity team and community members, such as the Castaway Cay Toy Box Environment.
And speaking of the parks, there's more! Disney Interactive shared that Disney Magic Kingdoms, a brand new mobile game being created with Gameloft lets players build their dream Disney theme park by recreating and placing iconic attractions in a fun animated landscape! Can you imagine? You decide where to place Space Mountain, Haunted Mansion, California Screamin' and many more! Check out the details about Disney Magic Kingdoms!
That's a lot of new fun for the kid in all of us! Which Disney Interactive product are you most looking forward to?
Keep in the know on all the Disney Infinity products by following them on social!
Visit the Website
Follow on Youtube
 Join the Disney Infinity Facebook community
Join the Google+ community